Ten amazing days … over 200 people … studying, sharing, learning, growing, and partying … that's the Investor Summit at Sea!
For 17 years, the Summit at Sea has been the highlight of our year … and we're excited to share a piece of it with YOU.
We've gathered some of real estate's most successful investors, entrepreneurs, niche experts, and thought leaders to share their insights and key takeaways from the 2019 Summit.
Listen in and learn what these pros discovered … and how it could help you make smarter investment decisions.
In this episode of The Real Estate Guys™ show, hear from:
Your sailing host,

Robert Helms

His flailing co-host,

Russell Gray

Author and seasteading expert,

Joe Quirk

Rich Dad, Poor Dad

best-selling author,

Robert Kiyosaki

The Apartment King,

Brad Sumrok

Marketing mastermind,

Kyle Wilson

The Godfather of Real Estate,

Bob Helms
And SO MANY MORE!
---
Listen
---
Subscribe
Broadcasting since 1997 with over 300 episodes on iTunes!
---
Review
When you give us a positive review on iTunes you help us continue to bring you high caliber guests and attract new listeners. It's easy and takes just a minute! (Don't know how? Follow these instructions).
Thanks!
---
This is the Investor Summit at Sea
The annual Investor Summit at Sea is always a highlight of our year.
It's a concentrated amount of time with some of real estate's smartest people … all from different walks of life, different perspectives, and even different countries.
Every year, we learn to ask better questions … clarify our thinking … and do things differently.
Opportunities like the Summit at Sea are rare. In a short time frame, investors become friends, work out problems, and do some business.
We'd love EVERY one of our listeners to join us on the high seas … but we'd need a bigger boat!
So, we've brought together some of our fabulous faculty members to share their insights and key takeaways from the 2019 Summit at Sea.
A first glimpse at seasteading
Joe Quirk was a last minute addition to our faculty this year … and we're so glad he came.
Joe's real estate niche is seasteading … that's right … homesteading the high seas.
It's a novel idea. Joe says that … considering nearly half the world's surface is unclaimed by any existing nation state … the technology is at hand to create startup countries on the ocean.
"It's sort of a Silicon Valley sensibility brought to the problem of governance," Joe says.
Instead of trying to change things from the inside, you create startups and do things better.
The first seastead has been floating off the coast of Thailand since early 2019 … and living there costs less than the average American home.
Joe and his team are ready to scale up … and scale up quickly. But he needs partners with real estate smarts to make it happen.
"We have marine engineers, economists, scientists, and medical experts. We have almost everyone we need, but we don't have people that know how to structure and sell these things," Joe says.
We view seasteading as a fascinating new frontier in real estate … and we'll have more with Joe in the coming weeks.
Look at deals through a new lens
It's Robert Kiyosaki's sixth Summit at Sea … and we couldn't be happier to welcome him back.
"I come to learn as well as to teach," Robert says. "The Summit at Sea is basically immersion learning for real estate."
Our port excursion this year was Grand Cayman. This area has undergone an interesting transition over the last few years.
Typically, people think of Grand Cayman as the place where rich people want to hide their money … but it is so much more!
Robert says he learned that how you look at a deal can really change the opportunities you see.
In the case of Grand Cayman, Robert had always looked at the market from the point of view of an investor … but he learned that sometimes it pays to try looking at a market from a developer's point of view instead.
Through this lens, he could see that Grand Cayman is becoming a target for families. As the economic gap between rich and poor widens on other islands … crime rates are rising.
But Grand Cayman has the lowest crime rate in the Caribbean.
That fact coupled with high standards of living make it attractive to a new housing demographic … not just people looking for a tax shelter.
"There's a deal of a lifetime every minute if you can see it," Robert says.
Expand your team, increase your success
The Apartment King, Brad Sumrok, joins us for his third Summit at Sea.
Brad has made apartments his bread and butter … but that doesn't mean he is done learning and growing.
"I keep expanding my team every time I'm here," Brad says.
There's no better way to grow your team than by spending a week and a half on a ship with 200 other people who specialize in a variety of asset classes.
So much of investment success is leveraging other people's experience.
Last year, Brad says he connected with our good friend CPA Tom Wheelwright … and this year Tom saved Brad seven figures in taxes!
That's a take away Brad took directly to the bank … and by surrounding yourself with smart people, you can do the same.
Master your marketing one step at a time
We've known Kyle Wilson for many years. He is a familiar face on the Summit at Sea … and always has great ideas for how to better market your real estate business.
"So many people are in the real estate business. They're good at real estate. They're good at finding markets and putting together teams, but not always solid in their marketing position," Kyle says.
It's easy to overcomplicate marketing. At the end of the day, marketing is simply connecting the dots for your customers.
Kyle says the key for real estate investors is to act in a strategic way. Don't just throw a bunch of stuff at the wall and hope it sticks.
And remember that so much of real estate investing is built on relationships. Never let what seems like a good tactic get in the way of a good relationship.
Kyle is leaving the Summit with a list of ideas and action items … but cautions investors to take things one step at a time.
"You can't do it all. Pick the one thing that's screaming at you that will make the biggest difference and start there," Kyle says.
A wealth of amazing opportunities
If anyone understands the benefits of an opportunity like the Investor Summit at Sea, it's the Godfather of Real Estate himself … Bob Helms!
We've been hosting these cruise ship conferences for 17 years … and Bob has been with us every time.
With 40 years of real estate experience, Bob has seen amazing changes in the way investors make money and grow their opportunities.
"As I look at the group that is here with us today and the diversity of things they are involved in, I can't help but have a big grin on my face," Bob says. "The opportunities out there are amazing."
Bob says his advice to investors is to educate themselves on different locations and asset classes. Find the niche that is right for you … and start building a winning team!
Get on the advance notice list for next year's Summit at Sea by visiting our website … and listen in to the full episode to hear from even more experts and ideas from our week on the waves.
---
More From The Real Estate Guys™…
The Real Estate Guys™ radio show and podcast provides real estate investing news, education, training, and resources to help real estate investors succeed.
---
Love the show?  Tell the world!  When you promote the show, you help us attract more great guests for 

your

 listening pleasure!
Food is the original wealth and it's still pretty important today. And as world population grows, no matter where it happens, there are more mouths to feed.
So the demand for food … and the farm and ranch land to produce it anywhere on earth … is arguably one of the most enduring and common sense investments there is.
Tune in as we talk international agricultural investing with a well-seasoned expert!
---
More From The Real Estate Guys™…
The Real Estate Guys™ radio show and podcast provides real estate investing news, education, training, and resources to help real estate investors succeed.
---
Love the show?  Tell the world!  When you promote the show, you help us attract more great guests for 

your

 listening pleasure!
Robert Kiyosaki, Peter Schiff, Chris Martenson, G. Edward Griffin, Tom Hopkins, Brien Lundin and MANY more super successful investors, entrepreneurs, niche experts and thought leaders share they insights and takeaways from the 2019 Investor Summit at Sea!
Over 200 serious and fun folks all together for ten amazing days to study, share, learn, grow (and party!) together.
It's the highlight of our year and we're excited to share a piece of it with you!
So listen in and learn what several of our more prominent Summiteers discovered on the Summit!
---
More From The Real Estate Guys™…
The Real Estate Guys™ radio show and podcast provides real estate investing news, education, training, and resources to help real estate investors succeed.
---
Love the show?  Tell the world!  When you promote the show, you help us attract more great guests for 

your

 listening pleasure!
Old dudes like us have fond memories of beer-belly laughing out loud at the hysterical antics of Peter Sellers' Inspector Clouseau in the original Pink Panther movies.
If you've never seen them, check them out.  Two of the best are Return of the Pink Panther (1975) and Revenge of the Pink Panther (1978).
Clouseau is a bumbling idiot.  But through sheer dumb luck he always ends up succeeding … in unexpected ways as a result of unintended consequences.
The Senate's recent hearings on housing reform remind us of Clouseau.
The purported goal of the Senate shindig is to gather a group of big-brained housing industry leaders and experts to find a solution to the affordable housing "crisis". 
But … as this Forbes article opines, some perspectives aren't part of the conversation … perhaps for a reason.
Of course, you may have a differing opinion and that's fine.  We have our own opinion too.  But that's not the purpose of today's muse.
We simply watch what's happening today and consider how best to capture opportunity or avoid loss based on where things are likely headed tomorrow.
In this case, it seems Uncle Sam is looking for ways to make housing affordable.  That's a noble objective.  Go team.
There are really just three basic approaches.
One is to increase supply relative to demand.  When supply exceeds demand, prices to drop.  That's how abundance and productivity create prosperity.  
After all, lower prices make things more affordable to more people, right?
That sounds reasonable.  But it also sounds a lot like deflation.
And when bankers are in the room … the kind who make home loans secured by the dollar value of the property … they FREAK at the idea of falling prices.
So you're probably not getting sincere ideas from bankers about how to lower prices.
Then there are the builders … 
While builders LOVE the idea of building more houses, they also want to earn a profit.   Profitable building is easier when prices are higher, NOT lower.  So you can guess which direction the builders are leaning.
What about the wizards of Wall Street? 
These guys make money shuffling paper.   So they just want LOTS of paper (i.e., mortgage-backed securities) created, so they have more chips to play with in their casinos. 
And Wall Street knows falling prices frighten the lenders who make the paper possible.  So it's a safe bet Wall Street votes with the bankers for higher prices.   
Even at the Main Street level, there's not much motivation to push prices down in pursuit of truly affordable housing. 
Real estate agents (the largest trade association in North America) aren't raving fans of low prices as the preferred path to affordability … despite their rhetoric.
After all, real estate agents promote buying a home as a great "investment".  No one wants to make an "investment" that goes down.  So higher is better.
Last but not least, there's Dick and Jane Homeowner (often registered voters) … whom are keenly aware of their castle's current market value, even though they have no intent on selling.
Of course, it's fine for the prices of cell phones and big screen TVs to fall, but not home sweet home.  God forbid.
Plus, its fun for Dick and Jane to use their home equity to reset credit lines with debt consolidation loans, or to augment the falling purchasing power of their incomes.
And everyone knows home equity ATMs only work when housing prices steadily RISE. 
So yes, home BUYERS want the house affordable when THEY buy it. But after that … home OWNERS want up, up, up.  Sorry, next generation.  Figure it out.
When we asked then-candidate Donald Trump for his plan for housing , he simply said … "Jobs".  Presumably, good jobs with higher pay. 
Higher pay leads to the ability to make higher payments which leads to bigger mortgages (happy bankers, happy Wall Street) which leads to HIGHER prices.
So it's just a wild guess … but we don't think there's a chance in a very hot place that there's any serious motivation to make housing affordable.
Not if "affordable" means "less expensive".
ALL the incentives are to make housing MORE EXPENSIVE … but ACCESSIBLE.  That means more, cheaper, and easier FINANCING. 
So even IF the PTB (Powers That Be … it only sounds like Politboro) sincerely believe more and cheaper financing makes things more "affordable" …
(Hey, it worked for college tuition … oh, wait …)
… like Inspector Clouseau, they'll end up pushing housing prices up by "accident".   
That's what happens when you use debt to pull purchasing power from the future into the present.
But whatever the motives, they certainly have the tools to make it happen … 
… lower interest rates, easier lending guidelines, government (taxpayer) guarantees, tax breaks … and the Fed's all-powerful printing press.
Yes, we know all that is what first inflated and then deflated the housing bubble last time.
But smart, disciplined investors made not only survived the implosion … they made millions from the re-inflation.
So while this may not be the time to speculate on a housing price boom in the short term …
… it's arguably a great time to liquidate equity, streamline expenses, solidify leases, and prepare for the long game.
Because when Uncle Sam is working on making something "affordable", it usually means that something is showing serious signs of slowing and needs a boost. 
Of course, when you find reasonable deals in relatively affordable markets and you have a GREAT boots-on-the-ground team, it's also a great time to use cash flow real estate to stock up on cheap long-term debt.
Remember, real estate … even housing … isn't an asset class. 
Every individual neighborhood and property is unique.  So while deals might be harder to find, they're still out there.
And if the cash flow makes sense, you'll weather the storm … warmed by the notion that everyone with power to influence policy will be voting for HIGHER prices year in and year out … forever. 
Of course, they might break the financial system or crash the dollar trying to do it … so it's smart to be prepared for that too.
That's why we like gold, oil, agriculture, and paid for properties in non-leveraged markets … including, and perhaps especially, in non-domestic markets.
Real assets like food, commodities and land tend to hold relative value when currencies struggle.
Gold and silver can almost always be easily converted into any currency … and are a useful way to store liquefied equity privately outside a fragile financial system or hostile jurisdiction.
And if the dollar continues its long-term slide relative to gold, a little gold might go a long way toward retiring dollar denominated debt (like a mortgage).
That's where we think gold bugs and real estate bugs don't understand each other.  We know.  We spend a lot of time with both.
Gold is great for reducing counter-party risk and hedging against a falling currency.  But gold doesn't cash flow.
Real estate is great for using cheap long-term debt to create tax-free cash flow and long-term equity growth. But it isn't liquid and it takes a long time to retire the debt.
But putting gold and leverage cash-flowing real estate in a falling currency environment together makes each much more powerful.
It takes time to get your mind around it … but we encourage you to dedicate a little of your financial education time and budget to learning more. 
Because once you understand how gold and real estate make each other better, you'll probably be more excited about both.  We are. 
Until next time … good investing!
More From The Real Estate Guys™…
The Real Estate Guys™ radio show and podcast provides real estate investing news, education, training, and resources to help real estate investors succeed.
---
Love the show?  Tell the world!  When you promote the show, you help us attract more great guests for 

your

 listening pleasure!
We're still just a little more than a week removed from a mind-blowing 9-day mind-meld with brilliant thought leaders, niche experts, and seasoned investors and entrepreneurs …
… so we've been busy catching up on the news and looking at the world through our freshly expanded paradigms.
There are two things bouncing around our brains we think are important, but few real estate investors are paying attention to …
Gold and oil.
Sure, both these "commodities" fit well with real estate in a strategic real asset portfolio.  And if you're not sure how all that works, you can start with these past podcasts about gold and oil.
But bigger picture, both gold and oil probably drive more of geo-politics than most casual observers realize … and both are quasi-proxies for the dollar.
In other words, when you understand what's happening with gold and oil, you have insights into the future of the dollar … and some of the things governments are doing to either defend dollar dominance … or break free from it.
Of course, if you earn, invest, borrow, or denominate wealth in dollars, the future of the dollar should be of great interest to you … even if you think of the dollar as being as permanent and reliable as air (it's not).
As real estate investors, our primary interests (besides occupancy and cash flow) are demographics, migration trends, local economic strength, interest rates, taxes, and the supply and demand dynamics in our local market.
But all of that sits on the foundation of a functional financial system with two primary components … credit and currency.  Gold and oil provide insight into both.
Oil is important at both the macro and the micro level.
In the macro, it takes energy to drive economic activity.  When energy's expensive, it drives up the costs of everything and is a drag on economic activity.
At the micro level, high dollar-denominated oil prices drive up the cost of living for your dollar-denominated tenants.
But for metros where oil is big business, oil also means local jobs.  Remember, Texas and its robust energy sector were the primary driving force for U.S. job creation coming out of the 2008 recession.
Investors who realized this (like our pal Kenny McElroy) strategically invested in those markets while most people were hiding under the sheets.
So whether or not you're interested in oil as a direct investment, paying attention to the oil business can be a great way to pick markets likely to hold up well if oil prices rise.
Oil also has a potential impact on credit markets and interest rates.  Billions of dollars of debt has been created to fund shale oil production.
If oil prices drop, it both undermines the ability of regional oil economies to grow … but also for those employers to service their debt.
In the macro, if a big chunk of the debt goes rotten, credit markets could tighten.  Think about what happened in 2008 when sub-prime mortgage debt went bad.
So again, whether you're an oil investor or not, the oil industry has a direct impact on your real estate investing.
Watching oil helps you see what's coming sooner … so you have time to position yourself to capture opportunity and mitigate risk.
Of course, the good news and bad news about real estate is it moves slowly.
So while you have plenty of time to be proactive IF you're paying attention, it's really hard to act fast if you're not.  That's why we pay attention.
What about gold?
On the macro level, gold is a good gauge of how the world feels about U.S. Treasuries and the dollar.
When things get choppy in stocks, paper investors worldwide tend to flee into Treasuries for safety.  After all, Treasuries are backed up by the Fed's printing press.
Of course, what does the Fed print?  U.S. dollars.
But to quote Watto from Star Wars – The Phantom Menace … 
"Republic credits are no good here.  I need something more … real."
That is, when investors worldwide are looking for safety … and they don't trust the paper … they go into gold.
So what does that mean to real estate investors?
Remember, mortgage rates and availability derive from healthy bond markets … most notably, U.S. Treasuries.
The 2008 Great Financial Crisis had its genesis in a broken bond market … mortgage-backed-securities.  When those went bad, frightened investors worldwide piled into Treasuries … and rates fell.
But what happens if investors worldwide don't trust Treasuries?
You don't have to wonder.  China came out in 2009 and scolded Uncle Sam about the size of the deficit and all the dollar printing doing on.
Why did it bother them? Because they own TRILLIONS in U.S. bonds.  They don't want to get paid back in diluted dollars.
But Uncle Sam's debt, deficits, and printing have BALLOONED since then.
So it's no surprise that China … along with Russia and several other countries … have been diligently accumulating and repatriating gold.
They're getting out of dollars and Treasuries to do it.  And who can blame them?
Paper money has an atrocious long-term record as a store of wealth …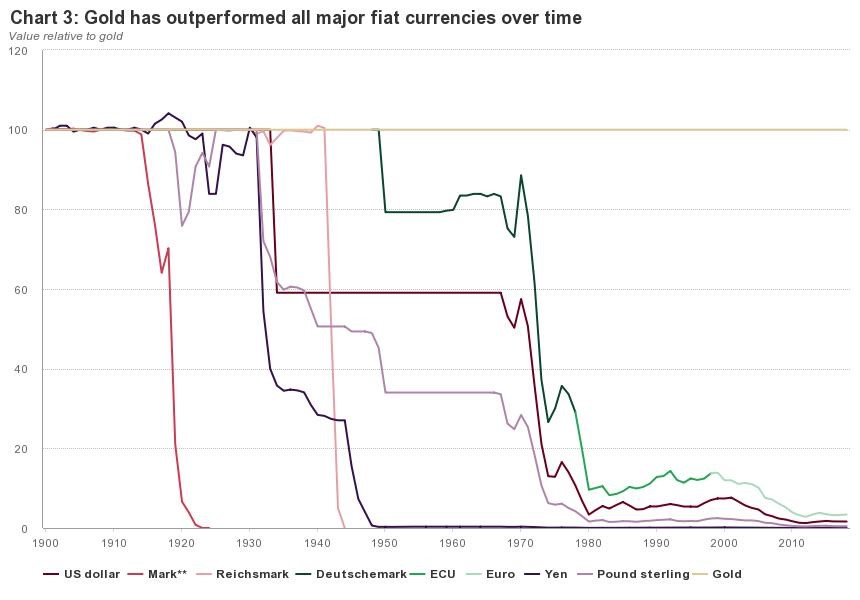 Source:  World Gold Council 
Consider this when you think about where you're storing YOUR long-term liquid wealth.
Meanwhile, there's just a little more to the developing story of gold … and the story behind the story.  It's a little complicated, but interesting and noteworthy.
After the 2008 crisis, the world's bankers got together in Basel, Switzerland to come up with voluntary rules to prevent another financial crisis.  The agreement is called the Basel Accord.
A provision in the agreement, known as Basel III (the agreement's rolled out in phases) allows financial institutions to consider gold "Tier 1" capital.  So adding gold is supposed to make banks more liquid and stable.
This is a bit of a promotion for gold.  Some observers think this means demand for gold will increase, but we're not smart enough to have an opinion on that.
But there are a couple of things we are thinking about …
Perhaps most obviously, international bankers apparently consider gold more valuable than simply a "barbarous relic" with no place in a modern monetary system.
Keep that in mind when you hear people criticize the placement of gold in a portfolio. If gold can make a bank more stable and liquid, can't it do the same for you?
To be clear, we're not fans of gold as an investment.  It's just an alternative to cash … a way to store long-term liquidity while hedging against a declining dollar and bank counter-party risk.
But the more interesting aspect of gold's now elevated role in bolstering the banking system is why it's necessary in the first place.
Is it because the banking system is still fragile and in need of support?  Is it because the world needs more leverage to expand … and so more collateral to lever?  Why not just use Treasuries?
We don't know yet.  But we'll be checking in with our big-brained gold experts to see what they think.
Meanwhile, we encourage you to think outside both the real estate and mainstream financial media boxes.  It seems like oil and gold might be trying to tell us something.
Are you listening?
Until next time … good investing!
More From The Real Estate Guys™…
The Real Estate Guys™ radio show and podcast provides real estate investing news, education, training, and resources to help real estate investors succeed.
---
Love the show?  Tell the world!  When you promote the show, you help us attract more great guests for 

your

 listening pleasure!