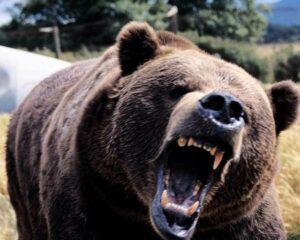 Retail real estate across the country has been mauled by the recent bear market. Many large retail centers are vacant and dilapidated, while many more are under performing.  What's next for retail?  More importantly, what's the opportunity?  To find out, The Real Estate Guys™ call on a big deal hunter who has over 30 years and billions of dollars of experience!
On safari in the studio for this broadcast:
Driving the jeep in his khaki's and bush jacket, host Robert Helms
Pushing the jeep in his leopard skin loin cloth, co-host Russell Gray
Riding shotgun and snacking on frikkadels, the Godfather of Real Estate, Bob Helms
Big deal hunter, special guest Tom Morris
When you enter the jungle of real estate investing to hunt for opportunity, you never know what challenges will cross your path.  Many obstacles and dangers can be avoided.  Others must be met head on.  Of course, when you're hunting, your objective is to locate the prey and subdue it.  In other words, there's risk involved.
Shooting fish in a barrel or hunting rabbits is one level of risk…and one level of reward.  Going after the big opportunities often entails a higher level of risk and requires a higher level of skill and experience.  That's why most investors are well-advised to start small.  It's also a really good idea to be mentored by more experienced hunters before taking on the big game.
So you can imagine how excited we were when we first met Tom Morris.  He's been hunting big time real estate opportunity for over 30 years and after billions of dollars of deals, he's telling us that now is one of the greatest times ever to be a real estate investor. Really?  Okay, we're listening!
Although he's very experienced in all types of real estate, Tom's love is retail.  We're talking BIG TIME retail – as in shopping malls and retail centers with hundreds of thousands of square feet (on the small side)!  Tom's been involved in mall projects with millions of square feet and hundreds of retail tenants in a single project.  Wow!  THAT'S big game.  Of course, if a big deal turns on you it can devour you very quickly, so you better know what you're doing!  Fortunately, Tom tells us there are many things you can do to mitigate risk.
We start quizzing Tom about the state of retail in the wake of the Great Recession. What are the problems?  What are the causes?  Where are the opportunities?  We were SHOCKED to hear how BIG the discounts are on distressed retail assets.  It's AMAZING how, with relatively little money, you can acquire assets with HUGE UPSIDE potential. (Sorry for all the caps.  We're just EXCITED!).
BUT…(and it's a big but), you better have a plan.  And you better have connections.  And you better be able to think outside the big box.  If you do, then there's BIG money to be made!
Tom shares with us some of the creative strategies he's currently employing to acquire and re-hab distressed retail properties.  Even if you don't have plans to be a mall mogul, the principles Tom employs are applicable to other types of real estate.  Besides, any time someone with 30 years and billions of dollars of experience wants to share their wisdom, we think it's a really smart idea to listen. Our attentiveness is rewarded when Tom reveals the single most important component of his success and the #1 investment of his career.
Not everyone is able to chit chat with a big time investor.  Tom doesn't do seminars, write books or sell boot camps.  He's just out in the real world doing the real thing.  That's why you have The Real Estate Guys™!  Our mission is to hunt down big brains, powerful ideas and great resources that help you succeed.  Your job is to listen, learn and take action.  Plus, we really appreciate it when you tell all your friends about The Real Estate Guys™.  Enjoy!
If you haven't figured it out by now, macro-economic policy can create pain or pleasure on Main Street USA. We've also discovered that what pains Main Street USA can pain the entire world!  So even though it sounds super boring, we decided it made sense to talk about macro-economics and related policy.  Of course, to do this we needed to get someone way smarter than us.  But when it comes to real estate, the danger of listening to most economists is that they're primarily academics with very little practical experience.  And often, whatever real world experience they do have is limited to just one state or country.  So imagine how refreshing and enlightening it would be to talk with a bona fide economist who thinks like a businessperson AND has real world real estate experience – not just in the US, but abroad!
That sounds like a TALL order!  Fortunately, when it comes to great radio show guests (and beer), tall orders are our specialty!
Bellying up to the radio bar to talk economics and politics are:
Your bartender and host, Robert Helms
Busboy and co-host, Russell Gray
Chief patron and Godfather of Real Estate Estate, Bob Helms
Economist, businessman, investor and really big brain, Dr. Mark Skousen
We hop right into the conversation by reflecting briefly on how the experiences of the last few years highlight the direct connection between macro-economic policy and Main Street reality.  We barley get started before we realize we're in over our heads, so we draft our special guest into the conversational brew.
Dr. Skousen quickly helps us get a handle on the topic.  In addition to having a big brain and formal training, Dr. Skousen's background as a columnist at Forbes Magazine and his role as the promoter of the annual Freedom Fest conference allows him to tap into the insights of such notable folks as Steve Forbes, Peter Schiff, John Mackey and many more.  In fact, The Real Estate Guys™ are headed to Freedom Fest in fabulous Las Vegas in just a few weeks to expand our minds and meet some of these interesting people!
Dr. Skousen reminds us that real estate economic cycles are long and sometimes slow. He also explains why, unlike others in the past, one particular asset class bubble managed to affect (infect?) the entire financial system of the world.  His comments remind us how truly influential real estate is across all segments of an economy.
Now we thought Dr. Skousen might have a dark (or least amber) economic outlook.  But our fears turned pale, as the good doctor served up a forecast of sunshine.  He shares the reasons for his optimism and reveals what he believes is the single most important ingredient for sustainable recovery.  However, he also expresses his concerns over certain currently policies which he says are actually delaying economic growth.  Then he talks specifically about one area of real estate investing which he says has been showing real promise.  Not surprising, it has to do with the private sector providing some much needed liquidity.  How appropriate!
Long time listeners of The Real Estate Guys™ know we're big fans of international diversification. Dr. Skousen shares his personal experiences of living and working abroad and how, through his activities in Freedom Fest, he's seen a marked increase in US citizens' interest in off-shore investing and strategies.  Wow!  We didn't know so many people were listening to The Real Estate Guys™.
Like our beer drinking, we have a great time with this show.  We think you will too!
Listen Now
Don't miss a show!  Subscribe to the Free Podcast
Want More?  Sign Up for The Real Estate Guys™ Free Newsletter!
What's a reasonable return on investment in today's market? As you might expect, the answer is, "It depends!"  Every investor must accept risk in order to attain reward.  Even doing nothing is a risk with its own reward.  The obvious goal is to achieve maximum reward with minimum risk.  Duh.  But what are the risks and how do you assess them?  What are the potential returns?  What's about the not-so-obvious risks?  And what's reasonable to expect in today's economy? Tough questions!
Balancing in our chairs behind The Real Estate Guys™ golden microphones (actually, they're black with smelly foam that prevents our P's from popping too profusely), to talk through all of these perplexities are:
Your Host and mental gymnast, Robert Helms
Co-host and floor tumbler, Russell Gray
Chief spotter, the Godfather of Real Estate, Bob Helms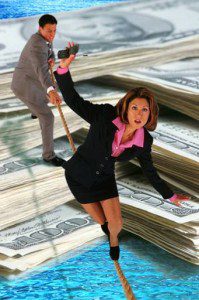 Real estate investing is as much an art as it is a science. There are so many different markets, sub-markets, product types and deal structures to choose from.  Beyond that, there are variations in economic conditions, seller motivations, tax laws, interest rates and on and on and on.  The types of returns which can be attained in a real estate investment range from bankruptcy (on the VERY negative side) to infinite returns (profit on nothing invested). We like the latter better, don't you?
Recognizing that real estate investing is "non-traditional" when compared to the conventional approach of "work hard, pay taxes, live below your means and buy stocks, bond and mutual funds for the long haul" – we talk about the ranges of returns which are reasonable to expect when investing in certain kinds of real estate.  We also talk about how certain deal structures can really improve your ROI.
Another topic of discussion is the risks of investing versus those of NOT investing.  There is an adage which says that the more risk you take, the more return you should demand.  We agree with that one. Of course, it presupposes that you understand the risks and can factor them into your decisions.
There is another adage which says that higher returns mean more risk.  NOT NECESSARILY!  There are actually deal structures which REDUCE risk while INCREASING return.  So of course, we talk about those things because they are among our favorite benefits of real estate investing!
After this broadcast, we slipped off our leotards (sorry, bad visual) and headed for the showers (worse visual!), pleased with our performance.  Now we're waiting for the judges (that's you) to put up our scores.  We only ask that not take into consideration what we look like in our leotards.  And, that you remember to take us to the gym because, as you probably already know after the leotard visual, we REALLY need the workout!
Listen Now
Don't miss a show!  Subscribe to the Free Podcast
Want More?  Sign Up for The Real Estate Guys™ Free Newsletter!
There's lots of good real estate news lately!
Does that mean real estate is back?  Inquiring minds want to know!  So we decide to dig deeper into the headlines to see what we can find out. In the news room for this broadcast are:
Your host and chief news analyst, Robert Helms
Co-host and head article clipper, Russell Gray
Stone tablet reviewer, The Godfather of Real Estate, Bob Helms
Thanks to the internet, real estate investors have more access to more information than ever before!  But to whom much is given, much is required.  It's more important than ever to consider carefully what is being reported, who's reporting it, and whether the underlying facts are accurate.
We shoot through reports on news about housing, employment, consumer confidence and economic trends – all of which provide clues we can use to determine what's really happening out there.  Of course, you always run the risk of paralysis of analysis, so managing your mindset is just as important as filtering through all the noise.
At the end of the day (and this broadcast!), it all comes down to taking action.  Knowledge is only power when acted upon.  If there's opportunity in turmoil, then a key to success is to take action when others are hesitating.  How?  Tune in and find out!
Listen Now
Don't miss a show!  Subscribe to the Free Podcast
Want More?  Sign Up for The Real Estate Guys Free Newsletter!
Why has Dallas become one of our favorite US real estate markets?
Texas is ranked the #1 business friendly state in the US. Last time we looked, tenants have an easier time paying the rent when they have a job.  And landlords have an easier time paying the mortgage when tenants pay the rent.  Jobs are good.
Dallas is the nation's 5th largest media market. Hey, we are radio guys.
Dallas is in the top 10 big US cities where it makes more financial sense to rent rather than own.  That means tenants stay tenants longer.  Less turnover means less expenses.  Less expenses means better cash flow.  Cash flow is good.
Dallas real estate values have held up very well throughout the mortgage meltdown and the resulting unprecedented drop in real estate values across the US.  After the last two years of "Drop Zone", a Merry-Go-Round sounds exciting enough.
Dallas is only 2-1/2 hours from Belize. Does that count?
The Real Estate Guys™ TV show is taped in Dallas (Addison actually, but it's close enough).
Most rental residential real estate prices are well within the FHA / Fannie / Freddie conforming guidelines. That means it's easier to get loans.  It's also easier for resale buyers to get loans.  Life is easier when you can get loans.
Our friend, Ken McElroy, says Dallas is one of his favorite markets for the next 5-10 years.  And we think he's well qualified to have an opinion.
Infrastructure! Centrally located in the US, a huge airport, a great freeway system, on the path from Mexico to the North and Northeast, a big labor force and good higher education.  Plus they have an amazing $1.2 billion football stadium.  That's infrastructure, isn't it?
Big and diverse economy. Dallas is home to lots of huge companies.  But for every huge company, there are lots of little ones that support them.
We could go on, but you get the idea.  But why take our word for it?  Come to Dallas and check it out for yourself! Reading blogs and looking at stats on the internet is interesting in "student mode".  To get to "investor mode" (where you actually buy, own and manage real estate), you need to visit the market.  How long does it take to learn a new market?  A lot longer if you go it alone!
Invest a weekend with us in Dallas and we'll help you compress time frames. We'll help you get the lay of the land (literally!), explore various sub-markets, meet local experts and service providers; plus we'll introduce you to some of our key contacts.  And no one is going to ask (or pressure) you to buy anything including the next "boot camp" or any specific property.  That's not the way we roll.  But if you find something or someone that interests you, you can follow up when you're ready.  Sound fair?
For more information, about the next field trip to Dallas, click here.

We always say that every problems presents one or more opportunities.  That sounds really good in a seminar or on the radio, but what about in the real world?
In our continuing quest to find resources to help real estate investors succeed, we came across an entrepreneur who looked at all the carnage in the low end housing market and saw a business opportunity.  In fact, we were so impressed that after out first meeting we decided to fly to his office and look at his operation.
While we were there, we fired up the microphones and recorded an interview.  Wouldn't you like to hear it?  We thought so!
Behind the microphones on location in Austin, Texas:
•    Your host and lead explorer, Robert Helms
•    Co-host, financial strategist and travel coordinator, Russell Gray
•    Lawyer, entrepreneur, investment banker and CEO, Jeffrey Ball
Anyone who's every watched a late night TV infomercial has probably heard the terms "REO" and "Wholesale".  And at 2:00 am, the idea of buying bank owned properties for pennies on the dollar SOUNDS easy to do.  But anyone who's every tried knows it's a whole lot harder than it looks.  So even if you're well educated and adequately capitalized, getting into the deal flow can be elusive.  Correction, getting into the GOOD deal flow is elusive.
Of course, most people only look at a problem from their own perspective.  If deal flow is a problem for investors, what about the banks who are holding repossessed properties?  Our guest points out that the banks have problems too!   And he tells why the problem is worse on the lower priced properties.
Wow!  If both the buyers (investors like you) and sellers (banks holding repo'd property) have problems, there MUST be an opportunity in there somewhere, right?
Once we understand the problems from both sides, Jeff reveals how he built a business around solving the problems.  What's most exciting is there is a role for individual investors to play.  If you know there's great deals in distressed property, but haven't figured out a practical way to get into the deal flow, then this show is for you!
Listen Now
Don't miss a show!  Subscribe to the Free Podcast
Want More?  Sign Up for The Real Estate Guys Free Newsletter!