Listen now:
Sometimes people confuse real estate investing with running a real estate business – especially when everyone says you're supposed to run your investments like a business.  Confusing isn't it?  That's why many people simply turn their money over to Wall Street.  It's painless and easy.  Like a scalpel.  It's all fun and games until someone loses their net worth.
Real estate attracts people who want to be closer to real tangible investments they can understand and have more direct control over.  But not everyone has the time, talent or temperament to find, fix up and rent out properties.  So before you pick up a hammer and plunger, you may want to look at turnkey rental property solutions as a great way to get in on all the amazing bargain inventory available today.
What is a turnkey property solution you ask? We wanted to know too, so after our wives had us scour the sink, they let us out to scour the country – and we found a guy who's been in the turnkey rental property business for nearly 10 years.  He called in and our crack engineering crew patched him into the broadcast.
Lending their voices to this sparkling edition of The Real Estate Guys™ Radio Show:
Your host and shining star, Robert Helms
Co-host and chief scrub, Russell Gray
Turnkey Rental Property Purveyor, Practitioner and Pontificator, Terry Kerr
With all the talk about unemployment and real estate entrepreneurship, what if you're one of the throwback investors who actually have a good job with good income and some investment capital you want to put to work?  That's where a turnkey provider comes in real handy.  They're in the business of buying, fixing up, renting out and handing over to you a plug n' play cash flowing property – complete with long term property management in place.  Now doesn't that just sound groovy?
But (and as always it's a big one), not all "turnkey" providers are the real deal.  With all the distressed inventory in the market, banks are dumping it wholesale.  That can be good, but just having a property flipped to you doesn't mean it's plug 'n play.  It end up as "pull the plug".  Not fun.
To help you avoid this terrible fate, Terry Kerr shares his tips for turnkey property investing – and gives us some local knowledge on a low cost, high cash flow market that you've probably heard of, but may not know that well.  And pay attention, because we persuaded Terry to produce a special report on this tantalizing topic so you don't have to take too many notes. 😉
The Real Estate Guys™ Radio Show podcast provides education, information, training and resources to help investors make money with their real estate investing.
Since we're big shot jet-setters, we thought we'd fly our semi-private jet (the one we share with with 135 other Southwest Airlines passengers) over to Phoenix to visit Robert Kiyosaki in his Rich Dad studios.
The author of mega-bestseller Rich Dad Poor Dad has a new literary derivative (that's financial lingo for "book") called Unfair Advantage – The Power of Financial Education. In fact, on March 31st, there's a kick off event in Los Angeles by the same name.  We'd be there ourselves, but we'll be in Fort Lauderdale prepping for our Secrets of Successful Syndication seminar and our 9th Annual Investor Summit at Sea™.  And there's still time for you to join us.!
Whew.  Now that we have all the shameless self-promotion out of the way, let's talk about this episode of show.
In the Rich Dad studios to talk about finding your unfair advantage in financial competition:
Your host and the fairest of them all, Robert Helms
Your fair (on a scale of poor-fair-good-excellent) co-host, Russell Gray
Author, speaker and entrepreneur, and most excellent dude, Robert Kiyosaki
It's really unfair to say "unfair" advantage, since everyone has the opportunity to get a solid financial education. But in the real world, since so few people are willing to put in the time to learn, those with a good financial education appear to operate with an unfair advantage.  Kiyosaki says that's why the rich get richer and the poor get poorer.
Those armed with financial education are able to make money in down markets as well as up markets. So while most people's fortunes rise and fall with the ebb and flow of financial cycles, the financially astute just keep ratcheting up and up.  That's the side we want to be on!
Financial competence isn't simply a matter of information and how to. Every time we talk with Robert Kiyosaki he emphasizes the investor's mindset.  His signature book, Rich Dad Poor Dad, is a study in the subtle but critical differences between how the rich and poor think about, value and handle money.  We've met many people who testify that Kiyosaki's philosophies have changes their lives.
Kiyosaki tells us that "when the amateurs get in, the pros get out" and "the late-comers always gets killed".  Then he tells us whether he thinks now is a good time to getting in to real estate.
The Real Estate Guys™ are very fortunate to have enjoyed a great relationship with Robert and the Rich Dad organization going on 8 years now.  We've read most of his books, interviewed many of his advisors, gotten to know several of the folks in the Rich Dad offices, and attended several of the Rich Dad conferences.  Of course, Rich Dad's real estate advisor, Ken McElroy was part of our faculty on our 2010 Investor Summit at Sea and is coming back for the 2011 edition (there's still room for you!). 🙂
All this to say that we've developed a strong respect for Robert Kiyosaki and the Rich Dad team.  More, we've found their message to be inspiring and empowering – not just for us, but for many of our listeners.  So whenever we have the opportunity to sit down with Robert Kiyosaki, we're interested in whatever's on his mind.  Of course, we brought the microphones along to capture the conversation for you.  We really enjoyed our visit and trust you will too!
Listen Now:
The Real Estate Guys™ radio show and podcast provides real estate investing news, education, training and resources that help real estate investors succeed.
When we went to the National Hard Money Conference in Las Vegas, we met a guy who had over 30 years in commercial hard money lending.   Based on that alone we wanted to talk with him.
But because we're busy prepping for our Secrets of Successful Syndication seminar, we were especially anxious to get perspectives from a 30 year vet.  After all, we think it's a great time for real estate entrepreneurs to step in and help heal a decimated economy by getting capital flowing into properties and projects.  But what does an industry insider think?
Before leaving Las Vegas, we set up our mobile studio.  We wanted to make sure that what happened in Vegas didn't stay there.  Behind the microphones for this episode of The Real Estate Guys™ Radio Show:
Your hard money host, Robert Helms
Your semi-hard money co-host, Russell Gray
Special guest, founder and CEO of Blackburne & Sons and C-Loans, George Blackburne
Just like in the grocery, hardware and car part businesses, the financial industry has suppliers, wholesalers, retailers and consumers.  But the product being distributed is money.
Most people are familiar with banks, credit unions, mortgage companies and the types of retail transactions they engage in.  Some people (like small business owners) are somewhat familiar with local business banks and other institutional sources of commercial capital.  But most people have only a vague understanding of private capital and the term "hard money" – especially when it comes to small commercial businesses and properties.  So we open the show with a quick overview of the term "hard money" and a quick discussion of how it fits into the financial food chain.
But we don't take long to get our guest talking about his 30+ years in the business and what he sees going forward.
George Blackburne has been helping guide private money into local projects and properties three decades.  Along the way, he's seen a lot of changes.  Being an entrepreneur, he saw a need in the commercial funding business which emerging technology could solve.  So fourteen years ago, he founded C-Loans, an on-line directory that matches borrower and brokers with sources of funding.  We thought is was such a cool idea, we're adding it to our Resource Center.
In addition to being a money guy and an entrepreneur, George is also a lawyer licensed in two states.  In other words, he's a pretty sharp guy.  So we were very gratified when he told us he thought 2011 would be "the year of the hard money lender".   It just made us all the more certain that now is the time for all good real estate entrepreneurs to come to the aid of their country and consider getting into the private capital business.
While many are frustrated waiting for corporations to create jobs and banks to start lending to small business, entrepreneurs can create a job for themselves and others while getting into the game of investing private capital.
There are tons of distressed assets available for pennies on the dollar, and deserving projects just waiting to be funded.  And while banks are only interested in the "low hanging fruit", (the "no brainers" as George calls them), there are lots of "outrageous profits" waiting for those are willing to "be the brainer"!
We think this era will be remembered not only as the "year of the hard money lender", but as one of the greatest opportunities to build wealth with real estate that we may see in several decades.  Check out this episode and see what you think!
Listen now!
Don't miss a show – subscribe to the free podcast!
Want More?  Sign up for The Real Estate Guys™ free newsletter!
The Real Estate Guys™ Radio Show podcast provides education, information, training and resources to help investors make money with their real estate investments.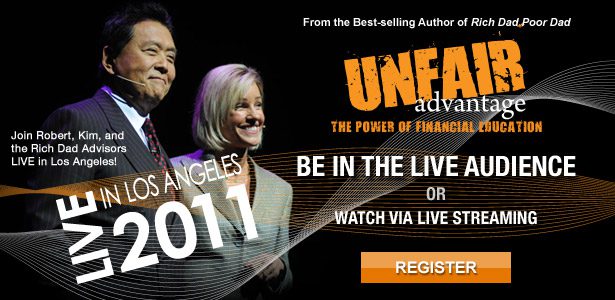 The Real Estate Guys™ just got back from an awesome visit with Robert Kiyosaki and the Rich Dad team in Scottsdale, Arizona – home of spring training for the World Champion San Francisco Giants!  And courtesy of Rich Dad's Real Estate Advisor (and our own Summit at  Sea™ faculty member) Ken McElroy, we got a chance to take in a few innings before heading to the Rich Dad offices to interview Robert Kiyosaki for an upcoming episode of  The Real Estate Guys™ Radio Show.
Our interviews with Robert Kiyosaki are always fun and enlightening. You can always count on Robert to tell you what he really thinks!  So watch for that interview, which you can listen to online or via iTunes.   To make sure you don't miss it, or any of the shows, be sure to subscribe to the free podcast.
In the unlikely event you don't know, Robert Kiyosaki is the author of mega-best seller Rich Dad Poor Dad.  We've had many of our listeners tell us how Robert's teachings has changed their lives.  Some people in the conventional financial industry and media are critical of Rich Dad (and the feeling is mutual), but the success of the Rich Dad message speaks for itself.  The conventional industry fosters dependency and profits on the public's financial ignorance.  Rich Dad is committed to empowerment through education.  We like it.
So what's on Robert Kiyosaki's mind right now as America struggles to recover from the Great Recession?
Robert Kiyosaki says it's more important than ever to have a solid real world financial education. Wall Street, the Federal Reserve and Washington DC aren't to be trusted with your hard earned money.  There are games being played at high levels that victimize the poor and middle class.  And it doesn't matter which party is in power.  He calls it "the conspiracy of the rich"  and wrote a best selling book by the same title.  For years, he's been saying the rich will get richer, while the ranks of the poor will swell as the middle class is pushed down. Don't believe it?  Just read the headlines every day.
So the question isn't whether or not it's happening.  The question is: What are YOU going to do about it?
Kiyosaki says (and we agree) that the first and most important thing to do is to make a COMMITMENT to your own financial education.  There are a few things in life that you cannot afford to be ignorant about, and money is one of them.  Otherwise, the people who understand money will find a way to take yours.  The old adage is true:  when experience meets money, the money gets the experience and the experience gets the money.
The VERY GOOD NEWS is that YOU get to decide which side of the equation you're on. And your success begins with education.  We support the Rich Dad organization because they are committed to education, just as we are at The Real Estate Guys™ Radio Show.  It's that common bond that keeps us supportive of one another.
So we highly encourage YOU to be in the live or virtual audience on March 31st to discover how YOU can gain an Unfair Advantage through education.  Learn to protect and build your wealth and prosperity – even in (and because of) difficult times.
Click here now to learn more and register for this live event!
Then afterwards, use our Feedback page to tell us what you think.
The idea of making big money as a real estate investment fund portfolio manager is enough to get most people all hot and bothered.  But before you go too far, we encourage you to cool down and consider practicing safe syndication.
In the broadcast clinic for this episode of The Real Estate Guys™ Radio Show:
Your guru of group deals, host Robert Helms
The doctor of details, co-host Russell Gray
Special guest and resident "wet blanket", attorney Mauricio Rauld
We've had syndication on the brain for several weeks now.  It could be that spring is coming or more likely, that many factors have come together to magnify the attraction of organizing and managing an investment fund.
But this episode isn't about all the fun and opportunity you"ll have.  Rather, we invited attorney Mauricio Rauld to talk about all the legal responsibilities that are part of setting up a syndication.  Even though these types of activities start out innocently enough, if you don't have a firm understanding of where the boundaries are, it's easy to cross them and end up afoul of regulators.  And that can just ruin the whole experience!
So tune in and discover important details about properly setting up your business entity, documenting your offering, and complying with the various restrictions on promoting to potential investors.  Because although syndicating is fun and exciting, it's important to approach the whole experience in a safe and sane manner.  That way, it's good for both you and your investors.
Listen now:
Don't miss a show – subscribe to the free podcast!
Want More?  Sign up for The Real Estate Guys™ free newsletter!
Connect with the Guys on Facebook!
The Real Estate Guys™ Radio Show podcast provides education, information, training and resources to help investors make money with their real estate investments.
When The Real Estate Guys™ heard that the National Hard Money Conference was coming to Las Vegas, we decided it would be a perfect opportunity to visit one of our favorites places.  Say what you want about the Las Vegas economy and real estate market, but it's still one of the most dynamic and fun places to visit.  And because the economy is soft, there are great deals on rooms, meals, transportation and entertainment.  Too bad we didn't have time to indulge in anything more than the conference.  But we're dedicated to staying focused on bringing you a wide variety of interesting topics and guests!
Back when conventional funding (that is, money from banks) was flowing like water, most people equated "hard money" with "hard up".  But that's really a misnomer.  It's really more like "unconventional" or "out of the box".  Professional investors have long relied on hard money to finance properties that needed work, when the deal needed to close fast, or when the property or borrower needed a more personal underwriting.  We often say that hard money is one of the best kept secrets in real estate.  And when there's enough in a deal, the premium you pay for the flexibility of hard money (that's kind of an oxymoron, isn't it?), is well worth it.
As a reminder, "hard money" is just another way to say money that comes from private individuals rather than banks, and is sometimes aggregated into investment pools.  It used to be (and is largely true today) that those pools, or "syndications", were often managed by a local mortgage broker and the funds aggregated came from local investors.  It's a great vehicle to allow people to put their savings to work in support of their own community.
Of course, any time there's big money to be made, it attracts Wall Street, foreign investors and other big players.  So in today's market, you'll also find many hedge funds participating in the hard money market.  And in a post meltdown economy and all kinds of distressed assets available for pennies on the dollar, like white corpuscles, private money is flowing to the wound and cleaning things up.
With that backdrop, this one day convention (which was conducted by industry icon Leonard Rosen), brings together lenders, vendors, brokers, and even some borrowers, to explore the state of the industry and consider what the opportunities are in today's market.  There was a big emphasis on teaching traditional mortgage brokers, whose business model has been under attack by both the market and the regulators, how to transition from broker to syndicator.  This obviously piqued our interest, since we are of the opinion that this is one of the greatest times in recent memory to get into the syndication business.  We felt like geniuses when some of the biggest brains in the hard money business concurred!  Of course, we feel like geniuses most of the time, whether anyone agrees with us or not.  It's part of the delusional experience of being radio talk show hosts. 😉
For us, the National Hard Money Conference was a chance to peek behind the curtain of this intriguing sub-set of the lending industry and talk with some of it's major players.  And yes, we captured some great interviews and scheduled several more, so keep an ear out for some very interesting episodes of The Real Estate Guys™ Radio Show in the coming weeks.  In fact, to be sure you don't miss any, be sure to subscribe to the podcast.  It's free!
Mr. Rosen and his staff at Pit Bull Seminars put on a first class event.  Held in the Mirage hotel on the Las Vegas Strip, there was lots of energy and enthusiasm right from the get go.  But more than hype, the event included several guest speakers including a very sharp attorney named Jon Hornik.  The presentations were laced with perspectives, humor, technical training and valuable insider information.  Toward the end of the day, all of the speakers participated in an open forum panel and attendees were able to step up to the mic and ask specific questions.
One of the most interesting segments was when attendees were able to pitch a deal they were seeking funding for.  The answers and resulting dialog provided insight into what kind of deals are getting funded today, though the main purpose was for the audience to see what funders think about when considering a deal.  Whether you're a borrower, broker or budding fund manager, it's mission critical to understand how to quickly analyze a deal.  Watching pros do it was very enlightening.
There were several opportunities to network with other attendees. We made lots of great contacts, which is always a highlight of attending any event.  It's great when the promoter pays careful attention to creating these valuable opportunities to build relationships.  As great as the internet and social media are, we doubt they will ever be as effective for getting people together as getting people physically in a room for a full day or more, to focus on a dedicated topic and share their ideas, information and contacts with each other.  We don't know how anyone can consider themselves a professional in any industry, if they don't make attending such events a frequent and consistent part of each year.  It's one of the main motivations behind our annual Investor Summit at Sea™
We hope our schedule will allow us to check in on future conferences.  Leonard Rosen has been teaching hard money lending for 36 years and this was his 23rd annual conference.  He says each one is different because the market changes, creating new challenges and opportunities.  He made a passionate appeal to all attendees to be sure to continually re-evaluate their business models or risk being swept out of business by the relentless waves of change.   A big part of staying ahead of the curve is to spend time with the thought leaders if your industry.  So The Real Estate Guys™ offer kudos to Leonard Rosen for being such a leader and bringing others like him together for us to learn from!  We look forward to visiting the National Hard Money Conference again.