Building wealth over the long term and passing it along tax-free to subsequent generations is one of the great features of real estate (when properly structured).  But it isn't the only investment vehicle that works this way!
In this episode of The Real Estate Guys™ Radio Show, we visit with an old friend specializes in helping families create multi-generational wealth with an often misunderstood and overlooked financial tool.
In the studio to uncover the truth about this "secret asset":
Host and head treasure hunter, Robert Helms
Co-host and map boy, Russell Gray
Special guest, master financial strategist and author, David D'Arcangelo
This topic continues a theme we've been exploring lately as we look for alternatives to conventional banks and new ways to build equity on our balance sheets in a post recession economy.  Life insurance companies are tremendous aggregators of capital.  They are also among the most precise managers of money on the planet.  And because so many people cancel their policies before they pay off, there are some tremendous rewards available to those who understand how to use the policies properly.
But since the broadcast is titled "The Secret Asset", we won't give any more away here.  Be sure to listen all the way through because at the end, David D'Arcangelo offers a free report that you'll want to be sure to get!
The Real Estate Guys™ Radio Show podcast provides education, information, training and resources to help investors make money with their real estate investing.
Listen Now:
The Real Estate Guys™ radio show and podcast provides real estate investing news, education, training and resources that help real estate investors succeed.
For the ninth straight year, The Real Estate Guys™ and an energized group of committed real estate investors boarded a cruise ship for a week of powerful education, networking and fun. And as is our tradition, while on board we recorded a radio show with a live studio audience.
We call this annual event our Investor Summit at Sea™ because Summit means "the highest point of attainment or aspiration: the summit of one's ambition; the highest state or degree". 
More than education, the Summit is about relationships, enthusiasm, focus and family. Because of the unique environment created on a cruise ship, faculty and students often bring their families.  It's proven to be a great opportunity to unite families around their pursuit of financial independence and prosperity.

Reflecting on their Summit experience from the Mad Hatter's Lounge on the Carnival Miracle:
Your host, Robert Helms
Co-host, Russell Gray
The Godfather of Real Estate, Bob Helms
Robert Kiyosaki's Rich Dad Real Estate Advisor, Ken McElroy

International Real Estate Developer, Beth Clifford
Attorney, Mauricio Rauld
Financial strategist, Patrick Donohoe
After one week of focused education, networking and outrageous fun, each faculty member share their most important takeaways. Over two-thirds of the 2011 attendees, including the complete faculty and their families immediately signed up to come back in 2012 to celebrate our 10th annual Investor Summit at Sea™.  It's hard to describe the Summit experience, as several surveys described the event as "life changing", "incredible", "awesome" and "over the top".
How can a simple real estate investment conference have such a powerful impact? Tune in as our prestigious faculty tries to distrill their experience into a one hour radio show – and consider the power of just one great idea, relationship or commitment.
Listen now!
Don't miss a show – subscribe to the free podcast!
Want More?  Sign up for The Real Estate Guys™ free newsletter!
The Real Estate Guys™ Radio Show podcast provides education, information, training and resources to help investors make money with their real estate investing.  Learn more and subscribe to the free newsletter at www.realestateguysradio.com
Join Robert Helms, host of The Real Estate Guys™ Radio Show for a memorable weekend discovery trip to the beautiful country of Belize!  Three great dates to choose from: Sep 15-18, Oct 6-9 or Nov 3-6, 2011

Why Belize?
Three words: Location, Location, Location (we've heard those are important for real estate).
Click here to download your registration form.
Belize is the former British Honduras and is located just under Mexico's Yucatan Peninsula. Mainland Belize features lush green tropical rain forests, while it's Eastern border faces the Caribbean ocean safely nestled behind the world's 2nd largest barrier reef. The islands are postcard perfect and attract vacationers, diving enthusiasts and celebrities alike. Harrison Ford, and more recently, Reese Witherspoon are known to visit Belize for private, relaxing getaways. Leonardo DiCaprio purchased a 110 acre island known as Blackadore Caye. We'll show it to you when you attend this discovery trip!
But beyond beautiful, Belize has other unique attributes which make it attractive to investors and tourists alike. Belize is the ONLY country in Latin America whose official language is English. This, and the fact that its currency is pegged at a fixed 2:1 exchange rate with the U.S. dollar, make it a friendly place for Americans. Plus there are direct flights from several U.S. cities including Atlanta, Miami, Dallas, Houston and many others. Belize is actually closer for most Americans, Canadians and Europeans than Hawaii!
The Real Estate Guys™ will show you Belize!
Click here to download your registration form.

Robert Helms and his team have been visiting and investing in Belize for several years. He's led several investor field trips with as few as one couple and as many as forty-five. The feedback on every trip has been over the top positive! Robert will share his extensive market knowledge, introduce you to local market experts, and personally show you the mainland, the islands, and several different developments.
This is an EDUCATIONAL event. This is not one of those "fly n' buy" sales trips where aggressive salespeople are waiting to pounce on you. We believe the right approach to real estate is to start with the market first, then build a team, and then select property that meets your personal and investment goals. This trip is about exploring the market and meeting people who may become part of your team down the road.
Discover the real estate, banking and lifestyle opportunities available to you in beautiful Belize during a semi-private tour led by The Real Estate Guys™ Radio Show host Robert Helms.
Click here to download your registration form.
Trip Logistics
Once you're enrolled, our registration team will contact you to help arrange your air travel. Your round trip airfare is not included in your tuition, but it's very important that your arrival is coordinated through our team. While you're in Belize, virtually all your trip expenses including transportation, hotel accommodations, speaker sessions, materials and most meals are included. Alcoholic beverages, souvenirs, extended stays and certain other incidental expenses are not included. Upon receipt of your completed registration form, we'll provide you with information about what to wear, pack and expect.
The Opportunity is Now
There are lots of reasons to like a place like Belize (is there any other place like Belize?), but the opportunity today is better than ever!

Americans haven't lost purchasing power in Belize because of the fixed exchange rate, while many other countries have gained purchasing power because of a soft U.S. dollar. Baby boomers in the U.S. still dream of warm weather, low tax, beautiful places to resort and retire, but many of the more established areas remain relatively expensive in a post recession economy.
Belize offers an English speaking, affordable, "non-touristy", and reasonably nearby alternative. And popular TV shows like House Hunters International are helping a growing number of people discover Belize as a great option not just for retirement, but also full time residency for a growing new class of telecommuters and independent information workers. Think about it: would you rather sit in a corporate cubicle in Cleveland or a beautiful beach in Belize?
Additionally, Belize still enjoys a great reputation as a tax friendly jurisdiction with strong privacy banking and asset protection laws. As citizens of "developed" countries face increasing concerns about privacy, taxes and frivolous litigation, the affluent are seeking off-shore alternatives in greater numbers than ever.
All of these trends point to increasing demand, but the wave is still growing. Alert investors can position themselves in the market to provide the properties that tourists, retirees, remote workers and ex-pats will want to buy or rent. Besides, if the worst thing that happens is that you have to live or use your property for personal use, would you rather it be a duplex in Detroit or bungalow in Belize? Meanwhile (check with your own tax advisor), once you have investments in Belize, your trips to visit just might be tax deductible. Very cool.
A Visit is with Worth a Million Words
If a picture is worth a thousand words, then a personal visit to paradise is worth at least a million. Come see it with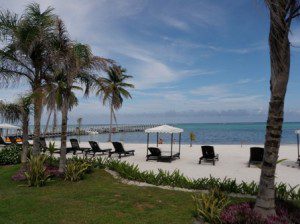 your own eyes!
We look forward to seeing YOU in beautiful Belize!
Unless you're a Jedi Knight, it's probably not smart to simply trust your feelings when it comes to piloting your real estate investments.  We mere mortals have to rely upon our gauges to really know what's happening so we can make important adjustments.
So, as unsexy as bookkeeping is, it's the vitally essential process of gathering, organizing and tracking all of the data and documents needed to produce meaningful reports.  Without them, we can't tell if we're on track or off course with our properties and overall portfolio.
And because The Real Estate Guys™ Radio Show is dedicated to your success (and not just keeping you entertained), we thought that doing a show on bookkeeping would be timely just five days before the tax return filing deadline.  We're guessing you're more acutely (as in "acute pain") aware of the potential for improvement in this area of your investing life. 😉
But since we're personally still trying to find the shoebox of last year's receipts, we booked a much better qualified expert to help us explore this topic.
In the studio cockpit for this exhilarating episode of The Real Estate Guys™ Radio Show:
Your Jedi Master and show host, Robert Helms
Co-host and Padawan learner, Russell Gray
Special guest, Certified QuickBooks Pro Advisor, Enrolled Agent,  Bookkeeper and Author, Renee Daggett
Ugh.  Bookkeeping?  That's the last thing swashbuckling real estate investors what to think about as the soar through the market scooping up properties, making deals and snuffing out problems.  But (and as usual, it's a big one), bookkeeping is a mission critical system, so you'd better pay attention to it.
Fortunately, our guest Renee Daggett is a bookkeeper who specializes in working with real estate investors.  Real estate investors are a unique breed as are their bookkeeping needs.  In this episode Renee shares practical tips for taming the inevitable piles of paper and information that is part of every investor's life.
The good news is that once your system is set up properly, it isn't as much work as you think to keep it up.
And the big benefit of better bookkeeping is you will have accurate financial reports, tax returns and loan applications.   This not only helps you make better business decisions, but allows you to respond faster to opportunity and work more effectively with your professional advisors.
Whatever you have to spend on good bookkeeping should more than pay for itself with more time to find and make deals, and savings on professional fees and sleeping pills.
So listen in and discover how you can organize your financial records to free you up to soar to new investment heights!
Listen now!
Don't miss a show – subscribe to the free podcast!
Want More?  Sign up for The Real Estate Guys™ free newsletter!
The Real Estate Guys™ Radio Show podcast provides education, information, training and resources to help investors make money with their real estate investing.
Easy money caused hot markets to go super-nova. And when the music stopped these formerly high flying markets came crashing down in unprecedented fashion.  Now, there's a BIG MESS to clean up – and that's bad, right?
It depends on who you are and how you look at it.
Without re-hashing several of our past (and very excellent) broadcasts, suffice it to say that if you're a seller in a down market, you're not a happy camper.  But if you're a BUYER, you're a kid in a candy store – especially because prices have swung so far the other way, you might actually have equity on the day you buy.  Yes, Virginia, equity still happens.  But that's a whole other topic.
Of course, who wants to be a penniless kid in a penny candy store (don't even get us started on whatever happened to penny candy)?  If you lost your cash, credit and income in the recession, but can see the great real estate deals available all around you, there's still hope for you!
We've been talking a lot about syndication (raising money from others and forming a business to invest in real estate), but there's another, less complicated, way to profit in a market like this.  It's called "wholesaling".
You can wholesale anywhere, but it works best in markets that have been hit REALLY hard, the average price is pretty low, and whatever made the market attractive when things were hot still remains.  Hmmmmm…. can you think of any markets like that?
We thought of one and flew there to check it out.  We met a guy who is not only an active wholesaler, but he trains investors how to do it.  We thought you'd enjoy hearing from him, so we invited him to call in and share his insights.
Contributing to the conversation in this episode of The Real Estate Guys™ Radio Show:
Your wholesale host, Robert Helms
Your discount co-host, Russell Gray
Special guest, investor, entrepreneur and trainer, Lex Levinrad
Listen in and find our what's happening in the South Florida real estate market and how enterprising entrepreneurs are helping heal a hurting market place.
Listen now!
Don't miss a show – subscribe to the free podcast!
Want More?  Sign up for The Real Estate Guys™ free newsletter!

The Real Estate Guys™ Radio Show podcast provides education, information, training and resources to help investors make money with their real estate investing.
The Real Estate Guys™ Radio Show podcast just went over ONE MILLION DOWNLOADS!
Okay, so we're not Lady Gaga  or the Black Eyed Peas (though we did think about changing our name to Real Guy Guys or the Gray Haired Guys), but we still have our big #1 foam fingers on.
But WHY should YOU care?
Here's why: If you're even reading this your probably have more than a passing interest in your financial future and the role real estate can play in making it better.  The success of The Real Estate Guys Radio Show™ not only affirms that we are handsome, talented and well-endowed with wisdom (did we mention our unsurpassed humility?), BUT it shows that real estate is far from over from an INVESTOR's perspective.  In fact, our audience has DOUBLED in the last year!
PLUS, there are over 20% more real estate podcasts in iTunes top 200 best-sellers than a year ago.
So it seems to us that more and more people are becoming interested in real estate as a long term investment and are looking for information on how to make equity (and cash flow!) happen to them.
Let's face it.  The economy has issues. Rising government debt, impending shutdowns, a suspect and potentially corrupt financial system, ever growing insecurity about Social Security, Quantative Easing (have you seen oil, gas and food prices?), states and municipalities on the brink of bankruptcy, and……..okay we'll let up now.  This is depressing……or is it?
Entrepreneurs know that problems are opportunities to provides goods and services to people needing help.  Unless you think America and the world's economy is DEAD FOREVER, then people will still need real estate to live and conduct business in.  What kind, where, how much they're able to pay, financing options, taxes, and all the details change.  But the basic human need and the business model that supports real estate hasn't changed at all.
In an unstable world, investors seek stability. But all the mainstream marketing budgets and financial advisors point to Wall Street, so it's been hard for Main Street investors to discover and access alternative investment concepts and opportunities. But times are changing.

The internet, the proliferation of broadband access and all the related tools from laptops to smart phones to iPads, have created distribution channels for new voices to enter the dialog.  Radio was and still is an awesome communication tool.  We're extremely proud of our 14 years on conventional airwaves.  But even radio hasn't given us the reach that podcasting has.  We have listeners ALL OVER THE PLANET, a fact which never ceases to amaze us.
In fact, this blog is being typed from a hotel in Fort Lauderdale the night before our Secrets of Successful Syndication seminar.  We have people here from Panama, Papua New Guinea, and many, many U.S. states!  We've had people from Canada, France, Russia and Germany (and we're probably forgetting some) that have been on our field trips and our annual Investor Summit at Sea™.
So we're VERY EXCITED about getting to our OUR FIRST MILLION downloads in our short tenure of podcasting.  And we're thankful to all our old and new fans who keep us #1 on iTunes and send us all kinds of nice messages every day.
But MOST OF ALL, we're happy that NEW MEDIA is empowering ever-growing millions of people with ideas, information, perspectives and opportunities they might not have otherwise ever found. And we're very pleased to be a part of the growing community of content providers making it all happen.
So in spite of all the "problems" in our world, it's really ALL GOOD.  Again, having problems to solve means there are more opportunities to serve people and make money.
Just make sure YOU get in on the action.  Because knowledge is only powerful when acted upon – and the best education is gained through the experience of the real world.  That's why our motto is Education for Effective Action™.
And one more thing:  Please tell ALL your friends about The Real Estate Guys™ Radio Show and podcast.  You do that, and we'll keep working hard to bring you great guests, interesting topics and our trademark weekly trivia. 🙂