Compact Audio Player Error! You must enter the mp3 file URL via the "fileurl" parameter in this shortcode. Please check the documentation and correct the mistake.
When it comes to conventional mortgage money, your three digit credit score is very important.  Since most people start their investing careers with residential 1-4 unit properties, we consider your credit score to be worthy of proper care and feeding.
It's been a while since we covered this topic and a lot has changed in the world of credit and lending, so we decided to dedicate this episode to the brave new world of credit, credit repair and what you can do it improve your credit score.
In the studio looking for more credit than they deserve:
That beacon of broadcast excellence, your host Robert Helms
Your scoreless co-host, Russell Gray
Credit expert and author, "The Credit Guy", Wayne Sanford
According to our special guest Wayne Sanford, there are two worlds of credit scoring:  the "perfect" world where everything is accurate, up to date and fair; and the "real" world where credit reports are littered with mistakes, scores take weeks and sometimes months to update, and a system that is rigged against investors.  Guess which world we live in?
The good news is that even though the system is far from perfect, when you've reviewed 11,000 credit reports like Wayne has, you begin to recognize real world trends and can implement techniques which actually can improve you score.
Now before you tune out, there are some things you should know.
First, it isn't expensive or difficult to stay on top of your credit score.  But you do need to know what you're doing.  Wayne will give you some tips in this episode.  If you listen all the way through, you'll find out how you can get a free report on how you add a quick 15 points (or more) to your credit score at those times when you them the most.
Next, while it's a hassle to babysit your credit score, it can be really expensive if you don't.  The good news is that once you master a few basic principles and use a little discipline, you can keep your score in pretty good shape year round.
Then, once you understand that your credit score is a numerical "snap shot" of your credit profile at a particular point in time, you'll discover with the right knowledge and foresight, you can pretty up your score and have it ready to smile for the camera when it's picture time.
Having a pretty credit score at critical junctures (like when you're locking in your interest rate on a rental property for the next 30 years) can save you many tens of thousands of dollars…or more!
Credit score management isn't just repairing bad credit or avoiding identity theft.  It's about leveraging one of your essential financial resources for optimal return on investment.  And like a piece of equipment, if you take it out and work with it, it's going to get dinged up and need attention.  But the better you care for it, the more you can use it to make money.
So listen in as Wayne "The Credit Guy" Sanford talks credit, credit repair and what you can do to improve your credit score now and every time you really need it.
The Real Estate Guys™ radio show and podcast provides real estate investing news, education, training and resources to helps real estate investors succeed.
Answering your questions is one of our favorite things to do!  Every few weeks, we reach into the email grab bag and pull out a handful of interesting questions from our worldwide audience.
Behind the silver microphones from The Real Estate Guys™ international world headquarters:
Your silver tongued know-it-all host, Robert Helms
Your tongue-tied know-nothing co-host, Russell Gray
The silver- haired Godfather of Real Estate, Bob Helms
We picked out some good ones for this episode!
What happens to the value of your property when a big sports complex full of screaming kids moves in next door?  Should you stay or should you go?
What's the easiest way to get a hard money lender out of your hair?
Is it possible to get more loans when your personal income isn't enough to qualify?
What do you do when you have a great property but run out of money to finish your project?
Listen in and glean precious pearls of powerful wisdom as The Guys pontificate the possibilities while pondering the plethora of problems posed by your phellow listeners.  Phew!
The Real Estate Guys™ radio show and podcast provides real estate investing news, education, training and resources to helps real estate investors succeed.
"Success".  What does it mean to you?
It's probably safe to say that many people start investing in real estate because they want to be financially successful.  However, we think most people agree that true success is a LOT more than just financial gain.
But an even more important idea is that success in anything is almost always the result of consistently taking the right actions at the right time long enough for those "right actions" to compound into an extraordinary result.
Therefore the "secret" to success is not just knowing what to do, but actually doing it, and doing it, and doing it until you succeed.
To help you on your journey, our mission is to provide ideas, information, knowledge and perspectives about not just the technical aspects of real estate investing ("what to do"), but also on the psychology of implementation ("doing it").  That's what this particular broadcast is all about.
Behind the microphones for this inspirational episode of The Real Estate Guys™ radio show:
Your inspiring host, Robert Helms
Your perspiring co-host, Russell Gray
Success Magazine Publisher, author and speaker, Darren Hardy
It's no secret the USA and much of the world has been slogging through some very challenging economic times.
Historically, many highly successful people and organizations have emerged from hard times more focused, inspired and productive than ever before.  Donald Trump, who nearly lost everything in the early 90's is one of the highest profile members of the comeback club, but there have been many others over the decades.
Of course, there are also those who happen to be starting out at a time that appears far less than optimal, yet somehow manage to go on to greatness anyway.
So how is it that when times are tough, so many people don't find the ideas and energy to turn their personal situations around, while others are enthusiastically working every day toward new heights of achievement, happiness and prosperity?
The perhaps not so obvious answer is attitude.  The context with which people views themselves and their circumstances is a major contributor to or detractor from their ability to take and sustain effective action.
Just think of most of the things in your life where you fell short of your goals.  Was it because you didn't know what to do or where to find the knowledge to do it?  Or,  was it because you failed to do what you knew you should?  Perhaps you started out, but didn't stay with it long enough to let your efforts compound.
In real estate investing, for example, if you're acquiring one property a year that adds $500 a month to your passive income, you might be bored or discouraged after just two or three years – especially if you're holding down a day job and having to deal with all the hassles of property ownership.  "Is this REALLY worth it?" you might ask yourself.
But if you stick with it, in 20 years you have $10,000 a month in passive income (probably more when you factor in inflation), and a net worth that now includes the equity build up from the pay down of the loans – and (if inflation persists) from the increase in value over the years.
However, if you quit early, as many people do, then you never arrive.
The point is: what good is all the knowledge in the world if it isn't consistently, persistently acted upon?  And how can you find the power to keep on pushing through all the ups and downs?  You'll be happy to know there are actually proven strategies for maximizing your power to persist!
As Publisher of Success Magazine, Darren Hardy has the unique privilege of interviewing many of the most prolific achievers in the world. Most have stories of not just overcoming adversity, but actually using it as a source of strength.  Sound crazy?  They don't think so.
As a student, teacher and practitioner of success principles, Darren has gained powerful insights into the psychology of winning.  So tune in as Darren reveals several precious pearls of practical achievement wisdom and discusses his new book, The Compound Effect. Discover why your adversity is your advantage if you know how to use it.
 Listen Now!

Who in their right mind would buy over $300 million of real estate in the middle of a giant recession?
And if that isn't crazy enough, who would think that people actually need and love the rat race?
In this eclectic episode of The Real Estate Guys™ radio show, we talk to two very thought provoking guys who look at the world a little differently than your average Joe.
Behind the microphones to bare their brains for all the world to hear:
Your thoughtful host, Robert Helms
Bestselling author, real estate entrepreneur and Rich Dad real estate advisor to Robert Kiyosaki, Ken McElroy
Former White House director of economic policy, author and speaker, Todd Buchholz
First up in these serial interviews is our pal, Ken McElroy.  We love Ken because he's both the real deal and a regular guy.
Obviously, anyone who has the chops to acquire $300 million of real estate in the midst of the worst financial meltdown in decades is probably worth listening to.  We're very grateful that he's willing to let us come hang out in his office and record our conversations to share with you!
HINT:  Spending time with uber successful people is a really great idea – especially when they're willing to share their wisdom.
So grab your note pad and listen in as Ken McElroy muses on the multi-family market – where it is, where it's headed and what he's doing in it.  And even if you're not ready to be a multi-family mogul, you're sure to pick up great ideas that you can apply to your own situation.
Next, we bring you a sit down interview with former White House director of economic policy, managing director of the Tiger hedge fund, co-producer of the Tony Award-winning Broadway hit Jersey Boys, author and speaker, Todd Buchholz.  Yeah, he's a real couch potato.
How, you may ask, do we always manage to find these amazing guests?  Let's just say we leave no stone unturned in our quest to bring you thought provoking and useful perspectives!
Now Todd's topic really has nothing to do with real estate, but a lot to do with people and what motivates them to work.  So if you're a person and you're working by desire or necessity, this interview has some great thoughts for you.
Todd's written a book called Rush – Why You Need and Love The Rat Race.  Now, while many people become real estate investors so they can "get out of the rat race", Todd's premise is that people actually thrive not on relaxing, but in working towards worthwhile goals.  We're guessing he's a type A, but it's just a theory. 😉
We found the interview very interesting because his book speaks to the deepest needs and motivations of people to work.  Obviously, to be happy, people need to organize their activities and finances to provide the environment which fulfill their needs and motivations.  The big question then is, what do you really, REALLY want?
So, as we approach the end of another year (can you believe it?!?), it's a great time to contemplate your motivations, goals, plans and activities.  We think this interview will help stimulate those contemplations.
And if you want to take the whole process (warning – upcoming shameless self-promotion) to a much deeper and practical level,  you'll want to attend our upcoming goal setting workshop.
For now, enjoy these stimulating conversations with two very bright and accomplished guys.
Listen Now:

The Real Estate Guys™ radio show and podcast provides real estate investing news, education, training and resources to helps real estate investors succeed. Visit us on Facebook!
Last we heard, job creation is a little slow.  But born out of this adversity is the challenge to become an entrepreneur!
Of course, if you to decide start a new business – or take your existing business to the next level – it's probably smart to study what it takes to succeed.
One great (and very affordable!) way to get powerful insights into how to succeed as an entrepreneur is to tune into Robert and Kim Kiyosaki's live streaming event The Midas Touch on November 10th.  Click here to register now.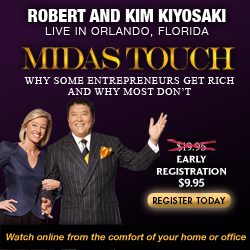 Robert and Kim travel the world and utilize every medium to share their experience, knowledge, wisdom and inspiration with as many people as possible.  Every time we hear them teach, we pick up something new and valuable.
As big time – and very humble 😉 radio talk show hosts, we get to rub brains with lots of really smart and very successful people.  And just like the many well known students of greatness like Napoleon Hill (Think and Grow Rich), Stephen Covey (The 7 Habits of Highly Effective People), Tom Peters (In Search of Excellence) and Jim Collins (Good to Great), we've observed that individuals and organizations that are super achievers think and act differently than the average performer.
So how can YOU learn to think and act like a super achiever?
The obvious answer is to take every opportunity to observe, listen to and interact with successful people.  Reading is great, and you should read all you can.  Listening is better, because you can pick up attitudes through the expression of the information.  Watching adds even more because you can read body language.  And of course, the best is to interact with successful people for extended periods of time.
So after you enjoy Robert and Kim via live stream on November 10th, be sure to sign up to spend an ENTIRE week with them LIVE and IN PERSON during The Real Estate Guys™ 10th Annual Investor Summit at Sea™.