John Denver once sang, "Life on the road is kinda laid back."
Not for us.  But thank God we're real estate guys.  For you youngsters, this is a reference to a classic John Denver tune, Thank God I'm a Country Boy.   You know…John Denver?  Rocky Mountain High?  Blond hair, little boy haircut, high voice?  No?  Just stay up late one night and watch some infomercials about 70's music….
Anyway….
This episode is from yet another out-of-office experience for The Real Estate Guys™.  This time, we're in the fabulous city of New Orleans for the 2013 New Orleans Investment Conference.  We attended this event last year and it was so much fun, we came back this year.  The to-die-for grilled oysters at Drago's may have influenced our decision.  😉   We'll be back in 2014!
For now, in the mobile studio-in-a-box for this jazzy episode of The Real Estate Guys™ radio show:
Your Duke of Discussion, host Robert Helms
His Dizzy co-host, Russell Gray
Best selling author and radio personality, Charles Goyette
Top performing mutual fund manager, Frank Holmes
New Orleans Investment Conference organizer and precious metals commentator, Brien Lundin
When you walk around the streets of New Orleans, which is VERY fun to do, you'll see (among many things) collections of jazz bands performing.  It doesn't take long to realize that the key to producing great music is the diversity of the ensemble.  Strings, winds, horns and percussion – and variations of each of those – all coming together to create a sound that's unique to jazz.
We've been real estate guys for a long time.  And pre-mortgage meltdown, we were narrowly focused on all things real estate.  We lived, like many real estate investors, in a bubble (pun intended) – only seeing things from one point of view.  It's like a one instrument jazz band.  It's okay, but not as rich as full complement of instruments.
After being blind-sided by the crash (yes…we know we're in good company, but that's not much consolation when cleaning up the mess), we made a concerted effort to expand our minds by studying foreign markets, other asset classes, and trying to understand how global, economic, and yes, even political, factors affect real estate investing.  It's something we thought was missing from most real estate related commentary and we've tried to fill that gap.
Along the way, we've met and interviewed many amazing and smart non-real estate people, like Peter Schiff, Herman Cain, Mike Maloney, Mark Skousen, Steve Forbes, and many more.
We've learned a ton.  And we'd like to think we've helped expand the perspectives of real estate investors around the world.  After all, the podcast version of the show is heard in over 180 countries.  Amazing.
But a funny thing happened as were preparing to go back to the New Orleans Investment Conference this year.  Conference organizer, Brien Lundin invited us to speak not once, but twice, on real estate. We're obviously used to talking about real estate, but not to resource investors.
Our first talk (with the help of Summit at Sea™ faculty member John Turley) was about offshore real estate investing.
Our second talk was an updated version of a presentation we did at Freedom Fest 2012 on using real estate to short the dollar.  We expanded the discussion to include the idea of Real Asset Investing™ in the face of a fragile dollar.  You'll be hearing more about this in the months ahead.  We think there's a bubble brewing and the Real Asset Investing™ strategy is designed to not only provide protection, but produce profit.
Both talks were very well received even though the New Orleans Investment Conference isn't really a real estate conference.  It's more about resource investing (precious metals, mining stocks, oil and gas, etc.).
So why were The Real Estate Guys™ invited to speak at the New Orleans Investment conference?
Apparently, just as we've seen the benefit of studying other asset classes, the non-real estate investing community is beginning to see the wisdom of real estate as an investment, which to us, makes perfect sense.  After all, isn't real estate the ultimate resource?
Of course, while we at the conference, we attended lots of sessions.  In addition to all kinds of investing experts, there were engaging panels and debates featuring a pretty well known cast of characters including Ben Carson, Charles Krauthammer, Ron Paul and our 2013 Summit buddies Mark Skousen and Peter Schiff (Peter's coming back on our 2014 Summit at Sea!).
Even though you might think these guys all sing from the same songbook, there was quite a bit of disagreement among them, which we thought was helpful (and highly entertaining).  Next year, former Fed Chairman Alan Greenspan will be there.  We're guessing that one will be entertaining too!
After listening to the sessions, we came up with the theme of "follow the money" for this episode.  And as much as we'd like to interview EVERYONE at the conference, everyone was very busy, and with only one hour for the episode we focused on three guests.
First, we talk with first time guest, Charles Goyette.  Charles is the author of the best-selling book, The Dollar Meltdown.  He just released his latest book, Red and Blue and Broke All Over – Restoring America's Free Economy.  Charles is also the co-host of a daily radio commentary featuring legendary former Congressman and Presidential candidate Ron Paul.
You can probably tell by the book titles and his association with Ron Paul, Charles is a free market, small government, individual liberty guy who's concerned about the direction of the U.S. economy.  While he doesn't think America will fail, he thinks there are some choppy roads ahead.  He says the answer is to free the markets from overly burdensome government intervention.
One of the best practical tidbits he shares is how to know a bubble from a boom.  It's quite simple he says.  Just follow the money that's driving the growth.  Is it from production or from printing?  If economic activity (measured in people working, products and services being produced) is driving the growth, it's a boom.
However, if monetary stimulus (i.e., quantitative easing, artificially low interest rates, financial speculation) is the source, then get ready…it's a bubble.  And he contends that while the Fed might attempt to mitigate or avoid a bubble bursting, ultimately the market is bigger than the Fed.  So it's wishful thinking to believe the Fed can overpower market forces to stop a bubble from bursting.
Obviously, bubble watching is important to real estate investors.  When a bubble bursts or just passes lots of gas, it can be very disruptive to job creation, interest rate stability (especially if you have adjustable loans), and availability of capital to finance your real estate purchases and sales.
The theme of Charles' new book is that freedom creates prosperity.  That connection is less obvious, but equally important (if not more so) than how to recognize a bubble before it bursts.
Charles Goyette's contention is that when people are free to innovate and produce, and are left enough of the fruits of their labor and risk taking, that they will become highly productive.  In turn that high productivity creates abundance, affordability and excess capital to be re-invested in greater production and efficiency.  All of that means jobs, and the purchase of all the things necessary to build and maintain a thriving community.  Best of all, the prosperity extends farther down the socio-economic ladder to the working class (our tenants).
All of that bodes well for the local real estate market.
So, if Charles is right, a savvy real estate investor can look at the "freedom factor" of any given market and index its future growth prospects to its relative freedom factor strength (compared to other markets).  Later in the show, Frank Holmes talks about this exact phenomenon in Texas, which is home to some of the fastest growing cities and strongest real estate markets in the U.S.  So maybe Charles is on to something!
Speaking of Frank Holmes…
Frank is the next guy we talk to.  Long time listeners may recall our first interview with Frank a few years back.  We were impressed with his vast and amazing knowledge of global markets and the performance of his managed funds.  Now, here we are three years later, and Frank is still sharp as a tack, his funds are still top rated, and he's as positive and optimistic about the future as anyone we've met.
Frank also takes up the theme of "follow the money".  He says there's big money on both sides of the political debate (big government versus small government) and both are super smart.  Dumb people seldom accumulate money and those that do don't manage to hold onto it very long.  So whether or not you like their politics needs to be set aside so you can objectively ask, "What is the smart money doing and WHY?"
Did we mention that Frank's a smart guy?
He goes on to give us important insights into the impact of the Unites States new found position as an energy producing powerhouse.  We've been following the oil and gas business for multiple reasons (local market job creation, support industry job creation, impact of production on absorbing inflation and slowing the dollar's descent) and thought we were pretty sharp.
But Frank adds a new perspective we hadn't previously considered.  Did we mention that Frank's a smart guy?
He explains to us that the American economy has a HUGE competitive edge over foreign markets because of our cheap energy.  That's right. CHEAP ENERGY.
Yes, we know that $4 gas doesn't seem cheap.  But that's an American paradigm.  Canadians pay $6 a gallon.  And it can be worse in other parts of the world.  And then there's natural gas, where the edge is even bigger.  Foreign markets can pay as much as 3 times as much as American citizens and business.  Yikes!
"So what?" you might ask.  As did we.
The "so what" is that cheaper energy mitigates some or all of the disadvantage of cheaper labor.  Hmmmm……
We've been concerned that a falling dollar means rising (denominated in dollars) commodity prices (like food and energy, which are conveniently left out of the Consumer Price Index…but that's a different rant…).  Rising prices combined with soft labor means tenants can afford less rent – and certainly are going to be resistant to rent increases.
So while Frank didn't persuade us that we shouldn't be prepared for a soft rental market, he did move us from "worried sick" to "moderately concerned".  Maybe with a little more time, we could get up to "cautiously optimistic".
As for Frank, he's very optimistic about the U.S. being competitive in global markets.  We hope he's right because that means less downward pressure on labor, which of course is positive for rental income. 🙂
Last on our dance card is Brien Lundin.
We've really enjoyed getting to know Brien and his team.  They've been producing the New Orleans Investment Conference for many years and our interactions with him have been great.  He's a real pro and is well respected in the investment community.
When he's not producing the New Orleans Investment Conference, Brien writes a newsletter on precious metals.  We don't talk too much about metals on this episode, but you can expect to hear more from Brien on The Real Estate Guys™ radio show, podcast and blogs.
For now, we reflect on another successful conference, the integration of real estate and resource investing, and we look forward to next year's 40th anniversary New Orleans Investment Conference which will feature former Fed Chairman, the legendary Alan Greenspan.  THAT will be amazing.  We can't wait!
Meanwhile, listen in to this episode of The Real Estate Guys™ radio show…brought to you from the floor of the New Orleans Investment Conference.
Listen Now:
Want more? Sign up for The Real Estate Guys™ free newsletter
Don't miss an episode of The Real Estate Guys™ radio show! Subscribe to the free podcast
 Stay connected with The Real Estate Guys™ on Facebook!
The Real Estate Guys™ radio show and podcast provides real estate investing news, education, training and resources that help real estate investors succeed. Visit our Feedback page and tell us what you think!
Rehabbing is a rite of passage for real estate investors.  Nearly everyone tries it at some point.  Some people like it.  A few even get really good at it!
As big shot radio talk show hosts, we get to hob nob with nationally known pundits, best-selling authors, and a whole host of industry honchos and thought leaders.  It's very cool. If we weren't us, we'd wish we were.
We also get to spend time with real life practitioners and unsung heroes.  These are the guys and gals who get up every day and go out into Main Street USA and make it happen in the real world.  In the trenches, it's not about theories and ideas, it's about managing a myriad of minute details in a practical, tactical way.  It's not glamorous, but it's where the rubber meets the road and the money gets made.
So after many weeks of flitting above the clouds looking down on the macro-economic factors real estate investors need to be aware of, we bring The Real Estate Guys™ radio helicopter down to street level and talk turkey (after all, it's nearly Thanksgiving) with a thriving turnkey real estate practitioner.
In the cockpit for this flight into broadcast brilliance:
Your pilot and host, Robert Helms
His jerk wing man and co-host, Russell Gray
Returning guest and rehabbing veteran, Terry Kerr
Rehabbers and property managers are the GI Joes of real estate.  They deal with real estate at its messiest. They do all the grunt work most people can't stomach.  And finding people that are good at it for the long haul are rare.  Some guys just do it for awhile until they make enough money to get out, or until they get a TV show.
But in spite of it's messy nature, we still like real estate because it's real.  It serves a fundamental, enduring human need.  And making it more usable and available is a noble profession.
But making money at it is as much an art as a science.  And learning to do it right takes time in the trenches.  It's why our friend (and 2013 and 2014 Investor Summit at Sea™ faculty member) Peter Schiff says the hedge fund guys will get ultimately get killed in real estate.  They're used to trading nice, sterile pieces of paper.  Time will tell how the Wall Street ivory tower guys will fare in the foxholes of Main Street rental property.
So while Peter looks at it from the top, we ask Terry about the ground level impact of hedge fund investing in his market, Memphis, Tennessee.  Memphis just happens to have been ranked by RealtyTrac as the #1 single family cash flow market in the USA last year.  Obviously, this would attract the attention of hedge fund managers.
No shock to find out that the funds tend to overpay and have problems managing.  Once again, we have to say, Peter Schiff was right.
But Terry also corroborates what we've heard from other contacts in different markets:  hedge fund activity has slowed.  This explains another phenomenon we've noticed – people are contacting us with large "tapes" (pools of distressed properties) they are trying to move.  And the discounts are pretty attractive!  It used to be the funds were gobbling that up.
So all that is good news for Mom & Pop investors.  More inventory for the little guy.
But back to the street level…
In spite of the slowing of hedge fund activity, it's still competitive to get a property.  And you can't worry about rehabbing a property you don't own, so acquisition is important.  Terry reminds us of the age old truth:  real estate is a relationship business.  So he continues to get deals because he's established himself in the market as a reputable operator.  That means he has credit lines, deal flow, and loyal sub-contractors.  All good things to have.
Terry shares a very practical offering technique he uses to enhance his odds of getting the deal when working through a real estate agent.  We won't disclose it here, you'll just have to listen to the conversation (below).  When you hear it, it's obvious.  But if you don't know it, it's easy to miss out.
Now, once you have the house, you need to decide how to attack the task of getting it ready to sell or rent.  Of course, how you re-had will depend on who your target customer is.  A house you plan to sell for an owner-occupant, is different than a house you're prepping for a tenant or a landlord.  But once you've figured that out, it's time to get to work on the re-hab.
Terry tells us, "Just because you can, doesn't mean you should."  THAT is a golden nugget of wisdom!  Listen to any personal productivity expert like Brian Tracy, Les Brown or Tom Hopkins (another Summit at Sea faculty member), and you'll hear them talk about the importance of investing your time in high paying activities.
In this context, Terry cautions us to be aware of "lost opportunity".  That is, if you're busy painting a property, you're not negotiating the purchase or sale of another, or working with your team to manage your re-had costs..  The point is you can hire a painter for a fraction of the money you can make cultivating relationships and making profitable deals.
The solution, Terry says, is to build a team.
Now this doesn't mean you need to have a payroll and a high overhead.  But you do need to have access to technical experts in all the key trades.
But where do you find those people?  Terry uses a technique he calls "The Saturday Pow-Wow".  The great news is, it's so SIMPLE that anyone (even us) can do it!  So be sure to listen for this next golden nugget of street smart wisdom.  He tells you exactly when and where to go to find the best guys and gals for your project.  And it's free!
Once you have your team, you need to decide how to lead them.  You might think, "Oh, I can do that."  Okay.  But what did Terry say?  "Just because you can, doesn't mean you should."
How many job sites can YOU be at at one time?  Only one?  That's a little  limiting, don't you think?  Think BIG! Terry rehabs over 100 houses a year.  That's 2 a week.  With that kind of volume (isn't that what you want?) you can't be on every job site supervising your teams.
So Terry's golden nugget number 3 is to develop crew leaders.  And he tell us how he goes about that.  Good stuff.
Next (yes, there's more), for gold nugget #4, Terry tells us how he gets great pricing from his contractors without having to beat them up.  This is important, but because if you haggle your contractors too hard, you an adversarial relationship. That's like cussing out the waiter before he brings your soup.  You never know what you're going to get.
Terry tells us that the key to getting good pricing simply comes down to being educated about the trade and knowing how to talk the lingo.  It doesn't mean you know how to do the work.  But you know how to sound experienced.
When you talk like someone who knows what they're doing, your contractors will give you better pricing because they think your savvy. Sure, they're your team.  But they're like mercenaries (aren't we all?).  They work on your job to make a buck.  And they want all they can get.  Your job is to pay them fairly, get good quality work, and still make a profit.
Remember, next to the purchase of the property, your rehab expense is your biggest component of cost.  In fact, in some cases, the rehab will cost MORE than the property!
So, getting the right people to do quality work at a reasonable price is one of the most important skill sets you develop as a re-habber.
It's tempting to buy a work belt and start swinging a hammer.  It's fun to shoot a nailgun and slather on taper's mud.  You might think it's cool to sweat pipe, run a table saw, or set tile.  You might even get a charge out of installing an electrical outlet or light fixture (sorry, we couldn't help it).
But, that's not what being a rehabber is all about.  If you want to do it and make money, you'll want to build a team and master the art of controlling costs without alienating your contractors.  Because if you get it wrong, the market won't let you raise the price to cover your mistakes (or theirs).  You can't control the takeout price.  The market dictates that.  But you can manage your purchase price and rehab expenses, and when you get good at that, you can make real money as a rehabber, just like Terry Kerr!
Listen Now:
Want more? Sign up for The Real Estate Guys™ free newsletter
Don't miss an episode of The Real Estate Guys™ radio show! Subscribe to the free podcast
 Stay connected with The Real Estate Guys™ on Facebook!
The Real Estate Guys™ radio show and podcast provides real estate investing news, education, training and resources that help real estate investors succeed. Visit our Feedback page and tell us what you think!
Home ownership isn't as well entrenched in the American dream as it was in the past, a recent MacArthur Foundation Survey found. Based on the survey results, 54 percent of the respondents thought renting has become more appealing, while 57 percent thought that home ownership was less appealing. Surprisingly, 45 percent of present homeowners who responded to the survey said they could see themselves as future renters.
Arguably, the most telling findings of the survey were that 48 percent of homeowners with college degrees, 53 percent of homeowners who have advanced post-graduate degrees and 51 percent of homeowners whose total household incomes exceed $75,000 said they would think about renting.
That means landlords have a huge pool of potential tenants from which to draw for their properties. It also means that rental properties have to compete to get renters. Since online advertising is the most effective way to reach potential tenants, property owners need to tap into all available online resources to attract the best possible tenants to their properties.
Play Up Your Location
The mantra of all real estate is "location, location, location," and when it comes to rental properties, a desirable location may be even more important. Prospective tenants want to know that they can get to work, shops, restaurants and entertainment easily. They also want assurance that the location is safe – especially if they have children. If the neighborhood has a lot of social amenities, hype that up in your advertising, and include a map that allows potential tenants to see where things are.
Advertise With Plenty of Photos
That old saying "a picture is worth a thousand words" may sound trite, but when it comes to online advertising, pictures speak volumes – if they are accurate and realistic. Most people who look for apartments, do so online. You may also find that many people who are relocating have to rely on online advertising to find an apartment, so the image you portray online is more important than ever.
Post pictures of different apartment layouts, and photographs to accompany that. Make sure that the apartments are staged when you photograph them. Staging will help potential tenants see themselves in the apartment. If your apartment has a fitness center, show multiple photographs of it. Many tenants will be drawn to a place that has a fitness center because they won't have to purchase a gym membership.
Highlight Your Tenant Screening Process
If you want to attract a pool of working people, professionals, or even stable families, a thorough tenant screening process will assure potential renters that management cares enough to make sure that the place is quiet, clean and safe. People who work irregular hours won't want to worry about whether or not they'll be surrounded by blasting music or subjected to nightly parties.
Describe Policies, Fees and Charges Clearly
A clear description of your policies will encourage potential tenants to contact you and schedule a tour of your property. If you fail to mention things, many potential tenants won't even bother to contact you. The most important things to describe and be absolutely clear about are your pet policy, a pet deposit, a monthly surcharge for pets, and whether tenants have to pay more than one deposit for multiple pets. Also be clear on the pet deposit refund policy.
Let potential tenants know exactly what utilities they will have to pay. If you pay the water, then play that up. Describe appliances so tenants can get a sense of how much they'll be paying in utilities, and if you have Energy Star rated appliances, play that up as well. Also mention things like washer and dryer hookups and whether you provide or rent washers and dryers.
***
This post provided by The Real Estate Guys™  guest contributor, Debrah Stokes
Whether times are good, bad, uncertain or chaotic, it always makes sense to focus on fundamentals.  And there's nothing more fundamental than food.
In this episode, we visit with the CEO of an international investment company.  He shares the path of discovery his firm and their clients explored in the wake of the 2008 financial crisis.  The conclusions they came to and where those lead are the focus of our conversation.  We found it fascinating and think you will too!
Planted in the studio and calling in from the field for this fulfilling episode of The Real Estate Guys™ radio show:
Your host and cultivator of conversation, Robert Helms
Your co-host and fertilizer of radio frequency, Russell Gray
Special Guest, CEO of Liquid Investments, Anthony Archer
Even though the world is now in the "information" age, it didn't abandon the industrial or agricultural age.  It's more like each age stacks on top of the other to create a bigger economy.
But when things get shaky, sometimes it's safer to get closer to the base.  This is our interpretation of Liquid Investments post-2008 investment strategy.
We know the stresses of the Great Recession compelled us to broaden our horizons and deepen our understanding of the macro-economic factors affecting real estate investors. In addition to our obsession the Fed and the bond, gold and oil market, our interest in both international real estate and farmland has been blossoming.
What makes agricultural investing so appetizing?
First of all, it's real estate.  So for all the reasons we like real estate, we like farmland.  Except for depreciation.  You can't depreciate dirt. But you can appreciate it, and of course, we do.
After all, farmland is real.  It serves an essential human need.  And while they aren't making any more real estate, apparently whatever it is that makes more people remains popular, and so the world's population is growing.  Of course, all those new people need food… no matter where they live.
Which brings us to a very important distinction between rental real estate and farmland…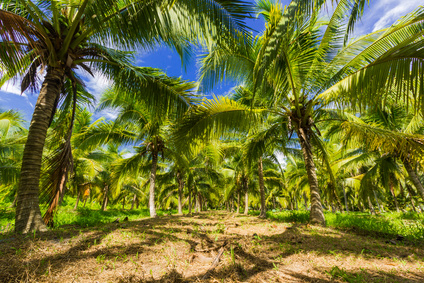 Rental real estate, whether it's residential, commercial or industrial, provides a service (the tenant gets to use the building) that is LOCAL.  That's why we do field trips and spend time studying the micro-economic factors supporting the people and businesses in any community where we're considering investing in rental property.
But the product of farmland is a commodity (food) that can be sold ANYWHERE.  So whether you're growing coconuts or coffee beans, just like oil, gas and gold, these food commodities can be sold and shipped to consumers worldwide….even places like China, India or Russia.  It doesn't really matter where the people live, as long as they like to eat.  So you can invest locally, but derive income globally. Yummy.
But wait!  There's more…
You may have heard about central banks (The Fed, the ECB, the Bank of Japan, etc.) practicing an economic rain dance called Quantitative Easing.  The stated goal of this "easing" is to inflate prices.  They allege this is desirable.  We might beg to differ, but they're not calling us for our opinion, so it is what it is.  At last glance, the stock market seems to agree with the bankers – at least for the short term.
But along with the fruit of high stock prices come the weeds of soft employment and rising consumer prices.  For folks that have enough money to get in on the rising stock market (and enough brains to get out before the next crash, er…"correction") can offset their lost purchasing power with more capital gains.  Good for them.
But the working class people…you know, the kind of people who live in your rental property…can't afford to invest in the stock market, so they get squeezed between soft wages and rising prices.  There's no wealth effect in their portfolios to compensate them for the loss of purchasing power.  This is one of the main reasons we focus on lower priced residential markets right now.
But we digress (shocker)…
The point is that while QE squeezes your tenants and puts downward pressure on residential rental income, it puts UPWARD pressure on commodity prices.  So if you're a producer of commodities (which you are as a farmland owner), you're hedged against inflation, and diversified against local economic disruptions.  That is if the cost of food goes up, so does your income.
Think about it.  Food, in it's most basic form, may end up in a lot of places.  Cheese can end up in a cheap frozen pizza you grab at the market, on in a high end pasta dish prepared at a fancy restaurant.  But when you trace it back to the root (or udder, in the case of cheese), it came from the farmland.  So whether the economy is soft and more frozen pizzas are sold, or the economy is hot and more people eat out at fancy restaurants, the cheese producer gets the order.
But it gets even better….
Long time listeners to The Real Estate Guys™ radio show know that we've been longtime advocates of international diversification.  There's a whole crop of good reasons including privacy, asset protection, generating offshore income in a low tax jurisdiction (the same way Google, GE and other corporations do), and our personal favorite: having a business related reason to travel.  We could go on, but you get the point.
Of course, as in all investing, there's a lot to consider.  What country?  What crop?  How do you find opportunities?  How does it all work?
We knew you'd have more questions.  So we got our British friend Anthony Archer on the line (it's like talking to James Bond) because he's been researching all of this for several years.  And it isn't just theory.  Anthony and his team have been weeding out opportunities, cultivating relationships and growing their investors' cash flows and equity by putting these principles into practice.
So listen in and harvest the benefit of Anthony's experience.  And to reward you for your diligence in listening through the whole episode, at the end, we tell you how to get his excellent free report on the topic.  In fact, since you've made it all the way to the end of this post, your reward is you can go ahead and click here to get the report now.    Good job!  But remember to listen to the show too!
Listen Now:
Want more? Sign up for The Real Estate Guys™ free newsletter
Don't miss an episode of The Real Estate Guys™ radio show! Subscribe to the free podcast
 Stay connected with The Real Estate Guys™ on Facebook!
The Real Estate Guys™ radio show and podcast provides real estate investing news, education, training and resources that help real estate investors succeed. Visit our Feedback page and tell us what you think!