For our final broadcast of 2014, we take on a flurry of challenging questions from our loyal listeners.
In the studio saying good-bye to the old year and preparing to welcome the New Year:
Your libacious host, Robert Helms
His old lame sighing co-host, Russell Gray
Father time himself, The Godfather of Real Estate, Bob Helms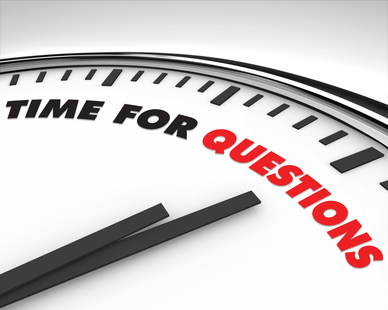 Ending one year and beginning the next is a GREAT time to ask questions….about the past, about the future, about the big picture and about what's happening inside us.
Not sure what all that means, but it sounded mystical.
Instead, we sent Walter down to the email room to hustle up a new batch of questions for us to wrestle with on this edition of Ask The Guys…
As always, we have to remind you that we're not lawyers, accountants, or investment advisors…we're just three old dudes who've seen and done a lot.  So anything we have to say shouldn't be construed as professional advice for your particular situation.  It's just our personal opinions and some ideas you can check out with your own professional advisors.
But we're sure you already knew that.
Some of the questions we get into for the episode of Ask The Guys:
What's the difference between an independent contractor and an employee?
This was specific to hiring an on-site property manager, but it's a great question for anyone hiring anyone to do anything.  And the reason it's important is not just because of payroll tax, withholding and reporting…but it also affects your liability and insurance coverages.
It's also important to know that just because you and the employee / contractor agree on what their status is doesn't mean the taxing authorities or insurance carriers will.
So rather than guess and hope (an all too common strategy), we recommend you detail the role and responsibilities, then consult with your tax advisor and your insurance attorney. (Yes, there are attorneys for insurance too…and if you're not familiar with what they do or why you need one, check out this past episode of The Real Estate Guys™ radio show.)
And speaking of insurance…
How do insurance and entities like LLCs work together to protect landlords?
Another great question (which is why we picked it)…
Attorneys always want you to have an entity to create a liability shield.  The problem is that lenders will seldom, if ever, make a loan to an entity on a residential property 1-4 units.  So unless you're paying cash, using an LLC is problematic.
Does that mean you have to leave your assets hanging out in the open?
Not necessarily.
First, you can safeguard your non-real estate assets in entities.  Talk to your asset protection attorney about how to do this.
Next, you can set up a firewall of insurance policies to fund your defense against attacks…and to pay any judgments or settlements that arise.
But be aware that your CONSUMER policies (like your homeowner's policy and any umbrella liability policy you may have) probably will DENY any claim for a commercial venture…like a rental property.
So go and listen to the aforementioned past episode on insurance and talk to your COMMERCIAL insurance agent about Commercial General Liability insurance, Directors & Officers insurance…and maybe even Errors & Omissions insurance for YOUR management company.  And then talk to your professional property management company about THEIR policies…and how they protect YOU.
Of course, as interesting as all THAT was, the reason you do it is because you're using real estate to GROW YOUR WEALTH…otherwise, there's nothing to worry about protecting.
So even though we answer more questions in the episode, for the purpose of this blog, we'll wrap up on this one…
How do you measure how well your portfolio is doing?
There's a LOT of different metrics people use to measure portfolio performance.  And if you're a finance whiz, a stats nerd, or just an obsessive compulsive number cruncher, you can quickly get lost in the weeds.
To complicate matters, most financial analysis is done by measuring net worth in dollars.  The problem with this is that as a unit of value the dollar is constantly fluctuating.  And though it's had a recent run UP, it has a 100 year history of going DOWN.  That's why a penny candy from 1965 costs 50 cents today.  But you still only get ONE piece of candy.
So to us, there's just a couple of things to focus on, which can tell you how you're doing and keep your accumulating units of value…and not just dollars.
In other words, would you rather have 1 house that goes from $50,000 to $250,000….OR would you rather have FIVE houses…not matter what the dollar price is?
The argument for the latter is that in any economic environment, measured by whatever the currency de jour is, five houses are better than one.
So when you develop dollar equity in a property (something that is happening to more investors right now), you're actually falling behind.  You're better off, if the cash flow will support it (VERY important consideration) to extract equity from an appreciated property and use it to either enhance your cash flow and/or accumulate more properties.
Think of it this way…
Imagine you have a $150,000 property (call it Property A) with $100,000 equity in it.  A let's say it produces annual net operating income of $3,000.  This means you have a 3% cash flow on equity.
If Property A appreciates five percent, or $7,500 in a year, you have an equity growth rate of 7.5%.  That's because $7,500 growth divided by $100,000 of equity is 7.5%.  Make sense?
Of course, this is only nice on your financial statements…like when your stock holdings go "up"…but it's really useless until you access the equity by refinance or sale.
Are you with us so far?  Take a breath…it's only math.
Now, let's say you pull $50,000 of equity out of Property A at a cost (interest rate on the loan) of 5% per year.  Your fully amortized (and largely deductible) payment is $268 a month or $3,216 per year.  So now you're "negative" by $216 a year (the $3,000 you have coming in before less the $3,216 you have going out on the bigger loan).
Sounds bad, right?
BUT…you have $50,000 in cash (the proceeds from the new loan).
So let's talk about CASH FLOW…because this is the SINGLE MOST IMPORTANT indicator of your portfolio health.  It's like your heart beat.  If it stops, then NOTHING ELSE MATTERS.
If you spend the $50,000…you've given your portfolio a cancer called negative cash flow.  Do NOT do this.
However, if you INVEST the $50,000 in another property…call it Property B…and let's say it's a $150,000 property…and you realize a 10% cash on cash return…NOW you have $5,000 a year coming in on the $50,000.
This is MORE than enough to handle the new net negative of $216 per year on the refinanced Property A.
It may SEEM complicated.  But it's basically simple.
If you can conservatively invest money at a rate higher than it costs to borrow it, then you can make a profit on the spread.  It's called "arbitrage".
And the 10% cash-on-cash return on Property B is obviously TWICE the 5% cost of accessing the equity from Property A.  That's why the math makes sense.
Okay…moving on….
Now that you're comfortable with the CASH FLOW in your new arrangement, let's take a look at the Equity Growth Rate (EGR) of Property A…
You now have $50,000 equity remaining in Property A (you started with $100,000 and pulled out $50,000).  And let's say Property A goes up $7,500 just like before.
But this time, $7,500 growth on $50,000 equity is a 15% EGR.  That is, you DOUBLED your EGR by REDUCING your equity in the property.  That's LEVERAGE.  And as long as the CASH FLOW makes sense (which we've already covered), it all works.
But MOST IMPORTANTLY, you now own a SECOND property (Property B)!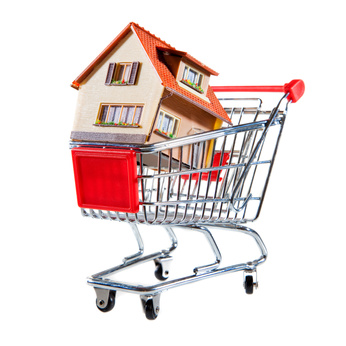 So let's take inventory…
BEFORE:
You own ONE property (A) valued at $150,000 with $100,000 of equity and $3000 annual positive cash flow.
Assuming $7,500 annual appreciation, your equity growth rate is 7.5%.
AFTER:
You own TWO properties (A and B).  The combined value is $300,000 and you still have $100,000 of equity.
But NOW, your annual positive cash flow is $4784 ($5000 less $216).  So you went from $3000 positive cash flow to $4784.  That's a $1784 improvement on the previous $3000 cash flow…or a 59% pay raise!
Good job.
Now, assuming each property appreciates $7500 (a total of $15,000), your equity growth rate is 15% ($15,000 on $100,000).  So you've increased your equity growth by 100%!
Good job again.
Plus, you've diversified your income and equity growth over TWO properties…so not only do you get richer faster, you do it more safely too.
Good job again…again.
All this to say…
Measure the health of your portfolio based on CASH FLOW.  Once you know it's POSITIVE across the portfolio, measure how hard your equity is working by CASH FLOW on equity.
Measure your wealth in units of real assets…and don't be deceived into thinking that equity is real.  More properties is better than more equity…even though more properties will create more equity.
See?  It wasn't that bad.
Listen Now: 
The Real Estate Guys™ radio show and podcast provides real estate investing news, education, training and resources that help real estate investors succeed.
It's amazing how many real estate investor overlook hotels as an investment vehicle.
Sure, the numbers are big…and renting nightly instead of monthly, plus all the other services (housekeeping, restaurant, room service, etc.) are much more labor intensive than simply renting out little green houses month to month.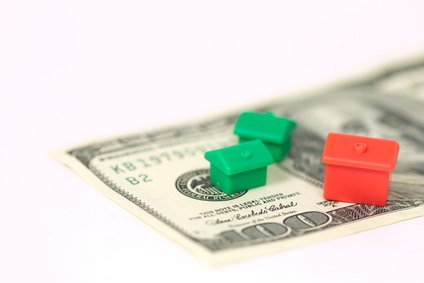 But anyone that's ever played Monopoly knows the big bucks are in owning big red hotels…especially in premium areas like Park Place, Broadway….or the Caribbean???
From the Hard Rock Hotel in the Dominican Republic:
Your host with the most (travel miles) – Robert Helms
Hilton Worldwide Director of Development, Caribbean and Panama – Juan Corvinos Solans
Hard Rock International Executive VP & Chief Development Officer – Marco Roca
Wyndham Hotel Group President and Managing Director of Latin America and the Caribbean – Paulo Pena
STR Analytics Director – Carter Wilson
Caribbean Tourism Organzanization (CTO) Chief Executive Officer – Hugh Riley
HVS Capital Corp Executive Managing Director – Bill Sipple
HVS Caribbean Managing Director and CHICOS Chairman – Parris Jordan
Dominican Republic Secretary of State and Executive Director of the Center for Export Investment and Residential Development – Dr. Jean Alain Rodriguez
Co-host Russell Gray stayed home to wrap presents.
Wow.  You can already tell from the guest list that this show is PACKED with content.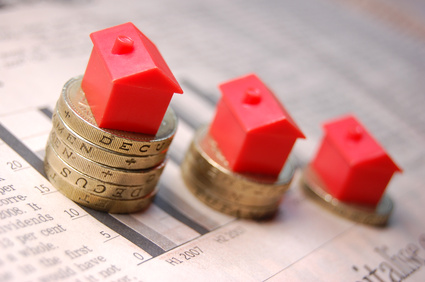 But before we get into that, the BIG QUESTION is WHY should any investor consider hospitality as an investment niche?  And once you do…HOW does it work?
First, WHY…
Go play Monopoly.  How do you win?
Now that we understand bigger is better, what's the difference between hospitality and other big rental properties like an apartment building, office complex or shopping mall?
The obvious difference is that apartments, offices and shopping malls are all long(er) term tenancies as compared to nightly or weekly hotel tenancies.
That's good and bad.
Apartments, offices and shopping malls typically have a more predictable stream of income.  And while apartments might have six or twelve month leases, office and retail leases can be a decade or more.
Of course, with long term leases you give up the ability to raise rents quickly in response to changing market conditions (a concern in an inflationary environment).
That's one of the reasons we like apartments better than office or retail.  It's more work, but it can be more money (that's a hint).
Of course, another concern with retail is how the internet is affecting physical product marketing.
It's not the topic of this discussion, but when consumers are shopping online and not in stores, then your retail tenants suffer…and so do you.
So if you're going to be in retail, it's smart to cater to businesses which consumers must physically visit in order to conduct their business.  Things like healthcare, restaurants, grooming, etc.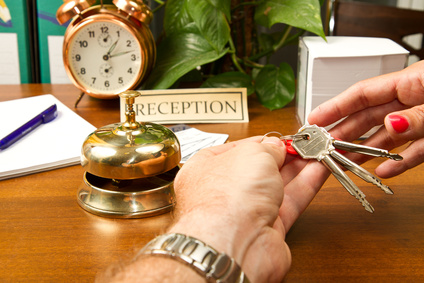 So in addition to being able to generate  more revenue per unit per month with overnight rentals, one of the advantages of hospitality...the property is the product (or at least a major component…service being the other) and it serves a need which cannot be met online.
So once you're interested in investing in hospitality, the next question is HOW does it work?
It's really not that complicated.  In fact, it's very similar to apartment investing.
Most apartment owners don't personally manage the property.  They hire a property management company to operate the complex.
So in hospitality, you'll have a property owner (the investors), and the property manager (the hotel operator).
But because keeping a hotel full is a marketing intensive operation, there's a third player called "the brand".  These are folks like Hilton, Marriott, Hard Rock, etc.
In some cases, you have multi-brand companies, and one of the biggest is Wyndham, which operates 13 different brands…most of which you've probably heard of.
In fact, hotel brands are typically household names because of all the advertising they do.
What you may not know is that most cases, the brand does NOT own the hotel…and in same cases, they don't even operate it directly.
Instead, they simply rent their brand, group purchasing power and hotel operational savvy to independent operators…"franchisees"…just like other famous franchisers like McDonald's (fast food) or RE/MAX (real estate).
All that to say, there's room for private property investors to leverage the big name, marketing muscle and operational expertise of a brand, the hard work of an operator (your tenant), into creating cash flow from your property.
As you listen to all the various interviews in this episode, you'll discover that the overall mood of the hospitality sector is upbeat and optimistic.
But you'll also hear that there's still time to get in…the industry cycle hasn't peaked yet.
Plus there are some great lessons to be gleaned from all these savvy business people.
Here are a few of our takeaways:
There's Opportunity for Private Money
Not a lot of hotels are being built right now because the financial markets haven't recovered enough to provide adequate funding levels.  The same thing happened in housing.  The opportunity is for private equity syndications to help get things built.
And right now, hotel cash flows are good, which means private equity can be rewarded.  Sounds like opportunity to us!
Transportation Infrastructure is Essential
Duh.  No one can stay in your hotel if they can't get to it.  And in the Caribbean that means airplanes.  Cruise ships typically don't deliver overnight guests.
That's why Belize investors get so excited when they hear that multiple airlines are adding flights.
But even if you choose a landlocked location, you better make sure there are roads, rails and runways to bring trains, planes and automobiles full of people to your property.  And some business and tourist attractions are helpful too.
You Can Partner with Big Players…Even if You're Not
We already talked about big hotel brands.  When you build a property for a brand, you get all their marketing muscle pushing occupancy.
But as you'll hear, there are resort destinations that realize they need tourists to grow their economy.  So they have entire agents and budgets dedicated to promoting their market.  And they NEED YOU to provide the rooms to hold the people their marketing brings to town.
We don't know about you, but we LOVE free marketing.
The Condo-Hotel Concept is Poised for a Comeback
This could be the most exciting thing (of many) that came up in these interviews.
Condo-hotels got a big black eye in markets like Las Vegas when the financial meltdown wiped out the loans.
Lots of people were left in the lurch when the financing they were counting on to complete the transactions all dried up unexpectedly…and almost overnight.
But the basic premise of a condo-hotel is a sound one.
The idea is that a small private investor buys a single hotel room in a big hotel.  It's just like buying a residential condo, which is essentially an apartment in a large residential complex.
The investor owns it, while the operator manages it under the brand's name.
The contracts can be set up different ways, but the bottom line is that it's a way for small investors to participate in big projects, own a pride-of-ownership unit they can actually enjoy themselves from time to time; and they get income, tax-breaks and a hands-off management experience.
The difference this go 'round is that everyone is a lot smarter about how to organize the deals so they aren't as vulnerable to mood swings in the residential financing markets.
The opportunity is to get into the space while most others haven't quite seen the light.  And that's a universal principle applicable to all kinds of markets, property types and investment vehicles.
So much to learn.  So little time.  But that's why we're here traveling the world, seeking out ideas and perspectives you might not discover on your own.
Hey, it's a rough job traveling to the Caribbean to stay at an all-inclusive luxury resort….but someone's gotta do it.
Listen Now: 
The Real Estate Guys™ radio show and podcast provides real estate investing news, education, training and resources that help real estate investors succeed.
In a recent article published by CNBC, famed economist Robert Shiller (yes, that Robert Shiller of the oft-referenced Case-Shiller index) is quoted as saying he thinks stocks are a better investment than real estate over a lifetime.
REALLY???
That's like kicking a sleeping dog.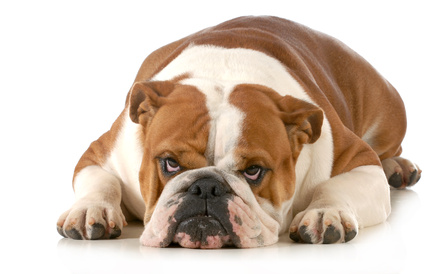 So we got up off the couch and decided to do a show on this topic.
Some might say we're shills for real estate…but we'll find out who's a bigger shiller here.
In the broadcast doghouse for this episode of The Real Estate Guys™ radio show:
Your big dog host, Robert Helms
His little dog co-host, Russell Gray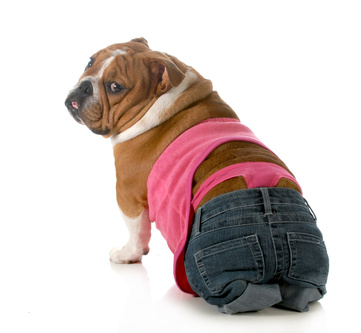 So we're hanging out in our broadcast briefs perusing the news for interesting subject matter…and we see an article by CNBC headlined, "Where to put your cash? A house or a stock?"
Hmmm…that sounds interesting…
The article opens up saying that even though the stock market is at record highs, the government is pushing home ownership to build wealth…and using easy credit to help all those poor, unqualified borrowers.
The author immediately questions the premise by reminding readers of the "catastrophic housing crash of the last decade"…while completely failing to mention the accompanying catastrophic crash of the stock market…but more on that in a moment…
Then the author invokes Nobel Prize-winning economist Robert Shiller who is quoted as saying, "It would be perhaps smarter, if wealth accumulation is your goal, to rent and put money in the stock market, which has historically show much higher returns than the housing market."
Seriously? Okay, now our hackles are up…
So we keep reading…and discover those comments were made at a Standard & Poor's conference.  Last time we looked, S&P is mostly about stocks and Wall Street.
Of course, we do a little speaking from time to time, so we know when you're in someone else's house, it's smart to say nice things. We don't begrudge Mr. Shiller for playing to his audience.
Side note: a few days later, CNBC put out a video where Shiller says, "Go back to buying houses."  Wow, that was fast. But we know the stock market moves quickly. 😉
Back to our current article…
So the CNBC author says, "Shiller notes that the comparison between stock returns and home value returns is rough, given that stocks pay cash dividends and housing pays 'in kind', in the form of housing services; that is, you get to live in the house."
That VERY important point is quickly set aside in the next paragraph, which compares ONLY the capital gains of the broad stock market since 1890…yes EIGHTEEN NINETY…and Shiller's own secret recipe (that's how you win a Nobel Prize) of the "real" U.S. home price index.
There's SO much here…we're starting to pant.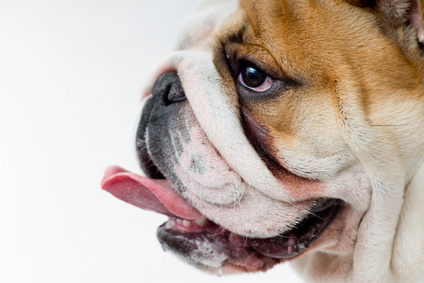 The bottom line says Shiller according to the CNBC article…is that the net real capital gains (presumably after being adjusted for inflation) are "smaller than one might expect" (we get that a lot…)
Really? How small?
The article quotes Shiller as saying for stocks it's about 2.03 percent per year. And houses…only a paltry 33 basis points (about 1/3 of 1%).
Confused? If buying stocks and real estate sucks so badly, why would ANYONE do it?
The perhaps obvious answer is that NOT doing it sucks WORSE.
Think about it. The dollar has lost about 98% of it's value since the Fed was created in 1913. If you simply stacked up paper dollars, you'd be at a negative 98%. So plus 2%…or even plus 1/3% sounds pretty good by comparison.
So now that we know investing…even spending… is better than cash under the mattress, we're back to comparing stocks and real estate.
The CNBC article points out that "A house can offer greater returns if the owner chooses to rent it out and not to live in it." Duh. Welcome to our world.
This highlights a bigger point, which is that when you're reading a mainstream financial media article on real estate, they almost always are talking about the house you live in.
To the CNBC author's credit, she mentions that "Shiller adds homes should not be seen as an investment vehicle, like a stock, but as a consumption good, like a car."
We agree. But, isn't the entire premise of the article a comparison of the investing in stocks versus real estate? You might want to lead with that next time…
Still, this is a VERY USEFUL exercise for anyone enticed by this record high stock market...and every real estate investor being chastised by their stock investing friends. And ESPECIALLY useful for any real estate entrepreneur who's out raising money to syndicate real estate deals.
After all, we're all hearing about how great the stock market is doing. In fact, here's an amazing chart from the CNBC article: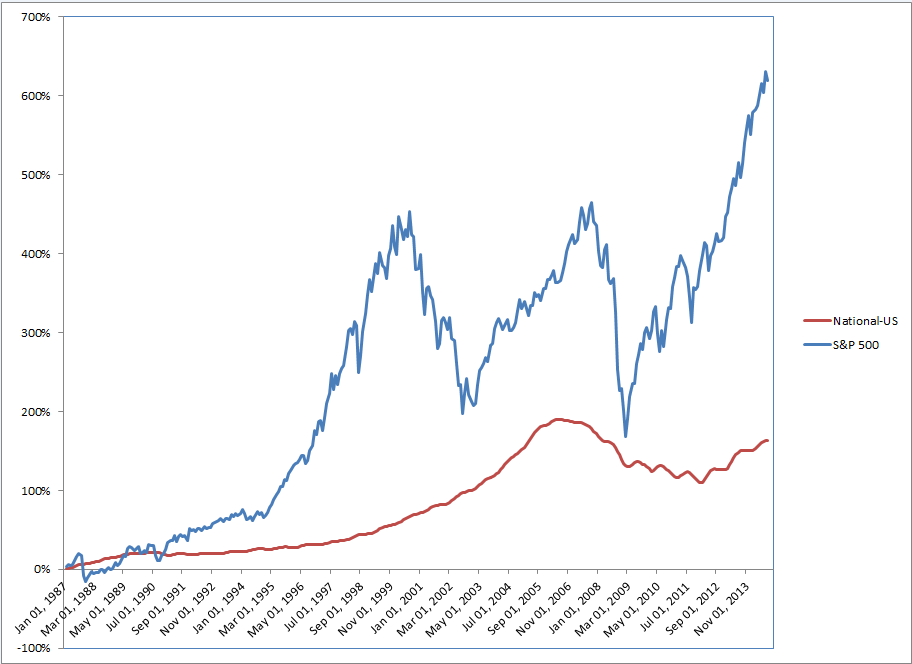 This shows how the stock market (blue) is crushing housing (red).
Aren't you impressed?
Do you see the real estate bubble of 2003-2007 and the "catastrophic crash" in 2008? (Pay no attention to those GIGANTIC blue line ups and downs…but since you are…what does the pattern say might be next for stocks???)
The CNBC article concludes with this:
"The happy compromise [between taking the risk of leaving equity in a house whose value might drop and putting the equity to "better" use by investing in the stock market]…would be to keep less equity in your home though a long-term, low-down payment mortgage; or…through an interest only loan, and keep more cash at the ready for investing in the stock market. It's a riskier choice, given the current volatility in home prices, but it may be the best way to build wealth."
So NOW we're on the floor laughing out loud…
Open your eyes. You can now look at the blue line in the chart.
Who's calling who volatile???
First, before we go ballistic…we must say we LOVE the idea of getting idle equity out of a property to shelter it from that ever-fickle Mr. Market.
And because mortgage interest rates are SO low…you don't have to be Warren Buffet to out-earn the cost of borrowing…especially when you consider that the interest is tax-deductible.
But stocks? We don't think so. That chart makes us dizzy…
So we need to do some math. We figure if you've read this far, you must be a SERIOUS reader, so you can probably handle it.
We'll only do enough to help you understand why there's NO CONTEST when it comes to risk-adjusted returns in real estate versus the stock market.
Ready?  Take a cleansing breath…and…here we go…
First, let's just say that Shiller is right and the real average annual value increase (capital gain) on housing is 33 basis points per year. We could argue, but he's a Noble Prize winner. We're a couple of schmoes with microphones.
What his comments and the CNBC article don't take into consideration is financing…or better stated…leverage.
So if you were to put 20% down, you'd control five 20% parts of an asset (the property) which is 100% of it. That is, your "capital stack" is 20% cash from you (down payment) and 80% cash from the bank (the loan).
But YOU get 100% of the 33 basis points appreciation. At 5:1 leverage (you have only 20% cash in), YOUR appreciation rate on your cash is 5 x .33 or 1.65%. Nothing to run naked through the streets bragging about, but 5 times better than 33 basis points and a WHOLE lot closer to the 2.03% that Shiller says is the stock market's history.
Now let's stop right there.
Go back and look at the roller coaster blue line in the chart. Do you notice that the last low was lower than the prior low? Do you see that the high before this one, was higher than the high before that one? Any guesses on where the next low might be?
Now look at the red line. Looks like a smoother ride.
Would you be willing to give up 38 basis points (that's the difference between 2.03% and 1.65%) to avoid having your stomach come out your ears?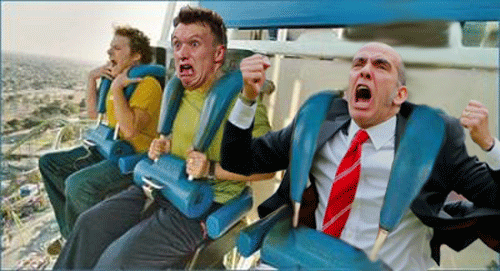 But we're not done…
Remember that 80% loan? Well, this is a RENTAL property.
That means you have tenants who are paying enough every month to cover ALL the expenses, including the mortgage (and professional property management…because who wants to manage a property?), and a little bit more. If that's not the case, then you shouldn't own the property.
Assuming your loan rate is 5% fully amortized for 30 years, the very first loan payment includes a pay down of principal (that increases your net worth on your balance sheet because it reduces your liability…we call it amortized equity) is $96.12 and it goes UP each month from there.
So month 1 is the LOWEST profit rate of the entire 30 years. Make sense?
Math time!
$96.12 x 12 = $1153.44 minimum annual equity build up from amortization
$1153 on a $20,000 cash invested (remember, you only put 20% down) is a growth rate of 5.76% annualized. Add that to your 1.65% of new equity (previous calculation) and you're up to 7.41%.
See? It's starting to look better. And it smokes the actual return of the stock market (according to Shiller) and still doesn't take into account tax breaks or positive cash flow from rents.
So just for fun…can you think of anything you'd rather be doing right now???…let's add in some net operating income.
Suppose this rental property only provided a modest positive cash flow of about $70 a month net spendable after ALL expenses…including maintenance, turnover, vacancy and set-asides…plus property taxes, insurance, property management, etc.
Is that reasonable?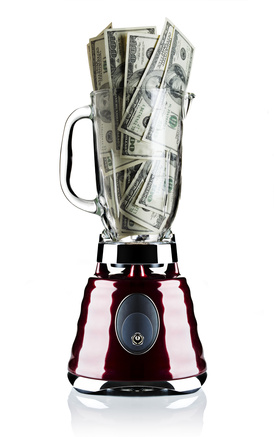 We think so…and here's the math (don't worry, it's simple!)…
If this $100,000 property is renting for $1000 a month (our 1% rule…and there's lots of those out there right now) and you budget 50% for all non-mortgage expenses and set-asides, you have $500 a month left for debt-service.
An $80,000 loan at 5% fully-amortized over 30 years gives you a payment of $430.
$1000 rental income less $500 for expenses = $500… less $430 for mortgage = $70.
See?
But $70 x 12 = $840
And $840 return on $20,000 down payment is a 4.7% cash on cash.
So when you put it all in your financial blender and hit puree…your 4.7% cash on cash together with your 5.76% amortized equity and your 1.65% from Shiller's 33 basis points at 5:1 leverage, you have a total return of 8.11 %.   That sounds a LOT better than 2.03%.
Wow. Now we need a nap.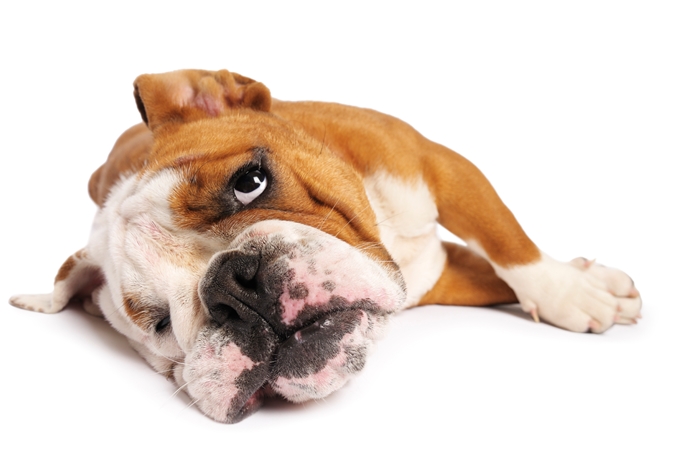 But take a listen as we take on the challenge of stocks versus real estate. We debate. You decide. Then we can all go have a pint.
Listen Now:
The Real Estate Guys™ radio show and podcast provides real estate investing news, education, training and resources that help real estate investors succeed.
Money makes the world go around.  But when you don't have enough, loans are pretty handy.
Real estate financing has changed a LOT in the years following the Great Recession. To get up to speed on the state of the art of lending, in this episode we interview two loan pros.
Sitting in the broadcast cabaret:
Your host and Master of Ceremonies, Robert Helms
Master of the Obvious and no-I'm-not-related-to-Joel co-host, Russell Gray
Residential Mortgage Maestro, Graham Parham
Commercial Lending Mentor of Money, Michael Becker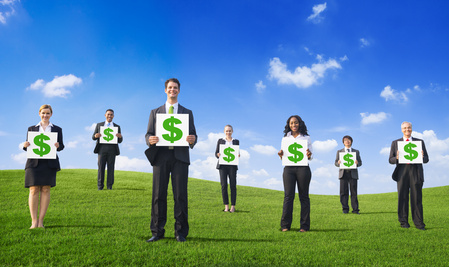 Back in the heyday of easy money…before the sub-prime meltdown exposed the flaws in that model…there were a plethora of loan programs being provided by a gaggle of eager salespeople.
Then everything blew up.  Or more accurately…imploded.  It was like someone tripped over the cord to the bounce house and all the air just came out.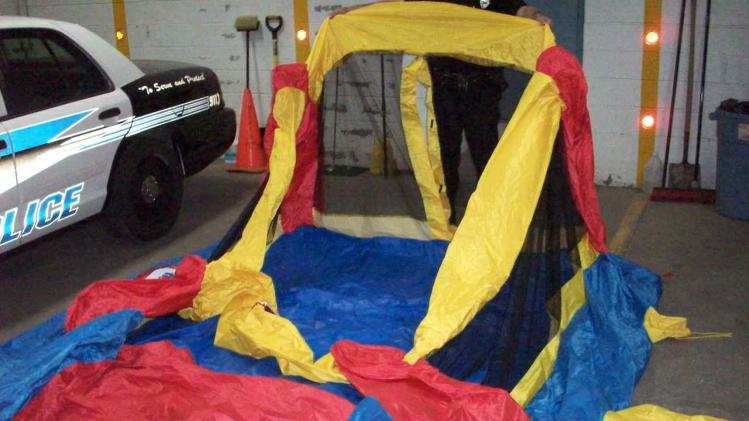 Most people in the mortgage business went broke.  Everything came to a grinding halt.
So the government and central banks intervened in a HUGE multi-trillion dollar way and put in a bottom to the free fall.
Some say they merely kicked a huge can a few years down the road.  Time will tell.
But coming out of the recession, it was much harder to get loans.  This was partly because many lenders were out of business.  And those that were still around were afraid of falling values and aggressive consumerist activism.
But that was then and this is now.
Today, by most accounts, the real estate bottom is well in place.  Equity is happening in many markets.
Dodd-Frank and its regulatory cousins are largely implemented and adapted to…and trillions of dollars in stimulus has worked its way into the marketplace and is looking for a home…to loan against.
All that to say that lending is loosening up, which makes real estate investing a little more fun…albeit more competitive.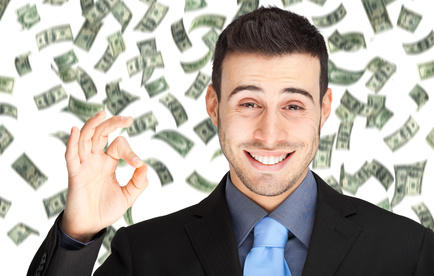 This means it's important to stay on top of new loan products and underwriting guidelines (the rules under which loans are approved).
Your mortgage team is your key to staying up to speed on this ever changing landscape.
When it comes to residential lending there are two basic categories:  4 units or less; and 5 units or more.
So in this episode we have experts on both to provide us an update on where they see lending today, and where they see it heading tomorrow.
If you're an active or aspiring real estate investor, you should be excited.  Because loan program innovation is back!  Private lenders (non-government) are getting back in the game.
This means more money flowing into real estate…and more money for you to work with to acquire more properties.  And right now, it's still dirt cheap.
But rather than clog the blog with all the details, we'll let you listen into the conversation yourself…Enjoy!
Listen Now: 
The Real Estate Guys™ radio show and podcast provides real estate investing news, education, training and resources that help real estate investors succeed.