The 15th Annual Investor Summit at Sea™
The 2017 sold out Summit is in the history books … and it was EPIC.
We can't wait to do it again in 2018!
We're currently processing Alumni advance registrations.
Then we'll open to the Advance Notice List before we open to the public.

ITINERARY
Here's what we did last time … it was AWESOME!
We'll be announcing our 2018 itinerary soon.
Get ready for an AMAZING week of FUN, SUN, EDUCATION and NETWORKING…with some of the biggest brains in real estate, economics, wealth building and business!!!
After 14 prior Summits, we've got this thing pretty dialed.  Of course, with lots of alumni, we also like to change things up.  And because we never know what great speaker, interesting topic or fun activity will come up at the last minute… our itinerary is always subject to change at the whims of our creative genius and divine providence.
Once you're signed up, we'll send you updates, reminders and helpful tips to help make sure your Summit experience is one you'll remember forever!  Hint: Get lots of rest before this trip – and allow a day or two afterward to recover.  Yeah, it's THAT fun.  😉
Let's take a look at what we have planned for 2017…
Friday, March 31st



Hustle into Houston…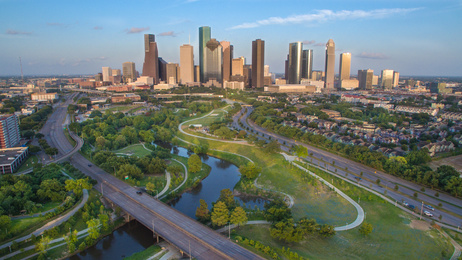 Yes, we know the Summit doesn't officially start until Saturday, April 1st.  But we start early!  So please arrive in Houston, Texas no later than the evening of Friday, March 31st and get checked into our group hotel. (We'll send you all the details once you're registered).
Your Summit registration includes your hotel stay on the evenings of Friday, March 31st and Saturday, April 1st.  Anything extra (before or after) is on you, though we can probably get you a good group rate.  So let us know if you plan to get in early to explore Houston…
But even though you're super excited to arrive in Houston, be sure to get to bed early so you can get rested and ready for…
Saturday, April 1st

Setting the Sail with a Full Day of Seminars on Land...
Rise and shine!  This is the official start of the 2017 Investor Summit at Sea™.  You'll enjoy an early hosted welcome breakfast, a special event orientation, and morning seminar sessions featuring some of our AMAZING 2017 faculty.
Then it's off to a yummy lunch with your fellow Summiteers…followed by a heaping helping of afternoon seminar sessions.
Once your brain is full of great ideas and new strategies, we'll all get together for our Welcome Reception and Kick-off Party (we'll do a lot of that during the week) for a chance to meet new friends and connect with those you already know. But the fun is just beginning…so pace yourself.
Sunday, April 2nd

More Learning on Land … then All Aboard!

Day 2 starts at the hotel with a delicious breakfast and chatting with your fellow Summiteers…followed by more seminar sessions in the hotel.
But don't get too cozy in your seminar seat…because that afternoon we pile into our chartered buses and gallivant into Galveston where we'll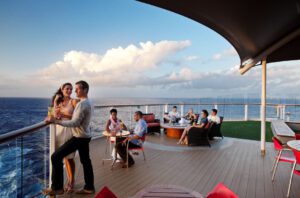 climb (actually, they'll provide a ramp) on board the big, beautiful and completely fabulous Royal Caribbean Liberty of the Seas luxury cruise ship.
After being in awe as you board this AMAZING ship, you'll settle into your stateroom.
If you have a balcony cabin (HIGHLY recommended, but don't wait to register because balconies go FAST)… you can stand outside and wave goodbye to Galveston.  We're headed to the warm and beautiful Caribbean and won't be back for an entire week!
That evening, we'll all converge in the ship's dining room where you'll be treated to your first of many decadent meals on board.  Don't worry, the ship has a very well appointed fitness center…which we've never seen.  But you can.  We'll be in the bar. 😉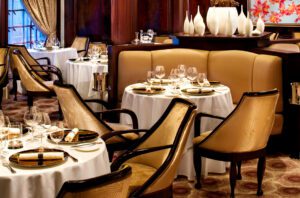 Now if you've cruised before, you know cruise lines always assign dining room seating.  But that means you're sitting with the same people every single night. That's fine if you're only traveling with your spouse or family.  But we're here to meet, mingle and share ideas with each other and our brilliant faculty.
So each night, we rotate the seating so you never sit the same place twice.  Each night you'll meet a fresh group of fellow Summiteers.  No wallflowers on this Summit!  Like Cheers (if you're old enough to remember the old TV show) by the end of the Summit, everyone will know your name.
After dinner, you'll be VERY tempted to stay up late to explore the ship, but don't stay out too late because the next day is…
Monday, April 3rd
Seminars at Sea…

While the other passengers play shuttle board and compete in the hairiest chest contest (you should've seen the woman who won last year!), you'll be feasting your brain on great investing ideas served up by our fabulous faculty.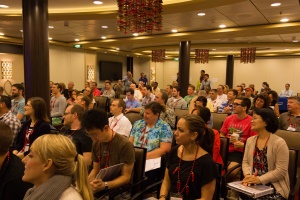 At this point, you may be wondering about the seminar agenda.  So are we.  We don't actually put the agenda together until about two weeks before the Summit…and even then it's subject to change.
Why?
Because we live in a constantly changing world and our faculty members don't have canned talks they present at conference after conference all year long.  And they don't have anything to sell you, so no canned pitches either.
This event is a SUMMIT of great minds (including yours), where our faculty members talk about whatever is on the top of their minds, and comment on whatever is currently happening in the markets, and answer your real time questions in an interactive format.
In 14 years, we've NEVER had anyone complain about a lack of content or value.  So we're pretty sure you're going to like it too!  Come with an open mind and get ready to expand your thinking, your network…and probably your waist line.  On the Summit, you don't have to worry about your brain or body starving!
After a full day of classroom sessions, it's back to your stateroom to primp and prep for formal night.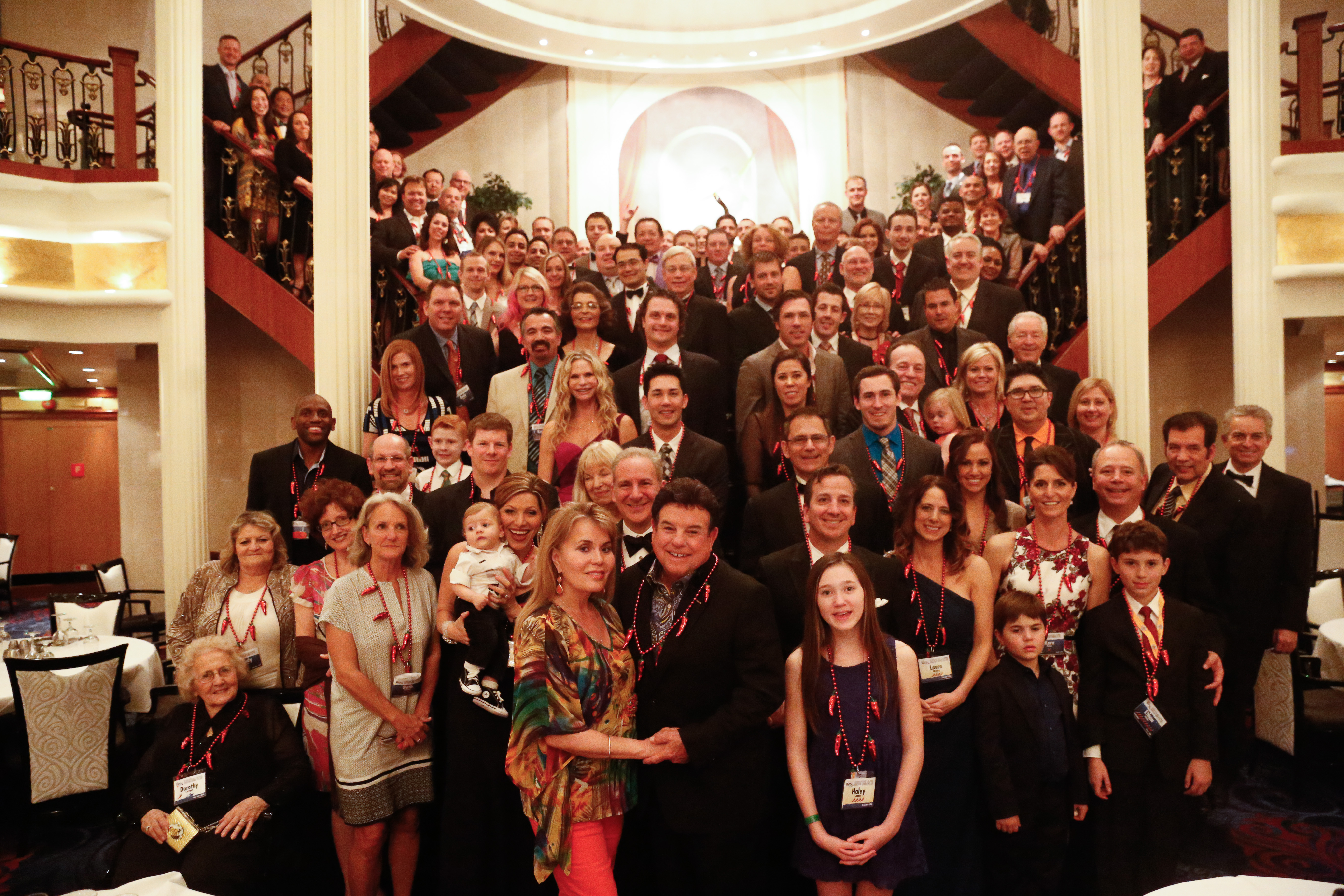 Yes, you'll need to pack some fancy clothes, but don't stress about that now.  Once you're registered, we'll send you all kinds of handy reminders and checklists to make sure you have everything you need.  This isn't our first rodeo.
After dinner, it's time to show off your fancy threads and flash your pearly whites for our annual Investor Summit at Sea™ group photo!  Yes, that could be you all fancied up and smiling next to Peter Schiff, G. Edward Griffin, Tom Hopkins or one of our many other faculty and Summiteers.  But you'll have to wait until you're at the Summit to get get your peppers.

And as if the day wasn't full enough…for the late night crowd, there will undoubtedly be opportunities to explore the ship and hang out with fellow Summiteers.  And it won't be a surprise if we had some fun late night activity going on.  In fact, you can count on it. 😉
Tuesday, April 4th



Another FULL Day of Seminars at Sea…
Just when you thought you couldn't absorb any more brilliance…your huge faculty of experts take it up yet another notch…
Of course, by now you're in the full swing of things…so you know the drill.
It's up early for a quick engorgement at one of the many breakfast options on board…then hustle into the classroom for more more world-class financial education.
We'll break for lunch in the middle, then end when are heads are about to explode…then off to some early evening activities before we reconvene for another exhilarating evening of dinner conversations with yet ANOTHER new set of friends and faculty.
By now, you'll know who the late night players are (could be YOU)…so you'll be happy to know the next day is….
Wednesday, April 5th
And we're in…Roatan!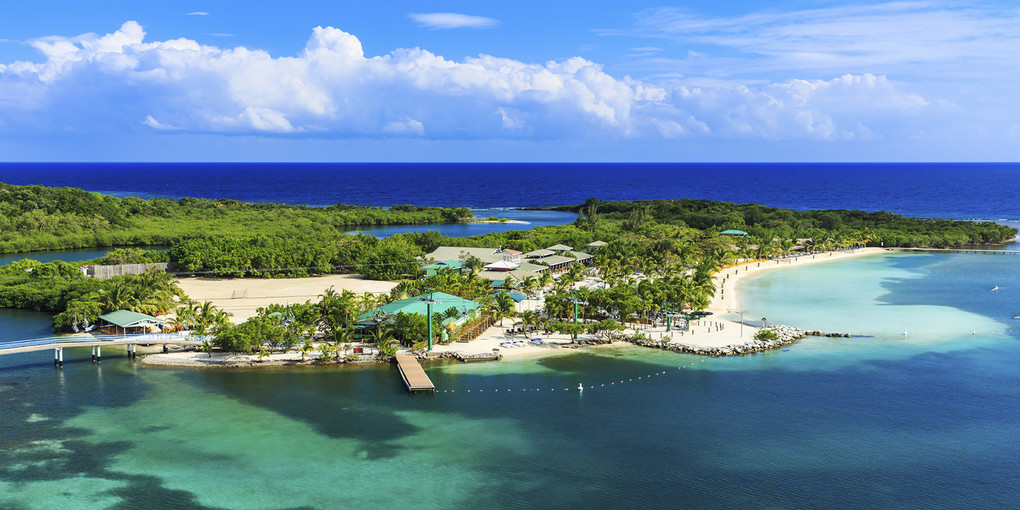 This beautiful little island port is typically our oasis of rest in an otherwise jam-packed itinerary.  It's the one day we ask everyone to give the team and faculty some space so they can refresh themselves.
It's also a day for YOU to catch up on sleep, tour the ship, do some shopping, go snorkeling, enjoy some sight-seeing, horseback riding on the beach…and otherwise act like a tourist.
Of course, with such a huge faculty and SO much to cover…sometimes we sneak in a bonus session or two.  You never know…
Whatever you choose to do in Roatan, just make sure you're back on the boat for dinner, late night fun and a good night's rest because tomorrow is…
Thursday, April 6th

Yes, it's true.  The Real Estate Guys™ are going back to Belize.  AGAIN.  And you're about to find out why we LOVE Belize…IF you decide to join us for the optional real estate educational shore excursion.
Regular listeners to The Real Estate Guys™ radio show know we've been going to Belize regularly for the last decade.  And there's one particular place in Belize that's one of the most intriguing real estate markets we've ever seen.
And we want to show it to you.
So this year's Investor Summit at Sea optional real estate educational shore excursion is to the beautiful island of Ambergris Caye.  And your highly qualified tour guide is none other than the illustrious host of both the Summit at Sea and The Real Estate Guys™ radio show…Robert Helms.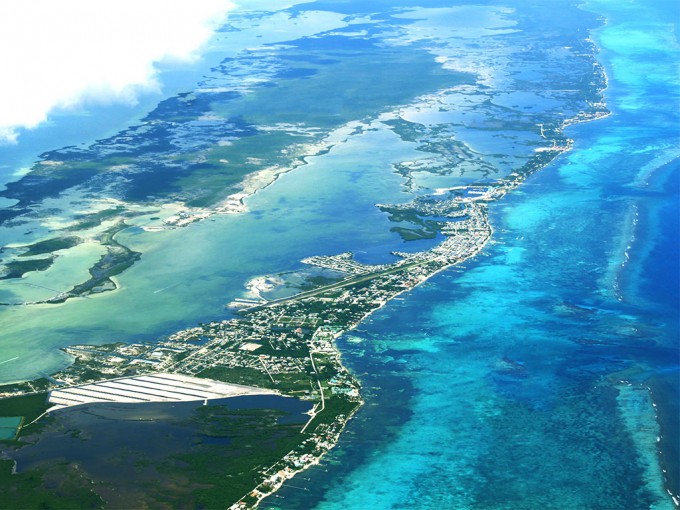 Robert is arguably one of the world's foremost experts on the real estate market of Ambergris Caye…which has been recently voted the #1 island destination in the WORLD…not once, but TWICE…by Trip Advisor.  It's the island Madonna sings about in La Isla Bonita.  When you see it, you'll know why.  You'll be singing too!
It's a very big story and Robert will be happy to show and tell it to you.  But it's a big adventure because…
When the cruise ship shows up in Belize, it drops anchor off the shore of Belize City.  That's because Belize sits behind the second largest barrier reef in the world.  So the water isn't deep enough to get a big old cruise ship into a dock.
So everyone who wants to go ashore will get on board tenders…a few dozen people at a time…and shuttle into shore.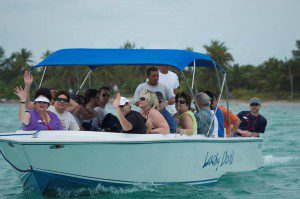 If you're one of our day trippers, you'll get on board another (much faster) boat for a fun-filled jaunt up to Ambergris Caye.  Once there, Robert will show you the island, explain the local real estate market, show you several of the local developments and tell you why we like it so much.
It's a BIG day.  But it's a fun day.  And no one we've ever taken has said it wasn't worth it.
Those who don't choose to join us can take in Belize City, enjoy any one of a number of ship sanctioned excursions, or just stay on board and enjoy the ship's amenities.
Once our big day in Belize is over, it's back on the boat for another evening of dinner conversations and probably late night shenanigans.  Of course, we advise you not to over do it because the next day is…
Friday, April 7th
Cozumel, Mexico and…Optional Beach Party

Is it morning already?  YES!  So rise and shine!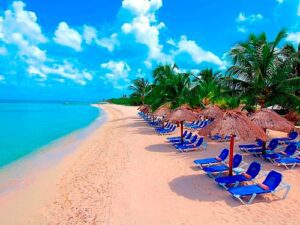 When you wake up from your nap, the ship will be in Cozumel, Mexico…another pretty little island in the Caribbean.
Because you can never have TOO much fun…and we've worked hard all week, SO….
We'll have an optional Beach Party in Cozumel!
You'll get all the details and a chance to sign up a few weeks before the Summit. One thing's for sure… it will be FUN and we'll all get to spend more time getting to know each other.
When the day is done, you don't have to be.  Because it's back on the ship for yet another delightful dinner full of lively conversations…then for the hardcore fun folks…one more round of late night "networking".
But once again, save a little something because the Summit's not quite over yet.  Tomorrow is…
Saturday, April 8th
Back in the Classroom and Our Famous Farewell Party!
After nearly three full days of fun in the sun, it's time to get back in the classroom to once again expand our minds. We'll hit it hard and go all day with seminars, panels and roundtable discussions.
This is our LAST day together and we'll make it count!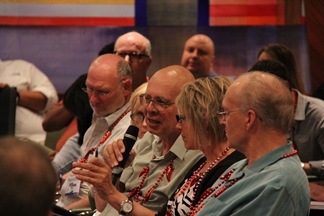 After our morning class session, you'll be part of the live studio audience as we record a commemorative episode of The Real Estate Guys™ radio show.  Afterwards, now that we're all friends, we ask everyone to share their best ideas and action plans.
This last day is often the MOST powerful of the week because it's where it all comes together.
We're also all feeling a bit nostalgic because we know this Summit is coming to an end.   It's like that last day of summer camp when you were a kid.  It's sad to think your new BFFs are about to head home.
But we're not ready to say good-bye just yet!
So at the end of the day, we'll take a quick break so you can freshen up…and get ready for our private farewell party.  This is one you won't want to miss…because we always have something special (and FUN) going on.
That night, we'll get together for our final evening of lively conversations over yet another delicious dinner.
Yes, you'll get on board the ship as a "passenger", but will probably leave as "freight".  So pack some loose clothes too, because your mind isn't the only thing that expands on the Summit!  You'll want to be comfy for the trip home tomorrow.
After dinner, the night owls will once again gather for the last bout of late night fun and camaraderie – and our infamous "Jam in your Jammies" party.
Yes, it's just like it sounds: a live music pajama party into the wee hours of the night.  So be sure to pack publicly presentable PJ's.  Who said investment conferences have to be boring?  You haven't lived until you've seen Peter Schiff in his PJs.
Sunday, April 9th
Disembark and Say Goodbye to the Liberty of the Seas…

You don't have to go home, but you can't stay on board.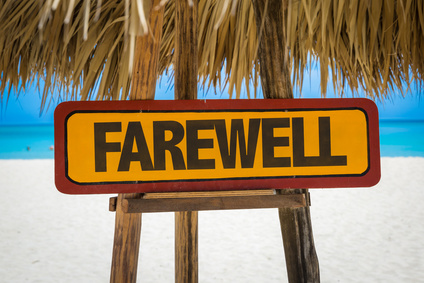 Full Disclosure:  This is the worst day of the Summit.  Why? Because it's over.  We disembark and like high school graduation, we say good-bye until our next reunion.  Fortunately, we don't have to wait 5 years to see each other again because before we're off the ship, we'll announce our 2018 Summit!
On this day of disembarkation, the ship will pull in to Galveston in the morning.
For some, they'll just be getting back to their rooms.  Others will sleep a little late.  Though there isn't anything formal scheduled, most of us try to see each other one last time in the dining area, then we say our sad goodbyes and get off the ship.
Whew!
With all this said (and we said a lot!), our itinerary is always subject to change.  We obviously have no control over the weather or Royal Caribbean Cruise Lines, so it's important to stay…flexible. 🙂
As far as our class schedules go, the faculty works on their presentations in the two weeks just prior to the Summit so the content is always fresh, current and dynamic.  But that also means it's subject to change.
In 14 years, we've NEVER had anyone tell us they were disappointed!
The testimonials really say it all.  Our goal is to deliver a world class and potentially life changing event, and then add YOU to our long list of satisfied Summiteers!
Make Your Plans to Join Us for Another EPIC Summit at Sea!
We're currently processing Alumni advance registrations.
Then we'll open to the Advance Notice List before we open to the public.