Click the links below for more information …
Faculty   FAQs   Pricing & Registration   Young Adult Program   Testimonials   Help
Alumni Registration for 2019 is already underway!

Public registration will open soon
Get on the advance notice to list to be notified as soon as we're ready with all the details for the 17th Annual Investor Summit at Sea™!

Itinerary
Get ready for an AMAZING week of FUN, SUN, EDUCATION and NETWORKING…with some of the biggest brains in real estate, economics, wealth building and business!!!
After 15 prior Summits, we've got this thing pretty dialed.  Of course, with lots of alumni, we also like to change things up.  And because we never know what great speaker, interesting topic, or fun activity will come up at the last minute … our itinerary is always subject to change at the whims of our creative genius and divine providence.
Once you're signed up, we'll send you updates, reminders, and helpful tips to help make sure your Summit experience is one you'll remember forever!  Hint: Get lots of rest before this trip – and allow a day or two afterward to recover.  Yeah, it's THAT fun.  😉
Here's all the fun stuff we did in 2018 …

Thursday, April 5th
Find your way into Fort Lauderdale …
Yes, we know the Summit doesn't officially start until Friday, April 6th.  But we start EARLY on Friday … and you won't want to miss a minute.  So PLEASE … arrive in Fort Lauderdale, Florida no later than the afternoon of Thursday April 5th … and get checked into our group hotel (we'll send you all the details once you're registered).
Your Summit registration INCLUDES your hotel room for 3 nights … Thursday April 5th through Saturday April 7th, checking out on Sunday April 8th.  Anything extra (before or after) is on you, though we can probably get you a good group rate.  So when you register, let us know if you plan to get in early or stay late to explore Fort Lauderdale or the surrounding areas.
Summit check-in is open 5:00 pm to 9:00 pm … and there's a special reception for Summiteers (that's what we call you).
But even though we start out with a little party, be sure to get to bed early so you can get well rested and ready for …
Friday, April 6th
Sessions on Land – The Future of Money and Wealth Day 1
Rise and shine for the official start of our 2018 Investor Summit at Sea™.  Because there's SO much going on in the world right now with crypto-currencies, the dollar, the Fed, and more … we're dedicating TWO FULL DAYS on land to the topic of The Future of Money and Wealth.  And you're going to LOVE it.
The day starts with a hosted breakfast, then we get right into a jam packed day of expert presentations and panel discussions featuring some of the most notable experts in the world.
We'll break at mid-day for lunch, then finish up with afternoon sessions and end Day 1 about 6:00 pm.  There MIGHT be some after dinner happenings, so don't plan to go run around downtown Fort Lauderdale.  And even if we give you the night off, you'll want to rest because tomorrow is …
Saturday, April 7th
Sessions on Land – The Future of Money and Wealth Day 2
Day 2 on land will be a lot like day 1 … a hosted breakfast in the morning, followed by expert presentations and panel discussions all centered around the future of money and wealth.  Then a lunch break and more mind-expanding learning.
We'll wrap up around 6:00 pm  so you can enjoy your last dinner on land.  Then, rest up and get ready for …
Sunday, April 8th
More Learning on Land, then All Aboard!!!
Day 3 starts with our last hosted breakfast on land, followed by more educational sessions … and then the most entertaining pre-board briefing you've ever seen.  Do NOT skip this session … even if you've cruised a dozen times.  The Summit at Sea™ is NOT a cruise … and there's a LOT to know about how everything works once we're on the ship.
When the land portion of the day ends mid-day, we all pile into buses and shuttle to the pier where we'll climb (actually, they provide a ramp) on board the big, beautiful, sensational Celebrity Silhouette.
After being awe as you board this AMAZING vessel, you'll settle into your stateroom (that's cruise jargon for your cabin).
If you have a balcony stateroom (which is HIGHLY recommended, so don't wait too long to register … balcony cabins sell out FAST) … you can stand outside and wave goodbye as the ship sales away.  We're headed into the warm and beautiful Caribbean Ocean and won't be back for an entire week!
That evening, we'll all converge into our group's dedicated area of the ship's dining room … where you'll enjoy the first of MANY deliciously decadent meals onboard the ship.  But don't worry, the ship has a very well-appointed fitness center … which we've never seen.  But you can.  We'll probably be in the bar. 😉
Now if you've cruise before, you know cruise lines always assign you a permanent dining seat.  But that means you end up sitting with the same people every night.  That's fine (probably) if you're only traveling with your spouse and family.  But we're here to meet and mingle with new people and our illustrious faculty.
So each night, you'll still have assigned seating.  But we change it up EVERY SINGLE NIGHT.  So you never sit in the same place or with the same people twice.  Of course, if you're attending with your spouse and/or family, we'll keep you together.
The goal is to help you meet and get into quality conversations with as many of your fellow Summiteers and faculty as possible.  No wallflowers on this Summit!  Like Cheers (if you're old enough to remember the old TV show) … by the end of the Summit, everyone will know your name.
After dinner, you'll be VERY tempted to stay up late to explore the ship and party like a rock star, but pace yourself.  You don't want to stay out TOO late because the next day is …
Monday, April 9th
Sessions at Sea
We're at sea the entire day.  So while the other passengers play shuffleboard and compete in the hairiest chest contest, you'll be feasting your brain on great investing ideas served up by our fabulous faculty.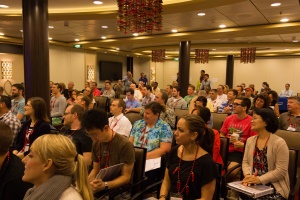 At this point, you may be wondering about the seminar agenda.  So are we.  We don't actually put the agenda together until about a week before the Summit…and even then it's subject to change.
Why?
Because we live in a constantly changing world and we don't want our faculty come with canned talks they present at conference after conference all year long.  And they don't have anything to sell you, so no canned pitches either.
This event is a SUMMIT of great minds (including yours), where our faculty members talk about whatever is on the top of their minds, and comment on whatever is currently happening in the markets, and answer your real time questions in an interactive format.
In 15 years, we've NEVER had anyone complain about a lack of content or value.  So we're pretty sure you're going to love  it too!  Come with an open mind and get ready to expand your thinking, your network…and probably your waist line.  On the Summit, you don't have to worry about your brain or body starving!
In fact, every day we're on the ship, you'll have the opportunity to dig into a Summit style lunch and learn … Round Table Topical Discussions with one of our MANY subject matter experts.
As topics are announced, you'll have the opportunity to reserve a seat at a lunch table the dining room hosted by that topics subject matter expert.  Then you and those fellow Summiteers who are also interested in the topic will all go to lunch together to learn and discuss the topic.  You can fatten both your brain and your belly at the same time!
As you'll discover, the Summit is full of LOTS of smart, successful, subject matter experts … on a wide variety of topics including precious metals, crypto-currencies, agriculture, apartments, resort property, mobile homes, assisted living, asset protection, estate planning, infinite banking (a mind bender for sure), financing, syndication, and much, much more!
In fact, we have SO many topics, it's likely we'll have some roundtable breakfast discussions too.  Again, neither your brain or your belly will starve.
After a full day of classroom sessions, it's back to your stateroom to primp and prep for dinner.  Sometimes … in fact often … we do some kind of pre-dinner private party.
And on at least of the nights on the ship, there's a formal night … so you'll need to pack some fancy clothes, but don't stress about that now.  Once you're registered, we'll send you all kinds of handy reminders and checklists to make sure you have everything you need.  This isn't our first rodeo … or Summit.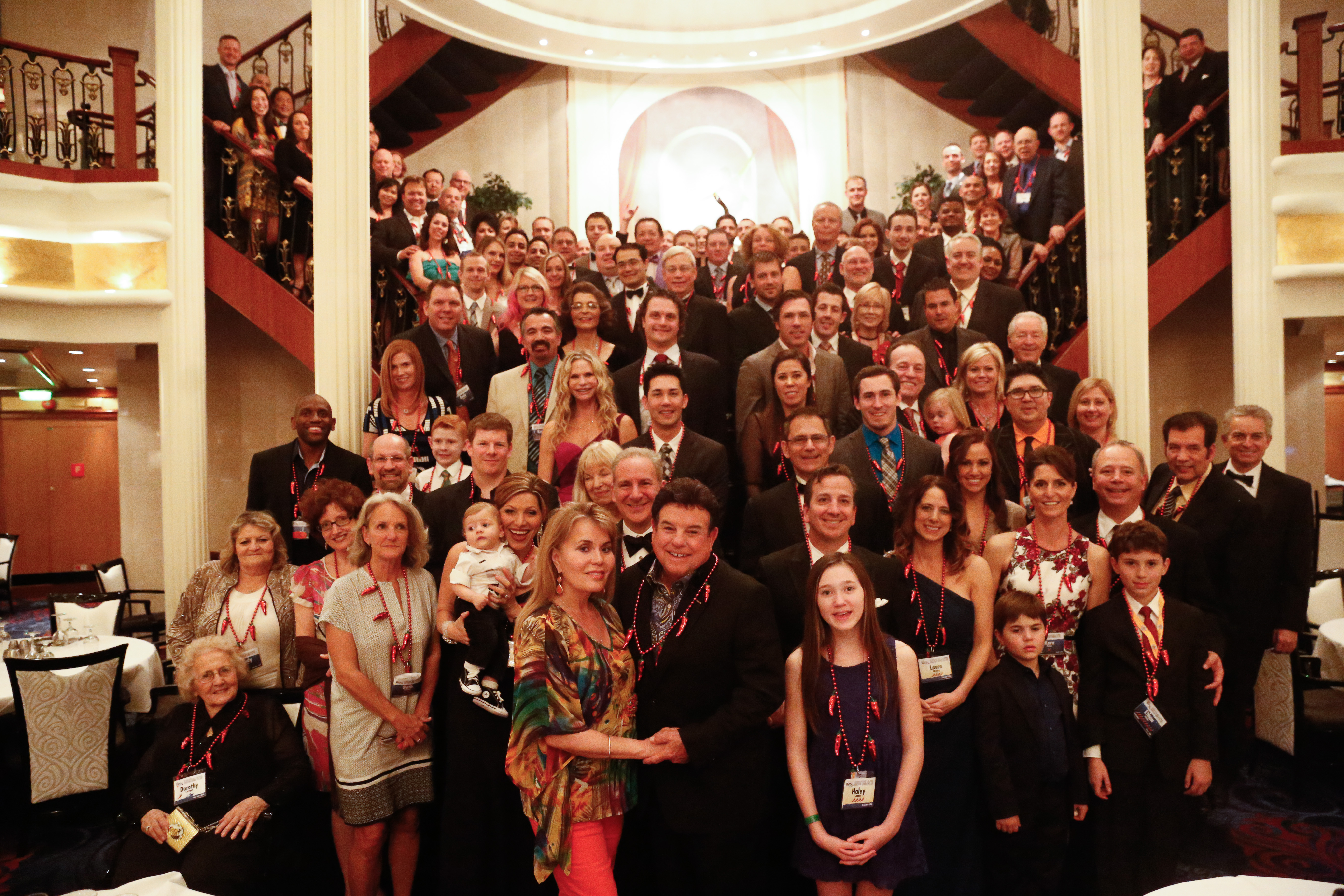 On formal night, we all gather after dinner so you can show off your fancy threads and flash your pearly whites for our annual Investor Summit at Sea™ group photo!  Yes, that could be you all fancied up and smiling next to Peter Schiff, G. Edward Griffin, Tom Hopkins or one of our many other fine faculty and Summiteers.  But you'll have to wait until you're at the Summit to get your peppers.

And as if the day wasn't full enough…for the late night crowd, there will undoubtedly be opportunities to explore the ship and hang out with fellow Summiteers.  And it won't be a surprise if we had some fun late night activity going on.  In fact, you can count on it. 😉
---
An important note about our scheduled ports …
As you're probably aware, many of the beautiful islands in the Caribbean were severely damaged by the 2017 hurricanes.  Because of this, the cruise line reserves the right to change the port itinerary as they deem best.  That's fine with us.  We chose this itinerary because of the ship … it has a BIG conference area … and the dates.
Naturally, our plans all depend on what the cruise line decides to do.
Our plan is to have three port days and use them three different ways:
We'll use one port for an optional educational shore excursion.  "Optional" means it's NOT included in your Summit registration.  Once we know the details, including pricing and how many spots are available, we'll let all registered Summiteers know.
Registrations are processed in order of Summit number.  Your Summit number is the order you registered for the Summit in.  The earlier you register, the lower your Summit number and the better your position for getting a spot at any limited space event … like a roundtable, special breakouts, or optional shore excursions.  The moral of the story is register as soon as you're committed to attend so you can get the best possible Summit number.  You'll be glad you did.
We'll use one port day for our famous Summit beach party.  This is also an optional (extra charge) event and usually there's room for everyone who wants to go.  Sometimes, there's limited space activities inside the beach party … one year we did a cooking class … which again are doled out according to Summit number.  Did we mention it's a good idea to register early and get a low Summit number?
The beach party is a fun and casual way to get to know your faculty and fellow Summiteers better.  There's something endearing about talking to someone in your bathing suit. 😉
Then, we'll use one port day as a "free day".  This means we don't make any plans and we ask everyone to give the faculty members some space to enjoy their families, get some rest, catch up on some work, or whatever.  Of course, you can do all that also.
By the time it comes, the free day is refreshing because of intense pace we've been keeping the rest of the days.  Of course, by now you've also made lots of new friends, so the free day is a great time to slow down and visit with people you'd like to know better.
---
Now with the above caveat that the ports and schedule are all subject to change, here's our current port plan …
Tuesday, April 10th
Sessions at Sea … then into San Juan, Puerto Rico
Even though it's only Tuesday, it's going to feel a lot like a Friday … because we start out in the classroom for presentations and panels, but we'll break a little early because the ship is scheduled to dock in Puerto Rico at about 3:30 pm.
Puerto Rico is where we expect to have our optional educational shore excursion.  Summit faculty member Peter Schiff moved his family and one of his business to Puerto Rico to take advantage of special tax breaks.  And he's not the only one.  So we're interested in learning more about all that.
Also, because of the hurricanes, there are probably all kinds of investment opportunities.  And because we know some folks in Puerto Rico, we may dig into what investing in post-hurricane Puerto Rico might look like.
As the date arrives and we get more clarity from the cruise line, we'll tighten up our plans and let all our registered Summiteers know the details.  But with all the smart faculty members with us, we're could probably just float around in life boats and enjoy an epic learning experience.  So we're pretty sure it's going to be great.
And we're guessing the cruise line isn't going to take us to some disaster area, so wherever we end up, there's sure to be fun things to do and see with all of your new Summiteer friends.
But whether you're on the optional excursion or not, be SURE to be back on the ship by 11:00 pm because that's when the ramp comes up and the ship sets sail for …
Wednesday, April 11th
Charlotte Amalie, St. Thomas
Once again, because of the hurricane damage, we're not 100% sure where we'll end up or when.  But as of now, the plan is we'll be porting in St. Thomas at 8 am to 5 pm.
This will either be our beach party day or our free day.  It just depends on where we find the best beach for all of us.
One thing's for sure, when we get back on the ship by 5:00 pm, we'll have a great dinner together … and probably stay up for some late night shenanigans. 😉
Thursday, April 12th
Phillipsburg, St. Maarten
We're scheduled to port at St. Maarten from 8 am to 5 pm.  So it's the same story as yesterday … just a different port.
The difference is you don't want to stay up TOO late because tomorrow is …
Friday, April 13th
Sessions at Sea
After three days of fun and conversation at three different ports, we settle back into our onboard conference center for more presentations, panels, and roundtables conversations.
We'll break around 6 pm and get ready for the evening festivities … maybe a private party, then another dose of delightful dinner discussions … and then for the die-hards, more late night fun.
However, once again … pace yourself, because tomorrow is …
Saturday, April 14th
Back in the Classroom and our Famous Farewell Party!
This is our LAST day together and we'll make it count!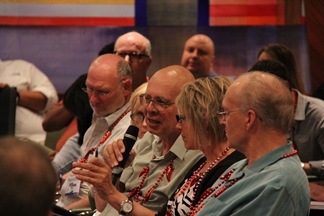 After our morning session, you'll be part of the live studio audience as we record a commemorative episode of The Real Estate Guys™ radio show.  Afterwards, now that we're all friends, we ask everyone to share their best ideas and action plans.
This last day is often the MOST powerful of the week because it's where it all comes together.
We're also all feeling a bit nostalgic because we know this Summit is coming to an end.   It's like that last day of summer camp when you were a kid.  It's sad to think your new BFFs are about to disperse to their respective homes.
But we're not ready to say good-bye just yet!
So at the end of the day, we'll take a quick break so you can freshen up…and get ready for our private farewell party.  This is one you won't want to miss…because we always have something special (and FUN) going on.
That night, we'll get together for our final evening of lively conversations over yet another delicious dinner.
Yes, you'll get on board the ship as a "passenger", but will probably leave as "freight".  So pack some loose clothes too, because your mind isn't the only thing that expands on the Summit!  You'll want to be comfy for the trip home tomorrow.
After dinner, the night owls will once again gather for the last bout of late night fun and camaraderie – and our infamous "Jam in your Jammies" party.
Yes, it's just like it sounds: a live music pajama party into the wee hours of the night.  So be sure to pack publicly presentable PJ's.  Who said investment conferences have to be boring?  You haven't lived until you've seen Peter Schiff party in his PJs.
Sunday, April 15th
Disembark and Say Goodbye to the Celebrity Silhouette …
You don't have to go home, but you can't stay on board.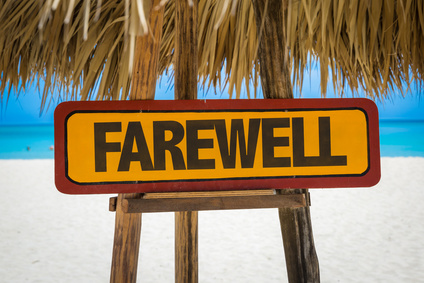 Full Disclosure:  This is the worst day of the Summit.  Why? Because it's over.  We disembark, and like high school graduation, we say good-bye until our next reunion.  Fortunately, we don't have to wait 5 years to see each other again because before we're off the ship, we'll announce our 2019 Summit!
On this day of disembarkation, the ship will pull into port at Fort Lauderdale in the morning.
For some, they'll just be getting back to their rooms.  Others will sleep a little late.  Though there isn't anything formal scheduled, most of us try to see each other one last time in the dining area, then we say our sad goodbyes and get off the ship.
Whew!
With all this said (and we said a lot!), our itinerary is always subject to change.  We obviously have no control over the weather or Celebrity Cruise Lines, so it's important to stay…flexible. 🙂
As far as our class schedules go, the faculty works on their presentations in the two weeks just prior to the Summit so the content is always fresh, current and dynamic.  But that also means it's subject to change.
In 15 years, we've NEVER had anyone tell us they were disappointed!
The testimonials really say it all.  Our goal is to deliver a world class and potentially life-changing event, and then add YOU to our long list of satisfied Summiteers!
Alumni Registration for 2019 is already underway!

Public registration will open soon
Get on the advance notice to list to be notified as soon as we're ready with all the details for the 17th Annual Investor Summit at Sea™!