PRICING & REGISTRATION
We're nearly sold out!!!
***Registrations are processed in the order received***
Once we sell out, we start a waiting list just in case any spots open up.
If You're Ready to Go… 
Registering for the Summit is a Simple 4 Step Process…
Step 1: Decide who's coming.  You'll complete a SEPARATE registration packet for EACH person – even the kids.  Best to download the registration packet(s) now, so you can reference them while reviewing the options below.
Step 2: Decide what level of stateroom you want (Summit at Sea cost details below).  The basic choices are Inside, Promenade, Balcony or one of the several Suites.  If you have special rooming needs, Contact Us for help.   If you're 18-25 years old, click here for our Young Adult Program
Step 3: Decide your sleeping arrangements. If it's just you (Single Occupancy), or you and a roommate (Double Occupancy), it's pretty simple.  If you're bringing minor children, it gets more complicated. If you get confused when reviewing the child pricing below, simply Contact Us.
Step 4: Download a registration packet and complete ONE PACKET PER PERSON – just in case it wasn't clear from Step 1 ;-). Email or fax your registration(s) as indicated in the registration packet.

If you need help, click here to schedule a call with a Summit Specialist.  We're HAPPY to help!
Here's What You Need to Know…

Summit registration rates are PER PERSON and INCLUDE:
Your hotel room for two nights (March 31st and April 1st) in Houston, Texas (where the Summit begins first thing on April 1st)
Your breakfast, lunch, on-shore classes and Welcome Reception on April 1st at the hotel conference center in Houston
Breakfast, classes and Group transportation on April 2nd from the hotel to the pier in Galveston
Your complete cruise fare on the fabulous Royal Caribbean Liberty of the Seas including all port charges and government taxes
All ship board meals, including nightly 5-course meals in the main dining room, casual breakfasts and lunches at the buffet, plus unlimited room service!  You will gain weight. 😮
Prepaid gratuities to the ship's wait staff and cabin stewards
Royal Caribbean's Youth Programs for children ages 2-17, which means your kids will be happily occupied and well cared for while you're cramming your head full of investing wisdom!
30+ hours of  educational sessions and roundtables with fellow investors and the Summit faculty
Your Summit workbook and all class materials
Exclusive, private hosted cocktail parties with The Real Estate Guys™ and the Summit faculty
Certain special "surprises" to be revealed at sea 🙂
Wow, That's a Lot!  But There are Some Things NOT Included….
Summit registration does NOT include the following items:
Non-hosted drinks, gambling, other items or services sold on board or on shore by the cruise line and/or port vendors – things like souvenirs, spa services, on-shore transportation, duty free liquor, fake tattoos, etc.
Optional port excursions promoted through Royal Caribbean Cruise Lines or other 3rd party vendors
Our optional (but very popular and always sells out) educational Real Estate shore excursion…we're going to Belize!
Our optional (and VERY fun) group party with The Real Estate Guys™ and the Summit at Sea™ faculty…probably in Cozumel
Airfare or other transportation from your location to the hotel in Houston at the beginning; or transportation home from the pier in Galveston upon return
Extended hours on-board childcare – Royal Caribbean provides a lot of free coverage in their standard Youth Program offering, but if you want to stay out REALLY late, optional fee-based care is available.  Contact us if you need more information on this.
As you can see, the cruise isn't the only component of the Summit at Sea cost, but it's a big one.  And because there's a big disparity in costs depending on occupancy and cabin selection, before you can register for the Summit…

Next, Decide What Cabin Level You Want…
Summit Registration Rates are based on Occupancy and Cabin Level



NOTE:  Our guaranteed cabin inventory always sells out early.  After that, price and availability are subject to change without notice (but we'll tell you what the actual deal is before you're committed).  So PLEASE, do yourself and us a HUGE favor and sign up EARLY.  🙂
At this point, if you haven't already, please download and print out one

registration packet

per person.
You'll want to have it in front of you to fill out as you pick out your staterooms.  Again, if this is giving you brain damage, simply contact our Summit registration specialist.  We're happy to help!
Some Info about Kids and Friends…
Children – Kids are welcome! Click here for important information about bringing your children.

3rd and 4th Adults and Guaranteed Share* – Click here to learn more about how you can share a little and save a lot!

* Guaranteed Share not available after February 15, 2017
Now It's Time To Pick Out Your Stateroom!
IMPORTANT: After our reserve inventory sells out, prices may vary. The ship sells out several weeks…sometimes months…before we sail.  So cabin choice is subject to availability.
Inside Cabin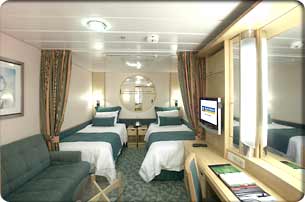 This is a comfortable and cozy, no frills stateroom in the interior of the ship.
This means you have no view to the outside, so if you're claustrophobic this isn't your best choice.
But if you want to save a few bucks and don't mind taking a walk in order to enjoy fresh air and a view, an Inside Cabin is the economical choice!
Inside Cabin Pricing:
Single Occupancy……. $6,397 per person
Child
…….$997 per child rooming with two adults
Promenade Cabin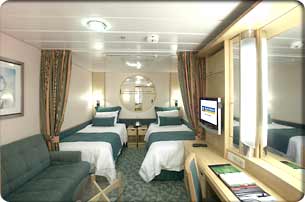 If the picture looks a lot like the Inside Cabin…that's because it is.  You can't see the Ocean.  But you CAN see the big "mall" (called a Promenade) that runs through the middle of ship.
So if want to save a few bucks on the balcony or above rate, but want something to look at besides a wall….well, the Promenade could be just the thing.
But just remember…when you step out of the shower in the morning to say hello to the world…those windows work both ways.  So all those Promenade people you like to watch…just might be watching you back.
Promenade Pricing:
Single Occupancy…….$6,897 per person
Balcony Cabin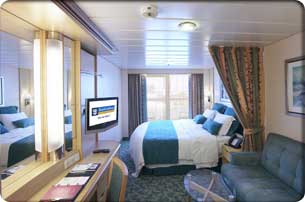 It's REALLY nice to have a glass door and wall length view of the ocean with direct access to your own private balcony.
Imagine sitting out in the morning sun, or standing out under the stars watching the moonlight glisten on the water.  Awesome.
This is our MOST popular selection and they sell out fast, so reserve yours quickly!
Balcony Pricing:
Suites
To help you have a "suite" Summit experience, the ship features a variety of elegant and spacious suites which are limited in supply and quoted upon request.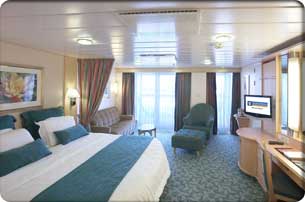 Pictured is a Junior Suite, which is the smallest of the suites.
Junior Suite Pricing:
Single Occupancy…….$ 9,597 per person
Double Occupancy……. $7,197 per person
3rd/4th Occupant…….$5,597 per person
Child…….$1,197 per child rooming with two adults
Full Fare Child…….$ 3,297 per child rooming with one adult
Grand Suite Pricing:
Single Occupancy…….$ 11,997 per person
Double Occupancy……. $8,297 per person
3rd/4th Occupant…….$6,597 per person
Child…….$1,397 per child rooming with two adults
Full Fare Child…….$ 3,597 per child rooming with one adult
Other Spectacular Suites
The Liberty of the Seas 
also features the Royal Suite, the Owner's Suite, the Presidential Suite and the Royal Family Suite.
Yes, they're very fancy, rare and hard to get because they sell out fast.
But if you REALLY want to have one,
contact us
ASAP and we'll stake your claim.
Claim Your Spot on the Summit at Sea!
Click below to get your registration packet. Fill it out and send it in

Need Help?
Click below to contact a Summit registration specialist 
or call 1-888-489-7723 x 1