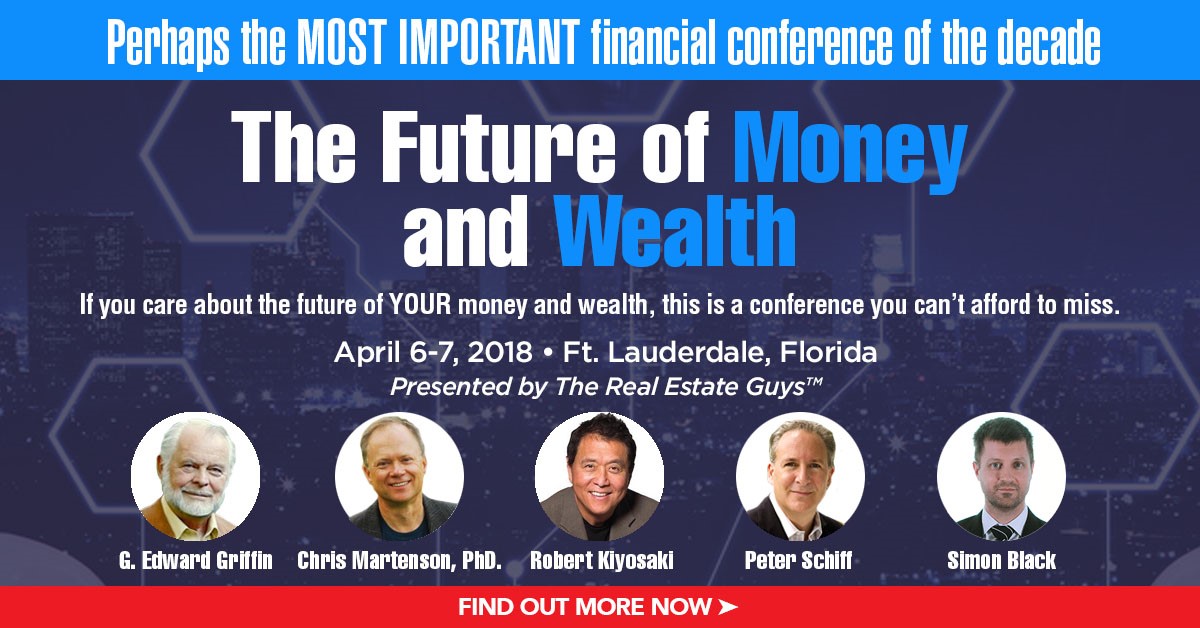 The world economic order is under-going massive change right now.  We're literally watching it unfold in the daily news.
Yet few investors really understand what's happening and why … or what they can do to both grow and protect wealth during these historic times.
"Those who can't remember the past are doomed to repeat it." – George Santanya
In two power-packed days our all-star line-up of notable experts will explain …
How the U.S. dollar is under attack and what it means to Main Street investors

What are the best and worst investments based on what's happening now … and where it's headed

How savvy investors are preparing to be on the right side of an historic wealth transfer most people don't see coming
Remember, the flip side of crisis is opportunity.  But pretending everything is fine … and not being prepared in case it's not … can be dangerous and expensive.
"Maintain unwavering faith you can and will prevail in the end, regardless of the difficulties, and at the same time, have the discipline to confront the most brutal facts of your current reality." – Jim Collins, Good to Great
We were lucky enough to spend some time at the New Orleans Investment Conference, the longest-running investment conference in the United States.
In this episode, we chat with three expert guests. They share their expertise on all things investing, from cryptocurrencies to gold, the Federal Reserve to commercial real estate, the international oil market and the U.S. dollar.
Our guests touch on real-estate-specific issues, but they also give us the big picture about what's going on in the financial space … and how that will affect investors of all types.
PLUS … our three guests have never before been featured on The Real Estate Guys™ show. Listen in to hear brand-new, timely insights from these money pros!
In this episode you'll hear from:
Your top-dollar host, Robert Helms
His dollar-short co-host, Russell Gray
The godfather of real estate, Bob Helms
President of Neptune Global, Chris Blasi
Author of Fed Up, Danielle DiMartino Booth
Senior editor of the website International Man, Nick Giambruno
---
Listen
---
Subscribe
Broadcasting since 1997 with over 300 episodes on iTunes!
---
Review
When you give us a positive review on iTunes you help us continue to bring you high caliber guests and attract new listeners. It's easy and takes just a minute! (Don't know how? Follow these instructions).
Thanks!
---
Cryptocurrencies and precious metals, oh my!
Chris Blasi is an expert in all things money. He founded the precious metals exchange Neptune Global and has patented a new way to invest in metals.
We asked him to give us his insights on the cryptocurrency trend.
"Cryptocurrencies are all the rage," he told us. That doesn't mean they're always the best choice.
Cryptocurrencies are digital currency backed by blockchain software. That means it is susceptible to the same issues as other software, like code issues, storage databases, and scaling.
Bitcoin is the big name in cryptocurrency right now, but there are hundreds of initial coin offerings, or ICOs, put on the market every day as people create new cryptocurrencies.
These cryptocurrencies have cost investors millions, Chris warns. "People need to step back and look at the market more closely" before making the jump to investing in cryptocurrencies, he says.
"Cryptos are actually a polar opposite of gold," Chris says. Gold is a tangible asset, while cryptocurrencies are entirely digital.
That doesn't mean he's saying yay or nay to digital currencies … only cautioning investors to understand what they really are.
"Cryptos offer speculative gains," he notes. "Do your homework and invest in moderation."
Nick is actually an expert in gold … he developed a patented unit of trade for precious metals, the PMC ounce. It's a unit of trade that corresponds to proportions of physical gold, silver, platinum, and palladium.
Using real-time technology, investors can buy and sell PMC ounces of metal immediately through Neptune Global.
The goal is to offer a turnkey precious metals fund … backed by real assets. And the PMC ounce has been architected to capture the blended return of each metal, smoothing out the volatility of trading in just gold or silver, for example.
Fed up with the Federal Reserve
Danielle DiMartino Booth has dipped her feet into all matters related to money. She has experience in private and public equities, worked as a finance journalist, and spent nine years at the Federal Reserve. She recently published the book Fed Up, her take on what's wrong with the Federal Reserve.
We started by asking Danielle to give us an overview of the Federal Reserve.
The Fed is a quasi-public organization that is intended to function as the central bank of the United States.
Unlike some conservative politicians and finance experts, Danielle doesn't want to abolish the Fed. She gave us her take on what we need to do to reform the Fed:
Go from a dual mandate to a single mandate. The current Federal Reserve operates on a dual mandate of 1) protecting the value of our dollar and stabilizing prices and 2) maximizing employment. Danielle is in favor of completely dropping the labor mandate, which she believes would help keep both inflation and the value of the dollar in check.
Reduce the number of local Federal Reserve banks from 12 to 10 and add a bank to the West Coast. In a largely cashless society, the need for so many districts has clearly dissipated, says Danielle.
Hire knowledgeable people who represent regional economies. Get rid of the majority of the regulators in the Federal Reserve. Instead of hiring PhDs, hire people who actually understand the inner workings of the U.S. financial system.

 

Give each district a permanent vote on the federal open market committee, and change the complexion of the Federal Reserve board so it's composed of people who are actually on the receiving end of the policies the Fed makes.
Danielle is ridiculously knowledgeable about the Fed, but she also had a lot to say about real estate. We asked for her thoughts on the real estate market.
"Investors are missing the forest for the trees," Danielle says. "I'm seeing the forest."
Danielle notes that commercial buildings are overbuilt right now, and that abandoned B- and C-class malls and retail structures can only be repurposed for so long. That glut of overdeveloped, centrally located land will cause an oversupply problem, she says.
Another problem? "There are not enough low-cost homes." We are facing a housing shortage that will only get worse in the next 20-30 years.
The people who benefit most from the overall real estate situation, Danielle says, are the people who are perceptive and get in while the fire is still burning and prices are at rock bottom.
The yuan, the petrodollar, and what it means for YOU
Nick Giambruno is a reporter and editor for Casey Research, specifically their International Man website.
We asked him about an intriguing article that appeared in the news for about a half second.
It's about China's hopes to price oil in the yuan (instead of the U.S. dollar) using a gold-based futures contract.
Why is this significant? Nick walked us through what this could mean.
If China is successful, "This will usher in a new era in the international monetary system," says Nick.
A quick history lesson:
In 1971, Nixon ends the Breton-Woods system; the dollar is no longer backed by gold

To preserve the value of the dollar, Kissinger creates the petrodollar system, in which the U.S. government agrees to provide protection to Saudi Arabia in exchange for oil being priced in U.S. dollars

The petrodollar system gives other countries an incentive to hold U.S. dollars
If China goes forward with its new money mechanism, it could divert 400-600 billion dollars in oil sales every year that would normally go through U.S. currency.
This could have a HUGE impact on international financial markets. Oil is the most valuable commodity in the world right now … essentially, Nick says, "China is going for the jugular of the U.S. financial system."
How does the breakdown of the petrodollar concern you? "The breakdown of the petrodollar will have clear consequences for interest rates." And as we all know, interest rates are the price of money.
We hope you learned something new from our expert guests! Now go out and make some equity happen!
---
More From The Real Estate Guys™…
The Real Estate Guys™ radio show and podcast provides real estate investing news, education, training and resources to help real estate investors succeed.
These days, it seems like industry and social changes are happening at a faster pace than ever before.
Take the emergence of companies like Uber and Lyft. Unheard of just a few years ago, these businesses allow everyday drivers to repurpose their cars and moonlight as freelance drivers to earn some extra change.
While the rise of ride-sharing companies has been great for people who want to put their cars to use, as well as people who need a convenient, affordable ride, it's been a major disruption to the taxi industry.
In this episode of The Real Estate Guys™ show, we'll examine nine major disruptions to the traditional real estate industry and discuss the way these changes affect YOU.
On the show, you'll hear from:
Your champion-of-change host, Robert Helms
His right-hand man, Russell Gray
---
Listen
---
Subscribe
Broadcasting since 1997 with over 300 episodes on iTunes!
---
Review
When you give us a positive review on iTunes you help us continue to bring you high caliber guests and attract new listeners. It's easy and takes just a minute! (Don't know how? Follow these instructions).
Thanks!
---
Major disruptions to traditional industries
Most disruptions don't appear out of nowhere … even if it seems like they do.
Major trends tend to evolve slowly.
The upside? You have time to react and get in on the game before you're left behind.
The downside? If you aren't keeping your eyes wide open, it's easy to miss what's going on.
Our first major trend is one that gained popularity quickly over the past few years … and is now on the tip of every vacationer's tongue.
Trend #1: Short-term vacation rentals
Airbnb. Everyone's heard of this company, and for good reason.
Companies like Airbnb allow homeowners to rent their homes to vacationers for a night or a fortnight.
For regular homeowners, say a person who's purchased a vacation rental they only use two months out of the year, short-term vacation rentals offer a way to make money in today's sharing economy.
And for real estate investors, Airbnb offers a completely new model for hospitality … and often, a drastically higher rate of return.
But for competitors in the traditional hospitality industry, Airbnb presents an unwelcome disruption to an established market.
After all, hotels can't usually match the amenities, home-like ambiance, or affordable rates of Airbnb options.
So the hotel industry is responding … often by attempting to quash short-term vacation rentals in a given area.
Trend #2: Modular housing
When modular housing first appeared, it was synonymous with "shoddy."
Today, modular housing means something totally different.
In fact, in many ways modular housing has become the best option for low-cost, high-quality homes.
New technology has allowed modular building companies to become hyper efficient, producing consistent results with less overhead than traditional building methods.
Obviously, this trend is also disrupting a big industry … traditional building and construction businesses.
These companies know what they'll do about this trend… try to stop or circumvent it. The real question is, do you know what you'll do?
In some cases, it isn't a new technology that's disruptive … it's the economy. Consider overcrowded, high-priced areas booming with new companies like San Francisco and Vail, Colorado.
In these markets, the demand for housing is there … but the market isn't responding (or can't respond, due to geographic barriers).
In some cases, this has opened up a new industry … worker-specific housing, created solely to provide homes for workers flocking to burgeoning technology markets.
In the most extreme cases, however, no one is stepping up to the table. Take Google, for example.
The company recently installed modular homes near their Silicon Valley campus to provide temporary, affordable housing to new employees.
But Google's solution isn't permanent … it's a patch on a problem that will only get worse.
The real solution? Either someone has to figure out a way to add affordable housing to already packed markets … or companies have to make the move to more affordable markets.
As with any trend, we want you to take note … and look for the opportunity in the situation.
Changing technology tools offer new techniques
Although in many ways, the real estate industry hasn't changed significantly compared to years past, technology tools for homebuyers have expanded dramatically in the Internet age.
First, it was online MLS programs that expanded access to home listings. Today, technology is racing to fill needs and wants as they arise, changing the way real estate works every day.
Trend #4: Online property analysis and walkthroughs
It's easier than ever before to buy a property without ever stepping foot in it.
Advances in technology, like virtual reality programs that let potential buyers examine homes from a distance, have made physical walkthroughs unnecessary.
Buyers also have a vast array of constantly improving data available to them online.
Sites like Zillow show home values, and it only takes a push of a button to find an area's crime rates and school statistics.
Trend #5: Social media marketing
While online technology rapidly increases the information available to potential homebuyers, some sellers are taking advantage of Internet trends to get a competitive edge.
Real estate professionals like our friend Ken McElroy use popular social media sites to create interest instead of relying on traditional advertising techniques.
This approach allows sellers to reach key audiences … while driving the costs out of marketing and acquisition.
What's the benefit of being able to cut edges this way? Well, we hope it's obvious … finding ways to cut overhead only increases your bottom line … and will help you stay above water if and when we hit a tight market.
Financing, lending, and brokering like never before
Along with new ways to research and market homes come new ways to buy and sell them.
Trend #6: Online brokerages
The online-only trend doesn't just stop at walkthroughs … these days, companies like Reali operate real estate brokerages entirely online.
As technology advances have made information more readily available to the interested public, traditional realties have seen an overall decrease in commissions.
There are two things real estate agents can do … find a way to redefine their role in the market, and/or find a way to do more transactions.
As new business models facilitated by technology emerge, it's your job to consider how you'll re-position yourself to maintain your value proposition.
Although your position and tasks may change over time, your income doesn't have to change if you adapt.
When it comes to buying and financing real estate, new lending models have proved a big disruption to a major industry … the banking world.
In particular, crowdfunding and peer-to-peer marketing allow people to exchange money without utilizing banks at all.
Instead, buyers and sellers can come together without a middleman.
Refiguring traditional 'rules' for a changing world
It's easy to fall asleep and miss the little ripples technology makes in the real estate world … but we think it's more fun to stay awake and watch them turn into waves.
If you want to be active and efficient in a slow market, NOW is the time to make your move.
That way, you'll have a competitive advantage when you really need it.
In a constantly changing world, it's YOUR job to rework the rules.
Trend #8: Nomadic workers
While workers are still flocking to big companies in overcrowded cities, on the other end of the spectrum, technology has enabled many folks to work nomadically.
For more people than ever before, it's possible to work wherever the heck you want.
How is this trend a disruption? It forces sellers to look beyond local buyers and consider the amenities that will draw nomadic workers to an area.
If investors take this trend into account, they may find demand in places they never would have suspected otherwise.
A changing world requires you to consider so much more than just the roof you put over tenants' heads. You have to look at the bigger picture.
Trend #9: Cryptocurrencies
Last, but not least, we find the rising cryptocurrency trend of the past few decades intriguing.
There are over 2,000 cryptocurrencies … and in markets with unstable (or even potentially unstable) currency, investors often find cryptocurrencies a logical option.
In our constantly evolving world, there's so much to think about!
It's YOUR job as investor to avoid being complacent … to stay aware so you can counter disturbances before they arise … or even better, turn them to your advantage.
Coming up on the radio show, our best ideas on how to navigate when there are storm clouds on the horizon.
Until then, go out and make some equity happen!
---
More From The Real Estate Guys™…
The Real Estate Guys™ radio show and podcast provides real estate investing news, education, training and resources to help real estate investors succeed.