Here's another installment in the continuing saga of Crisis Watch 2020 …
Last time, we discussed the scope and sequence for the mutation of the current health crisis into a potential dollar crisis.
If you haven't read it, try to fit it into your hectic sheltering-in-place schedule.
We think it's important to have context for the deluge of data, news, and opinions overwhelming your senses. Without context, it's just a lot of scary noise.
Today we're considering the future of real estate in a perpetual and post-pandemic world. After all, we are The Real Estate Guys™.
And last time we looked, none of the talking heads on mainstream financial media are talking to real estate investors. So, we will.
Of course, real estate is a vast topic with a multitude of sub-sectors. Each is affected by both micro and macro factors.
All that is obviously WAY too much for a deep dive in a weekly muse.
But with only a few exceptions, when it comes to real estate, it's really ALL about jobs and incomes.
And right now, it's no secret the jobs market is imploding in unprecedented fashion. The Atlanta Fed is projecting a STUNNING 42% decline in Q2 GDP.
Imagine if your blood pressure, paycheck, or rents declined 42%. Ouch.
The Federal Reserve and the U.S. government (not the same thing) are frantically trying to stave off depression with both monetary policy (lower interest rates) and fiscal stimulus (government spending).
But at the end of the day, it takes real jobs to produce real income to make real rent and mortgage payments on real estate. Really.
It's productivity that creates products and gives money its value. Money from nothing doesn't create goods and services to consume.
More money and less production usually leads to shortages and high prices. That's hard on everyone, but especially tenants.
So, policymakers are like Han Solo flying into the asteroid belt in Star Wars: The Empire Strikes Back … attempting to successfully navigate a VERY dangerous landscape.
The plan seems to be for the Fed to use EXTREME dollar printing to fund ginormous government spending, suppress interest rates, and buy almost everything from local bonds to ETFs … maybe even stocks.
Ostensibly, the goal is to prevent a collapse of asset prices and the financial system (banks and bond markets) they support.
This presumably buys time for the economy to be re-ignited, so businesses, jobs, and incomes are restored. But at what price? And will it work … fast enough?
Maybe. But it's probably smart to be prepared in case things don't go as planned. This crisis is unprecedented. No one really knows what will happen.
In practical terms, we think increasing liquid reserves, tightly managing cash flow, dumping marginal properties in marginal markets, and staying tight with your mortgage professional are all things that make a LOT of sense right now.
We're guessing free cash flow, liquidity, and access to capital will all be very valuable in the very near future.
For active and aspiring syndicators, NOW is a GREAT time to expand and educate your network of prospective investors …
… preparing them to join you in taking advantage of the bargains likely coming to a neighborhood near you.
Meanwhile, some investors are choosing to sit on the sidelines until AFTER the crisis passes and things stabilize.
Waiting for things to stabilize could be a BIG mistake …
First, things don't "stabilize" on their own. Things stabilize because intrepid investors step into the chaos and go bargain shopping.
Think about it. It's the very act of grabbing the best deals while others sit out which puts in a price bottom and stabilizes a market.
So a stabilized market is one that's already been picked over. If you want the best bargains, you need to be among the brave and bold.
This isn't to suggest throwing caution to the wind and buying anything anywhere for any price. That's dumb any time, but especially when a storm is clearly on the horizon.
But if you're in it for the long haul, which is what true real estate investing is all about …
… then the best "price" is a whole lot less important than great long-term financing.
That's because when the best price is available, it's often because financing is limited, expensive, or not available at all.
So, go back and think about where we're at in the pandemic …
A health crisis leads to a lock down which crushes commerce … taking revenue, jobs, and paychecks with it.
Real estate values start to fall because buyers are either unable or unwilling to buy … and demand slows. Of course, that usually proves to be TEMPORARY.
Meanwhile, the economic crisis means missed payments and debts going bad. Lenders get nervous and credit starts to tighten. It's already happening.
Of course, bad debt in a debt-based system is its own next-level nightmare.
IF the economic crisis continues, the bad debt contagion spreads … collapsing credit markets and threatening the banking system.
Think 2008 … only WORSE.
When this happens, credit's not just tight. It's nearly non-existent.
So yes, bargains are everywhere, but you better have CASH.
That's why we think it's smart to convert equity to liquid reserves while both equity and great financing are still available.
Of course, when you find the right deal in the right market with the right cash flow and you're able to obtain great LONG-TERM financing …
… then you can ride the price train down and back up again on the backside.
Remember, what happens from the time you buy until you sell doesn't matter much as long as cash is flowing positively in between.
Plus, with the updates to the tax law, rental real estate got an additional boost to the already awesome tax reform accelerated depreciation credits.
These tax breaks reduce taxes in the future, but can now also help you reclaim taxes paid in the past. This all really helps with your cash flow early in your ownership when you need it the most.
Lastly, consider how much pressure is being put on the U.S. dollar to prop up the entire world's collapsing asset prices and credit markets.
Gold is signaling concerns about long term inflation. Smart investors are paying attention. We hope you are too.
Will the dollar soften, crash, or collapse … causing the dollar price of real assets like real estate and gold to soar?
No one knows. But it's certainly possible. We'll be digging deeper into this hot topic in our upcoming Crisis Investing webinar.
But whether it's only the 2 percent per year inflation the Fed targets … or a much higher rate which could result if the Fed loses control and the dollar collapses …
… the key to profiting from inflation is DEBT.
And the best debt on earth is real estate debt because you enjoy very low interest rates and payments which can be locked in for the long term …
… with no margin calls …
… plus you get control of a real asset that produces income for servicing the debt …
… plus you only need to put in a fraction of the price … 30% or less down payment in many cases… which means you don't have much capital at risk if you get long term deflation …
… plus you get fantastic tax breaks to further enhance your after-tax cash flow.
Meanwhile, you earn inflated dollars which might be worth less against today's products and services … but worth a lot when paying off that old debt.
So the key is to acquire cash flowing assets with debt. This is real estate 101, but what makes it work is INFLATION.
And right now many pundits believe (and gold is confirming) the stage is being set for accelerated inflation.
The danger, as any seasoned investor will tell you, is lack of liquidity.
But with dollars losing value and banks paying zero interest, who wants to hold cash?
This is where gold comes in … not as an investment, but as liquid reserves that can insulate you from long term inflation.
In a world where massive printing of dollars (inflation) is the singular "vaccine" being administered to prevent economic contagion …
… it's arguably urgent to start taking precautions to prepare for the potential decline of the real value of the dollar.
The main ingredients are income property, debt, and gold.
When you mix them properly, you insulate yourself from the negative effects of inflation while positioning yourself to create real profits.
We'll be talking more about this timely and important subject in the weeks ahead. Stay tuned!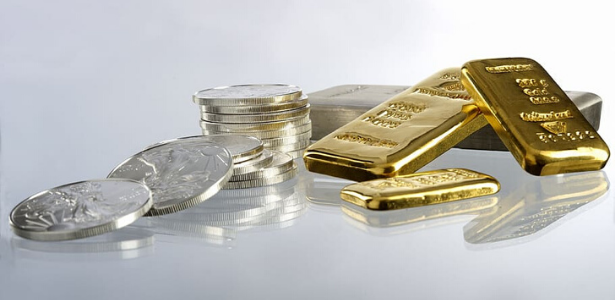 We're living in a time when the U.S. dollar is under pressure to support a struggling global economy. 
So, investors are joining central banks and turning to precious metals to hedge up their portfolios. 
Gold and silver are solid forms of liquid reserves. As the COVID-19 health crisis evolves into an economic pandemic … real estate investors should consider these malleable assets. 
Our good friend Dana Samuelson is here to talk about precious metals and investors like YOU. 
In this episode of The Real Estate Guys™ show, hear from:
Your shiny gold host,

Robert Helms

His tarnished co-host,

Russell Gray
Precious metals expert, Dana Samuelson
---
Listen
---
Subscribe
Broadcasting since 1997 with over 300 episodes on iTunes!
---
Review
When you give us a positive review on iTunes you help us continue to bring you high caliber guests and attract new listeners. It's easy and takes just a minute! (Don't know how? Follow these instructions).
Thanks!
---
Hedging strategies for your portfolio
Today we're talking about the safety and hedging strategies real estate investors can employ with precious metals. 
Real estate investors tend to look at life … and investing … transactionally. But traditional investing is really about building a portfolio. 
A portfolio consists of different components. When you apply portfolio theory to your real estate investing, you can use some of the same financial strategies that paper asset investors enjoy using the real assets you prefer. 
What are real assets? Real assets are things that are physical and tangible. They don't really rely upon a counterparty risk. 
Building a portfolio of diverse real assets is important … and today we're talking about a component that can be an important part of your portfolio mix. 
There's the possibility that because of this economic shutdown, the Federal Reserve is going to print so many dollars that it will begin to damage currency. How do you hedge against that?
One way is to invest in assets that don't have counterparty risk … like precious metals. 
Dollars haven't existed forever … but gold and silver have. 
Why gold and silver?
Our guest today knows a lot about these precious metals … Dana Samuelson. Dana is one of the best resources out there on gold and silver investing. 
"Gold and silver are malleable, so they have been used as money and currency since ancient times," Dana says. 
Unlike paper money, gold doesn't really change its value. It is the same today as it was a hundred years ago in terms of purchasing power … in fact, it has actually gained value against printed currencies over the hundred years. 
Gold is up over $300 an ounce in the last 12 months relative to the dollar. 
One thing investors do need to understand is that when you buy an ounce of gold, it doesn't have an ROI. It doesn't earn interest. 
What it does is preserve its value at whatever time, place, and currency you want to compare it to going forward. 
So, we don't all think of gold and silver as investments as much as we do a hedge against inflation and a way to keep money safe. 
Gold and silver have always been fantastic as far as preserving purchasing power, and there are multiple ways to invest in metals. 
Ways to invest in precious metals
You can of course buy precious metals outright by the ounce. But you can also invest in funds. You can invest in ETFs. You can even invest in mining companies. 
But, many of the alternatives to buying gold and silver outright do come with some counterparty risk. That's why buying metals outright is so popular. 
When people think of gold bullion, they think of gold bars. These bars are minted privately. Most major mints have since replaced bars with round bullion pieces in the United States. 
The U.S. mint has been making one-ounce gold and silver Eagles since 1986. Other countries … like Canada, South Africa, China, Australia, and Austria … also make round coins as alternatives to bars. 
Up until 1933, people had a choice on the street between a $20 gold coin or a $20 paper bill. 
That means that there are a lot of older, classic coins that survive today and are many times scarcer than modern bullion pieces. These coins have collector value that is above and beyond their intrinsic metal value. 
Just like in real estate, there are typically additional fees when you buy or sell coins, but those are fairly nominal. 
In the past few months, Dana has seen a strong demand for the physical product of gold and silver coins. 
Getting into the game
What advice does Dana have for new investors to the precious metals game?
"I would try and determine what your overall strategy is and how much you really want to put into this market over, say, the next six months," Dana says. "I would definitely get started sooner rather than later."
Dana recommends cost averaging your purchases over the next two to four months since precious metals tend to sell off with stocks as people rush to liquidity. 
Cost averaging is a great way to get in and keep your prices low. 
You can also look at the gold to silver ratio to see how many parts of silver it takes to equal one part of gold. Simply divide the gold price by the silver price. 
Historically that ratio has been anywhere from 20:1 to 40:1. In the past several weeks, that ratio has moved all the way up to as high as 125:1 … which means silver is dirt cheap. 
One reason silver is lagging behind gold is that gold represents true portable wealth. "You can carry $150K to $200K worth of gold in your hands. It's about the size of a paperback novel," Dana says. 
Silver, Dana says, is more spending money to use on the street if there is a problem with currency. 
"I would advise listeners to think about allocating 40% of their funds to gold and maybe 60% to silver right now," Dana says. 
For more about investing in precious metals … listen to the full episode!
---
More From The Real Estate Guys™…
The Real Estate Guys™ radio show and podcast provides real estate investing news, education, training, and resources to help real estate investors succeed.
---
Love the show?  Tell the world!  When you promote the show, you help us attract more great guests for 

your

 listening pleasure!
Another exhilarating edition of Ask The Guys … your great questions and our questionable answers.
This time, we tackle topics about going from tiny to mighty … how to use credit lines strategically BEFORE they disappear …. how to prepare NOW for the investment problems and opportunities likely to emerge from the COVID-19 pandemic … and MORE!
---
More From The Real Estate Guys™…
The Real Estate Guys™ radio show and podcast provides real estate investing news, education, training, and resources to help real estate investors succeed.
---
Love the show?  Tell the world!  When you promote the show, you help us attract more great guests for 

your

 listening pleasure!
Even as building slows, the Fed is pumping purchasing power into housing. Short supply plus increased purchasing power could put upward pressure on prices. Of course, it all hinges on demand … will buyers be willing to take on a mortgage in such an uncertain jobs market? After all, even a zero percent mortgage payment is hard to make with no income. … continue reading, click here >>
Is there a housing supply shortage in our future?  … find out more by clicking here >>