We're just back from another incredible Investor Summit at Sea™ … and it was EPIC!
With 234 people, 2018 was our biggest ever … and many have already reserved their place for next year.  Click here to get YOUR name on the Advance Notice List.
We kicked off the 2018 Summit with a two-day land conference based on our theme, The Future of Money and Wealth.  Our speakers hit it out of the park!
Fortunately, we videotaped the whole thing.  Watch for more details … or if you already know you want it, click here to pre-order the entire two-day series.
Meanwhile, it seems the world continued to spin while we were gone.  So as much fun as it might be to keep cogitating on currency, bonds, gold, oil and interest rates …
… we decided to dig into our real estate news feed and see what's happening with our favorite investment sector.
But a funny thing happened …
A couple of related headlines jumped out as particularly interesting after a week of contemplating the future of money and wealth.
First …
CRE Valuations Are Trending Down – NREI Online, April 6, 2018
For the uninitiated, CRE is short for Commercial Real Estate.  And when the industry talks CRE, it includes large multi-family.
But even if you're a Mom & Pop single-family home investor, you can still learn a lot from following CRE trends.
So this first article opens with …
"… real estate investors can expect that property prices will trend downward in the near future …"
"'Value appreciation has practically stopped …"'
"However, there are variations among sectors.  Industrial … has seen rising values … malls have seen big losses …"
"Cap rates have been inching up … for all sectors except industrial …"
After two days at Future of Money and Wealth, then another seven days at the Investor Summit at Sea™, these comments make a whole lot more sense to us.
First, interest rates are rising.  But the impact on real estate is much deeper than just mortgages getting more expensive.  If only it were that simple.
So without getting lost in the weeds, consider the impact of rising rates on the overall economy …
With record levels of consumer, corporate, and government debt … rising rates put a pinch on budgets at every level.
This means it's harder for consumers to spend more, for businesses to sell more, and for landlords to raise rents on those consumers and businesses.
And when you realize income property values are driven by income, it's easy to understand why stagnant rent growth means stagnant equity growth.
But this article also reminds us why we LOVE real estate … "there are variations among sectors" … so while retail (malls) are losing value, industrial is gaining.
We discussed this trend in our February 14 newsletter, so we won't revisit it here.  The point is …. when things shift, pain and profit are NOT equally distributed throughout the economy.
So if you're alert and proactive, you can get in front of an opportunity … or out of the way of a problem … faster than investors on cruise control.
Meanwhile, while rising cap rates can come from income rising faster than prices, most of the time it's from prices falling.
(Again … no investor left behind … cap rate is income divided by price.  Just grab a calculator and play with numbers until you understand. It's an essential investor skill.)
So why might cap rates be "inching up" … that is, why would buyers be offering less for the income?
Conversely, why would sellers be offering more income for less price?
(That's two different ways of saying the same thing … go back and play with the numbers until you get it.)
One likely reason is investors aren't willing to overpay today (bid up) expecting income to grow in the future.  The numbers need to make sense TODAY.
So cap rates are like a barometer of sentiment.  Rising cap rates are an indicator of a less bullish, more bearish outlook.
If rents rise (creating more income) and/or interest rates decline (reducing expenses), then cash flows improve.
If the rents don't rise (stagnant income) and/or interest rates climb (expenses increase), then cash flows stagnate or decrease.
So investors are saying the think either rents won't rise, or interest rates won't decrease (or even increase), or both.  That is, they don't expect market forces to improve cash flows going forward.
Make sense?
Which leads to the next headline …
Competition Intensifies for Value-Add Assets, NREI Online, April 17, 2018
"… competition is becoming increasingly stiff as the industry faces the likely end of the cycle and rent growth has moderated for core assets."
"As yields get lower and lower … two strategies have emerged … speculative building and value-add …" 
Quoting a research director at a commercial research firm …
"'Value-add has become quite attractive … people are less afraid to take on vacancy risk and reposition buildings.'"
So let's break this down real quick, then you can go get a snack …
When you hear "the likely end of the cycle", it's code for "the party's nearly over."
Real estate, like the rest of the economy, has been partying on easy money since 2009.
At Future of Money and Wealth, Fannie Mae chief economist Doug Duncan reminded us we've been in one of the longest (and weakest) recoveries in modern history.
In other words, we're nearing "the likely end of the cycle."  Duncan thinks the U.S. will be in full-fledged recession in 18-24 months.
So now instead of just buying a property and riding a wave, you actually have to buy smart and do some real work to improve the income … like "take on vacancy risk and reposition buildings." 
And if you're like our pal, the apartment king Brad Sumrok, and you've already been doing value-add and achieving spectacular results … be prepared to settle for "only" solid results.
Here's the bottom line …
Rising interest rates are moderating the economy, so it's important to focus your growth plans on things you have more control over.
This is probably not the environment to bet big on rising rents, falling rates, and lots of passive equity growth.  You'll need to buy smart, have a good plan, and work hard.  We call it "force the equity."
Pick your sectors, markets, properties, and financing structures for the long haul.
And remember … real estate is a highly inefficient investment vehicle with lots of nooks and crannies for good deals to hide.
So when you're well-connected, diligently searching, and properly prepared with a solid team and resources so you can act quickly and carefully, you improve your odds of landing profitable opportunities.
Until next time … good investing!
---
More From The Real Estate Guys™…
The Real Estate Guys™ radio show and podcast provides real estate investing news, education, training, and resources to help real estate investors succeed.
This is our 16th year hosting our annual educational event … the Investor Summit at Sea™. Guests and faculty have all disembarked from a wonderful week learning about the future of money and wealth.
We didn't want our wonderful listeners to miss out entirely on the treasure trove that is the Summit … so we hosted a live recording session on board the ship!
In this episode of The Real Estate Guys™ show, we chat with some of our illustrious faculty members. Listen in to hear their reflections and insights on our week at sea.
You'll hear from:
Your adventurous host, 

Robert Helms

His seasick co-host, 

Russell Gray
Robert and Kim Kiyosaki

, the brains behind

Rich Dad, Poor Dad

G. Edward Griffin

, author of

The Creature from Jekyll Island

Securities law attorney

Mauricio Raul
Victor Menasce

,

author of

Magnetic Capital

Glen Mather

, president of NuView IRA
---
Listen
---
Subscribe
Broadcasting since 1997 with over 300 episodes on iTunes!
---
Review
When you give us a positive review on iTunes you help us continue to bring you high caliber guests and attract new listeners. It's easy and takes just a minute! (Don't know how? Follow these instructions).
Thanks!
---
Lessons from Robert and Kim Kiyosaki
It was a pleasure to have the always inspiring Robert Kiyosaki and his wife, Kim, on board for the Summit. "It's more important than ever before to come on Summit at Sea because so much has changed," Robert says.
The duo enjoyed hearing from experts with many different points of view. "The conversations happening behind the scenes are the most important part," Robert adds.
Lucky attendees were able to hear from Robert … and female attendees joined Kim in a women-only breakout session about finding financial freedom.
We asked Robert and Kim about their opinions on educating younger people … and why it's important to have youth at the Summit.
"It's important we teach the younger generation," says Robert. "We need to teach kids to look at the world from a different point of view. Most kids haven't been trained to see a problem as an opportunity."
Kim adds, "What they teach you in school is the opposite of what it takes to be successful." According to Kim, school teaches you there's only one right answer … and you should never make a mistake.
But investors need to learn there are many right answers … and mistakes are the best way to learn. Plus, says Robert, "Student loan debt will never amortize on you."
Robert and Kim recently celebrated the 21st birthday of Rich Dad, Poor Dad. "The message remains the same," says Kim. Lessons like "your house is not an asset" and "savers are losers" still ring true, Robert says.
A red pill from G. Edward Griffin
G. Edward Griffin gives this review of the Summit: "I'm amazed at what I learned and that so many people learned so much!"
Edward walked us through the process of writing his book, The Creature from Jekyll Island. He almost gave up twice because he thought he couldn't do the content justice … but he persisted. Today the book is on its 48th printing!
What about the young people? "Young folks can buy into the idea that the banking system is stealing from them in a legalized fashion," Edward says. "We're at a huge tipping point."
Edward created the Red Pill Expo to get the word out to people that things aren't always as they seem in the world of money and banking. "You have to be aware before you can do something about the problem," he says.
The Expo aims to help people "take the red pill, break out of the matrix, and see reality."
Edward had some great words of wisdom for everybody listening … "We have within all of us the power to understand that most of the great barriers in life are not the barriers we think they are."
Three experts on the power of community
The author of Magnetic Capital, Victor Menasce, reports, "When you break bread with people, the level of connection and the environment is amazing."
Attorney Mauricio Raul agrees. The Summit provides attendees with the opportunity to "absorb knowledge like a sponge," he says. "It's an amazing environment."
Faculty member Glen Mather believed in the power of the Summit so much he brought his first-time property buyer daughter so she could learn too.
Glen has seen the Summit work its wonders firsthand … on himself. "I can't listen to these guys without thinking, 'There is so much we have to change,'" he says.
We think getting together to learn is incredibly valuable … if we didn't, we wouldn't have created the Summit at Sea™. We offer materials like our podcast and educational reports as the start of a relationship … with the hope that listeners will take that relationship to the human level.
Gathering as a community is a powerful experience … and experiences like the Summit allow both fledgling investors and experts alike to learn new information, open their minds to ideas, and form life-long connections.
---
More From The Real Estate Guys™…
The Real Estate Guys™ radio show and podcast provides real estate investing news, education, training and resources to help real estate investors succeed.
Interest rates are a big deal for real estate investors … for many reasons.
The first and most obvious reason is because interest rates are the price of the money you borrow to invest with.  Higher rates mean higher payments and less cash flow.
Of course, even when you pay cash for your properties, your tenants probably carry consumer debt … car loans, credit card, and installment debt …
Higher rates mean higher debt payments for your tenants, so less of their monthly budget is available to pay you rent or absorb rent increases.
Also, your property values, exit options, and liquidity are all affected by interest rates.
Higher rates mean buyers have less capacity to bid up comparable properties … and fewer buyers can afford to buy your property when you're ready to sell.
For these reasons and others, most real estate investors and their mortgage advisors pay very close attention to interest rates …  especially when financing or re-financing.
But there are other very important reasons for real estate investors to care about the future of interest rates …
Interest rates are a barometer for the health of both the currency and the overall economy.
Last time we looked, most real estate investors transact and denominate wealth in currency (dollars for Americans) … and your rental properties, tenants' incomes, and overall prosperity all exist inside of the broader economy.
So the potential for big changes to either the currency or the overall economy matter to real estate investors just like they do to paper asset investors.
In fact, based on the amount of debt most real estate investors use, interest rates are arguably even MORE important to real estate investors.
We're just a couple of days away from our Future of Money and Wealth conference … with nearly 400 people coming … and right now we're thinking a lot about the dollar and interest rates.
Peter Schiff is speaking.  Peter wrote Crash Proof in 2006 and released it in 2007.  Back then, he loudly warned of an impending financial crisis whose roots would be in the mortgage market.
Sadly, back then we didn't know Peter, and we didn't read his book.  Then 2008 happened, and we were blindsided by the financial crisis.
So now we read more … a LOT more.
We make time to listen to people like Peter Schiff, Robert Kiyosaki, and Chris Martenson.  And we work hard to share them with our audiences.
A very interesting book we just finished is Exorbitant Privilege by Barry Eichengreen.  He's Professor of Political Science and Economics at Cal Berkeley.
Eichengreen published Exorbitant Privilege in 2011, which means he probably wrote it in 2010.
Keep this in mind as we share these prophetic excerpts from Chapter 7, "Dollar Crisis"…
"What if foreigners dump their holdings and abandon the currency [dollar]?  What, if anything, could U.S. policymakers do about it?"
"It would be nice were this kind of scenario planning undertaken by the Federal Reserve and CIA … it would have to start with what precipitated the crash and caused foreigners to abandon the dollar."
Note:  Eichengreen probably didn't know at the time that James Rickards, former attorney for Long Term Capital Management (the hedge fund at the center of the near financial meltdown of 1998), was participating in precisely this kind of planning, which Rickards describes in his book Currency Wars, published a year after Exorbitant Privilege.
Back to Eichengreen's prophetic 2011 commentary …
"One trigger could be political conflict between the United States and China.  The simmering dispute over trade and exchange rates could break into the open …
"… American politicians … could impose an across-the-board tariff on imports from [China]."
WOW … Eichengreen wrote that at least 7 years before this March 22, 2018 headline from CNBC:
Trump slaps China with tariffs on up to $60 billion in imports: 'This is the first of many'
Back to Eichengreen in 2011 …
"Beijing would not take this lying down."
China to US: We'll match your tariffs in 'scale' and 'intensity'
Eichengreen in 2011:
"Or the United States and China could come into conflict over policy toward rogue states like North Korea and Iran."
If you've been following the North Korea drama, you probably know this one's been back and forth.
Last summer, China seemed to side with North Korea.  Then they tried to take a neutral position.
But recently Kim Jong Un paid a secret visit to China.  Of course, no one really knows what that was about.
But based on recent trade policy it seems the U.S. isn't sucking up to China for help with North Korea.  So maybe the U.S. and China disagree on North Korea?
Now STAY WITH US … because the point of all this is … according to Eichengreen …
China's relationship with the United States and the U.S. dollar has a DIRECT impact on the future of YOUR money, interest rates, and wealth.
And if you're like most Main Streeters, you may not completely understand the connection …
… just like we didn't understand what Credit Default Swaps had to do with our real estate investing in 2008 … until everything suddenly imploded …
… despite reassurances from the wise and powerful man then behind the curtain of the Federal Reserve, Ben Bernanke.
And the point here isn't Iran, or North Korea, or tariffs, or trade wars … it's about whether China gets upset enough with the U.S. and opts for the nuclear option …
Eichengreen in 2011:
"… China [could] vent its anger and exert leverage … by … dumping [Treasuries] … would send the bond markets into a tizzy … interest rates in the United States would spike.  The dollar would crater … could cause exporters, importers, and investors to abandon the dollar permanently."
Obviously, there's a LOT more to this topic than we can cover today.
Our point for now is that way back in 2010-11, Eichengreen envisioned a scenario in which conflict with China could create a dollar crisis.
As you can see, today's headlines are living out his concerns.
When you read Eichengreen, like Jim Rickards, he talks about things reaching a tipping point … where everything happens fast.
We lived that in 2008 and it was NO FUN.  But that was only because we were on the wrong end of it.  While we got slammed, others made fortunes. They were informed and prepared.  We weren't.
So be cautious of normalcy bias and complacency when it comes to contemplating the possibility of a dollar crisis.
Better to be prepared and not have a crisis … than to have a crisis and not be prepared.
Until next time … good investing!
---
More From The Real Estate Guys™…
The Real Estate Guys™ radio show and podcast provides real estate investing news, education, training, and resources to help real estate investors succeed.
The Silver Tsunami is coming. That's right. It's no secret Baby Boomers are retiring and entering a new phase of life, and looking for an alternative to traditional assisted living facilities.  
In the third episode in our Profitable Niches series, we explore the world of residential assisted living homes.
We chat with leading national expert and President of Residential Assisted Living (RAL) Academy, Gene Guarino, about this compelling investment opportunity, and four of his students who are successfully investing in this space.    
In this episode of The Real Estate Guys™ show you'll hear from:
Your happy-to-assist host, 

Robert Helms

His in-need-of-assistance co-host, 

Russell Gray

RAL Academy President

Gene Guarino

A few of Gene's star students,

Sherry Ellingson and Rocky McKay, Loe Hornbuckle, and CJ Matthews
---
Listen
---
Subscribe
Broadcasting since 1997 with over 300 episodes on iTunes!
---
Review
When you give us a positive review on iTunes you help us continue to bring you high caliber guests and attract new listeners. It's easy and takes just a minute! (Don't know how? Follow these instructions).
Thanks!
---
An explosive demographic with specific needs
So much of real estate is about understanding specific demographics and their needs. All around the world, and especially in the United States, there is a massive population that has created business opportunities through every season of their lives … baby boomers.
Baby boomers are retiring in droves, and they aren't too far away from not being able to live independently anymore. Unlike generations before them, boomers (in general) are adamant about not living in an institution or hospital. They want to live in a home and have a social life.
That's what makes residential assisted living homes such a fascinating investment niche. This specific demographic and a unique financial model means more CASH FLOW than a typical single-family home investment.
Gene Guarino is the leading expert in this investment niche. As president of the Residential Assisted Living (RAL) Academy, he teaches investors everything they need to know to get started.
"It all starts with education. Get educated first. If you don't, you'll most likely go out, make mistakes, and bang your head against the wall," Gene says.
We're all about education for effective action. So, we sat down with a few of Gene's star students to learn about their experiences and what advice they have for other investors.
Building your brand from the ground up
Sherry Ellingson and Rocky McKay are business partners who attended Gene's class several years ago.
"We kept hearing about senior living," Sherry says. "We both have parents who are going to be entering into this category before long, and after taking a look at some of the current options in our area we thought, 'You know, we could do this a little bit better.'"
Rocky and Sherry first acquired an existing assisted living facility that needed some updating. The property is 10 beds with jack-and-jill baths and lots of places for residents to be able to visit with friends and family. The goal is to have residents feel at home and have a happy, safe place to make their own.
How do they attract tenants? Case workers from hospitals and rehab centers refer potential residents and their families to placement agents who find out what they are looking for in an assisted living facility.
Then, the agents take them on tours and show refer them to various home options. That's why a good reputation is so important.
"The reputation of a home is attached to the owner, so your focus should really be on creating your own reputation and brand from the ground up," Sherry says.
"The demand for a good home is extremely high, and as we provide such an essential service for our residents, it feels like we are doing the right thing," Rocky adds.
For investors just starting in the niche, Sherry and Rocky recommend looking for an existing home and remodeling it into a residential assisted living home. They also suggest having a fixed rent rate with everything included so families can set their budget and not worry about hidden fees.
And don't forget that there is benefit in adding more properties. More residents means the ability to buy supplies in bulk and save even more money on operation costs. Sherry and Rocky hope to have a couple hundred operating homes in the next several years.
Raising capital and expanding your network
After going through the RAL Academy course, Loe Hornbuckle found his passion. Since then, he has opened 40 beds in residential assisted living homes and is in the process of developing an 80-bed facility made up of five homes on six acres as a planned community.
"I look at residential assisted living as a tool to keep people out of nursing homes or institutional environments that may not be right for them," Loe says. "There are a lot of people who are placed inappropriately in those settings."
Even though he was passionate about the type of investment he was making, Loe says he still had a lot to learn when it came to raising capital.
"The first time I raised capital, I put out my business plan, and at the end of the first day my wife found me in the fetal position on the floor. It was harder than I thought it would be," Loe says.
Proper education changed this for Loe. He learned you have to build a network to effectively raise capital. He suggests that RAL investors attend events and conferences so they can meet the many people out there who are willing to help them along the way.
"Your network is everything. When you build your network, you have the power to step into good business like residential assisted living," Loe says.
Syndication and working smarter
As a self-proclaimed real estate addict, CJ Matthews was looking for an investment with good cash flow and without a huge amount of ongoing work. After hearing Gene speak on RAL homes, she knew she had found the perfect niche.
"With residential assisted living, you do the work to set everything up, and then you become the business owner. At that point, someone else can actually run the day-to-day business for you," CJ says.
The biggest advice CJ offers to potential RAL investors is to learn about and apply effective syndication.
"Before learning to syndicate, going out and asking for money felt risky or scary to me, but after I attended the Secrets of Syndication seminar, I knew what I needed to do," CJ says.
When it comes to working with partners, CJ recommends choosing people who have skill sets you don't. That way you can work synergistically and accelerate your success. And don't forget this particular investment niche requires a special touch.
"This space isn't for everyone. You need to love real estate, love making money, love putting in work on the front end, and most importantly have a heart. If you aren't willing to care about these people and making the last years of their lives happy, then this may not be the investment for you," CJ says.
Interested in learning more about investing in residential assisted living? Listen in to the show to hear more from Gene and his students. You can also email us at ALF@realestateguysradio.com, and don't forget that Gene will be cruising with us on our Investor Summit at Sea™. We'd love to see you there!
Listen to other episodes in our Profitable Niches series (like Stacking up Profits with Self Storage or Making Money with Mobile Homes) to step off the beaten path and learn more about other lucrative, but as-yet unexploited asset classes.
---
More From The Real Estate Guys™…
The Real Estate Guys™ radio show and podcast provides real estate investing news, education, training and resources to help real estate investors succeed.
We're taking a break from our relentless preparation for the upcoming Future of Money and Wealth conference to focus on one our favorite subjects …
Equity.
According to a recent report by CoreLogic, last year's increase in America's home equity wealth was the largest in four years.
In 2017, the national CoreLogic Home Price Index rose by more than six percent, the largest annual increase since 2013.
We call this "passive equity" because the market just handed it to homeowners simply for buying and holding their property over that time.
Good job.
Of course, national averages are interesting, but not useful for practical investing.  Real estate is local right down to the neighborhood and property … and no two are exactly the same.
Think of it this way …
If you have one foot in a bucket of snow at 20 degrees and another in a bucket of 170 degree steaming hot water, on average you're enjoying a nice soak in a warm bath …
… but in the real world, you're scalding one foot while you get frostbite on the other.  National averages have limited utility.
Fortunately, CoreLogic provides a nifty color-coded map which compares equity growth at the state level: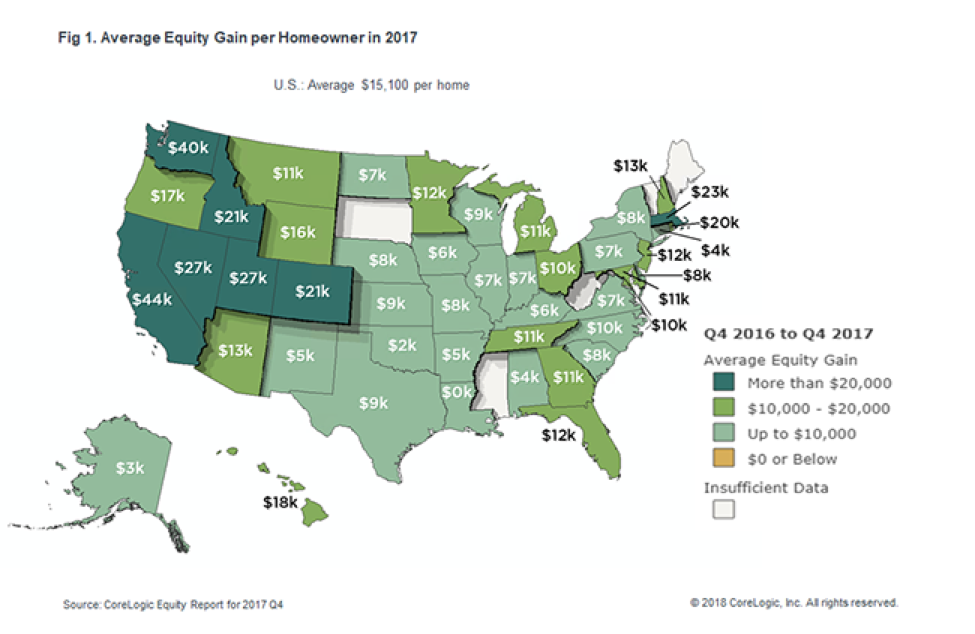 Unsurprisingly, coastal states with strong technology business … California and Washington … lead the pack for equity growth.
But we're guessing closer analysis would show equity rich markets are expensive relative to rents, so income investors can't just go to dark green and buy.
So how's an investor to use this kind of data?
Here are some ideas for your consideration …
First, you can do a deeper dive into the states with strong equity growth, and look for common factors.  Right away, we saw coastal and tech.
But that's just a start.
Look at supply and demand, nominal and real incomes, job growth, population growth, and migration patterns.
Then talk to street level people who live and work in those markets.  Find out what they're seeing right now.
Once you have your mind around what makes equity happen in one market, you can look for similar conditions in other "emerging" markets.
Then (hopefully) you can make your move and get in early … while the rent ratios still make sense … and ride a wave up.
Of course, if you're a typical busy person with a small portfolio, that's a lot of work relative to the size of the investment … especially if you plan to travel to check out markets, build teams, and inspect properties.
Plus, you might not even like doing all that, even if you had the time and a big enough portfolio to justify it.
That's why we're HUGE fans of syndication.
Syndication is where a syndicator aggregates funds from a group of investors through a private placement, and then does all the busy work of running the deal … for a fee and a piece of the action.
As long as there's enough profit in the deals to split equitably, it's a win-win.
The "passive" investors win because they gain access to opportunities they wouldn't otherwise have.  They effectively leverage the effort, expertise, and relationships of the syndicator.
The syndicator wins because the passive investors' capital facilitates economies of scale and access to bigger deals the syndicator might not have on his own.
And for both parties, two major sources of investable capital are paper assets in brokerage and retirement accounts, and equity in existing properties that can be re-positioned.
For example, real estate equity in an "appreciated" state might be accessed through a cash-out mortgage for about 5 percent interest at today's rates.
The loan proceeds can be used to acquire property in an "emerging growth" state that cash-flows at maybe 10 percent cash-on-cash.
The property-owner gets a positive spread on the equity, picks up some valuable tax-breaks, and has additional "top-line" real estate income streams which can grow over time.  Same equity, but more future opportunity.
As for stock market equity …
If history is any indicator, the recent turmoil in the paper asset markets is likely to create even more interest in real estate.
That's because speculating on asset prices, whether it's stocks or crypto-currencies, is a lot of fun when they're spiking.
But when the tide turns on speculation … and it always does … real estate's reputation as a reliable wealth builder is once again revealed and appreciated.
In fact, the CoreLogic article affirms the stability of real estate:
"… since 1970 home-equity wealth has been one-third less variable than corporate equity values …" 
And another recently released report from The National Bureau of Economic Research, The Rate of Return of Everything, 1870-2015, says …
"… returns in housing markets tend to be smoother than those in stock markets …"
"… housing has been as a good a long-run investment as equities, and possibly better."
"… equities do not outperform housing in simple risk-adjusted terms."
 "Housing provides a higher return per unit of risk …" 
"… housing returns … are more stable … housing portfolios have had comparable real returns to … equity portfolios, but with only half the volatility."
The report concludes (remember, to them, "equity" means stocks) …
"… the most surprising result of our study is that long term returns on housing and equity look remarkably similar.  Yet while returns are comparable, residential real estate is less volatile …" 
"Returns are comparable", BUT… they didn't include leverage …
"… the estimates … constitute only un-levered housing returns …"
When you add in 4:1 leverage (25 percent down), you take a 6 percent real estate equity growth rate to 24 percent!
Of course, we're probably preaching to the choir.  But think about this …
Maybe YOU already know real estate is a powerful, predictable, and demonstrably more stable wealth-building vehicle than stocks over the long haul.
But paper asset investors have been riding an easy money wave up to record-levels … and now stock markets are starting to get REALLY jittery.
What once was a fun ride is now becoming scary.  And  if you're a syndicator, this is MUSIC to your ears.
That's because paper asset investors are probably looking at their brokerage accounts and retirement plans, and are growing much more open to getting involved in real estate when it's presented properly.
And if you're a Main Street real estate investor limited by only your own funds, maybe it's time to consider leveraging your skills to get in on the syndication action.
We think syndication is arguably the best opportunity in real estate today.
We realize there are some people who think real estate might slow down because of rising interest rates. But history disagrees.
Rising rates just makes it hard for home buyers.  And when it's harder to buy, more people rent for longer, which is good for landlords.
Look what happened when the mortgage markets imploded in 2008 …
… no one could get a mortgage, millions had to rent, and even though there was a financial crisis … rents went up and up and up.
So all this stock market volatility is actually a gift to real estate investors.
Until next time … good investing!
---
More From The Real Estate Guys™…
The Real Estate Guys™ radio show and podcast provides real estate investing news, education, training, and resources to help real estate investors succeed.