If you love CASH FLOW real estate, you'll LOVE Memphis!


Dates Coming Soon!


Scroll down to get on the Advance Notice List!
Don't want to wait? We don't blame you. Sorry, we can't do field trips everywhere in every market. But until cloning is perfected, we have to pace ourselves. 
To get connected to the Memphis market right away, we encourage you to contact Terry Kerry of MidSouth HomeBuyers. Terry's a great guy, a good friend and strong supporter of The Real Estate Guys™ radio show. He's happy to help you discover great opportunities in Memphis!
Meanwhile, read on and we'll tell you what to expect when you join The Real Estate Guys™ on our next field trip to Memphis, Tennessee:
Setting the Tone
Our trips are EDUCATIONAL, so don't worry about getting trapped in a room and getting hard closed to buy a property  (we call this the "timeshare experience").  That's not how we roll.
Even though you'll meet local market experts who'd LOVE to do business with you, it won't happen on the trip.  This trip is about exploring the market and meeting potential team members.  If you like what you see, you can follow up afterward. No pressure!
Trip Logistics
When you schedule your flight (please wait until we confirm your registration – sometimes we sell out), please plan to arrive at the Memphis International Airport (MEM) on Friday early enough to get to our "home base" hotel by 4:30 pm.   We'll tell you which hotel…and the secret handshake ;-)…after you've registered.
Friday night, you'll meet your hosts (those handsome guys at the top of this page) and your fellow field trippers.  We'll have a market overview presentation, before heading out for a networking dinner (included!).  Then back to the hotel for some shuteye.
Saturday morning we're up and at 'em early.  After a quick breakfast, we're into the bus for a FULL day of touring the market.  You'll see a variety of neighborhoods and employment centers, and get an understanding of the overall health and vibrancy of the market.
You'll meet a variety of experts on specific neighborhoods and property types.  You'll learn how to look for the telltale signs of opportunity (or danger!) at the neighborhood level.  This is important because you don't buy a market, you buy a neighborhood.
We emphasize single and multi-family residential because that's what most people are interested in, but we'll also see commercial and retail areas.  If you have a particular interest, register early and be sure to let us know what you're most eager to learn about.  We do our best to tailor each trip to the unique interests of each particular group.
We keep the trips small, so there's ample time to ask questions and lots of interaction with the guest speakers, tour guides and your fellow field trippers. We cap the day off with a fun dinner and some tasty libations. Then back to the hotel for a nap.
Sunday morning is a lively interactive strategy session, some Q&A, and presentations from local experts.
By now, your brain is swollen with market knowledge, your heart is racing with excitement, and you've made a lot of new friends and strategic connections.  You'll get more done in one guided tour weekend than most people accomplish in multiple trips on their own!
So Why Memphis?
It's no secret we date other markets.  Each one has it's own unique personality and attributes.  And after our fascinating experience with the Great Recession, we know it's critically important to be careful and strategic when selecting markets.  The volume, location and quality of the jobs in a local area is essential to long term rental property investing success.
To be safe, we like markets that have major job centers that are geographically linked to the area. That is, the primary employers can't easily pack up and move to China, India or some other location where labor and land are less expensive.  It sounds obvious, but we're amazed at how many people overlook this basic investing criteria.
It's one of the things we LOVE about Memphis and why we've gone there for years.
Memphis has a great strategic location and infrastructure which makes it an ideal distribution hub.  Maybe that's why Fed Ex made it their HQ.  And with low cost land, labor, no state tax, and close proximity to distribution, Memphis is attractive to U.S. manufacturers who would rather stay in the U.S. than going overseas.
It's also important to have the price-to-rent ratio be favorable to creating positive cash flow.  This is important on so many levels, there isn't time to describe it all!  But you're going to REALLY like the numbers in Memphis!  In fact, Memphis was recently ranked the #1 single-family home cash flow market in the U.S.!  Great!
"Live where you want to live, but invest where the numbers make sense." – Robert Helms
Also, Tennessee is one of only seven states with no state income tax.  This is attractive to businesses, retirees and everyday folks looking for an affordable place to live, work and raise their families.  If the U.S. economy continues to struggle, and as U.S. baby boomers try to retire on portfolios that have been wounded by the Great Recession, markets like Memphis have a very strong appeal – and you'll understand why when you see it with your own eyes.
We could go on and on (can you tell?), but a website isn't a substitute for a field trip.
And just in case you're wondering if the field trip is truly amazing, check out these comments from some of our past field trippers…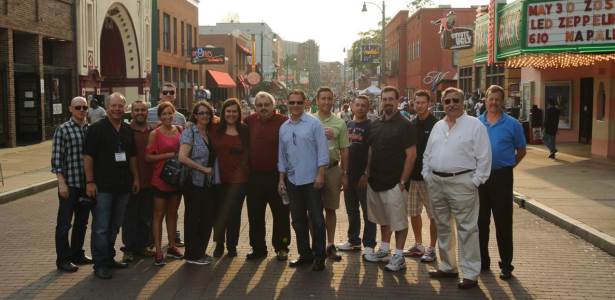 Wow. You read all the way to the bottom? You REALLY must be interested!
But interest can't make you money ... You need to take action.
Simply fill out the form below to get on the Advance Notice List …
Here is what our event attendees are saying...
"I am new. Plenty of time was spent to educate me, so that was good. Glad there was no pressure to buy anything."
"Best thing I've done in real estate. More than I expected!"
"Magnificent tour and program. Thank you!"
"Exceeded my expectations!"
"Way to go! Nice job putting this together. Very informational, relevant and practical." – Larry H., Phoenix, Arizona, USA
"You really explain things and teach us how to use the tools on our own. Thank you for a wonderful and rich experience." – Jennifer A., Orange County, California, USA
"Strategy session was very well done!! I was able to review my long term visions as a real estate investor." – Craig H., Medford, Oregon USA
"I learned how to evaluate a market and I learned about Memphis from many perspectives." – Deborah R., Los Angeles, California, USA
"Excellent job! Thank you!" – Jason S., Fort Lauderdale, Florida, USA
"This was a great field trip! 'Bonus time' came about half way through." – Troy S., Pinole, California, USA (Note: "Bonus time" is the point at which the cost of the trip becomes worth it to you, and everything thereafter is extra value.)
"I had high expectations and they were met!" – Uri R., Atlanta, Georgia, USA
"The most important thing I learned is the importance of relationships. Worth the time? Wow! Simple, clear and works to understand the economic drivers. I enjoyed all of it. Thanks!" – Greg F., Westbrook, Connecticut, USA
"Great concepts. Excellent contacts! VERY valuable information as always. As a current investor in this market, I was able to learn more than I could have on my own." – Randy H., Kennewick, Washington, USA