Individual Registration
Rate – $997
Partnership Registration
Rate – $1,994
They say a picture's worth a thousand words. And even though we can talk a lot, words can't describe the beauty
and charm that is Belize. The best way to understand this amazing Belize real estate market and all of its
investing, lifestyle and personal financial opportunities is to experience it yourself – up close and personal!
Join Robert Helms, host of The Real Estate Guys™ Radio Show, for a fun and educational weekend discovery trip to the beautiful country of Belize!
Meanwhile, read on to learn more about Belize,
this trip, and resort property investing…
Why Belize?
Three words: Location, Location, Location (we've heard those are important for real estate).  And when it comes to Belize real estate investing, there are three other words: Timing, Timing, Timing.
Ambergris Caye Belize has been named the #1 island in the world TWICE by Trip Advisor.
Belize is the former British Honduras and is located just under Mexico's Yucatan Peninsula.  Mainland Belize features lush green tropical rain forests, while it's Eastern border faces the Caribbean ocean and is safely nestled behind the world's 2nd largest barrier reef.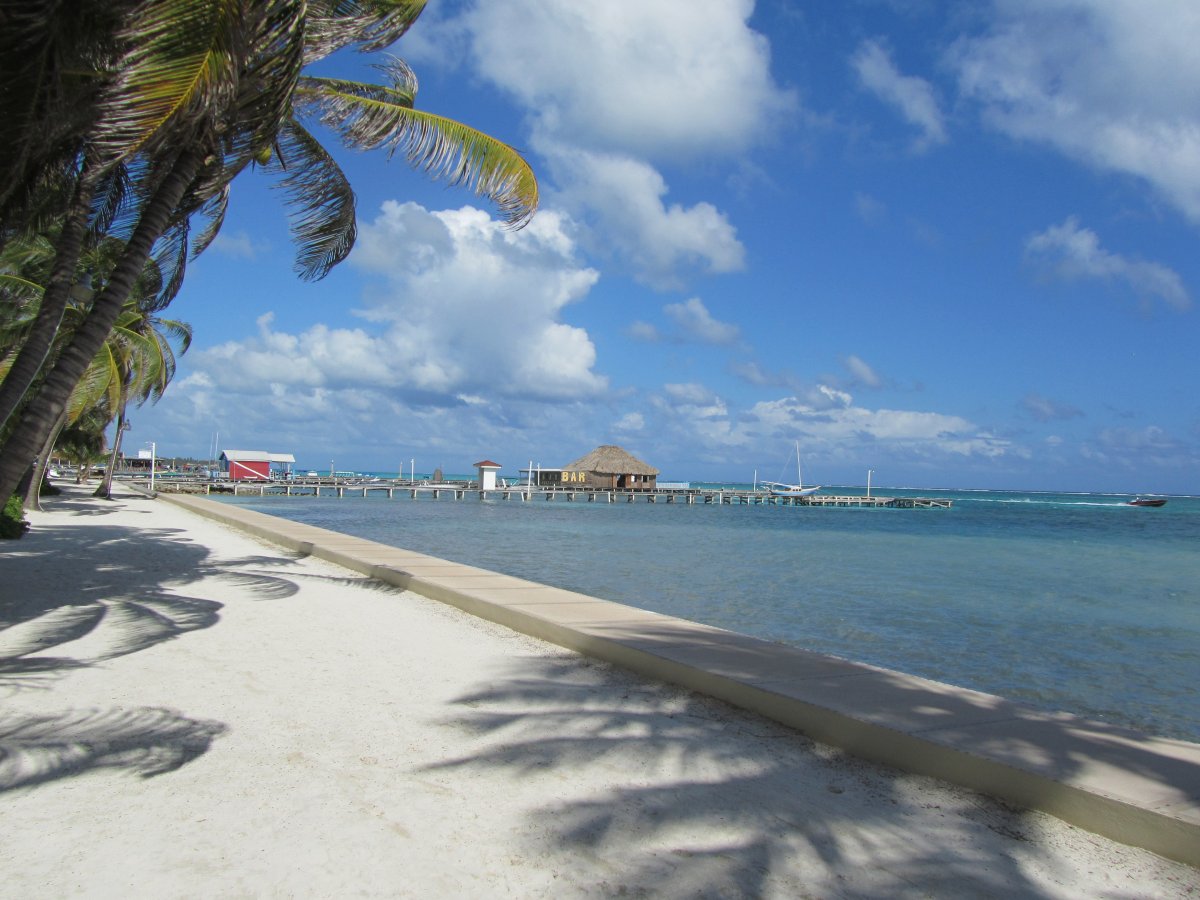 The islands are postcard perfect and attract vacationers, diving enthusiasts and celebrities alike.  Harrison Ford, Reese Witherspoon and Bill Gates are known to visit Belize for private, relaxing getaways.  Leonardo DiCaprio purchased a 110 acre island known as Blackadore Caye, so his love for the country led to a major Belize real estate investment.
On our 2012 Investor Summit at Sea™, we helped our friends Robert and Kim Kiyosaki discover enchanting Belize and Robert described it as "spectacular".  He was in awe that a place like this still existed.  Belize has that effect on even very experienced travelers like Robert and Kim.
But beyond beautiful, Belize real estate has other unique attributes which make it attractive to investors and tourists alike.
Belize is the ONLY country in Latin America whose official language is English.  This, and the fact that its currency is pegged at a fixed 2:1 exchange rate with the U.S. dollar, make it a friendly place for Americans. Plus there are direct flights from several U.S. cities including Atlanta, Miami, Dallas, Houston and many others.  For most Americans, Canadians and Europeans, Belize is actually closer than Hawaii!
The Real Estate Guys™ will show you Belize!
Robert Helms and his team have been visiting and investing in Belize real estate for several years. He's led several discovery trips with as few as one couple and as many as 110 Summiteers. The feedback on every trip has been over the top positive! Robert will share his extensive market knowledge, and personally show you around. Plus, he'll introduce you to his personal network of local market experts.
This is an EDUCATIONAL event. This is not one of those "fly n' buy" sales trips where aggressive salespeople are waiting to pounce on you.  We believe the right approach to real estate is to start with the market first, then build a team, and then select properties that meet your personal and investment goals.  This trip is about exploring the market and meeting people who may become part of your team down the road.
Discover the real estate, banking and lifestyle opportunities available to you in beautiful Belize during a semi-private tour led by The Real Estate Guys™ Radio Show host Robert Helms.
"This is one of the most amazing trips we've been on. Thanks for making the 2020 trip such a wonderful time!"
Registration Open!
May 5-8, 2023
Individual Registration
Rate – $997
Partnership Registration
Rate – $1,994
Here is what you'll miss if you don't sign up...
Trip Logistics
Once you're enrolled, our registration team will contact you with travel logistics.  Your round trip airfare is not included in your tuition, but it's very important that your arrival is coordinated through our team.  While you're in Belize, virtually all your trip expenses including group transportation, speaker sessions, materials and most meals are included.  Discounted hotel rates are offered at our preferred hotels, and you will receive hotel choices, rates and information once you register. Alcoholic beverages, souvenirs, and certain other incidental expenses are not included.  Upon receipt of your completed registration form, we'll provide you with information about what to wear, pack and expect.  You will need a current passport (valid for at least 6 months), so if you don't have one, get to work on that right away. Once you discover enchanting Belize, we're betting you'll be making regular use of your passport!
The Opportunity is Now
There are lots of reasons to like a place like Belize (is there any other place like Belize?), but the opportunity today is better than ever! Americans haven't lost purchasing power in Belize because of the fixed exchange rate, while many other countries have gained purchasing power because of a soft U.S. dollar.  Baby boomers in the U.S. still dream of warm weather, low tax, beautiful places to resort and retire, but many of the more established areas remain relatively expensive in a post recession economy.
Belize offers an English speaking, affordable, "non-touristy", and reasonably nearby alternative.  And popular TV shows like House Hunters International are helping a growing number of people discover Belize as a great option not just for retirement, but also full-time residency for a growing new class of telecommuters and independent information workers.  Think about it:  would you rather sit in a corporate cubicle in Cleveland or a beautiful beach in Belize?
Additionally, Belize still enjoys a great reputation as a tax friendly jurisdiction with strong privacy banking and asset protection laws.  As citizens of "developed" countries face increasing concerns about privacy, taxes and frivolous litigation, the affluent are seeking off-shore alternatives in greater numbers than ever.
All of these trends point to increasing demand in Belize real estate, but the wave is still growing.  Alert investors can position themselves in the market to provide the properties that tourists, retirees, remote workers and ex-pats will want to buy or rent.  Besides, if the worst thing that happens is that you have to live or use your property for personal use, would you rather it be a duplex in Detroit or bungalow in Belize?  Meanwhile (check with your own tax advisor), once you have investments in Belize real estate, your trips to visit just might be tax deductible.  Very cool.
A Visit is Worth a Million Words
If a picture is worth a thousand words, then a personal visit to paradise is worth at least a million.  Come see it with your own eyes!
Still not convinced? Listen to what some past attendees have to say:
Whew!  That's lot of long distance learning about Belize.
You could probably use a break…
Treat yourself to a fun-filled extended weekend adventure into real estate
investing education with Robert Helms in beautiful Belize!
Registration Open!
May 5-8, 2023
Individual Registration
Rate – $997
Partnership Registration
Rate – $1,994