The 43rd Annual
New Orleans Investment Conference
October 25-28, 2017
♦ Real Estate  ♦ Precious Metals  ♦ Currency  ♦ Energy  ♦ Economics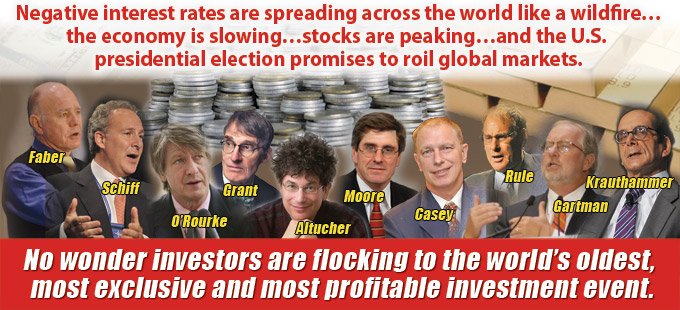 The New Orleans Investment Conference is our FAVORITE investment conference of the year (besides our very own Investor Summit at Sea™)!
Use the form below to




Get on the Advance Notice List




Be among the first to know when registration opens so you can




register EARLY and get the BEST pricing:
Here's WHY this is a MUST ATTEND event for serious investors…real estate and otherwise…
The World is Changing…
China continues to push for a more powerful role in global finance.  How will this affect the dollar and YOUR investments?
The Fed continues to talk about raising interest rates.  After a minuscule .25% increase last December resulted in the WORST New Year stock market start in history, they've backed off…for now.  But what's next????
The 2015 oil price collapse CRUSHED the U.S. fracking industry…and taking thousands of jobs with it…and resulted in record energy company bankruptcies.  Will bad oil debt trigger the next financial crisis the way bad housing debt did in 2008? 
Last year we said, "The dollar is at multi-year highs while gold is at multi-year lows.  Which is a better store of wealth going forward?  Is it time to sell some dollars high and buy some gold low?"…. Of course, in 2016 gold and silver have been TOP PERFORMERS.  Is the party over or are their more golden opportunities in the future?
Residential rents continue to rise, creating profits for landlords and putting pressure on renters.  Will the trend continue or is it time to look into new real estate niches to find sustainable cash flow?
Modern Real Estate Investors NEED to See the Big Picture
This is NOT your parents' real estate market. 
Before 2008, real estate prices had never crashed.  The U.S. was the lone financial superpower.  No one had heard of quantitative easing, derivatives, bailouts and bail-ins.
It's a NEW world…
As an investor…real estate or otherwise…it's critical to stay informed of the forces and trends looming on the horizon which can and will affect your wealth.
And if you're a real estate investor trying to raise money from private investors, it's really important to see the big picture and understand how other investments work.
So come hang out with The Real Estate Guys™ at the New Orleans Investment Conference…and immerse yourself in learning from some of the biggest brains in the business!
"An investment in knowledge pays the best interest." – Benjamin Franklin 
Use the form below to




Get on the Advance Notice List




Be among the first to know when registration opens so you can




register EARLY and get the BEST pricing: