Robert Kiyosaki, Peter Schiff, Chris Martenson, G. Edward Griffin, Tom Hopkins, Brien Lundin and MANY more super successful investors, entrepreneurs, niche experts and thought leaders share they insights and takeaways from the 2019 Investor Summit at Sea!
Over 200 serious and fun folks all together for ten amazing days to study, share, learn, grow (and party!) together.
It's the highlight of our year and we're excited to share a piece of it with you!
So listen in and learn what several of our more prominent Summiteers discovered on the Summit!
---
More From The Real Estate Guys™…
The Real Estate Guys™ radio show and podcast provides real estate investing news, education, training, and resources to help real estate investors succeed.
---
Love the show?  Tell the world!  When you promote the show, you help us attract more great guests for 

your

 listening pleasure!
Old dudes like us have fond memories of beer-belly laughing out loud at the hysterical antics of Peter Sellers' Inspector Clouseau in the original Pink Panther movies.
If you've never seen them, check them out.  Two of the best are Return of the Pink Panther (1975) and Revenge of the Pink Panther (1978).
Clouseau is a bumbling idiot.  But through sheer dumb luck he always ends up succeeding … in unexpected ways as a result of unintended consequences.
The Senate's recent hearings on housing reform remind us of Clouseau.
The purported goal of the Senate shindig is to gather a group of big-brained housing industry leaders and experts to find a solution to the affordable housing "crisis". 
But … as this Forbes article opines, some perspectives aren't part of the conversation … perhaps for a reason.
Of course, you may have a differing opinion and that's fine.  We have our own opinion too.  But that's not the purpose of today's muse.
We simply watch what's happening today and consider how best to capture opportunity or avoid loss based on where things are likely headed tomorrow.
In this case, it seems Uncle Sam is looking for ways to make housing affordable.  That's a noble objective.  Go team.
There are really just three basic approaches.
One is to increase supply relative to demand.  When supply exceeds demand, prices to drop.  That's how abundance and productivity create prosperity.  
After all, lower prices make things more affordable to more people, right?
That sounds reasonable.  But it also sounds a lot like deflation.
And when bankers are in the room … the kind who make home loans secured by the dollar value of the property … they FREAK at the idea of falling prices.
So you're probably not getting sincere ideas from bankers about how to lower prices.
Then there are the builders … 
While builders LOVE the idea of building more houses, they also want to earn a profit.   Profitable building is easier when prices are higher, NOT lower.  So you can guess which direction the builders are leaning.
What about the wizards of Wall Street? 
These guys make money shuffling paper.   So they just want LOTS of paper (i.e., mortgage-backed securities) created, so they have more chips to play with in their casinos. 
And Wall Street knows falling prices frighten the lenders who make the paper possible.  So it's a safe bet Wall Street votes with the bankers for higher prices.   
Even at the Main Street level, there's not much motivation to push prices down in pursuit of truly affordable housing. 
Real estate agents (the largest trade association in North America) aren't raving fans of low prices as the preferred path to affordability … despite their rhetoric.
After all, real estate agents promote buying a home as a great "investment".  No one wants to make an "investment" that goes down.  So higher is better.
Last but not least, there's Dick and Jane Homeowner (often registered voters) … whom are keenly aware of their castle's current market value, even though they have no intent on selling.
Of course, it's fine for the prices of cell phones and big screen TVs to fall, but not home sweet home.  God forbid.
Plus, its fun for Dick and Jane to use their home equity to reset credit lines with debt consolidation loans, or to augment the falling purchasing power of their incomes.
And everyone knows home equity ATMs only work when housing prices steadily RISE. 
So yes, home BUYERS want the house affordable when THEY buy it. But after that … home OWNERS want up, up, up.  Sorry, next generation.  Figure it out.
When we asked then-candidate Donald Trump for his plan for housing , he simply said … "Jobs".  Presumably, good jobs with higher pay. 
Higher pay leads to the ability to make higher payments which leads to bigger mortgages (happy bankers, happy Wall Street) which leads to HIGHER prices.
So it's just a wild guess … but we don't think there's a chance in a very hot place that there's any serious motivation to make housing affordable.
Not if "affordable" means "less expensive".
ALL the incentives are to make housing MORE EXPENSIVE … but ACCESSIBLE.  That means more, cheaper, and easier FINANCING. 
So even IF the PTB (Powers That Be … it only sounds like Politboro) sincerely believe more and cheaper financing makes things more "affordable" …
(Hey, it worked for college tuition … oh, wait …)
… like Inspector Clouseau, they'll end up pushing housing prices up by "accident".   
That's what happens when you use debt to pull purchasing power from the future into the present.
But whatever the motives, they certainly have the tools to make it happen … 
… lower interest rates, easier lending guidelines, government (taxpayer) guarantees, tax breaks … and the Fed's all-powerful printing press.
Yes, we know all that is what first inflated and then deflated the housing bubble last time.
But smart, disciplined investors made not only survived the implosion … they made millions from the re-inflation.
So while this may not be the time to speculate on a housing price boom in the short term …
… it's arguably a great time to liquidate equity, streamline expenses, solidify leases, and prepare for the long game.
Because when Uncle Sam is working on making something "affordable", it usually means that something is showing serious signs of slowing and needs a boost. 
Of course, when you find reasonable deals in relatively affordable markets and you have a GREAT boots-on-the-ground team, it's also a great time to use cash flow real estate to stock up on cheap long-term debt.
Remember, real estate … even housing … isn't an asset class. 
Every individual neighborhood and property is unique.  So while deals might be harder to find, they're still out there.
And if the cash flow makes sense, you'll weather the storm … warmed by the notion that everyone with power to influence policy will be voting for HIGHER prices year in and year out … forever. 
Of course, they might break the financial system or crash the dollar trying to do it … so it's smart to be prepared for that too.
That's why we like gold, oil, agriculture, and paid for properties in non-leveraged markets … including, and perhaps especially, in non-domestic markets.
Real assets like food, commodities and land tend to hold relative value when currencies struggle.
Gold and silver can almost always be easily converted into any currency … and are a useful way to store liquefied equity privately outside a fragile financial system or hostile jurisdiction.
And if the dollar continues its long-term slide relative to gold, a little gold might go a long way toward retiring dollar denominated debt (like a mortgage).
That's where we think gold bugs and real estate bugs don't understand each other.  We know.  We spend a lot of time with both.
Gold is great for reducing counter-party risk and hedging against a falling currency.  But gold doesn't cash flow.
Real estate is great for using cheap long-term debt to create tax-free cash flow and long-term equity growth. But it isn't liquid and it takes a long time to retire the debt.
But putting gold and leverage cash-flowing real estate in a falling currency environment together makes each much more powerful.
It takes time to get your mind around it … but we encourage you to dedicate a little of your financial education time and budget to learning more. 
Because once you understand how gold and real estate make each other better, you'll probably be more excited about both.  We are. 
Until next time … good investing!
More From The Real Estate Guys™…
The Real Estate Guys™ radio show and podcast provides real estate investing news, education, training, and resources to help real estate investors succeed.
---
Love the show?  Tell the world!  When you promote the show, you help us attract more great guests for 

your

 listening pleasure!
We're still just a little more than a week removed from a mind-blowing 9-day mind-meld with brilliant thought leaders, niche experts, and seasoned investors and entrepreneurs …
… so we've been busy catching up on the news and looking at the world through our freshly expanded paradigms.
There are two things bouncing around our brains we think are important, but few real estate investors are paying attention to …
Gold and oil.
Sure, both these "commodities" fit well with real estate in a strategic real asset portfolio.  And if you're not sure how all that works, you can start with these past podcasts about gold and oil.
But bigger picture, both gold and oil probably drive more of geo-politics than most casual observers realize … and both are quasi-proxies for the dollar.
In other words, when you understand what's happening with gold and oil, you have insights into the future of the dollar … and some of the things governments are doing to either defend dollar dominance … or break free from it.
Of course, if you earn, invest, borrow, or denominate wealth in dollars, the future of the dollar should be of great interest to you … even if you think of the dollar as being as permanent and reliable as air (it's not).
As real estate investors, our primary interests (besides occupancy and cash flow) are demographics, migration trends, local economic strength, interest rates, taxes, and the supply and demand dynamics in our local market.
But all of that sits on the foundation of a functional financial system with two primary components … credit and currency.  Gold and oil provide insight into both.
Oil is important at both the macro and the micro level.
In the macro, it takes energy to drive economic activity.  When energy's expensive, it drives up the costs of everything and is a drag on economic activity.
At the micro level, high dollar-denominated oil prices drive up the cost of living for your dollar-denominated tenants.
But for metros where oil is big business, oil also means local jobs.  Remember, Texas and its robust energy sector were the primary driving force for U.S. job creation coming out of the 2008 recession.
Investors who realized this (like our pal Kenny McElroy) strategically invested in those markets while most people were hiding under the sheets.
So whether or not you're interested in oil as a direct investment, paying attention to the oil business can be a great way to pick markets likely to hold up well if oil prices rise.
Oil also has a potential impact on credit markets and interest rates.  Billions of dollars of debt has been created to fund shale oil production.
If oil prices drop, it both undermines the ability of regional oil economies to grow … but also for those employers to service their debt.
In the macro, if a big chunk of the debt goes rotten, credit markets could tighten.  Think about what happened in 2008 when sub-prime mortgage debt went bad.
So again, whether you're an oil investor or not, the oil industry has a direct impact on your real estate investing.
Watching oil helps you see what's coming sooner … so you have time to position yourself to capture opportunity and mitigate risk.
Of course, the good news and bad news about real estate is it moves slowly.
So while you have plenty of time to be proactive IF you're paying attention, it's really hard to act fast if you're not.  That's why we pay attention.
What about gold?
On the macro level, gold is a good gauge of how the world feels about U.S. Treasuries and the dollar.
When things get choppy in stocks, paper investors worldwide tend to flee into Treasuries for safety.  After all, Treasuries are backed up by the Fed's printing press.
Of course, what does the Fed print?  U.S. dollars.
But to quote Watto from Star Wars – The Phantom Menace … 
"Republic credits are no good here.  I need something more … real."
That is, when investors worldwide are looking for safety … and they don't trust the paper … they go into gold.
So what does that mean to real estate investors?
Remember, mortgage rates and availability derive from healthy bond markets … most notably, U.S. Treasuries.
The 2008 Great Financial Crisis had its genesis in a broken bond market … mortgage-backed-securities.  When those went bad, frightened investors worldwide piled into Treasuries … and rates fell.
But what happens if investors worldwide don't trust Treasuries?
You don't have to wonder.  China came out in 2009 and scolded Uncle Sam about the size of the deficit and all the dollar printing doing on.
Why did it bother them? Because they own TRILLIONS in U.S. bonds.  They don't want to get paid back in diluted dollars.
But Uncle Sam's debt, deficits, and printing have BALLOONED since then.
So it's no surprise that China … along with Russia and several other countries … have been diligently accumulating and repatriating gold.
They're getting out of dollars and Treasuries to do it.  And who can blame them?
Paper money has an atrocious long-term record as a store of wealth …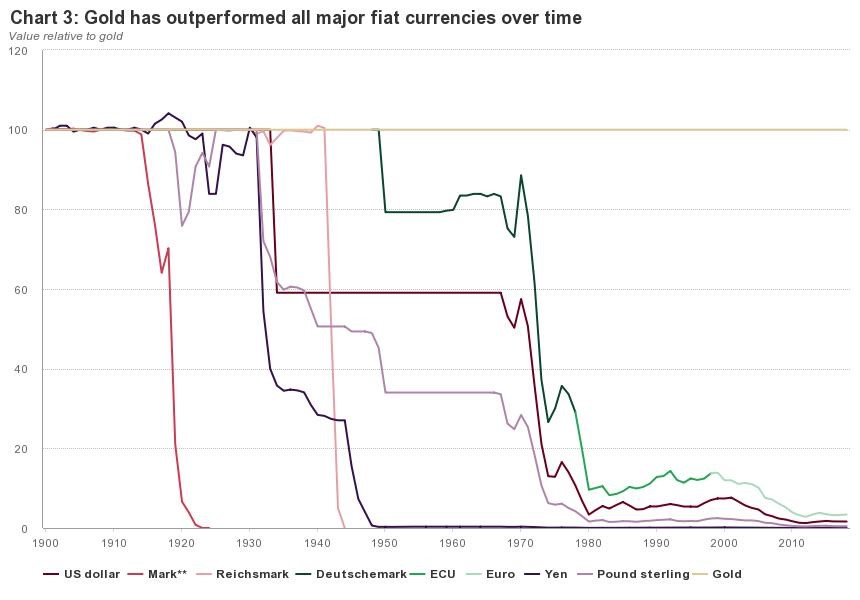 Source:  World Gold Council 
Consider this when you think about where you're storing YOUR long-term liquid wealth.
Meanwhile, there's just a little more to the developing story of gold … and the story behind the story.  It's a little complicated, but interesting and noteworthy.
After the 2008 crisis, the world's bankers got together in Basel, Switzerland to come up with voluntary rules to prevent another financial crisis.  The agreement is called the Basel Accord.
A provision in the agreement, known as Basel III (the agreement's rolled out in phases) allows financial institutions to consider gold "Tier 1" capital.  So adding gold is supposed to make banks more liquid and stable.
This is a bit of a promotion for gold.  Some observers think this means demand for gold will increase, but we're not smart enough to have an opinion on that.
But there are a couple of things we are thinking about …
Perhaps most obviously, international bankers apparently consider gold more valuable than simply a "barbarous relic" with no place in a modern monetary system.
Keep that in mind when you hear people criticize the placement of gold in a portfolio. If gold can make a bank more stable and liquid, can't it do the same for you?
To be clear, we're not fans of gold as an investment.  It's just an alternative to cash … a way to store long-term liquidity while hedging against a declining dollar and bank counter-party risk.
But the more interesting aspect of gold's now elevated role in bolstering the banking system is why it's necessary in the first place.
Is it because the banking system is still fragile and in need of support?  Is it because the world needs more leverage to expand … and so more collateral to lever?  Why not just use Treasuries?
We don't know yet.  But we'll be checking in with our big-brained gold experts to see what they think.
Meanwhile, we encourage you to think outside both the real estate and mainstream financial media boxes.  It seems like oil and gold might be trying to tell us something.
Are you listening?
Until next time … good investing!
More From The Real Estate Guys™…
The Real Estate Guys™ radio show and podcast provides real estate investing news, education, training, and resources to help real estate investors succeed.
---
Love the show?  Tell the world!  When you promote the show, you help us attract more great guests for 

your

 listening pleasure!
Expanding your portfolio from single-family homes to multi-family deals is a great step … but there are other paths to an even bigger deal!
Commercial real estate investing means bigger properties and bigger opportunities … and it could yield BIG benefits for savvy investors.
From retail storefronts to office space to industrial warehouses … commercial property is full of options … each with their own pros and cons.
We're excited to welcome to the show a seasoned investor who's found success in single-family homes, multi-family apartments, and commercial properties. (He really knows his stuff.)
In this episode of The Real Estate Guys™ show, hear from:
Your host,

Robert Helms

His co-host,

Russell Gray

Founder and CEO of Wilson Investment Properties,

Tom K. Wilson
---
Listen
---
Subscribe
Broadcasting since 1997 with over 300 episodes on iTunes!
---
Review
When you give us a positive review on iTunes you help us continue to bring you high caliber guests and attract new listeners. It's easy and takes just a minute! (Don't know how? Follow these instructions).
Thanks!
---
Considering commercial
Real estate is a resilient product … that's why so many people are eager to get in the game.
There are tons of ways to invest in real estate. Most investors start with what they know … single family homes. But that's not the only way!
We see commercial real estate as a great opportunity for beginning investors … and for experienced investors too.
But commercial real estate deals are not all created equally
There are different product types, different lease lengths, and different landlord laws. And then you have to choose between existing properties and new construction.
Tom K. Wilson has done half a billion dollars in real estate with thousands of units in many different places … and he knows the perks of commercial real estate.
Like many investors, Tom started his real estate career in the single family marketplace.
We promote the value of surrounding yourself with smart people …. and that's exactly what Tom did. He soon realized an interesting pattern.
Most of the successful investors Tom knew were investing in areas away from where they lived. By investing several states away, investors found better deals and growing markets.
So, Tom started looking elsewhere. He found the Dallas market … and his first commercial deal.
Dallas was more landlord friendly than Tom's resident Bay Area. It also offered more consistent cash flow and held up well during the recession.
Tom noted that there were some serious benefits to owning a commercial property as opposed to single-family homes or multi-family deals.
After the 2008 crash, these types of commercial deals were performing better than their residential cousins … and they tended to come with a higher level of professional management.
Typically when we talk about commercial property, we're talking about leasing your property to a business rather than a person.
It could be a retail establishment, a strip mall, an office, a restaurant, a gas station, a bowling alley, or a manufacturing facility … it's all commercial!
Like every asset class, there are pros and cons to investing in each type of commercial property.
Investing in industrial
Industrial properties can include warehouses, operation centers, distribution centers, and manufacturing sites.
Professional tenants that pay for a long time are one of the best things about industrial assets.
They're also very versatile … a variety of businesses can use a property with wide open space, offices, and loading docks.
When searching for an industrial property, note rooftop expansion and passing traffic. Can the site offer prominent enough visibility to attract major brands?
Determine the path of progress for the community … this can signal if the area has the breadth of economy to support a big business.
Tom comments that manufacturing sites in particular could offer great opportunities for future returns as manufacturing makes a comeback in the United States.
The downside of industrial sites … they tend to be a single tenant product. If your tenant goes bankrupt, you're left searching for a new source of cash flow.
"The odds of that happening are very low if you've done your due diligence during vetting," Tom says, "so all in all I tend to consider the right industrial property a very good product."
The details on retail
If you think everything is bought online … think again.
You can't get a haircut online. You can't meet your buddy for a drink online. You can't take your dog to the vet online.
Everyone needs a place to live … and they often pick where they live based on where they can access essential services.  
"Retail has become a four-letter word for many investors," Tom says. "I prefer to call these types of assets 'neighborhood service centers' because that is the key."
Many large retailers are expanding their brick and mortar stores despite the online shopping craze … and online retailers like Amazon are investing in brick and mortar locations to build their brand.
Like any asset class, there's the good, the bad, and the ugly … but don't discount retail without the proper research.
Operating in office space
Every day, people wake up and go to work.
It's true that more and more people are working from home … but there are still daily needs for human interaction in business.
"I don't think it is realistic to believe we're going to see the day where everybody's working from home," Tom says.
Both single and multi-tenant office spaces offer excellent opportunities for commercial deals.
Tom recommends looking for office spaces that combine work centers with service centers as the demand for more office space near entertainment venues and amenities rises.
Having an experienced team or partner on the ground that knows the area is especially important when buying office spaces. Locals will have the best read on where people want to spend their nine to five.
Commercial success through syndication
You don't have to have a lot of money to get started in commercial real estate.
Tom has built his commercial real estate portfolio through the power of syndication.
At some point, you run out of your own purchasing power … you're out of dollars and cents but not out of enthusiasm, passion, or expertise.
"Syndication is the law of compounding," Tom says, "not just in numbers but in education, wisdom, and relationships."
Partnering with those that have a proven track record, established credibility, and integrity sets you up for investment success.
And by combining financial assets, you can do bigger deals and see bigger returns together than you ever could alone … especially in the commercial space.
Like any investment, education is key.
Learn how to leverage experts through syndication and tips for successful commercial deals in Tom's special report Commercial Real Estate – The Best Investment Secret.
Whether it's your first deal or your first step into a new market, consider taking a look at commercial real estate investments to make equity happen.
---
More From The Real Estate Guys™…
The Real Estate Guys™ radio show and podcast provides real estate investing news, education, training, and resources to help real estate investors succeed.
---
Love the show?  Tell the world!  When you promote the show, you help us attract more great guests for 

your

 listening pleasure!
Houses aren't the only properties in need of a little facelift. Hotels often need their own dose of tender loving care.
Like any investment property, resorts come in all shapes and sizes … and some have major management issues.
When a hotel is poorly the managed the result isn't pretty … it's often downright ugly. But that means YOU have an opportunity to add value, improve cash flow, and build equity.
Listen in as we visit with two hospitality investors who find fun and profit as they renovate resort properties.
In this episode of The Real Estate Guys™ show, hear from:
Your resourceful host, 

Robert Helms

His relaxed co-host, 

Russell Gray

Accountable Equity's professional resort investors,

Josh and Melanie McCallen
---
Listen
---
Subscribe
Broadcasting since 1997 with over 300 episodes on iTunes!
---
Review
When you give us a positive review on iTunes you help us continue to bring you high caliber guests and attract new listeners. It's easy and takes just a minute! (Don't know how? Follow these instructions).
Thanks!
---
Resort rehab done right
Resort properties offer some of the highest returns on investment of any asset class. They are an attractive real estate deal … but one that can easily be mismanaged.
When our guests, Josh and Melanie McCallen, see an ugly, non-performing resort property, they don't see a failure … they see an opportunity.
Josh and Melanie's team at Accountable Equity renovates and revitalizes resorts. By creating higher-quality resorts, they create more income … and more value.
But to correctly rehab a resort, you need a deep understanding of AND passion for the hospitality industry.
Most of us don't have that. So, partner with someone who does.
The beauty of Josh and Melanie's business model is syndication. You can be a passive partner with an active investment and see phenomenal returns.
Resort rehab done right means everyone wins … investors, staff, and guests.
Finding a home in hospitality
When they graduated from college, Josh begged Melanie to buy a duplex as an investment. They'd live in one home and rent out the other.
"I had to let go of the three-bedroom, white picket fence idea in my mind, but right away I knew what I got into," Melanie says.
Over their real estate career, Josh and Melanie found themselves taking part in resort experiences across the globe and partnering with developers of specialty properties.
Then the recession of '08 happened. Suddenly, Josh and Melanie were sitting on a beat-up 1970s beachfront hotel.
It was too risky to tear it down and start new development … so they decided to rehab the property instead.
"That first project was 18 months of getting our teeth kicked in, but we learned that hospitality isn't just about the building," Josh says. "It's a living, breathing guest experience."
The couple realized that they LOVED interacting with guests and putting smiles on their faces. They fell in love with hospitality … and decided to make it their life's mission.
The benefits of a resort investment
A rehabbed resort is one real estate investment where the person paying the rent doesn't begrudge writing a check at all.
When you're on vacation, you want to splurge. You want to enjoy yourself and your experience … and you'll gladly pay more to do so.
Hospitality professionals know that the happier you make guests, the more enjoyable the visit will be.
As an investor, YOU know that happy guests mean high returns.
Resorts also offer a unique opportunity to increase revenue.
There are two ways to make more money … find more people to sell the same thing to or find more things to sell to the same people.
The hospitality business allows investors to do both with relative ease.
And when you invest in a resort property, you have the added benefit of being able to enjoy your own investment … by taking a vacation.
The success of a syndicated approach
Josh and Melanie started Accountable Equity as a syndicated approach to resort rehab.
"The first thing you must do when thinking about buying one of these properties is find great investor partners," Josh says.
Each month, Josh and Melanie host an investor summit. They bring together current investors, new investors, and prospects to tour the property and get a firsthand look at hospitality in action.
These summits are an invaluable time to help investors see how revenue from different parts of the resort build off each other.
When a party arrives for a wedding, they'll book rooms. Since they're staying on site, they might want to play a round of golf or spend time at the spa. They'll need to eat, so they'll hit up the restaurant and tasting room.
"We call it a cascade of revenue," Josh says.
Syndication is a powerful approach to every aspect of hospitality. Beyond investment, the syndication spirit encourages team members to seek out experts in every field.
"In our current project, we're bringing in a top winemaker for the winery. We found a golf executive on his 111th course to help with ours. It's all syndication," Josh says.
Teaming up for transformation
Accountable Equity's current project, Renault Winery Resort, shows just how powerful … and profitable … revitalizing resorts can be.
As the third federally registered winery in America, the property has been in the hospitality business for 155 years.
The former owner managed the resort for 40 years, but over time began to let standards deteriorate under stress.
"We found this amazing property that needed some TLC. But we were willing to take a fresh approach, look at it differently, consider its legacy, and see its next chapter," Josh says.
The team also studied market drivers in hospitality to determine if the resort could evolve to meet current and future needs.
With a millennial movement toward authentic experiences, a historic property … complete with a Prohibition-era speakeasy … spells out attraction.
And with nearly half of weddings taking place at a destination over the course of three days, a resort that caters to making happy couples' special day extra special can generate big business.
It's no small undertaking. Managing and rehabbing 120,000 square feet of buildings and 242 acres of vineyards, a golf course, and a spa requires a winning team.
"Our staff and our investors are our family. We all depend on each other, and honestly, it's an honor to be a part of," Melanie says.
Take part in a unique real estate niche with resort rehab investment. Learn tips and valuable lessons for getting started in a special report from Accountable Equity, 10 Steps to Resort Rehab Riches.
No matter your market of interest or area of expertise, consider what you can learn from the rehab-and-syndicate model of luxury hospitality investing.
What value can you add to your properties … and how can you leverage others' expertise to increase YOUR bottom line?
---
More From The Real Estate Guys™…
The Real Estate Guys™ radio show and podcast provides real estate investing news, education, training, and resources to help real estate investors succeed.
---
Love the show?  Tell the world!  When you promote the show, you help us attract more great guests for 

your

 listening pleasure!
Moving up from single-family homes into bigger deals usually means multi-family. But there's a lot of big opportunity in commercial real estate investing too!
In this episode, we visit with a seasoned investor who's found success in single-family homes, multi-family apartments, and commercial properties.
So tune in and discover how you can go bigger faster by cashing in on opportunities in commercial real estate investing.
---
More From The Real Estate Guys™…
The Real Estate Guys™ radio show and podcast provides real estate investing news, education, training, and resources to help real estate investors succeed.
---
Love the show?  Tell the world!  When you promote the show, you help us attract more great guests for 

your

 listening pleasure!
We're just back from yet another EPIC Investor Summit at Sea™.  If you missed it, be sure to get on the advance notice list for 2020.
It's hard to describe how transforming and powerful the Summit experience is.  So we won't.
Instead, today's focus is on the flip side of the Fed's flop on interest rates … in context of the #1 thing Robert Kiyosaki told us he's MOST concerned about.
We recently commented about the Federal Reserve's abrupt reversal on plans to raise rates and tighten the supply of money (actually, credit … but that's a whole other discussion).
The short of it is … there's more air heading into the economic jump house. 
Based on the mostly green lights flashing in Wall Street casinos since then, it looks like the paper traders agree.  Let the good times roll.
Real estate investors care because the flow of money in and out of bonds is what determines interest rates.
When money piles into bonds, it drives interest rates LOWER.
Not surprisingly, as we speak … the 10-year Treasury is yielding about 2.3% … compared to nearly 3.3% less than six months ago.
While a 1% rate change may not seem like much, it's a 43% decrease in interest expense or income (depending on whether you're borrower or lender).
So as a borrower, your interest expense is 43% lower.  Obviously, with record government debt and deficits, Uncle Sam needs to keep rates down.
But as a lender (bond investor) you're also earning 43% less.  And yet, lenders (bond buyers) are lining up to purchase.
That tells us they probably expect rates to fall further and are speculating on the bond price.
But whatever the reason, they're buying, so bonds are up and yields are down.
As you may already know, lower Treasury yields mean lower mortgage rates.  So this headline was quite predictable …
Mortgage Rates are in a Free Fall with No End in Sight – Washington Post, 3/21/19
Falling mortgage rates are bullish for real estate values because the same paycheck or net operating income will control a bigger mortgage.
This purchasing power allows buyers to bid up prices … IF they are confident in their incomes, and IF their incomes aren't being directed towards rising living expenses.
So lower interest rates don't automatically mean a boom in real estate equity.  But they help.  We'll probably have more to say about this in the future.
For now, let's take a look at the other side of falling rates …  the impact on savers and especially pension funds.
Remember, if you're investing for yield, your income just tanked 43% in only six months.  Unusually low interest rates creates problems for fund managers.
During the Summit, Robert Kiyosaki revealed he's VERY concerned about the global pension problem.
Low interest rates are only one part of the problem.  A much bigger part is the demographics and faulty model underneath the pension concept.
The net result is there's a growing disparity between pension assets and liabilities.  And it's not a good one.
Like Social Security, both public and private pensions worldwide are on a collision course with insolvency … led by the two largest economies, the United States and China.
This problem's been brewing for a long time.  But it's a political hot potato and no one has a great answer.  So the can keeps getting kicked.
But we're rapidly approaching the end of the road.  And this is what has Kiyosaki concerned.
Yet few investors are paying attention … probably because it all seems far away and unrelated to their personal portfolio.
However, the pension problem has the potential to affect everyone everywhere.
The reasons are many, but the short of it is the problem is HUGE and affects millions of people.  The pressure for politicians to do SOMETHING is equally huge.
Peter Schiff says the odds of them doing the right thing are very small.
Our big-brained pals say it probably means 2008-like mega money printing and bailouts … except even BIGGER.
So what does all this mean to Main Street real estate investors?
Keep in mind that some of the biggest pension problems are states and local municipalities.  California and Illinois come to mind.
Unlike private corporations, public pensions don't have a federal guarantee.
But even if they did, Uncle Sam's Pension Benefit Guaranty Corporation (PBGC) is in trouble too.
According to this government report, the PGBC will be broke in 2026 …
" … the risk of insolvency rises rapidly … over … 99 percent by 2026." – Page 268
Sure, the Fed can simply print all the money needed to save the PGBC … and Social Security … and more … but at the risk of ruining faith in the dollar.
As we detailed in the Future of Money and Wealth, China's been systematically moving into position to offer the world an alternative to the U.S. dollar.
Will they succeed?  No one knows, but it's yet another story we're paying close attention to.
Meanwhile, unlike Uncle Sam, states and municipalities can't just monetize their debts away with a little help from the Fed.
Of course, we'll bet if the stuff hits the fan, the Fed will "courageously" attempt to paper over it … just like they did with Fannie Mae and Freddie Mac in 2008.
But many observers contend the Fed's recent inability to "normalize" either rates or their balance sheet means they might not have the horsepower.
In other words, it may take MORE than just the full faith and credit of the United States to persuade the world the dollar is still king.
Oil and gold might be more convincing.  Perhaps this explains some of Uncle Sam's recent foreign policy moves?
Of course, that's conjecture FAR above our pay grade.
But until the pension problem becomes a full-blown crisis and federal policy makers attempt to ride in on their white horses …
… cash-strapped states and municipalities are on their own … and likely to do desperate things in their attempts to stay solvent.
Some will adopt policies designed to attract new business and tax revenue.
But we're guessing most will push the burden onto consumers, businesses, and property owners.  That seems to be the way politicians roll.
So when you're picking states and cities to make long-term investments in, pay attention to the fiscal health of the local governments.
And if your tenants are counting on private pension benefits, they may not be aware of 2014 legislation allowing a reduction of those "guaranteed" benefits.
If YOU have any direct interest in private pensions, you should read this page.
You'll discover that plan participants can vote against a reduction. But even if most who vote reject it … if not enough people vote, it can pass anyway.
For retired carpenters in Southwest Ohio, benefits drop on April 1, 2019 … along with their ability to pay you rent.
The bad news is the pension problem is a slow-motion train wreck.  It's rolling over small groups of people a little at a time … but it's building momentum.
The good news is it's slow-motion right now, so  there's time to watch, learn, and react.
But Kiyosaki says it's a big deal that's probably going to get a lot bigger. 
From a real estate investor's perspective, some markets will lose, and others will gain.
Choose carefully.
Until next time … good investing!
More From The Real Estate Guys™…
The Real Estate Guys™ radio show and podcast provides real estate investing news, education, training, and resources to help real estate investors succeed.
---
Love the show?  Tell the world!  When you promote the show, you help us attract more great guests for 

your

 listening pleasure!
If you can rehab a house, why not a hotel? After all, anyone who's played Monopoly knows the BIG money is in the big red hotels.
Like any income property, hotels come in all shapes and sizes. And some have cosmetic or management issues.
And just like houses, apartments, retail centers or office buildings … when you find a hotel that's ugly and poorly managed, you have an opportunity to add value, improve cash flow, and build equity.
In this episode, we visit with two hospitality investors who renovate resort properties for fun and profit.
So listen and learn about how you can build wealth rehabbing resort properties.
---
More From The Real Estate Guys™…
The Real Estate Guys™ radio show and podcast provides real estate investing news, education, training, and resources to help real estate investors succeed.
---
Love the show?  Tell the world!  When you promote the show, you help us attract more great guests for 

your

 listening pleasure!
You've probably heard the expression …
"There's more than one way to skin a cat."
We're not sure why anyone would want to skin a cat… that sounds gross and cruel.  But the idea is there's often more than one way to get something done.
In this case, we're talking about wealth re-distribution.
We realize that's a politically charged topic, but anyone who's rich … or plans to be … should be paying close attention to the winds of change on this hot topic.
No matter which side of the political spectrum you're on, the problem everyone is staring at is the same …
There's a big and growing gap between the rich and the poor.
Meanwhile, only a small percentage of middle-class are successfully fighting their way into the realm of the rich.
Most are falling off the back of the bus into the pit of poverty.
We're not here to point fingers.  There's plenty of blame to go around.
But we think it can be credibly argued that the Fed's decade-long easy-money policy has inflated both asset prices and the cost of living.
This worked to the advantage of asset owners, but to the detriment of the paycheck-to-paycheck folks.  It's no surprise they're mad about it.
Of course, there's no point in ranting about what we think policy makers should or shouldn't do.  They don't listen to us anyway.
So we simply watch and consider how the future might unfold … then get in position to capture opportunity and mitigate risk.
You're probably aware, the USA is ramping up for yet another knock-down drag-out presidential election cycle.
In addition to stocking up on popcorn, we're thinking about which issues will frame the debates.
Based on the mid-term results … and the predominant philosophies espoused by the challengers …
… it seems a major objective is to make rich people do more for the poor … by hook or by crook.
There's the "Robin Hood" approach of taxing the rich and giving benefits to the poor … free college, healthcare, basic income, etc.
Let's call the Robin Hood approach "by crook."
Then there's the "Opportunity Zone" approach …
The Opportunity Zone idea is to provide tax incentives to the rich so they voluntarily move their money into poor areas … thereby creating jobs and commerce for the currently disenfranchised.
We'll call the Opportunity Zone approach "by hook."
There's a lot of history on the crook approach … and it doesn't have a strong track record of creating abundance.  But it's easily sold to desperate people.
Obviously, no one yet knows how the Opportunity Zone "hook" will work out … but the idea seems promising, so we're watching it closely.
And when you consider the common sense wisdom in the saying …
"The definition of insanity is doing the same thing over and over but expecting a different result."
… at least Opportunity Zones are a new approach to the problem of getting capital to where it's needed most.
That's why when we saw Yardi Matrix had released this well-written and informative white paper on Opportunity Zones, it captured our attention.
You should read it, but there are a few excerpts we think are noteworthy …
"… within Opportunity Zones, there are either in place or under construction 1.9 million multi-family units, 960 million square feet of office space and 189 million square feet of self-storage."
Clearly, Opportunity Zone pioneers are quickly moving from idea to action.  And even though it's still ramping up, the scope is impressive …
"As a percentage of total space, properties in opportunity zones that are in place or under construction represent 13.1% of total multifamily units nationwide, 13.7% of total office space and 11.4% of total self-storage space."
So Opportunity Zone development is already up to over 10% market share nationwide in not one, but THREE real estate niches.
That's impressive.
And even though many details about the Opportunity Zone program remain unclear ….
… BIG money is moving forward NOW and creating a wave of capital small investors can potentially ride to profits of their own.
This creates an unprecedented opportunity for Main Street investors.
Because while a small investor might have the means to fix up a single derelict property on his own, he can't really change the local economy all by himself.
Sure, a large group of small investors might team up to upgrade a specific neighborhood … changing the personality of the neighborhood and improving everyone's chance of seeing their value-add stick long-term.
But only BIG money can rehab entire regions … or "zones."
And when it does, it creates critical mass which can fundamentally change the economic drivers and opportunities of entire local economies …
… including jobs, and access to services and opportunities for those people who get left out of financial boom times.
After all, you can only benefit from asset inflation if you own assets.  Most lower-income folks don't.  For them, inflation just means higher living expenses and a higher hill to climb to become an asset owner.
But Opportunity Zone incentives entice rich people to move their profits from inflated financial assets into depressed real estate.
But not as flippers.
The best Opportunity Zone perks go to those who stay in their markets for at least TEN years.  That's enough time to light a permanent flame in a local economy.
And as jobs are created to do the actual work of rehabbing these regions …
(and remember, these are jobs which can't be off-shored)
… the workers will have both the incomes and opportunities to purchase affordable properties themselves.
Now the worker can get into the asset owner class.  And until they do, they have paychecks to pay YOU rent.
Of course, as the workers' labor is partnered with investors' capital to improve the Opportunity Zone, the asset owning laborers also get to ride the equity wave they've helped create.
And so do YOU … if you're in the right position.
So we encourage you to read the Yardi Matrix white paper because there's useful data and insights to help identify specific markets to explore.
Opportunity Zones may not yet be a proven model for creating access to prosperity for lower-income folks, but the potential is there.
And if YOU aren't as high up the economic food chain as you'd like to be … consider syndication as a way to get rich helping the rich get richer.
When you syndicate, YOU marry your capital and labor to the capital of your wealthy investors … and then marry all that to the BIG money driving the growth in these Opportunity Zones.
It's a win-win-win.
Until next time … good investing!
More From The Real Estate Guys™…
The Real Estate Guys™ radio show and podcast provides real estate investing news, education, training, and resources to help real estate investors succeed.
---
Love the show?  Tell the world!  When you promote the show, you help us attract more great guests for 

your

 listening pleasure!
Real estate investors tend to like low interest rates.  
After all, low rates mean lower payments for the same size mortgage … or a bigger mortgage for the same payments.  Nice.
The current Wizard of Rates is Fed chair Jerome Powell.  And he just showed up on 60 Minutes and told everyone …
"'We don't feel any hurry' to raise rates this year."
Many Fed followers consider this a bit of an about face.
And those who use the Fed's actions as a barometer of economic health and stability are asking what this more dovish stance means.
After all, isn't the motive of low rates to goose a sluggish economy?  So then what's all that healthy economy talk?
Also weird is that just over six months ago, Powell stood at a podium and defended his plan to RAISE rates.
Then two months ago he said, 'The case for raising rates has weakened …"
Last summer, he apparently couldn't see six months ahead … and now all of the sudden he's clear for a year? 
Maybe the answer is here …
Fed Chair Powell: 'The US federal government is on an unsustainable fiscal path'
– Yahoo Finance, 2/26/19
Summit faculty member Peter Schiff constantly reminds us … the economy is addicted to cheap money and Uncle Sam is addicted to spending.
Of course, addicts … and their enablers … sometimes take extreme steps to keep the party going.
So that could mean more money printing … because that's how the Fed keeps rates down.  And as any debt-ridden household knows, lower interest rates help make a giant debt load a little easier to service.
That's probably more important than anyone's letting on.
Because with record corporate, consumer, and government debt … there's a lot of cheap money junkies out there.
So … maybe the Fed's just trying to keep them all supplied?
Of course, we have no way of really knowing what data or philosophy is driving Jerome Powell's decisions.  We just watch and react.
But based on all the green lights flashing across stocks, bonds, oil, and precious metals … it looks like asset price inflation is the bet du jour.
At least for now.
But even though it's party time in the Wall Street casinos, real estate investors need to play the game differently.
We don't have the luxury of jumping in and out of positions on a moment's notice.  Besides, that's not our game.
We're not trying to buy low and sell high.  Real estate investors work to find a spread between the cost of capital and the cash flow on capital invested.
So let's switch from the macro view and get a little closer to Main Street … and glean some lessons from self-storage investors.
But before you tune out, this isn't about self-storage … it's about how real estate investors are reacting to an big influx of capital. 
Because as cheap capital floods any market (niche, geography, asset class) it affects prices and yields.   So sooner or later, investors move around searching for opportunities.
And that's what's happening in self-storage … 
Self-Storage Investors Start Looking at Smaller Markets to Capture Higher Yields
– National Real Estate Investor, 3/11/19
This headline caught our attention because of what the Fed is doing with interest rates.  And as we dug deeper, we found some notable excerpts …
"Investors are being more careful about which assets to bet on …"
" … worried about the number of new … properties …"
 "To avoid competition from new properties coming on-line … buyers have turned their attention to secondary markets …"
" … buyers in overbuilt markets are taking more time to underwrite their deals, double-checking assumptions about future leasing and rent growth."
There's more, but let's stop and process these thoughts …
First, these are lessons investors in ANY income-property niche should take note of.  So it's not just about what's happening in self-storage.
Notice the attention to supply and demand. 
We see lots of rookie real estate investors crunch the numbers of the property … but completely ignore the inventory pipeline of the market.
And of course, there's also the supply of prospective renters in a market.  That's why we also look at population and migration trends.
The article also highlights something we've been talking about for a while …
People, businesses, and investors will "overflow" from mature primary markets into emerging secondary markets in search of affordability.
The danger is getting into an emerging market ahead of a migrating problem.
Think about it …
If investors are moving into secondary markets to find better opportunities than in an over-built market … what happens when builders move in for the same reason?
Cheap money makes building easy.  Developers love it.
But Austrian economists warn of "malinvestment" … when bad investments look good primarily because money is cheap.
All long-term debt needs stable long-term cash-flow to service it.  If supply exceeds demand, and rents and cash flows fall … debt can go bad fast.
So when looking at markets, pay attention to the capacity of market to absorb more inventory without collapsing rents.
Because if you go in with optimistic underwriting (tight cash flow) and supply expands faster than demand and rents fall … you could be in trouble.
That's why self-storage investors are "taking more time to underwrite their deals".  Maybe you should too.
Hot markets can be intoxicating for investors.  It's easy to jump on a hot trend hoping to catch a nice ride …
"Despite these worries … investors keep paying higher and higher prices … relative to income.  Cap rates … are at their lowest point on record."
"They continue to trend lower even though interest rates have begun to rise …"
"There is a tremendous amount of capital chasing yield."
That's what happens when interest rates are low.
Don't get us wrong.  We're not complaining.  We like low-cut interest rates as much as the next guy.  But hot markets can be fickle. 
So the moral of this muse is to stay sober and diligent about your underwriting … and be very wary of using short term money to invest long.
Until next time … good investing!
More From The Real Estate Guys™…
The Real Estate Guys™ radio show and podcast provides real estate investing news, education, training, and resources to help real estate investors succeed.
---
Love the show?  Tell the world!  When you promote the show, you help us attract more great guests for 

your

 listening pleasure!