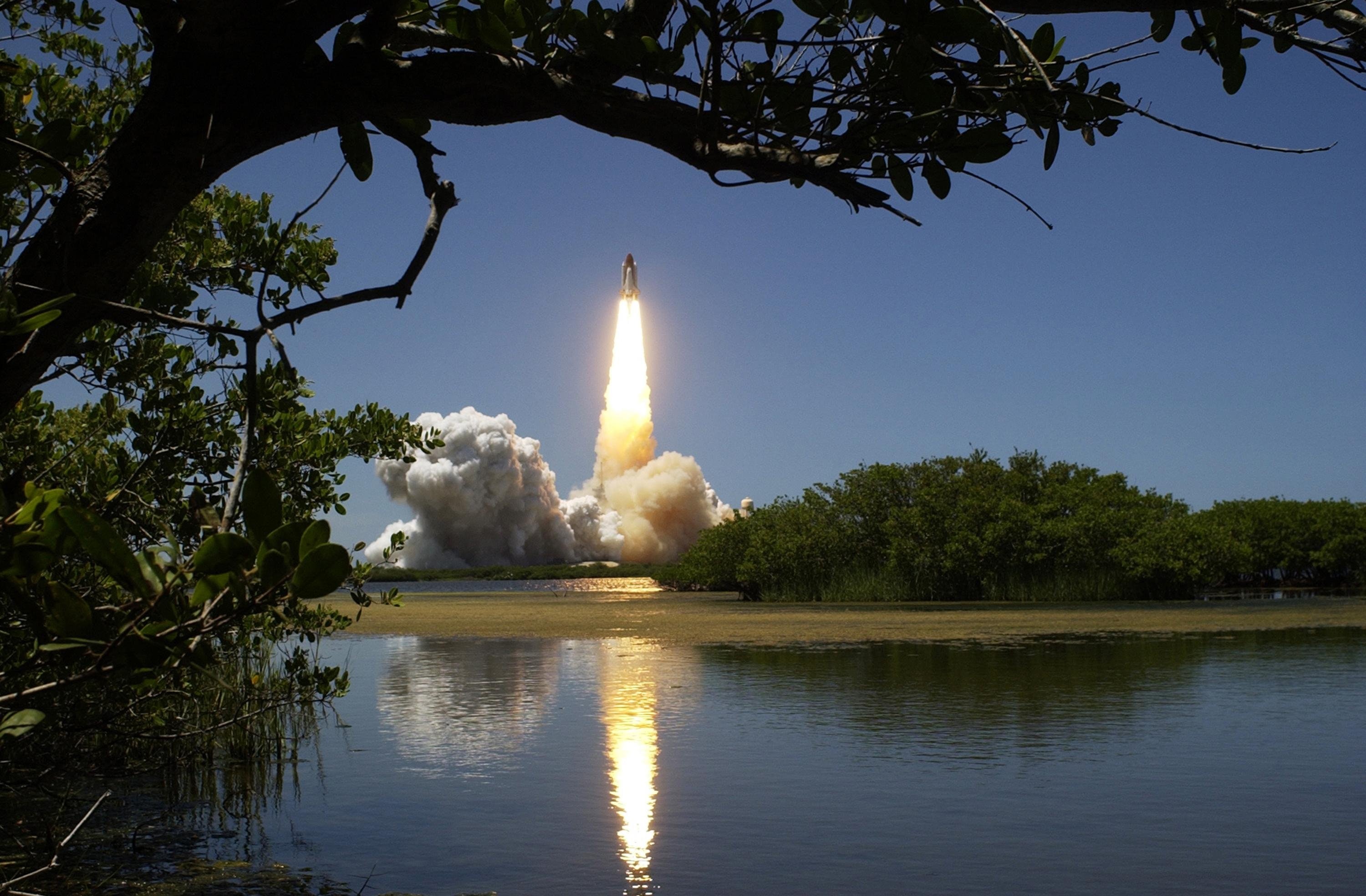 The space race is on!
No … we're not talking about the great cosmos overhead. We're talking about a race for space in a thriving market. 
Central Florida is thriving thanks to international tourism, low taxes, strong population growth, and great infrastructure. 
Billions of public and private dollars are making their way into this market … We've liked it for a long time … and it's getting even better. 
Discover how YOU can cash in on this space race as we hear tips from an on-the-ground expert. 
In this episode of The Real Estate Guys™ show, hear from:
Your out-of-this-world host,

Robert Helms

His out-of-the-way co-host,

Russell Gray 

Central Florida investment property specialist,

Jean Gillen
---
Listen
---
Subscribe
Broadcasting since 1997 with over 300 episodes on iTunes!
---
Review
When you give us a positive review on iTunes you help us continue to bring you high caliber guests and attract new listeners. It's easy and takes just a minute! (Don't know how? Follow these instructions).
Thanks!
---
Welcome to the "space coast"
Today we're talking about a market that is well-positioned for growth and equity … it's the "space coast" in Florida!
Central Florida is one of the markets we've loved for a long time … every time we visit we see cranes helping build new projects. 
When we analyze a market, we look at the dynamics in supply and demand, capacity to pay, and what's going on in mortgage rates and demographics … and don't forget taxes and incentives!
There are so many things happening right now in this particular market that create an environment where equity can really POP. 
One big story of this area is … the space coast. 
For many years, the space industry was 100 percent a government entity. You had NASA … and that was it. 
But when the shuttle program stopped … everything changed. 
Individual businesses and entrepreneurs came in to fill the void and pick up the slack … and things really blasted off!
We see a lot of similarities between what is happening in Central Florida now and what happened several years ago in Silicon Valley. 
These organizations are growing and bringing in a new workforce to fill jobs … but there aren't enough houses. It's a great opportunity as an investor to help find a solution. 
Growth and opportunity in Central Florida
Our good friend Jean Gillen and her team at Gillen & Associates are Central Florida investment property specialists. 
For nearly 30 years, Jean has been actively helping investors cash in on opportunities in this marketplace … she knows this place like the back of her hand. 
For Jean and the investors she helps every day, the space race is real. 
The Central Florida market is uniquely nestled within an hour of three international airports … Orlando, Orlando Melbourne, and Orlando Sanford. 
It's the number one visited place in the world … 75 million people come through each year. 
Some are passing through to other connections. Others come for theme parks and to hop on cruises. And the rest … it seems … come for NASA.
And so many of those people come to stay. 
Over 350 space industry companies have moved to the market … after all, it's the only place in the United States from which you can put a man in orbit. 
A huge amount of millennials have followed those companies for job opportunities … but baby boomers are moving in as well. 
With no intention of retiring any time soon, baby boomers want to live around other baby boomers. The 55+ communities come calling … and they are cheap and cheerful. 
But it's not just the space industry that has come to town. Infrastructure has to grow to serve all those new residents … like doctors, retail, and restaurants.
Florida is also a prime spot for tax incentives … and there's no state income tax. 
"I don't think there is a better economy in the United States right now," Jean says. "Oh, and the weather's good."
Another important thing to note, Jean says, it that many of the people coming to the area aren't necessarily coming for a full-time gig. 
Many of the workers in these industries come on a one or two year contract … which means that these folks will always be tenants … and you can plan on a steady flow of tenants for rentals.
Properties with potential
Most of the houses Jean and her investors work with are new builds that come in at around $210,000. Insurance … including hurricane insurance … comes out to about $600 a year. 
"The hurricane risk in the area is very low. That's why the insurance rates are so low. It should make you feel fairly safe on that front," Jean says. 
Another unique factor in the Central Florida market … it's actually a better deal most of the time to buy a new build over a resale house. 
And tenants are definitely attracted to new … and all the amenities that come with them … granite countertops and stainless steel appliances anyone?
Jean also feels it's important to keep most of the homes owner occupied. 
"It keeps the neighborhood up, so we usually keep the amount of houses owned by investors in a development at 10 percent. It works out so much better that way for everyone," Jean says. 
But as with any market, there are unique considerations to keep in mind. 
Jean says she never helps investors buy lots that are in flood zones. The properties have to be turnkey … and a good school district is always a plus. 
Many of the tenants in the area work several days a week from home … so extra bedrooms that can function as a home office space are a must. 
And Jean is all about beautiful backyards … most lots are a quarter of an acre … and there is no HOA. 
Typically, tenants stay for three years … and tenant-landlord laws are very landlord friendly. 
Joining the space race 
Jean and her team work exclusively with investors … but those investors come from a variety of situations and backgrounds. 
Some are 30 years old … others are 70 … but they're all looking for a profitable deal. 
We've said it before … and we'll say it again … the key to a great deal is finding a market that makes sense, finding the right team, and THEN finding the right property. 
To learn more about Central Florida … and to find out if this it the right deal for you … listen in to the full episode. 
---
More From The Real Estate Guys™…
The Real Estate Guys™ radio show and podcast provides real estate investing news, education, training, and resources to help real estate investors succeed.
---
Love the show?  Tell the world!  When you promote the show, you help us attract more great guests for 

your

 listening pleasure!