Life and investing are much more than just making money.
Of course, profits are important for funding a fun lifestyle … but why wait?
In this episode, we discuss the idea of investing in beautiful properties you'd love to live in … sometimes … and rent out the rest of the time.
---
More From The Real Estate Guys™…
The Real Estate Guys™ radio show and podcast provides real estate investing news, education, training, and resources to help real estate investors succeed.
---
Love the show?  Tell the world!  When you promote the show, you help us attract more great guests for 

your

 listening pleasure!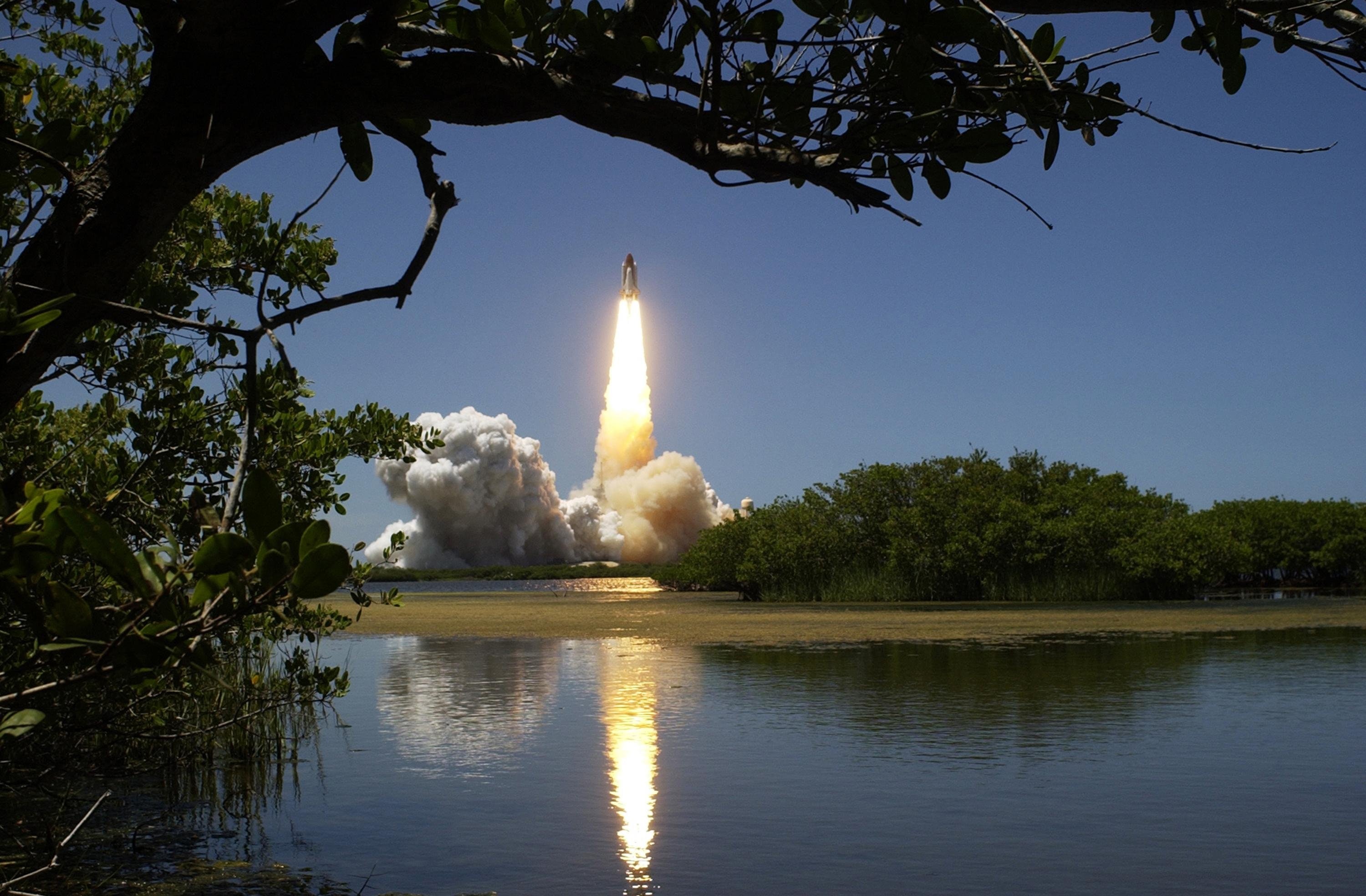 The space race is on!
No … we're not talking about the great cosmos overhead. We're talking about a race for space in a thriving market. 
Central Florida is thriving thanks to international tourism, low taxes, strong population growth, and great infrastructure. 
Billions of public and private dollars are making their way into this market … We've liked it for a long time … and it's getting even better. 
Discover how YOU can cash in on this space race as we hear tips from an on-the-ground expert. 
In this episode of The Real Estate Guys™ show, hear from:
Your out-of-this-world host,

Robert Helms

His out-of-the-way co-host,

Russell Gray 

Central Florida investment property specialist,

Jean Gillen
---
Listen
---
Subscribe
Broadcasting since 1997 with over 300 episodes on iTunes!
---
Review
When you give us a positive review on iTunes you help us continue to bring you high caliber guests and attract new listeners. It's easy and takes just a minute! (Don't know how? Follow these instructions).
Thanks!
---
Welcome to the "space coast"
Today we're talking about a market that is well-positioned for growth and equity … it's the "space coast" in Florida!
Central Florida is one of the markets we've loved for a long time … every time we visit we see cranes helping build new projects. 
When we analyze a market, we look at the dynamics in supply and demand, capacity to pay, and what's going on in mortgage rates and demographics … and don't forget taxes and incentives!
There are so many things happening right now in this particular market that create an environment where equity can really POP. 
One big story of this area is … the space coast. 
For many years, the space industry was 100 percent a government entity. You had NASA … and that was it. 
But when the shuttle program stopped … everything changed. 
Individual businesses and entrepreneurs came in to fill the void and pick up the slack … and things really blasted off!
We see a lot of similarities between what is happening in Central Florida now and what happened several years ago in Silicon Valley. 
These organizations are growing and bringing in a new workforce to fill jobs … but there aren't enough houses. It's a great opportunity as an investor to help find a solution. 
Growth and opportunity in Central Florida
Our good friend Jean Gillen and her team at Gillen & Associates are Central Florida investment property specialists. 
For nearly 30 years, Jean has been actively helping investors cash in on opportunities in this marketplace … she knows this place like the back of her hand. 
For Jean and the investors she helps every day, the space race is real. 
The Central Florida market is uniquely nestled within an hour of three international airports … Orlando, Orlando Melbourne, and Orlando Sanford. 
It's the number one visited place in the world … 75 million people come through each year. 
Some are passing through to other connections. Others come for theme parks and to hop on cruises. And the rest … it seems … come for NASA.
And so many of those people come to stay. 
Over 350 space industry companies have moved to the market … after all, it's the only place in the United States from which you can put a man in orbit. 
A huge amount of millennials have followed those companies for job opportunities … but baby boomers are moving in as well. 
With no intention of retiring any time soon, baby boomers want to live around other baby boomers. The 55+ communities come calling … and they are cheap and cheerful. 
But it's not just the space industry that has come to town. Infrastructure has to grow to serve all those new residents … like doctors, retail, and restaurants.
Florida is also a prime spot for tax incentives … and there's no state income tax. 
"I don't think there is a better economy in the United States right now," Jean says. "Oh, and the weather's good."
Another important thing to note, Jean says, it that many of the people coming to the area aren't necessarily coming for a full-time gig. 
Many of the workers in these industries come on a one or two year contract … which means that these folks will always be tenants … and you can plan on a steady flow of tenants for rentals.
Properties with potential
Most of the houses Jean and her investors work with are new builds that come in at around $210,000. Insurance … including hurricane insurance … comes out to about $600 a year. 
"The hurricane risk in the area is very low. That's why the insurance rates are so low. It should make you feel fairly safe on that front," Jean says. 
Another unique factor in the Central Florida market … it's actually a better deal most of the time to buy a new build over a resale house. 
And tenants are definitely attracted to new … and all the amenities that come with them … granite countertops and stainless steel appliances anyone?
Jean also feels it's important to keep most of the homes owner occupied. 
"It keeps the neighborhood up, so we usually keep the amount of houses owned by investors in a development at 10 percent. It works out so much better that way for everyone," Jean says. 
But as with any market, there are unique considerations to keep in mind. 
Jean says she never helps investors buy lots that are in flood zones. The properties have to be turnkey … and a good school district is always a plus. 
Many of the tenants in the area work several days a week from home … so extra bedrooms that can function as a home office space are a must. 
And Jean is all about beautiful backyards … most lots are a quarter of an acre … and there is no HOA. 
Typically, tenants stay for three years … and tenant-landlord laws are very landlord friendly. 
Joining the space race 
Jean and her team work exclusively with investors … but those investors come from a variety of situations and backgrounds. 
Some are 30 years old … others are 70 … but they're all looking for a profitable deal. 
We've said it before … and we'll say it again … the key to a great deal is finding a market that makes sense, finding the right team, and THEN finding the right property. 
To learn more about Central Florida … and to find out if this it the right deal for you … listen in to the full episode. 
---
More From The Real Estate Guys™…
The Real Estate Guys™ radio show and podcast provides real estate investing news, education, training, and resources to help real estate investors succeed.
---
Love the show?  Tell the world!  When you promote the show, you help us attract more great guests for 

your

 listening pleasure!
The stars are aligning for real estate investors in a market we've liked for a long time. And it's getting even better.
Billions of dollars … both public and private … are making their way into a re-invigorated space race … in a market already thriving thanks to international tourism, low taxes, strong population growth, great infrastructure, and so much more.
Discover how investors are cashing in on the space race as we discuss Central Florida with a boots-on-ground market expert!
---
More From The Real Estate Guys™…
The Real Estate Guys™ radio show and podcast provides real estate investing news, education, training, and resources to help real estate investors succeed.
---
Love the show?  Tell the world!  When you promote the show, you help us attract more great guests for 

your

 listening pleasure!
The real estate story behind Walt Disney World in Florida has a valuable lesson for investors today … and it's not what you think.
If you're unfamiliar, Walt Disney decided to create a new and improved East Coast version of his epic California Disneyland. But he needed land … LOTS of it.
So he went to Florida.
By then, Disney was a household name and the success of Disneyland was well known. This created a problem for Disney.
If local landowners realized Disney was behind the assemblage of land needed to build another park, it could take a lot more time and money to get the project done.
So even when the land deal hit the news in May 1965, Disney waited months to announce his plan to build Disney World.
The obvious lesson is to avoid showing deep pockets when the other party has leverage.
But that's not why we're talking about it today.
There's something else going on in the world … something we've been watching for some time … that could become one of the biggest financial stories in the last 50 years.
So while financial reporters hang dutifully on every word that proceeds out of the mouth of Jerome Powell today…
… there's another voice in the marketplace only a few nut jobs (like us) are paying attention to.
Gold. And yes, this matters to real estate investors.
But it's not what gold is doing in response to what the Fed says. It's about what gold is saying about the state of the system that the Fed is not.
Of course, there are implications for you and your investments … real estate and otherwise.
The quandary for pundits everywhere is why the Fed is considering lowering interest rates in the midst of "the greatest economy ever".
Typically, interest rates are lowered to stimulate a sluggish economy.
Sure, it's possible the economy could be far less robust than claimed.
You probably know this is now officially the longest "recovery" on record … so perhaps a preemptive boost is a good idea.
Maybe the Fed is simply yielding to President Trump's pleas to go tit for tat with those pesky currency manipulators … to help keep America's exporters competitive.
If you read the financial news, it's easy to get lost in all the conjecture surrounding the dollar, the Fed, the economy, and interest rates.
But while people are bickering about political intervention in monetary policy, and what it all means to asset values …
… central banks around the world have been quietly stocking up on gold at the fastest pace in 50 years.
So what?
Think of Wall Street and insider trading. When insiders of a corporation buy or sell … it's often because they know something others don't.
Savvy stock traders watch these moves for clues about the future of the stock.
When it comes to money … or more accurately, currency … you can't get much more "inside" than central banks.
It's reasonable to think they know something.
Most "investors" look at gold as a trading vehicle … something to buy and sell in order to create currency "profits" in the same way a flipper trades houses to generate currency profits.
But central banks can print currency … at next to no cost. They don't need to trade gold or anything else to generate currency. They can print all they want.
Think about that.
Could it be gold has another role in international finance?
Apparently, China and Russia think so. Along with Poland, Hungary and Malaysia … to name just a few. The list is long.
Another notable advocate for putting gold back in money is Judy Shelton. Shelton is President Trump's latest nomination to the Federal Reserve Board.
It's also notable that of ALL the things Fed Chair Jerome Powell could say in his limited testimony to Congress, he chose to warn them against a return to the gold standard.
Maybe it's just us, but reminds us of this admonition from the Wizard of Oz …
"Pay no attention to that man behind the curtain!"
So what does all that have to do with Disney?
Remember, Disney wanted to accumulate land without anyone realizing what he was really up to. Everyone just looked at each deal as a one-off.
Disney and his team were careful to be sure no one saw the master plan until he unveiled it.
(Of course, people playing close attention figured it out … but by the time the masses knew, the deal was done).
But think about this …
If YOU had an unlimited credit card, no ethics, and knew you were about to go bankrupt … might you use your credit to buy and stash things of real value before the card is shut off?
If the players in the casino know the house is about to go bust, there's a mad dash to cash in the soon-to-be-worthless chips.
Just remember, these are big, lumbering central banks and a worldwide financial system. "Soon" can take months … or years.
So no one knows exactly when the tipping point comes. It's slow at first … and then all at once.
We've been watching this story develop since we first wrote about it in our Real Asset Investing report in 2013.
We discuss it in more detail in the videos of our more recent Future of Money and Wealth conference.
It's clear there's SOMETHING going on …
The ultimate currency insiders are aggressively acquiring gold. Nations who had entrusted their gold to third parties are steadily repatriating. Perhaps not so trusting anymore?
Lots of things going on geo-politically have no apparent rhyme or reason, until you look past the chatter about democracy and human rights … and just follow the gold and oil.
Richard Nixon shocked the world on August 15, 1971 when he changed the entire global monetary system in a "temporary" defense of the dollar.
Gold and oil spiked as the dollar collapsed. Interest rates were eventually hiked to over 20% to save the dollar. Every individual and business on the planet was affected.
Some people lost fortunes while others made them. The difference was (and still is) awareness, preparation, and a willingness to act when others stand paralyzed.
Some people noticed the exploding debt of the 60's, the silver coming out of the coins in 1964, and the French President's public warning about misplaced faith in the U.S. dollar.
People paying attention back then positioned themselves to prosper in spite of … or more accurately, because of the turmoil.
That's why we attend and produce investor mastermind events like the New Orleans Investment Conference and the Investor Summit at Sea™.
It's where we talk with alert investors and savvy thought leaders … searching for actionable intelligence in a noisy, chaotic world.
Though largely ignored and misunderstood by many on Main Street, there's a very public and aggressive global search for alternatives to the U.S. dollar.
Whether it's gold, crypto, the yuan, or something else … if and when a viable alternative to the dollar is embraced by the rest of the world …
… Americans could well be faced with spiking interest rates (the Fed will lose control), a collapsing dollar, rising asset prices in dollar terms (inflation), falling values in real terms, and a contracting economy (recession).
Those with low fixed-rate debt, real assets (including gold), cash-flow producing investments (like rental property), are likely to be big winners.
The world didn't END when Nixon reset the system. It just changed.
So this isn't doom and gloom … it's hope and opportunity … IF you're among the aware, prepared, and prone to act.
After all, if you own solidly cash-flowing properties in affordable markets, while holding a chunk of your liquid reserves in gold (with no counter-party risk) …
… and nothing happens, how are you worse off?
But if gold is the canary in the coal mine signaling that the Wizards are up to something, it might be smart to be hedged.
Until next time … good investing!
More From The Real Estate Guys™…
The Real Estate Guys™ radio show and podcast provides real estate investing news, education, training, and resources to help real estate investors succeed.
---
Love the show?  Tell the world!  When you promote the show, you help us attract more great guests for 

your

 listening pleasure!