Boots-on-the-Ground Market Insights:
Perpetual Wealth Strategy
Tools are useful … if the person using the product knows how to use it.
In this episode, we hear about an interesting approach to preparedness and opportunity.
Patrick Donahoe and Russell Gray dig deep on how investors can not only educate themselves but strategically position themselves in a defensive role for what looks to be coming down the line.
Topics of particular interest include: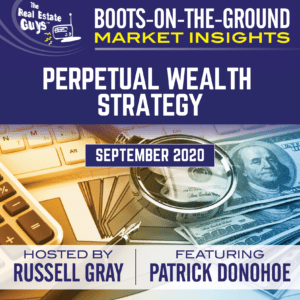 Reserves and Liquidity

Privacy and Asset Protection

Guaranteed Loan Provisions

Dividends and Tax Benefits

And More!
Simply fill out the form below to access this edition of Boots-on-the-Ground Market Insights: Perpetual Wealth Strategy …