Atlanta
With only a few exceptions, we tend to like mega markets over tiny towns. We just think there's a lot to be said for critical mass.   That's why we like Atlanta.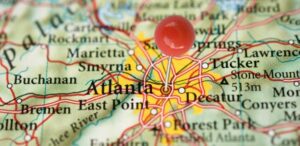 With a huge population base of well over 5 million people, the Atlanta MSA (Metropolitan Statistical Area) is among the USA's top ten.  Lots of people means political clout, a big tax base to maintain and improve infrastructure, and a big labor pool to attract employers.  All very good things.
Atlanta also boasts the nation's busiest airport and is strategically located as the informal business capital of the Southeast.  Like Memphis and Dallas, Atlanta is a major distribution hub for both people and packages.  That means outside money coming in and lots of exposure.
As a big metro, all of the lifestyle amenities people could want are there.  And with a great higher educational system, Atlanta attracts people from all over the U.S., many of whom become permanent residents.  When you toss location, climate, infrastructure, labor pool, lifestyle and educational system into a blender, you get a recipe that attracts people and businesses.
But what's really amazing is that (at least for now), investors are reporting they're picking up good quality residential properties in nice neighborhoods for well below replacement costs.  And with today's low interest rates and strong rental market, that means solid cash flows.  More exciting, is that if Atlanta rebounds as many project, there's lot of equity that will happen over the next 10-20 years.
Of course, no one can predict the future.  But we think Atlanta is a market worth monitoring.  We'd love to have you join us on an educational field trip.  Until then, we've organized some resources we think you'll find useful.
Radio Shows
Reports & Articles

Market Field Trips & Property Tours

Boots-on-the-Ground Teams
Clues in The News