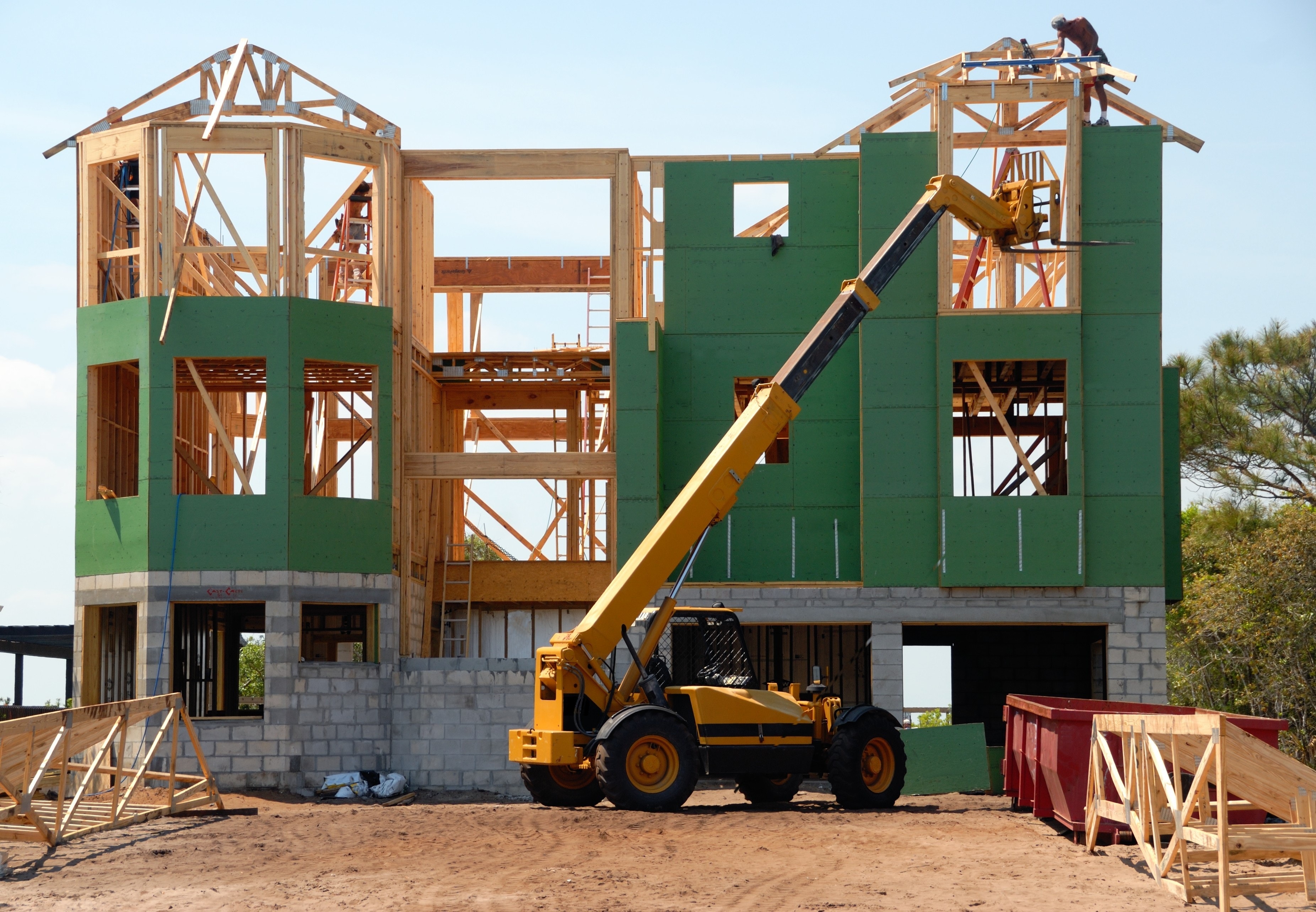 Vacancy is the enemy of real estate investment. But no fear!
You can invest in a property with zero deferred maintenance and a whole lot of attraction to tenants. 
Smart builders are helping real estate investors dramatically reduce the risk of vacancy and expensive repairs. 
Listen in as we chat with a man who is creating build to rent properties in some of the best rental markets in the United States … and see what opportunities await investors like YOU.  
In this episode of The Real Estate Guys™ show, hear from:
Your helpful host,

Robert Helms

His deferring co-host,

Russell Gray
From Fourplex Investment Group, Steve Olson
---
Listen
---
Subscribe
Broadcasting since 1997 with over 300 episodes on iTunes!
---
Review
When you give us a positive review on iTunes you help us continue to bring you high caliber guests and attract new listeners. It's easy and takes just a minute! (Don't know how? Follow these instructions).
Thanks!
---
Discover build to rent
Today we're going to talk about an interesting niche within real estate. 
More and more, we're seeing builders who don't build property to sell to an owner occupant … they're selling to investors instead. 
It's called build to rent. 
With millennials fighting student debt and not forming households or buying property as soon in their life, it's a great time to get into the rental game. 
We've dabbled in this niche ourselves … though it wasn't firmly established at the time. 
We'd catch a builder in a phase of development and say, "What if we came in and bought the rest of your inventory?"
It was a real win-win. The developer no longer had to question which properties would sell … and investors could get inventory that they otherwise wouldn't. 
The tenants benefitted too. They got to move into these brand new, beautiful properties. 
As the niche has grown, it has only become better. 
Now, you have builders building with the landlord and the tenant in mind … which means you can do some value engineering that maybe you wouldn't do if you were selling to owner occupants. 
All of this means bringing product at a more competitive price … which means a better ROI. 
Our guest today is Steve Olson of Fourplex Investment Group (FIG). FIG builds brand new fourplexes in a variety of markets … ready for investors to swoop in and swoop up profits. 
Creating a valuable niche
The days of buying a home for less than it costs to build are gone. In many cases, developers, builders, and investors are finding that it's more economically viable to just build new. 
If you want to be in the investment property business … you've got to find somewhere to get inventory … and you have to look at shifts in the marketplace. 
Two major demographic shifts are happening. 
One, baby boomers are looking for something more convenient … a managed community with some amenities to it. 
Two, millennials are more likely to rent than to buy … homeownership is getting more expensive, and many of them have a distaste for it. 
So, people want to live in these build to rent properties … you just have to pick the right markets. 
"More importantly, I think, you need to pick the right sub-markets within those solid markets. You've got to get to know the neighborhoods," Steve says. 
And when you are building to rent, you've got to be able to look out at the horizon and be confident that there will be tenants in the area in 18 months … or more … however long it takes to get property standing. 
Steve and the team at FIG build brand new fourplex units … beautiful homes that are attached and have parking. 
They are an upscale rental … built in communities that allow them to offer amenities and services. 
"The idea is that we have to balance two worlds. We have a bunch of different investors but the feeling of a cohesive community. We do this by creating uniform standards through an HOA," Steve says. 
As far as the tenant knows, they're in a townhome complex or apartment complex. They have amenities. There is a property manager they report to … the same experience across the board. 
HOAs aren't always popular … but that's usually because homeowners are too busy to be bothered to come to meetings and be involved. 
Investors aren't like that. 
Owners that are investors are very interested in the long-term health and viability of the complex. 
This type of investment is especially suited for someone who thinks a little more long term. The average investor doesn't come in, buy a fourplex, and flip it to another guy in a year. 
With FIG's approach, there is a certain amount of value engineering that can take place. 
"We deliver units cheaper than almost anybody I know of, but you have to strike a balance so you aren't paying for it down the line," Steve says. 
For example, Steve and his team have started using as a standard luxury vinyl tile floor … it's meant to take a beating. 
"It looks good, like wood, but you can drag a couch across it. The dog can run around on it, and it's still going to last a long time," Steve says. 
But everything else is meaningless if you don't talk about markets. 
The right markets for fourplex investment
A market is where we find tenants … so Steve and the team at FIG are very conscious of the markets they choose to build in. 
"Strategically, we're looking for population growth. We're looking for employment. You can get past a lot of things if you have those two things," Steve says. 
FIG started in Utah in the Salt Lake City metro. Then, they expanded into markets in the Houston metro and into Boise, Idaho. 
Boise has tons of growth with jobs coming in from the Northwest and other less business-friendly states … and the vacancy is really low across the board. 
The team is also moving into the Phoenix metro area. 
For more information on this investment niche, listen in to the full episode!
More From The Real Estate Guys™…
The Real Estate Guys™ radio show and podcast provides real estate investing news, education, training, and resources to help real estate investors succeed.
---
Love the show?  Tell the world!  When you promote the show, you help us attract more great guests for 

your

 listening pleasure!
If the first property you bought as a real estate investor was a single-family home, you're not alone.
This property type is a popular first choice for many … maybe even most … real estate investors.
But eventually, you'll want to take your investing to the next level. If you're at that point, this episode of The Real Estate Guys™ show is for you!
We'll be chatting with our special guest about how investors can get started with multi-family properties … from duplexes to fourplexes.
Listen in! You'll hear from:
Your next-level host, 

Robert Helms

His level-one co-host, 

Russell Gray

Consultant at Fourplex Investment Group,

Steve Olson
---
Listen
---
Subscribe
Broadcasting since 1997 with over 300 episodes on iTunes!
---
Review
When you give us a positive review on iTunes you help us continue to bring you high caliber guests and attract new listeners. It's easy and takes just a minute! (Don't know how? Follow these instructions).
Thanks!
---
From house-flipper to investor
A bit about our guest … Steve Olson got his start in real estate at the tail end of his college career, when he flipped his first house.
He's now an experienced investor who works to help other investors add value to multifamily investments.
We asked him for his thoughts on flipping now that he's moved on.
"It's not a bad thing to do," he says, although he acknowledges flipping is not really real estate investing because you have to trade time for dollars.
"You have to know what you're getting into," he says. For many investors, flipping can be a great way to generate capital, but it's not always sustainable.
Steve would recommend that new investors talk to someone who's flipped houses before they consider that option seriously.
Taking the leap to multi-family properties
If you've started out in single-family housing … or even if you haven't … multi-family properties are an excellent next step.
Steve specifically recommends two-, three-, and four-family apartments.
Why stop at fourplexes? For a good reason … Fannie Mae has loan options for investors that stop at four-family apartments.
These slightly bigger investments are the perfect next step up. And they allow you to fully maximize a Fannie Mae mortgage.
They also provide a more sustainable income source. Think about it … single-family properties are either 100 percent occupied or completely vacant.
But with a fourplex, even if you have one vacancy, you have a 75 percent occupancy rate.
There's one problem with multi-family properties, though … and that's demand. Because demand in the housing market is high right now, even for properties bought primarily by investors, cap rates are being pushed up.
Some investors resort to buying properties in bottom-of-the-barrel neighborhoods … but that's a risky bet.
A return for a low-priced property might look great on paper, but a low return that actually happens is far better than a high return on paper that never happens.
Tenant quality is worth it for the peace of mind.
So how do investors find great properties … that aren't in C-class neighborhoods? Steve has two options for investors.
Find lower cap rates with a value add
Cap-rate compression is driving prices up … but rents aren't rising. Steve recommends that investors navigate today's market by finding value-add opportunities.
Finding a respectable cap rate takes some maneuvering, he says.
He names two options:
Buy a run-down apartment for a low price and add value after purchase.

Buy land pre-construction and then add value by building new apartments.
With the Fourplex Investment Group (FIG), Steve helps investors navigate the second option.
He recruits investors before properties are even built—a win for investors, who can get a better cap rate, and for developers, who get risk removed from their plate.
So how do investments with FIG work?
FIG operates in four markets: Salt Lake City, Houston, Boise, and Phoenix. They are cautiously investigating new markets as well.

New projects start with a tract of land and a developer. Then FIG puts together a pro forma and releases the new project to investors four to six months before the build date.

Investors put down a deposit to reserve their spot, and FIG sets them up with construction financing.

Fourplexes (as well as some three-plexes and duplexes) are built in groups. Construction usually takes about 12 months. Investors get two to four brand-new townhomes … and one tax ID.

The average fourplex runs from 650k to 800k, depending on the market. Investors put 25 percent down and refinance when construction is complete.

FIG requires investors to use an in-house property manager, at least for the first two years of their investment. This provides stability and maintains the integrity of rents.

FIG sets up an HOA to preserve the appearance … and value … of the townhouse-style properties. Exterior maintenance of the properties is included.
"The fourplex model does well when the market isn't doing well," says Steve … and that's the ultimate measure of whether your investment is a good choice.
Steve shared lots of details about how investors can get started in multi-family properties with FIG … but if you're interested in more information about how YOU can make the jump to multi-family properties, please click here to request a report he compiled especially for listeners of The Real Estate Guys™ show.
Words of wisdom
We asked Steve what he wished new investors knew going in to a multi-family deal. He gave us a few words of wisdom:
"The pro forma is only as good as the neighborhood."

"You're not buying treasury bonds." Steve says nothing … including a return … is guaranteed.

"When something goes wrong, that IS normal." Investors have to accept there will be bumps in the road and …

View real estate investments through a long lens. A few months are not indicative of a long-term trend. Investors should be patient, Steve says.
We hope you gleaned some new perspectives from our conversation with Steve. We certainly did!
We believe in education for effective action … which is why we encourage you to seek out many different perspectives and relate them back to your personal investment philosophy.
The more ideas and perspectives you're surrounded by, the more likely it is you'll hit on something that perfectly aligns with your own goals as an investor.
So keep on listening!
---
More From The Real Estate Guys™…
The Real Estate Guys™ radio show and podcast provides real estate investing news, education, training and resources to help real estate investors succeed.