And yet another great collection of challenging questions from our fabulous listeners!
In the studio waxing down our microphones so we can surf the airwaves of radio excellence…
Your waxing on beach bodied host, Robert Helms
His wax off co-host, Russell Gray
In this edition of Ask The Guys…
Does it make sense to carry back financing with the threat of inflation looming?
Survey says…it depends!  Do the math and the math will tell you what to do.
Does size matter when flipping properties?
Hmmmm….that's a hard one.  Why should flipping properties by any different than….anything else?
Where can a young guy with a day job and not too much money get started on the path to real estate riches?
Fantasyland!  Just kidding…
A day job can be a blessing too.  After all, when you don't have much money…one of the easiest ways to get some is to borrow it.  And a day job comes in handy for that.
Is it possible to syndicate a deal with no money down?
We presume you mean none of your OWN money…and the answer is…YES!
Of course, if you have some of your own money in the deal, it may be easier to convince investors to put in their money.
Then again, if you have a "first round" of partners, the can provide the "down" money…and then the next round of investors can see that you (and your first round partners) are co-investing.
How do you choose a competent land developer?
Great question!  When you find the answer let us know…
Again, just kidding.
Finding ANY good team member is a matter of research…and often it means a referral from  someone you trust…AND is qualified to have an opinion.
And when you start interviewing prospective candidates, be sure to look at TWO things:  their COMPETENCY (credentials, track record, experience, satisfied customers)…AND their ETHICS.
A nice person who's incompetent can be nearly as bad as a top notch pro who'd steal you last dime if he had the chance.
If the dollar is doomed as Peter Schiff says, then why would it cause housing prices to fall…doesn't a weak dollar mean inflation…and RISING prices?
Ooooh…that's a REALLY great question.  And one we spend a lot of time contemplating.
The answer (as we understand it) has more to do with the VELOCITY of money…as opposed to merely the QUANTITY of money.
In short a weak dollar means it takes more of them to buy the same item…IF there is the same demand and the same cost structure.
But when a soft labor market, stagnant wages or declining purchasing power are REDUCING demand and capacity to pay…it can more than offset the weakening of the dollar.  At least in the short term.
So don't be surprised if prices fall before they rise.
How does someone avoid getting ripped off by a crooked turnkey property provider?
Don't do business with a crook.
Okay, you probably already knew that.
But like the previous question about picking a good land developer, it's important to evaluate someone's competency AND their ethics.
So the real question is:  what should you look for in a quality turnkey provider.
Great question!  And it's one we asked one of the best turnkey providers we know… Terry Kerr in Memphis Tennessee.
In response, Terry wrote a GREAT white paper called "Terry's Tips for Turnkey Rental Property Investing"…and you can get one for FREE…right now, right here.
To hear EVERYTHING we have to say about these and other amazing questions, tune in to this exhilarating edition of Ask The Guys…
Listen Now: 
The Real Estate Guys™ radio show and podcast provides real estate investing news, education, training and resources that help real estate investors succeed.
Land investing is a very unique aspect of real estate investing.  Raw land typically doesn't provide income or tax breaks.  And without a tenant to make the payments, there's no amortized equity.  Besides, with no income, borrowing to buy land can be risky business.
So why do it?
Well, as you might suspect, there are…lots of reasons.
In the studio for this episode of The Real Estate Guys™ radio show:
Your well-grounded host, Robert Helms
His dirt-poor co-host, Russell Gray
While the Holy Grail of real estate investing is passive income, it takes equity to acquire those income producing properties.  And it's wise to have adequate liquid reserves to handle maintenance, repairs, turnover and marketing.  Of course, if you use debt to acquire your income properties (and why wouldn't you?), then you'll need to have additional reserves to service that debt when the property is sitting vacant.  So liquid cash (currency of something else that is readily convertible into currency) can be pretty handy.
Of course, once you have all the currency you need, not to mention that once your empire of income properties starts pouring out piles of positive cash flow, you might want a place to park some of that money for the long term where tenant and toilets aren't involved.  Someplace not subject to counter party risk…and in something that will retain it's relative value, no matter what happens to the currency.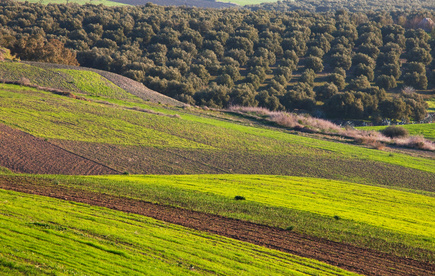 So reason #1 for buying land is long term preservation of wealth…even generational wealth.  Think of it like gold or fine art.
In fact, if you've been listening to James Rickards (author of Currency Wars and The Death of Money), he's an advocate of using real assets (versus paper currency) as a means to store long term wealth.
In other words, instead of building up a savings account full of dollars, convert those dollars into real assets by buying things like land, precious metals and fine art.  His point is that these items have a long term history of being relatively safe stores of value in unstable economic times.
Of course, if you're strategic about the land you buy, you could end up doing more than simply storing value (hedging against inflation).  You might actually make a profit (appreciation) as the land becomes more desirable (location and path of progress).
And if you're feeling more ambitious, you could "force equity" by improving the land.  This could be as simple as sub-dividing, changing the zoning or acquiring other entitlements.  In this case, the land might appear completely unchanged to the naked eye.  But the legal rights and permissions associated with the land could make the land more valuable to the next buyer.
Of course, that brings up the question of exit strategy.  One of the basic tenets of real estate investing is not to get into a deal you don't have at least one (and preferably more) clearly identified strategies for getting out.
When it comes to land, the best way to think about possible exits is to understand the life cycle of a property.  Of course, land almost always lasts forever, so you could argue the life cycle is forever.  But for our purposes, we'll think of land as starting out as raw (no entitlements of infrastructure like sewer, power, streets, etc).  From there, it becomes entitled, infrastructure is added directly on the land or nearby, improvements (buildings) are added, and eventually human beings live, work or play on the property.
Most people think of real estate only in it's "finished" state (ready for human use).  Land investors see the whole cycle.  And each step along the way, value is added to the land.  And anywhere along the line, the original land owner can hand off the development baton (sell) to the next guy who'll take it to the next level.
Obviously, the closer the land gets to a finished product (and depending on what the finished product is), the number of potential buys grows and the property becomes more "liquid" (easily sold and converted to cash).  Like a bus, you can get on at the beginning, in the middle, or near the end, and ride as long as you like.
Land investing is usually long term which makes it ideal for retirement funds.  Especially because tax advantaged accounts don't really need the tax breaks…and land doesn't provide any.
But land, like any asset, can also be flipped quickly for a profit if it can be acquired or controlled at a price below what someone else might be willing to pay.  Again, keep in mind that there are typically fewer buyers at the front end of the life cycle.  Of course, you only need one!
One final note…
In addition to being a long term store of wealth, land can also be a powerful part of an international asset protection strategy.  As FATCA compliance descends on the global investors, land is an asset which remains more private and unattractive to revenue starved governments than off-shore bank and brokerage accounts.  So if privacy and asset protection are high on your list, you might consider using off-shore land as a place to store long term wealth.  Who knows what that little Caribbean island will be worth some day???
Listen Now:
Want more? Sign up for The Real Estate Guys™ free newsletter
Don't miss an episode of The Real Estate Guys™ radio show! Subscribe to the free podcast
 Stay connected with The Real Estate Guys™ on Facebook!
The Real Estate Guys™ radio show and podcast provides real estate investing news, education, training and resources that help real estate investors succeed. Visit our Feedback page and tell us what you think!