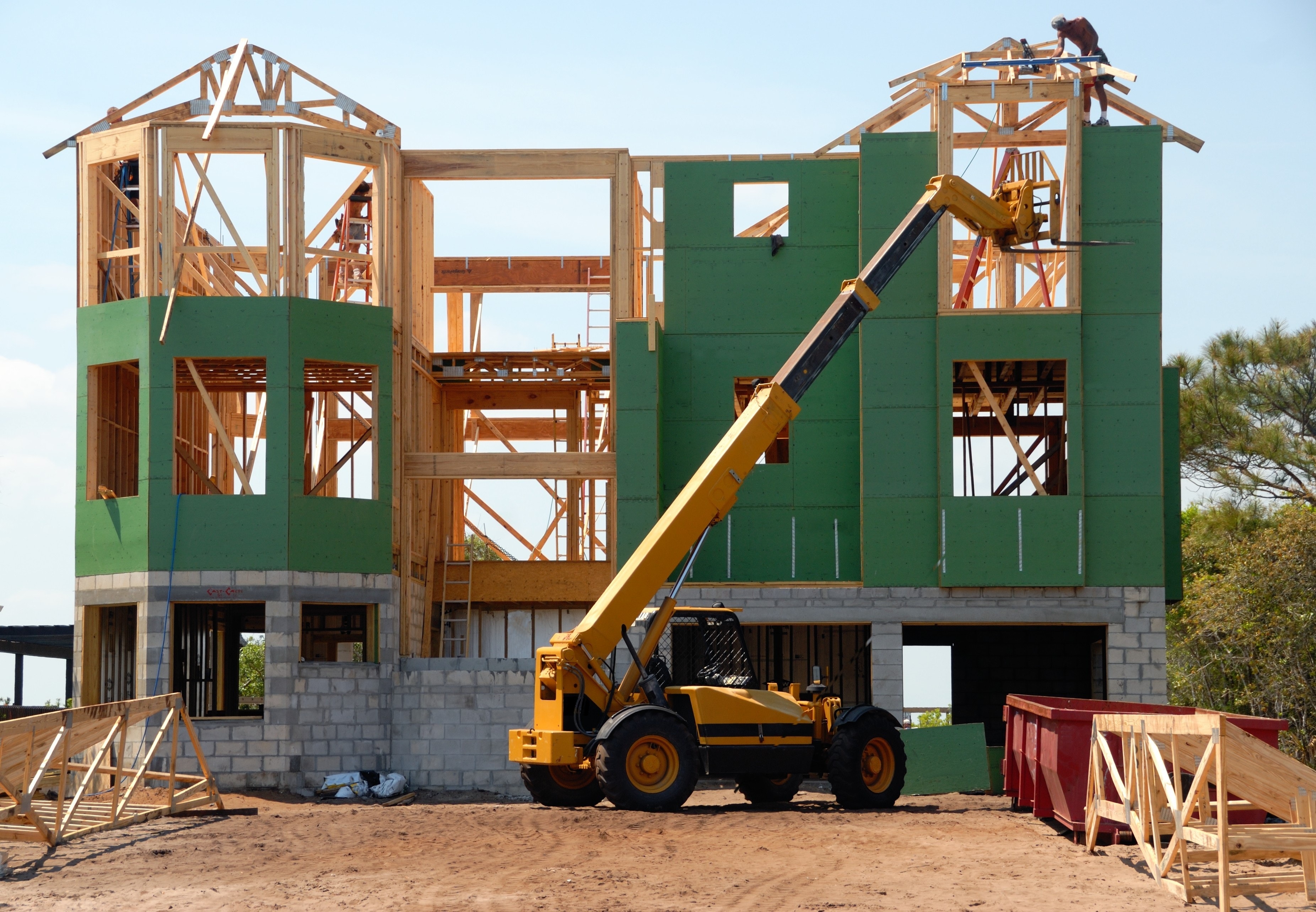 Vacancy is the enemy of real estate investment. But no fear!
You can invest in a property with zero deferred maintenance and a whole lot of attraction to tenants. 
Smart builders are helping real estate investors dramatically reduce the risk of vacancy and expensive repairs. 
Listen in as we chat with a man who is creating build to rent properties in some of the best rental markets in the United States … and see what opportunities await investors like YOU.  
In this episode of The Real Estate Guys™ show, hear from:
Your helpful host,

Robert Helms

His deferring co-host,

Russell Gray
From Fourplex Investment Group, Steve Olson
---
Listen
---
Subscribe
Broadcasting since 1997 with over 300 episodes on iTunes!
---
Review
When you give us a positive review on iTunes you help us continue to bring you high caliber guests and attract new listeners. It's easy and takes just a minute! (Don't know how? Follow these instructions).
Thanks!
---
Discover build to rent
Today we're going to talk about an interesting niche within real estate. 
More and more, we're seeing builders who don't build property to sell to an owner occupant … they're selling to investors instead. 
It's called build to rent. 
With millennials fighting student debt and not forming households or buying property as soon in their life, it's a great time to get into the rental game. 
We've dabbled in this niche ourselves … though it wasn't firmly established at the time. 
We'd catch a builder in a phase of development and say, "What if we came in and bought the rest of your inventory?"
It was a real win-win. The developer no longer had to question which properties would sell … and investors could get inventory that they otherwise wouldn't. 
The tenants benefitted too. They got to move into these brand new, beautiful properties. 
As the niche has grown, it has only become better. 
Now, you have builders building with the landlord and the tenant in mind … which means you can do some value engineering that maybe you wouldn't do if you were selling to owner occupants. 
All of this means bringing product at a more competitive price … which means a better ROI. 
Our guest today is Steve Olson of Fourplex Investment Group (FIG). FIG builds brand new fourplexes in a variety of markets … ready for investors to swoop in and swoop up profits. 
Creating a valuable niche
The days of buying a home for less than it costs to build are gone. In many cases, developers, builders, and investors are finding that it's more economically viable to just build new. 
If you want to be in the investment property business … you've got to find somewhere to get inventory … and you have to look at shifts in the marketplace. 
Two major demographic shifts are happening. 
One, baby boomers are looking for something more convenient … a managed community with some amenities to it. 
Two, millennials are more likely to rent than to buy … homeownership is getting more expensive, and many of them have a distaste for it. 
So, people want to live in these build to rent properties … you just have to pick the right markets. 
"More importantly, I think, you need to pick the right sub-markets within those solid markets. You've got to get to know the neighborhoods," Steve says. 
And when you are building to rent, you've got to be able to look out at the horizon and be confident that there will be tenants in the area in 18 months … or more … however long it takes to get property standing. 
Steve and the team at FIG build brand new fourplex units … beautiful homes that are attached and have parking. 
They are an upscale rental … built in communities that allow them to offer amenities and services. 
"The idea is that we have to balance two worlds. We have a bunch of different investors but the feeling of a cohesive community. We do this by creating uniform standards through an HOA," Steve says. 
As far as the tenant knows, they're in a townhome complex or apartment complex. They have amenities. There is a property manager they report to … the same experience across the board. 
HOAs aren't always popular … but that's usually because homeowners are too busy to be bothered to come to meetings and be involved. 
Investors aren't like that. 
Owners that are investors are very interested in the long-term health and viability of the complex. 
This type of investment is especially suited for someone who thinks a little more long term. The average investor doesn't come in, buy a fourplex, and flip it to another guy in a year. 
With FIG's approach, there is a certain amount of value engineering that can take place. 
"We deliver units cheaper than almost anybody I know of, but you have to strike a balance so you aren't paying for it down the line," Steve says. 
For example, Steve and his team have started using as a standard luxury vinyl tile floor … it's meant to take a beating. 
"It looks good, like wood, but you can drag a couch across it. The dog can run around on it, and it's still going to last a long time," Steve says. 
But everything else is meaningless if you don't talk about markets. 
The right markets for fourplex investment
A market is where we find tenants … so Steve and the team at FIG are very conscious of the markets they choose to build in. 
"Strategically, we're looking for population growth. We're looking for employment. You can get past a lot of things if you have those two things," Steve says. 
FIG started in Utah in the Salt Lake City metro. Then, they expanded into markets in the Houston metro and into Boise, Idaho. 
Boise has tons of growth with jobs coming in from the Northwest and other less business-friendly states … and the vacancy is really low across the board. 
The team is also moving into the Phoenix metro area. 
For more information on this investment niche, listen in to the full episode!
More From The Real Estate Guys™…
The Real Estate Guys™ radio show and podcast provides real estate investing news, education, training, and resources to help real estate investors succeed.
---
Love the show?  Tell the world!  When you promote the show, you help us attract more great guests for 

your

 listening pleasure!
Smart home builders are helping real estate investors dramatically reduce the risk of vacancy and expensive repairs.
Listen in as we talk with a builder who creates build to rent properties in some of the best rental markets in the United States.
---
More From The Real Estate Guys™…
The Real Estate Guys™ radio show and podcast provides real estate investing news, education, training, and resources to help real estate investors succeed.
---
Love the show?  Tell the world!  When you promote the show, you help us attract more great guests for 

your

 listening pleasure!
Buying a property is one thing. Operating it is another.
Many investors buy property but fail to think about where their money will really be coming from … the tenants.
If you can't take care of your property or your tenants, your income stream will be in big trouble. That's where a property manager comes in.
In this episode, we invite a special guest to discuss the finer points of developing your property management philosophy.
He'll offer tips on how to find a stellar property manager, what to expect from your property management company, how to manage a team, and MORE.
You'll hear from:
Your philosophical host, 

Robert Helms

His phil-o-what? co-host, 

Russell Gray
Property management professional, Ken McElroy
---
Listen
---
Subscribe
Broadcasting since 1997 with over 300 episodes on iTunes!
---
Review
When you give us a positive review on iTunes you help us continue to bring you high caliber guests and attract new listeners. It's easy and takes just a minute! (Don't know how? Follow these instructions).
Thanks!
---
Why do real estate investors need a property manager?
We want to make it really clear … property managers are the unsung heroes of the real estate business.
As a real estate investor, your money is coming from your tenants.
Property managers interact directly with tenants. A good property manager will maximize the return on your investment by finding … and retaining … paying tenants.
If you're a new investor, you may be fulfilling the role of property manager yourself. As your investments increase, however, you'll soon find it necessary to outsource property management tasks to someone else.
Every real estate investor is running a business. If you want to grow your business, you need to make sure that every vital function is scalable as you move up the ladder and acquire new investments.
Overall, scalability means two things:
Making sure that every aspect of the business you handle personally is either scalable (you can handle more of it as you get more properties) or can be delegated

Making sure the people you rely on are also scalable
Make sure the system you set up has redundant life support systems. In other words, if one part of the system fails, you have a back-up plan to ensure everything is running smoothly and your cash flow won't be interrupted.
And make sure your property manager has a back-up plan too and won't be overwhelmed when you add to their workload.
Your property manager is essential to your process.
We'd caution you to consult with property managers BEFORE you even purchase a property … they have their fingers on the current state of the market and know what's happening now.
And make sure you are not only thinking about how your property manager can help YOU, but also how you can help your property manager.
What does a property manager do, exactly?
Property managers are responsible for two essential tasks:
Finding, vetting, and placing tenants

Providing ongoing support for the tenants and property
Different property managers have different philosophies on how to fulfill these tasks.
You can approach working with your property manager in several different ways:
Establish your own policies and require the manager implement them

Pick the right person and let them do their job, using their own established policies

Work with your property manager to establish a routine that's somewhere in between.
Whichever route you choose, you want to keep your main goals in mind … to keep your property manager happy, to keep your tenants happy so they stick around, and to keep your property in good shape … and, just as important, to make sure your cash flow is stable.
Sometimes, the best option can be trusting your manager's experience and letting them decide maintenance and marketing strategy.
Picking a property manager can be tricky, but the VERY LAST criteria you want to use when shopping for a good manager is price.
DON'T pick the cheapest property manager.
If your property manager is poorly paid, they'll be unmotivated to do a good job, and you'll end up losing more than you save.
Don't begrudge your property manager the money they get for doing the easy jobs, like handling long-term tenants.
You want your property manager to be happy … it's a win-win for both of you.
The bottom line is that real estate is a people business, not a property business.
Your managers and tenants aren't widgets. Value them, and they'll value you.
Want to help your property manager without giving them a raise? Consider referring them to other investors in the market for a manager.
Referring a good person or company is a win-win-win for you, your investor friend, AND your property manager.
Pro tips for property management
Ken McElroy started managing properties as a college kid who wanted a free place to stay.
Today, he runs a 250-person property management company that manages properties in Washington, Oregon, and California.
We asked him what he's learned about property management over the years. Here are some key questions and answers:
What are the basics of finding a good property manager?
First, look for experience. Collecting rent is harder than you think.
Second, look for people who can hold down the rules without being too confrontational.
What should investors expect from good property management?
Two things:
The return you budgeted for

No issues
Ideally, Ken says, there should be no reason for you to call your property manager … in other words, your property manager should be responsible and responsive enough to handle issues as they arise and get you your return.
How do you manage a large team?
Ken's company employs 250 people who work at the corporate office or on the ground at the properties.
"The key to everything is communication," Ken told us.
One of his strategies is to have on-site managers hold daily meetings with all staff members, including workers responsible for maintenance, landscaping, and leasing.
Is it better to outsource maintenance and repair services or hire in-house teams?
This comes down to what the residents need.
Retention comes first, says Ken, and to retain tenants, managers want to handle any issues immediately.
A tenant will not want to stick around if you don't handle a broken heater or jammed plumbing as quickly as possible.
Whether in-house vs. outsourced is better ultimately comes down to what strategy will allow your property manager to solve problems immediately.
What's your client retention strategy?
Ken implements a policy of making sure one of his employees reaches out to every resident, every month.
He also hired a relationship manager to contact new tenants about the move-in process right away.
And he has his team reach out to tenants well before their lease is up … six months before, in fact … to check in and get tenants thinking about renewing their lease.
He shoots for a 50 to 60 percent retention rate.
What kind of tenant screening do you do?
Ken runs a criminal background check and a sex offender check. Someone with terrible credit and multiple evictions is obviously not the ideal tenant.
What advice do you have for new investors?
Going into property management as a new investor with no prior knowledge can be a recipe for disaster.
If you really, truly, have the time and can show up, you could successfully be both owner and property manager, says Ken.
But if you're just doing it to save money or don't have time to have your boots on the ground, disaster is a certainty, not a possibility.
The golden rule of property management
We love talking to Ken because he has a "No BS" policy. He has a ton of experience, and he's not afraid to share it.
He's also always looking to learn. For example, he's been incorporating social media into his marketing strategies over the past few years and is always looking to learn how to use new technology.
If you want to read a whole book of tips and tricks, we highly recommend you check out his book, The ABCs of Property Management.
Looking for more property management advice? Check out Terry's Tips for Happy Tenants, a report compiled by business owner Terry Kerr that you can find on our website.
Want to know our golden rule for flawless property management? Treat each tenant like they're gold.
---
More From The Real Estate Guys™…
The Real Estate Guys™ radio show and podcast provides real estate investing news, education, training and resources to help real estate investors succeed.
Our listener questions this week run the gamut from extremely practical to extremely theoretical.
As always, we weigh in on topics that are relevant to YOU … listen in to hear our ideas on apartment management basics, diversification, and more … plus some podcast recommendations and a whole lot of info on one of our favorite places, Belize.
Keep in mind that we are not legal or tax professionals. We do not give advice. The ideas in this show are simply that … ideas.
In this edition of Ask The Guys you'll hear from:
Your deal-hunting host, 

Robert Helms

His tag-along co-host, 

Russell Gray
---
Listen
---
Subscribe
Broadcasting since 1997 with over 300 episodes on iTunes!
---
Review
When you give us a positive review on iTunes you help us continue to bring you high caliber guests and attract new listeners. It's easy and takes just a minute! (Don't know how? Follow these instructions).
Thanks!
---
Question: What expenses do I need to budget for as an apartment building owner?
Arnie in Minneapolis has a 20-unit apartment building that provides student housing near a university. He asked us to explain what his basic expenses will be. First, the obvious:
Utilities.

These can get a bit tricky, though, because the tenants may not pay all the utilities directly. You may have to pay for gas and water, for example.

Taxes.

Make sure you've done your research and know how and when taxes are reassessed in your area.

Property insurance.

This is a must.

Management costs.

Consider how much staff you'll need and whether you want to hire third-party management.
And the less obvious:
Marketing and advertising costs.

Marketing your property helps cut vacancies. For a college property, brochures may be one option.

Legal costs.

Make sure you have a legal team in place and a process for handling tenants with bad debt.

Maintenance.

Small but necessary services like pest control and carpet cleaning can add up.
Although apartment owners have to juggle a list of expenses, there are ways they can make some extra income. Apartments geared toward both college students and other types of residents can offer paid laundry services, parking spots, and even furniture rentals.
Question: I'm a new investor. Should I diversify with different product types and markets now, or later?
This Texas listener started investing in the past year and is trying to hone his personal investment philosophy. Ryan said he owns two single-family homes, but is also interested in commercial, agricultural, and lifestyle properties.
He wanted to know whether it's wise to start diversifying now or smarter to wait.
The simple answer is it's up to Ryan. How much completely depends on the amount of time, energy, and focus you have to spare.
Having a great team can be the make-or-break factor.
Beginners are starting without the stable of resources that established investors have, and access to a mentor can make all the difference in whether you're successful with a specific product class or market.
Being in the hottest niche doesn't matter much if you don't have a great team to support you.
We recommend Ryan spend some time poking around.
Diversification is great … but it means two markets, two sets of knowledge, two teams.
A single investor can only know a handful of markets really well, so getting well-acquainted with a single market can be a good place to start.
It all comes down to your goals … and passions.
The more you love a market or product type, the longer you'll stay in the game.
Ryan, search your priorities and keep figuring out what you really want to do. What's right for you may be honing in on single-family, or it may be finding a mentor to help you get involved in other markets.
Ultimately, the right choice is completely dependent on YOU.
Question: What do I need to know to get involved with a lending deal?
Steven from Havelock, North Carolina got an offer to be part of a private lending deal … but he wants to know how he can educate himself before he says YES … or NO.
Lending deals come in two forms … private loans, or divided private placements.
They all boil down to the same components:
A piece of collateral against which you're lending.

A borrower to whom you're lending money.

A servicing process, to collect payments and distribute money to investors.
Although the basic process is pretty simple, it's become more complicated since 2008. If you're underwriting the loan, you need to know as much as you can about the following:
The management team's process

How they manage and service loans

How they deal with default loans

What their basic guidelines are for protective equity

Projections for how much the market can pull back before the property in question is underwater

The debt-to-income ratio … how much income is available to service the loan
If you're only investing, not underwriting, you don't need to know every detail … but you do need to know enough to know that the people doing the loan know what they're doing.
Take a look at the company's track record, advisors, and business philosophy, policies, and procedures.
Make sure they have a realistic model for getting you a ROI.
And always make sure you have advisors … a smart legal team can tell you in minutes whether a deal is as good as it looks.
Question: Do you have any podcast recommendations?
Robert from Madison, Alabama said he's obsessed with our podcast (thanks, Robert!) and also listens to Robert Kiyosaki and Peter Schiff.
He wondered whether we had recommendations for other podcasts in line with our thinking and perspective.
First, a caution … don't seek out a single perspective!
As a real estate investor, you always want to strive to stand on the edge of the coin. Get multiple perspectives and then let those ideas interact with each other.
Peter Schiff and Robert Kiyosaki are absolutely valuable listening, but they don't necessarily focus on real estate investing. If you're looking for practical, tactical advice, consider the following:
Almost every real estate niche has experts producing media … if not podcasts, certainly books and courses.
Other wealth-related recommendations include:
We heard of a great technique for reading books, and we think it applies to podcasts too … read three chapters (or listen to three podcasts or so) and see whether the content grabs you.
If it doesn't, it's not worth your time!
Question: Do The Real Estate Guys™ provide mentoring services? How do I find a good mentor?
While we're honored that Grant, from Denver, Colorado, would like to have us as his mentors, The Real Estate Guys™ do not provide individual coaching or mentoring services.
We coach the syndication mentoring club … a group for investors who have gone to our Secrets of Successful Syndication event and have a good baseline for investing and syndication.
That's it.
However, we think there are lots of great resources out there for coaching.
Interested in a specific product type? Experts like Gene Guarino can coach you in residential assisted living. Other experts can help with everything from apartment buildings to commercial spaces.
Our recommendation … figure out what kind of help you really need.
Do you want someone to make you stick to deadlines and goals? Someone to give you practical resources? Someone to help you make connections?
Once you've identified your needs, take a look at who's out there and do your research. Check in with former students to see if there's evidence the program was successful.
Question: Do you have any tips on lifestyle investing in the Mediterranean?
Bob lives near dark and stormy Seattle. He and his wife are nearing retirement and want to spend their winters somewhere warmer … preferably the Mediterranean.
They're looking for a part-time vacation home, part-time rental situation.
He asked whether we had any tips on researching the cost, feasibility, and process for buying a property in this region.
Unfortunately, we don't have a lot of experience in this specific part of the world.
But we do have a lot of experience investing all over the world … enough to know that legal structures vary incredibly from jurisdiction to jurisdiction.
The key to success? Always get plugged in with someone who knows the market from a local point of view.
It would be a smart idea for Bob to plan a vacation … narrow down his interests to a specific market and work on making strategic relationships while he's over there.
Yes, we just recommended a vacation!
Bob also needs to work on building a legal and tax team in the U.S. to deal with sometimes complicated foreign legal structures.
The short answer … worry more about acquiring relationships than acquiring knowledge.
Questions: Belize, Belize, Belize!
We had three listeners ask questions about our Belize Discovery Trip.
Travis, from Maple Grove, Minnesota, wondered whether investors have to be extremely wealthy to invest in Belize.
Along the same lines, Brad, from Bakersfield, California wanted to know the type of investments typically available in Belize … and whether potential investors can work around lack of available financing.
We believe there is a ton of opportunity in Belize … and you don't have to be über wealthy to take advantage of it.
Belize doesn't offer traditional bank loans. So investors have a few options.
One option is to go in on an investment with a group.
Another is to refinance a property you own in the U.S. and use the equity to fund a deal in Belize.
No matter the route you choose, be smart about it. Understand the supply and demand dynamics.
Ask yourself exactly what you want … whether it's lifestyle, cash flow, asset protection, equity, or something else … then visit Belize and see whether the market will help you achieve your goals.
If the answer is YES, the next step is to build a team … and you can do that by joining us on our field trips and getting to know the people who will help you put together a great deal.
Our third question about Belize took a slightly different tack … Craig, from Rosemount, Minnesota asked whether an IBC is the only corporate structure two parties would need to go in on a deal together.
This is a legal question. And we're not legal advisors.
But we can tell you that although people often use entities to buy properties in foreign coutnries, it's perfectly acceptable to own property in your name.
If you do use an IBC, you'd have to use an IBC from a different country. IBCs can't be used to do business in their country of origin.
The bigger question is making sure you understand what you're trying to accomplish, why you're doing it, and what the possible ramifications are.
Do your homework. You don't want to learn a lesson by making the wrong mistake.
Yearning for more in-depth information about IBCs, financing, and buying in Belize? Come on our field trip!
Spend time with Robert and other investors, build relationships, investigate the market, and enjoy all Belize has to offer for three and a half days.
We guarantee you'll learn something … and have fun too!
---
More From The Real Estate Guys™…
The Real Estate Guys™ radio show and podcast provides real estate investing news, education, training and resources to help real estate investors succeed.