As a busy professional, chances are you've got people trying to bend your ear constantly about investment opportunities. And sure … some of them sound amazing, but how do you know you're getting in with the right people? Or maybe real estate investing is what you want to do, but you don't have the time for it.
That's where our guest Dr. Buck Joffrey found himself as a busy surgeon. Now, 10 years later, he's killing it with a successful podcast and real estate syndication organization.
This week, we're talking about passive real estate investing … passing the heavy lifting to someone else while YOU get the return.
In this episode of The Real Estate Guys™ show you'll hear from:
Your hands-on host, 

Robert Helms

His second-hand co-host, 

Russell Gray
Guest, Dr. Buck Joffrey, host of the Wealth Formula podcast, real estate syndicator, and board-certified surgeon
---
Listen
---
Subscribe
Broadcasting since 1997 with over 300 episodes on iTunes!
---
Review
When you give us a positive review on iTunes you help us continue to bring you high caliber guests and attract new listeners. It's easy and takes just a minute! (Don't know how? Follow these instructions).
Thanks!
---
Get returns … without getting your hands dirty
Real estate is a messy, hands-on type of business. And while you can do all kinds of research beforehand, the best learning is on the job.
If you don't have time to manage your own deals, passive investing could be the right move for you.
Passive investing gives you the benefits and returns of real estate … taxes, income, and diversification as well as the turn-key ease of setting and forgetting your investment.
The appeal of real estate investments is partly because your assets are tangible. You can go visit your building, and it occupies more than just a piece of paper or line on a ledger.
But, real estate takes time to understand the market, vet the deals, go through all the paperwork, and then manage a property afterward. You might be thinking, I don't have time for that, I'm running my own business, and it's taking all my time.
Joining up with other investors is how to leverage the expertise of others and even tag along to become a student yourself, all while getting in quickly and easily. It really can be whatever you want to make it be for yourself!
Find your investing tribe
As a busy professional himself, Dr. Buck Joffrey discovered early on in his real estate investing journey that he wanted to find like-minded people to invest with.
"If I got involved with a good syndicator who knew what they were doing, those returns and all those benefits I wanted out of real estate were there anyway," Buck says.
And, once he found people he knew, liked, and trusted in the real estate space, the hardest part was over.
"What I realized is that if I could invest in such a way that if I did a lot of vetting and due diligence and I knew other people were involved … my chances of success went way up," Buck says.
It wasn't long before Buck's friends started asking what he was doing and how they could get in on it too. All of this relationship building is what Buck calls tribal investing. And this approach is key to his success.
"Your network is your net worth," Buck says. "I look more at the team than I do the deal. If you know, like, and trust somebody and you know their track record, then you can get to the point and can look at a pro forma."
The relationship is just the building block to a good deal … Buck also notes that while there are lots of folks who he knows and likes, he may not be excited about the deals they're doing. Just a little education about the types of investments you're considering will go a long way.
Condensing your education timeline
As with any investment, you need to know enough to ask the right questions so you don't get burned. But, as a busy professional, adding in time for that education can be a heavy lift.
That's why Buck's networking style translated perfectly into his new course, "Your Roadmap to Real Wealth." It's not just Buck teaching the course … he's tapped into his deep network to bring in experts that share with you what he learned over a decade over a condensed timeline.
"One thing that everyone has in common who is on the show is that I have a relationship with them," Buck says. "This is my tribe talking to me as a young physician."
Buck has gathered experts in real estate … INCLUDING yours truly, The Real Estate Guys™ as well as estate planners, and many, many more.
We asked Buck about how passive investing works into the diversification angle. Buck mentioned he was initially interested in apartments as a first investment.
"What I realized was that I was trying to get at scale," Buck says. "With syndication, you can take the same two or three hundred thousand dollars and now you're in four, five, six buildings, and you're in thousands of doors, and you're across the country!"
Syndication gives you the opportunity to allocate your risk, and use your capital more efficiently. And all of that diversification collapses your time frame and gets you more cash flow sooner!
To learn more about passive investing and Buck's course, "Your Roadmap to Real Wealth," send an email to [email protected] We'll hook you up with all the details!
---
More From The Real Estate Guys™…
The Real Estate Guys™ radio show and podcast provides real estate investing news, education, training and resources to help real estate investors succeed.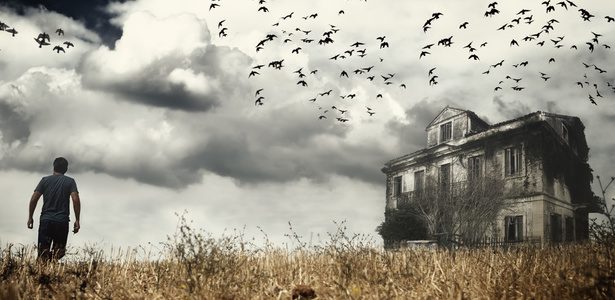 Sunshine and unicorns are part of what get real estate investors chasing after that next … great … deal.
Don't get us wrong.
We encourage you to believe good things will happen to your real estate portfolio. Otherwise, no one would have the courage to try.
But every now and then, ugly, terrible, BAD things will happen, even to the most successful people.
That's what our annual Halloween Horror Stories show is about – letting you know that nothing's wrong with you if you make a mistake or get stunned with an upset.
When something goes sideways, learn from it.
Once, Russ heard about a business downfall happening to Robert Kiyosaki. When he saw Robert in person, he genuinely said he was sorry to hear about it. Robert Kiyosaki shot back, the way only Robert Kiyosaki can:
"Don't be! It's going to be great. The company's going to be better, my marriage is going to be better. I'm going to become a better businessman. If you're not stressed, you're not growing."
Hopefully these spooky tales shine some light on what YOU can do when proverbial "haunted houses" happen.
Continue … if you DARE! Tune in to our latest edition of The Real Estate Guys™ radio show with:
Your haunted-house-tour-guide host, Robert Helms
His ghastly co-host, Russell Gray
Host of the Wealth Formula Podcast and real estate investor, Buck Joffrey, MD
Mobile home real estate investor, Mike A. 
Real estate investor and broker, Randy Hobbs
Real estate investor, Paul Anthony Thomas
Author of Magnetic Capital and real estate developer, Victor Menasce
Real estate turn-key provider in Orlando, Greg Bond
Real estate investor, Eric Tate, MD
President of Mid-South Homebuyers, Terry Kerr
Real estate investor, Sep B. 
---
Listen
---
Subscribe
Broadcasting since 1997 with over 300 episodes on iTunes!
Review
When you give us a positive review on iTunes you help us continue to bring you high caliber guests and attract new listeners. It's easy and takes just a minute! (Don't know how? Follow these instructions.)  Thanks!
---
"The Case of the Disappearing Tenants"
When Buck Joffrey, MD, bought his first apartment building, he looked at the numbers. It was a Class-D property, but the rent rolls were full, and the cash flow looked great. Buck found a property manager who owned several buildings in the area and could handle the property management for him.
After making the deal, Buck realized there was very little money coming in. What was going on? On paper, he had a completely occupied building, but he wasn't seeing any rent collected.
He learned the previous owner, who owned other buildings, had told his tenants if they moved into the Class-D building, they wouldn't have to pay rent!
That's right … his building was stuffed full of non-paying tenants!
"A little bit of scar tissue goes a long way," says Buck, who learned big things from the nightmare situation.
Lesson: Although the numbers looked good, it was a Class-D building. We recommend not buying Class-D for your first property. Wait until you have more experience. Also, do a thorough due diligence on the property manager and make sure you have some track record from the area.
Another thing to consider: Who's the tenant standing in line to rent? You need to be aware of how easily a property manager can fill up your building if you need to re-tenant.
"What's that Smell?"
Real estate investor and owner Randy Hobbs owns a two-bedroom, one bath home, where his tenant he says is "like a grandma" to him has lived for 28 years. She's a great tenant, who sends in her checks like clockwork.
All was going well … until Randy received a call.
His tenant said there was a funny smell in the house, coming from the cold cellar crawlspace beneath it.
He sent someone over to check it.
Aghast! The plumbing had fallen apart under the kitchen sink! Every time his tenant washed dishes or use the water, it was spilling into a huge puddle (more like a lake) under the house. The toxic waste had destroyed the foundational supports, a costly project to fix.
Lessons: Insurance only covers water losses if they are due to a sudden water loss. Don't let yourself get complacent if you're managing a property yourself. Make sure you're checking things like the attic and crawlspace (or hire someone to do it) regularly so you don't have surprises.
 "Water Park Fiasco"
When Paul Anthony Thomas wanted to get in on the hot trend of water parks and outlet malls in Texas in the 1970's.
During the due diligence process of a water park and outlet mall combo, he spent $100,000 on a feasibility study, plans, and incidentals. "At the time, that was a lot of money for me," said Paul. "Any time you pay for a feasibility study, they just tell you what you want to hear."
Paul happened to get to meet with the top water park developer in the nation, who looked at the plans and told him the reality.
There wasn't the right mix of population and traffic to make it work. Due to the demographics of the area, the retailers wouldn't be successful.
Lesson: You don't know what you don't know. Before spending any appreciable amount of money, consult experts. When you understand the experts analyze the opportunity, you can study it and become an expert yourself.
"The Dreadful Cut"
Developer Victor Menasce has a condo building in Philadelphia where there is very little parking. For one condo project, they needed to create a way to get into the parking level, and the only way to enter from the street is to get over the curb.
"To make a curb cut, you have to apply with the city," said Victor. "The rule says if you're sharing with three or more properties, you qualify to do so."
Although he had the go-head from his architect, Victor learned that because his three properties were adjacent to each other, they were considered "consolidated" into one, meaning he no longer had the required three properties.
In order to make the simple curb cut, Victor would have to shell out tens of thousands of dollars to his lawyer in an appeal process with the city, and he was losing time- which meant even more loss of money.
The horror!
Thankfully, he learned that each condo unit could be considered a unique property, allowing him to bypass the appeals process and move forward with the curb cut.
Lesson: You hire an architect often based on creativity. Sure, you want some curb appeal, and an appetizing mix of form and function. However, when you evaluate your architect, make sure their skill-set goes beyond aesthetics and they understand zoning laws.
"A Luxurious Disaster"
When experienced real estate investor Greg Bond, based in Orlando, had a deal come his way for luxury home, he didn't want to let it pass by. Already a pro at flipping rental homes, Greg figured it wouldn't be too different to fix up this stripped-down luxury home.
"I figured I'd buy it and make some money," said Greg. "I'd just take my crews from other properties to fix it up."
However, he soon learned this was not his typical rental home! As the rehab costs started piling up, the ghastly numbers told their deal-killing story.
There were much higher costs for the flooring, fixtures, detailing … and Greg would have to use a realtor, which added up more costs.
"There was no profit here," said Greg. "I was on a different learning curve and walked away with less than the realtors made on the deal."
Lesson: Get crystal clear on what works for you, your personal investment philosophy. If you veer from your core competency, prepare for surprises.
Horror Stories Wrap-up
This is just a handful of the terrifying tales – listen to our latest show to hear more!
In the end, each of these real estate investors lived to tell their terrible tale. You'll survive your next blunder, too.
Looking to avoid regrets?
We say the best way is to create your future, and have a goals approach that covers every aspect of your life – financially, spiritually, socially, and physically.
That way you're prepared for anything – no matter what comes. 
---
More From The Real Estate Guys™…
The Real Estate Guys™ radio show and podcast provides real estate investing news, education, training and resources to help real estate investors succeed.