As of this writing, we're not sure what the Fed will do with interest rates, though it's widely expected they'll cut.
So as much as we'd like to talk about what it means to real estate investors, we'll wait to see what happens.
And even though mainstream financial media are finally paying attention to gold and the future of the dollar … these are topics we've been covering for some time.
But if you're new to all this, consider gorging on our past blog posts …
… and be sure to download the Real Asset Investing report …
… and for the uber-inquisitive, check out the Future of Money and Wealth video series.
After all, this is your financial future … and there's a LOT going on.
In fact, today there's a somewhat esoteric and anecdotal sign the world might be on the precipice of its next major financial earthquake.
But before you go full-fetal, this isn't doom and gloom. We're too happy-go-lucky for that.
It's more an adaptation of a principle from Jim Collins' classic business book, Good to Great …
Confront the brutal clues.
Of course, the original phrase is "Confront the brutal facts." But as great as data is, sometimes data shows up too late to help.
So, while facts may confirm or deny a conclusion … clues provide awareness and advance warning.
But just like with facts, you must be willing to go where the clues lead.
In this case, we're just going to look at one clue which has a history of presaging a crack up boom.
For those unfamiliar, a crack up boom is the asset price flare up and flame out that occurs at the end of an excessive and unsustainable credit expansion.
In other words, before everything goes down, they go UP … in spectacular fashion.
Here's a chart of the housing boom that eventually busted in 2008 …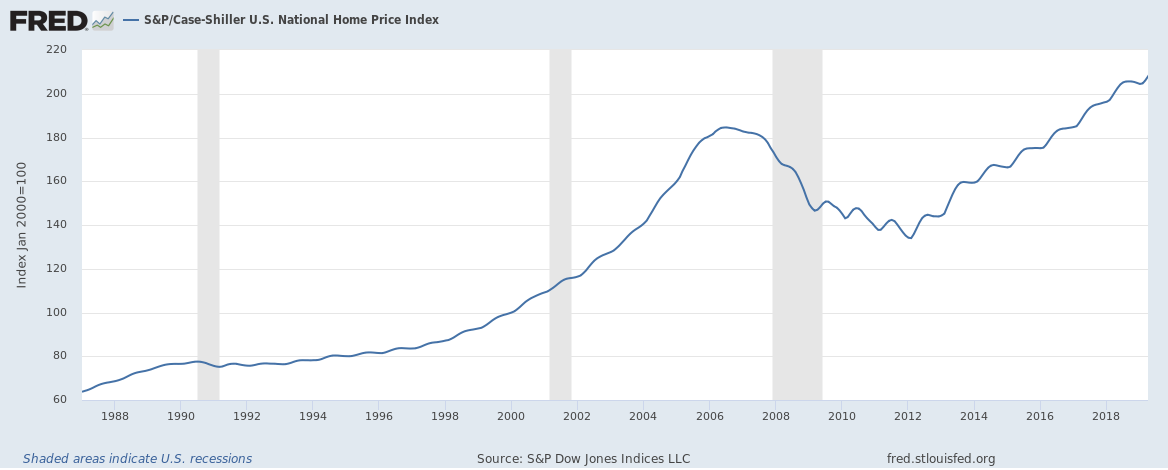 See the bubble that peaked in 2007? It's hard to miss … in hindsight. It's hard to see when you're in the middle of it.
Peter Schiff saw it in 2005 and published his book, Crash Proof, in 2006 to warn everyone. Few listened. Some mocked.
In 2008 it became painfully obvious to everyone.
Of course, for true real estate investors … those busy accumulating tenants and focusing on the long-term collection of rental income …
… asset prices are only interesting when you buy, refinance, or sell.
As long as you stay in control of when you buy, refinance, or sell … you can largely ride out the bust which often occurs on the back end of a boom.
And if you're paying attention, you use boom time as prime time to prep … and the bust as the best time to buy.
Today it's safe to say, just based on asset prices alone, we're probably closer to a bust than another big boom.
But the current run-up could still have more room to boom. As we said, it's hard to tell when you're in the middle of it.
Shrinking cap rates are one of the most followed metrics for measuring a boom.
Cap rates compress when investors are willing to pay more for the same income. That is, they pay more (bid up the asset price) for the same income.
But when the Fed says low-interest rates are the new normal, maybe it means so are low cap rates.
It's one of MANY ways Fed policy ripples through the economy … even real estate.
But there's another sign that's hard to see unless you're an industry insider, and while not scientific or statistical, it still makes a compelling argument the end is nearing …
Lending guidelines.
Think about it … booms are fueled by credit. It's like the explosive fuel which propels rising asset prices.
The only way to keep the boom going is to continually expand credit.
But any responsible head of household knows you can't expand credit indefinitely … and certainly not in excess of your capacity to debt service.
At some point, the best borrowers are tapped out. So to keep the party going, lenders need to let more people in. That means lowering their standards.
We still have a "backstage pass" to the mortgage industry and see insider communications about lenders and loan programs.
When this subject line popped up in our inbox, we took notice …
24 Months of Bank Statements NO LONGER REQUIRED
To a mortgage industry outsider that seems like a lame subject line. But to a mortgage broker trying to find loans for marginal borrowers, it's seductive.
It suggests less stringent lending criteria. Easier money.
Sure, the rates are certainly higher than prime money. But with all interest rates so low, they're probably still pretty good.
And these are loans with down payments as low as 10% for borrowers just 2 years out of foreclosure or short-sale. Hardly a low risk borrower.
Usually, lenders want to see TWO years of tax returns and a P&L for self-employed borrowers. They're looking for proof of real and durable income.
Not these guys. Just deposits from the last 12 months banks statements. And they'll count 100% of the deposits as income, and won't look at withdrawals.
So a borrower could just recycle money through an account to show "income" based solely on deposits.
The lender is making it STUPID EASY for marginal borrowers to qualify.
All of this begs two questions:
First, why would a lender do this?
And second, why would a borrower fabricate income to leverage into a house they may not be able to afford?
We think it's because they both expect the house to go UP in value and the lender is growing increasingly desperate to put money to work at a decent yield.
Pursuit of yield is the the same reason money is flowing into junk bonds.
And if the Fed drops rates as expected, it's likely even more money will move to marginal borrowers in search of yield.
Today, MANY things could ignite the debt bomb the way sub-prime did in 2008. Consumer, corporate, and government debt are at all-time highs.
Paradoxically, lower interest rates take pressure off marginal borrowers … while adding to their ranks.
It's hard to perfectly time the boom-bust cycle.
But careful attention to cash-flow protects you … whether structuring a new purchase or refinance. It means you can ride out the storm.
Meanwhile, it's smart to prepare … from liquefying equity to building your credit profile to building a network of prospective investors …
… so if the bust happens, you have resources ready to "clean up" in a way that's positive for both you and the market.
No one knows for sure what's around the corner … but there are signs flashing "opportunity" or "hazard".
Both are present, but what happens to you depends on whether you're aware and prepared … or not.
Until next time … good investing!
More From The Real Estate Guys™…
The Real Estate Guys™ radio show and podcast provides real estate investing news, education, training, and resources to help real estate investors succeed.
---
Love the show?  Tell the world!  When you promote the show, you help us attract more great guests for 

your

 listening pleasure!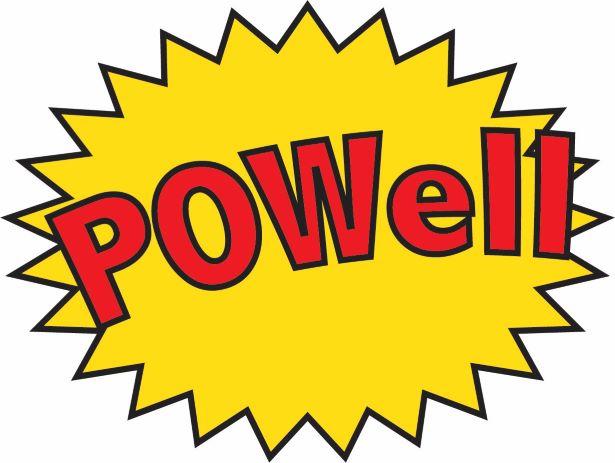 In our last edition, we discussed what gold might be revealing that the Fed isn't … while waiting to see what Fed Chair Jerome Powell would say to Congress.
But now the great and powerful Powell has spoken … and there are a couple of notable nuggets worthy of an inquisitive real estate investor's attention.
According to this report by CNBC, the Wizard of the Emerald Printing Press told Congress …
"… the relationship between … unemployment and inflation … has gone away."
If you're not a faithful Fed watcher (and therefore have a life), you might not know about the Phillips curve. It's been a guiding principle for the Fed interest rate policy for a long time.
It goes without saying (but we're saying it anyway) that interest rates are important to real estate investors.
After all, debt is arguably the most powerful tool in the real estate investor's toolbox. And interest rates profoundly affect both cash flows and pricing.
Many investors rely on their mortgage pro for interest rate guidance. Most mortgage pros watch the 10-year Treasury. But Treasury prices are strongly impacted by Fed jawboning and open market activities.
By watching further up the food chain you can get more advance notice of the direction of rates … and better position yourself to capture opportunity and avoid problems.
Through their comments, Fed spokespeople … chief among them Chairman Powell … send signals to those in the market who care to pay attention.
Of course, sometimes a little interpretation is needed. In this case, it seems to us Powell is being pretty clear.
The Phillips curve … which presumes that full employment leads to higher wages which leads to high inflation (prompting rate hikes to preempt it) … "has gone away".
In other words, don't assume high employment will trigger the Fed to raise rates.
But just in case the message wasn't clear enough, Powell also added …
"… we are learning that the neutral interest rate is lower than we had thought …"
In other words, there's a NEW normal in town … and the Fed is abandoning (just like Peter Schiff has been telling us they would) rate hikes and tightening.
But unlike Peter Schiff, the Fed is just now figuring this out.
So the great and powerful Wizard pulled not one, but TWO doves out of his hat.
(For the un-initiated, when the Fed is "hawkish", it means tightening the currency supply by raising rates … while "dovish" is easing … like quantitative easing … and lowering rates)
It seems the Fed looked over the economic landscape … (and over their shoulder at the real estate guy in the White House) …
… and concluded the punch bowl fueling the longest recovery in history needs to be spiked again.
You might agree or disagree.
But it doesn't matter what YOU think the Fed SHOULD do. We're pretty sure they're not asking you. They're sure not asking us.
They think what they think. They do what they do. And THEY are the ones behind the curtain with their hands on the levers.
Our mission as a real estate investors (accumulators of mass quantities of debt used to control assets and cash flows), is to watch and react appropriately.
So here's some food for thought …
Fed "dovishness" usually translates into higher asset prices … primarily stocks and real estate. Equity happens!
It's EASY to get enamored of equity growth based on momentum (price changes) and not fundamentals (income). Be careful.
Sometimes the Fed loses control or misses a major problem until it rolls over the market.
If your portfolio is anchored with strong fundamentals, you're more resilient.
Equity is wonderful, but fickle and unproductive.
If your balance sheet is telling you you're rich, but your cash flow statement doesn't agree, you're not really rich.
Read that again.
The key to resilient real wealth is durable passive income. And rental real estate of all kinds is a time-proven vehicle for building durable passive income.
But wait! There's more …
It's no secret President Trump wants to weaken the dollar … and has been pressuring the Fed to make it happen.
Based on the Fed's recent shift of direction, it seems it's not just interest rates headed down … but the dollar too. The currency war could be about to escalate.
And remember … the dollar has a 100+ year history of losing purchasing power.
So if you're betting on the direction of the dollar long term … we think DOWN is the safer bet. And right now it seems that what the Wizards are planning.
This is where real estate REALLY shines.
That's because an investor can use real estate to acquire enormous sums of dollars TODAY (via a mortgage) which effectively shorts the dollar.
Those dollars are used to buy tangible, tax-advantaged, income-producing, real assets which not only pays back the loans from their own income …
… but unlike debt, grows nominally (in dollars) in both income and price as the purchasing power of the dollar falls (inflation).
That's why we say, "Equity Happens!"
And when it does, it's a good idea to consider converting equity into cash using low-cost long-term debt, and then investing the proceeds in acquiring additional income streams and assets.
Of course, you can only do that when the stars of equity, lending, and interest rates all align. Right now, it seems they are.
We think last week signaled an important change of direction. And while the financial system is arguably still weak, it's working …
… so it might be a good idea to do some portfolio optimization while the wheels are still on.
Until next time … good investing!
More From The Real Estate Guys™…
The Real Estate Guys™ radio show and podcast provides real estate investing news, education, training, and resources to help real estate investors succeed.
---
Love the show?  Tell the world!  When you promote the show, you help us attract more great guests for 

your

 listening pleasure!
Little Rock Market Report
"The Rock" is rocking … booming business, creative culture, and a darling downtown!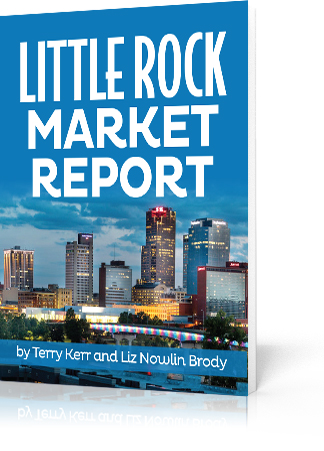 Little Rock, Arkansas, was recently rated the #1 place to live in the United States (cities under 1,000,000 population) by Klinger Magazine. 
There are SO many reasons to love this Southern jewel … an exceptional economy, diverse culture, and low cost of living, to name a few. 
Little Rock's economy has proven its ability to weather national and global economic downturns with great stability. 
The city is headquarters to major organizations like Dillard's, the Clinton Foundation, and AT&T. 
It also offers investors the opportunity to invest in a high cash flow market with excellent landlord-tenant laws. 
In this special report, learn more reasons why Little Rock is a market to pay attention to …
✓ Diverse business community
✓ A growing tech industry 
✓ Low unemployment
✓ And more!
Discover why Little Rock is a BIG opportunity. Get started by filling out the form below to access the Little Rock Market Report
Housing Price Index to Production Wage Index
SOURCE: FEDERAL RESERVE ECONOMIC DATA HTTPS://FRED.STLOUISFED.ORG
(The data came from the Fed, but the chart was put together by The Heritage Foundation here)
You can see a tight correlation between wage growth and property prices from 1991 to 1999.  Then something happened to create a divergence.
That divergence blew into a BIG gap between wages and housing prices … with home prices inflating much faster than wages.  At least until the middle of 2007.
Then something else happened which crashed housing prices … and not just back down to the wage trend line …
… but housing prices dipped well below the trend line ("over-corrected"), hitting bottom in 2011 and starting a new "bull run" in early 2012.
That's when Warren Buffet famously proclaimed on CNBC … 
I'd Buy Up 'A Couple Hundred Thousand' Single-Family Homes If I Could
Warren Buffett 2/27/12
Smart guy.  Obviously, when you look at the chart, the timing was perfect.  And most folks who were buyers in 2012 are sitting on piles of equity today.
But now it's clear the correlation between housing prices and incomes remains broken.  Housing prices are once again stretching the limits of incomes.
No wonder there's pressure to lower taxes, interest rates, and oil prices!
The only way to keep this party going is to make those relatively anemic household incomes control bigger loans.  And to no surprise …
Average U.S. mortgage size hits record-high $354,500
Reuters, 3/13/19
Does this mean housing prices are about to crash again?  Maybe.
It's said history doesn't always repeat itself, but it often rhymes.  That's a catchy way of saying people often find new ways to make the same mistakes.
Then again, smart people learn from their mistakes so they can avoid making them again.
In this case, go back and look at the chart.  But instead of focusing on housing prices, focus on incomes.
What do you see?
Incomes are slowly, consistently, persistently, steadily … rising.
Of course, if you look at the CPI (inflation) chart below, you can see the cost of living is also rising …
So just because people are making more money, it doesn't mean they're getting ahead.
In fact, folks who don't own inflating assets which can be sold or borrowed against to supplement their incomes … are falling further and further behind.
So what does it mean, what can we learn, and what can we do to survive and thrive?
These are all topics of a much bigger discussion.  We covered some if it in a recent radio show.
For now, here are a few suggestions to consider:
Focus on investing and underwriting for cash-flow …
Yes, you'll make more money on equity.  But equity is a by-product of cash-flow.  The more cash-flow, the more equity.
More importantly, conservative cash-flow gives you staying power when asset prices temporarily collapse.
Think of equity as a fun, but fickle lover … and cash-flow as the loyal, predictable partner you can build a life with.
Sequester some bubble equity for a rainy day …
Rates are low.  Lending guidelines are softening.
This indicates there's a lot of motivation (desperation?) to get more debt in the system … a sometimes-telltale sign we're nearing the end of a boom cycle.
Of course, when you harvest equity from properties, it's important to be smart about using the proceeds.
We think it's best to create cash-flow (have we mentioned this is important?) … along with liquidity, and safety from volatile markets and financial systems.
We could do an entire series on this one topic … and in fact, we're working on it.
Something like … "knowing what we know now, this is what we wish we would have done heading into the 2008 financial crisis."
Yes, we know the title needs a little work.
Watch for signs which signal shifts …
Shift happens.  It's painful when you're on the wrong end of it, and that usually happens because you missed the sign … not because it wasn't there.
In 1999, Uncle Sam pressured then semi-private Fannie and Freddie to lower their lending standards to help marginal borrowers buy homes.
It worked.  Home ownership … and prices … went way up.
In 2001, the Alan Greenspan Fed threw gasoline on the fire by pumping in billions (which was a lot of money back then) into the system to reflate the stock market after the Dot Com crash.
But a lot of the money ended up in bonds … mortgage-backed securities in particular … and ultimately into housing … inflating an equity bubble.
Oops.
In fact, Greenspan tried to jawbone the markets into prudence.  But he'd already spiked the punch bowl … and everyone was in full-blown party mode.
More recently, the Fed tried to take away the current punch bowl by raising rates … and took a lot of criticism.
When you see interest rates and lending standards falling, it's a sign.
Study history … and talk with smart, experienced people …
 Everything is 20/20 in hindsight. It's easy to predict the past.
But as it's been said …
 "Those who don't know history are doomed to repeat it." – Edmund Burke
That's why we encourage attendance at live events like the New Orleans Investment Conference and the Investor Summit at Sea™.
These are great places to connect with like-minded folks, have our perspectives broadened, and get into great conversations.
But even if you're a dedicated homebody, invest in finding a local tribe of similarly interested people to study and talk with.
You'll learn more faster in conversations with others compared to simply gorging yourself on terabytes of content.
It's important to use conversation to process what you consume.
Enjoy the sunshine, but pack an umbrella …
We're not saying a crash is coming.  But no one can say it isn't.
It seems to us the best plan is to prepare for sunshine or rain.  In practical terms, this means ….
… organize some liquidity and keep it insulated from both market risk and counter-party risk …
… build a solid brand and network with well-capitalized potential investors …
… fortify the cash-flows and financing structures on your keepers …
… jettison assets you think already have their best days behind them …
… study history, watch for clues in the news, and mastermind with smart investors.
Because you're only better off for doing all these things whether the party continues or comes to an ugly end.
And this is probably not a good time to get too over-extended.
Besides, even if you're interested in aggressive personal wealth building right now …
… it's arguably faster and safer to build rapid wealth through syndication rather than getting personally over-extended.
Until next time … good investing!
---
More From The Real Estate Guys™…
The Real Estate Guys™ radio show and podcast provides real estate investing news, education, training, and resources to help real estate investors succeed.
---
Love the show?  Tell the world!  When you promote the show, you help us attract more great guests for 

your

 listening pleasure!
State of the Senior Housing Industry
A good investment never gets old. Find tremendous opportunities for growth and CASH FLOW in senior housing.
Senior housing is BOOMING … thank you, Baby Boomers.
The U.S. Census Bureau projects that by 2020 the senior population will reach 56 million. That number grows to 74 million seniors by 2030.
And all those people need safe, social places to live. That's where investors like you come in.
Review the state of today's senior housing industry in this special report. You'll discover:
Why small, homelike environments are trending over large facilities

Which housing markets are currently underserving seniors

What modern seniors value in housing options

And more!
Grow your portfolio and serve up smiles to seniors with quality housing.
Get started by filling out the form below to access the State of the Senior Housing Industry …
 Self-Directed Accounts: No Longer A One Size Fits All
Free up cash flow to invest with self-directed, tax-advantaged accounts!
Spending can be fun … but saving is important.
You could stash some cash in a box under your bed … or bank it alongside the local teens into a standard savings account … or you could do things the smart way.
Save money and pay fewer  taxes with self-directed, tax-advantaged accounts.
From retirement accounts to Health Savings Accounts (HSAs) and Education Savings Accounts (ESAs) … there are a variety of ways to protect your savings and free up cash flow to invest.
Jason DeBono and his team at NuView Trust Company spend their days helping people get more out of their savings accounts … and they are sharing their tops tips with you!
In this special report discover:
✓ The different types of self-directed savings accounts
✓ How to determine if a specific account is right for you
✓ What tax advantages are available to investors
✓ And more!
Take control of your financial future with self-directed accounts! Get started by filling out the form below to access Self-Directed Accounts: No Longer A One Size Fits All …
It's your questions and our answers.
That's right. It's time for another segment of Ask The Guys … when we hear about the real-world challenges investors like YOU face every day.
We have another great collection of questions from our loyal listeners … covering everything from infinite returns to gold, proper reserves, compressed cap rates, and cash flow.
Remember … we aren't tax advisors or legal professionals.
We give ideas and information … NOT advice.
In this episode of The Real Estate Guys™ show, hear from:
Your in-the-know host,

Robert Helms

His go-with-the-flow co-host,

Russell Gray
---
Listen
---
Subscribe
Broadcasting since 1997 with over 300 episodes on iTunes!
---
Review
When you give us a positive review on iTunes you help us continue to bring you high caliber guests and attract new listeners. It's easy and takes just a minute! (Don't know how? Follow these instructions).
Thanks!
---
The ins and outs of infinite returns
Our first question comes from Sean in Durango, Colorado, who wants to know more about the ins and outs of infinite returns.
This is a topic we are pretty passionate about … it was even the theme of this year's Investors Summit at Sea.
The idea of an infinite return is pretty simple. It means that you're investing on the house's money.
In other words, you put up some money for a deal … to buy a property or be in syndication or grow crops … and at some point the deal has paid you back … and you're still making money.
Maybe that takes a year or five years … but once you get all of your initial capital off the table, everything else that comes in is an infinite return.
Infinite returns are easy to do in real estate … but it DOES take time.
There are lots of different ways to chase an infinite return, like getting creative with financing and syndication … but the core concept remains the same.
You're earning a return on no money at risk.
Purchasing real estate with other people's money
Teresa in Claremont, California, wants to know more about using other people's money to leverage the purchase of real estate.
Does it only work with people who have lots of money for a downpayment? Are there any lenders willing to finance 100 percent of a deal for a buy and hold?
Using someone else's money doesn't mean breaking into their house in the middle of the night or stealing from their bank account.
It means showing them the opportunity.
One of the primary sources of other people's money are lenders. They're in the business of putting capital to work for their depositors, for their shareholders, and sometimes for themselves.
Lenders put up some of the money for a deal in exchange for some portion of the return or a predictable income stream, like an interest payment.
You can also leverage other people's money through syndication. If you need $1 million to do a deal, you can raise $100,000 from 10 different people.
There are lots of legal and ethical implications to a syndicated route like this … but it can be a great way to get started passively or if you're interested in being a full-time real estate practitioner.
A lot of people think they have to have some sort of money to start with to do a deal. It helps … but you don't have to.
What you do have to have is a deal that makes sense … because it's going to end up being the collateral or the investment that your equity partners come to.
No matter what, you're going to have debt … and you're going to have equity.
The key is to look at how much profit is in the deal and figure out how much of that you can give away to different people for their participation.
And when all of that is done … is there enough leftover for you?
Finding a lender who will cover 100 percent of deal through a loan is tough … and the ones that do will usually be for a primary residence.
Protect your cash flow with reserves
Gary in Scottsdale, Arizona, owns four single-family rental properties.
The question on Gary's mind is how to deal with the reality of net cash flow … one major expense can wipe out your entire annual cash flow.
It's real and it happens. It has even happened to us.
We always … always … put contingencies and reserves in our pro formas.
A pro forma is your plan for the property … what you think the income and expenses are going to be.
There are two major places where you will need reserves.
When you buy the property, you can't put 100 percent of your cash into the down payment and the property. You need to have some in reserve.
Most lenders require this. When you close escrow, they'll want to make sure that you still have money in your bank account.
We also recommend that you take some reserve capital out of every month's payment as the rent comes in.
Perform your vital functions … and then put a little bit aside. That amount depends on your projected plan for your property and what needs you anticipate.
The cause and effect of cap rates and interest rates
With cap rates compressing across the country, it has been said that investors should be careful to still maintain a good spread between the cap rate and the interest rate.
Drew in Chicago, Illinois, wants to know if there is a direct correlation between these two factors or if it's just a general rule of thumb to indicate when a market might be overpriced.
We think this is a great question.
Capitalization rate … or cap rate … is determined using net operating income.
Cap rate doesn't include anything to do with leverage or your loan … so there is zero correlation between cap rate and the interest rate.
But there CAN be cause and effect.
If interest rates are low and you can borrow money for cheap … you want to borrow more.
And if you want to go out and find a property, you're going to find a lot of competition because rates are low.
So, you'll bid up the price for the same amount of income … making the cap rate go down.
Leveraging from gold and real estate
Debra in Alpharetta, Georgia, wants some further insight into leveraging from gold and real estate combined.
Assets like gold and oil are basically proxies for the dollar.
We borrow in dollars. We lend in dollars. We invest in dollars.
When you start looking at the dollar, you see a long-term trend in loss of purchasing power … it's called inflation.
Real estate investors use inflation to get rich by borrowing money from the future and bringing it into the present when it's worth more.
So when you borrow … you have effectively shorted the dollar.
You can accelerate that process with gold.
If you look at the history of gold relative to the dollar, it basically stays the same as the purchasing power of the dollar declines.
Gold gives you the opportunity to hold some liquid wealth outside of the banking system and hedge against the falling currency.
More Ask The Guys
Listen to the full episode for more questions and answers.
Have a real estate investing question? Let us know! Your question could be featured in our next Ask The Guys episode.
---
More From The Real Estate Guys™…
The Real Estate Guys™ radio show and podcast provides real estate investing news, education, training, and resources to help real estate investors succeed.
---
Love the show?  Tell the world!  When you promote the show, you help us attract more great guests for 

your

 listening pleasure!
Real estate investors tend to like low interest rates.  
After all, low rates mean lower payments for the same size mortgage … or a bigger mortgage for the same payments.  Nice.
The current Wizard of Rates is Fed chair Jerome Powell.  And he just showed up on 60 Minutes and told everyone …
"'We don't feel any hurry' to raise rates this year."
Many Fed followers consider this a bit of an about face.
And those who use the Fed's actions as a barometer of economic health and stability are asking what this more dovish stance means.
After all, isn't the motive of low rates to goose a sluggish economy?  So then what's all that healthy economy talk?
Also weird is that just over six months ago, Powell stood at a podium and defended his plan to RAISE rates.
Then two months ago he said, 'The case for raising rates has weakened …"
Last summer, he apparently couldn't see six months ahead … and now all of the sudden he's clear for a year? 
Maybe the answer is here …
Fed Chair Powell: 'The US federal government is on an unsustainable fiscal path'
– Yahoo Finance, 2/26/19
Summit faculty member Peter Schiff constantly reminds us … the economy is addicted to cheap money and Uncle Sam is addicted to spending.
Of course, addicts … and their enablers … sometimes take extreme steps to keep the party going.
So that could mean more money printing … because that's how the Fed keeps rates down.  And as any debt-ridden household knows, lower interest rates help make a giant debt load a little easier to service.
That's probably more important than anyone's letting on.
Because with record corporate, consumer, and government debt … there's a lot of cheap money junkies out there.
So … maybe the Fed's just trying to keep them all supplied?
Of course, we have no way of really knowing what data or philosophy is driving Jerome Powell's decisions.  We just watch and react.
But based on all the green lights flashing across stocks, bonds, oil, and precious metals … it looks like asset price inflation is the bet du jour.
At least for now.
But even though it's party time in the Wall Street casinos, real estate investors need to play the game differently.
We don't have the luxury of jumping in and out of positions on a moment's notice.  Besides, that's not our game.
We're not trying to buy low and sell high.  Real estate investors work to find a spread between the cost of capital and the cash flow on capital invested.
So let's switch from the macro view and get a little closer to Main Street … and glean some lessons from self-storage investors.
But before you tune out, this isn't about self-storage … it's about how real estate investors are reacting to an big influx of capital. 
Because as cheap capital floods any market (niche, geography, asset class) it affects prices and yields.   So sooner or later, investors move around searching for opportunities.
And that's what's happening in self-storage … 
Self-Storage Investors Start Looking at Smaller Markets to Capture Higher Yields
– National Real Estate Investor, 3/11/19
This headline caught our attention because of what the Fed is doing with interest rates.  And as we dug deeper, we found some notable excerpts …
"Investors are being more careful about which assets to bet on …"
" … worried about the number of new … properties …"
 "To avoid competition from new properties coming on-line … buyers have turned their attention to secondary markets …"
" … buyers in overbuilt markets are taking more time to underwrite their deals, double-checking assumptions about future leasing and rent growth."
There's more, but let's stop and process these thoughts …
First, these are lessons investors in ANY income-property niche should take note of.  So it's not just about what's happening in self-storage.
Notice the attention to supply and demand. 
We see lots of rookie real estate investors crunch the numbers of the property … but completely ignore the inventory pipeline of the market.
And of course, there's also the supply of prospective renters in a market.  That's why we also look at population and migration trends.
The article also highlights something we've been talking about for a while …
People, businesses, and investors will "overflow" from mature primary markets into emerging secondary markets in search of affordability.
The danger is getting into an emerging market ahead of a migrating problem.
Think about it …
If investors are moving into secondary markets to find better opportunities than in an over-built market … what happens when builders move in for the same reason?
Cheap money makes building easy.  Developers love it.
But Austrian economists warn of "malinvestment" … when bad investments look good primarily because money is cheap.
All long-term debt needs stable long-term cash-flow to service it.  If supply exceeds demand, and rents and cash flows fall … debt can go bad fast.
So when looking at markets, pay attention to the capacity of market to absorb more inventory without collapsing rents.
Because if you go in with optimistic underwriting (tight cash flow) and supply expands faster than demand and rents fall … you could be in trouble.
That's why self-storage investors are "taking more time to underwrite their deals".  Maybe you should too.
Hot markets can be intoxicating for investors.  It's easy to jump on a hot trend hoping to catch a nice ride …
"Despite these worries … investors keep paying higher and higher prices … relative to income.  Cap rates … are at their lowest point on record."
"They continue to trend lower even though interest rates have begun to rise …"
"There is a tremendous amount of capital chasing yield."
That's what happens when interest rates are low.
Don't get us wrong.  We're not complaining.  We like low-cut interest rates as much as the next guy.  But hot markets can be fickle. 
So the moral of this muse is to stay sober and diligent about your underwriting … and be very wary of using short term money to invest long.
Until next time … good investing!
More From The Real Estate Guys™…
The Real Estate Guys™ radio show and podcast provides real estate investing news, education, training, and resources to help real estate investors succeed.
---
Love the show?  Tell the world!  When you promote the show, you help us attract more great guests for 

your

 listening pleasure!
A very big real estate story splashed across mainstream news recently, but got buried underneath (insert the sensational political headline you're sick of) …
Oregon Okays First Statewide Mandatory Rent Control Law
 Associated Press, 2/28/19 
Okay, we admit this is a government policy … so it's political.
But politics is easy to laugh at when it's happening in cyberspace.  It's a little less funny when it hits hard on Main Street.
For thousands of Main Street landlords in Oregon, politics just landed hard … right in their portfolio.
Of course, as is often the case, there's more to the story than meets the eye.
So even if you don't own property in Oregon … or won't for much longer 😉 … there's a lot to glean from this watershed legislation.
We could debate whether or not government should step into a "free" market and regulate the price of anything … from housing to healthcare to haircuts.
But it doesn't matter if WE think they should or shouldn't.  They do.
And as a broken financial system keeps growing a wedge between haves and have-nots … we're guessing more politicians will try to legislate affordability.
So like it or not (we don't), rent control is something every investor everywhere should be watching out for.
Let's take a look at how rent control works in the real world …
Real estate investors buy property to produce income and build long-term wealth.  The more income a property produces, the more it's worth.
In order to create more wealth, real estate investors need to create more income … which means creating more value that a tenant is willing and able to pay for.
The essence of real estate investing is using capital to acquire long-term cash flow.  This is how real estate investors think.
Make sense so far?
Politicians, whom we're guessing are NOT real estate investors, think investment starts and ends at acquisition.
Unless you're Warren Buffet, paper asset investors don't buy stocks with the intention of improving the cash flow.
You just buy, own, and sell.  Maybe collect some dividends along the way.
But when value-add real estate investors buy properties in poor condition with lousy amenities …
… they're excited about the potential to make further investments into the property AFTER the acquisition.
For example, a property without a washer and dryer might rent for $50 a month less than one with that amenity included.
So for perhaps $600 per unit additional capital invested, a landlord could acquire $600 per year cash flow.
That's a good ROI.  It's also a nice amenity for the tenant.
You could say the same about covered parking, self-storage, a laundry room, a workout room, free wi-fi, and on and on.
Rent control caps the owner's ability to create positive returns by improving properties.  So guess what?  They don't.
So crappy properties stay crappy … because the incentive to improve them is removed.
And as nicer properties deteriorate, there's not much incentive to maintain them above the bare minimum.
With profit potential capped on the revenue side … and no cap on the fixed expense side …
… as margins get squeezed, property owners have no choice but to cut services and defer maintenance.
So rent control makes both landlords and properties cheap.  In a bad way.
And because there's always more people on the low-end of the economic scale (part of the reason Oregon is doing this) …
… there will always be a line of people waiting to get into these "affordable" rentals … even though they're crappy.
And with little market pressure on landlords to compete for tenants, there's even less incentive to improve properties, add services and amenities, or lower rents.
But it gets "better" … or actually worse …
As property values decline … or stagnate relative to rising costs of labor and materials … incentives for developers to build new inventory declines too.
Rising values are what attract developers to create more supply … which is the answer to moderating rising values.
Yes, it's sad when marginal tenants' incomes don't grow as fast as rents … or other inflating necessities.
But capping the property's growth doesn't pull the tenants up.  It pulls the properties down.
It's a bad scene. That's why nearly every investor we know stays away from rent control areas.
But it's also important to consider WHY this is happening …
The Fed dropped interest rates to zero for nearly a decade, then pumped trillions of dollars into the financial system … primarily to inflate asset values (stocks, bonds, real estate).
It worked … at least for some people.
Those paying attention, with both resources and financial education … snapped up the money, rode the equity train, and got much richer.
You might be one of them … or hope to join them.  We hope you succeed.
You can't blame people for playing the game using the rules and circumstances in their own best interests. But politicians do.
But the real issue is the financial policy wizards thought these now richer folks would then spend the money … and build businesses … and prosperity would trickle down to Joe six-pack and Larry lunch-bucket. 
In many ways, it worked.  The problem is the wealth didn't allocate very evenly.  It never does.
Certain markets got a disproportionate share of the goodies. 
And even though Oregon wasn't really on the list … it was nearby … and so became a collateral beneficiary /victim.
Lots of cheap money ended up in tech stocks, which blew up real estate values in tech hubs like Seattle and Silicon Valley.
As prices shot up, folks in those uber high-priced markets got pushed off the back of the bus … and gravitated to nearby "affordable" places like Oregon, Nevada, and Arizona.
Of course, the folks already in those nearby affordable areas end up competing with the new people who see everything as cheap … and easily bid things up.
It's a regional variation of gentrification … with its roots in paper asset bubbles blown up by cheap stimulus money.
But politicians are notoriously myopic when it comes to "fixing" things … especially financial problems.
As Peter Schiff says, "Good economics is bad politics, and good politics is bad economics.  That's why you always get bad economics from politicians."
Sadly, there are signs it could get worse as politicians try to contain the consequences of an over-financialized economy.
So even though we tout the opportunity to invest in affordable areas ahead of the crowds, it's REALLY important to stay aware of the political climate.
If you bought into Oregon ahead of the migration …
… you're now the proud owner of a property where the state government views you more as a public utility to be regulated than a free entrepreneur to be incentivized.
So you'll either need to get out while the getting's good … or not as bad as it could get … or start brushing up on your C-class property management skills.
Until next time … good investing.
More From The Real Estate Guys™…
The Real Estate Guys™ radio show and podcast provides real estate investing news, education, training, and resources to help real estate investors succeed.
---
Love the show?  Tell the world!  When you promote the show, you help us attract more great guests for 

your

 listening pleasure!
When the 2008 financial crisis hit, the mortgage industry was at the epicenter … and the disruption of funding feeding real estate crushed housing values.
But it's important to remember, the problem was NOT real estate.
After all, people still needed and wanted places to live.  So the demand for housing remained stable.
It was credit markets that failed.  And in a credit-based economy, everything stops when credit markets seize up … including home loans.
Without a steady influx of fresh debt to fund demand, prices collapsed … taking trillions in equity with it.  And it wasn't just real estate.  Stocks tanked too.
Mortgage and real estate is just where it started.
The double-whammy of teaser rate resets … and the resulting big monthly payment hikes which sunk a lot of homeowners …
… and then the negative equity led to a rash of defaults by even prime borrowers …
… all of which caused a credit market contagion that scorched financial markets world-wide.
Of course, this all created huge problems for Wall Street, the banks … and for Main Street.
So Uncle Sam and the Federal Reserve got heavily involved to "help" … and to no surprise … Wall Street and the banks came out on top.
The banks needed relief from realizing their losses on their financial statements, while finding a fast path to re-inflating values.
After all, property values are the collateral for all those mortgages.  And when values drop, borrowers walk … along with the prospects of loss-recovery.
So Wall Street rallied and raised many billions of dollars to buy up Main Street houses …
… even as millions of homeowners were being demoted to the rank of tenant.
So now instead of collecting mortgage payments, they collected rent.
As a real estate investor, you probably think that's better.  Who wants to be a lender, when you can be an owner … enjoying tax breaks and building equity.
But Wall Street doesn't think like you … and that's our point.
Today, those Wall Street buyers are landlords.  And by some accounts, they're not doing a very good job for the Main Street tenants.
Shocker.
Don't get us wrong.  We're all for investors stepping in to clean up a mess.
Investors are like the white corpuscles of the economy … bringing capital to damaged areas and healing blight and distress.
It's one of the reasons we're excited about Opportunity Zones.
We just hope Main Street investors and syndicators don't get pushed aside again by the wolves of Wall Street.
The issue is there's a BIG difference between the way Wall Street money and Main Street money behaves.  And it's not about savvy … it's about heart.
Big money guys (and gals, we suppose) have a way of looking at things.
Remember this classic 2012 quote from mega-multi-billionaire and legendary investor Warren Buffett …
"I'd buy up 'a couple hundred thousand' single-family homes if I could." 
Of course, we all know money's not the gating issue for Buffet.  He can buy anything he wants.  So what could his hesitancy be?
Maybe he agrees with Sam Zell, who's been quoted as saying this in 2013 …
"An individual investor can buy 25 houses and monitor them. I don't know how anybody can monitor thousands of houses."
Really?  We know Main Street investors like Terry Kerr at MidSouth Homebuyers who successfully manage thousands of houses.
So it's not impossible to manage a big portfolio well. You just need to be committed to doing it … one tenant at a time.
The folks we know who excel at single-family property management really care about their tenants as human beings … and deal with them as individuals.
They're focused on creating cash-flow as the PRIMARY investment result … as opposed to simply a necessary evil to offset holding costs until a capital gain can be realized at sale.
Buffett and Zell are smart guys.  Buffett saw the opportunity in single-family homes … but had the good sense to know he wasn't the right guy for the job.  Ditto for Zell.
Big money moves in broad strokes, which is fine when you're dealing with commoditized assets and you can buy and sell in bulk.
But real estate … especially single-family homes … is not an asset class and can't be effectively commoditized.  And neither can property management.
We think Main Street tenants are much better served by Main Street landlords … like YOU … so long as you remember the main thing is happy tenants.
Happy tenants means longer tenancy, less turnover and vacancy, and better real-world cash flows.
Of course, you don't need to be a small-time investor to build a portfolio of single-family homes.
When you learn to syndicate, you can combine bulk money with individual property investing … and build a portfolio of hundreds or even thousands of homes.
Being big isn't bad.  Wall Street's problem isn't its size.  It's its mindset.
As the legendary Tom Hopkins says …
"Don't use people and serve money.  Use money and serve people." 
Because when you do, you'll end up with both.
Until next time … good investing!
More From The Real Estate Guys™…
The Real Estate Guys™ radio show and podcast provides real estate investing news, education, training, and resources to help real estate investors succeed.
---
Love the show?  Tell the world!  When you promote the show, you help us attract more great guests for 

your

 listening pleasure!