Feeling undersized when going up against your lender in a loan mod negotiation? It's a big problem to wrestle with, but you're not alone!  Recent developments are tipping the scales back toward the borrower – and none to soon!  To get up to speed on the latest and greatest, we invited back to the show one of the most prolific commentators on the topic.
In the Sumo sand pit for this episode: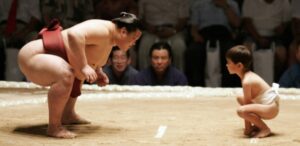 Your larger than life host, Robert Helms
Co-host and sand pit groomer, Russell Gray
The Godfather of Real Estate, Bob Helms
Special Guest, Mortgage Industry Pundit, Martin Andelman
Even though we see lots of opportunities in all the crushing problems facing today's real estate market, that isn't much consolation to people still grappling with mortgages that don't make sense.  No wonder our special report, What You MUST Know Before Attempting a Loan Workout (available in our Resource Center) has been our most requested publication for the last 18 months.  And when you consider that the number of modifications actually getting done are dwarfed by the huge number of mortgages currently in default, there's no way to take this problem lightly.  When it all shakes out, we know there's still a LOT of work to do before the balance sheets of banks and borrowers are stabilized.  It's a sizable task.
Enter Martin Andelman. Martin reminds us of Don Quixote from Man of La Mancha.  We almost went there with this blog, but the Sumo thing was way too much fun.  Still, Don Quixote was a crusader pursuing an impossible dream (the theme song from the movie), so it seemed to match.  It was hard to combine "impossible dream" with Sumo, unless there was a Speedo involved, and we didn't think that was a good fit, if you know what we mean.
Anyway, Martin's been an observer, commentator and outspoken critic of the banks and lenders who claim to care about the borrowers, but can't seem to do anything substantial to help.  Do you remember the Bible verse in James, where it basically says "talk is cheap" (our paraphrase)?   That is, what good does it do to say you care, if you don't really do anything real to help?
Please don't misunderstand.  We're not advocates for, or supporters of, bailouts for borrowers or for banks.  Philosophically, we think things would get better a whole lot faster if the government would get out of the way and let the banks and borrowers negotiate.  After all, these are contracts between private parties.  But the government has had its nose in the mortgage business for decades, so it's a threesome, like it or not.  (We're sorry.  Is our opinion showing?  We'll tuck it away.)
So we start this show with an update from Martin on the state of the government's HAMP program.  Can you feel it yet?  Is it working?  Is it getting better?  Martin gives us the scoop.  His answer surprised us.
And while the Executive Branch is trying get its HAMP fired up, what about the Legislature and the Judiciary?  Martin briefs us on a couple of interesting court cases which affect loan modifications.  Of course, we can't help but talk about California's SB94, which now "protects" consumers from all the "greedy" loan mod attorneys who selfishly want to be paid for the work they do.   Why wouldn't the attorney just do the work first and then send a bill?  It's so unreasonable to think that a client who isn't making their mortgage payment would be a bad credit risk.  We're sure all the underwater borrowers are sleeping much better now that now that most of the loan mod companies have shut their doors.  Yeah, that helped.  Unless….do you think maybe it wasn't the borrower the law was intended to help?  Hmmmm….?  Sorry.  That pesky opinion keeps popping out.   These Sumo shorts don't give you much room to hide.
But lest you think this episode is just a rant about what isn't working, the real highlight of the show comes when Martin tells us about a new "secret weapon" that's now available to borrowers.  And he says it IS working!  He says borrowers armed with this powerful new tool find themselves no longer getting squashed in their negotiations with the lender.  That's right!  The little guy is starting to win.  We like it.
Off mic, we impose upon Martin to write a special report on this topic, which he generously commits to do.  He calls it The Underwater Borrower's Secret Weapon: How to Make Modifying Your Loan Your Lender's Idea. Wow.  That's a mouthful.  But if you know Martin, it's not surprising.  You can bet he'll have a lot to say – and it will be fun to read!
The bottom line (that's a Sumo pun in case you missed it) is we got so jazzed about the whole thing, we're working on adding the company which supplies this "secret weapon" to our resource network.  Meanwhile, if you or someone you know has been wrestling with a lender that seems immovable, be sure to request Martin's report.  Maybe his secret weapon will work for you and your friends.  We want to help get the secret out, so everyone has access.  Not just because we like to root for the underdog. But because the sooner all these bad loans get re-done, the faster the world can get back to focusing on more productive things.  And that's good for everyone.
Listen Now:
The Real Estate Guys™ radio show and podcast provides real estate investing news, education, training and resources that help real estate investors succeed.
How to pay for college can be as important and difficult a decision as selecting which school to attend. With all the changes in the market, can real estate still help?
To school us on this important topic, plus provide a timely warning about an old law that has taken on new relevance in one of the largest real estate markets, we dialed up (for those old enough to remember a dial) one of the smartest attorneys we know!
In the classroom for College Funding with Real Estate 102:
•    The Professor of Profit and Your Host, Robert Helms
•    Teacher's Aid and Co-Host, Russell Gray
•    Professor Emeritus and the Godfather of Real Estate, Bob Helms
•    The Dean of Decision Making, Attorney Jeff Lerman
After a quick stop at the campus coffee shop for some pre-class caffeination, we slid into our school desks behind the golden microphones and Professor Robert Helms calls the class to order.
Like many topics in school, the first thing we discuss is why this topic is relevant.  Not everyone has children or wants to send them to college – or maybe all of that is in your rearview mirror.  But we soon discover that this type of real estate investing is just a niche like any other – and there's money to be made!
College is expensive and getting more so every day.  And in a soft economy, finding creative ways to pay for some or all of it is more important than ever!  As entrepreneurs, we get excited when there's a problem like this in the market that we can solve – and this one is no different.
Since Jeff Lerman is an "A" student, while the rest of us are…well, not as smart as Jeff…we have him lead our study group.  And like a typical "A" student, he starts talking about math and homework. Yes, there's homework involved!  But asking the right questions and doing the math is one of the secrets to success.  Jeff takes us through his own real life analysis and the questions and answers he's finding as he goes through this process himself.
Jeff explains how he uses the cost of on-campus housing as his baseline for doing the investment analysis.  How can he get more value for the same cash flow? Great question!
This leads to a discussion about which advisors he calls on to help him.  Yes, even advisors have advisors.  We discuss who you need and how to work with them.
The very important topic of single family homes versus condominiums comes up, which opens up the door for a lively classroom discussion.  Jeff reveals how his initial idea was contradicted when he got into the math.  See? It's true!  Do the math and the math will tell you what to do!  Of course, you have to do the right math – which includes accounting for all the variables.  So we talk through all of this.  Good stuff!
As we wind up the discussion of funding college with real estate, Jeff throws in some extra credit work – and tells us what every investor must know about the California Home Equity Sales Contract Act.
Never heard of it?  Neither had we.  But it poses some real risks to active real estate investors looking to cash in on today's distressed property bonanza.  And even if you're not actively investing in California, you'd be wise to be aware of this legislation – because often times other states follow California's lead on consumer protection.  This is especially true in the currently distressed property market.
Before we knew it class was over.  But as always, we learned a lot and had some fun.  Many thanks to Jeff for another enlightening appearance on the show!
Don't miss a show! Subscribe to the Free Podcast
Want More? Sign Up for The Real Estate Guys Free Newsletter!