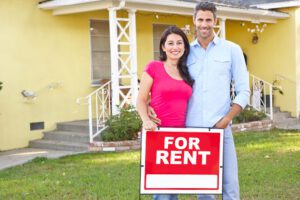 People often think of real estate as an asset, not a business.
But real estate investment is ALL ABOUT the number one tenet of running a business: keep your customers happy.
In the real estate world, your customers are your tenants.
It's important to remember that you're not just collecting properties: you're collecting tenants.
So how do you reach the ideal—low turnover, low vacancies, stable income, and high profitability?
Our guest in our latest show, innovative turn-key developer, Terry Kerr, offers tips gleaned from making ugly 1,500 houses pretty in Memphis. Yes, you read that right. 1,500!
Whether you're a property manager, a turnkey operator, or someone rehabbing houses in your spare time, our podcast today is chock-full of practical tips for keeping your customers happy.
In this edition of The Real Estate Guys™ show you'll hear from:
Your #keepthecustomerhappy host, Robert Helms
His tips-not-tricks co-host, Russell Gray
President of Mid South Home Buyers, Terry Kerr
---
Listen
---
Subscribe
Broadcasting since 1997 with over 300 episodes on iTunes!
Review
When you give us a positive review on iTunes you help us continue to bring you high caliber guests and attract new listeners. It's easy and takes just a minute! (Don't know how? Follow these instructions.)  Thanks!
---
Happy tenants, happy you
What are the best ways to keep tenants engaged? The NUMBER ONE thing tenants want is value.
Our guest, Terry Kerr, offers three insights into what property managers can do to create value for tenants (and for property owners):
Offer nice amenities. Terry says he wants his tenants to be able to say they can't do any better. He makes sure his properties include new and high-quality fixtures, woodwork, baths, and kitchens.
Keep rents slightly below market rates. In Terry's case, he rents properties in the $700-$1000/month range. For his customers, $25 or $50 can make a big difference. Terry wants customers to be able to say his properties are the best option for them.
Provide friendly and responsive service to tenants. We're particularly impressed with Terry's system for repair requests and fulfillment, which gets problems like a broken water heater fixed within a day.
As a real-estate investor, you're not just dealing with property. You're dealing with people who expect the best from you.
Providing them with the best in terms of cost and facilities can make a HUGE difference for them—and for YOU.
The "Wow" Factor: nuts and bolts that make the difference
Before Terry's prospective tenants even get out of the car, he wants them to be able to say "This is the one I want!" He calls this the "WOW" factor.
A key component of the "Wow" factor? "Everything's brand new," says Terry. "We make the house new."
New floors, light fixtures, counters, sinks, faucets, bathtubs, showers, doors, closet rods, hinges, doorsteps: you name it, and Terry's thought about it. His houses look like they've just been built.
At this point you may be thinking, "That's a LOT of money!" We agree, but it's money well spent. It's an investment. And one that can pay off.
Terry makes his investment count by assembling a team. His company has contractors, technicians, electricians, plumbers … and they've worked with these guys for 10 or 15 years. He knows them and they trust them. In fact, they trust their work so much that Mid South Home Buyers can offer a one-year warranty on all homes they sell.
Terry also is able to be efficient by buying high-quality materials in bulk, saving his company, his homeowners, and his tenants money.
This kind of economy of scale saves money for everyone in the long run. The initial investment may be steep, but the long-term cost will be dramatically lower.
Getting the most juice is all about efficiency
We're particularly impressed with the tips and tricks Terry gave us about increasing efficiency.
Terry's locked into the best strategies for keeping turnover and cost of maintenance down and occupancy up.
They've paid off for him: the 1,500 homes he manages have a 98.7% occupancy rate. That kind of rate is STAGGERINGLY good!
One strategy Terry uses is the cookie-cutter strategy: every house gets the same materials. This has several advantages. Terry buys materials in bulk and saves money. Mid South Home Buyers maintains its own warehouse of materials. This also means that maintenance is incredibly simple and incredibly quick.
Mid South's philosophy for technicians is unique too.
A technician coordinator manages all materials, repairs, and technician routes, figuring out how technicians can do the least amount of driving and repair reported problems in the most efficient manner.
A property manager should ALWAYS be concerned about maintenance, and Terry's figured out a strategy that gets problems fixed within a day, always.
Small tweaks make a HUGE difference. For example, easy re-key locks can cost more initially, but they save Terry and his team the $150 they used to spend on a locksmith every time a tenant moved out.
High-quality paint means houses don't have to be painted as often.
A system that allows tenants to text, email, OR message about needed repairs makes tenants happier and repairs easier.
You get the picture—the better the system, the happier the tenant, and the more successful you are.
Did the above advice get you nodding your head, or wondering what else you can do? You're in luck: Terry goes in depth on these tips in his special report, Terry's Tips for Happy Tenants … just for YOU. Send an email to happy (at) realestateguysradio (dot) com to get your own copy.
Capitalism at its finest
We say what Terry's unique business structure is capitalism at its finest.
When we spoke to him several years ago, he was rehabbing 20 houses a year. Now he's up to 300.
He's working hard, making small adjustments to the machinery and process of his business, tweaking his team—finding better ways to get things done.
Terry buys better, rehabs quicker, has a higher occupancy rate, higher retention rate, and offers high-quality customer service. He provides a better deal to his tenants and competitively priced investment properties to investors.
He's meeting needs and leaving houses (and neighborhoods) better than he found them. He's creating win-win-wins for himself, his investors, and tenants … and his bottom-line profits are higher, too. Isn't that the goal?
Terry didn't get here magically. It all starts with worthy goals. You have a real estate dream? Like the old adage, "A dream not written down is merely a wish." Put your goals on paper, gather people who can help you, keep keepin' on … and maybe someday we'll get to hear about YOUR success on our show!
---
More From The Real Estate Guys™…
The Real Estate Guys™ radio show and podcast provides real estate investing news, education, training and resources to help real estate investors succeed.
Home ownership isn't as well entrenched in the American dream as it was in the past, a recent MacArthur Foundation Survey found. Based on the survey results, 54 percent of the respondents thought renting has become more appealing, while 57 percent thought that home ownership was less appealing. Surprisingly, 45 percent of present homeowners who responded to the survey said they could see themselves as future renters.
Arguably, the most telling findings of the survey were that 48 percent of homeowners with college degrees, 53 percent of homeowners who have advanced post-graduate degrees and 51 percent of homeowners whose total household incomes exceed $75,000 said they would think about renting.
That means landlords have a huge pool of potential tenants from which to draw for their properties. It also means that rental properties have to compete to get renters. Since online advertising is the most effective way to reach potential tenants, property owners need to tap into all available online resources to attract the best possible tenants to their properties.
Play Up Your Location
The mantra of all real estate is "location, location, location," and when it comes to rental properties, a desirable location may be even more important. Prospective tenants want to know that they can get to work, shops, restaurants and entertainment easily. They also want assurance that the location is safe – especially if they have children. If the neighborhood has a lot of social amenities, hype that up in your advertising, and include a map that allows potential tenants to see where things are.
Advertise With Plenty of Photos
That old saying "a picture is worth a thousand words" may sound trite, but when it comes to online advertising, pictures speak volumes – if they are accurate and realistic. Most people who look for apartments, do so online. You may also find that many people who are relocating have to rely on online advertising to find an apartment, so the image you portray online is more important than ever.
Post pictures of different apartment layouts, and photographs to accompany that. Make sure that the apartments are staged when you photograph them. Staging will help potential tenants see themselves in the apartment. If your apartment has a fitness center, show multiple photographs of it. Many tenants will be drawn to a place that has a fitness center because they won't have to purchase a gym membership.
Highlight Your Tenant Screening Process
If you want to attract a pool of working people, professionals, or even stable families, a thorough tenant screening process will assure potential renters that management cares enough to make sure that the place is quiet, clean and safe. People who work irregular hours won't want to worry about whether or not they'll be surrounded by blasting music or subjected to nightly parties.
Describe Policies, Fees and Charges Clearly
A clear description of your policies will encourage potential tenants to contact you and schedule a tour of your property. If you fail to mention things, many potential tenants won't even bother to contact you. The most important things to describe and be absolutely clear about are your pet policy, a pet deposit, a monthly surcharge for pets, and whether tenants have to pay more than one deposit for multiple pets. Also be clear on the pet deposit refund policy.
Let potential tenants know exactly what utilities they will have to pay. If you pay the water, then play that up. Describe appliances so tenants can get a sense of how much they'll be paying in utilities, and if you have Energy Star rated appliances, play that up as well. Also mention things like washer and dryer hookups and whether you provide or rent washers and dryers.
***
This post provided by The Real Estate Guys™  guest contributor, Debrah Stokes