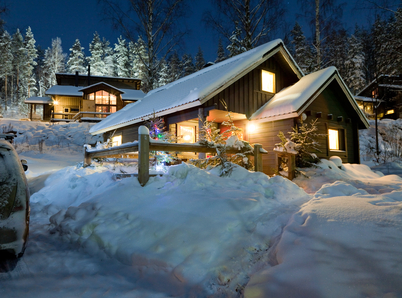 A decade or two ago, vacation home rentals were handled by professional vacation rental managers. Now, only 40 percent of these rentals are managed by professionals, according to the Vacation Rental Managers Association. If you are a vacation homeowner who has decided to tackle renting out and managing your vacation property on your own, you may be wondering how to boost your appeal. Using these tips, you can ensure that your holiday rental doesn't sit empty very often:
Maximize the Internet
One of the reasons holiday property owners no longer have to turn their properties over to professional managers is the rise of Internet-based listing sites. Sites like AirBnB.com, HomeAway.com, and VRBO.com allow owners to post a free ad. Interested guests can search for holiday homes based on amenities, location, number of bedrooms and more, and guests can even pay for the rental through the site, which ensures that you don't get stuck with a missed arrival and no payment.
If you opt to use one of these sites, ensure that your listing really sings. Write about bedrooms and bathrooms near the top of the listing as these facts have a huge impact on how many people can comfortably stay in your property. Remember to include compelling pictures — you might even want to invest in a professional photographer.
Boost Your Amenities
If you aren't getting enough interest in your property, look at the most successful properties on those sites, and ask yourself what they have that you don't have. Clearly, you can't move your small town bed and breakfast to the city and you can't move your cabin in the forest to the Alps, but you can make a few changes. You could add an exercise room or a hot tub. Specials on used equipment from stores like 2nd Wind Exercise make setting up an exercise room affordable, and there are always used hot tubs available on local resale websites.
While adding amenities, keep in mind that travelers like to be comfortable, and sometimes, it can be unnerving to stay in someone else's home. To soothe your guests, consider adding a top rated security system from Lifeshield. These are easy to work, and they provide your guests with peace of mind. FlipKey.com also recommends adding amenities to be used in the area as well — offer you guests discount tickets to nearby restaurants, ski hills, or amusement parks.
Recommend Yourself
You know your property is great and so do the people who have stayed there. It's time to let the world hear your positive reviews. Solicit former guests to write reviews for you on online travel sites. Post their glowing words on your social media account or copy them into a brochure. Guests like to stay in places that have a good reputation, and you can boost yours with a few free recommendations. If your former guests drag their feet on writing your reviews, give them a free night or a discounted week in exchange for their reviews.
Getting Started
If you are just getting started, you can post an ad on the sites listed above and increase your amenities as allowed by your budget. You will find it harder to get recommendations. Instead, invite a traveler blogger or someone else who can help you to get exposure to tour your place. Let them post pictures and reviews of your vacation home on their website. These three easy steps can be accomplished over a weekend, and many of them can be taken care of in just an hour or so. You will love the difference it makes in keeping your rental full.
This post provided by The Real Estate Guys™  guest contributor, Norma Martin
Technology is changing the way people live, work and play.  Now that's not a bad thing, but it's easy to get left behind.
But just like calculators made doing math different, those who use them most effectively understand the basic mathematical concepts behind the speedy calculations.
So what does that have to do with real estate investing?  That's what this episode is all about.
Talking tech and embracing change on location in sunny San Diego:
Your talkative and embracing host, Robert Helms
The Godfather of Real Estate, Bob Helms
Special guest, internet marketing guru, Pol vanRhee
Since Bob started investing only moments after God created dirt, we start out the conversation capturing Bob's observations about the impact of technology on the business of real estate.  You can bet he's seen a LOT of changes over the centuries.
In the beginning "high tech" was a calculator.  That's a big step up from those old mechanical adding machines.
Then copy machines replaced carbon paper.  Really.  We're not making it up.  People used to take two pieces of paper and put a dirty piece of paper in between them and type…or even write by hand.  Then the dirt from the middle sheet would make impressions on the bottom sheet and presto!  Instant copy.  Amazing.
Then things picked up.  Word processors replaced typewriters.  Fax machines became all the rage.  Then everyone had a desktop computer.  Before long, there were pagers, cell phones, laptops, smart phones, tablets and implants.
Okay, we're not at implants yet.  At least not for communication.  Then again, a nice set of implants says something…but that's a different discussion.
Did we mention the internet, and search engines and social media?
You get the idea.  More change is coming faster.  It's easy to get overwhelmed.
But remember…technology is primarily designed to make the basics of human activity more efficient, which doesn't necessarily mean it's more effective.  There's a big difference between being efficient and being effective.
Efficiency is about getting things done fast and right.  Of course, you can be highly efficient doing the wrong things – and that's not very effective.
Effectiveness is about getting the right things done faster. Which brings us back to focusing on the principles behind the technology.
Real estate is a relationship business.  Sure, there's lots of data and financial analysis.  There's records to create, share and store.  But the CORE of the business is connecting with people and doing business.  From that stand point, all business is based in relationship.  Yet, we contend that real estate is different.
Why?
Because homes and offices are PERSONAL.  And the numbers are BIG.  There are emotions involved and people want to work with people they like and trust, in relationships where they feel understood.  You might buy a book or a pair of socks on line, but a $300,000 four-plex?   You probably want to talk to someone.
Yet with all this wonderful technology at your disposal, it's easy to forget the human factor.  Technology should ENHANCE your relationships, not replace them.  It sounds obvious, but it's really easy to forget.  Why take the call, when you let it roll to voicemail?  Why call back, when you can text or email?  Be careful.
Beyond that, even the holy grail of marketing, "word of mouth" has a new meaning because of technology.  Someone may simply forward an email, share a link, like a page, tweet a URL, etc.   Your mission is to make that easy for your tenants to tell other prospective tenants about your property.  And to be keenly aware of how quickly bad customer service can spread.  There's little margin for error in today's connected world.
Pol vanRhee explains how the internet allows people to perform research, seek out products and services, and share information with unprecedented speed.  This means you have more competition when you're searching for deals or marketing your properties.  It can be good or bad, but that's not the point.  It's here, like it or not.
So get ready!  It's a brand new year and there's lots of change and opportunity on the horizon.  Open your mind and arms and get ready to embrace it!
Listen Now!
Want more? Sign up for The Real Estate Guys™ free newsletter
Don't miss an episode of The Real Estate Guys™ radio show! Subscribe to the free podcast
 Stay connected with The Real Estate Guys™ on Facebook!
The Real Estate Guys™ radio show and podcast provides real estate investing news, education, training and resources that help real estate investors succeed. Visit our Feedback page and tell us what you think!