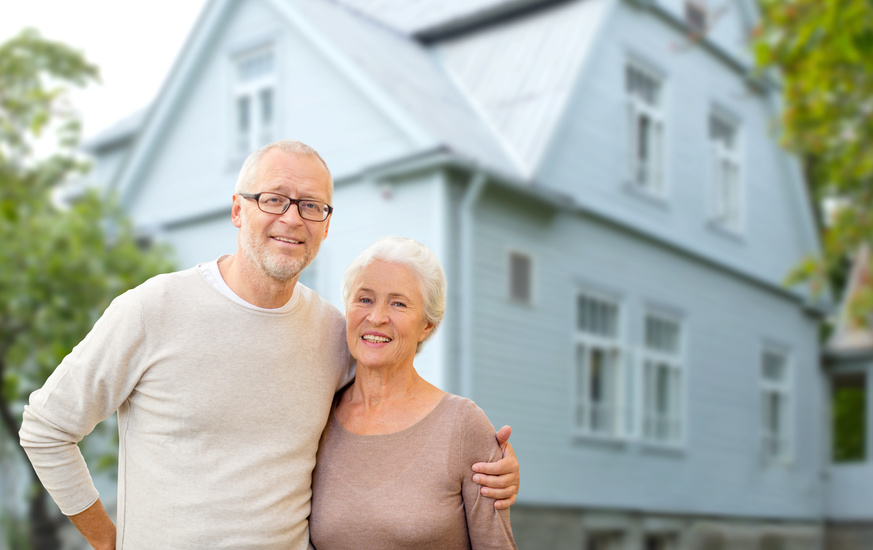 The only thing better than one investment opportunity … is two investment opportunities!
We've talked about senior housing and opportunity zones before … but what happens when you combine the two?
The combined demographics and tax incentives of these investment niches create exciting possibilities!
We sat down with a successful real estate entrepreneur who is putting senior housing and opportunity zones together into a creative … and profitable … investment play. 
Discover how to ride the wave of demand and capital to create a WINNING investment strategy. 
In this episode of The Real Estate Guys™ show, hear from:
Your riding-high host,

Robert Helms

His here-for-the-ride co-host,

Russell Gray 

CEO of Sage Oak Assisted Living,

Loe Hornbuckle

Loe's partner and construction developer,

Austin Good
---
Listen
---
Subscribe
Broadcasting since 1997 with over 300 episodes on iTunes!
---
Review
When you give us a positive review on iTunes you help us continue to bring you high caliber guests and attract new listeners. It's easy and takes just a minute! (Don't know how? Follow these instructions).
Thanks!
---
Opportunity zones sweeten the deal
We've been talking a lot lately about opportunity zones … but today we're going to focus on taking the idea into the real world. 
You may have heard Loe Hornbuckle on our show before. He specializes in senior housing. 
Loe recently began a new project … and discovered that the land was inside an opportunity zone.  
His team began to pay attention to how they could structure the deal around opportunity zone incentives … and he's here to share what he has learned from the process so far. 
A word of caution before we dive in … be careful about picking an investment purely for the tax breaks and overlooking the real fundamentals of the deal. 
Loe sought out a location that was a good place to do business, fit in his niche, and gave him a unique selling proposition. The opportunity zone just sweetened the deal. 
Prepare for the silver tsunami
Let's start with the silver tsunami. In a few years, baby boomers will be looking for assisted living … and the industry needs to be prepared. 
But that's still a ways off. Loe says his average client is 87 years old. The oldest baby boomers are still about 75. 
That means there is time to get in the game and get prepared. 
A lot of times when people talk about senior housing, they're really talking about active adult communities, independent living, assisted living, dementia care, and skilled nursing facilities all under one umbrella. 
But it's important to look at each of these areas as its own asset class. 
The type of person that wants to live with other people 55 and up and play golf with their buddies is totally different than a person who may not be able to walk independently anymore. 
And when the baby boomers come looking for senior housing, they're going to demand things that their predecessors didn't.
Baby boomers want smaller, more intimate environments where they are around people that are like-minded in some way. 
Maybe they like the same music … or have the same cultural heritage … or even have the same medical condition. 
In Loe's case, he began Sage Oak Assisted Living and Memory Care in 2015. It's basically a boutique assisted living and memory care company. 
"What we do is focus on small facilities that are designed to make people feel more comfortable in a homelike environment," Loe says. 
When most people think of assisted living, they picture a nursing home. But Sage Oak's facilities are light, airy homes designed for anywhere from 8 to 16 people. 
Loe currently operates five of these locations in Dallas. 
But with the silver tsunami on the horizon, Loe is looking to expand his idea … more beds but preserving the intimate setting. 
For Loe and his team, the answer is raw land development into planned care communities. 
Think of it like a residential neighborhood … but instead of 3000 square foot homes that house single families, these are 9,000 square foot homes designed for 16 seniors. 
These independently owned houses operate as independently licensed facilities … some as assisted living and luxury assisted living and others as dementia care.  
And these houses can be tailored and changed over time to provide the personalized environment residents are looking for … allowing you to operate in any niche you feel the market is lacking. 
Obviously you would never exclude anyone, but you could help them find a house that they are most interested in. 
"One house might be for people with diabetes. Another might be kosher, with a kosher chef and visits from the local rabbi. The house next-door to that one could have a Korean chef and Korean newspapers delivered daily," Loe says. 
Sage Oak has two such projects underway right now … one in Texas and one in Louisiana. 
A natural partnership
Loe's partner, Austin Good, hails from the construction development side of real estate. 
Austin is a single family, build-to-rent developer … and that's essentially what Loe and his team are creating. 
Starting from the ground up in building these campuses offers the advantage of control … controlling the process of creating the campus and controlling the end experience offered to residents. 
And now, the Texas development has the added advantage of being in an opportunity zone. 
"We selected a piece of land in Denton, Texas, to build a campus and discovered it was in an opportunity zone," Austin says. "So, we had to rework our model a bit.
For example, Austin says they weren't necessarily looking at a 10 year hold period at the start … but now they are making changes to gain the biggest tax advantages. 
An opportunity zone location also gives Loe and Austin the ability to offer investors a chance at making some money tax free … quite the incentive to come on board!
Senior housing is a natural companion to the opportunity zone structure for a lot of reasons. 
Since opportunity zones are typically in lower income or rural areas, you probably aren't going to build a luxury hotel there. 
But if you create a reputation as the "go-to" place for senior housing, most people won't mind driving a bit further … because the outcomes are so much better at your location!
"Our Denton project is about 10 minutes away from the luxury assisted living facilities in the area, so it's not a difficult pitch for us to say, 'Drive a few more minutes and be in a more intimate environment with a better caregiver ratio,'" Austin says. 
Another major opportunity zone benefit … access to an untapped workforce of caregivers. 
The number one problem CEOs in the senior housing space are facing is access to good caregivers. 
Opportunity zones located in lower income or more rural areas tap into a workforce that may live too far away to work at other facilities.
Find your winning opportunity
For people who are concerned about taxes and wanting to maximize their return, investing in a niche opportunity zone project can be … well … a great opportunity. 
You still get all the advantages of real estate … like bonus depreciation … and now you can get your capital back. 
It essentially allows you to make a better return on a post tax basis. 
As always, check with your tax professional to find out what will work best for your portfolio. 
And listen in to the full episode for more on how senior housing and opportunity zones can be a winning formula!
---
More From The Real Estate Guys™…
The Real Estate Guys™ radio show and podcast provides real estate investing news, education, training, and resources to help real estate investors succeed.
---
Love the show?  Tell the world!  When you promote the show, you help us attract more great guests for 

your

 listening pleasure!
It's said one shortcut to success is investing in the path of progress. When you get in front of a wave of demand and capital, it can take you on a very profitable ride.
And when two powerful forces … demographics and tax incentives … align to attract capital into a specific niche, the possibilities are twice as exciting!
In this episode we revisit two topics we've talked about before … senior housing and opportunity zones … with a successful real estate entrepreneur who's putting both together into one exciting investment play.
So listen in as we explore how senior housing and opportunity zones can be combined to create a winning investment strategy.
---
More From The Real Estate Guys™…
The Real Estate Guys™ radio show and podcast provides real estate investing news, education, training, and resources to help real estate investors succeed.
---
Love the show?  Tell the world!  When you promote the show, you help us attract more great guests for 

your

 listening pleasure!
Everybody is talking about Opportunity Zones … and they should be. They can be a great opportunity (just like the name says)!
But many investors have found themselves scratching their heads. How exactly does someone take full advantage of Opportunity Zones?
Recently released guidelines are giving investors and syndicators much needed clarity for moving forward … and making the most of their Opportunity Zone investments.
We sat down with attorney Mauricio Rauld to discuss how Opportunity Zones can help investors like you defer, reduce, or even completely eliminate capital gains taxes.
In this episode of The Real Estate Guys™ show, hear from:
Your zoned-in host,

Robert Helms

His zoned-out co-host,

Russell Gray

The "Anti Lawyer" attorney,

Mauricio Rauld
---
Listen
---
Subscribe
Broadcasting since 1997 with over 300 episodes on iTunes!
---
Review
When you give us a positive review on iTunes you help us continue to bring you high caliber guests and attract new listeners. It's easy and takes just a minute! (Don't know how? Follow these instructions).
Thanks!
---
Zoning in on Opportunity Zones
The wait is finally over.
The rules for investing in Opportunity Zones … and the potential tax breaks that come from it … are out.
In case you haven't heard, Opportunity Zones are basically a capitalist version of wealth redistribution. They provide tax incentives to get rich people to voluntarily put their money where the government wants it to be.
Opportunity Zones exist in every state and in Puerto Rico. These areas tend to be blighted with some issues … they need some gentrification.
Each governor in the United States was taxed with the job of figuring out what areas in their states needed the most help … and where private enterprise could step up, do the work, and get benefits.
We're not legal experts … but we know someone who is.
Mauricio Rauld is known around here as the "Anti Lawyer" … but he is actually a practicing lawyer who helps people primarily with syndications.
Since we first learned about Opportunity Zones last year, Mauricio has spent his time discovering the good, the bad, and the ugly sides of these types of investments.
The good side of Opportunity Zones
Let's start with the good.
Opportunity Zones offer huge tax benefits … four in particular.
The first is that you get to defer the tax from whatever capital gains you're investment is coming out of.
For example, if you have a piece of real estate … or any other asset, like precious metals, stocks, bonds, even your collectible car … you can take those gains and reinvest within 180 days into a qualified Opportunity Zone fund and defer the tax.
You aren't deferring the tax indefinitely like a 1031 … but you will get to defer for at least the next seven years … until December 31, 2026.
The second benefit is that if you hold onto your new investment for a period of five years, you get a 10 percent discount on the capital gains you would have paid on the original investment.
Benefit number three kicks in if you hold onto your investment for seven years. Now, you'll qualify for a 15 percent discount on your capital gains.
The biggest benefit of all … number four on our list … applies after holding your asset for a decade. After 10 years or more, the entire gain from your investment is tax free.
It's all about taking an appreciated asset, putting it into an Opportunity Zone fund, and not paying taxes right away. The longer you wait … the less tax you pay.
One important thing to highlight once again is that the money you place into these Opportunity Zones doesn't have to be in real estate to begin with.
A lot of the money we foresee coming into Opportunity Zones hasn't historically been in real estate. They're in other types of investments where there are big gains to be paid … like the stock market or precious metals.
As always, talk to your tax professional before making any decisions … but if you are sitting on a big tax gain, Opportunity Zones could be an attractive option.
Another positive … there is very little government interference and regulation on this project.
It's a self-certification … meaning that whoever is putting together the fund simply checks a box on the first year tax returns to certify that it qualifies as an Opportunity Zone.
During your holding period, the government will check with you every so often to ensure you comply with program … but it won't be dealing with the SCC or going through an approval and registration process.
The bad side of Opportunity Zones
There are some downsides … the bad … of getting into Opportunity Zones … and really it isn't so much "bad" as it is things to consider fully before diving in.
The first is a rush for time.
In order to fully gain the benefits … to get seven years under your belt before December 31, 2026 … you need to make the investment before the end of 2019.
That means you will need to liquidate your asset and invest in a fund pretty quickly to get the 15 percent discount.
If you don't make that deadline, you can always go for the 10 percent … and either way you should want to hold the investment for 10 years or more to make it tax free. If that's your plan, there is less of a rush.
The other important consideration is the substantial improvement requirement.
This requirement means that if you buy a price of property you must put the same amount of money that you purchased the property for into renovations. The government wants you to improve the property.
This requirement only applies to vertical construction … meaning the buildings, not the land.
So, if you buy a property for $1 million and 20 percent of that is in the land with 80 percent in the building … then you only need to invest $800,000 in improvements.
There are a few exceptions to this rule. If you purchase a piece of property that has been vacant for the last five years … the substantial improvement requirement doesn't apply.
Remember, the whole idea behind Opportunity Zones is for folks to put private capital to work in revitalizing these areas.
The other important requirement for your property to qualify is that it must involve an active trade or business. This is still a bit of a gray area … but we expect more guidance from the Treasury Department soon.
The ugly side of Opportunity Zones
Mauricio says that when it comes to "the ugly" of Opportunity Zones … a lot of personal opinion comes into play.
Much of the work Mauricio does is with syndicators, and there are pros and cons for them in this type of investment
Syndicators can promote Opportunity Zones as a great chance for investors because of the extensive tax benefits.
But syndicators themselves don't get the tax benefit for the carried interest.
If this is a traditional syndication, the syndicator will get a cut for sweat equity … let's say 20 percent.
The investors get 80 percent AND all the tax benefits … but the syndicator will have to pay taxes on the 20 percent they made. They can't defer that.
This could be ugly … because as a passive investor you want an incentive for your syndicator who is running the project to be excited about the deal.
But on the other hand, most syndicators aren't going after these deals for tax benefits for themselves. Instead they see them as an opportunity to court capital from a completely new and different source.
Someone who has been in the stock market or private equity or in precious metals that has avoided selling because they didn't want to pay tax can now work with syndicators in real estate and find a win-win situation.
Another ugly truth … you can't get into Opportunity Zones alone.
You have to put together a fund … some kind of entity. It doesn't have to be a syndication … but it has to be a partnership. You need at least two people to get started.
Mauricio also cautions investors to be aware of artificial demand.
Opportunity Zones are designed so that people are investing in areas that they wouldn't have originally invested in. You've got to make sure the investment still stands on its own merits.
Because it is an artificial demand, you could be potentially overpaying for the property in the long run. At some point you could be paying so much more that the tax benefits may not make sense.
Talk to an expert
Think Opportunity Zones might be the right opportunity for you? Talk to your tax professional.
At the end of the day, it's a tax matter. There are forms to check and rules to follow. You want a tax expert to keep you on track.
And you'll need an attorney to help you put together a fund, make sure it is structured properly, and ensure the investment itself is eligible.
There are no guarantees in investing … but doing your due diligence gives you the best chance at success.
---
More From The Real Estate Guys™…
The Real Estate Guys™ radio show and podcast provides real estate investing news, education, training, and resources to help real estate investors succeed.
---
Love the show?  Tell the world!  When you promote the show, you help us attract more great guests for 

your

 listening pleasure!
Investors and their money are attracted to opportunities.  They purchase assets, including properties and businesses, in the pursuit of profits.
That's probably why YOU are reading this.
It's why we perpetually peruse the news … looking for clues about where investors, businesses, jobs and money might be going and growing.
After all, where people and prosperity are … demand and capacity to pay for real estate are too.
So when we saw this headline pop up in our feed, we decided to look past the political positioning and see if we could find opportunity …
Jobs Are Booming in Trump Country, But Pay Lags 
– Bloomberg, 5/7/19 via Yahoo Finance
" … the 2,622 mostly rural and exurban counties [Trump] won in the 2017 added jobs at twice the pace as they did under … Obama …"
"Red America overtook Blue America … in 12-month employment growth for the first time in seven years …"
Of course, the article is focused on the political ramifications … which is fine for raising your blood pressure or getting unfriended on Facebook.
But we really struggle with all that red and blue stuff.
When we look out the window from the airplane, we see mostly brown and green.  And when we talk to folks on the ground, it's true there are different colors … but not blue or red.
Maybe we're missing something.
In any case, we're far more interested in discovering the investing opportunities of where "jobs are booming" and why … so we can get in on the action.
The Bloomberg article affirms a trend we've been commenting on for some time …
"… the changes are driven largely by a spread of growth to outlying areas typical of the late stages of an economic expansion and a bounce-back in energy production and manufacturing."
In other words, when people get priced out of expensive areas because of a boom … they move to more affordable areas.
Meanwhile, the resurgences in energy and manufacturing are very important economic drivers to watch.
Energy has been a big jobs driver post-2008 … and continues to play an important role in the creation of domestic jobs.
Meanwhile, the rebirth of manufacturing is affecting some former boom towns whose fortunes fell as American manufacturing went offshore over the last two decades.
It's no secret President Trump believes the U.S. must re-establish itself as a manufacturing powerhouse.  This makes sense for a guy who made his fortune building things.
What may be less obvious is how Trump hopes to achieve this fundamental transformation of the way America produces prosperity.  But there are clues.
We may or may not agree with Trump's goals or methods.  But that's not the point.  What matters is what he's doing and the effect it's having.
When we asked then-candidate Trump what a healthy housing market looks like in a Trump administration, he simply replied, "Jobs."
Of course, back then it was just talk.  Now, just over two years on the job, headlines say …
U.S. creates 263,000 jobs in April as unemployment falls to 49-year low – MarketWatch, 5/3/19
Job openings in U.S. jump to 7.49 million — more proof of ultra-strong labor market – MarketWatch, 5/7/19
While there's more to the story than we can delve into today, most observers agree those are pretty good numbers.
Of course, to get from interesting to actionable, we need to dig a little deeper …
Our good friend, world-class tax-strategist, CPA and best-selling author Tom Wheelwright wrote this in his recently updated book, Tax-Free Wealth …
" … tax laws … have evolved to become tools of social and economic policy making."
But this isn't a anything new …
Way back in 1946, then-Chairman of the Federal Reserve Bank of New York gave a speech and made these shocking admissions …
" … taxes … serve … to express public policy in the distribution of wealth and of income … subsidizing or … penalizing various industries and economic groups …"
In other words, tax laws move money where the government wants it.
Right now, the tax laws tell us Donald Trump wants money moving to Main Street.
As Tom Wheelwright explains in his presentation at The Future of Money and Wealth, the new tax law makes real estate EXTREMELY attractive for investors.
In fact, many real estate syndicators are having success attracting investors who are just as eager for tax breaks as they are for the profit potential of the deal!
And now that the opportunity zones regulations are becoming more clear (watch for a follow-up radio show on this hot topic shortly) … it's likely even MORE money will be moving from Wall Street to Main Street.
For a glimpse of what's coming, we took a look at the Jobs Opening and Labor Turnover (JOLT) report from the Bureau of Labor Statistics (BLS).
Here are some notable highlights … 
"The number of jobs openings increased for total private(+363,000) and was little changed for government."
" … largest increases in transportation, warehousing, utilities (+87,000) construction (+73,000), and real estate and rental and leasing (+57,000)."
No surprise there's a lot of job-creating money going into distribution and related commercial real estate.
What remains to be seen is whether Trump's tactics will trigger long-term sustainable domestic manufacturing … and the middle-class jobs that come with it.
There's been some progress, but it takes a lot of capital to create the infrastructure to support serious manufacturing.
But just as the tax law helps attract billions into the shale oil production revolution …
… the Opportunity Zones tax incentives could pull billions into creating the real property infrastructure to rebuild atrophied manufacturing communities.
Money moving from Wall Street to Main Street.  We like it.  And it's a trend alert real estate investors are watching carefully.
Until next time … good investing!
More From The Real Estate Guys™…
The Real Estate Guys™ radio show and podcast provides real estate investing news, education, training, and resources to help real estate investors succeed.
---
Love the show?  Tell the world!  When you promote the show, you help us attract more great guests for 

your

 listening pleasure!
You've probably heard the expression …
"There's more than one way to skin a cat."
We're not sure why anyone would want to skin a cat… that sounds gross and cruel.  But the idea is there's often more than one way to get something done.
In this case, we're talking about wealth re-distribution.
We realize that's a politically charged topic, but anyone who's rich … or plans to be … should be paying close attention to the winds of change on this hot topic.
No matter which side of the political spectrum you're on, the problem everyone is staring at is the same …
There's a big and growing gap between the rich and the poor.
Meanwhile, only a small percentage of middle-class are successfully fighting their way into the realm of the rich.
Most are falling off the back of the bus into the pit of poverty.
We're not here to point fingers.  There's plenty of blame to go around.
But we think it can be credibly argued that the Fed's decade-long easy-money policy has inflated both asset prices and the cost of living.
This worked to the advantage of asset owners, but to the detriment of the paycheck-to-paycheck folks.  It's no surprise they're mad about it.
Of course, there's no point in ranting about what we think policy makers should or shouldn't do.  They don't listen to us anyway.
So we simply watch and consider how the future might unfold … then get in position to capture opportunity and mitigate risk.
You're probably aware, the USA is ramping up for yet another knock-down drag-out presidential election cycle.
In addition to stocking up on popcorn, we're thinking about which issues will frame the debates.
Based on the mid-term results … and the predominant philosophies espoused by the challengers …
… it seems a major objective is to make rich people do more for the poor … by hook or by crook.
There's the "Robin Hood" approach of taxing the rich and giving benefits to the poor … free college, healthcare, basic income, etc.
Let's call the Robin Hood approach "by crook."
Then there's the "Opportunity Zone" approach …
The Opportunity Zone idea is to provide tax incentives to the rich so they voluntarily move their money into poor areas … thereby creating jobs and commerce for the currently disenfranchised.
We'll call the Opportunity Zone approach "by hook."
There's a lot of history on the crook approach … and it doesn't have a strong track record of creating abundance.  But it's easily sold to desperate people.
Obviously, no one yet knows how the Opportunity Zone "hook" will work out … but the idea seems promising, so we're watching it closely.
And when you consider the common sense wisdom in the saying …
"The definition of insanity is doing the same thing over and over but expecting a different result."
… at least Opportunity Zones are a new approach to the problem of getting capital to where it's needed most.
That's why when we saw Yardi Matrix had released this well-written and informative white paper on Opportunity Zones, it captured our attention.
You should read it, but there are a few excerpts we think are noteworthy …
"… within Opportunity Zones, there are either in place or under construction 1.9 million multi-family units, 960 million square feet of office space and 189 million square feet of self-storage."
Clearly, Opportunity Zone pioneers are quickly moving from idea to action.  And even though it's still ramping up, the scope is impressive …
"As a percentage of total space, properties in opportunity zones that are in place or under construction represent 13.1% of total multifamily units nationwide, 13.7% of total office space and 11.4% of total self-storage space."
So Opportunity Zone development is already up to over 10% market share nationwide in not one, but THREE real estate niches.
That's impressive.
And even though many details about the Opportunity Zone program remain unclear ….
… BIG money is moving forward NOW and creating a wave of capital small investors can potentially ride to profits of their own.
This creates an unprecedented opportunity for Main Street investors.
Because while a small investor might have the means to fix up a single derelict property on his own, he can't really change the local economy all by himself.
Sure, a large group of small investors might team up to upgrade a specific neighborhood … changing the personality of the neighborhood and improving everyone's chance of seeing their value-add stick long-term.
But only BIG money can rehab entire regions … or "zones."
And when it does, it creates critical mass which can fundamentally change the economic drivers and opportunities of entire local economies …
… including jobs, and access to services and opportunities for those people who get left out of financial boom times.
After all, you can only benefit from asset inflation if you own assets.  Most lower-income folks don't.  For them, inflation just means higher living expenses and a higher hill to climb to become an asset owner.
But Opportunity Zone incentives entice rich people to move their profits from inflated financial assets into depressed real estate.
But not as flippers.
The best Opportunity Zone perks go to those who stay in their markets for at least TEN years.  That's enough time to light a permanent flame in a local economy.
And as jobs are created to do the actual work of rehabbing these regions …
(and remember, these are jobs which can't be off-shored)
… the workers will have both the incomes and opportunities to purchase affordable properties themselves.
Now the worker can get into the asset owner class.  And until they do, they have paychecks to pay YOU rent.
Of course, as the workers' labor is partnered with investors' capital to improve the Opportunity Zone, the asset owning laborers also get to ride the equity wave they've helped create.
And so do YOU … if you're in the right position.
So we encourage you to read the Yardi Matrix white paper because there's useful data and insights to help identify specific markets to explore.
Opportunity Zones may not yet be a proven model for creating access to prosperity for lower-income folks, but the potential is there.
And if YOU aren't as high up the economic food chain as you'd like to be … consider syndication as a way to get rich helping the rich get richer.
When you syndicate, YOU marry your capital and labor to the capital of your wealthy investors … and then marry all that to the BIG money driving the growth in these Opportunity Zones.
It's a win-win-win.
Until next time … good investing!
More From The Real Estate Guys™…
The Real Estate Guys™ radio show and podcast provides real estate investing news, education, training, and resources to help real estate investors succeed.
---
Love the show?  Tell the world!  When you promote the show, you help us attract more great guests for 

your

 listening pleasure!
When the 2008 financial crisis hit, the mortgage industry was at the epicenter … and the disruption of funding feeding real estate crushed housing values.
But it's important to remember, the problem was NOT real estate.
After all, people still needed and wanted places to live.  So the demand for housing remained stable.
It was credit markets that failed.  And in a credit-based economy, everything stops when credit markets seize up … including home loans.
Without a steady influx of fresh debt to fund demand, prices collapsed … taking trillions in equity with it.  And it wasn't just real estate.  Stocks tanked too.
Mortgage and real estate is just where it started.
The double-whammy of teaser rate resets … and the resulting big monthly payment hikes which sunk a lot of homeowners …
… and then the negative equity led to a rash of defaults by even prime borrowers …
… all of which caused a credit market contagion that scorched financial markets world-wide.
Of course, this all created huge problems for Wall Street, the banks … and for Main Street.
So Uncle Sam and the Federal Reserve got heavily involved to "help" … and to no surprise … Wall Street and the banks came out on top.
The banks needed relief from realizing their losses on their financial statements, while finding a fast path to re-inflating values.
After all, property values are the collateral for all those mortgages.  And when values drop, borrowers walk … along with the prospects of loss-recovery.
So Wall Street rallied and raised many billions of dollars to buy up Main Street houses …
… even as millions of homeowners were being demoted to the rank of tenant.
So now instead of collecting mortgage payments, they collected rent.
As a real estate investor, you probably think that's better.  Who wants to be a lender, when you can be an owner … enjoying tax breaks and building equity.
But Wall Street doesn't think like you … and that's our point.
Today, those Wall Street buyers are landlords.  And by some accounts, they're not doing a very good job for the Main Street tenants.
Shocker.
Don't get us wrong.  We're all for investors stepping in to clean up a mess.
Investors are like the white corpuscles of the economy … bringing capital to damaged areas and healing blight and distress.
It's one of the reasons we're excited about Opportunity Zones.
We just hope Main Street investors and syndicators don't get pushed aside again by the wolves of Wall Street.
The issue is there's a BIG difference between the way Wall Street money and Main Street money behaves.  And it's not about savvy … it's about heart.
Big money guys (and gals, we suppose) have a way of looking at things.
Remember this classic 2012 quote from mega-multi-billionaire and legendary investor Warren Buffett …
"I'd buy up 'a couple hundred thousand' single-family homes if I could." 
Of course, we all know money's not the gating issue for Buffet.  He can buy anything he wants.  So what could his hesitancy be?
Maybe he agrees with Sam Zell, who's been quoted as saying this in 2013 …
"An individual investor can buy 25 houses and monitor them. I don't know how anybody can monitor thousands of houses."
Really?  We know Main Street investors like Terry Kerr at MidSouth Homebuyers who successfully manage thousands of houses.
So it's not impossible to manage a big portfolio well. You just need to be committed to doing it … one tenant at a time.
The folks we know who excel at single-family property management really care about their tenants as human beings … and deal with them as individuals.
They're focused on creating cash-flow as the PRIMARY investment result … as opposed to simply a necessary evil to offset holding costs until a capital gain can be realized at sale.
Buffett and Zell are smart guys.  Buffett saw the opportunity in single-family homes … but had the good sense to know he wasn't the right guy for the job.  Ditto for Zell.
Big money moves in broad strokes, which is fine when you're dealing with commoditized assets and you can buy and sell in bulk.
But real estate … especially single-family homes … is not an asset class and can't be effectively commoditized.  And neither can property management.
We think Main Street tenants are much better served by Main Street landlords … like YOU … so long as you remember the main thing is happy tenants.
Happy tenants means longer tenancy, less turnover and vacancy, and better real-world cash flows.
Of course, you don't need to be a small-time investor to build a portfolio of single-family homes.
When you learn to syndicate, you can combine bulk money with individual property investing … and build a portfolio of hundreds or even thousands of homes.
Being big isn't bad.  Wall Street's problem isn't its size.  It's its mindset.
As the legendary Tom Hopkins says …
"Don't use people and serve money.  Use money and serve people." 
Because when you do, you'll end up with both.
Until next time … good investing!
More From The Real Estate Guys™…
The Real Estate Guys™ radio show and podcast provides real estate investing news, education, training, and resources to help real estate investors succeed.
---
Love the show?  Tell the world!  When you promote the show, you help us attract more great guests for 

your

 listening pleasure!
Magna, UT Market Report
Find the next big boom town in the Beehive state. Make your mark in Magna, Utah!
Utah is a market defined by consistent and rapid growth … the population is exploding and jobs are popping up at a record-breaking pace.
New tenants are flooding the towns in the valleys south of the Great Salt Lake … and Magna, Utah, is particularly magnetic.
Magna is tucked right in the middle of a growing industrial space. It's down the road from the expanding Salt Lake City International Airport, new UPS and Amazon centers, and all the amenities of Salt Lake City.
Plus, take advantage of new tax breaks for real estate investors by investing in this SLC suburb … Magna is one of Utah's Opportunity Zones.
In this special report, the team at Fourplex Investment Group shares the most relevant data on the Magna market. Find out:
Growth trends and predictions for the Salt Lake City area

Future building projects and investment opportunities

Stats on economic and business expansion

And more!
Discover whether Magna is the market for you! Get started by filling out the form below to access the Magna Market Report.
Some people think housing is a driver of economic growth.  But that doesn't make sense to us.
Sure, a robust housing market creates a lot of jobs from construction all the way back through the supply chain.
But housing itself is a by-product of prosperity, not a creator of it.  After all, who buys a house first … and then gets a job?  It's the other way around.
So we think housing is not a leading indicator, but a trailing indicator.
With that said, in addition to reflecting economic prosperity, housing definitely plays a role in driving economic activity.  But not in the way most people think.
So let's take a look …
Economic activity isn't about asset values.  It's about velocity … transactions … how fast money is flowing through society.  That's why they call it currency.
But it isn't really money that's flowing.  It's credit. It's a subtle, but important difference because you can't create money from nothing.  Only credit.
If you're not familiar with the VERY important difference between money and credit, you should strongly consider investing in the Future of Money and Wealth video series …
… because G. Edward Griffin (author of The Creature from Jekyll Island) does an amazing job of explaining it all in an easy to understand way.
The fundamental principle to understand is that a loan is an asset to a bank.
When a bank makes a loan, they effectively create "money" from nothing by issuing credit.
Obviously, the biggest loans in most people's lives are mortgages on houses.  So that means banks are creating LOTS of "money" by extending credit.
Meanwhile, governments issue bonds, which are simply humungous, glorified IOUs … like a mortgage.  Except the collateral isn't a house … it's the citizens' earnings.
And when the mother of all banks, the Federal Reserve, buys government bonds, they are effectively creating "money" by issuing credit.
Now when all this "money" gets into the financial system it pushes asset prices up.  But not evenly.  And no one know for sure where it will all end up.
If lots of the new "money" goes into bonds, bond prices go UP and interest rates go DOWN.  There was a LOT of that going on over the last decade.
Similarly, if it goes into stocks, then stock prices go up.  There was a lot of that over the last decade also.
One big driver of rising stock prices has been corporations pigging out on cheap debt and then using the proceeds to buy back their own stock.
But remember, this isn't economic activity … it's just inflation of asset prices.  So it's a mistake to think a rising stock prices means a booming economy.
In fact, "stagflation" occurs when prices go up, but economic activity is slow.
And just last week, former Fed chair Alan Greenspan said he sees stagflation coming to an economy near you.
At the same time, fellow former chair Janet Yellen is warning of excessive corporate debt.  We were just talking about that in our last commentary.
Funny.  Neither Greenspan or Yellen has said anything about the Fed going insolvent.  Pay no attention to that man behind the curtain.
Meanwhile, Fannie Mae's economics team recently announced their prediction of slowing economic activity in 2019.
And just so you don't think they're merely jumping on the bandwagon, Fannie Mae Chief Economist Doug Duncan predicted this in his Future of Money and Wealth presentation on our last Investor Summit at Sea™.
All this to say, there are some notable experts saying the economy could be in for some headwinds in 2019.
So back to housing and its role in goosing economic activity …
Anyone paying attention knows housing prices have bounced back nicely from their 2008 debacle.
And almost everyone who bought early in this last run-up has built up gobs of equity.  Good job.
Unsurprisingly, consumer confidence, cash-out refinances, and consumer spending all surged in 2018 … as households became equity rich … and then tapped that equity to SPEND.
In other words, credit flowed through housing to consumer spending which drove a lot of economic activity.
So it's not housing construction that's a leading indicator … it's rising prices and equity.
But as housing price appreciation slows … it's no surprise consumer confidence is dipping too.
Remember, consumers are usually the last ones to realize what's coming.
So again, it's the flow of credit into home prices and equity … and then the flow of credit through home equity to consumers … and then from consumers into the economy … that be a leading indicator of what's coming down the line.
There's one more nuance to consider …
As we've been pointing out for the last few months, there are LOTS of reasons to think more money is heading into real estate.
A combination of the best tax breaks, Opportunity Zones, and nervous stock investors fleeing Wall Street in record numbers to seek a safer haven in housing … all could have real estate setting up for a nice run.
But be cautious.
Because if Alan Greenspan is right about stagflation … rising prices without rising real wages and economic activity …
… then real estate PRICES could rise from big money seeking safety … while the rents you use to control the property could be under pressure.
Consider RentCafe's recent year end report, which found the most popular things renters searched for in 2018 were "cheap" and "studio."
So as we've been suggesting for quite some time …
… it's probably safer to focus on affordable markets and product types… using long-term fixed financing … and focusing on solid cash-flows to position your portfolio to ride out a slow-down.
We're not saying there will be slow down.  But others are.
And it's better to be prepared and not have a slow-down, than to have a slow-down and not be prepared.
And remember … asset prices and economic activity are NOT one and the same.
Until next time … good investing!
More From The Real Estate Guys™…
The Real Estate Guys™ radio show and podcast provides real estate investing news, education, training, and resources to help real estate investors succeed.
---
Love the show?  Tell the world!  When you promote the show, you help us attract more great guests for 

your

 listening pleasure!