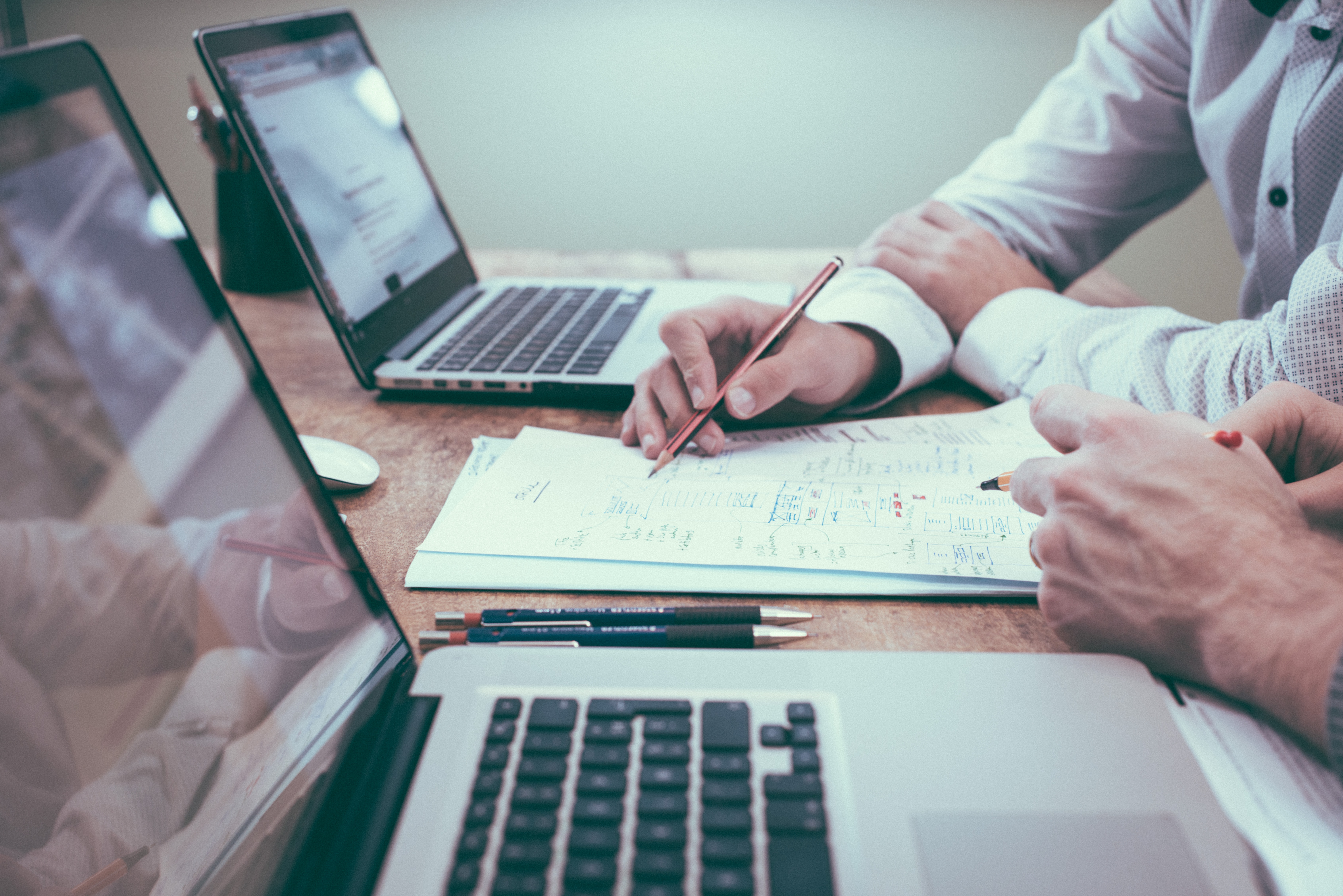 Some investors LOVE the nitty gritty … they're down in the dirt doing deals and building portfolios for themselves and others. 
Then there are investors that LOVE reaping the benefits of real estate but don't want to get their hands dirty. 
It doesn't mean they are less passionate … or have to be less successful. It just means that maybe they're too busy with their day job, running a business, or enjoying the passive benefits of their investments. 
Today, we're talking about different approaches to building successful real estate portfolios. 
In this episode of The Real Estate Guys™ show, hear from:
Your hyperactive host,

Robert Helms

His passive co-host,

Russell Gray

Regular contributors and super-successful investors,

Dave Zook and Brad Sumrok
---
Listen
---
Subscribe
Broadcasting since 1997 with over 300 episodes on iTunes!
---
Review
When you give us a positive review on iTunes you help us continue to bring you high caliber guests and attract new listeners. It's easy and takes just a minute! (Don't know how? Follow these instructions).
Thanks!
---
Building portfolios passively
One of the best ways to learn about investing is by talking to investors who have been there and done that. 
Today we're going to hear great stories from successful investors as we discuss building a successful real estate portfolio … as either an active or passive investor. 
There are two primary ways to invest. 
You can invest actively … be the one out there finding markets, dealing with agents, talking to lenders, qualifying for loans, and putting deals together. 
Or, you can invest passively … working instead to find great partners, great syndicators, great real estate people and mortgage teams and letting them do the work. 
If you've listened to us before, you know that we are big fans of this syndication approach.
Whether you are investing through somebody else or in your own account, you are responsible for building and developing your own portfolio. 
The thing is, most of us aren't trained. We don't do portfolio management professionally. We're just trying to figure out how to do real estate deals. 
One of the neat things about being a real estate syndicator is that you can pivot when the market changes. 
We're fortunate to know people who have put together big portfolio services and have a perspective that we think is valuable for everybody out there to hear. 
Real assets, passive investments
The gentleman we are speaking with is not someone who has chosen to get rich in a niche, meaning he doesn't do just one thing. Instead, quite the opposite … what he does is look for opportunity. We call him the Real Asset Investor … Dave Zook. 
Like so many people who get into the apartment niche, he ran out of his own money and started to think about syndication. He began raising capital … and had big success. 
In five short years, he has raised nearly $200 million. And now he helps other people work toward the same outcomes … and the essence of being a syndicator is helping other people. 
But it wasn't always that way. 
"I had specifically made up my mind that I wasn't going to be a real estate investor," Dave says. "But, then with some of my businesses I got to the point where I was paying around a half a million dollars a year in tax."
Dave says that he realized that real estate could be a source of cash flow … a great way to build wealth … AND a real tax protection vehicle. That's what drew him in. 
There are a variety of ways that investors can invest. Dave and his team focus on real assets. Though he started in multifamily, there are many other ways to get involved. 
One example is self-storage space. 
"I was looking for an asset class that I knew typically does very well during some kind of recession," Dave says. 
Like all asset classes, Dave did his homework and found a team of experts who were comfortable and successful in the space to partner with. 
Self-storage is a great option for syndication because it is difficult to invest individually. Most of these facilities are large and require a significant amount of cash to start … but the payoff is great. 
Another asset Dave has passively invested in is ATMs. Not every ATM is owned and operated by a bank.
"There are a lot of independent ATMs out there. It's a big range, and it is very profitable," Dave says. 
The point … syndication isn't just about real estate. It can be put into play for a variety of asset classes. 
Types of passive investors
So, what type of investor invests alongside a person like Dave who is out there making deals happen?
Dave says, for the most part, the individuals he works with are small business owners … neck deep in running their own businesses and very, very busy. 
These people don't have a lot of time to be out researching different asset classes, but they still want a good return on the capital that they are putting out into the market. 
There are also a decent amount of high-paid professionals … doctors, lawyers, surgeons, dentists, and the like … who are looking to find deals where they can offset ordinary income. 
Generally speaking though, the classic passive investor is somebody that has more money than time. 
They could go out and look for their own deals, but they're busy doing whatever it is that allows them to have the money to put into the deals. 
That's why syndication is so appealing to them. 
Get ready for AIMNATCON
Our second guest is the apartment king … Brad Sumrok … here to remind all you investors out there that AIMNATCON … the Apartment Investor Mastery National Conference … is coming up. 
"Today, people's lives have been disrupted and yet the apartment business goes on," Brad says. 
This year, the conference is 100% virtual … so people from all over the world can participate from the safety of their own homes. 
This event brings together some of the best teachers, speakers, and investors on the planet. 
For more about AIMNATCON and building your portfolio through passive investing … listen to the full episode!
---
More From The Real Estate Guys™…
The Real Estate Guys™ radio show and podcast provides real estate investing news, education, training, and resources to help real estate investors succeed.
---
Love the show?  Tell the world!  When you promote the show, you help us attract more great guests for 

your

 listening pleasure!
We're back … with an all-new episode of Ask The Guys!
In this series, we answer YOUR questions about all things real estate.
Before you click play, please remember that we are not tax advisors or legal professionals. We offer ideas, not advice … please run any investment ideas past a professional before putting them into action.
Now, listen in to The Real Estate Guys™ show! You'll hear from:
Your pondering host, 

Robert Helms

His pesky co-host, 

Russell Gray
Bob Helms

, the godfather of real estate
---
Listen
---
Subscribe
Broadcasting since 1997 with over 300 episodes on iTunes!
---
Review
When you give us a positive review on iTunes you help us continue to bring you high caliber guests and attract new listeners. It's easy and takes just a minute! (Don't know how? Follow these instructions).
Thanks!
---
Syndication, securities, and accreditation
Susan, from New Hope, Pennsylvania, wants to know what real estate investment opportunities are open to non-accredited investors.
The short answer is A LOT. For the long answer, let's start with a definition.
An accredited investor is someone who has a net worth of over $1 million excluding their primary residence OR someone who has had an annual income of $200,000 for at least two years ($300,000 for married couples).
These requirements allow the SEC to regulate the kinds of investors who get involved in securities investments.
They are a way to verify you've reached adequate financial aptitude and won't run aground by investing in a big deal.
If you're not at that level yet, that's perfectly all right!
You have multiple options:
Employ a tenant-in-common ownership to invest in a property as a group. Make sure you structure the deal so it stays within SEC regulations.

Make friends with a syndicator. Deal makers can work with up to 35 non-accredited investors through the 506B exemption.

Work with an accredited partner to complete your first few bigger deals.

Invest in a publicly traded security in real estate.

Use a crowdfunding site to invest limited funds into a larger project.

Make a private loan to other investors.
HOWEVER … keep in mind that the average beginning investor is NOT accredited. Condos, single-family homes, and other smaller properties are ALL available to non-accredited investors.
In fact, the vast majority of real estate investment opportunities are available to non-accredited investors.
The fundamental piece of the equation is education. You have to know WHAT you're buying and WHO you're doing business with for every deal before you can move confidently into a deal that risks large amounts of your equity.
Michael, from Richardson, Texas, asks a related question … when does a deal become syndication?
Syndication simply means putting together money from a group of individuals.
Things start to get a little tricky when some of those individuals are passive investors, however … because then you have a security and have to make sure investors are accredited, like we talked about above.
When you're working with a group of people to do a deal, make sure you hire a real estate or securities attorney to properly document your deal. We DO NOT recommend the do-it-yourself method here.
Repair first … or sell as-is?
Betty, from Littleton, Colorado, is wondering whether her in-laws should fix the broken foundation of their home before selling or sell it as-is.
Bob reminds us that as-is means as disclosed … it's important to tell a potential buyer EVERYTHING that could be an issue, including any reports you've commissioned.
The best solution in this case might be to get a report on the damage to the foundation … and then decide whether to sell or fix.
There's no automatic best answer here … in a strong market, you can probably get away with as-is, while in a buyer's market, you may have to do more work.
To figure out the best option, sit down with your real estate professional.
Investing to learn
We got a question from Daniel, in Garden Grove, California. He is wondering how to invest in larger deals as a learning endeavor. He wants to expand beyond single-family investments. Like our first questioner, he is not accredited.
Let's start with what you need to do to FIND deals as a passive investor.
Passive investors bet on both the jockey and the horse. In other words, you need to know the details of the deal … AND know who you're doing business with.
That's why networking events are so important. And the TYPE of events you go to are important too … we bet you'll find more dedicated, passionate investors at professional development events than at events where syndicators get together to show off their deals.
If you want to learn, put yourself out there, get to know people, and pick out a few niches you find interesting. Then put a smaller amount of money into multiple deals … instead of putting all your eggs in one basket.
And make sure you're working with a syndicator who is invested in your educational process. You want a syndicator who will let you be a fly on the wall.
Passive investment options for residential assisted living
Bill, in Northbrook, Illinois, asks whether it's possible to invest passively in residential assisted living or AirBnb investment options.
If you're interested in residential assisted living, we recommend looking into Gene Guarino. His educational events have taught many investors how to step into the assisted living field … and many of those investors become syndicators willing to work with investors like Bill.
AirBnb, on the other hand, is something we're not 100 percent sure about yet. There's some legal resistance and the whole industry can be a bit sketchy.
We just don't know enough about AirBnb investing to recommend this option … and we haven't yet found an expert who's really crushing it in that field. For now, this option is just a wait-and-see niche for us.
Book releases and Belize trips
We answer three quick questions from curious listeners …
Ellie in Seattle wonders where she can find a copy of Bob Helm's new book, Be The One Percent.
The book is meant to teach realtors about how to serve investors … and become investors themselves.
To get your hands on a copy, listen in to the show for special access.
John, from San Antonio, Texas, wants to know whether we hold a convention in Belize. While we don't hold a convention … we do conduct Belize discovery trips three to four times a year!
These trips are a great way to get an in-depth perspective on the Belize market … and even if you're not ultimately interested in offshore investing, you'll learn a heck of a lot about market analysis.
Holly, from Pingrove, Illinois, wonders whether we have any Belize field trips scheduled in the near future. To check out upcoming field trip dates, check out the event page.
Finding the truth about private lending platforms
We were excited to hear from a former participant in our mentoring program. Domingo, who's located in San Anselmo, California, wants to know what we think of a particular private lending platform.
He also wants to know what we think about his general economic theory … that there's a strong possibility the market will come down, and that real estate will continue to be a viable investment option during a crash, even if liquidity dries up.
About the lending platform, we can't really comment. There are several peer-to-peer lending platforms that specialize in crowdfunding loans, and these can be a great way to diversify loan types.
But lending is lending … so no matter the loan type, you have to understand the basic underwriting … what you get if a foreclosure happens.
Don't get lost in the weeds. Instead, understand the basics … what are you giving, and what do you get? And if things go wrong, what happens?
As to the economic theory, we think Domingo is on the right track. ALL of our listeners should be thinking about how to position themselves so they can thrive when a downturn happens.
Land brokerage and multi-family investing
Our last question is from Troy, in Millcreek, Washington. Troy is looking to get better as a land acquisition agent … but he also wants to dip his toes into multi-family products.
We haven't been in the land brokerage business, but we think there are a few things to take into consideration.
First, land is not land is not land.
By that, we mean every land bank could lead to a different outcome … so you need to look at where every piece of land will end up, whether that's agriculture or retail development.
Second, every specialty brokerage follows the 80/20 rule … 80 percent of real estate is sold by 20 percent of agents. So, be the 20 percent.
That means you need to be really well educated, have outstanding product knowledge, and build excellent relationship.
To succeed, look for the big players in your field and try to get in a room with them. Pick their brains, learn the language, and build your business.
And ask yourself the most important question … who is my customer? Understand the needs of the person you'll be selling to.
As to multi-family, our friend Brad Sumrock has a wealth of resources. He's one of several multi-family investors on our Summit at Sea faculty … but he also holds a two-day training three times a year in Dallas, Texas.
It's an invaluable learning opportunity, and one we can't recommend enough.
Have a question of your own? Ask us here. Until next time, happy investing!
---
More From The Real Estate Guys™…
The Real Estate Guys™ radio show and podcast provides real estate investing news, education, training, and resources to help real estate investors succeed.
---
Love the show?  Tell the world!  When you promote the show, you help us attract more great guests for 

your

 listening pleasure!
A diverse portfolio offers you a cushion … if one investment suffers, you won't feel the impact across your entire portfolio. One method for portfolio diversification is to step outside home or apartment investing … and into farmland investing.
Investing in a commodity like produce or cattle allows you to lose your focus on an individual market and start focusing on the GLOBAL market for your product.
Like any real estate investment, there is a learning curve to figuring out agriculture … especially when you're growing and exporting produce outside your home country.
But agricultural investments are worth the effort … they offer the best of all worlds, combining agricultural income with land banking and offshore strategy.
In this episode, global investor Carsten Pfau discusses his journey into the world of agricultural investing … and offers ideas on how YOU can get started as a passive investor in this low-risk option.
In this episode of The Real Estate Guys™ show you'll hear from:
Your orange-loving host, 

Robert Helms

His like-a-lemon co-host, 

Russell Gray
Carsten Pfau

, manager of a thriving international real estate business
---
Listen
---
Subscribe
Broadcasting since 1997 with over 300 episodes on iTunes!
---
Review
When you give us a positive review on iTunes you help us continue to bring you high caliber guests and attract new listeners. It's easy and takes just a minute! (Don't know how? Follow these instructions).
Thanks!
---
How Carsten Pfau got planted in Paraguay
Trees don't understand what's happening at the Fed. They just grow. And the fruit, vegetables, and nuts they produce fulfill a fundamental, permanent human need for food.
Bread-and-butter commodities like agriculture will be valuable forever … that's one reason we were so excited to chat with agricultural investor Carsten Pfau.
Carsten's family is established as real estate developers and investors in his native Germany and in South America.
He decided to shift from traditional real estate to agricultural investing for one big reason … "You can sell agricultural products word wide."
That's one reason agriculture is so great. It's less about getting the MARKET right, and more about getting the PRODUCT TYPE right.
For Carsten, the primary product is oranges. He also grows vegetables and grazes cattle.
When he stepped into the Paraguayan market with his brother Michael Pfau, Carsten quickly realized oranges were a great choice. Eighty-five percent of the oranges sold in Paraguay are imported, so there's a huge market for locally grown produce … and potential for favorable margins.
Why Paraguay? One reason is its competitive cost structure. Because it is a developing country, costs are low, but there's tremendous opportunity to innovate and bring in new technology … resulting in excellent profits.
Paraguay is great, but in order to do business there, Carsten says he had to learn the language … and the mentality. Every nation has different cultural mores, and identifying and learning them is essential to business success.
Growing from the ground up
Carsten says growing his business was an "amazing process." When he opened up his orange plantation to investors, he expected 10-15 people to join in.
Instead, he ended up with 500 investors.
Agriculture requires a scale approach … the larger you are, the more efficient you can be, and the higher your profits. That's why Carsten started syndicating.
He also says demand for oranges is growing so quickly that the biggest challenge is growing more. It's the opposite of traditional real estate … instead of recruiting buyers and renters, he can sit back and CHOOSE from all the buyers who are coming to HIM.
We asked Carsten how he figured out the science of agriculture.
Carsten told us every plant he buys for his home dies … so his oranges aren't thriving because of his green thumb!
They are thriving because he has compiled a team of the best experts in the business. His advice for investors is to "never think you know it all." Instead, admit your strengths and weaknesses and join forces with talented people.
Plant your feet in a plot of your own
Agriculture can be daunting because it requires a lot of specific knowledge. One option for investors who want to get involved but don't have the time or interest to get their hands dirty is passive investing.
"People are interested in two things," says Carsten, "owning land and getting a cut of the action."
Carsten combined these two things in his own business by offering investors the opportunity to buy the rights to their own parcel of land … and then sign a farming agreement with his management company, which plants, cares for, and harvests the trees.
This type of investment offers the best of two worlds … a land investment that appreciates over a long period of time, PLUS regular income from the produce.
Investors do have to wait about four years after their initial investment to start seeing proceeds. That's how long it takes orange trees to mature and start bearing fruit.
Parcels start at 1.2 acres. For an initial $35,000 investment, clients get payroll for the Pfau's workers, pest control, watering, and the trees themselves … and they never have to pay anything again.
Profits range from $5,000 to $12,000 per plot per year … and continue for 25 years, the span of the trees' life. That's a pretty good ROI!
Why agriculture?
"I like traditional real estate and still do it," says Carsten. But the approach is very different. Marketing, financing, and selling are all different challenges.
The upside? "Here we can sell nation- and world-wide."
"I like that I can lean back and choose when to stop," says Carsten.
And he's confident in the longevity of demand for his product. The middle class across the world is growing … and they're hungry for high-quality food and water.
Whether you're in Latin America or on the other side of the world, food is a fundamental human need. Succeeding in the food production business lies in getting the right scale.
The right way to do it is to find a pipeline of deal flow that will allow you to leverage your due diligence into MORE deals.
In many international markets, new technology and techniques allow forward-thinking investors to create massive economies of scale … allowing both syndicators and investors to get decent returns.
---
More From The Real Estate Guys™…
The Real Estate Guys™ radio show and podcast provides real estate investing news, education, training, and resources to help real estate investors succeed.
---
Love the show?  Tell the world!  When you promote the show, you help us attract more great guests for 

your

 listening pleasure!