The Real Estate Guys™ and Robert Kiyosaki have been friends for years…
Robert's also been a frequent guest on our radio show and always has great things to say.  So be sure to check out some of his past appearances below!
But first, here's a short message from Robert Kiyosaki about The Real Estate Guys™ …
Check out these episodes of The Real Estate Guys™ radio show featuring Robert Kiyosaki …
---

Robert Kiyosaki on the Financial System, Fake Teachers and Real Assets
Listen in to find out what the greatest selling financial author in the history of the world really thinks about the financial system, fake teachers, and real assets.
---
Robert Kiyosaki, Peter Schiff, Chris Martenson, Adam Taggart, and Brien Lundin with Expert Tips on Navigating Uncertain Times
Click here to read the Broadcast Blog … or Listen Now:
---
Robert Kiyosaki on Why the Rich Get Richer and You Can Too
Click here to read the Broadcast Blog or Listen Now:
---
Robert Kiyosaki Talks Second Chance – For Your Money, Your Life and Our World
Click here to read the Broadcast Blog or Listen Now:
---
Trump, Kiyosaki and What Government Could Learn from Real Estate Investors
Click here to read the Broadcast Blog or Listen Now:
---
Why "A" Students Work for "C" Students  – Robert Kiyosaki Looks at Education
Click here for the Broadcast Blog or Listen Now:
---
Finding Your Unfair Advantage with Robert Kiyosaki
Click here for the Broadcast Blog or Listen Now:

---
From the Summit at Sea™ with Robert & Kim Kiyosaki; plus Rich Dad Advisors Ken McElroy, Josh and Lisa Lannon and more!
Click here for the Broadcast Blog or Listen Now:
---
The Real Estate Guys™ radio show and podcast provides real estate investing news, education, training and resources real estate investors need to succeed.
photo
credit:
woodleywonderworks
If necessity is the mother of invention, then surely distress is the mother of creativity.
It's an age old principle in personal development: hard times have the potential to bring out the best in people depending on their mindset and peer group. The Bible says in James for believers to "count it all joy" when hard times come because that's how faith is built.  Football teams bond during "hell week" at training camp in the heat of the summer.  Heroes are born against the backdrop of horrific tragedies such as natural disasters, terrorist attacks, or the deadly skirmishes of war.  It's the quintessential pearl being formed in response to the irritation of the sand sand in the oyster's shell.
For some real estate investors, the last few years have been difficult (to say the least!).  Many took horrific losses and lots of "wannabe" investors threw in the towel and quit.  But some investors have used the experiences to learn valuable lessons and develop creative ways to push through and find profit opportunities in the rubble.
And though the economic repercussions of the mortgage meltdown are still with us, it isn't the dominate headline of a few years ago.  People are focusing forward, markets are slowly healing, and life goes on.
For the active real estate investor, the creative juices which were released during the disaster continue to flow. It's that creativity that makes deals happen when lending is at a standstill.  For those who master the art of creative real estate, these are some of the most exciting times in recent memory!
For this episode of The Real Estate Guys™ Radio Show, we invited a guy who's been finding interesting ways to close deals and generate profits – even in a "bad" economy.
In this studio for another exciting foray into the wonderful world of real estate investment talk:
Your host and creative genius, Robert Helms
Co-host and grain of sand, Russell Gray
Special guest, creative real estate investor, David Campbell
When you can buy property for below replacement cost, you'd think it would be easy to figure out how to make money. Then again, when a property is that cheap, it's usually for a reason.  So what should be obvious often isn't as easy as you might think.  That's why it takes creative investors to lead the way out of any down market.  When any schmo can buy a property, finding a deal is the critical skill.  But when it's hard to do a deal, deals are plentiful – but only for those who know how to get the deal done.
Since there isn't any cookie cutter magic formula for creative real estate investing and every deal presents its own unique set of challenges and opportunities, the investor with real world experience and a large network of creative advisors has a competitive edge.  Hard problems are often solved with a team brainstorming session, which is why having your own mastermind group is a huge asset.  For us, our mentoring club and annual Investor Summit at Sea™ are where we grow and spend quality time with our mastermind group.  Of course, you're invited to join us in 2012 when Robert and Kim Kiyosaki , plus Rich Dad Advisor Ken McElroy, along with attorney Mauricio Rauld and international developer Beth Clifford (and some other soon to be announced special guest faculty) spend an entire week together to talk real estate investing aboard a cruise ship in the beautiful Caribbean.
For now, listen in as we discuss specific real life lessons in creative real estate with special guest David Campbell.
Listen Now!
The REAL Book of Real Estate
by Robert Kiyosaki and 22 Contributing Co-Authors
He's back.
Robert Kiyosaki, author of Rich Dad Poor Dad, one of the best selling books in history, is back talking about real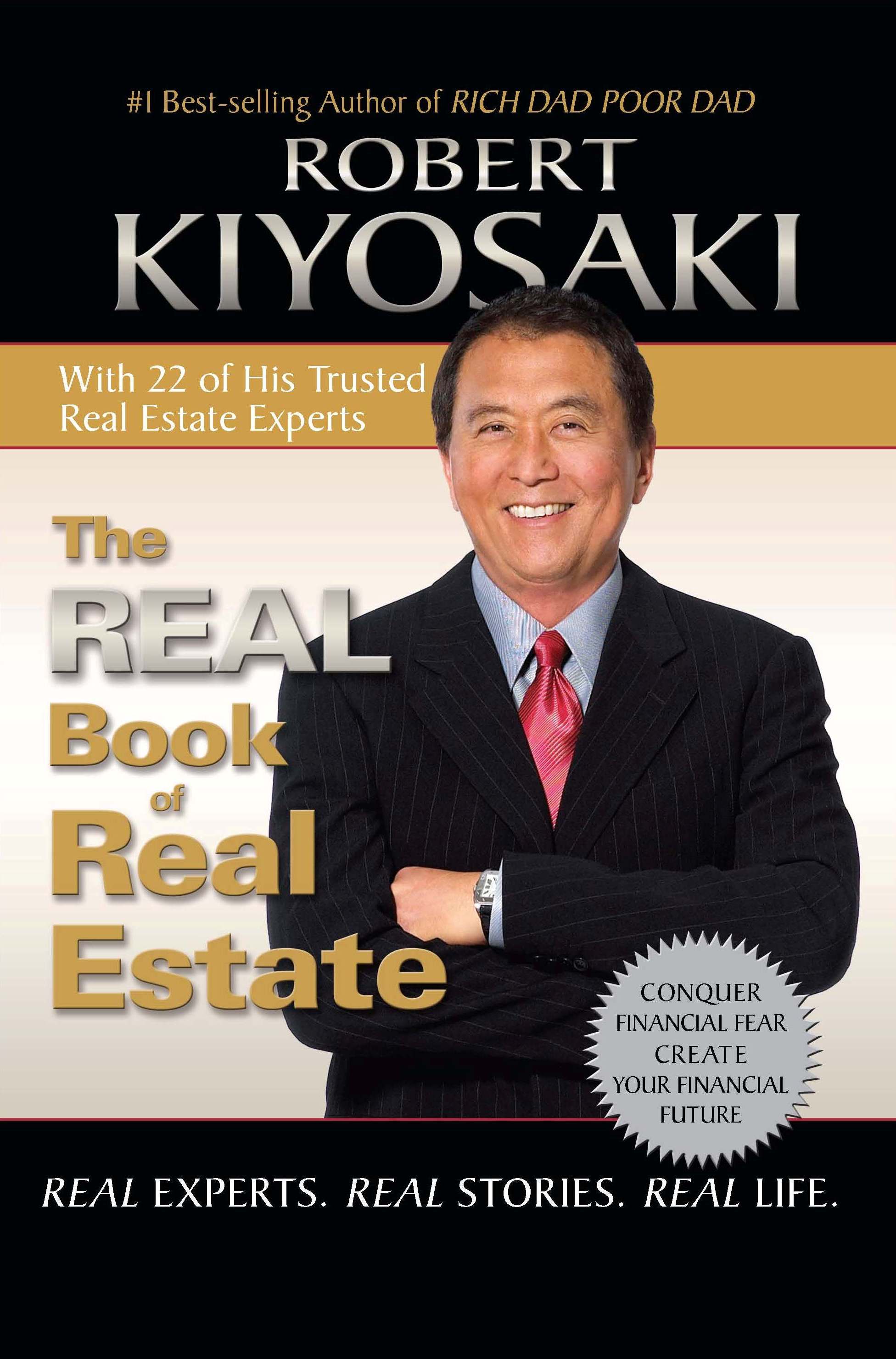 estate!  Why now?  He says the rules have changed and the numbers make sense again.
In The REAL Book of Real Estate, Kiyosaki compiles real estate investing wisdom from 22 veteran experts.  The Real Estate Guys had a chance to talk personally with Mr. K. about this book and the unusual timing of its release.  You would think that a book on real estate investing would be a hard sell in this post meltdown world.  And it is.
But the book was released now to help investors who've only known boom times.  It shares the knowledge and perspectives of veterans who've survived and thrived through previous real estate market cycles (which is lesson #1:  real estate cycles, it doesn't disappear).   If real estate isn't "over", then the question remains: where are the opportunities and how can I find or create them?  That's what this book addresses.  It might be a bad time to sell a book on real estate investing, but that might make it a great time to pick up bargain properties.  This book will teach you many of the things you need to know.
What we like best about it is that it's immensely readable.  It isn't a book about theory.  It's very real world practical.  And you can start anywhere, as each author's work is a stand alone discussion about their particular area of expertise.  It's as much a reference manual as an educational work.
We like it.   We've been around real estate for awhile and we learned a lot.  We think you will too.
Order your copy today – and be sure to visit the archives to listen to The Real Estate Guys' exclusive interviews with Robert Kiyosaki and many of his contributing co-authors.  Let us know what you think!