One of the secrets to making a lot of money is to catch a profitable wave.  Sounds interesting, but how does it work?
Well, a financial wave happens when a variety of forces converge to move people or their money in a particular direction. That movement can have a substantial impact on any given asset class or geographic region – and the effect can be much more pronounced when the asset class or region is very limited in size.   That's why we've been intrigued over the years by the tiny country of Belize.
In this episode of The Real Estate Guys™ radio show, we're on location at a beautiful beachfront resort in Ambergris Caye, Belize.  Yes, it's a rough life on the road as radio talk show hosts, but someone has to do it.
Sipping coconut juice behind the microphones while the tropical breezes blow:
Your light and breezy host, Robert Helms
Your coconut co-host, Russell Gray
Special guest, top producing international real estate broker, John Turley
As part of the preparation for our upcoming field trips to Belize, we headed to San Pedro Town in Ambergris Caye, Belize.  Yes, it's THAT San Pedro – the one Madonna sings about in La Isla Bonita.
When you're here, you understand why Madonna fell in love with San Pedro…and why we stopped here during our recent Summit at Sea™, then came back just a few weeks later for this trip, and are now going back for Memorial Day, again in June and staying into July.  Yeah, it's an addiction.
But for John Turley, formerly from the Rocky Mountain state of Colorado, his visit turned into a 7 year (and counting) transplantation.  And in those 7 years, big John has become the #1 real estate agent in the entire country of Belize and the #2 international property (non-US) agent in the RE/MAX system.  In case you didn't know it, RE/MAX is the #1 (as in top selling) real estate brokerage in the world.  So John Turley is not just #1 in his cubicle.  He's #1 for the #1 company in the world.  Hey, nothing but the best for our listeners.
So NOW you can see that we have a LOT to talk about.  Like, why did John decide to leave his life in the USA, uproot his family and start all over again in some dinky third world country? Hint: it's beautiful, peaceful, friendly and insanely profitable.  But listen in and let John tell you himself.
What's important to note is that John is just like MILLIONS of other people in the US, Canada and around the world who are looking for a change.  And as that wave of people continues to discover enchanting Belize, many are grabbing homes and filling hotels.  Hmmmm….does that sound like real estate investment opportunity?
John explains how tourism is UP over the several years.  What?!?  We thought there was a global recession and everyone was hunkered down waiting for the storm to clear.
Some are.  But it seems that others have decided that financial and political storms bring big waves, so it might be fun (and profitable) to go ride one (figuratively speaking, of course).
John reports that the interests of the people who come through his office have changed significantly in the last several years.  It used to be that people came to Belize because it's beautiful, quiet, affordable and friendly.  After all, Belize is the ONLY English speaking country in Latin America, and it's government and currency are stable.  Did we mention that it's breathtakingly beautiful?
But today, according to John, MANY people are coming into his office because they are concerned about the direction of the United States.  Now, you may or may not be concerned, but apparently lots of folks are.  So much so, they come to Belize not to vacation, but to establish a second home that could be easily converted into a primary residence.  Kind of a Plan B (like Belize).
There are lots of other interesting tidbits in this interview, and your job (should you choose to accept it) is to listen as Big John Turley shares his perspectives on what's driving this very popular real estate market – and how you can catch the wave of interest that is building about Belize.
Listen Now:
The Real Estate Guys™ radio show provides real estate investing news, education, training and resources to help real estate investors succeed.
Join Robert Helms, host of The Real Estate Guys™ Radio Show for a memorable weekend discovery trip to the beautiful country of Belize!  Three great dates to choose from: Sep 15-18, Oct 6-9 or Nov 3-6, 2011

Why Belize?
Three words: Location, Location, Location (we've heard those are important for real estate).
Click here to download your registration form.
Belize is the former British Honduras and is located just under Mexico's Yucatan Peninsula. Mainland Belize features lush green tropical rain forests, while it's Eastern border faces the Caribbean ocean safely nestled behind the world's 2nd largest barrier reef. The islands are postcard perfect and attract vacationers, diving enthusiasts and celebrities alike. Harrison Ford, and more recently, Reese Witherspoon are known to visit Belize for private, relaxing getaways. Leonardo DiCaprio purchased a 110 acre island known as Blackadore Caye. We'll show it to you when you attend this discovery trip!
But beyond beautiful, Belize has other unique attributes which make it attractive to investors and tourists alike. Belize is the ONLY country in Latin America whose official language is English. This, and the fact that its currency is pegged at a fixed 2:1 exchange rate with the U.S. dollar, make it a friendly place for Americans. Plus there are direct flights from several U.S. cities including Atlanta, Miami, Dallas, Houston and many others. Belize is actually closer for most Americans, Canadians and Europeans than Hawaii!
The Real Estate Guys™ will show you Belize!
Click here to download your registration form.

Robert Helms and his team have been visiting and investing in Belize for several years. He's led several investor field trips with as few as one couple and as many as forty-five. The feedback on every trip has been over the top positive! Robert will share his extensive market knowledge, introduce you to local market experts, and personally show you the mainland, the islands, and several different developments.
This is an EDUCATIONAL event. This is not one of those "fly n' buy" sales trips where aggressive salespeople are waiting to pounce on you. We believe the right approach to real estate is to start with the market first, then build a team, and then select property that meets your personal and investment goals. This trip is about exploring the market and meeting people who may become part of your team down the road.
Discover the real estate, banking and lifestyle opportunities available to you in beautiful Belize during a semi-private tour led by The Real Estate Guys™ Radio Show host Robert Helms.
Click here to download your registration form.
Trip Logistics
Once you're enrolled, our registration team will contact you to help arrange your air travel. Your round trip airfare is not included in your tuition, but it's very important that your arrival is coordinated through our team. While you're in Belize, virtually all your trip expenses including transportation, hotel accommodations, speaker sessions, materials and most meals are included. Alcoholic beverages, souvenirs, extended stays and certain other incidental expenses are not included. Upon receipt of your completed registration form, we'll provide you with information about what to wear, pack and expect.
The Opportunity is Now
There are lots of reasons to like a place like Belize (is there any other place like Belize?), but the opportunity today is better than ever!

Americans haven't lost purchasing power in Belize because of the fixed exchange rate, while many other countries have gained purchasing power because of a soft U.S. dollar. Baby boomers in the U.S. still dream of warm weather, low tax, beautiful places to resort and retire, but many of the more established areas remain relatively expensive in a post recession economy.
Belize offers an English speaking, affordable, "non-touristy", and reasonably nearby alternative. And popular TV shows like House Hunters International are helping a growing number of people discover Belize as a great option not just for retirement, but also full time residency for a growing new class of telecommuters and independent information workers. Think about it: would you rather sit in a corporate cubicle in Cleveland or a beautiful beach in Belize?
Additionally, Belize still enjoys a great reputation as a tax friendly jurisdiction with strong privacy banking and asset protection laws. As citizens of "developed" countries face increasing concerns about privacy, taxes and frivolous litigation, the affluent are seeking off-shore alternatives in greater numbers than ever.
All of these trends point to increasing demand, but the wave is still growing. Alert investors can position themselves in the market to provide the properties that tourists, retirees, remote workers and ex-pats will want to buy or rent. Besides, if the worst thing that happens is that you have to live or use your property for personal use, would you rather it be a duplex in Detroit or bungalow in Belize? Meanwhile (check with your own tax advisor), once you have investments in Belize, your trips to visit just might be tax deductible. Very cool.
A Visit is with Worth a Million Words
If a picture is worth a thousand words, then a personal visit to paradise is worth at least a million. Come see it with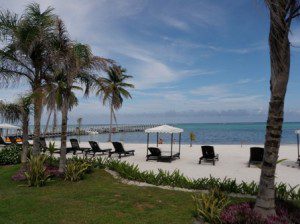 your own eyes!
We look forward to seeing YOU in beautiful Belize!