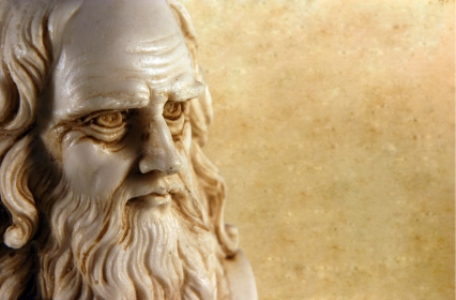 It's been said that if you do what everyone else does, you'll get what everyone else gets.  To dig a little deeper, you might say that if you think like everyone else thinks, then you'll act like everyone acts, and ultimately you'll get what everyone else gets.
Therefore, if you want to break away from the pack and achieve and acquire extraordinary things, to quote Leonardo Da Vinci, "You must become an original thinker."
So what does this have to do with real estate investing?
In the studio to discuss this intriguing topic for this episode of The Real Estate Guys™ radio show:
Your creatively brilliant host, Robert Helms
Special guest, author and consultant, Michael J. Gelb
One of the most enjoyable and challenging aspects of real estate investing is the uniqueness of each individual deal.  Many properties are one of a kind, but even when you're negotiating on a cookie cutter property, market and seller dynamics almost always create a one-of-a-kind situations.  Add to that your own ever-evolving personal investment philosophy, financial resources, experiences and relationships.
Sound complicated?  Maybe.  But here's the good news:  We live in a super connected world.  This means we can easily access the creative brilliance of others.  So we stimulate your thinking by sharing a few of the many creative deals we've seen over the years.
You'll hear about how the Pizza Principle was used to help one investor get a free house.  And how another investor sold a vacation property, but is still able to use it when on vacation.   Then there's the story of a guy who ended up with an orange annuity out of a deal.  Really.
Plus, you'll discover how one creative developer uses entities to substantially mitigate transfer tax.  Good stuff!
Of course, if everyone is just copying other people's original thinking, sooner or later there are no more original thoughts.  And when it comes to a great idea, do you want to be the last to know or the first?
The best way to be the first to use a great idea is to be the person who comes up with it first.  This means YOU need to develop a creative mind.
To help you, we sit down face to face with Michael Gelb, the author of the classic book "How to Think Like Leonardo Da Vinci".   Michael makes his living training people in the creativity concepts he's gleaned from studying Leonardo Da Vinci, arguably the most creative mind that ever lived.
So feed your creative genius and listen in to this brilliant episode of The Real Estate Guys™ radio show!
Listen Now:
Want more? Sign up for The Real Estate Guys™ free newsletter
Don't miss an episode of The Real Estate Guys™ radio show! Subscribe to the free podcast
 Stay connected with The Real Estate Guys™ on Facebook!
The Real Estate Guys™ radio show and podcast provides real estate investing news, education, training and resources that help real estate investors succeed. Visit our Feedback page and tell us what you think!
Protecting your money in today's highly uncertain economy is surely very challenging. Remember when real estate equity and bank accounts were considered among the SAFEST places to keep your savings?  Today, real estate equity has disappeared – and for many people even getting access to whatever equity they still have is next to impossible.  Boy, do we miss those equity lines of credit with their checkbooks and debit cards!
And even though you can still write checks on your cash deposits at a bank, with record bank failures even that old saying "sure as money in the bank" seems a little outdated.  Add horribly low interest rates and, to compound the injury, taxes on your meager interest earnings, it's enough to make you wonder what this financial world is coming to.
Well, we have good news. There's a new way to look at an old product – one that is time tested and has survived its fair share of economic turmoil.  And we got such a positive response to our first foray into this topic, we decided to re-visit it with a new guest.
In the radio lifeboat for another voyage into broadcasting brilliance:
Host and head lifeguard, Robert Helms
Co-host and lifeboat inflater, Russell Gray
Seasoned sailer of stormy economic seas, the Godfather of Real Estate, Bob Helms
Special guest, "infinite banking" expert, Patrick Donohoe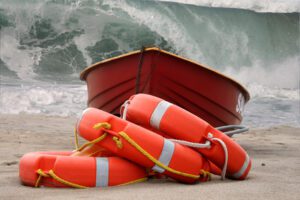 Right out of the gate we need to set the table, which is no small task with the lifeboat bobbing on the waves:  what does life insurance have to do with real estate investing?
Think about what a bank account has to do with real estate investing and you're on the right track.  But unlike a bank account, our guest explains that certain types of life insurance – thought greatly misunderstood – offer far greater flexibility than bank accounts.  And though they aren't FDIC insured, insurance companies are arguably more stable and conservatively run.  Unlike banks right now, you don't hear a lot about record number of life insurance companies failing.
We also address why so many CONSUMER financial gurus are down on cash value life insurance, yet corporations like Wells Fargo and Wal-Mart buy tons of it.  Could it be there are BUSINESS purposes that make it very useful for BUSINESS people?  We say all the time that real estate investing is a business, so it makes good sense to see how businesses are using this financial tool.
For example, how'd you like you to take a tax deduction for making a deposit in your bank account?  Hmmm….that's an interesting concept!  What about getting a loan against your equity without having to qualify?  Try doing that with a property!  And unlike property, the value isn't determined by market forces, so your equity doesn't disappear in a market downturn.
The point of this episode is that insurance can do a lot more than manage risk and pay a benefit. Our job is to expose you to some of the possibilities.  Your mission, should you choose to accept it, is to explore those possibilities, learn how to use this powerful tool, and decide when and where to use it to advance your real estate investing program.  It seems the economic storm isn't over yet, so it might be a good idea to know how to operate the lifeboat.  It's a matter of life and debt.
Listen Now: 
The Real Estate Guys™ radio show and podcast provides real estate investing news, education, training and resources that help real estate investors succeed.
In our continuing quest for real estate wisdom, The Real Estate Guys catch up with two of the most active real estate investors around.  As 2009 closes and we look forward to the new decade, what do the experts think?
Gazing into their crystal balls for this episode:
Your senior seer, host Robert Helms
Chief ball polisher, co-host Russell Gray
Rich Dad's Real Estate Advisor, best selling author and real estate entrepreneur, Ken McElroy
Best selling author, prolific real estate investor and entrepreneur, Kim Kiyosaki
We like to talk to people who know what they're talking about.  Not just because they're smart, but because they have wisdom that only comes from experience.  We kick off with an honorary member of The Real Estate Guys, Ken McElroy.  This is a show worth listening to with a note pad because he gives us some great pearls of real estate wisdom!
Ken starts out telling us what he's excited about as we enter the new year.  While many people are licking their wounds, Ken says 2009 was his best year ever!  Then he goes on to explain why the unraveling of the mortgage industry has provided extraordinary opportunity.  He also discusses his strategies for market selection, tells us what NOT to do, and then reveals some of the markets and product types he's most interested in right now.  Plus, he gives us the one key item he looks for to find markets that are more likely to provide lower marketing and turnover costs, and a bigger pool of quality tenants.
Ken wraps up his appearance by sharing what he sees coming in 2010 in terms of interest rates, foreclosures, rents, inflation, the dollar and more!  Really good stuff!
The second half of the show features a conversation with Kim Kiyosaki,  Rich Woman author and big time real estate investor.  She gives us her take on the prospects for 2010, which includes both bad news and good news.  Then Kim shares some details on a huge real estate deal she just closed which exemplifies her forecast.  She reminded us that she started in 1989 in the middle of the last real estate "meltdown" with no money and no credit.  Unable to obtain conventional loans for the first 8 years, she explains how she had to be creative to get her deals done. When you hear the size of her latest deal, you'll realize how much can change in 20 years!  As we said in Equity Happens, 20 years from now it's going to be 20 years from now.  The difference will be what you choose to do between now and then.
We're going to continue checking in with the biggest brains in real estate to see what they're going to be doing in the new decade.  Stay tuned to The Real Estate Guys – and tell a friend!
Don't miss a show! Subscribe to the Free Podcast
Want More?  Sign Up for The Real Estate Guys Free Newsletter!
Today's Wall Street Journal reports that MGM Mirage is cutting the price of  the condominiums in its spectacular City Center project in Las Vegas, Nevada.  How big a cut?  Thirty percent!  We're not sure what their margin is, but that's probably all of it and then some. Ouch.
Worse, it's probably still not enough. But only time will tell.  The cuts are a little surprising to us, but clearly they're the result of a major reality check for MGM Mirage.  And this post isn't really about Las Vegas, MGM or City Center.  It's about the LESSONS available in this situation for all of us.
Lesson #1 – The market sets the price. Whatever MGM needs to cover its cost is interesting, but only to MGM.  The market decides what its willing to pay.  In this case, MGM is hoping it's just 30% off.  Before it's all done the market may want more.
Lesson #2 – The market is fickle. Three years ago people were willing to pay more. That's why MGM sold so many.  People had equity, unemployment was half what it is today, financing was readily available for almost anything related to real estate  – even condo-hotels.  But a funny thing happened on the way to the closing table.  Okay, not so funny.  But the stream of foreign money through Wall Street into mortgage backed securities got shut off almost over night, taking with it equity and working capital.  A market heavily driven by momentum did an abrupt 180.  Whether you're rehabbing a fixer upper or building a skyscraper, if your success requires you to find a ready,willing and able buyer (or in MGM's case, thousands of them), you better get to market fast – because things can change.
Lesson #3 – Have a Plan B. Donald Trump's Plan A was to sell the condos in his Las Vegas project, just like MGM and every other developer participating in the Las Vegas rush for real estate gold.  When Plan A bit the dust, he converted the project into a hotel.  Still a tough gig, but the goal is to get some cash flow to hold the property until things improve.  Rich Dad Advisor and Robert & Kim Kiyosaki's investment partner Ken McElroy says they only do deals they can afford to stay in for 10 years.  Plan A may be to build or fix up for quick sale, but Plan B is to structure the deal so it still makes sense if they have to hold.  Plan A is a win and so is Plan B.
Lesson #4 – Understand the other party's needs, wants and desires. When you're in a deal that's going sideways, whether for reasons under your control or those not (certainly MGM could not predict, much less control the mortgage meltdown), it's easy to fixate on your own pain.  If buyers aren't willing to close on City Center, should it be assumed they are unwilling because of the price?  Could they be unable because of lack of financing?  Could they be afraid of reduced rents on their units due to the soft economy?  Until you know what the issue are for the other party (again, in MGM's case, thousands of them), you might give up or give away profit unnecessarily.
Lesson #5 – Use Creativity to Protect Profits (or minimize losses). Certainly we don't know all the considerations for MGM, and presumably these are extremely smart people, but we know many investors who are in contract for units in City Center and we haven't heard any discussion of owner financing.  We know that condo-hotel pricing has all but disappeared. For many buyers getting a conventional third party loan is an impossibility.  But what if City Center carried back the financing?  It doesn't get cash, but it gets an asset (a mortgage). For those buyers who need income to service the mortgage, couldn't MGM as the hotel operator, steer more guests into the unit? After all, they still get their operator's share of revenue, plus they get the mortgage payment.  The owner may need to kick in a little cash flow to feed the mortgage, but better than losing one's deposit. After all, it's still one of the premier properties in the country.  Where do you think values will be in 20 years?
You may not be a Big Time Operator like MGM.  But real estate is real estate and when you watch what's happening for the BTO's, many of the lessons will apply to you.