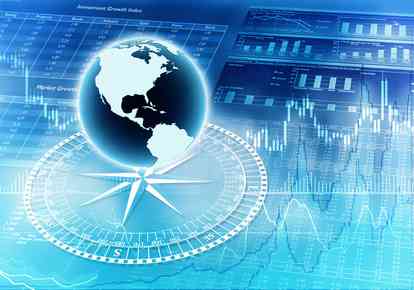 Technology, laws and globalization are all changing how money moves into and around markets.
In the last quarter of the 20th century, creative financing largely consisted of assumable loans, owner carry back financing and equity sharing.
Fourteen years into the new millennium, there are alternative funding methods which didn't even exist in the 20th century.
Here to explore strange new worlds of funding, seek out new sources of financing, and to boldly go where no broadcast has gone before…
Your charismatic captain of conversation, host Robert Helms
His pointy-eared logical sidekick, co-host Russell Gray
Special guest, immigration attorney Mona Shah
Science fiction writers like Jules Verne, H.G Wells, Isaac Asimov and Gene Roddenberry have all thrilled readers and audiences with their sometimes prophetic visions of the future.
When you think about pocket communicators that flip open, cars that drive themselves, ships that can sail underwater or fly through the air, it's amazing how fantasy has become reality.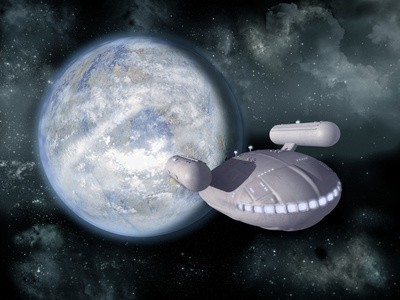 While not quite as glamorous, today's real estate investors live in a brave new world of opportunity that's being affected not just by technological change, but by the inevitable social and political changes which occur as the human race works out its affairs century by century.
Right now, technology has opened up entirely new methods of commerce.  And globalization is changing where, how and why people invest.
So even though all of the 20th century creative financing strategies are still around, 21st century investors are enjoying a grand new era of funding possibilities.
In past episodes, we've covered how technology platforms are coming on-line to facilitate the matching of investors with opportunities.  And with the easing of onerous restrictions on promotion, more real estate entrepreneurs are looking to crowdfunding as a way to get deals funded.
In fact, the modifications to the general solicitation rules for promoting private placements to accredited investors has given rise to our very own Investor Registry.
In our main stage presentation at the 2014 New Orleans Investment Conference, we explained to the audience how the JOBS Act is finally beginning to open up non-Wall Street deal flow to private investors.  There are lots of reasons for investors and entrepreneurs to be excited right now.
In this episode, we focus on a little known law which entices foreign investment in the United States.  And it's something every active and aspiring real estate investor should be aware of.
Mona Shah is a New York immigration attorney and an expert on the United States' EB5 program.
Simply stated, the EB5 program allows a foreign investor to earn a residency visa (green card) for an investment of at least $500,000 into a U.S. enterprise which can be demonstrated to create jobs.
Mona explains that those jobs can be "direct" or "indirect".
A direct job is one created by the investment itself.  So if a real estate developer builds a hotel, shopping center or apartment complex, every construction worker hired is a "direct" job.
An "indirect" job is one created as a by-product of the project.  So if a newly constructed apartment building results in a laundry mat or daycare center opening to service the residents, each of those employees is an "indirect" job.
Now the foreign investor doesn't have to invest in real estate, but it's a very popular option because it's a real asset.
That is, if a business is started and fails, the investor may take a total loss.  But with real estate, the property itself has intrinsic value, so as long as the property isn't lost to foreclosure there is some residual value even if the business or management fail.
Of course, any time you're dealing with a government program you need to allow for extra time and hassle.
Why would a real estate entrepreneur try to raise EB5 money?
First, it's available.  In a world where bank lending still isn't readily available, sometimes you just have to go where the money is.
But it's more than that.
It's also inexpensive.  In fact, it can be cheaper than any other source of capital because the investor is more concerned with getting the visa and not losing money.  So even a modest return is considered acceptable.  ROI is almost an afterthought.
Here's the best news:  You don't have to become an expert in EB5 or try to figure it all out on your own.  There are lawyers and consultants who can help.  Your job is to put together a profitable deal because there are people who can help connect you with the investors and navigate the bureaucracy.
If you've got more opportunities than money and are looking for a creative source of funds, get to know the Eb5 program.  You can start today by listening to this exciting episode of The Real Estate Guys™ Radio Show!
Listen Now:
Want more? Sign up for The Real Estate Guys™ free newsletter!
Don't miss an episode of The Real Estate Guys™ radio show!  Subscribe to the free podcast!
Stay connected with The Real Estate Guys™ on Facebook!
The Real Estate Guys™ radio show and podcast provides real estate investing news, education, training and resources that help real estate investors succeed.
Throughout human history, there have been pivotal moments when new frontiers have opened up huge opportunities for those rare brave souls willing to take on the challenges of pioneering new territory.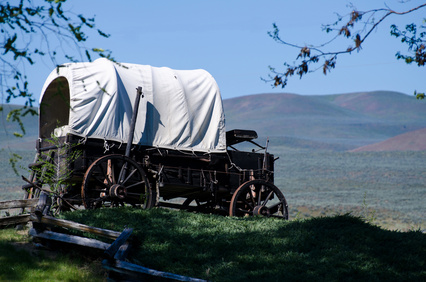 It was true when the pilgrims fled Europe to build a new life in America.   It happened again when courageous settlers answered the call to "Go West, Young Man!".
Modern business history is replete with stories of innovative entrepreneurs who entered the unknown frontier of the internet.
For real estate investors today, a new world of opportunity has opened up…and that's the topic of this episode of The Real Estate Guys™ radio show.
In the covered wagon studio pioneering the broadcast airwaves:
Driving the dialog…your brave and bold host, Robert Helms
Pulling the wagon…his old mule of a co-host, Russell Gray
Providing navigational guidance…attorney and regular contributor, Mauricio Rauld
The days of homesteading huge tracts of land, or staking claims for gold mines, or prime internet domain names is long past.
So it may seem like all the great opportunities are gone.
Wrong.
As you may recall, back in 2010 our friend and attorney Mauricio Rauld brought The JOBS Act to our attention.  In it, were provisions to ease up on the highly restrictive rules about raising money to fund private deals.
We got excited and waited eagerly for the implementing regulations to be released.
We waited…
And we waited…
And we waited some more….
No wonder this "recovery" hasn't taken hold.  But that's a rant for another day.
For a lot of people, the whole concept fell off their radar.  But not your intrepid talk show hosts.
Finally, in September 2013, the Securities and Exchange Commission (SEC) released the regs, and the legal community began to dig in so they could explain them to their eager clients.
And WHO are their eager clients?
People like us…like you…entrepreneurs of ALL kinds, including real estate investors, who've been locked out of marketing their opportunities to investors looking to put capital to work.
The prior SEC restrictions on solicitation gave a distinct advantage to Wall Street, where publicly registered companies can offer their stock to the general public.
Meanwhile, competing private offerings (like the $2 million you want to raise to buy that cash flowing apartment building), could only be presented to friends, family and others that the "sponsor" (the guy or gal raising the money) had a pre-existing relationship with.
While Wall Street still has a huge edge, the new rules permit sponsors to advertise to and accept investments from accredited investors…without the pre-existing relationship requirement.
And just like stock exchanges were created to facilitate the trading of public securities, crowdfunding platforms are being erected worldwide to facilitate the presentation of private securities to accredited investors.
Less than a year later, many of these platforms are already operating…and many more are coming.  This means more deals will see the light of day.
And for investors, more opportunities will open up.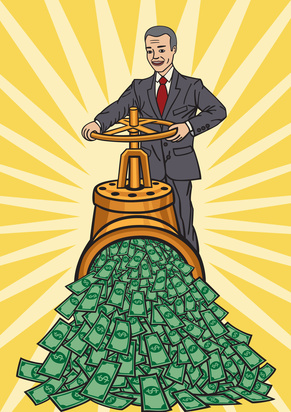 In other words, the flow of money from investor to opportunity will be opening up.   Ever since the crash, we've been saying that the economy doesn't have a liquidity problem, it has a circulation problem.
And while the government has created a lot of impediments by creating more regulations, in this case they are easing a restriction imposed after the Great Depression of the 30's….and it promises to improve the economic circulation of the economy.
Whether you decide to jump into this pool or not (as either an investor or a sponsor), the resulting flow of capital into the space will have an affect on supply, demand, capacity to pay, and inventory.  So it's something for you to pay attention to.
Of course, if you decide to participate, a brave new world of opportunities is just opening up for you!
Listen Now:
Want more? Sign up for The Real Estate Guys™ free newsletter!
Don't miss an episode of The Real Estate Guys™ radio show!  Subscribe to the free podcast!
Stay connected with The Real Estate Guys™ on Facebook!
The Real Estate Guys™ radio show and podcast provides real estate investing news, education, training and resources that help real estate investors succeed.
Show me the money!
At a time when many are complaining about how Uncle Sam makes it harder to do business, Congress just passed a law that gives real estate entrepreneurs a break.  Actually, ALL entrepreneurs benefit, but since we're The Real Estate Guys™, we're excited about the real estate angle.
So what's the big deal?  In the studio to find out:
Your big deal of a host, Robert Helms
Your square deal co-host, Russell Gray
Attorney and regular contributor to The Real Estate Guys™ radio show, Mauricio Rauld
Our friend Robert Kiyosaki says raising money is the main job of an entrepreneur.  Small time operators rely on their own money, but to break into the big time (or even the medium time), you need to acquire capital.
The good news is that money is always looking for good deals.  The bad news is that there are very strict rules about how one is permitted to raise money from strangers.  Whether you subscribe to the theory that it's all a conspiracy to drive money through Wall Street, or just do-good lawmakers putting so much effort into protecting the little guys that the little guys can't get in on any good deals, the bottom line is that until now, most money raising had to happen between friends.  Just like Momma used to say, "Don't talk to strangers!"
But now Mauricio tells us that the new Jump Start Our Businesses (JOBS) Act is actually loosening up some of the rules!  We know, it's hard to believe.  But let's face it.  America is getting pretty tired of anemic job growth.  So Congress put in a provision that loosens the rules for raising money from an online crowd of strangers.  It's cleverly termed "crowd funding".
Actually, the concept of raising on-line isn't brand new, but as is often the case, laws have a hard time keeping up with free market innovation.  Usually, that means things go from loose to constrained.  But since the fund raising rules were already constrained, in this case it seems that things are loosening up.  Great!  Even better, the updates affect many forms of advertising, even the old fashioned kind.
Mauricio tells us all about it and then generously offers a free article on the topic, which is yours for the asking if you're faithful to listen to the entire interview (and why wouldn't you?).  So grab your notepad and a tasty beverage, then settle in for another crowd pleasing episode of The Real Estate Guys™ radio show!
Listen now:
Want more? Sign up for The Real Estate Guys™ free newsletter!
Don't miss an episode of The Real Estate Guys™ radio show!  Subscribe to the free podcast!
Stay connected with The Real Estate Guys™ on Facebook!
The Real Estate Guys™ radio show and podcast provides real estate investing news, education, training and resources that help real estate investors succeed.