Interviews recorded live at the 2019 New Orleans Investment Conference!
Host Robert Helms talks with an outstanding array of experts on precious metals, the Federal Reserve, economics, and investing including …
Money manager Peter Schiff, former Fed official Danielle DiMartino-Booth, billionaire Rick Rule, renowned economist Mark Skousen, and gold expert Brien Lundin.
Listen in and gain valuable perspectives into the many factors affecting the economy, jobs, interest rates, the financial system and more!
---
More From The Real Estate Guys™…
The Real Estate Guys™ radio show and podcast provides real estate investing news, education, training, and resources to help real estate investors succeed.
---
Love the show?  Tell the world!  When you promote the show, you help us attract more great guests for 

your

 listening pleasure!
Lots more great questions from The Real Estate Guys™ audience!
In this episode we talk about getting started in real estate investing, analyzing deals, understanding how economic cycles affect real estate investing … and a whole lot more!
---
More From The Real Estate Guys™…
The Real Estate Guys™ radio show and podcast provides real estate investing news, education, training, and resources to help real estate investors succeed.
---
Love the show?  Tell the world!  When you promote the show, you help us attract more great guests for 

your

 listening pleasure!
Timeless real estate wisdom says three things matter most when deciding what to buy … location, location, location.
It's tongue-in-cheek, but the point is real estate derives its value from demand.
The key is choosing properties most likely to surge in demand relative to supply.
Of course, deciphering supply and demand means looking at demographics, economics, migration, and the potential for increases in supply.
The concept is simple.  But understanding actual market dynamics is more complex.
Still, it's worth the effort because real estate investing is about buying and holding a property for the long term.
And even if your time horizon is shorter, you still need new buyers coming into a market to take you out.
So getting the market right matters a lot more than simply making sure the property's free of termites and the plumbing works.
When it comes to residential rental real estate, some major demand factors are jobs, affordability, and quality of life.
Sure, everyone would LOVE to live in Tony Stark's mansion in Malibu … it's got a GREAT location and is low in supply.  But it's not affordable.
And with so many retail jobs being automated or Amazoned … and manufacturing jobs still more off-shore than on …
… what kind of jobs and geographies offer the kind of growth potential likely to support working class folks?
We're keeping our eyes on infrastructure for clues.
Both the Obama administration and now the Trump administration have said U.S. infrastructure needs attention.
It's not a blue or red only issue, so maybe something will really get done.
We've commented before on Trump's plan to spend a trillion dollars on infrastructure … and though it may seem to have fallen off the radar, infrastructure might be making a comeback.
First, even though the Fed backed off on the last rate hike, they're still talking about reducing their balance sheet.
That's code for tightening "monetary stimulus".
This puts pressure on President Trump and Congress to fire up some "fiscal stimulus" … which is code for good old-fashioned government spending.
And while the military is quite likely to be on the receiving end of a chunk of it, we think some funding will probably find its way into infrastructure.
Of course, we're not the only ones paying attention to this possibility.
Check out this headline from Bloomberg …
Buyers Bet on Infrastructure, With or Without Trump
The article is about one big company buying up another big company to get in position to feed off government spending on infrastructure.
"This rush to get positioned for an infrastructure-spending boom is a striking contrast to the stalled progress in Washington on legislation of any kind, let alone Trump's proposed $1 trillion infrastructure plan. But like the private-equity firms raising buckets of money for infrastructure-focused funds, industrial firms are wagering the country's roads, bridges and sewer systems have gotten so bad they can't be ignored for too long."
Of course, the big question for real estate investors is … where???
Some clues can probably be gleaned from the prospectuses of the private-equity and industrial funds … all of whom are presumably spending considerable resources on researching their mega-investments.
But there are also clues in the news.
The New York Times published an article claiming Trump Plans to Shift Infrastructure Funding to Cities, States and Business.
More recently, Reuters reports U.S. Construction Spending Falls as Government Outlays Tumble.
"U.S. construction spending unexpectedly fell in June as investment in public projects recorded its biggest drop since March 2002 … The decline pushed public construction spending to its lowest level since February 2014."
So even though Uncle Sam wants to spend money on infrastructure, they're not doing it in earnest … yet.
But think about this …
Big companies and private-equity funds are getting positioned for big infrastructure spending.  They expect it to happen.
President Trump says he wants to spend a trillion dollars in infrastructure.
We can't imagine Congress not wanting to spend money.  It's what they do best.  Then again, getting anything done is what they do worst.
But everyone seems to agree infrastructure is in bad shape. And we're guessing some places are in worse shape than others.
So like the big players, we think at some point, the need is going to force the spending … ready or not.
Now if the Feds don't pay … or if Trump puts more responsibility on the states … it seems like those states which already have the best infrastructure … or the best economic ability to build or improve it … will have a big advantage.
And because we're always looking for an advantage, we decided to look up those U.S. states in the best fiscal shape.
Not surprisingly, several of our favorites are in the top ten …
North Dakota
Wyoming
South Dakota
Vermont
Utah
Of course, when picking a market to invest in there's more than just fiscal strength.
Affordability, market size, business and landlord friendliness, quality of life … and your boots-on-the-ground team … are all important considerations also.
Nonetheless, with record levels of debt at every level, rising healthcare costs, pensions in crisis, and fiscally cancerous unfunded liabilities growing daily …
… we think companies and governments in relatively good financial shape are best positioned to make critical investments, gain competitive advantages, and attract an unfair share of population and business.
The goal, as Wayne Gretzky says, is to skate to where the puck is going.
Until next time … good investing!
---
 More From The Real Estate Guys™…
The Real Estate Guys™ radio show and podcast provides real estate investing news, education, training and resources to help real estate investors succeed.
Although real estate investors deal with real assets and not volatile holdings, we think it's crucial to understand the larger economic picture.
We've been attending Freedom Fest since the 2008 financial crisis.
Conventions like Freedom Fest bring together leaders of all types and set the stage for respectful dialogue between smart people with varying opinions.
We're thrilled to bring some of those smart people on the show today and get their insights on U.S. and world economics.
A disclaimer … our guests today lean right, politically. The Real Estate Guys™ don't endorse any political viewpoint.
Whichever side of the spectrum you stand on, we recommend you step back for this episode … and look at the information presented from the edge of the coin, objectively.
In this episode of The Real Estate Guys™ show you'll hear from some pretty smart guys:
Your freedom-loving host, Robert Helms
His fun-loving co-host, Russell Gray
Billionaire publisher, Steve Forbes
Legendary investor, Jim Rogers
Economic pundit, Peter Schiff
---
Listen
---
Subscribe
Broadcasting since 1997 with over 300 episodes on iTunes!
---
Review
When you give us a positive review on iTunes you help us continue to bring you high caliber guests and attract new listeners. It's easy and takes just a minute! (Don't know how? Follow these instructions).
Thanks!
---
Steve Forbes
We hope you're already familiar with Steve Forbes, head of one of the world's most influential business magazines (and two-time presidential candidate in the U.S.!). We asked Steve for his thoughts on the world of media.
Steve shared a quote from his grandfather, B. C. Forbes, the founder of the magazine, who said, "The purpose of business is to produce happiness, not pile up money."
"I always try to remember the spirit of Forbes," Steve told us. That means adapting to the age of online media and "fake news."
"Businesses have an incentive to get their message out there," said Forbes. Forbes publishes approximately 110,000 articles a year on the web, always aiming to maintain a unique angle … one that doesn't resort to tabloid journalism.
We asked Steve how people can be smart consumers of media. "Compartmentalize when you read the news," he told us, "and concentrate on what's actually being done."
For example, Steve sees exciting things happening in the areas of deregulation and tax cuts. He's keeping his eyes peeled to see what will happen.
What does Steve think about the state of real estate investing in the U.S.? "Location, location, location!" (We agree wholeheartedly.)
"In a vibrant economy, people want spaces to work and live," Steve said. "Prosperity solves a lot of problems and covers a multitude of sins."
Jim Rogers
Jim Rogers is a legendary investor, and we've been itching to do an interview with him for years. We asked him for his thoughts on the state of today's markets.
"Interest rates have never been this low," Jim told us. "The central banks have made mistakes. Debt has gone through the roof across the world."
His conclusion? "The next time we have a problem, it will be worse than 2008 because there's so much debt."
What do U.S. investors need to know about the global picture? "All investors have to understand the world now in 2017," Jim said. He advised investors to think … which nations have the largest economies? Which nations are the biggest creditors? A clue … all these countries are in Asia.
And which are the largest debtor nations? "Look out the window," Jim said.
What can folks do to stay sharp in a multi-media world? Jim had a few words of advice. He told us investors need two essential things … knowledge and judgment.
How can investors obtain both knowledge and judgment? Read and listen to a lot of different media types from different sources and countries. "You won't understand just by reading the American press," he said.
Once you obtain a wide variety of perspectives, that's when you use your judgment to sort out what makes sense.
And what about real estate? "Many cities are in a bubble right now. But in rural areas, there isn't quite as big a bubble," Jim told us. He sees the most promising opportunities in agricultural investing (a topic we love to discuss!).
"I don't know how to farm," Jim admitted. Luckily, there are many ways for non-farmers and small investors to align themselves with agricultural investments today.
How about gold and silver? "I own it. I haven't been buying it since 2010. I hope I'm smart enough to buy a lot at the right time," he said.
Jim predicts that people will eventually lose confidence in paper money. When that happens, he says people will buy land, gold, and silver. "Why not start today!" he said.
Peter Schiff
We asked Peter what's changed and what's new since the advent of the Trump administration? "Not much has changed with Trump," he said.
He told us he sees a lot of talk and very little action, a lot of hypocrisies.
What about the Fed's interest rate hike? "They've raised rates, but not much." Peter noted we're at the same levels we reached at the bottom of the housing recessions and told us the Fed's talk of quantitative tightening is "a bunch of talk."
In an age of conflicting reports, what does he think investors should pay attention to? "Actually look at the markets," Peter advised. "Look at the dollar, the price of gold. There are still lots of bubbles in the market."
He noted recent high-profile disasters happening in the stock market and the possibility of less market protection from the Fed. "The key is to pay attention and be prudent."
What can investors do in tiring times? No. 1, "Diversify out of the U.S. dollar," said Peter. "The dollar is a tailwind for foreign stocks, which will be a safe haven."
We also asked Peter about the advantages of obtaining residency and doing business in Puerto Rico. He has first-hand experience … he lives there with his wife and kids.
"What people don't understand is that Puerto Rico holds all the benefits of being in the U.S. without the cost," Peter said. Residents of PR don't have to pay federal income tax and gas tax, Obamacare penalties and taxes, or tax on capital gains.
Choosing the right ingredients for your investment blender
While none of our three guests today are primarily real estate investors, they possess a wealth of knowledge on business trends and economics.
These guys study the key components of what you put into your own investment blender … taxes and investing, owning property, job markets, financing, and more.
We love talking to knowledgeable people like Steve, Jim, and Peter because they take those essential components of the U.S. market and try to figure out where we'll be years in the future.
If you're trying to build a real estate empire, there's nothing more important than being well-informed about a market you might be married to for years or decades to come.
We hope you were taking notes … because like we always say, education is the path to effective action!
---
More From The Real Estate Guys™…
The Real Estate Guys™ radio show and podcast provides real estate investing news, education, training and resources to help real estate investors succeed.
One of the age-old adages of real estate investing is to invest in the path of progress.  Or as hockey legend Wayne Gretzky says … skate to where the puck is going. 
It's just a lot easier when you're riding a wave of demand … especially if you can find a substantial supply and demand imbalance. 
That's why land near water is so expensive.  People want it and there's just not that much of it. 
Similarly, homes inside top school districts often command higher prices and rents for the same reason. Ditto for a local market with a lot of jobs. 
But sometimes it's not just a geographic amenity that attracts people, businesses and money. 
Consider the role of demographics … 
There are two mega-groups of people … at least in the United States … which warrant your attention.  You've probably heard of them … and likely belong to one.  
First are the baby-boomers.  The 76 million babies born in the mid-1940's to the mid-1960's continue to be a MAJOR economic force. 
Even BIGGER than the boomers are the Millennials … those born in or after the 80's and entered adulthood in the first decade of the 21st century. 
From a real estate perspective, boomers have created opportunities in over-55 housing communities, assisted living facilities, resort areas … to name a few. 
Millennials are also impacting real estate … but not because of housing demand.  At least not yet, though a recent study suggests this could be changing. 
Sure, there are other groups and sub-groups to watch, but these are the two main demographics to pay attention to. 
Of course, economics is also a very important factor … 
But stepping beyond the obvious importance of job creation, real wage growth, availability of loans, and interest rates … 
… there's another economic phenomenon occurring now which may create a unique kind of opportunity for ambitious and alert real estate investors …  
Pension funds are in big trouble … 
So much so, this article says … 
"Institutional investors, including pension funds, are stepping outside of the box, beyond core asset types of office, industrial, retail and apartments, to consider a growing menu of alternative real estate options." 
" … property types that were once viewed as 'alternative' that are now moving more into the mainstream as accepted institutional caliber assets." 
And what might those "alternative investments" be? 
"…self-storage, student housing and resorts …" 
"Hospitality, seniors housing and student housing are among the former outliers that are now big targets for institutional investors." 
"… investors are continuing to push the boundaries of 'traditional' investments to include a wide range of options, including single-family rentals, data centers, workforce housing, land, timber, golf courses and prisons …" 
And not only are pension funds moving toward "alternative real estate options" … they're planning to cut out Wall Street and invest directly. 
So where's this puck headed? 
Somewhere between mom-and-pop investors and big institutional investors are small and mid-size investment businesses. 
It's what a mom-and-pop investor might eventually become if they just keep at it long enough.  Like playing Monopoly. 
But until you're there, no pension fund is coming for your collection of 10 houses, small apartment building, frat-house, or single residential assisted living facility.  
You're too small for them. 
BUT … someone who sees the opportunity to aggregate a portfolio big enough to bring it to a pension fund might be very interested.  
Of course, if you sell, you lose all that fabulous passive income you've built up.  That's not good. 
Or maybe YOU could raise money from investors who see the opportunity, and be the small business or mid-size business a pension fund would like to buy. 
Conceptually, it's just a value-add play.  
But instead of just buying a tired house and sprucing it up to make a few thousand bucks, you're building a much bigger portfolio (with the help of your investors' money) and flipping it to a whale. 
It's the same game, but at a much higher level.  And ironically, it's a lot LESS crowded because most people don't think that big. 
When you're done, you take your profits and plow them into your own, privately owned, cash-flowing portfolio.  Best of all you don't lose whatever you already have … you ADD to it. 
Of course, the opportunity won't be here forever … but it's also not going away any time soon.  The pension crisis in America has just begun.  
And we're pretty sure if history's any indication, politicians aren't going to solve the problem.  That's up to entrepreneurs … like you. 
Until next time … good investing! 
---
 More From The Real Estate Guys™…
The Real Estate Guys™ radio show and podcast provides real estate investing news, education, training and resources to help real estate investors succeed.

 July 13-16, 2020


Las Vegas, Nevada

Every year The Real Estate Guys™ head to Las Vegas to cover Freedom Fest.
Freedom Fest producer Mark Skousen is considered among the top 20 most influential economists in the world today.  We're proud to say Mark joined us on our 2013 Investor Summit at Sea™ and has become a good friend.  We've learned a LOT from Mark … and we're sure you will too!
Freedom Fest bills itself as the world's largest gathering of free minds … and we agree.
It's where we've met many of the fabulous guests we've shared with our listeners over the years … including Donald Trump, Steve Forbes, Herman Cain, Gary Johnson, Chris Martenson, Peter Schiff and many, many others.  They've been among our most popular interviews.
It's also where we first heard about a strange new thing called Bitcoin … deepened our understanding of economics … and discovered the important intersection between personal prosperity, property rights, and public policy.
Yes, Freedom Fest can feel a little political … so depending on your leanings it might not appeal to your personal preferences.  But over the years we've discovered that everyone we've ever met wants more personal freedom, more personal health, and more personal wealth.
For us, Freedom Fest brings together a lot of people who disagree about a lot of things … but they share the common goal of promoting more personal health, wealth, and freedom.
We like it.  And we think you will too!

Will the Fed raise interest rates?  Will gold go up?  Will stocks crash?
Inquiring minds want to know!  And so do real estate investors.
So we sit down to chat with three of the smartest guys we know…a Bull, a Bear and a Bug (gold that is).  And then we discuss what it all means to YOUR real estate investing.
---
The Real Estate Guys™ radio show and podcast provides real estate investing news, education, training and resources that help real estate investors succeed.
---
Divining the tea leaves of financial markets is an imprecise science at best…and probably much more of an art.
But whether science or sorcery, when you're busy building a portfolio of assets, liabilities, cash flow and savings, you need to pay attention to a lot of moving parts.
Broadcasting from the New Orleans Investment Conference in (you'll never guess…) New Orleans, Louisiana:
Your divine host, Robert Helms
His imprecise co-host, Russell Gray
Renowned economist, author and stock guru, Mark Skousen
Best-selling author, outspoken financial pundit and Fed critic, Peter Schiff
New Orleans Investment Conference promoter, newsletter publisher and gold guru, Brien Lundin
Each of our guests have been with us before.  But in case you're new to the show, you should know that NONE of them are real estate investors.  And for our purposes, that's a good thing.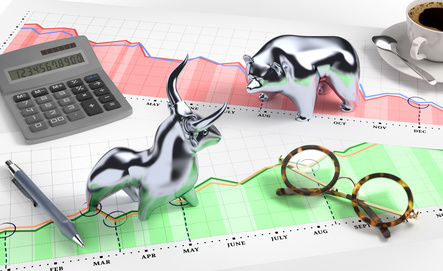 We're looking for peripheral perspectives on the financial markets which affect us all…no matter which segments we're invested in.  That's because all these markets are part of a fluid sea of funds which ebb, flow, circulate and mix.
All but the most inexperienced real estate investors understand the bond market sets interest rates.  And as you accumulate a portfolio of properties, unless you're a cash buyer, you're also accumulating a big portfolio of loans.
So interest rates and the bond markets should be of great interest to you.
Why are interest rates low?  Will the Fed raise interest rates?
Some think that the Federal Reserve sets interest rates.  That's not technically true.  At least not for mortgages and many other market rates.
But the Fed has a HUGE impact on interest rates through their open market manipulations…er, activities.
The Fed adjusts bank reserve requirements, sets the Federal Funds rate (that's the one you hear about all the time on the news), and manipulates various and sundry other levers to expand, contract and coerce the costs and motivations of lenders and borrowers.
So watching the Fed is an obsession for many investors.  That's why the Fed is in the financial news all the time.
Right now, the Fed keeps TALKING about raising interest rates.  They haven't done it in 10 years.  But they keep talking about.
Peter Schiff thinks the Fed probably won't raise rates.  He says if they do, they'll prick bubbles in stocks, bonds and other markets …and expose a phony economic recovery.
What about the stock market?  Will stocks go up…or will they crash? 
Of course, interest rates affect more than the cost of money.  Rates affect how money is used, stored and borrowed.
Companies are borrowing cheap money to buy back their own stock.  And why not?
If your company earns anything above the cost to borrow, then every dollar you borrow to buy your own stock makes you a profit.  It's just like when a real estate investor can borrow 4% mortgage money and buy 8% cash flow properties.  You'd do that all day long.
Plus, stock buybacks improve a company's EPS (earnings per share) because they divide the same earnings over less outstanding shares.  This can look good to unsophisticated stock investors and make a company look like its sales and profits are growing, when they could actually be shrinking.
Cheap money also empowers mega mergers and leveraged buy outs.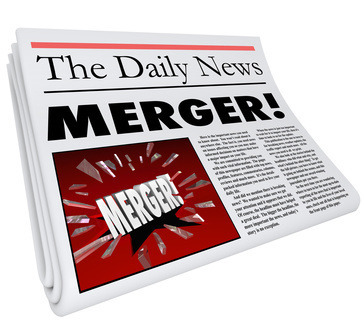 You've probably heard about AT&T and DirectTV, American Airlines and U.S. Airways, Anheuser-Busch and Miller, and the big one currently under consideration between Pfizer and Allegra.  And that's just off the top of our head.
These deals need to be financed.  Cheap money makes the debt load easier to cover from operational income.
It's no different than when a real estate investor borrows to buy a property and then pays for the loan with the rents.
Hopefully, the property cash flows at a rate higher than the cost of the funds.  So the lower the cost of the funds, the more properties qualify to do a deal.
Now you might choose to go in thin as long as you have a viable plan to increase net operating income.  Guys like Ken McElroy do this all the time.
But guys who take over companies do the same thing.  And often their plan to increase profit, means cutting back on things like payroll (layoffs) and long term investment (research & development and capital expenditures).
M&A (mergers and acquisition) guys argue the "acquire and fire M.O." helps make companies more efficient.
Maybe.
Sometimes it makes companies less competitive.  Because when you lay off people, you lose intellectual capacity.  And when you cut R&D and Cap Ex, you don't have new products or state of the art equipment and efficiency.  Eventually, all this can make you LESS competitive.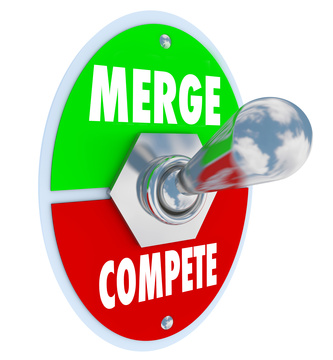 But we're not here to judge.  We aren't that smart.  We're just pointing out what's going on so you can anticipate and react accordingly.
For real estate investors, it can mean entire employment bases being shut down.   When Company A buys Company B, sometimes they shut down an entire campus.  Jobs are lost.  That affects the local real estate market.
Are any major employers in YOUR market in talks to merge?  Pay attention!  It could affect the local economy…and YOUR bottom line.
Low interest rates also affect Mom & Pop stock investors…
Right now, low interest rates are forcing people out of savings and into the stock market.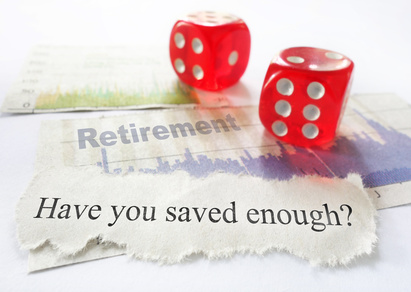 The stock market is the only place most paper asset investors know to go to try get enough earnings from their savings to live on.  Otherwise, they have to eat into the principal.
Of course, if they eat too much principal, they run out of money before they run out of life.  This is one of the greatest fears of the HUGE baby boomer generation…which is retiring at the rate of over 10,000 per DAY.
Of course, helping these folks discover how income producing real estate can provide better cash flow, lower taxes, and a long term hedge against inflation is one of the GREATEST OPPORTUNITIES going right now.  And with the new law opening up your ability to market to potential investors, there's never been a better time to get into the syndication business.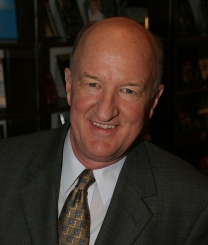 Mark Skousen thinks as long as rates stay low, the stock market will stay strong.  And speaking of strong…
Why is the dollar strong?
This is SUCH a GOOD question.  But before we tackle it, let's consider what it means.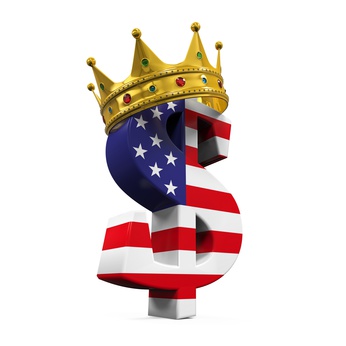 The "strength" or "weakness" of the dollar can be measured against many things.
If you go to the gas station and can fill up your tank for $20, you might say the dollar is "strong" against gasoline.  You can buy a lot of gas for fewer dollars.
But if it takes $200 to fill you tank, you'd probably say the dollar is "weak" against gas.  It takes a lot MORE dollars to buy the same gas.  Or you could say gas is strong.  Or gas went "up".
The point is that "strength " is relative.  Compared to what?
Right now, many other currencies are even WEAKER.  In fact, some countries' interest rates have gone NEGATIVE.    And most other countries' economic growth is even more anemic than that of the United States.
Of course, the U.S. has a trump card…and it's not the guy running for President.
The U.S. dollar is still the world's reserve currency.  And U.S. Treasuries, which are denominated in dollars, are considered by most to be a "safe haven" asset.
You've probably  noticed, there's been bit of instability in the world.  And it's been going on for awhile.  So (allegedly) paper asset investors worldwide are piling into dollars and Treasuries…for safety.
Of course, not everyone thinks dollars and Treasuries are the safest place to be….
Will gold go up?
China and Russia have been dumping dollars and Treasuries and buying gold.  Meanwhile, U.S. mint sales are at record highs.  Physical inventories are dropping.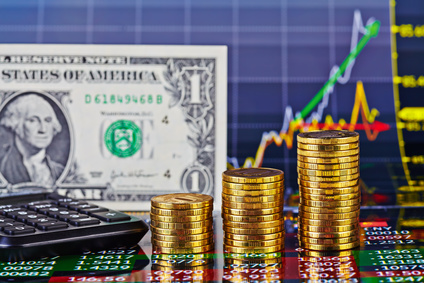 Yet the price of gold FALLS.  That's weird.
But actually, gold is only falling when measured in dollars.  In terms of other currencies, gold is actually rising.
We know.  It's hard to get your mind around.  But we think it makes sense to try.  Go back and think about the gas example.  When you have to trade more dollars for the same gas, you can say the dollar fell…or you can say gas went up.
Think about what you're doing by investing…
You're working at earning or raising dollars to use as down payments.  So you're probably being paid in dollars and saving in dollars, right?
Then you go out and borrow…in dollars…to buy a piece of real estate that will generate income in…dollars.
Along the way, you'll take in deposits, build reserves, set aside money for contingencies and capital expense…probably all in dollars.
And even if you're reinvesting by adding more properties, you're still going to be building up bigger and bigger CASH balances…in dollars.
So now your EXPOSURE to the banking system and the dollar is GROWING.
Therefore, it seems sensible for you to be concerned about the strength of the banking system and the dollar, right?
BUT…you say…what difference does it make?  What choice do I have?
GOLD.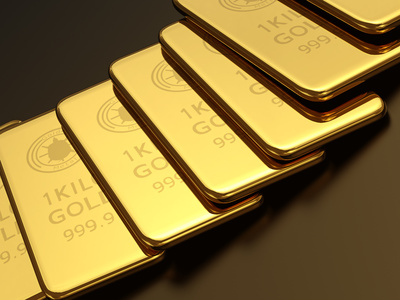 Precious metals are an alternative to dollars as a place to store liquid reserves.  It's where people (and countries) go when they're concerned about the dollar and the banking system.
So we pay attention to gold because it's an indicator of the strength and direction of the dollar.  Make sense?
It used to be good enough to simply watch the PRICE of gold.  If it was down, then demand was down.  If the price was up, then demand was up.  So you could accurately use price to gauge demand.
Not today.
That's because physical gold prices are impacted by paper derivatives in the futures markets.  That is, there are people who buy and sell physical gold.  And there are those who buy and sell contracts (paper) which are allegedly backed by gold.
We know.  It's heady stuff.  But please don't gloss over.  It's not as hard as it seems.  And it really does matter to your long term financial health.  Really.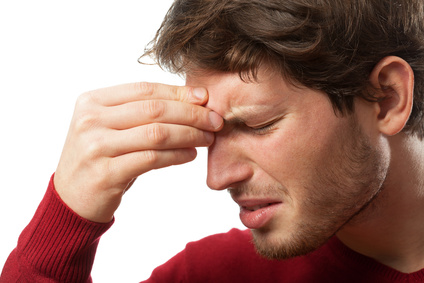 We won't get into all the mechanics of the gold futures markets.  This is already a marathon blog (THANKS for sticking with us this far!)…
Suffice it to say that when paper traders sell highly leveraged paper contracts they are able to push down the price of gold in both the paper AND the physical markets.
But when the price of physical gold drops, physical buyers show up and claim physical gold.  As long as those orders get filled, people trust the paper contracts.  The paper guys may not want the physical, just like you may never want all your cash out of the bank.
But the minute you don't think the bank has the cash to give you, you want it all.  Right now.  And if you can't get it, you lose trust in that bank statement you have that says the cash is really there.
Well, when we first started watching the gold market, there was twice as much physical gold in the warehouses and there were about 40 claims on every ounce of physical gold.
Today, the physical inventory is half what it was and the outstanding claims are pushing THREE HUNDRED for each ounce.
This makes us suspicious that the PRICE of gold may not really be "free market"…which means it's less useful for determining what's really happening with the dollar.
If the demand for physical market were to exceed the ability of the warehouses to deliver the gold, then the true price of gold in dollars could be revealed.
Going back to our gas example, it means it would take more dollars to buy the same gold.  Gold would go "up".  Really what's happening is the dollar would be "down".
But we're just real estate guys and we're clearly out of our league when commenting on gold.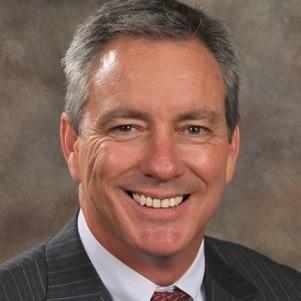 Brien Lundin is one of the smartest, most connected gold guys we know.  He tells us the gold investors he knows think gold has put in a bottom.  Which really means the dollar compared to gold has peaked.
That would mean gold will be going "up" and the dollar will be going "down".
If so, it explains why governments (Russia and China in particular) and individual investors are using dollars to buy gold now.
And as if all this wasn't enough, consider it's being reported that China's currency (the yuan) may be about to be included as one of the world's reserve currencies, joining the U.S. dollar, the British pound, the Euro and the Japanese yen.  Of course, the U.S. would need to approve it.  Which might explain why China set up its own international bank.
As we discussed in our Real Asset Investing report, this is a trend we've been watching develop for several years.
What does it all mean to real estate investors?
Okay, for you marathon readers, let's try to wrap all this up and put a bow on it.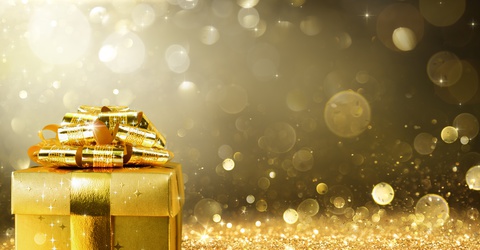 Interest rates have a big and direct impact on your mortgages, your cash flows, your tenants and the local economies which support your properties.
The Fed's motivations and maneuverings impact interest rates.  And the Fed is influenced by the stock market and the dollar (and vice versa).
Gold is one of a few indicators of the strength and future of the dollar, which has been slowly losing its grip as the world's reserve currency.
If there is hidden weakness in the U.S. economy and U.S. dollar, rising interest rates and/or a failure to deliver on physical gold shipments could quickly expose it.
The result could be rapidly rising interest rates or a rapidly falling dollar (inflation, i.e., rapidly rising prices).
In any case, you want to be ready for ANYTHING.  And dollars, bonds and bank accounts probably won't be as safe as many think they are.
So we continue to think real assets which serve essential, transcendent needs (shelter, food) in markets with good infrastructure, population, business climate and low costs will be the safest (and probably most profitable) places to be.
The MOST IMPORTANT INVESTMENT you can make right now is…
Your own education and network.  Because if things get crazy, you'll want to see it sooner, understand it better, and be connected to lots of smart people you can collaborate with to navigate a rapidly changing environment.
We know you'd probably like everything to be simple and easy.  But that's not the world we live in today.
Of course, it doesn't have to be scary or boring.  Personally, we go out of our way to create fun and educational events to bring great people together to learn, share, connect and work on a building a brighter future.
---
Listen Now: 
The Real Estate Guys™ radio show and podcast provides real estate investing news, education, training and resources that help real estate investors succeed.
The future of money, inflation, and deflation are just a few of the recent questions topics we've received from you, our listeners. So many great questions piled up in our email grab bag, Walter could barely carry them into the studio.  Of course, Walter's got those skinny little bird legs… So, let's dive into your questions on real estate markets, condos, deflation, the future of money and how it affects you as an investor.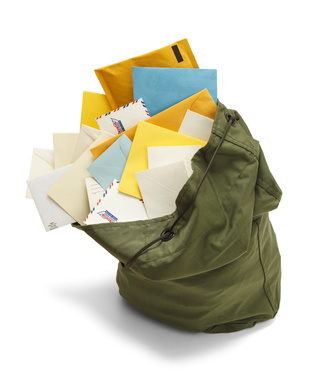 In the studio behind the silver microphones of The Real Estate Guys™ radio show:
Your intrepid educator and host, Robert Helms
His inept communicator and co-host, Russell Gray
The ageless Godfather of Real Estate, Bob Helms
Choosing a Good Real Estate Market
It's no secret that real estate prices have risen in many markets.  And because of this, investors are looking for places where properties are more affordable.
Long time listeners know we think all things being equal…affordable markets will be a safer place to be in the next decade or so.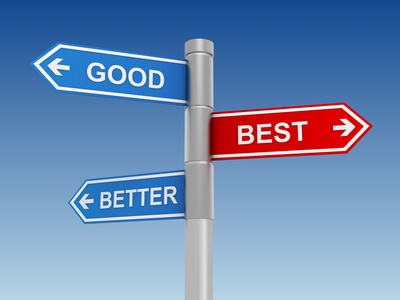 BUT…all things aren't equal in all markets.
So when a young listener asks our opinion of Detroit as a real estate investment market, we had to take a step back and discuss what makes one market preferable to another.
After all, "good" has to be answered in the context of, "Compared to what?"
So tip #1 is…pick at least two markets to compare.  Not seventeen.  Just two or three.
Next, look for economic drivers.
What makes that market tick economically?  There should be several things.  If there aren't, then you need to move on.
Look at population and migration trends.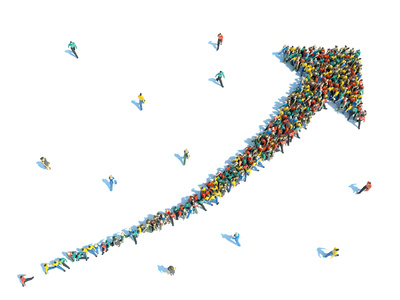 More people equals more demand for real estate.  Growing population and people moving in means upward pressure on rents and prices….and vice versa.
Look at infrastructure.
Schools, transportation, healthcare and retail are biggies.  The more and better of these essential "bones" that exist in a market, the more likely people and businesses will want to move there…or stay.
Consider the financial health of the government.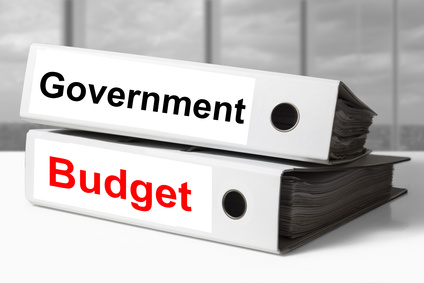 Is it able to provide essential services, improve infrastructure and maintain an environment conducive to economic growth?
A municipality that can't afford to pay its police or maintain its roads, parks, etc…is likely to impose higher taxes now or in the future.  That chases away businesses and people.
You get the idea.
Of course, with that said, because of the inherent inefficiencies in trading real estate, it's always possible to find a deal that makes sense.
We just think fighting the local market trends isn't worth it.  As much as a hassle as investing out of area is, it's easier than swimming upstream against a declining market.
"Live where you want to live, but invest where the numbers make sense." – Robert Helms
Condo Conundrum
Another listener is considering investing in a residential condominium.  Like any product type, there are pros and cons.
One of the positives about condos is they tend to be more affordable than single-family homes.  So you potentially get more bang for your investment buck.
You also have the power of the group.  Depending on the size and configuration of a complex, you can have common amenities like a pool, fitness center, tennis courts, green areas, etc.
These are things many tenants would find attractive, but the costs are shared by all owners.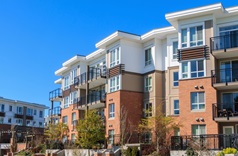 On the downside, there are some things every condo investor should be aware of.
First and foremost is the financial condition of the Homeowner's Association or HOA.
If the HOA isn't collecting its membership dues or not collecting enough, then all those fancy amenities fall into disrepair.  Or worse, essential things like roofs, driveways and landscaping can deteriorate.
When these major expenses come up and the condo association can't pay the bill, the owners could end up getting a "special assessment", which is essentially a cash call.
And if you don't pay, the HOA can place a lien on your property, impeding your ability to sell the property…or worse, the HOA can initiate a foreclosure to satisfy its lien. Yikes!
Also, on the subject of HOA's…
Be sure to look over the HOA's meeting minutes to see if any major issues of concern are being discussed.  If there's trouble brewing, you probably want to know about it BEFORE you buy.  You can't expect that the seller or the seller's agent have read them…much less disclosed anything problematic.  Check it yourself.
It's also important to pay attention to the percentage of renters in any given complex.
That's because when the percentage gets too high, the condo becomes "unwarrantable".  This is lending lingo for saying that conventional lenders won't loan on it.
Now you might not care when you buy or own, but when you get ready to sell, if your potential buyers can't get a loan, it limits your options for getting out.  This means a lower price…if you can sell it at all.
So it's certainly possible to make money in residential condo investing…and many people do…it's very important to do your homework BEFORE you pull the trigger.
Inflation or Deflation?
We got a great question from a long term listener wants to, know, "Is inflation or deflation coming?"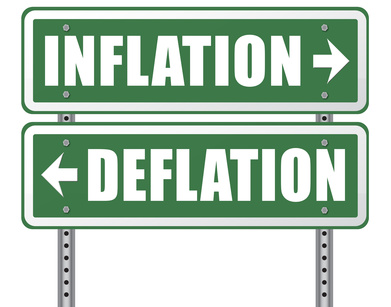 The short answer is yes.  In fact, they're both already here.
The bigger answer is more complicated, but worth delving into because it's very relevant to real estate investors.
Inflation and deflation affect everything from interest rates, to wages and rents, to property values...and more.
In an effort to keep it simple, we get inside what causes prices to rise or fall.
The factors which drive prices UP include appreciation, leverage and inflation.  And they are all different.
Factors driving prices down are the inverse:  depreciation, de-leverage and deflation.
Here are the quick definitions:
Appreciation is when more demand is out weighing supply.  Depreciation is when supply is out weighting demand.
Remember, an economy is just one big auction with bidders and sellers.  The more people who "appreciate" an item and bid for it…especially against a static or shrinking supply…the higher the price will rise.
Of course, if supply increases relative to demand, the sellers lower the price to attract buyers, and prices fall.
It's true for stocks, houses, labor, commodities and pretty much everything.
But there's more…
Inside "demand" is "capacity to pay".  After all, if you can't afford something, it doesn't matter how much you demand it.
This is where "leverage" comes in.  And leverage dramatically affects "capacity to pay".
When people who want something they can't afford today with the money they already have, financing allows them to bring future earnings into the present.  Those funds are used to bid UP the price.
A big part of the explosive rise in the cost of college has come from the explosion in student debt.  A lot of money from the future came into the present and bid up the cost of college.
The same thing happened in housing over the decades following the Depression.
If you can find someone really old, ask them about home loans in the 40's.  They were maybe 5 or 10 years.  Today, they're 30 years.  In Japan, they can be 100 years!
That's a lot of future money (leverage) coming into the present to bid up prices.
Of course, when people can no longer afford to go into debt…or are unwilling to…then all that purchasing power goes away.
And LESS leverage means downward pressure on prices.
The third component of price change is the supply of currency (not debt, just cash) that is in circulation.
The MORE money being circulated, the more can be used to purchase things.
And if the amount of things doesn't change, the net result is it costs MORE to buy the SAME things.  This is inflation.
Of course, the reverse is true.  But since the central banks control the printing presses and are committed to INFLATION, the probability of true deflation is unlikely.
But that doesn't mean prices won't fall. Just take a look at oil.
Because the SUPPLY of oil exploded with the fracking industry, while the DEMAND for oil didn't grow as quickly, the price of oil dropped.
Meanwhile, because the DEMAND for properties to rent has grown (U.S. home ownership is at the lowest level since 1967) relative to SUPPLY of units available to rent (builders haven't added as many new units as there are people wanting them)...rents have gone UP.
So for those who call rising prices "inflation" and falling prices "deflation", BOTH are happening at the same time.
Of course, now you know there's a lot more to rising and falling prices than just inflation and deflation.
The art is to look at anything you're investing in and ask how ALL the factors are most likely to affect it.  And then invest accordingly.
Yes, we wish it was simpler too.  But it is what it is…which is why we study all the time.
Could the Yuan replace the Dollar? How would that impact the future of money?
Another topic we study is currency and the future of money.
Because most of the world transacts most of its business in…or based on…the dollar, we pay attention to it.
Lately, China's been making moves to push its currency (the yuan or renminbi) to be on par with the U.S. dollar, the British pound and the Japanese yen.
The head of the International Monetary Fund has already publicly stated it's not a question of if, but a matter of when this will happen.
One listener wonders what to make of all this.
Join the crowd.  We spend quite a bit of time contemplating this very thing.  In fact, one of the major discussion topics on our next Investor Summit at Sea™ will be "The Future of Money".
At this stage, the trend for the demand of the dollar as a currency (medium of exchange) is actually going down.
At the same time, the supply of dollars has gone up…thanks to trillions of dollars injected into the economic system through multiple doses of quantitative easing by the Fed.
Based on that alone, you'd think the value of the dollar would FALL.  After all, less demand and more supply means a falling price.
So then WHY has the dollar been so strong? And how will that impact the future of money?
Because people are using it not just as a currency, but as a store of value.  So while demand for the dollar as a currency has fallen, demand as a store of value (a safe haven) has increased.
So back to the listener's question…what happens if the yuan becomes a reserve currency?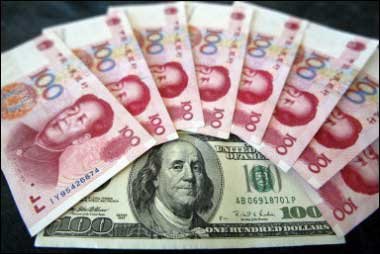 If the yuan becomes a reserve currency, it legitimizes its role not just as a medium of exchange, but also as a store of value.
And if China backs the yuan…even partially…by gold (in addition to its substantial reserves and robust manufacturing economy)…it's conceivable that many investors would dump dollars and buy yuan.
Consider that Britain is issuing the world's first yuan denominated bonds.  It's just a clue that the yuan is moving ever closer to becoming a serious player on the world stage.
So if demand for the dollar falls against the backdrop of the trillions printed in the wake of the 2008 financial crisis, then the value of the dollar could fall SUBSTANTIALLY.
Worse for dollar holders, is that once the world begins to lose faith in the dollar as a store of value, the rush for the exits begins.  And this exacerbates the fall of the dollar.  It's an ugly downward spiral.
What does that mean to you as a Main Street real estate investor?
The first and most likely impact will be a rapid rise in interest rates and in the dollar denominated value of anything real.
If you own real assets, like real estate and precious metals, then you'll preserve your relative position.
The dollar value of those things will go up, but it won't mean anything because the dollars won't be worth as much.
It's like that $50,000 3 bedroom house from 1970 that's now worth $500,000.
The house didn't get bigger or more useful.  The dollar just fell, so now it takes more of them to buy the same real value.
But even though you aren't richer in real terms, you're better off than if you didn't own the house.  So owning anything real when a currency is losing value is a safer place to be.
Next, if you've used low fixed rate financing, as interest rates rise, you're not affected.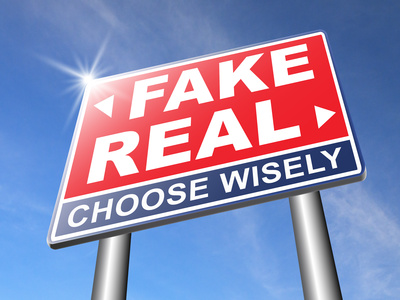 In fact, you have a competitive edge because anyone trying to buy when interest rates are high will have to charge much higher rents in order to cover their costs.
So you can offer low relative prices to your tenants in a time of economic weakness and still be positive cash flow.
Your tenants will probably be very grateful and loyal, so you'll have less vacancy and less hassles.
All this to say…the more you understand what's happening, why it's happening, how it affects you and what you can do about it…the less scary all of these changes are.
Because change is coming whether you're ready or not…and whether you do anything or not.  Obviously, it's probably a good idea to pay attention and take appropriate action.
We'll be here watching, reporting and commenting on the future of money and other topic.  So stay tuned to The Real Estate Guys™ radio show.  And if you really want to compress your learning curve, take the big leap and join us on our next Investor Summit at Sea™.
Meanwhile, listen into this enlightening edition of Ask The Guys!
Listen Now: 
The Real Estate Guys™ radio show and podcast provides real estate investing news, education, training and resources that help real estate investors succeed.
There's been lots of talk in the news lately about how and why rents are rising.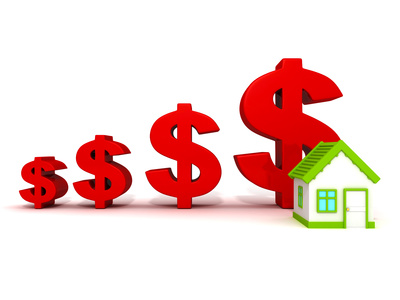 Of course, if you're already a landlord, that's not bad news.  And those who invested in residential rental property a few years back hit the trifecta of low purchase price, falling interest rates and rising rents.
But that was then and this is now.
Is the party over?  Did you miss the boat?  What's happening today…and where are things headed?
All great questions!
Squeezing their way into The Real Estate Guys™ studio to look for answers in this edition of Clues in the News™:
Your plum of a pontificator and host Robert Helms
His orange-you-glad-he's-not-the-host co-host Russell Gray
We like to look at the news for a lot of reasons.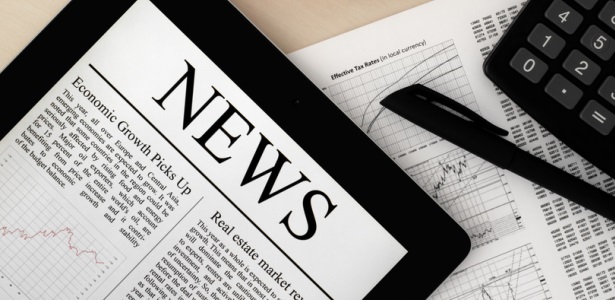 First, the news helps us see the big picture events which affect our real estate investing.  And we're especially interested in anything that affects our rental income, our interest expense, or the supply and demand of properties.
Real estate investors tend to live in their own little world…finding deals, servicing tenants, managing cash flow and dealing with vendors.
It's EASY to get lost in the weeds and miss a macro-trend that could have a HUGE impact on your business.
For syndicators, the news provides insights into the concerns and competing opportunities your investors have.  When you are well-informed, it makes a positive impression on the people who are…or are considering…investing in you.
For this episode we hone in on reports of things that have the potential to put the squeeze on the rising rents so many landlords have been enjoying.
U.S. Health Spending – $3.1 Trillion a Year and Growing
One thing we like about real estate…especially residential real estate…is keeping a roof over their head is a HIGH priority to tenants.  That means with all the things competing for their available income, landlords are high on the list.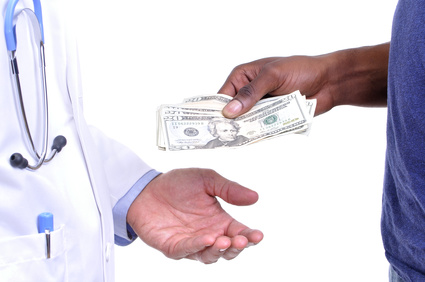 However, healthcare is pretty high on the list too.  And with the new Obamacare mandate forcing everyone to buy insurance or pay a penalty, more of a tenant's available money is going to healthcare.
This article also says out-of-pocket expenses are on the rise too.  Which, again, means more competition for available cash flow…and a potential restriction on the rising rents trend.
The GOOD news is that if you own property in an area with a strong healthcare industry, your local employment and wages might be above average.  So there's always a silver lining.
Social Security Disability Fund to Run Dry Next Year
With nearly 100 million people deriving some form of income from the U.S. government, the odds are high that some of your rental income comes from government sources.  So it's smart to pay attention to any potential cuts.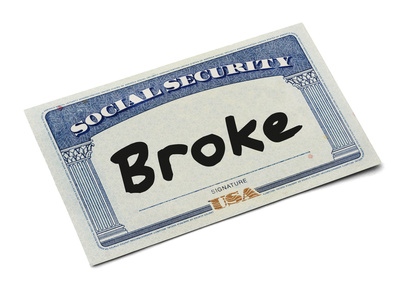 And with the substantial increase in people on disability provided through the Social Security Administration, it's pretty big news when the trustees are reporting there will be NO cost of living adjustments in 2015…and the Social Security Disability Fund will be BROKE by the end of 2016.
Will Congress allow the fund to go broke?  Probably not.
But if they don't handle it soon, an AUTOMATIC 19% cut kicks in…the same way the mandatory "sequestration" cut in the general budget kicked in when the government couldn't pass a budget.
If you have tenants who rely upon Social Security disability payments to help with rent, the next year or so could mean a squeeze for your tenants, and therefore for you too.
From Rents to Haircuts, Americans Start to Feel Price Hikes
For some reason, The Fed has been trying to get inflation up to at least 2 percent.  Looks like it might be working.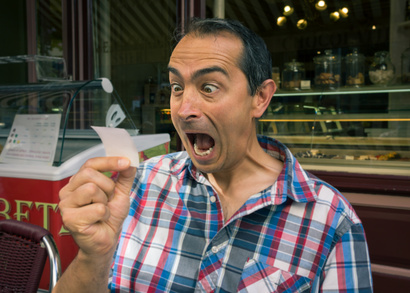 And while it's been nice to see the upward pressure on rents, when it hits our tenants' pocketbooks in other "essential" areas…like haircuts, healthcare and coffee…it means the tenant gets squeezed.
You can only squeeze so much before something's gotta give.  And that something might be your ability to raise rents…or even maintain the rents you've raised already.
Of course, all of this presumes your tenant's have a paycheck to divvy up.  So this next headline also caught our attention…
Layoffs Surge As Oil Price Outlook Remains Sober
Falling oil prices were supposed to be a big boon to consumers.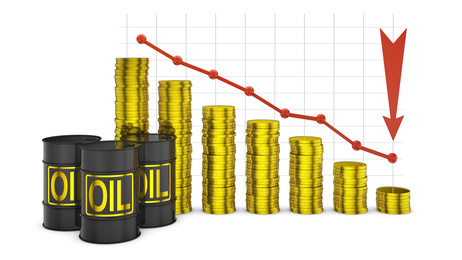 But with reports of inflation kicking in and gasoline prices not falling as far or as fast as oil prices, it doesn't seem like cheaper oil has meant lower living costs for everyday people…like your tenants.
On the other hand, the oil industry had arguably been the brightest star of employment over the last several years.  But with oil prices depressed, not only has the job growth stopped…it's going backwards.
And as we emphasize on The Real Estate Guys™ market field trips, certain industries are employment magnifiers because they funnel money into a region from outside.
So not only does the primary industry create jobs, but the revenue it generates purchases supplies and services from secondary or support industries.  These are sub-contractors, parts and materials suppliers, and vendors of all kinds.
But it's even bigger than that…because the employees of BOTH the primary and secondary industries ALL consume local retail services, such as restaurants, dry-cleaners, automotive sales and service, healthcare and yes…residential real estate.  These tertiary industries also provide local jobs.
So if it employment is MAGNIFIED by the growth of a PRIMARY industry like oil…what happens when layoffs occur at the primary level?
That's right.  The LAYOFFS ARE MAGNIFIED too.
So as strategic real estate investors, it's important to consider where your rental income REALLY comes from.  And how these news headlines could trickle down to YOUR bottom line.
But lest you think it's all gloom and doom, it's important to remember that there's always opportunity.
And while not really a headline, a recent newsletter we subscribe to from a new contributor to The Real Estate Guys™ blog brought us this news:
A New Opportunity to Build New Detached Homes for Rent
John Burns Consulting provides intelligence to the real estate development industry.  They point out that 10 percent of homes are purchased by real estate investors…like you.
But until recently, new home builders ignored this segment of buyers in favor of selling to owner occupants.
Well, a funny thing happened on the way to the bank…residential home ownership has fallen to a nearly 40 year low.
So builders had realized they might want to serve the growing segment of the market…landlords.
And there are a LOT of reasons to be excited about a better opportunity to buy brand new homes designed with the landlord in mind.
First, tenants prefer…and will pay more for… a brand new home.  That improves your gross income.
Also, brand new homes have NO deferred maintenance.  This keeps your capital expenditures low at acquisition and for the first several years of ownership.  So you add lower expenses to your higher income.
So far so good.
Add to this that the smart builders will value engineer their products to provide a lower cost without a corresponding loss of rent-ability.  That is, the amenities which a home BUYER requires…at extra expense…are less important to renters.
This means you pay less for the same rental income.  Nice!
So even though there are headlines which point out some of the challenges, we know that the flip side of every problem is an opportunity.
This could explain…
Why Most Americans Are Investing in Real Estate, Not Stocks
According to this article from CheatSheet.com, a recent Bankrate.com survey says Americans' first choice for investment is…real estate.
Makes sense to us.
So listen in as we discuss these and other topics as we search for Clues in the News™!
Listen Now:
The Real Estate Guys™ radio show and podcast provides real estate investing news, education, training and resources that help real estate investors succeed.
Tax policy can be a VERY polarizing issue.  Just think about what happened in Boston in the late 1700's.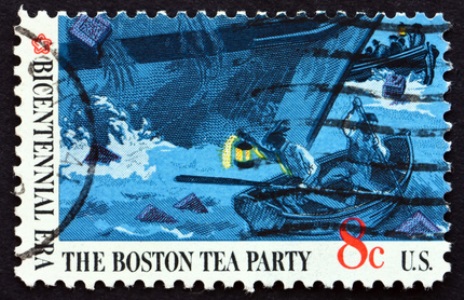 However, tax considerations play a big role in the decisions real estate investors make when choosing markets, financing structures and hold terms.  All diligent real estate investors spend a lot of time with their tax strategist to manage their portfolios for optimum tax benefit.
But most of that work is done inside the tax code…which grows out of the tax statutes passed by Congress…which grow out of tax philosophy, AKA tax policy.
Working backwards… tax policy is what gives birth to the tax code.
So if tax POLICY changes, then it will directly affect the tax CODE…and YOUR strategic investment decisions.
And it's not just you, the small time real estate investor, who's affected.  There's also the big REITs, hedge funds and mega-millionaire real estate investors.
But it's even BIGGER than that.
Consider how tax strategy impacts the decision making of corporations, small businesses and bond investors (where much of the money we borrow to buy real estate comes from).
So any proposed tax reform, whether we agree with it or not, has the potential to DIRECTLY impact the flow of capital, the expansion of supply and the formation of jobs…in YOUR local markets.
To talk about the current state of tax reform as the U.S. heads into a major election year:
Your well-formed host, Robert Helms
His deformed co-host, Russell Gray
Tax reform activist and author, Grover Norquist
Billionaire, author, former presidential candidate, Steve Forbes
If you're familiar with our guests, you already know they share a particular slant when it comes to tax reform:  smaller and simpler is better.
You may or may not agree.  That's okay.  While Steve Forbes and Grover Norquist may want to persuade you to their particular philosophy, that's not what this episode is all about.
The fact is that we're headed into a major election year.  It's one that promises to include heated debate about how best to improve the state of the U.S. economy.
And a big part of the discussion will include what to do about the enormous and complicated U.S. tax code.
If Donald Trump is right when he says all the politicians do is talk but nothing happens, then maybe you don't need to pay much attention.  After all, the tax code hasn't changed much since Ronald Reagan pushed through the Tax Reform Act of 1986.
BUT…if you're a geeky student of economic history like we are, you may recall that quite a few MAJOR events occurred in the wake of the last major tax reform…such as the Black Monday stock market crash of 1987 and the real estate bust of 1989.
However, we're not here to dissect the 1986 tax reform act.  We encourage you to go back and study it for yourself.
The point right now is that MANY inattentive investors…both real estate and stock…got CRUSHED by the ramifications of tax reform.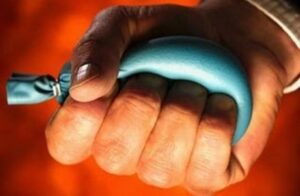 It's called The Law of Unintended Consquences.  We call it the "squish" factor.
If you've ever squeezed a balloon in your hand, you know that under pressure the volume of the balloon will move…sometimes very rapidly…and pop out someplace.  But you can't always predict when and where.
Sometimes politicians mean well (stop laughing…sometimes they do)…but the road to you know where is often paved in good intentions.
Again, we're not saying tax law should or shouldn't be reformed.
But if tax reform actually happens, it often means good and bad things happens…some anticipated and some not.
All that to say, we think paying attention to the potential for serious tax reform is an important use of time…especially when political change is in the air.
So we decided to sit down with two of the most outspoken proponents of tax reform, Grover Norquist and Steve Forbes.
Grover Norquist is the President of Americans for Tax Reform, an organization that was formed in 1985 at the request of then President Ronald Reagan for the purpose of advocating for the tax reform which was eventually enacted in 1986.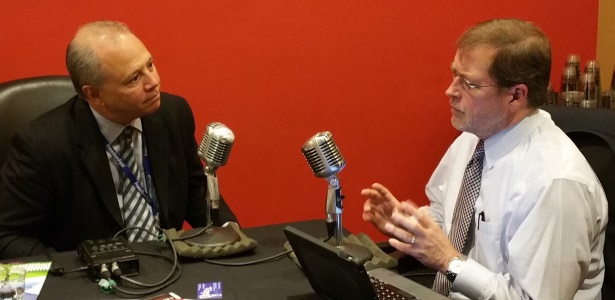 In a nutshell, the objective is to reduce the burden of taxes on the private sector so those resources can be redirected to more productive uses.
The thesis is that less tax means more growth, so even though the percentage of tax is a smaller part of GDP, the actual taxes collected are higher.
Does it work?
For our purposes, it doesn't matter.  What we want to know is how businesses and individuals respond to it…or are likely to.
Norquist advocates for a lower corporate tax.  He says at 35% (which is higher than both Greece and France), the current corporate tax rate is a de-motivator for economic growth and job creation in the U.S.
So Norquist wants to see the corporate tax pushed down to 20%, which he says is about "average" among the major developed nations.  At this rate, he says, the U.S. is on a level playing field to attract and retain major employers.
Our question is…and if you know any CEOs or if you are a CEO of a major company, please let us know…what do CEOs think?  Will a lower corporate tax motivate corporations to stay, expand or move in to the U.S.?
We want to know because where jobs are likely to grow and stay is a very important consideration when choosing which geographic markets to invest in.
Norquist also favors the elimination of taxes on savings and investment.
This is the exact opposite of the reported position of presidential hopeful Hillary Clinton.  She's calling for an INCREASE in capital gains tax…to nearly 40%.
However, Clinton says this will only affect the .5% who earn more than $412,000 a year.
(Note: You should go look up how many people the original income tax was supposed to affect…and compare it to how many are affected today…)
But if you flip houses, it's easy to get over $412,000 a year in total income.
Think about how paying DOUBLE the capital gains tax would affect YOU.  Would you be able to do more…or less?  Would create more work for your teams…or less?  Would the higher tax create more jobs…or less?
Our next guest, Steve Forbes has a very simple proposal…one he's been advocating for nearly 20 years.  One thing you can say about Forbes…he's persistent.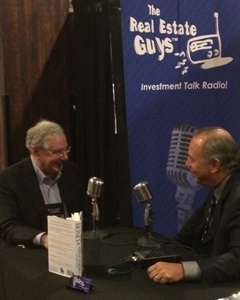 Steve Forbes' proposal is to simply implement a flat tax.  It's an idea that GOP presidential hopeful Rand Paul is advocating for.
Forbes' contention is that a flat tax frees up about 6 billion hours a year currently dedicated by businesses and individuals dealing with today's highly complex tax code.  He believes when this time and effort is redirected into innovation and production, job creation wouldn't be far behind.
We don't know which, if any, tax proposal will ever see the light of day…or if one does, what at the actual effect will be.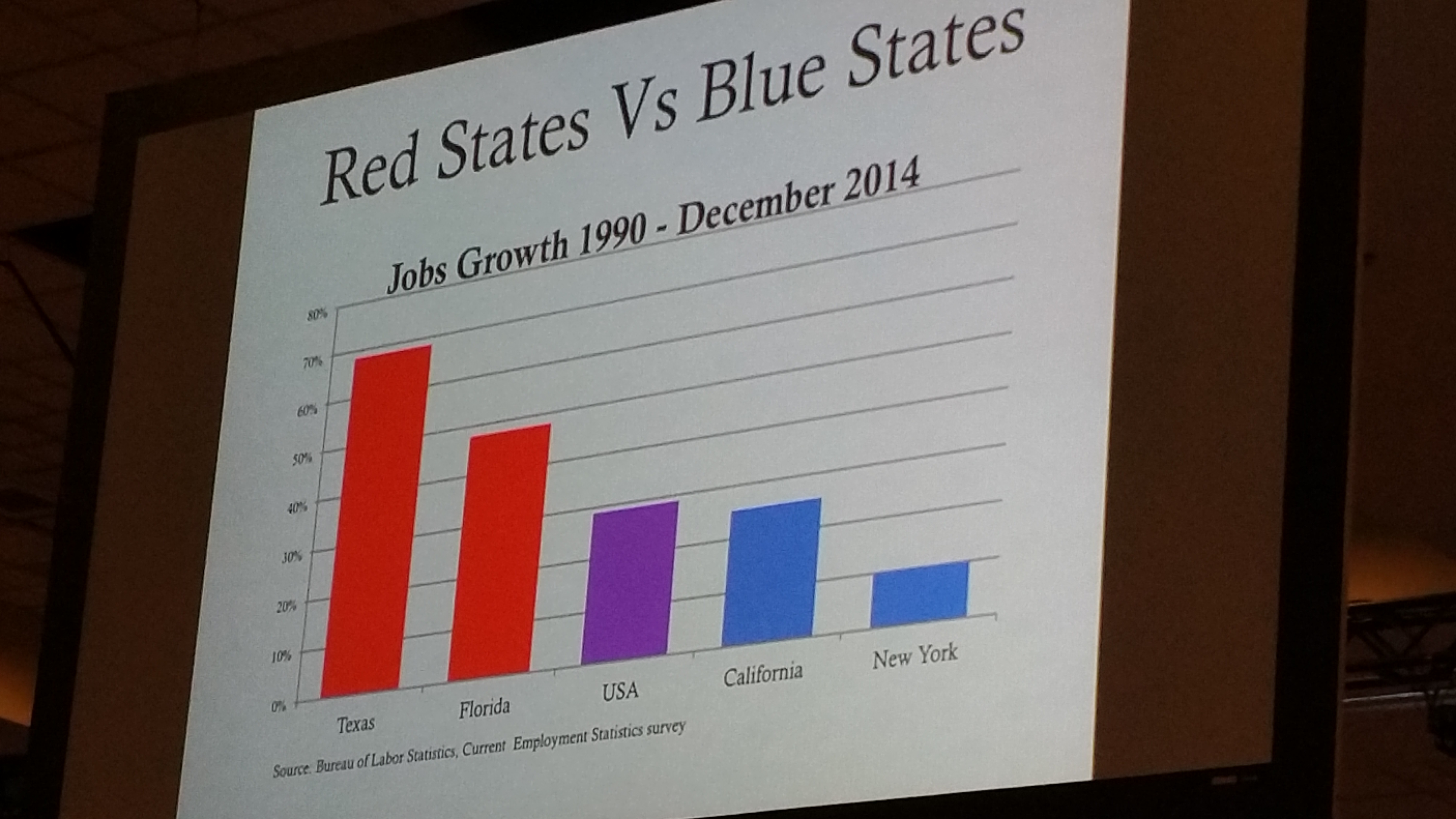 But we do know what of the four largest states in the Union…which are New York, California, Texas and Florida…two have gained the MOST jobs over the last decade while two have LOST the most jobs.
According a data we say presented by economist and former Wall Street Journal editor Stephen Moore…New York and California are the losers, while Texas and Florida are the winners in terms of both job growth AND net migration growth.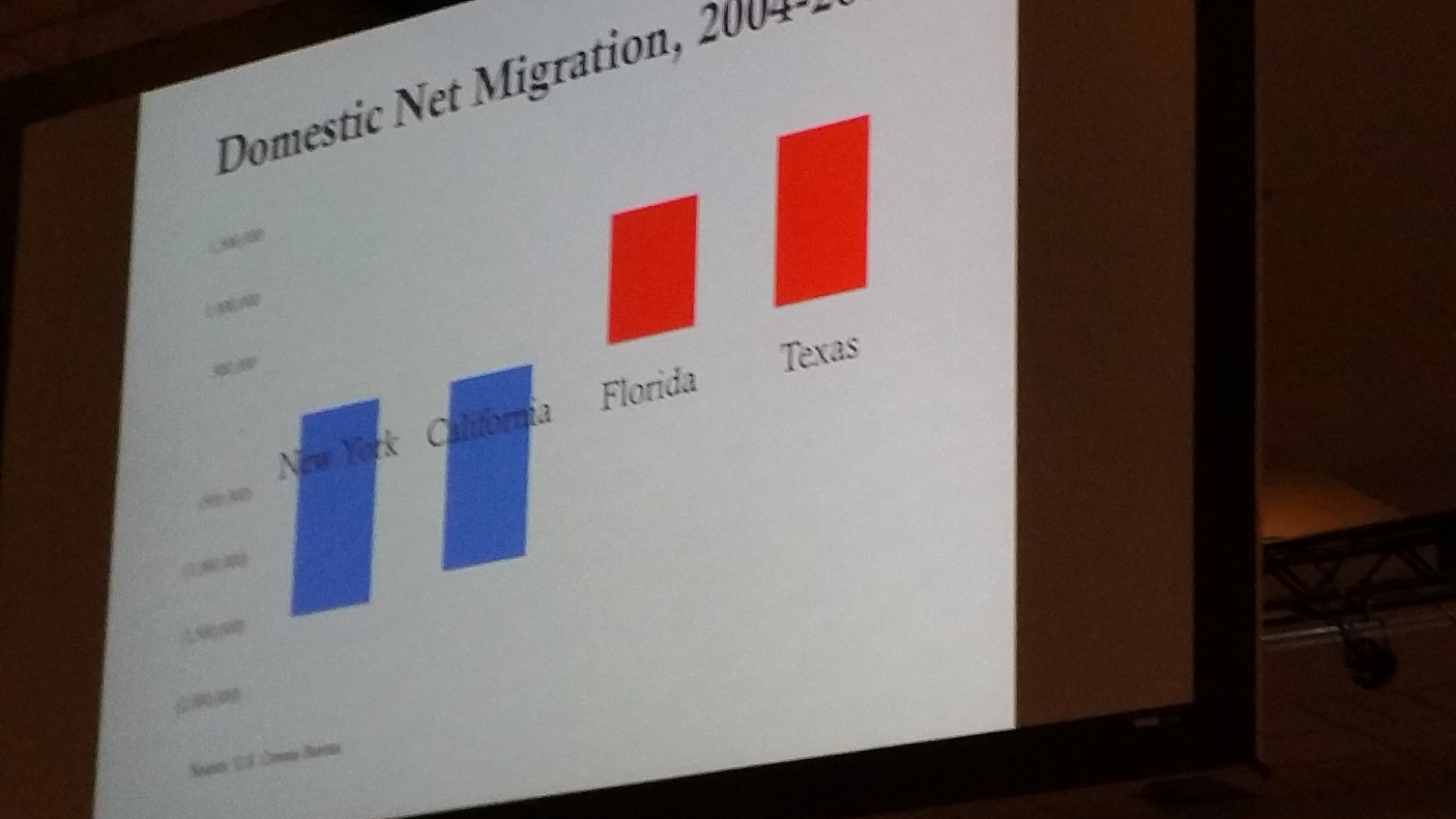 And it so happens that the losers happen to have the HIGHEST tax burden, while the winners have NO state income tax.
Coincidence?  Maybe.
But if you've been watching TV lately, you may have seen ads for StartUp NY, which is a state government sponsored initiative that "offers new and expanding businesses the opportunity to operate tax-free for 10 years" as a way to create jobs in New York.
They say imitation is the highest form of flattery.  So perhaps this is New York's way of tipping its hat to Texas and Florida?
We don't know.
But we do know that two of the BEST real estate investment markets have been Texas and Florida.  Not surprising since people and jobs are the two biggest factors which drive real estate.
The bottom line is that tax policy affects real estate investors…so it's worth paying attention to.  Especially in a major election cycle.
So tune in and listen to what our expert guests have to say about some of the current tax reform proposals being floated around…and consider how any such reform might affect you and your real estate investing.
Listen Now: 
The Real Estate Guys™ radio show and podcast provides real estate investing news, education, training and resources that help real estate investors succeed.