While the rest of the world fixates on the Fed's latest interest rate bloviation, we're taking a mini-vacation from Fed watching to focus on something a lot more fun.
Jones Lang LaSalle recently released their Global Resort Report for 2019 and it's got some investing intelligence we think you'll find interesting and useful.
As our long-time audience knows, we've been big fans of resort property investing for quite a while.
Resort property investing is a great way to derive rental income from affluent people.
Also, because your "tenants" and their income come from all over the world, the right resort property can reduce your dependency on any single regional economy.
But that's not to say the local market doesn't matter.
In fact, geography matters a lot. Often, it's a geographic amenity that's the primary attraction and your competitive advantage.
Think about it …
There are only so many beautiful beaches, world-class diving destinations, or snow-capped skiable mountain ranges on earth.
And even the best developers can't put those things in someplace they don't already exist. Even mega-man-made amenities like theme parks are hard to replicate.
So when you find a market with a rare and attractive amenity, with the right supply and demand dynamic, you have the opportunity to own a cash-flowing world-class asset.
No wonder the JLL report says …
"Over the past five years, resorts have been the darling of the hotel investment community …"
The report also mentions a few of the key factors driving the desirability of this exciting and profitable real estate niche …
"… consumer focus on experiential travel and an affinity towards lodging assets with an authentic local feel."
"… solid growth in international tourist arrivals, which are anticipated to grow 4.0 percent in 2019 to 2.2 billion travelers and continue rising at this pace throughout the next decade."
"RevPAR performance of resort markets has continued to outpace other locations, such as urban, suburban and airport."
The JLL report highlights three specific U.S. markets, but the lessons apply no matter where you're investing.
Now if you think resort property investing is only for the uber-wealthy investor … think again.
As we highlight in a recent radio show, many small investors are finding big opportunities in short-term rental properties.
Of course, for investors who want to play at a bigger level, syndication is always an option.
But whether you go big or small, there's a lot to like about resort property investing … and it's not just the financial rewards.
When you own a beautiful cash-flowing resort property, not only do you earn profits, but you gain some lifestyle benefits too.
If you invest in a market you'd like to regularly visit, you can probably make some or all of your travel expenses tax-deductible.
After all, it's important to inspect your investment from time to time.
Of course, unlike that lovely C-class multi-family property on the border of the war zone, you probably wouldn't mind staying a week or two in your beautiful resort property.
But back to the JLL report …
Rather than simply quote the report, which you can (and should) read for yourself … let's just glean some investing ideas from the three aforementioned excerpts.
First, it's important to know your avatar. Who's the customer?
The report kicks off with the answer … it's the "consumer focus" versus a business traveler.
Remember, resort property investing is a subset of hospitality. So while most resorts function like a hotel, not all hotels are resorts. Resorts are about consumers.
Of course, the key to attracting consumers is giving them the right experience. Here again, there's useful intelligence in the report.
Consumers are looking for "lodging assets with an authentic local feel". Think about that before you buy a Holiday Inn in a ski town.
Notice also that the projected growth is driven by "international tourist arrivals" which benefits "resorts across the world."
The good news is with the right property, you can attract customers from around the globe … including wherever the demographics and economies are booming.
So it's pretty important to make sure the market and property you pick have a broad international appeal … and adequate access. There's no point in owning a beautiful property that's difficult to get to.
And while we're big fans of international diversification, if you're going to invest outside your home country, be sure you're familiar with the local laws and customs.
We know all that might sound intimidating, but it's not that hard.
It starts with having a good local team in place BEFORE you purchase the property. Of course, this is true domestically as well.
The great news is if you get it right …
"RevPAR performance of resort markets has continued to outpace other locations, such as urban, suburban and airport."
RevPAR is hospitality lingo for a metric called Revenue Per Available Room. Higher is better. It's more rent per square foot.
So the report is essentially saying resort properties are more profitable than the everyday hotels you see around town or near an airport.
Even better, in addition to being a great way to derive rents from the affluent and diversify into high-quality markets …
… we think you'll find resort properties are a whole lot more fun than most of your other rental properties.
And the due diligent trips sure don't feel like work!
In this week's perusal of the news, this headline caught our attention …
Bank of America declares the "end of the 60/40" standard portfolio 
Market Watch 10/15/19
We know it SEEMS like a pretty benign article … irrelevant to real estate investors. But au contraire mon frère …
There's actually quite a bit of useful intelligence packed into BofA's thesis.
Here's what they have to say …
"Investors have long been told that the ideal portfolio should carry 60% of its holdings in equities and 40% in bonds, a mix that provides greater exposure to historically superior stock returns, while also granting the diversification benefits and lower risk of fixed-income investments."
This, as they say, is "conventional wisdom" for paper portfolio strategy. It's basically a straddle between principal risk (stocks) and safety of principal with income (bonds).
Except in today's topsy-turvy financial markets, BoA admits this no longer makes any sense …
" 'The relationship between asset classes has changed so much that many investors now buy equities not for future growth but for current income, and buy bonds to participate in price rallies,' [says Bank of America] …"
Stocks for income and bonds for price speculation? That's a substantial role-reversal.
Before we dive into the real estate ramifications, let's dig a little deeper into the essence of their position …
It's easy to understand the first part … an ideal portfolio hedges both inflation and deflation while positioning for equity growth, yield, and protection of principal.
Of course, real estate can do all that MUCH better than stocks and bonds. But we'll come back to that in a moment.
The bigger revelation in this article is BoA's admission that paper assets aren't working properly right now.
This is something most Mom and Pop investors (and their financial advisors) aren't fully aware of. If they were, this BoA research note wouldn't be newsworthy. But it is and that's telling in and of itself.
Here are the problems in a nutshell …
Bonds are producing next to no yield. They're next to useless for the production of income, as any pension fund manager can tell you.
Bonds are in a bubble … significantly over-priced. That's why bonds produce no income …
(A bond's price is inverse to its yield, so low yield equals high price … and ridiculously low yield equals ridiculously high price.)
When any asset price exceeds fundamental valuation, there's a possibility … in fact, a high probability … the bubble will deflate, and the price will fall.
This means as a vehicle for adding income and preservation of capital to a balanced portfolio, bonds are failing on both counts.
Bonds have now devolved into nothing more than gambling chips for speculators in the Wall Street casinos …
… and tools for economic intervention vis-à-vis interest rate manipulations by central banks.
In fact, it could be argued that central banks aren't even focused on the economy. After all, why lower rates when the economy is "booming"?
More likely, the financial system is far more fragile than anyone cares to admit … and central banks are trying to prevent collapse.
Remember, bond values are inverse to yields. If rates rise, bond prices fall.
With TRILLIONS of dollars of bonds leveraged throughout the system, falling bond prices could trigger a chain reaction of margin calls.
Think 2008 on steroids.
Once you understand all this, the logical conclusion is …
" 'there are good reasons to reconsider the role of bonds in your portfolio,' and to allocate a greater share toward equities.
Ya think?
By now you may be thinking, "So what? I'm a real estate investor. I don't own bonds."
Smart. But most real estate investors make liberal use of credit markets. When bonds implode, they often take credit markets with them.
Real estate is a lot more challenging when credit markets are broken. And it's downright deadly if you're not structured IN ADVANCE to weather frozen credit markets.
But why does BoA sound the alarm now? Because …
" '…this is happening at a time when positioning in many fixed-income sectors is incredibly crowded, making bonds more vulnerable to sharp, sudden selloffs when active managers re-balance,' "
In other words, as portfolio managers wake up to the risks of bonds and scramble to get out before the crowd … they become the crowd … and WHAM, the bottom falls out.
The credit market collapse of 2008 converted us into avid bond market watchers. But there's also some opportunity here.
The core message of the BofA research note is …
" [BoA] advise[s] investors to add more exposure to equities, particularly stocks with high dividend yields in under-performing sectors … which can be bought at inexpensive valuations."
To translate this into real estate investor …
Stocks or "equities" represent ownership in operating businesses.
In real estate, operating businesses are things like an apartment building, a self-storage complex, a mobile-home park … or on a small scale, a rental home.
"Dividend yields" are operating profits distributed to shareholders … just like real estate rental income distributions to property owners.
"Under-performing sectors" could be likened to regional real estate markets or product types and price points which aren't over-bid.
Of course, BoA doesn't speak real estate investor, so they're talking paper assets.
But the economic conditions they see and the actions they recommend in response not only make sense, they make the case for real estate investing.
After all, real estate provides a hedge against inflation. Over time, as the currency loses value, real estate's value denominated in currency tends to rise.
And FAR better than bonds, whose yield is fixed, rents also tend to rise over time in response to inflation.
Of course, if deflation occurs, the value of the income stream becomes more valuable. And as prices fall, tenants purchasing power increases.
And even if a property falls in value 40% and never comes back (unlikely) …
… if you only put 30% down and the tenants eventually retire the 70% loan, you're still "up" … apart from the tax breaks and cash flow along the way.
Best of all, real estate investors can use lots of relatively inexpensive long-term debt without fear of a margin call.
Of course, mortgages are only available when credit markets are healthy, so now's arguably a good time to stock up on cheap long term debt.
However, just because real estate is awesome, it doesn't mean real estate is without risk. Pay close attention to cash flow.
Still, compared to nearly every other investment vehicle, real estate arguably offers a lot less risk and more resilience against a variety of economic changes.
And unlike stocks and bonds which are essentially commodities traded in global exchanges where it's hard to find a "hidden deal" … real estate trades in extremely inefficient local markets.
And because every property, neighborhood and ownership is unique, it's much easier to buy a property at an "inexpensive valuation".
So whether you're only investing in your own account, or profiting from sharing your expertise with other investors, it's encouraging to realize …
… real estate is a powerful solution to the challenge of building a resilient portfolio in changing times.
In a complex financial eco-system, there are MANY components, dependencies, and inter-dependencies …
… any of which can be the catalyst for a seismic economic earthquake.
The flip side and basis of real estate's stability is real estate's relative lack of liquidity as compared to publicly traded securities.
After all, you can't hit a buy or sell button and execute a real estate transaction in seconds like you can with stocks, bonds, currencies and options.
Real estate moves slowly.
That's why real estate prices and rents don't bounce around on a daily basis after a Presidential tweet, an executive faux pas, a jobs report, or even a Federal Reserve interest rate pronouncement.
It's also why so many Mom and Pop investors come home to real estate when the Wall Street roller coaster ride becomes a little too nauseating.
But because most minor economic waves tend to break harmlessly against the breakwater of real estate's stability…
… real estate investors can get bored of watching the horizon for the occasional financial tsunami.
And boredom's not the only problem.
There's also the issue of overwhelm. In today's complex world, there's not only a lot more to watch, there's a lot more chatter.
While lots of information is generally good, some stories get lost in the noise. And entering an election year, there's a LOT of noise out there.
But it's a mistake to tune out and assume all is well. Or to put blind faith in the "smart" people whose hands are on the controls.
Sometimes, those in control are the very people creating and downplaying the problems.
Remember, it was then Fed chair Ben Bernanke who assured the world in 2007 that the sub-prime crisis was contained and didn't pose a threat to the economy.
We all know how that ended.
Current Fed Chair Jerome Powell recently assured the world that the U.S. economic expansion is sustainable.
Perhaps.
But there's a long list of alarm bells going off … in bond markets, in oil, in trade, the dollar, geo-politics, and the resumption of easy money (just don't call it QE).
Okay. Take a breath. Yes, Halloween is coming up, but we're not trying to scare you … much.
It's unwise to unplug a blaring smoke alarm because it's interrupting your sleep.
If you're trapped in the wrong slow-moving real estate and you wake up late to a developing problem …
… you may not be able to rearrange your portfolio fast enough to avoid losses and capture opportunities.
Remember … a bend in the road isn't the end of the road unless you fail to make the turn … and problems and opportunities exist concurrently in any transition.
Events are often only as good or bad as your personal awareness and preparation make them.
So back to our threat assessment …
You're going to be hearing more about problems with pensions.
But before you check out because you think pensions don't have anything to do with you … think again.
You may not have a pension. But lots of people do.
More importantly, pensions control a HUGE chunk of assets in the economy, including stocks, bonds, and real estate.
While there may be many reasons for any particular pension fund's failure, there are a couple of undeniable macro-factors common to all …
… artificially low-interest rates and an aging population.
This one-two punch has many pension plans on the ropes.
Recently, General Electric (GE), an iconic company once revered for its great management, announced it's freezing workers' pensions.
GE is FAR from alone.
Both public and private pension programs, not to mention Social Security, have been on a slow motion collision course with insolvency for many years.
There are many potential ramifications for real estate investors. Some good. Some not so much.
Starting with the not so good …
Loss of purchasing power creates a ripple effect in any economy … affecting which states, cities, neighborhood, product types, and price points people can afford for housing.
Jobs and wages are important. But neither have a direct impact on retired people living on fixed income.
When costs tenants can't control rise for essential items such as energy, healthcare, food … they're forced to cut back on big things they can control, like rent.
Think about that when you jump on the senior housing bandwagon. Not all senior housing communities or investments are created equal.
Also, for investors with properties in retirement markets … even if YOUR tenants aren't depending on pensions and social security directly …
… those retirement checks still provide the economic fuel for the local economy.
After all, your tenants might work at the restaurant, gas station, grocery store, dry-cleaner, auto shop, or landscaping service providing services to retirees.
When retirees cut back, it affects those tertiary businesses and their employees (your tenants). Pay attention to these dependencies.
Bigger picture, failing pension plans mean potential bailouts.
While the Federal government can (for now) still print unlimited amounts of dollars, local municipalities cannot.
So failing local government pensions create a huge temptation for local officials to increase property taxes and the costs of municipal services.
Landlords are easy targets for pandering politicians in cash-strapped towns.
And while you might not pay directly for all municipal services, it doesn't matter. If the tenant's costs go up, it puts downward pressure on their ability to pay you rent.
It's a complex eco-system and we're all inter-connected.
Bailouts also could mean big federal tax increases, or perhaps even worse … loss of faith in the dollar, rising interest rates (pressure on both you and the tenants), and a general decline in the economy, jobs, and wages.
Robert Kiyosaki tells us failing pensions are one of his biggest concerns right now.
There's more to watch out for, but before you go into a full-fetal coma, let's end on a high note …
The flip-side of any crisis is opportunity.
When asset prices collapse, those who are liquid, educated, well-connected, and emotionally prepared can acquire quality assets at bargain prices.
So note to self: Now is the time to get liquid, educated, well-connected, and emotionally prepared.
Sadly, many retirees will sell homes to raise cash, then enter the ranks of renters. So just like 2008, demand for rentals in the right areas could actually increase.
Therefore, it's important to really understand your markets, their drivers and demographics, and to be mindful of the product types and price points favored by an increasingly large retirement population.
For example, multi-story homes can be less desirable to seniors. Warm weather is a plus … who wants to shovel snow in their 70s?
Great local medical services are also really important to seniors.
And if retirees have moved away from friends and family in search of affordability, great transportation infrastructure is another valuable market "amenity".
And of course, areas with an overall lower tax burden help those fixed incomes stretch further.
It's not rocket science, but you do have to think.
That's why we attend conferences and listen to smart people talk about all these things from different perspectives.
It's also why we host the Investor Summit at Sea™ each year, where we get together with big-picture thinkers together and street-level niche experts to find ways to think big but invest small and smart.
Whether you join us at these events or find your own tribe, we encourage you to take your nose off the grindstone a few times a year and confer with the smartest investors you can find.
Because even though you can't possibly watch it all and see every threat or opportunity forming, your tribe can. And you can all learn faster together.
Until next time … good investing!
More From The Real Estate Guys™…
The Real Estate Guys™ radio show and podcast provides real estate investing news, education, training, and resources to help real estate investors succeed.
---
Love the show?  Tell the world!  When you promote the show, you help us attract more great guests for 

your

 listening pleasure!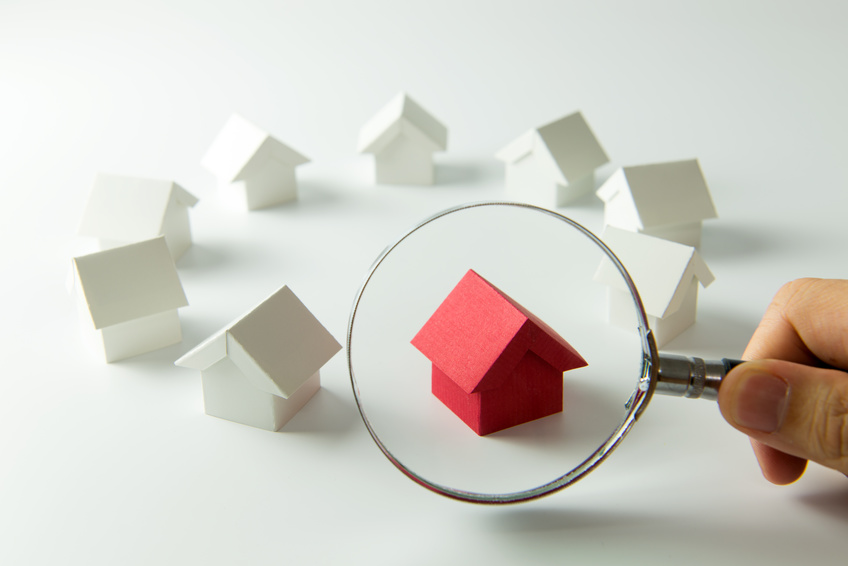 If you're wondering which way the financial winds are blowing … look to the news!
From the rollercoaster ride of the stock market, to negative interest rates on mortgages, to big moves in gold and oil … it appears the winds are changing. Something is coming. 
Savvy real estate investors are reading the signs and asking, "What should I do?"
Join us as we study the mystery that is the headlines and discuss what all these things mean for investors like YOU. 
 In this episode of The Real Estate Guys™ show, hear from:
Your headliner host,

Robert Helms

His mysterious co-host,

Russell Gray 
---
Listen
---
Subscribe
Broadcasting since 1997 with over 300 episodes on iTunes!
---
Review
When you give us a positive review on iTunes you help us continue to bring you high caliber guests and attract new listeners. It's easy and takes just a minute! (Don't know how? Follow these instructions).
Thanks
---
The dance between stocks and bonds
On today's edition of Clues in the News, we'll go beneath the headlines to find out how all the goings-on in the market impact real estate. 
They say that the time to repair the roof is when the sun is shining. 
Right now, markets are good. Real estate is strong. Rents are durable. Jobs are great. Gold is high … so we need to dig into the headlines. 
Even though we're in real estate, it's important to pay attention to other industries and markets like oil, bonds, and gold. 
When we try to understand what's going on in the world economically, it's like that old game Mouse Trap. Every action has a reaction. 
And there seems to be a dance between the stock market and the bond market. 
When people are feeling good, investors buy stocks … because they are feeling bullish that the asset value of the stock that they bought was going to go up. 
When they get fearful … they sell stocks and go for safety in bonds. 
Bonds are basically IOUs. The best bond you can get is from the U.S. government, which prints the world's reserve currency … the dollar … making it impossible for them to ever default. 
But as we saw in 2008 … it is possible for your credit to seize up. 
So, you can rearrange your affairs in order to capitalize on the opportunities that will be created by whatever is going to happen to the market in the future and mitigate the risks. 
Signals from the yield curve inversion
When you hear bonds and stocks, you may be thinking that it doesn't have much to do with real estate. 
But it does … because interest rates are the fuel that we use to drive our real estate purchases. 
You've probably heard recently that rates are headed down and the Federal Reserve is planning to cut rates another quarter of a point. 
We certainly look at that to see what the long-term prognosis is for owning real estate. Then we look at the short-term housing markets. 
But in between, there are all kinds of signals. 
One of the big signals that happened last week was a yield curve inversion. 
You don't have to necessarily understand what that is at a deep level. What you do have to understand is what it means. 
In other words, if you're driving down the road and see that oil pressure is green, you know you're good. 
If it falls below the green, you know that if the light turns red and you don't put oil in your car, your engine is going to blow. 
A yield curve is like that. It's the relationship between short-term interest rates and long-term interest rates. 
When you take on a loan, the yield curve should slope up so that the lower rates are closer to you and as time progresses they go up as they forward further in time.
When the curve inverts, it goes the other way. 
All you really need to know is that the last seven recessions were preceded by a yield curve inversion. On average, the recession came 22 months later. 
Whatever happens, there is always a flow of money to and a flow of money away. You want to make sure that you're always in the flow of where it's coming. 
Growth in gold
Meanwhile, gold prices are reinvigorated by the yield curve. 
Gold prices pick up on fears of a global recession because those two markets, the stock market, and the liquid metals market can hit the buy or sell pretty fast. 
That's in part because gold is a proxy for currency. Gold is at record highs in many currencies around the world, not just the dollar.
When countries are trying to compete in international trade, they have an advantage when their goods are cheaper. 
So, if they devalue their currency so that the purchasing power of their trading partners goes up, they can sell more goods. 
When people begin to lose faith in their currencies … they look for something that allows them to step out of a currency and still hold liquid wealth. 
Some people are using Bitcoin, but the vast majority of investors … especially institutions and sovereign governments … are using gold. 
Last year, central banks around the world purchased more physical gold than at any other time since 1970.
If you think about insider trading when it comes to currencies … there's nobody more insightful than central banks. 
The effects of oil
All economic activity is derived from energy … and in modern society, that energy is primarily oil. 
So, as the cost of oil goes up … it's actually friction in regard to economic activity. 
When you think of what happened coming out of the great recession, the economics in the United States that were producing all theat jobs leading to recovery … were ENERGY PRODUCING LOCALITIES. 
The other side of it is an economic problem … a lot of the oil that has been built upon bonds issued by oil companies are counting on higher oil prices. 
When those oil prices drop, they still have the same debt service.
There's a lot of fragility out there … and nobody knows what could be the catalyst that's going to ignite the debt bomb that creates the next debt implosion. 
But one of the things to pay attention to is all of the debt in the oil industry. 
We look at it for the cost of the input to the daily lives of our tenants. When gas is more expensive, it increases their cost of living. 
So, they're going to be more resistant to rent increases … and they will be moving out of the higher priced places into the lower ones. 
And then of course, it can also point to the health of the credit markets. 
Time to pay attention
There's a lot to be licking your chops at … so to speak … with what is happening in the world right now. 
And NOW is the time to pay attention. 
Learn more from the Clues in the News by listening in to the full episode. 
---
More From The Real Estate Guys™…
The Real Estate Guys™ radio show and podcast provides real estate investing news, education, training, and resources to help real estate investors succeed.
---
Love the show?  Tell the world!  When you promote the show, you help us attract more great guests for 

your

 listening pleasure!
As of this writing, we're not sure what the Fed will do with interest rates, though it's widely expected they'll cut.
So as much as we'd like to talk about what it means to real estate investors, we'll wait to see what happens.
And even though mainstream financial media are finally paying attention to gold and the future of the dollar … these are topics we've been covering for some time.
But if you're new to all this, consider gorging on our past blog posts …
… and be sure to download the Real Asset Investing report …
… and for the uber-inquisitive, check out the Future of Money and Wealth video series.
After all, this is your financial future … and there's a LOT going on.
In fact, today there's a somewhat esoteric and anecdotal sign the world might be on the precipice of its next major financial earthquake.
But before you go full-fetal, this isn't doom and gloom. We're too happy-go-lucky for that.
It's more an adaptation of a principle from Jim Collins' classic business book, Good to Great …
Confront the brutal clues.
Of course, the original phrase is "Confront the brutal facts." But as great as data is, sometimes data shows up too late to help.
So, while facts may confirm or deny a conclusion … clues provide awareness and advance warning.
But just like with facts, you must be willing to go where the clues lead.
In this case, we're just going to look at one clue which has a history of presaging a crack up boom.
For those unfamiliar, a crack up boom is the asset price flare up and flame out that occurs at the end of an excessive and unsustainable credit expansion.
In other words, before everything goes down, they go UP … in spectacular fashion.
Here's a chart of the housing boom that eventually busted in 2008 …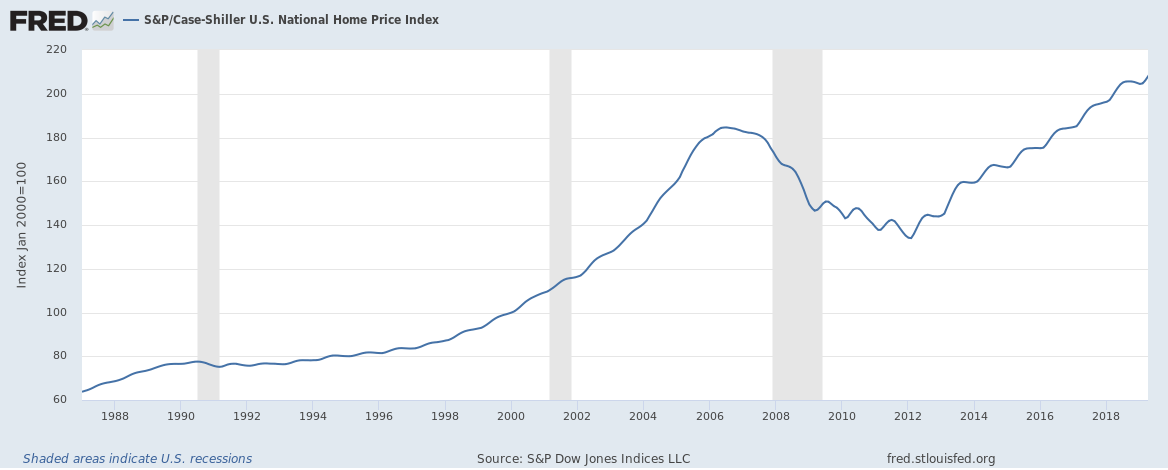 See the bubble that peaked in 2007? It's hard to miss … in hindsight. It's hard to see when you're in the middle of it.
Peter Schiff saw it in 2005 and published his book, Crash Proof, in 2006 to warn everyone. Few listened. Some mocked.
In 2008 it became painfully obvious to everyone.
Of course, for true real estate investors … those busy accumulating tenants and focusing on the long-term collection of rental income …
… asset prices are only interesting when you buy, refinance, or sell.
As long as you stay in control of when you buy, refinance, or sell … you can largely ride out the bust which often occurs on the back end of a boom.
And if you're paying attention, you use boom time as prime time to prep … and the bust as the best time to buy.
Today it's safe to say, just based on asset prices alone, we're probably closer to a bust than another big boom.
But the current run-up could still have more room to boom. As we said, it's hard to tell when you're in the middle of it.
Shrinking cap rates are one of the most followed metrics for measuring a boom.
Cap rates compress when investors are willing to pay more for the same income. That is, they pay more (bid up the asset price) for the same income.
But when the Fed says low-interest rates are the new normal, maybe it means so are low cap rates.
It's one of MANY ways Fed policy ripples through the economy … even real estate.
But there's another sign that's hard to see unless you're an industry insider, and while not scientific or statistical, it still makes a compelling argument the end is nearing …
Lending guidelines.
Think about it … booms are fueled by credit. It's like the explosive fuel which propels rising asset prices.
The only way to keep the boom going is to continually expand credit.
But any responsible head of household knows you can't expand credit indefinitely … and certainly not in excess of your capacity to debt service.
At some point, the best borrowers are tapped out. So to keep the party going, lenders need to let more people in. That means lowering their standards.
We still have a "backstage pass" to the mortgage industry and see insider communications about lenders and loan programs.
When this subject line popped up in our inbox, we took notice …
24 Months of Bank Statements NO LONGER REQUIRED
To a mortgage industry outsider that seems like a lame subject line. But to a mortgage broker trying to find loans for marginal borrowers, it's seductive.
It suggests less stringent lending criteria. Easier money.
Sure, the rates are certainly higher than prime money. But with all interest rates so low, they're probably still pretty good.
And these are loans with down payments as low as 10% for borrowers just 2 years out of foreclosure or short-sale. Hardly a low risk borrower.
Usually, lenders want to see TWO years of tax returns and a P&L for self-employed borrowers. They're looking for proof of real and durable income.
Not these guys. Just deposits from the last 12 months banks statements. And they'll count 100% of the deposits as income, and won't look at withdrawals.
So a borrower could just recycle money through an account to show "income" based solely on deposits.
The lender is making it STUPID EASY for marginal borrowers to qualify.
All of this begs two questions:
First, why would a lender do this?
And second, why would a borrower fabricate income to leverage into a house they may not be able to afford?
We think it's because they both expect the house to go UP in value and the lender is growing increasingly desperate to put money to work at a decent yield.
Pursuit of yield is the the same reason money is flowing into junk bonds.
And if the Fed drops rates as expected, it's likely even more money will move to marginal borrowers in search of yield.
Today, MANY things could ignite the debt bomb the way sub-prime did in 2008. Consumer, corporate, and government debt are at all-time highs.
Paradoxically, lower interest rates take pressure off marginal borrowers … while adding to their ranks.
It's hard to perfectly time the boom-bust cycle.
But careful attention to cash-flow protects you … whether structuring a new purchase or refinance. It means you can ride out the storm.
Meanwhile, it's smart to prepare … from liquefying equity to building your credit profile to building a network of prospective investors …
… so if the bust happens, you have resources ready to "clean up" in a way that's positive for both you and the market.
No one knows for sure what's around the corner … but there are signs flashing "opportunity" or "hazard".
Both are present, but what happens to you depends on whether you're aware and prepared … or not.
Until next time … good investing!
More From The Real Estate Guys™…
The Real Estate Guys™ radio show and podcast provides real estate investing news, education, training, and resources to help real estate investors succeed.
---
Love the show?  Tell the world!  When you promote the show, you help us attract more great guests for 

your

 listening pleasure!
The real estate story behind Walt Disney World in Florida has a valuable lesson for investors today … and it's not what you think.
If you're unfamiliar, Walt Disney decided to create a new and improved East Coast version of his epic California Disneyland. But he needed land … LOTS of it.
So he went to Florida.
By then, Disney was a household name and the success of Disneyland was well known. This created a problem for Disney.
If local landowners realized Disney was behind the assemblage of land needed to build another park, it could take a lot more time and money to get the project done.
So even when the land deal hit the news in May 1965, Disney waited months to announce his plan to build Disney World.
The obvious lesson is to avoid showing deep pockets when the other party has leverage.
But that's not why we're talking about it today.
There's something else going on in the world … something we've been watching for some time … that could become one of the biggest financial stories in the last 50 years.
So while financial reporters hang dutifully on every word that proceeds out of the mouth of Jerome Powell today…
… there's another voice in the marketplace only a few nut jobs (like us) are paying attention to.
Gold. And yes, this matters to real estate investors.
But it's not what gold is doing in response to what the Fed says. It's about what gold is saying about the state of the system that the Fed is not.
Of course, there are implications for you and your investments … real estate and otherwise.
The quandary for pundits everywhere is why the Fed is considering lowering interest rates in the midst of "the greatest economy ever".
Typically, interest rates are lowered to stimulate a sluggish economy.
Sure, it's possible the economy could be far less robust than claimed.
You probably know this is now officially the longest "recovery" on record … so perhaps a preemptive boost is a good idea.
Maybe the Fed is simply yielding to President Trump's pleas to go tit for tat with those pesky currency manipulators … to help keep America's exporters competitive.
If you read the financial news, it's easy to get lost in all the conjecture surrounding the dollar, the Fed, the economy, and interest rates.
But while people are bickering about political intervention in monetary policy, and what it all means to asset values …
… central banks around the world have been quietly stocking up on gold at the fastest pace in 50 years.
So what?
Think of Wall Street and insider trading. When insiders of a corporation buy or sell … it's often because they know something others don't.
Savvy stock traders watch these moves for clues about the future of the stock.
When it comes to money … or more accurately, currency … you can't get much more "inside" than central banks.
It's reasonable to think they know something.
Most "investors" look at gold as a trading vehicle … something to buy and sell in order to create currency "profits" in the same way a flipper trades houses to generate currency profits.
But central banks can print currency … at next to no cost. They don't need to trade gold or anything else to generate currency. They can print all they want.
Think about that.
Could it be gold has another role in international finance?
Apparently, China and Russia think so. Along with Poland, Hungary and Malaysia … to name just a few. The list is long.
Another notable advocate for putting gold back in money is Judy Shelton. Shelton is President Trump's latest nomination to the Federal Reserve Board.
It's also notable that of ALL the things Fed Chair Jerome Powell could say in his limited testimony to Congress, he chose to warn them against a return to the gold standard.
Maybe it's just us, but reminds us of this admonition from the Wizard of Oz …
"Pay no attention to that man behind the curtain!"
So what does all that have to do with Disney?
Remember, Disney wanted to accumulate land without anyone realizing what he was really up to. Everyone just looked at each deal as a one-off.
Disney and his team were careful to be sure no one saw the master plan until he unveiled it.
(Of course, people playing close attention figured it out … but by the time the masses knew, the deal was done).
But think about this …
If YOU had an unlimited credit card, no ethics, and knew you were about to go bankrupt … might you use your credit to buy and stash things of real value before the card is shut off?
If the players in the casino know the house is about to go bust, there's a mad dash to cash in the soon-to-be-worthless chips.
Just remember, these are big, lumbering central banks and a worldwide financial system. "Soon" can take months … or years.
So no one knows exactly when the tipping point comes. It's slow at first … and then all at once.
We've been watching this story develop since we first wrote about it in our Real Asset Investing report in 2013.
We discuss it in more detail in the videos of our more recent Future of Money and Wealth conference.
It's clear there's SOMETHING going on …
The ultimate currency insiders are aggressively acquiring gold. Nations who had entrusted their gold to third parties are steadily repatriating. Perhaps not so trusting anymore?
Lots of things going on geo-politically have no apparent rhyme or reason, until you look past the chatter about democracy and human rights … and just follow the gold and oil.
Richard Nixon shocked the world on August 15, 1971 when he changed the entire global monetary system in a "temporary" defense of the dollar.
Gold and oil spiked as the dollar collapsed. Interest rates were eventually hiked to over 20% to save the dollar. Every individual and business on the planet was affected.
Some people lost fortunes while others made them. The difference was (and still is) awareness, preparation, and a willingness to act when others stand paralyzed.
Some people noticed the exploding debt of the 60's, the silver coming out of the coins in 1964, and the French President's public warning about misplaced faith in the U.S. dollar.
People paying attention back then positioned themselves to prosper in spite of … or more accurately, because of the turmoil.
That's why we attend and produce investor mastermind events like the New Orleans Investment Conference and the Investor Summit at Sea™.
It's where we talk with alert investors and savvy thought leaders … searching for actionable intelligence in a noisy, chaotic world.
Though largely ignored and misunderstood by many on Main Street, there's a very public and aggressive global search for alternatives to the U.S. dollar.
Whether it's gold, crypto, the yuan, or something else … if and when a viable alternative to the dollar is embraced by the rest of the world …
… Americans could well be faced with spiking interest rates (the Fed will lose control), a collapsing dollar, rising asset prices in dollar terms (inflation), falling values in real terms, and a contracting economy (recession).
Those with low fixed-rate debt, real assets (including gold), cash-flow producing investments (like rental property), are likely to be big winners.
The world didn't END when Nixon reset the system. It just changed.
So this isn't doom and gloom … it's hope and opportunity … IF you're among the aware, prepared, and prone to act.
After all, if you own solidly cash-flowing properties in affordable markets, while holding a chunk of your liquid reserves in gold (with no counter-party risk) …
… and nothing happens, how are you worse off?
But if gold is the canary in the coal mine signaling that the Wizards are up to something, it might be smart to be hedged.
Until next time … good investing!
More From The Real Estate Guys™…
The Real Estate Guys™ radio show and podcast provides real estate investing news, education, training, and resources to help real estate investors succeed.
---
Love the show?  Tell the world!  When you promote the show, you help us attract more great guests for 

your

 listening pleasure!
Little Rock Market Report
"The Rock" is rocking … booming business, creative culture, and a darling downtown!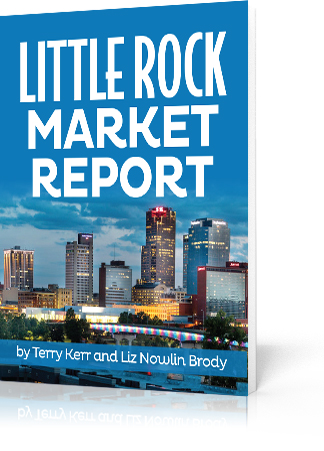 Little Rock, Arkansas, was recently rated the #1 place to live in the United States (cities under 1,000,000 population) by Klinger Magazine. 
There are SO many reasons to love this Southern jewel … an exceptional economy, diverse culture, and low cost of living, to name a few. 
Little Rock's economy has proven its ability to weather national and global economic downturns with great stability. 
The city is headquarters to major organizations like Dillard's, the Clinton Foundation, and AT&T. 
It also offers investors the opportunity to invest in a high cash flow market with excellent landlord-tenant laws. 
In this special report, learn more reasons why Little Rock is a market to pay attention to …
✓ Diverse business community
✓ A growing tech industry 
✓ Low unemployment
✓ And more!
Discover why Little Rock is a BIG opportunity. Get started by filling out the form below to access the Little Rock Market Report
If you've been around awhile, you know there are optimists, pessimists, and realists.
Optimists see the upside and sunshine in everything.  They're chargers and they're not afraid to take bold … even impulsive action.
Of course, optimists sometimes run full-speed into a brick wall they COULD have seen, but chose not to … because it didn't fit their worldview.
Still, if you take enough shots on goal, you're bound to score eventually … so there's something to be said for unbridled optimism.
Then there are the pessimists …
Pessimists see the dark and down-side in everything.  There's no amount of upside that can outshine the enormous list of every possible thing that might go wrong.
Pessimists are pros at predicting problems … including many that never happen … and saying "I told you so" when things do go wrong … and worse, are often quite content to sit "safely" on the sidelines doing nothing.
Of course, you can't win if you don't play. 
But when your definition of winning is "not losing" … for those who see mistakes as devastating failure rather than valuable learning opportunities … that's okay.
But perhaps there's a productive middle-ground …
Multi-billionaire real estate investor Sam Zell says his strength is his ability to see the downside in a deal … and move forward anyway.
Zell says everyone can see the upside.  This doesn't take any special skill or fortitude … except perhaps to keep believing after losing repeatedly.
But to soberly acknowledge the risks … and then find a path to proceed based on probabilities and a reasonable risk-adjusted return … THAT's Sam Zell's billionaire super-power.
Sam Zell is a realist.
We like listening to billionaires.  And we're careful to listen to people both inside and outside of real estate … especially those who manage mega-amounts of money.
These big-time money managers have the time, the smarts, the resources, and the responsibility to gather lots of data and opinions, think long and hard, and then make great decisions more often than not.
Billionaire Jeffrey Gundlach is founder and CEO of DoubleLine Capital, which is a huge investment firm. 
Gundlach's a renowned expert in bonds and has been recognized as one of the top 50 most influential people in the world by Bloomberg Markets.
Of course, real estate investors should always pay close attention to the bond markets.  The bond market is WAY bigger than the stock market … and directly impacts the cost and availability of money and mortgages.
More importantly, bond investors are arguably the most astute observers of the economy, the Fed, the dollar, and the politics affecting prosperity.
So when we saw a recent Reuters headline reporting on Jeff Gundlach's comments about the economy in a recent investor call … we thought it worth noting.
"'Nominal GDP growth over the past five years would have been negative if U.S. public debt had not increased,' said Gundlach."
" '… the GDP … is really based exclusively on debt – government debt, also corporate debt, and even now some growth in mortgage debt.' "
Wow.  We'd call that a reality check.
Think about that.  Five years of "growth" in a decade long "recovery" is really just a bunch of borrowed money fluffing things up.
That's like using your credit card to remodel your house, buy a new car, and take a fancy vacation.  Your friends and neighbors think you're prosperous.  But your income didn't really grow … just your spending.  
Of course, if you're using debt for productive investment … where investment returns exceed the cost of debt … then you could make the argument going into debt is smart.
That's like using your credit card to buy new tools, remodel a property, hire a lot of workers, and then rent the property out for a profit.
Time will tell if enough of the new debt generated will be productive enough to pay for itself and add to real GDP.  Right now, according to Gundlach, it's still net negative.
Meanwhile, we stay with our long-held belief that it's probably wise for real estate investors to focus on niches and areas which hold up well or are more attractive in weaker economies.
It doesn't take much smarts to do well in a booming economy.  A rising tide lifts all boats.  The biggest risk is getting sloppy and not being ready for a slow down.
But in any economy, even recessions, rich people tend to fare well. 
Of course, it's hard to collect residential rents from the affluent.  But resort and medical are two areas where affluent people will continue to spend … even in a stagnant economy.
For working class folks and their employers … low-tax, affordable markets with good infrastructure, nice quality of life, and a business-friendly environment will likely continue to grow at a disproportionate rate.
A realist sees both the opportunity and the risks … then finds a path forward.
And for all the pessimists, here's another reality check …
Check out this list of GDP growth indexed to notable events, including wars, depressions, recessions, and a variety of crises.
Take a look at it and ask yourself if there's any point in the history where you wouldn't wish you bought more real estate 20 years earlier.
Real estate is fundamental to human existence.  As long as there are people, there will be demand and opportunity in real estate.
So watch for clues in the news … to both find opportunity and to get reality checks from unbridled optimism … but don't let the fear-mongering put you on the sideline.
Sometimes the biggest risk is not taking one.  Be bold.  Be smart.  And stay connected to people and ideas that expand your thinking and possibilities. 
Until next time … good investing!
---
More From The Real Estate Guys™…
The Real Estate Guys™ radio show and podcast provides real estate investing news, education, training, and resources to help real estate investors succeed.
---
Love the show?  Tell the world!  When you promote the show, you help us attract more great guests for 

your

 listening pleasure!
You probably know The Avengers Endgame is the culmination of a 22-film decade-long extravaganza of EPIC story-telling.
What you may not know is how many great real estate investing lessons surround The Avengers Endgame.
Here are just a few … and don't worry, there are no spoilers!
Lesson 1:  Businesses and their jobs will move to seek a better environment.
The Avengers Endgame was filmed at Pinewood Studios in Atlanta, Georgia … and NOT in Hollywood, California.
The Pinewood Studios website says Georgia is "the number one filming location in the world" according to this industry report by Film LA.
One of the reasons is " … the highly competitive nature of tax credits …"
Over five years ago, the Los Angeles Daily News reported this trend …
Why TV, Film Production is Running Away from Hollywood
" … they're running away from here … primarily due to tax incentives offered in … states with rich tax credits such as Georgia …"
But it's not just taxes, though they're a BIG part.
As New York discovered when Amazon abruptly backed out of plans to bring 25,000 jobs to Long Island city for their much sought after HQ2 …
" … it came down to a long-term environment that Amazon did not care to work in …"
And they're not talking weather.  It's the political environment.
So while YOU may or may not agree with Amazon's or Disney's politics or business practices … it's important to remember how the businesses feel.
Learn to look at markets the way employers do … even if you disagree.
Lesson 2:  Get rich in a niche.
This is where LOCAL knowledge really helps.
As you might guess, creating a blockbuster film like The Avengers Endgame requires hundreds … perhaps thousands … of talented, highly-paid people.
While some workers are local to the studio, many come to town temporarily during production … which can last months.
These folks aren't going to live in a hotel room or a trailer all that time, which means they need nice, local housing.  But they aren't buying.  They're renting.
Some investors we know figured this out … and developed an entire business model catering to the unique temporary housing needs of the film producers.
"What?  You didn't see that coming?"
– Hawkeye to Quicksilver in The Avengers – Age of Ultron 
We learned about it during an Atlanta field trip years ago … and it made perfect sense then … and it still does.
After all, when a producer is driving hard and fast to execute on a high-stakes timeline to get a 9-figure film over the line …
… they're deploying a LOT of capital really fast … and they need to get things off their checklist quickly.
Focus on the REAL needs of your customer and you don't need to compete on price.
Lesson 3:  Primary drivers create secondary and tertiary jobs.
Even if you're unable to get into the primary path of cash, there's still a lot of opportunity to get in on the action … a little downstream.
When money is being drawn into a geography by a large enterprise or industry … the money flows through the primary driver to the locals.
So even though not all real estate investors are renting directly to members of The Avengers Endgame production team …
… there are plenty of employees of secondary local vendors who are also being paid out of the fat production budget.
Of course, it's not just The Avengers Endgame budget, which is temporary.
The real driver is the CONSISTENT stream of production budgets drawn to Pinewood Studios.
But whether you're deriving rental income directly tied to those production budgets via primary and secondary employees … there's yet a third tier.
Even your tenants who don't get paid directly from the production are working for the restaurants, shops, and other local businesses who serve those who are.
Just remember … it all starts with the PRIMARY drivers.
Pay attention to primary drivers and the rest will usually follow.
Lesson 4:  Always begin with the end in mind.
You may recognize this adage as one of The Seven Habits of Highly Successful People by Stephen Covey. It's a powerful concept.
The Avengers Endgame is the capstone of a world-class case study in what "beginning with the end in mind" looks like in the real world.
Every film over a decade painstakingly added new characters and story-lines carefully woven together into a powerful tapestry of cinematography.
It's a testament to thinking ahead.
Of course, there's probably been many course adjustments along the way … as talent, opportunity, and even adversity, all manifested on the road to success.
In that regard, The Marvel Cinematic Universe is a lot like life and investing.
Yet very few folks we know are thinking that far ahead.  But perhaps they should be.
In the Create Your Future Goals Retreat, one important outcome is to define your personal mission, vision, values and most important goals … for ALL areas of your life.
With clarity of vision, you can make better small decisions about how you want to live and fund a life you'll be pleased with when you put you head on the pillow for that very last time.
Take time to plan a happy ending for YOUR endgame. 
Lesson 5:  Big dreams take time to build.
In the 22 films from Iron Man to The Avengers Endgame, Marvel Studios patiently constructed an entire "cinematic universe".
It made the concept of a trilogy seem tiny.  It was (and is) a BIG vision … and it took over a decade to develop.
In real estate, whether you're assembling a powerful portfolio of properties or building a mega-million-dollar master planned development, it takes time and consistency to get it done.
Most people can't think that big … and still pay attention to details at the same time.  And many that do, can't stay the course.
But when you do, you have a chance to accomplish something extraordinary.
Think big.  Plan small.  Stay the course. 
Lesson 6:  Together Everyone Achieve More.
TEAM is a huge theme both inside and outside The Avengers Endgame story line.
From the first Avengers film, where a self-absorbed Tony Stark transforms into someone willing to make the ultimate sacrifice …
… to the violently divisive Captain America – Civil War and The Avengers – Age of Ultron where division nearly destroys the team …
… The Avengers discover time and again their best chance for success is teamwork.
Of course, out in the real world, it took teams of writers, directors, actors, special effects, stunt people, production and marketing staff …
…  all working together with diverse skills, backgrounds, personalities and perspectives …
… to make The Avengers Endgame the BIGGEST box-office success in history.
If you have aspirations to build a great real estate investing business or portfolio … ESPECIALLY if you're syndicating, you'll need a team.
Build a great team.
Finally, to paraphrase Scarlett Johansson's Black Widow when she unleashed The Hulk to smash the baddies … Go be an investing hero.
Until next time … good investing!
More From The Real Estate Guys™…
The Real Estate Guys™ radio show and podcast provides real estate investing news, education, training, and resources to help real estate investors succeed.
---
Love the show?  Tell the world!  When you promote the show, you help us attract more great guests for 

your

 listening pleasure!
What do pro investors do when the market show signs of peaking?
They start looking for trouble … in a good way.
Industrial Property Owners Increasingly Go After Value-Add Projects – NREI, 4/19/19
"With prices for stabilized properties rising … industrial owners invest in value-add and redevelopment."
In this case, the trouble is …
"The lack of land for ground-up development in many … markets …" 
That's a supply constraint, which is a favorable problem for creating an equity-building supply and demand dynamic. 
That's because when you can't build more, what's already there is potentially more valuable … IF there's strong demand.
In the case of industrial property, there is currently very strong demand …
 "… the growing appetite for space" in the "red-hot industrial sector …" 
So troubled tenants need more industrial space, but troubled developers can't find big lots of land to build on. 
The existing building inventory is apparently problematic in its current form … or those troubled tenants would be signing big long-term leases on them as is.
So that means more trouble.  This time for current owners of outdated properties which aren't meeting the needs of the changing marketplace. 
Trouble, trouble, trouble, and more trouble … which all spells opportunity for someone. 
Of course, renovating huge industrial properties is a BIG stretch for a Main Street Mom and Pop investor.  These projects take many millions of dollars to get done.  And that's a problem too.
One way to play is to invest in publicly-traded real estate investment trusts (REITs).  But as our veteran audience knows, we're not fans of publicly-traded investments.
Publicly-traded investments are expensive to set up and operate … which dilutes profits to shareholders.  Worse, public shares can be "bet" against in the Wall Street casinos.
On the other hand, a well-run private placement (a syndication), pools the investment power of many small investors into a large, professionally run fund … just like a REIT, but without the Wall Street shenanigans.
So for passive investors, private placements can be an attractive alternative to REITs.  They're just harder for Main Street to find … although it's gotten easier and there are ways to find opportunities.
Of course, for active investors, syndicating is a great way to do bigger, more profitable deals.  It can make sense to share most of the profits with your passive investors because your small piece of a big pie can be very satisfying.
But you don't have to be an industrial property investor to play this game.  In fact, you don't even need to deal in dilapidated properties. 
That's because you're not looking for property problems.  You're looking for people problems … or better stated …
You're looking for people with problems you can solve … profitably.
Consider the plight of home builders …
New-home sales roar to a 16-month high on deeply-discounted inventory – MarketWatch, 4/23/19
It's not necessary to get into the weeds on this one because national housing statistics are fairly meaningless.  There's no useful "average" in real estate investing. 
If that puzzles you, think of it this way …
When you have one foot in near-boiling water and the other in near-freezing water, on average you're comfortable. 
But in the real world, you're in severe pain.
Real markets are LOCAL.  Problem ownerships are INDIVIDUAL.  Every deal is different.  Great deals and bad deals exist at the same time.  Same for markets.  They only average each other out in statistics.
That's why there's SO much opportunity in real estate investing.
Most other forms of investing involve buying the exact same thing everyone else has access to at the exact same price everyone else is paying at the particular time you invest. 
Those non-real estate investors can't negotiate on an individual basis.  All they can do is attempt to time an entry or exit. 
Sure, some of the more ambitious might study fundamentals hoping to find something in the financials others are missing.
But most simply divine charts and graphs looking for signs of a "breakout" against trend line "support" or "resistance" so they can front-run a price move up or down.
Real estate investors look for problems they can solve profitably by adding value … one relationship and property at a time. 
And they know "value" is in the eye of the beholder … whether it's the tenant, buyer, or seller. 
When you focus your attention on creating value for the other party …
… you can charge more rent, reduce turnover, sell for a higher price, buy for a better price, or receive more concessions.
Learning how to identify exactly what with the other party wants is core to the How to Win Funds and Influence People sales training workshop.
While we could talk about adding value to tenants or buyers, for now let's just focus on those new home builders who are dropping prices to move product.
Consider that some of those troubled home builders might be in markets with product types that would make attractive rentals … at the newly discounted price.
You and/or your investors might be able to solve a problem for the seller (the home builder) by buying not just one home, but several all at once … for a bulk discount.
If you've been around awhile, you may remember seeing this movie before … in the run-up to the 2008 financial crisis.
We're not saying another crisis is around the corner.  But who knows?
So it's probably smart to focus on properties and financing structures which emphasize positive cash flow.  This puts you in a better position to ride out a storm should one occur.
Remember … market peaks aren't the time to speculate on further moves up … even if you get a great deal on the buy.  Hot markets can fade fast …
Recently Hot Housing Markets Now See Biggest Sales Declines – Bloomberg, 4/22/19 
Right now, interest rates are back down.  That keeps your mortgage payments lower.
Certain home builder … especially small ones … may be motivated to discount in order to move product in bulk. 
Lower interest rates and lower prices is a combo that helps your initial cash flow.
And if you find the right deal on brand new property … you're less likely to have expensive repair surprises in the early years of ownership.  This gives you time to build up reserves and raise rents as the local economy may permit.
But whether you simply want to write a check and let someone else do the dirty work … or you're the hands-on type who plans to find the deal and oversee it … 
When the market starts to heat up, it's time to focus on building relationships with people whose problems you can solve profitably by adding value.
Until next time … good investing!
More From The Real Estate Guys™…
The Real Estate Guys™ radio show and podcast provides real estate investing news, education, training, and resources to help real estate investors succeed.
---
Love the show?  Tell the world!  When you promote the show, you help us attract more great guests for 

your

 listening pleasure!