2020 Apartment Market Forecast
Predict what U.S. Apartment Markets will look like in 2020 … Then position yourself for success!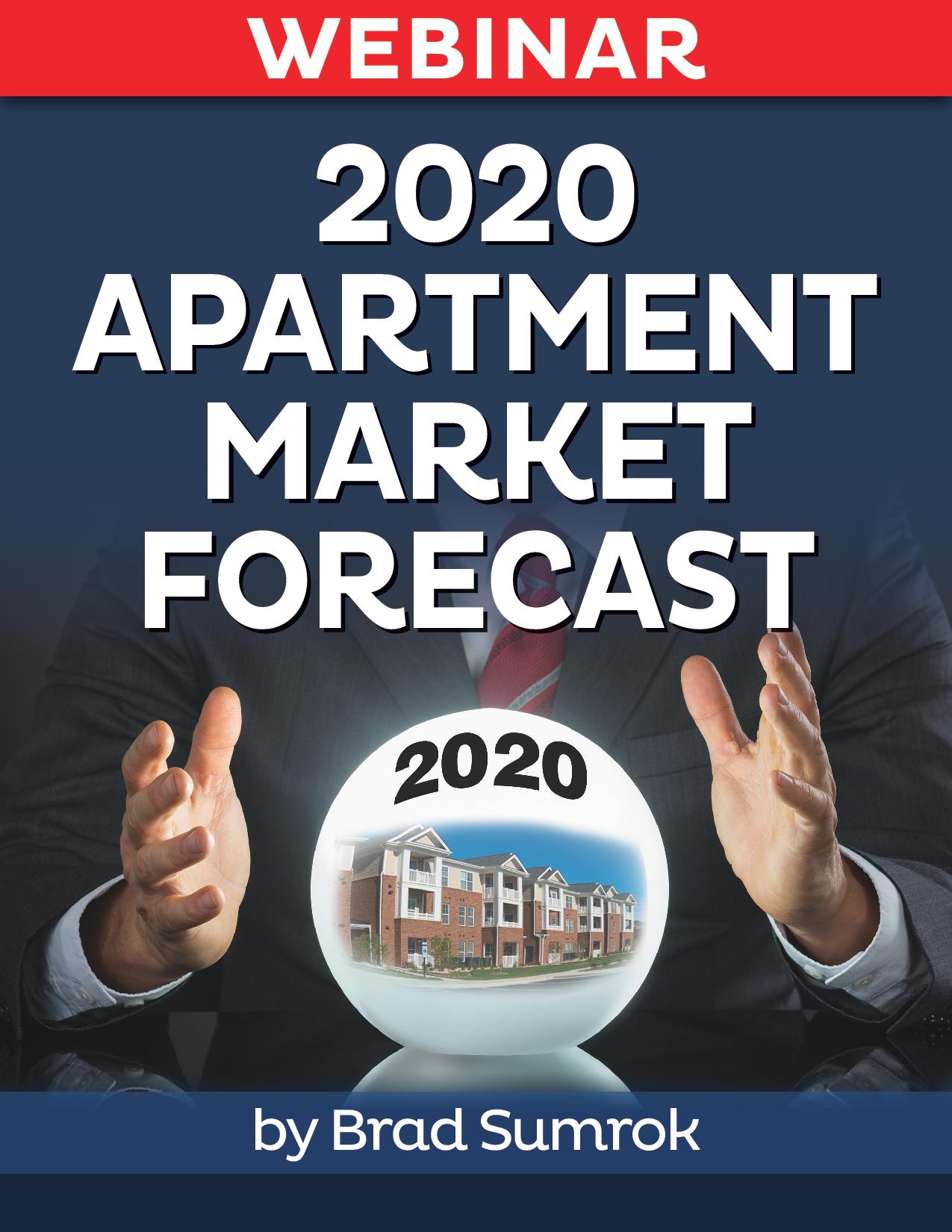 Brad is a successful investor in his own right and the teacher of the popular Rat Race 2 Retirement program, a course that helps investors build wealth through apartment investing.  
In this webinar, Brad brings his characteristic optimism and extensive experience and knowledge to the topic of apartment investing.  His webinar shares:  
How you can leverage others' time, money, and experience to create wealth

 

Program results for Sumrok students in 2019 (they're impressive)

 

A recipe for double-digit returns … consistently for 16 years
Brad's formula for what makes a good market

 

And, the piece de resistance … Brad's 2020 Apartment Market Forecast 

 
Interested in what 2020 holds?  Simply fill out the form below to listen in for how the state of the U.S. economy will influence apartment markets in 2020 … and which markets are best for investors …
Experts predict prices will either rise or decline.
It's that time of year where we like to take a look at what all of the real estate pundits are predicting for the upcoming year.  Obviously, predicting the future is an inexact science….well, okay.  It's actually not science at all.  More like alchemy.
But it's always interesting to see what some of the more notable people think – and why.  It helps stimulate thought and holds the prognosticators accountable.  Then, this time next year, we can look back and see who got it right – and for the right reasons.
In the stainless steel radio DeLorean for a trip back to the future:
Your host, the Doc Brown of real estate, Robert Helms
Co-host, "Hello? McFly!", Russell Gray
Father time himself, the Godfather of Real Estate, Bob Helms
Listen now!
Don't miss a show – subscribe to the free podcast!
Want More?  Sign up for The Real Estate Guys™ free newsletter!
The Real Estate Guys™ Radio Show podcast provides education, information, training and resources to help investors make money with their real estate investments.
In our continuing quest for real estate wisdom, The Real Estate Guys catch up with two of the most active real estate investors around.  As 2009 closes and we look forward to the new decade, what do the experts think?
Gazing into their crystal balls for this episode:
Your senior seer, host Robert Helms
Chief ball polisher, co-host Russell Gray
Rich Dad's Real Estate Advisor, best selling author and real estate entrepreneur, Ken McElroy
Best selling author, prolific real estate investor and entrepreneur, Kim Kiyosaki
We like to talk to people who know what they're talking about.  Not just because they're smart, but because they have wisdom that only comes from experience.  We kick off with an honorary member of The Real Estate Guys, Ken McElroy.  This is a show worth listening to with a note pad because he gives us some great pearls of real estate wisdom!
Ken starts out telling us what he's excited about as we enter the new year.  While many people are licking their wounds, Ken says 2009 was his best year ever!  Then he goes on to explain why the unraveling of the mortgage industry has provided extraordinary opportunity.  He also discusses his strategies for market selection, tells us what NOT to do, and then reveals some of the markets and product types he's most interested in right now.  Plus, he gives us the one key item he looks for to find markets that are more likely to provide lower marketing and turnover costs, and a bigger pool of quality tenants.
Ken wraps up his appearance by sharing what he sees coming in 2010 in terms of interest rates, foreclosures, rents, inflation, the dollar and more!  Really good stuff!
The second half of the show features a conversation with Kim Kiyosaki,  Rich Woman author and big time real estate investor.  She gives us her take on the prospects for 2010, which includes both bad news and good news.  Then Kim shares some details on a huge real estate deal she just closed which exemplifies her forecast.  She reminded us that she started in 1989 in the middle of the last real estate "meltdown" with no money and no credit.  Unable to obtain conventional loans for the first 8 years, she explains how she had to be creative to get her deals done. When you hear the size of her latest deal, you'll realize how much can change in 20 years!  As we said in Equity Happens, 20 years from now it's going to be 20 years from now.  The difference will be what you choose to do between now and then.
We're going to continue checking in with the biggest brains in real estate to see what they're going to be doing in the new decade.  Stay tuned to The Real Estate Guys – and tell a friend!
Don't miss a show! Subscribe to the Free Podcast
Want More?  Sign Up for The Real Estate Guys Free Newsletter!