Boots-on-the-Ground Market Insights: Apartments
May 2020
The Coronavirus health crisis is now an economic crisis.  Find out how apartments are faring!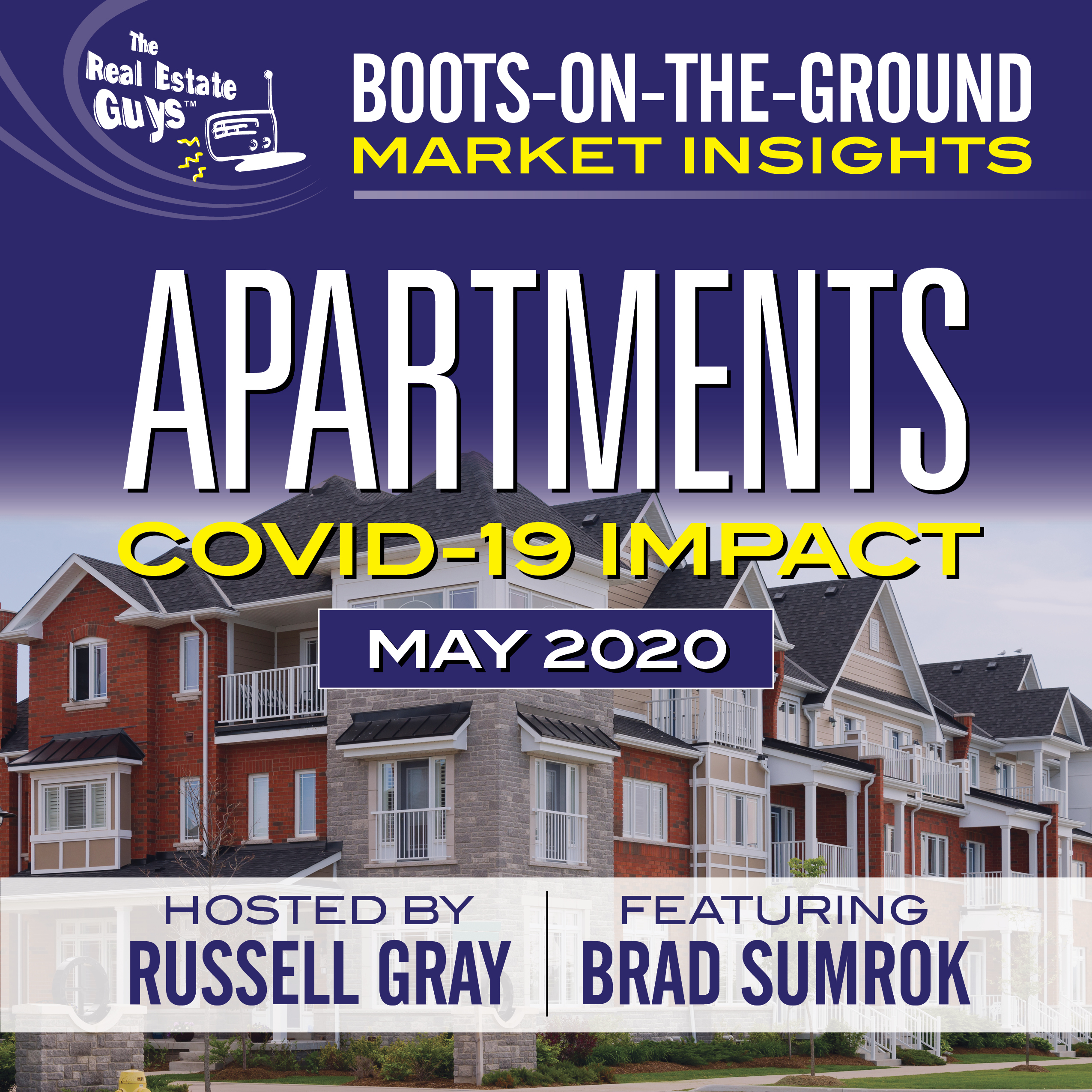 Russell Gray, Co-Host of The Real Estate Guys™ Radio Show, interviews Brad Sumrok about what Brad and his thousands of students are experiencing right now.
The bottom line is that no matter what happens …
People still need housing.  But the question on every apartment owner's mind is …
Will tenants be able to pay their rent?
Will they?
Russ & Brad discuss the current state of apartment …
Occupancy
Rent Collections
Tenant Applications
Tenant Screening Criteria
Rent Concessions
Tenant Retention Strategies
Variances by Real Estate Markets
Emerging Opportunities
Plus, Brad shares his proven recipe for finding the best apartment markets to invest in.
For immediate access, simply complete the form below …
The Joint Center for Housing Studies of Harvard University recently released a special report on America's Rental Housing 2020.
There are lots of reasons to pay attention to housing … rental or otherwise … even if it isn't your primary real estate investing niche.
Housing is much less a driver of economic health than it is a gauge of it.
When people are doing well, they buy homes or pay their rent. When people are struggling, it shows up in housing.
Sure, employment and wages can be up … but if rising wages aren't providing REAL purchasing power, they're deceptive.
When housing costs rise faster than wages for an extended period of time, it's a clue that society is headed towards a problem.
This report reveals some of this is happening right now.
No society can be considered economically sound if its people can't afford a place to live.
And no matter what niche you're in, as an alert investor, it's wise to consider how the overall economic environment affects you directly or indirectly.
Of course, there are ALWAYS reasons to be concerned … and there are ALWAYS opportunities. So no indicator is inherently good or bad … it's just a clue to guide better investing decisions.
The report is 44 pages, but worth the read. You can download our marked-up copy here.
For now, here are some of our more notable takeaways …
"After more than a decade-long run up, renter household growth seems to have plateaued."
ANY time a long-term trend shifts, it can be hard for nose-to-the-grindstone investors to see it … until it's too late to adjust. That's why we read studies like this.
And while the cause of the shift is yet to be disclosed …
(it could be more renters are becoming homeowners … or … more renters are becoming homeless … or something else altogether …)
… the important thing is demand for rental housing and apartments is declining for the first time in over 10 years.
Economics 101 says when demand declines, prices will probably follow. So landlords counting on growing demand for their properties should pay attention.
Of course, the flip side of demand is supply, and the report says …
"… continued strength of new construction …"
"…constraints in new supply …"
Hmmm … at first glance, this seems contradictory. Are more units coming or not?
The concern is a glut of new supply hitting the market just as demand is declining …
… because this would drive rents down and potentially negatively impact a landlord's incomes and occupancy rates.
As an aside, remember what we call the "production lag". This lag is often the cause of little booms and busts.
What happens is demand temporarily overwhelms supply and prices rise.
Then suppliers (builders) see those higher prices and high demand as an opportunity to feed supply to the market a profit.
So they ramp up production. But it takes time to build. There's a lag.
And if too many builders all jump into the market with new construction …
… when all those units eventually hit the market, they can suddenly reverse the supply and demand dynamic … causing prices to retreat.
So tight supply triggers a price boom followed by a construction boom leading to over-supply … which triggers a bust. And it's easy to get lost in the lag.
This is a normal ebb and flow every investor should pay attention to.
But this report talks mentions strength of construction at the same time it describes constraints in new supply. Weird.
Or maybe not …
The reason is found in market segmentation.
As we find in the report …
"New rental construction remains near its highest level in three decades … with a growing share in larger buildings intended for the high end of the market."
Meanwhile, there's a …
"Dwindling supply of low-cost rentals …"
So there's growing abundance in one segment… and constriction in another segment. But this still isn't the whole story.
The report points out …
"… rising costs of housing development are a … key factor … particularly the soaring price of commercial land which doubled between 2012 and mid-2019."
Another reason builders are focusing on the high income renter is …
"… the cost of labor, materials, contractor fees, and local taxes, also jumped by 39 percent over this period, or three times the rise in overall consumer prices."
You may have heard policy makers proclaim there's no inflation … or not enough.
But when it comes to housing, which is a significant and important personal expense …
… there appears to be LOTS of inflation … and it's not just a supply and demand problem.
When it takes more dollars to buy land, labor, and materials … important components of cost … you have higher prices in spite of declining demand.
In fact, you have declining demand because of rising prices.
That's inflation.
Of course, gold has been signaling inflation.
Gold was "up" nearly 19% in 2019 … which really means the dollar fell. So now it takes more dollars to buy the same stuff … and it's showing up in real estate.
The important thing to remember is inflation doesn't make anyone richer. In fact, as this report is pointing out, inflation makes most of society poorer.
This is probably the real reason why there's an affordability crisis in housing.
But policy makers either don't understand this, or they deny it, or they aren't willing to fix the root cause (a failing monetary monopoly) … so they attempt to legislate away the symptoms.
"In the last few years, states and localities have increasingly turned to rent control as a means to protect households from larger rent hikes."
But rent control doesn't address the components of cost.
All rent control does is discourage builders and investors from putting capital into affordable housing in rent-controlled areas … making the problem worse.
Another "solution" revealed in the report … one which property owners of all stripes should pay attention to … are zoning changes allowing more density.
In other words, if land is too expensive, cram more units onto each parcel. As the report points out, local cities and states are changing laws to …
"… allow construction of duplexes and triplexes on lots zoned for single-family housing."
Of course, these changes affect property values and communities where homeowners and investors already own properties.
This is another thing to watch for in areas where you already own residential properties … especially single-family homes.
It could be an opportunity to build a little infill project… scrape an SFR and build a multi-unit … or dump an SFR and get out before values fall.
There's a LOT more in the report … including remarkable data showing the fastest growing demographic of renters is age 65 and up.

One of the challenges of rentals for seniors is that much existing inventory isn't properly configured to meet their unique needs.
Of course, challenges create opportunities for real estate entrepreneurs.
The bottom line is the rental housing market is changing for economic, demographic, and political reasons.
Real estate investors are well-served to pay attention … and look past their recent experience or current market conditions in looking forward.
These trends are often subtle, but powerful.
When you can see them forming early, you have more time to make moves to capture opportunities and mitigate risks.
But you MUST be paying attention … and talking with other alert investors to help you interpret the data and hash out viable strategies.
If you sometimes feel like a small fish in a very big ocean … it's because you are.
There are LOTS of big, bigger, bigger-still, and downright ginormous other fish … some with very sharp teeth … circling all around you.
There are also mostly hidden forces creating powerful currents and waves … speeding you up, slowing you down, or taking you completely off course.
That's why we look for clues in the news.
And because mainstream financial media doesn't cater to Main Street real estate investors, we need to stay alert to notice things often hiding in plain sight.
In a recent trek through an airport on our way to speak at an investment conference … a notable magazine cover hit us in the face like a brick …
The Horrible Housing Blunder
Why the Obsession with Home Ownership is So Harmful
The Economist Jan 18-24, 2020
If you're not familiar, The Economist is one of those highbrow publications ginormous fish and wave-makers are reading.
The Economist articles provide insights into how powerful people think about small fish like us and the things we care about … like housing.
In The Economist table of contents, the housing blunder topic is introduced this way …
"The West's obsession with home ownership undermines growth, fairness and public faith in capitalism."
"Housing is the world's biggest investment class … at the root of many of the rich world's social and economic problems."
Wow. We didn't know home ownership is so harmful to our fellow man. We're ashamed.
But before we dig in, take a minute and simply consider their conclusion …
…and what happens to YOU if powerful people decide to implement policies to protect the world from the evils of housing.
Now you know why we pay attention.
So, on page 9 of The Economist, under their "Leaders" section (think about THAT) …
… they assert housing markets CAUSE both sudden economic crashes AND chronic economic "disease".
Then they support their conclusion by claiming "a trillion dollars of dud mortgages blew up the financial system in 2007-08".
Maybe you've heard that one before.
Of course, they make no mention of the trillions of dollars of Wall Street concocted derivatives of those dud mortgages …
(Warren Buffett called derivatives "weapons of mass financial destruction" … NOT the mortgages underneath them)
They also don't account for the dangerously weak lending "standards" (we use the term loosely) Wall Street used to entice weak borrowers.
Nor do they mention the reckless, speculative and highly leveraged bets placed using those mortgage derivatives by arrogant gamblers in the corrupt Wall Street casinos.
Of course, the greed behind all of it is simply a "derivative" of the moral hazard created when everyone in the market KNOWS the Federal Reserve will paper over any problem with freshly printed "money".
Back to The Economist special report on the horrible housing blunder …
Besides the terror of housing threatening the entire financial system, The Economist says …
"… just as pernicious is the creeping dysfunction … housing created …" which they define as …
"… vibrant cities without space to grow; aging homeowners sitting in half-empty houses …
… and a generation of young people who cannot easily afford to rent or buy and think capitalism has let them down."
So it seems cities which selfishly vote to preserve green space for themselves, their families, and the environment are … financial terrorists.
As are old folks who have the gall to stay in the homes they raised their children in … long after the children have successfully (and presumably permanently) moved out.
And speaking of all those independent young people … apparently because of these selfish homeowners, they can't "easily" afford to put a roof over their head.
Of course, there's no mention of the terror created through government sponsored student debt which both inflated the cost of college and enslaved a generation into inescapable debt …
… making home ownership … or even renting … far from "easy".
Ummm … sorry, but how is that housing's fault?
And what do the social scientists at The Economist suggest is the answer to the horrible housing blunder?
For that we need to flip over to page 44 where we discover that …
"Over the last 70 years, global house prices have quadrupled in real terms."
For those keeping score, 70 years ago was 1950. Store that for future reference.
"Real terms" means adjusting both incomes and prices for inflation. In other words, prices rose four times faster than incomes.
The solution to all these ills is threefold says the author …
First, is "… better regulation of housing finance …" so that "… people are NOT encouraged to funnel capital into the housing market."
Yes, every business person knows when you need MORE of something you should starve it of capital. Brilliant.
Next is … wait for it … "a better train and road network" to "allow more people to live farther afield." …
… because who doesn't enjoy riding public transportation 100 miles a day to go to work?
And last but not least, our personal favorite …
"… abolishing single-family-home zoning, which prevents densification …" and "…boosting the construction of public housing."
Makes sense (not) because clearly, the only thing better than riding public transportation to and from work for hours a day is coming home to relax in "the projects".
Of course, as you've probably discerned, we think the whole thing is absurd.
But while it's laughable, it's also scary … because this is the way those ginormous fish think.
Worse, they've assigned the symptom (high housing prices and stagnant real wages) to the wrong disease … so they're prescribing the wrong medicine.
Housing prices took off in the '50s because Bretton-Woods handed the U.S., and then in 1971, the entire world, a completely unaccountable ability to go into unlimited debt.
Worse, it requires the perpetual, unrelenting growth of debt … or the system collapses.
So the wizards must continually find new ways to fabricate affordable debt …
… through mortgages, student loans, government spending, endless wars, or (insert boondoggle of your choice) …
… plus, 40 years of falling interest rates … to zero and beyond!
It would take so much more space than this modest muse permits to delve deeper into the mindset, motives, and methods of the wizards behind the curtain …
… and to explore the MANY opportunities for Main Street investors who are aware and prepared.
For now, we simply encourage you to PAY ATTENTION and THINK. And look for every opportunity to talk with others who are doing the same.
Way back in January 1988, the cover of The Economist boldly warned the world to "Get Ready for a World Currency".
As we chronicle in our Future of Money and Wealth video, The Dollar Under Attack, and is easily seen through MANY headlines since …
… the dollar's role as currency of the world is steadily being attacked RIGHT NOW by both friend, foe, and technology.
Here in January 2020, The Economist is overtly prodding the world to take on the threat of housing …
"Bold action is needed. Until it is taken, housing will continue to weaken the foundations of the modern world."
This hits us all right where we live and invest. We should all be paying attention.
Housing is the sector of real estate most watched … and worried about … by economists, politicians, journalists, bankers, and investors … from Wall Street to Main Street.
That's because housing, quite literally, hits us all right where we live.
We can all relate to it and housing is both an objective and subjective measure of individual and national prosperity.
Housing has certainly been in the financial news of late …
Housing Starts Surged in December. Don't Expect It to Last
MarketWatch, 1/17/20
Housing market falling short by nearly 4 million homes as demand grows
CNBC, 1/21/20
New Risk to World Economy: Synchronized Housing Slowdown
Wall Street Journal, 1/28/20
As you can see, there's both "good" news and "bad" news. Of course, buried inside of all that is opportunity.
So we think it worthwhile to look at housing through the lens of a tried and true investing strategy which could prove timely in today's market conditions.
But first, let's set the context …
Despite low interest rates (and largely because of them), housing is expensive relative to incomes.
That's a problem for both renters and prospective home buyers … and why affordable housing is a hot topic today.
It's also why we're strong advocates of leaning towards affordable markets, neighborhoods, and price points. Demand tends to be stronger there.
We think it wise to be positioned below the top of the range. If interest rates rise or there's a recession, people above will flow downhill to you.
Meanwhile, be prepared to survive a notch or two below your current price point. Otherwise, you may lose more demand leaking out the bottom of the range than you gain flowing in from the top.
In other words, ALWAYS compete for the loyalty and rent checks of your tenants … even in a high demand market.
Those who push rents to the margin of the range are the first to feel the pullback. Like equity, all rent retraction is at the margin. High rents hurt first.
That's because when tenants start to feel a financial squeeze, giving a 30-day notice and moving to someplace more affordable is a relatively easy thing to do.
And don't get suckered into thinking there's no inflation or high employment based on the highly publicized and potentially "adjusted" official data.
Pay attention to the real world … because that's where your tenants live.
From a home buying perspective, demand comes from first-time home buyers entering the market and pushing things up.
That's why pundits are concerned that the average first-time home buyer age has risen to 47 years old.
Perhaps young people would rather rent than own? Maybe. But even if true, we wouldn't bet on that lasting.
Sure, Millennials saw their parent's real estate experience turn sour in 2008 … but that's now 11 years ago … and a LOT of equity has happened since.
Most Millennials we know would like to own. They see prices rising and affordability getting away. Meanwhile, rents are climbing.
So we think Millennial demand will be a substantial factor in housing going forward. Demand is already growing … and it's a wave you can likely ride over the next 10 years or more.
Also, Millennials are among a large group of Americans standing to inherit about $764 billion THIS YEAR alone.
We're guessing next to paying off student debt, buying a home is near the top of the wish list for some of those heirs … adding some additional capacity-to-pay to fuel demand.
And speaking of capacity-to-pay …
Interest rates remain crazy low … and aside from a collapse of the dollar or a seizure in the bond markets (which could easily happen somewhere down the road) …
… there's not much in the near-term to suggest interest rates will rise substantially.
In fact, with the amount of debt in the system, it could be argued there's FAR more downward pressure than upward.
Still, because you don't know, it's not a bad time to stock up on inexpensive good debt. Just be VERY attentive to marrying it to durable income streams to service it.
Of course, another much discussed hindrance to Millennial home ownership is the now infamous and mountainous levels of unforgivable and inescapable student debt.
But in terms of student debt defaults and the resulting dings to credit, it's only less than 15% of borrowers.
That means 85% of Millennials are chugging along making those payments … and presumably preserving their very valuable credit scores.
Of course, making those student loman payments hinders a young person's ability to save for a down payment on a home. They start later and it takes longer.
And if a young person doesn't have parents with equity they're willing to re-position into a home for junior, or they aren't on the receiving end of a chunk of that $764 billion inheritance …
… the lack of a down payment is perhaps an even bigger hindrance to Millennial home ownership than student debt.
And even though there are low down payment programs out there, they come with higher interest rates, private mortgage insurance, and larger loan balances …
… all of which converge to make the resulting mortgage payment much bigger than low interest rates can offset.
So that elusive 20% down payment dramatically increases the affordability of home ownership for many Millennials.
ALL this adds up to a great opportunity for real estate investors …
There's a simple, time-tested strategy to leverage your cash into long-term equity … while preserving your credit and avoiding virtually all land-lording hassles.
It's "equity sharing".
In short, a cash rich investor supplies the down payment to a credit worthy owner-occupied home buyer.
The credit partner gets the loan, makes the mortgage payment, and lives in the house for the long term.
After a predetermined period of time … usually 3 to 10 years … an appraisal is done.
Any equity growth net of capital investments (reimbursed to the partner who made them) is split at a previously agreed upon rate such as 50/50.
Of course, there are some legal agreements which need to be put in place … and the borrower needs to work closely with a mortgage pro to make sure nothing is misrepresented in the loan application.
But equity sharing is a profitable way for Main Street investors to help the next generation of homeowners get into the market … so both can ride the long-term equity wave.
The borrower gets a home of their "own" … to live in, care for, and fix up for their personal enjoyment and prosperity.
They don't feel or act like tenants … and they're in for the long haul.
And with their name and credit on the line, they're HIGHLY motivated to make the payment … even if it's higher than they could rent a similar home for.
They don't move to save a few bucks the way a tenant would because they have housing stability, tax breaks, long-term equity growth, and pride of ownership.
Meanwhile, the investor gets half the amortization and appreciation over the hold period … and next to no management headaches.
Plus, the investor has no property management expense, no loan on their credit report, no turnover or vacancy expense.
Equity sharing is a great way for an investor to leverage cash without as much risk as traditional land-lording.
Equity sharing is really just a form of syndication and a simple strategy for taking advantage of current market conditions.
For the cash partner, you get to invest in housing for the long-term, while mitigating much of the downside risk in the short term.
For the credit partner, you convert your housing expense into housing security and long-term equity. Half of something is better than all of nothing.
And when it's hard to find rental housing that cash flows after expenses, equity sharing is a way to ride the housing bull with far less risk than traditional land-lording … while helping a young person get on board the real estate equity train.
As the political cycle ramps up, housing affordability might get some attention. And it's more complex than you might think.
Obviously, housing policies have the potential to affect YOUR real estate investing … so it's smart to pay attention.
Of course, there's always risk in talking politics. Everyone has heroes and talking points. Sometimes it's hard to take the filters off and consider all perspectives.
Fortunately, we're not here to promote or protest a policy or a politician. Life's too short for that.
Instead, our focus is on what people in power are thinking and doing … and how it affects our strategic investing.
In case you missed it, President Trump recently signed an Executive Order to take on the lack of affordable housing.
According to the announcement, the EO establishes a White House Council tasked with "tearing down red tape in order to build more affordable housing."
This ONE sentence reveals much about how the President views the problem … and reflects his background in real estate.
So let's put our red or blue foam fingers down and consider the landscape the way it's being planted by the powers that be … and how things might change if a new sheriff comes to town.
Components of Affordability
Housing affordability is a relationship between incomes and mortgage payments or rents. It's not about price as much as it is the gap between income and housing expense.
It's no secret housing prices and rents have been rising faster than real wages.
And the longer this goes on, the more people get pushed off the back of the affordability bus.
Ironically, it's often the attempts at creating affordability which inadvertently makes things unaffordable. Will that happen this time?
Past national policy efforts focused on increasing the availability of financing, while many local efforts include legislating lower rents.
History shows easy financing actually makes housing more expensive … just like student loans made college more expensive.
This confounds typical politicians.
But it's simple. Financing increases purchasing power … and newly empowered buyers bid prices up. Of course, sellers are happy to oblige.
Consider what happened to housing after the Clinton Administration lowered government lending standards in late 1999 …
Looser lending combined with the Fed's then unusually low interest rates (trying to reflate stocks after the dotcom bust and 9/11 attacks) …
… drove real estate prices up, up, up in the early 2000s.
Everything was great until derivatives of those sub-prime mortgages imploded the bond market and crashed not only real estate prices, but the global economy.
So again … easy money doesn't make things affordable. It inflates price bubbles which eventually collapse. Not a great plan.
Interestingly, President Trump is badgering the Fed to drop rates.
He says lower rates are necessary to keep the U.S. competitive in international trade … and to lower the interest expense of ballooning federal debt.
Some claim Trump's trying to prop up the stock market heading into the election cycle, which is probably true.
In any case, based on this EO, Trump's push for lower rates doesn't appear to be intended to drive housing prices UP.
Of course, that doesn't necessarily mean he wants to drive prices down either.
After all, there are many constituencies with vested interests in keeping values stable or growing.
Banks depend on property values to secure the mortgages they make.
Local governments depend on high values for property tax calculations.
And of course, property owners (who also happen to be voters), use high property values to feel rich or to tap into for additional purchasing power.
On the other hand, there are a growing number of disenfranchised voters who struggle with rising rents and are watching the dream of home ownership become more elusive.
When we asked then-candidate Donald Trump what a healthy housing market looked like in a Trump Administration, he simply said, "Jobs".
Fast forward to today, and we know President Trump has been trying to re-organize the economy to produce more higher paying jobs.
Of course, the jury's still out on whether he'll succeed. But that's the plan. And if he is successful, it will help close the housing affordability gap.
Of course, rising wages are useless if housing prices continue to outpace them … which brings us back to this affordable housing executive order.
When we put all this in a blender and hit puree, it seems to us crashing housing prices can't be the goal.
Instead, we suspect the purpose of increasing supply is to moderate excessive price growth … while giving incomes a chance to catch up.
So on the housing supply side, President Trump's Executive Order presumes to stimulate development by REDUCING regulation.
This is an unusual tactic for a politician. Politicians of both stripes are infamous for MORE government, not less.
Maybe Trump is still thinking like a real estate developer.
In any case, we visited the National Association of Home Builders website to see what active home builders think of the Trump approach.
They describe Trump's EO as "a victory for NAHB" because "it cites the need to cut costly regulations that are hampering the production of more affordable housing…"
According to NAHB, regulations add SIGNIFICANT costs to development …
"… regulations account for nearly 25% of the price of building a single-family home and more than 30% of the cost of a typical multifamily development."
Think about that. These are YUGE numbers. 😉
Of course, the odds of reducing regulations and their costs to absolute zero are … absolutely zero. There'll always be some regulation.
But even if regulatory costs are substantially reduced, there are other factors to consider (we told you it was complex) …
Components of Cost
When bringing a real estate development to market costs include land, material, capital, labor, taxes, energy, and regulation.
Once built, you can tack on marketing, sales, and costs of operation until the product is sold or leased up. So, regulation is just one of many pieces of the equation.
Watching President Trump operate, it seems he attempts to manipulate components of cost as you'd expect from a typical real estate developer … making trade-offs to get things done in time and on budget.
The Opportunity Zones program is an attempt to move economic activity to where land is less expensive.
As mentioned, he's aggressively calling for lower costs of capital (interest rates).
And the already passed Trump tax reform is delivering tremendous tax incentives for real estate investors.
As for energy, Trump opened up domestic oil production while pushing for lower oil prices.
And with his recent EO, Trump is going after costly regulation in the home building sector.
All that checks a lot of boxes.
Of course, there's the issue of tariffs … which (at least temporarily) are adding to the cost of building materials.
(There's much we could say on the touchy topic of tariffs … but we'll save it for another day.)
Meanwhile, we're chomping popcorn watching this play out … and trying to decipher what it means for Main Street real estate investors.
Here's our bottom-line (so far) …
While interest and energy costs are macro-factors which affect the broad market, a reduction in federal regulation makes a smaller dent.
That's because regulation is both a federal and regional phenomenon.
Our guess is markets with more local regulations will continue to attract less investment than those with less. Conversely, markets with less regulation will attract more.
This push to stimulate development is an obvious opportunity for real estate developers.
Meanwhile, we're not staying up at night worrying about a supply glut collapsing housing prices any time soon.
If housing prices fall, it'll probably be because credit markets collapse again.
For that reason, we continue to think it's a good time to liquefy equity, lock in long term cheap financing, and tighten up operational expenses.
If prices do happen to fall … for whatever reason … as long as you have resilient cash flow and low fixed-rate financing you can ride out a storm as an owner.
And with some dry powder, a collapse isn't a crisis for you … it's an opportunity as a buyer.
Of course, you can stand at the plate all day waiting for the perfect pitch. Meanwhile, the market might continue to boom.
You can't profit on a property you don't own.
So even though there's arguably some frailty in the financial system, it's an ever-present threat you need to learn to live with and prepare for.
But as long as deals you're doing today are structured to weather a storm, you're probably better off collecting base hits than taking strikes.
Until next time … good investing!
More From The Real Estate Guys™…
The Real Estate Guys™ radio show and podcast provides real estate investing news, education, training, and resources to help real estate investors succeed.
---
Love the show?  Tell the world!  When you promote the show, you help us attract more great guests for 

your

 listening pleasure!
When the 2008 financial crisis hit, the mortgage industry was at the epicenter … and the disruption of funding feeding real estate crushed housing values.
But it's important to remember, the problem was NOT real estate.
After all, people still needed and wanted places to live.  So the demand for housing remained stable.
It was credit markets that failed.  And in a credit-based economy, everything stops when credit markets seize up … including home loans.
Without a steady influx of fresh debt to fund demand, prices collapsed … taking trillions in equity with it.  And it wasn't just real estate.  Stocks tanked too.
Mortgage and real estate is just where it started.
The double-whammy of teaser rate resets … and the resulting big monthly payment hikes which sunk a lot of homeowners …
… and then the negative equity led to a rash of defaults by even prime borrowers …
… all of which caused a credit market contagion that scorched financial markets world-wide.
Of course, this all created huge problems for Wall Street, the banks … and for Main Street.
So Uncle Sam and the Federal Reserve got heavily involved to "help" … and to no surprise … Wall Street and the banks came out on top.
The banks needed relief from realizing their losses on their financial statements, while finding a fast path to re-inflating values.
After all, property values are the collateral for all those mortgages.  And when values drop, borrowers walk … along with the prospects of loss-recovery.
So Wall Street rallied and raised many billions of dollars to buy up Main Street houses …
… even as millions of homeowners were being demoted to the rank of tenant.
So now instead of collecting mortgage payments, they collected rent.
As a real estate investor, you probably think that's better.  Who wants to be a lender, when you can be an owner … enjoying tax breaks and building equity.
But Wall Street doesn't think like you … and that's our point.
Today, those Wall Street buyers are landlords.  And by some accounts, they're not doing a very good job for the Main Street tenants.
Shocker.
Don't get us wrong.  We're all for investors stepping in to clean up a mess.
Investors are like the white corpuscles of the economy … bringing capital to damaged areas and healing blight and distress.
It's one of the reasons we're excited about Opportunity Zones.
We just hope Main Street investors and syndicators don't get pushed aside again by the wolves of Wall Street.
The issue is there's a BIG difference between the way Wall Street money and Main Street money behaves.  And it's not about savvy … it's about heart.
Big money guys (and gals, we suppose) have a way of looking at things.
Remember this classic 2012 quote from mega-multi-billionaire and legendary investor Warren Buffett …
"I'd buy up 'a couple hundred thousand' single-family homes if I could." 
Of course, we all know money's not the gating issue for Buffet.  He can buy anything he wants.  So what could his hesitancy be?
Maybe he agrees with Sam Zell, who's been quoted as saying this in 2013 …
"An individual investor can buy 25 houses and monitor them. I don't know how anybody can monitor thousands of houses."
Really?  We know Main Street investors like Terry Kerr at MidSouth Homebuyers who successfully manage thousands of houses.
So it's not impossible to manage a big portfolio well. You just need to be committed to doing it … one tenant at a time.
The folks we know who excel at single-family property management really care about their tenants as human beings … and deal with them as individuals.
They're focused on creating cash-flow as the PRIMARY investment result … as opposed to simply a necessary evil to offset holding costs until a capital gain can be realized at sale.
Buffett and Zell are smart guys.  Buffett saw the opportunity in single-family homes … but had the good sense to know he wasn't the right guy for the job.  Ditto for Zell.
Big money moves in broad strokes, which is fine when you're dealing with commoditized assets and you can buy and sell in bulk.
But real estate … especially single-family homes … is not an asset class and can't be effectively commoditized.  And neither can property management.
We think Main Street tenants are much better served by Main Street landlords … like YOU … so long as you remember the main thing is happy tenants.
Happy tenants means longer tenancy, less turnover and vacancy, and better real-world cash flows.
Of course, you don't need to be a small-time investor to build a portfolio of single-family homes.
When you learn to syndicate, you can combine bulk money with individual property investing … and build a portfolio of hundreds or even thousands of homes.
Being big isn't bad.  Wall Street's problem isn't its size.  It's its mindset.
As the legendary Tom Hopkins says …
"Don't use people and serve money.  Use money and serve people." 
Because when you do, you'll end up with both.
Until next time … good investing!
More From The Real Estate Guys™…
The Real Estate Guys™ radio show and podcast provides real estate investing news, education, training, and resources to help real estate investors succeed.
---
Love the show?  Tell the world!  When you promote the show, you help us attract more great guests for 

your

 listening pleasure!
Some people think housing is a driver of economic growth.  But that doesn't make sense to us.
Sure, a robust housing market creates a lot of jobs from construction all the way back through the supply chain.
But housing itself is a by-product of prosperity, not a creator of it.  After all, who buys a house first … and then gets a job?  It's the other way around.
So we think housing is not a leading indicator, but a trailing indicator.
With that said, in addition to reflecting economic prosperity, housing definitely plays a role in driving economic activity.  But not in the way most people think.
So let's take a look …
Economic activity isn't about asset values.  It's about velocity … transactions … how fast money is flowing through society.  That's why they call it currency.
But it isn't really money that's flowing.  It's credit. It's a subtle, but important difference because you can't create money from nothing.  Only credit.
If you're not familiar with the VERY important difference between money and credit, you should strongly consider investing in the Future of Money and Wealth video series …
… because G. Edward Griffin (author of The Creature from Jekyll Island) does an amazing job of explaining it all in an easy to understand way.
The fundamental principle to understand is that a loan is an asset to a bank.
When a bank makes a loan, they effectively create "money" from nothing by issuing credit.
Obviously, the biggest loans in most people's lives are mortgages on houses.  So that means banks are creating LOTS of "money" by extending credit.
Meanwhile, governments issue bonds, which are simply humungous, glorified IOUs … like a mortgage.  Except the collateral isn't a house … it's the citizens' earnings.
And when the mother of all banks, the Federal Reserve, buys government bonds, they are effectively creating "money" by issuing credit.
Now when all this "money" gets into the financial system it pushes asset prices up.  But not evenly.  And no one know for sure where it will all end up.
If lots of the new "money" goes into bonds, bond prices go UP and interest rates go DOWN.  There was a LOT of that going on over the last decade.
Similarly, if it goes into stocks, then stock prices go up.  There was a lot of that over the last decade also.
One big driver of rising stock prices has been corporations pigging out on cheap debt and then using the proceeds to buy back their own stock.
But remember, this isn't economic activity … it's just inflation of asset prices.  So it's a mistake to think a rising stock prices means a booming economy.
In fact, "stagflation" occurs when prices go up, but economic activity is slow.
And just last week, former Fed chair Alan Greenspan said he sees stagflation coming to an economy near you.
At the same time, fellow former chair Janet Yellen is warning of excessive corporate debt.  We were just talking about that in our last commentary.
Funny.  Neither Greenspan or Yellen has said anything about the Fed going insolvent.  Pay no attention to that man behind the curtain.
Meanwhile, Fannie Mae's economics team recently announced their prediction of slowing economic activity in 2019.
And just so you don't think they're merely jumping on the bandwagon, Fannie Mae Chief Economist Doug Duncan predicted this in his Future of Money and Wealth presentation on our last Investor Summit at Sea™.
All this to say, there are some notable experts saying the economy could be in for some headwinds in 2019.
So back to housing and its role in goosing economic activity …
Anyone paying attention knows housing prices have bounced back nicely from their 2008 debacle.
And almost everyone who bought early in this last run-up has built up gobs of equity.  Good job.
Unsurprisingly, consumer confidence, cash-out refinances, and consumer spending all surged in 2018 … as households became equity rich … and then tapped that equity to SPEND.
In other words, credit flowed through housing to consumer spending which drove a lot of economic activity.
So it's not housing construction that's a leading indicator … it's rising prices and equity.
But as housing price appreciation slows … it's no surprise consumer confidence is dipping too.
Remember, consumers are usually the last ones to realize what's coming.
So again, it's the flow of credit into home prices and equity … and then the flow of credit through home equity to consumers … and then from consumers into the economy … that be a leading indicator of what's coming down the line.
There's one more nuance to consider …
As we've been pointing out for the last few months, there are LOTS of reasons to think more money is heading into real estate.
A combination of the best tax breaks, Opportunity Zones, and nervous stock investors fleeing Wall Street in record numbers to seek a safer haven in housing … all could have real estate setting up for a nice run.
But be cautious.
Because if Alan Greenspan is right about stagflation … rising prices without rising real wages and economic activity …
… then real estate PRICES could rise from big money seeking safety … while the rents you use to control the property could be under pressure.
Consider RentCafe's recent year end report, which found the most popular things renters searched for in 2018 were "cheap" and "studio."
So as we've been suggesting for quite some time …
… it's probably safer to focus on affordable markets and product types… using long-term fixed financing … and focusing on solid cash-flows to position your portfolio to ride out a slow-down.
We're not saying there will be slow down.  But others are.
And it's better to be prepared and not have a slow-down, than to have a slow-down and not be prepared.
And remember … asset prices and economic activity are NOT one and the same.
Until next time … good investing!
More From The Real Estate Guys™…
The Real Estate Guys™ radio show and podcast provides real estate investing news, education, training, and resources to help real estate investors succeed.
---
Love the show?  Tell the world!  When you promote the show, you help us attract more great guests for 

your

 listening pleasure!
Sometimes the most profound tidbits of wisdom are unexpectedly found in unlikely places.
Here's a great one we picked up along the way …
"Most people figure it out … eventually.  The GREAT ones figure it out EARLY."
We heard this during a casual conversation in the bleachers at a small college football game.  The subject was athletes, but it really applies to any endeavor … including real estate investing.
Most of us want to be great.  We want substantial success by whatever criteria we define it.  And we usually want it quickly … which brings us to our next profundity …
"More sooner is better."
It all SEEMS so obvious.  But too often we find ourselves distracted and delayed with half-started projects, trivial pursuits; urgent, but unimportant tasks.
Meanwhile, minute by minute life speeds by … and we fall further behind.
But over time, we become more productive.  Through trial, error and pain we slowly learn to focus.  We gain skills and get more organized.  We learn when to say yes and when to say no … eventually.
But … the GREAT ones figure it out EARLY.
And when it comes to skills, organization, wisdom, discipline, and all the results those bring … more sooner is better.
Of course, this applies to ALL of life … including the business of real estate investing … so let's think about HOW we can "figure it out" faster.
First, no matter how old you are, today is as young as you'll ever be.  And no matter how young you are, it almost always seems life is too short.
So using today as ground zero, the goal is to figure it out early … and gain more (knowledge, wisdom, relationships, assets, cash flow, etc.) sooner.
Another lesson from athletics is learning to slow down and relax in order to go faster.
If you've ever been trained to sprint … or watched a slow-motion video of a world-class sprinter … you'll see they're very focused, relaxed, fluid … with no wasted motion.
Amateurs are tight … they try too hard … they're inefficient … and they waste a lot of energy.  They work harder to go slower.
Sound familiar?  Sometimes the busiest people are the least productive.
Now here's the next paradigm breaker … direct from furry green lips of Master Yoda in The Last Jedi …
"The greatest teacher, failure is."
Of course, this doesn't mean we seek failure.  Or does it?
While we don't set out to do something intending to fail, whenever we attempt something we always run the RISK of failure.
So occasional failure is inevitable … especially when doing something new.
But just as you don't have to save money in order to invest, because you can syndicate capital from people who've already saved it …
… you can syndicate wisdom from people who've already failed and gotten the lessons.
Or, as Bob Helms, the Godfather of real estate says …
"You don't have to give natural childbirth to ideas.  You can adopt!"
 So we don't seek out failure, but it's not bad to seek out failures … people who've already failed and gained valuable wisdom through the process.
The key is to find the right people … and then get close enough to learn from them … and it's about MUCH more than simply information.
It's about culture.  It's about the environment you're in … the peer group you're a part of … the ideas, attitudes, and opportunities you're consistently exposed to.
As the new year rapidly approaches and you consider how to "figure it out" faster in 2018 … so you can get more sooner … take a strong look at your environment.
Do you have enough exposure to people who are pushing themselves through failure and are striving diligently to figure it out faster?
Are you as focused as you need to be to avoid resource-wasting distractions?
And perhaps most importantly, do you have a healthy attitude about your own failures … or do you let setbacks put you on the sideline too long?
Here's more wisdom from brilliant minds … 
"Winners are not afraid of losing. But losers are. Failure is part of the process of success. People who avoid failure also avoid success." – Robert Kiyosaki 
"I never see failure as failure, but only as a learning experience." – Tom Hopkins
(By the way, both Robert and Tom will be with us again for our next sensational Investor Summit at Sea™)
Every year, in every economy, people find a way to win … and others find a way to lose.
And if both can happen in the same conditions, then the difference must be in how each individual behaves in the same environment.
Most of us are somewhere in the middle of the pack in whatever we're working on … some folks are ahead of us, and some are behind.
In a marathon, each runner has to run their own race … but smart ones use the power of the pack to pick up the pace and pull them forward.  Sometimes it's uncomfortable.
Of course, if it were easy then everyone would do it, and the achievement would be unremarkable.
"What is the point of being alive if you don't at least try to do something remarkable?" – John Green
We hope you've had a successful 2017 and are eagerly looking forward to a remarkable 2018.
We appreciate having you in our audience and hope to see you very soon at a live event.
Until next time … good investing!
---
More From The Real Estate Guys™…
The Real Estate Guys™ radio show and podcast provides real estate investing news, education, training, and resources to help real estate investors succeed.
It's the time of year to get together and have a good time celebrating the holidays.  Sometimes this involves indulging in some intoxicating activities.
Those who want to enjoy themselves know their limits … and prudently rely upon a sober person to get them safely home.
Naturally, we're talking about investing.
Just take a look at just a few of the many recent intoxicating headlines …
It's important to remember … investing vehicles are supposed to get us to our financial destination SAFELY.
Crashes are DANGEROUS … which is why sobriety is advised.
Of course, in a room full of intoxicated partiers, a sober person can come off as a party-pooper … and NO ONE likes a party-pooper.
So let's see if we can serve up some investing eggnog and with a dash of optimism … and no nasty hangover or risking a life-threatening crash.
First, let's take a quick dive into the aforementioned headlines …
Housing
Home-builders are REALLY confident … presumably because they believe conditions are ripe for them to buy land, materials, and labor … turn them all into homes which they can sell at a profit.
That's because home prices are UP … unlike those dark days in the wake of the recession when existing homes were selling below replacement cost … making it nearly impossible for home builders to build profitably.
Stocks
The U.S. stock market … and most global stock markets … have been rocketing higher.
In fact, the U.S. stock market has taken out all-time highs … over SEVENTY times in 2017 … an all-time record.
All this amid rabid share buybacks by corporations flush with cheap cash from low interest rates… and now from tax breaks which appear inevitable in the new tax bill.
Of course, when corporations take stock OFF the market (reduce supply), while demand surges as bullish investors are piling in … prices rise.  Go stocks!
And speaking of rising prices …
Bitcoin
Of course, the meteoric rise of Bitcoin is THE asset price boom story of the year … perhaps of our lifetime.  It's gotten to where accidental Bitcoin multi-millionaires are even starting hedge-funds.
Are we jealous?  Maybe just a lot.  But we're not sure missing the Bitcoin boom makes us stupid … any more than Bitcoin billionaires are suddenly investing geniuses.
"Stupid is as stupid does." – Forrest Gump
Pre-2008, we knew a lot of people who thought they were real estate investing geniuses because real estate was going up fast everywhere.
They'd put $20,000 down and buy a little house, and a year later it was worth $100,000 more.  There's NOTHING wrong with that.
BUT … it's a mistake to think you're an investing genius because you bought a bubble asset at the right time.
Of course, if you're not smart enough to get out before the bubble deflates, it can take all gains … and your investing "genius" … with it.  We know.
"I may be drunk, Miss … but in the morning, I will be sober … and you will still be ugly." – Winston Churchill
Rising asset prices are FUN.  Easy equity is intoxicating.  Who doesn't like to see the spread between assets and liabilities grow?
But asset price parties can turn ugly fast if you're not careful, which brings us to the point of today's musing …
In good times and bad, always remember what REAL investing and wealth are …
… and no matter how intoxicated with bubble wealth you are, be sure you get home safely.
How?
To our way of thinking, the purpose of investing is to accumulate units of real value and the productivity of others.
Wealth is measured by how many useful items you own … like buildings, trees, crops, barrels of oil, ounces of strategic or precious metals, etc.
These are things people MUST have in order to live, work, or make things of value.
When you have more units of real value, and more people sending you a portion of their productivity, you are WEALTHY.
And when you pick items of real value which also reduce exposure to counter-party risk, your wealth is even safer.
Intoxicated investors look at their balance sheet and celebrate their net worth … perhaps even borrowing heavily to spend on consumption.
In fact, this is EXACTLY what the government and banks WANT you to do.
Sober investors look at their balance sheet as merely a tool for building their CASH FLOW statement.  Spending comes out of the productivity of the asset … not it's equity.
This is no small differentiation … because what you do with equity defines you as an investor.
The investor who buys low, sells high, skims some spending money, then pushes the stack back in and rolls the dice again, needs to keep playing the game … or the cash flow stops.
You can be a full-time investor, but you're still on the treadmill.
The investor who buys low, then uses equity gains to acquire streams of positive cash flow will eventually become free from the need to personally produce to eat.
Robert Kiyosaki calls this "out of the rat race" … and it's an enviable place to be.
The world is awash in paper (balance sheet) equity right now … in stocks, real estate, and now cryptos.  None of them are bad.  Equity is awesome!
But the market giveth equity … and the market taketh equity away.
We think it's smart to take equity off the table before Mean Mr. Market takes it first … and then use your new equity to acquire productivity … cash flow.
It's even better when you can pair equity with cheap long-term debt, so you can own MORE units of real value (properties) and income (tenants).
Of course, the right real estate is an ideal vehicle to acquire an income producing asset with cheap long term debt.
If prices decline, the income provides a basis of value and control.  And if prices take off, your bigger collection of assets will create even more equity faster.
If you haven't already, now's a good time for a portfolio sobriety check.  It doesn't mean the party's over … but it just might make it a bit safer.
Happy holiday and until next time … good investing!
---
More From The Real Estate Guys™…
The Real Estate Guys™ radio show and podcast provides real estate investing news, education, training, and resources to help real estate investors succeed.
Between Bitcoin, Nasdaq, and yes … even some real estate markets … there's a growing concern about bubbles blowing up on giddy investors who've been partying like it's 1999.
Of course, if you sit out to play it "safe" … you might miss out on all kinds of exciting gains. Buy into the hype … you might be left without a seat when the music stops.
So what's an investor to do?
Fortunately, these are much easier problems for a real estate investor to resolve than for those investors playing purely with paper assets.
That's because real estate is unique among investment vehicles.
First, real estate is almost impossible to commoditize.
Every property is a one-of-a-kind collection of condition, location, potential, financing structure, and seller motivation.
And unlike nearly all other investments … you can influence many of the factors which contribute to the financial performance of real estate.
On the other hand, every Bitcoin, ounce of gold, share of Apple stock, or 10-year Treasury are essentially identical anywhere in the world …
… and there's virtually nothing you can do to influence the supply, demand, or financial performance of any of them.
Of course, this doesn't necessarily make those "investments" bad.  But they are very different than real estate.
Our point is that when pundits toss real estate into the commoditized investments bubble warning basket, it's not a completely valid argument.
Real estate provides a level of safety and control not available in commoditized investments … and the key is basic analysis and underwriting.
Now don't be intimidated.  It's not that complicated.
However, income property analysis and underwriting is a different process than analyzing a stock, bond, or commodity.
As for crypto?  We're the first to admit we haven't the slightest idea how to analyze or underwrite a crypto-currency.
But back to the business of analysis and underwriting …
In simple terms, "analysis" is simply looking at the numbers and drawing some conclusions about what they mean.
"Underwriting" is fact-checking the inputs which create the numbers you're analyzing to be sure the numbers are rooted in reality.
"Technical" analysis is looking at the supply, demand, and price trends.  It's about patterns, and using the past to help predict future price action.
"Fundamental" analysis is looking at the operating income, the market, the management, and other competitive factors, to estimate prospects for future success.
Fundamental analysis is what Warren Buffet is famous for.  And because he's really good at it, he often finds companies whose stocks are cheap relative to their potential.
So a "good deal" is something selling for less than it's potential … so long as you have the funds, expertise, and control to develop the potential.
When it comes to stocks, Warren Buffet is big enough to have some direct influence on how a company develops its potential.
Unfortunately, Main Street investors can't play the stock game at Buffet's level.
The great news is real estate lets you get your Buffett on much better than just some speculating amateur playing pin-the-tail on the hot stock donkey.
So here's a simple way to approach real estate deal analysis and underwriting so you can recognize a bargain … even in a hot market.
The goal is to buy a property that isn't already at the top of its value range (a bubble).
For this discussion, we'll assume you've selected a market and neighborhood that's in good shape and stable, or trending in the right direction.
When it comes to the actual property, you're analyzing it for acquisition, improvement, and long-term production of income.
Already, the distinction between real estate and a commoditized investment should be apparent.
When you acquire a commoditized investment like Bitcoin, Apple stock, gold, or a bond, you're bidding into a very competitive environment.
Sure, there may be a little wiggle room in the price, but it's based on timing … not negotiation.
But with real estate, there's often the possibility of negotiating price, concessions, carry-back, equity participation, etc.
Often, you're only competing with a handful of other bidders, so your negotiating skills can make a big difference.
Real estate is personal and individual.  It's NOT a commodity.
So one way to mitigate the risk of buying at the top of the value range is to simply negotiate a better deal at the start.  Skill matters.
But that's just the beginning.
Most properties aren't perfect when you buy them.
Depending on the condition and potential of the property, there's often a variety of improvements a new owner can make to create additional value.
If you're smart, creative, and cost-effective, you can make micro-investments into the property and improve its macro performance.
For example, our friend Ken McElroy likes to add washers and dryers to his apartment units.  When he does, he can get a $600 investment per unit to yield an increase in rents of about $300 a year.
You can't do that with Apple stock.  Even if you buy 100,000 shares.
This is where your "cap ex" (capital expenditure, or "fix-up" budget) ties in directly to your income analysis.
So you have the acquisition costs and the cap ex as your "cost basis" going in.  It's the amount of capital you need to get a return on.
That "return" is called Net Operating Income.  It's simply revenue less expenses before debt service.
Once again, this is where real estate sets itself apart from commoditized investments.
With real estate, the line items of your revenue and expenses often contain things which you can improve with good management and creativity.
So as you analyze and underwrite the deal, make a note of each item over which you have some degree of influence or control.
When you do this, you'll see the potential and probabilities for improving the financial performance, and thereby the value … and you'll develop a solid foundation for a viable business plan for the property.
This is "duh obvious" to seasoned real estate investors.  But for newbies, it's a VERY important distinction.
Real estate isn't a good deal simply because it's real estate.  And real estate isn't dangerous simply because values have risen in the aggregate.
Real estate can't be measured in the aggregate.  Each property is unique.
That's what makes real estate fun and challenging.
But to our way of thinking, what's dangerous is buying a commoditized investment you don't understand, can't control, with no plan … hoping it will do something awesome all by itself.
It might.  But it might not.
In ANY investment, there are ALWAYS stories about people who get stupid rich by dumb luck.
But for every lucky winner, there are a hundred gamblers who get crushed trying to get lucky … with no plan.
Be smart.  Do your homework.  Make executable plans. And when you see a deal that makes sense … just do it.  And don't let bubble talk scare you.
There might be bubbles forming all around you, but you don't have to buy one.
Until next time … good investing!
---
More From The Real Estate Guys™…
The Real Estate Guys™ radio show and podcast provides real estate investing news, education, training, and resources to help real estate investors succeed.