We know a guy who bought a property with NO foundation.  He didn't know it because he paid cash … and with no lender forcing an inspection, he skipped it.
Oops.
He figured since the property had been in use for decades, everything was fine.  But just because a building is standing, it doesn't make it safe or sound.
Similarly, the financial system is the foundation of the economy.  Last time, we noted the U.S. economy is reportedly doing well.  Great!
But … there's a BIG difference between a strong economy and a strong financial system.
Now before you crawl up in a ball and go full fetal, remember … bad times are good times for the informed, connected, and prepared.  That's why we do what we do.
So let's dig a little deeper …
An economy is about ACTIVITY … making, selling, buying things … and saving to create pools of capital for lending to do more of all those activities.
A financial system is the INFRASTRUCTURE which supports the activity … banks, credit, stock and bond markets … even the currency itself.
People can see and feel economic activity. It's visible all around.  The news reports on it day and night.
But it's a LOT harder to see the strength or weakness of the financial system.
Most people simply go about doing their economic activity and trust (consciously or unconsciously) that smart, responsible people are maintaining the system.
Others don't really trust the folks in charge … but aren't sure how to know whether the financial system operators are doing a good job or not.
So sadly, most people are completely blind-sided when the system fails in some way.  Just think about the millions of people wiped out in 1929, 1971, 1987, 2000, and 2008.
And if you're not sure why those dates are significant, it's probably time to allocate some of your financial focus to more than just your economic activity.
We know.  It's boring.  It's hard to understand and relate to.  Just like a building's foundation … most people would rather walk the property than climb under the house.
We get it.  But stick with us … because if you're riding any part of the boom, it's wise to consider when, where, and how fast the party ends.  Because parties ALWAYS end.
This is why some of the pundits we follow … guys like Peter Schiff, Robert Kiyosaki, Chris Martenson, Simon Black … sometimes seem a little gloomy.
While mainstream media is telling you how pretty the economy is … these guys are inspecting the foundation and seeing cracks … which are perhaps not obvious to the untrained eye.
Debt
One of the biggest cracks is the obscene amounts of individual, corporate, municipal, national, and global debt.  The world's NEVER been in debt like it is right now.
The problem is debt needs to be serviced.  And when debt is growing faster than productivity (income), defaults occur.   This leads to the next huge concern …
Derivatives
When Party A borrows from Party B, Party A has a liability … and Party B has an asset.  Party A's liability is Party B's asset.
When Party B pledges their "asset" (Party A's debt) as collateral for a new loan from Party C … now TWO loans depend on the performance of Party A.  Make sense?
Of course, Party B's loan now becomes Party C's asset … and Party C can pledge it as collateral for another loan … and on and on.  Party on.
Daisy Chains
These debt parties link balance sheets of financial institutions together like a group of mountain climbers all tethered together.
The obvious problem is because of the linkage … when debts go bad, the entire system is subject to …
Counter-Party Risk
They call this "contagion" and it was the heart of the 2008 financial crisis … even as the Federal Reserve assured everyone things were "contained."
But asset prices are fragile … based on most players holding their positions and not dumping them.
However, when debt implodes, players sell whatever they have as fast as they can to raise cash to cover the bad debt.
That's what happened to stocks in 2008.  And even though people weren't dumping real estate to raise cash, real estate values fell when money stopped flowing into mortgages.
So yes … all of this matters a LOT to real estate investors. 

When credit markets collapse, it chokes lending, crashes asset prices, and stalls economic activity.
That's bad for everyone who depends on asset prices and credit markets.
(Of course, for the prepared, it's a shopping spree!)
Central Banks 
Last time the credit markets failed, central banks stepped in and printed TRILLIONS to buy up bad debt, backstop failing banks, and reflate asset prices.
Can they do it again?
Maybe.  But some say interest rates aren't yet high enough to drop far enough fast enough in a crisis to jump start the economy.
Also, central banks balance sheets are still bloated with bad assets they printed money to buy up in the last crisis.
Will the world stand by as trillions more are printed to do it again on an even grander scale?  Or would the world lose faith in …
The Dollar
As we describe in detail in Future of Money and Wealth, China and Russia have been openly leading a rebellion against dollar dominance.
And while the Chinese currency is arguably some distance from supplanting the dollar globally, it's picking up steam.
The yuan is now a MUCH more viable dollar alternative than anything else was in 2008.   This is a developing story we're following closely.  Meanwhile …
Let the Good Times Roll
Don't get us wrong.  The economy appears to be strong.  There's a lot of opportunity in the market RIGHT NOW.
If you're in the right markets and product niches, this is a fun and profitable time to be an investor.
BUT … the financial system these good times are based on hasn't really changed.  In fact, in some ways the cracks are getting larger.
So while the good times roll, remember things usually roll downhill … and sometimes right off the edge.  Best to stay aware and prepared.
Until next time … good investing!
---
More From The Real Estate Guys™…
The Real Estate Guys™ radio show and podcast provides real estate investing news, education, training, and resources to help real estate investors succeed.
Timeless real estate wisdom says three things matter most when deciding what to buy … location, location, location.
It's tongue-in-cheek, but the point is real estate derives its value from demand.
The key is choosing properties most likely to surge in demand relative to supply.
Of course, deciphering supply and demand means looking at demographics, economics, migration, and the potential for increases in supply.
The concept is simple.  But understanding actual market dynamics is more complex.
Still, it's worth the effort because real estate investing is about buying and holding a property for the long term.
And even if your time horizon is shorter, you still need new buyers coming into a market to take you out.
So getting the market right matters a lot more than simply making sure the property's free of termites and the plumbing works.
When it comes to residential rental real estate, some major demand factors are jobs, affordability, and quality of life.
Sure, everyone would LOVE to live in Tony Stark's mansion in Malibu … it's got a GREAT location and is low in supply.  But it's not affordable.
And with so many retail jobs being automated or Amazoned … and manufacturing jobs still more off-shore than on …
… what kind of jobs and geographies offer the kind of growth potential likely to support working class folks?
We're keeping our eyes on infrastructure for clues.
Both the Obama administration and now the Trump administration have said U.S. infrastructure needs attention.
It's not a blue or red only issue, so maybe something will really get done.
We've commented before on Trump's plan to spend a trillion dollars on infrastructure … and though it may seem to have fallen off the radar, infrastructure might be making a comeback.
First, even though the Fed backed off on the last rate hike, they're still talking about reducing their balance sheet.
That's code for tightening "monetary stimulus".
This puts pressure on President Trump and Congress to fire up some "fiscal stimulus" … which is code for good old-fashioned government spending.
And while the military is quite likely to be on the receiving end of a chunk of it, we think some funding will probably find its way into infrastructure.
Of course, we're not the only ones paying attention to this possibility.
Check out this headline from Bloomberg …
Buyers Bet on Infrastructure, With or Without Trump
The article is about one big company buying up another big company to get in position to feed off government spending on infrastructure.
"This rush to get positioned for an infrastructure-spending boom is a striking contrast to the stalled progress in Washington on legislation of any kind, let alone Trump's proposed $1 trillion infrastructure plan. But like the private-equity firms raising buckets of money for infrastructure-focused funds, industrial firms are wagering the country's roads, bridges and sewer systems have gotten so bad they can't be ignored for too long."
Of course, the big question for real estate investors is … where???
Some clues can probably be gleaned from the prospectuses of the private-equity and industrial funds … all of whom are presumably spending considerable resources on researching their mega-investments.
But there are also clues in the news.
The New York Times published an article claiming Trump Plans to Shift Infrastructure Funding to Cities, States and Business.
More recently, Reuters reports U.S. Construction Spending Falls as Government Outlays Tumble.
"U.S. construction spending unexpectedly fell in June as investment in public projects recorded its biggest drop since March 2002 … The decline pushed public construction spending to its lowest level since February 2014."
So even though Uncle Sam wants to spend money on infrastructure, they're not doing it in earnest … yet.
But think about this …
Big companies and private-equity funds are getting positioned for big infrastructure spending.  They expect it to happen.
President Trump says he wants to spend a trillion dollars in infrastructure.
We can't imagine Congress not wanting to spend money.  It's what they do best.  Then again, getting anything done is what they do worst.
But everyone seems to agree infrastructure is in bad shape. And we're guessing some places are in worse shape than others.
So like the big players, we think at some point, the need is going to force the spending … ready or not.
Now if the Feds don't pay … or if Trump puts more responsibility on the states … it seems like those states which already have the best infrastructure … or the best economic ability to build or improve it … will have a big advantage.
And because we're always looking for an advantage, we decided to look up those U.S. states in the best fiscal shape.
Not surprisingly, several of our favorites are in the top ten …
North Dakota
Wyoming
South Dakota
Vermont
Utah
Of course, when picking a market to invest in there's more than just fiscal strength.
Affordability, market size, business and landlord friendliness, quality of life … and your boots-on-the-ground team … are all important considerations also.
Nonetheless, with record levels of debt at every level, rising healthcare costs, pensions in crisis, and fiscally cancerous unfunded liabilities growing daily …
… we think companies and governments in relatively good financial shape are best positioned to make critical investments, gain competitive advantages, and attract an unfair share of population and business.
The goal, as Wayne Gretzky says, is to skate to where the puck is going.
Until next time … good investing!
---
 More From The Real Estate Guys™…
The Real Estate Guys™ radio show and podcast provides real estate investing news, education, training and resources to help real estate investors succeed.
You probably heard that President Trump gave a speech last night.  Looks like the stock markets liked it.
So what's all the excitement about?  And what does it mean to real estate investors?
First, forget about whether you like or agree with President Trump … or think he's a chump.  He's going to do what he's going to do whether you like it or not.
The big deal is a TRILLION dollars of infrastructure spending and a big boost in military spending.  That's a lot of cash flow … right into the economy.
Forget about how he's going to pay for it.  That's a policy problem … and maybe a fiscal problem.  We're sure Peter Schiff and the rest of our faculty will have something to say about all that in a few weeks on our Summit at Sea™.
And no one's really talking about the looming debt ceiling showdown March 15.  Something else we're sure to discuss on the Summit.
According to this Reuters article, "Treasury Secretary Mnuchin said … he would like to see an increase in the debt ceiling 'sooner rather than later'."
We're guessing he's going to get it … and the "big" showdown will pass quietly.
It's same thing we thought back in 2011 and again in 2013… just two of the debt ceiling showdowns in recent history.  Huge debt and deficits are the American financial system … for now.
So it seems the stock markets are pretty sure all this spending is going to happen.  And maybe President Trump will figure out a way to pay for it with help from private industry and NATO partners.  Maybe he won't.
But we think the odds Uncle Sam's about to open the checkbook are pretty high.  Like it or not.
So … if it happens, where's the opportunity for real estate investors?
Here are some things to think about …
Infrastructure projects require huge amounts of planning.  If you're paying attention, you'll probably be able to figure out which communities and industries will be the winners.
Common sense says go snooping around for the kinds of real estate the people who live and work in those communities and industries will want … and you'll probably be in the path of cash flow.
Less obvious, is to think about the supply chain for those projects.
Way back when China first started its economic ascent, it spent zillions on infrastructure … including all those ghost towns you read about.  So again, the spending doesn't have to be smart or responsible for the cash to flow.
But guess which real estate was the big beneficiary of China's big spending?
Australia … because that's where a lot of the raw materials came from to build China's infrastructure.
So understanding China's supply chain allowed investors who were not interested in owning Chinese real estate to make real estate profits because of China's spending.
But Australia also benefitted from all the Chinese who became rich on government spending used their new-found riches to go on vacation … to Australia.
The point is there's a ripple effect of spending.  And sometimes those ripples carry out through supply chains and consumer behavior to drive real estate demand in peripheral areas.
The same can be said for military spending.
We already know from President Trump's rhetoric he's likely to focus the vast majority of his spending on American companies.
So a savvy investor might start to really pay attention to what kinds of military contracts are being awarded and where those companies are doing the work.
Those are working class manufacturing jobs.  Great tenants!
And taking a page from the infrastructure spending supply chain model, those primary military contracts have out of area sub-contractors and suppliers.
If Trump's trillions come with the condition those military suppliers "buy American and hire American", the odds are good the money won't end up in China.  So it could well push real estate demand in those American markets in the food chain.
This is the same kind of strategic investing paper asset investors are doing. 
Except they're buying up the stocks they think will win and are speculating on the price.  They want to buy low and sell high.
Of course, there's LOTS of competition.  If you feel smart AND lucky … go for it.
A strategic real estate investor … that's you … can take the same approach, but you're looking to take a slice of the paychecks of all those workers and companies who are feeding off the Trump spending initiatives.
And because real estate is more esoteric … and messy … it's nowhere near as crowded as the stock markets.  Nor is it as easily gamed, as we've discussed in a prior commentary.
So whether for your own portfolio, or if you're investing money for others, there's opportunity developing as the Trump administration roles out its agenda.
Until next time … good investing!
---
More From The Real Estate Guys™…
The Real Estate Guys™ radio show and podcast provides real estate investing news, education, training and resources to help real estate investors succeed.
Markets get hot for different reasons and if you can get in front of a rising market, it can be a lot of fun.
But when the tide of hot money rolls back out, does your market have a solid foundation for stability and recovery?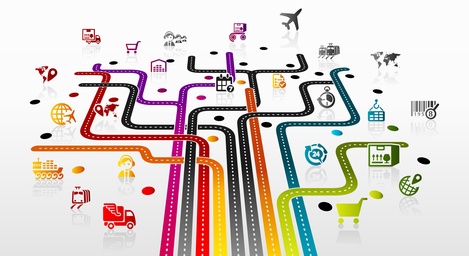 It's an important question.  So we decided to dedicate this episode of The Real Estate Guys™ radio show to one of the most important foundations of a solid real estate market: infrastructure.
Behind the shiny microphones to talk about the role of infrastructure in real estate market analysis:
Your stable host, Robert Helms
His recovering co-host, Russell Gray
Money moves in and out of all markets, both paper and real, for two basic reasons: momentum and/or fundamentals.
A postmortem of those formerly hot markets which dropped precipitously in the 2008 crash tells us that there was a lot of hot money chasing momentum (speculation).  And when the hot money stopped flowing in, prices fell all the way past fundamental levels.
This is a very simplistic explanation, because the real estate bubble was really rooted in hot money in the bond market which fed the real estate market.  But the concept is that more properties were built and purchased than there were fundamental reasons for building and owning them.
The result, of course, was inflated prices and overbuilding.  And when the tide shifted, prices fell.  In some cases, prices fell well below replacement costs (a fundamental).
But some markets fell further than others.  And some markets came back sooner than others.
So what makes the difference between a slow falling or fast recovering market, and those that die and never or very slowly come back?
This is an obviously complex question, but one of the key components to a more stable and better recovering market is infrastructure.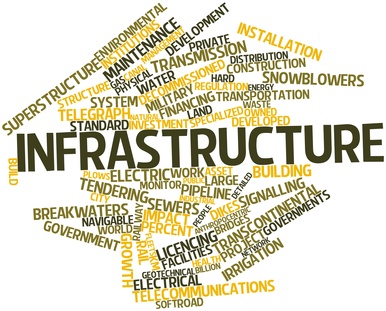 In basic terms, infrastructure is all of the things that need to exist to support human occupation of land.  These things include roads, airports, utilities, etc.
In broader terms, infrastructure that is attractive to residents and businesses include education, health care, entertainment, shopping, communications and in some cases, shipping.
When you think about it, it makes perfect sense.  After all, people and the businesses which employ them need infrastructure in order to live, work and recreate.
Therefore, it stands to reason that, all things being equal (taxes, cost of living, weather), a market with superior infrastructure is more desirable than one with less infrastructure.
So when you look at a prospective market to invest in, don't focus simply on its price to rent ratio.  While it's great to buy a cheap property with strong cash flows, it's better to have a property that can better withstand the beatings of the economic waves over time.
Instead, learn to look at the market through the eyes of your tenants and their employers; or, if you're a commercial real estate investor, your tenants are the employers.
Ask yourself if there is a strong and educated labor pool (educational infrastructure).  Are new people attracted to the market to go to school?  Colleges can help drive inbound migration to an area.  Best of all, college grads tend to rent for awhile after they graduate and first start working.
Think about the support services people need and want…like health care, shopping and entertainment.
And what about a businesses ability to move people and products in and out of the region?  Are there good roads, airports, railways, etc.?  And is the physical location itself conducive to efficient transportation?
Our thesis is that the best long term markets are those that have solid and diverse infrastructure because it's a huge competitive advantage over those that don't.  And because infrastructure takes time and a lot of money to put in, any market that already has it is in position to get stronger faster when the economy is growing.
When the economy is booming and everyone's flush with money, all markets look good.  But what about when the economy turns soft?
If you want to stay in the game in good times and bad, it's critical to understand the role of infrastructure in a real estate market.  So listen in to this episode as we talk infrastructure and real estate market selection.
Listen Now:
Want more? Sign up for The Real Estate Guys™ free newsletter
Don't miss an episode of The Real Estate Guys™ radio show! Subscribe to the free podcast
 Stay connected with The Real Estate Guys™ on Facebook!
The Real Estate Guys™ radio show and podcast provides real estate investing news, education, training and resources that help real estate investors succeed. Visit our Feedback page and tell us what you think!