How to Preserve Equity and Diversify Your Investment Portfolio
Don't let the coming opportunities to get bargain deals pass you by!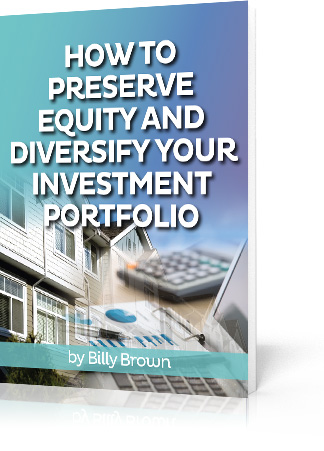 Real estate is a game and an addiction. Once you figure out a successful formula for winning the game … you want to keep winning. That's the addiction.
You have an existing portfolio … and you want to take it to the next level.
But what happens when an amazing deal comes your way … BUT you don't have the liquid capital you need?
You don't have to let opportunities pass you by!
Commercial lending specialist and debt strategist Billy Brown is here to help you learn how to keep your properties, maintain positive cash flow, and re-purpose that "lazy equity" to acquire a new investment.
NOW is the time! BEFORE asset prices begin to cycle back down, lenders tighten back-up lending guidelines or mortgage rates rise … take your equity off the table.
In this special report, explore:
✓ Options for getting the capital you need to diversify your portfolio
✓ Case studies for using your existing equity to acquire new property
✓ Answers to frequently asked questions from investors like YOU
✓ And more!
Take your investing to the next level, and put your equity to work for you!
Simply fill out the form below to access How to access existing equity in your rentals and expand your investment portfolio …

We're just back from yet another EPIC Investor Summit at Sea™.  If you missed it, be sure to get on the advance notice list for 2020.
It's hard to describe how transforming and powerful the Summit experience is.  So we won't.
Instead, today's focus is on the flip side of the Fed's flop on interest rates … in context of the #1 thing Robert Kiyosaki told us he's MOST concerned about.
We recently commented about the Federal Reserve's abrupt reversal on plans to raise rates and tighten the supply of money (actually, credit … but that's a whole other discussion).
The short of it is … there's more air heading into the economic jump house. 
Based on the mostly green lights flashing in Wall Street casinos since then, it looks like the paper traders agree.  Let the good times roll.
Real estate investors care because the flow of money in and out of bonds is what determines interest rates.
When money piles into bonds, it drives interest rates LOWER.
Not surprisingly, as we speak … the 10-year Treasury is yielding about 2.3% … compared to nearly 3.3% less than six months ago.
While a 1% rate change may not seem like much, it's a 43% decrease in interest expense or income (depending on whether you're borrower or lender).
So as a borrower, your interest expense is 43% lower.  Obviously, with record government debt and deficits, Uncle Sam needs to keep rates down.
But as a lender (bond investor) you're also earning 43% less.  And yet, lenders (bond buyers) are lining up to purchase.
That tells us they probably expect rates to fall further and are speculating on the bond price.
But whatever the reason, they're buying, so bonds are up and yields are down.
As you may already know, lower Treasury yields mean lower mortgage rates.  So this headline was quite predictable …
Mortgage Rates are in a Free Fall with No End in Sight – Washington Post, 3/21/19
Falling mortgage rates are bullish for real estate values because the same paycheck or net operating income will control a bigger mortgage.
This purchasing power allows buyers to bid up prices … IF they are confident in their incomes, and IF their incomes aren't being directed towards rising living expenses.
So lower interest rates don't automatically mean a boom in real estate equity.  But they help.  We'll probably have more to say about this in the future.
For now, let's take a look at the other side of falling rates …  the impact on savers and especially pension funds.
Remember, if you're investing for yield, your income just tanked 43% in only six months.  Unusually low interest rates creates problems for fund managers.
During the Summit, Robert Kiyosaki revealed he's VERY concerned about the global pension problem.
Low interest rates are only one part of the problem.  A much bigger part is the demographics and faulty model underneath the pension concept.
The net result is there's a growing disparity between pension assets and liabilities.  And it's not a good one.
Like Social Security, both public and private pensions worldwide are on a collision course with insolvency … led by the two largest economies, the United States and China.
This problem's been brewing for a long time.  But it's a political hot potato and no one has a great answer.  So the can keeps getting kicked.
But we're rapidly approaching the end of the road.  And this is what has Kiyosaki concerned.
Yet few investors are paying attention … probably because it all seems far away and unrelated to their personal portfolio.
However, the pension problem has the potential to affect everyone everywhere.
The reasons are many, but the short of it is the problem is HUGE and affects millions of people.  The pressure for politicians to do SOMETHING is equally huge.
Peter Schiff says the odds of them doing the right thing are very small.
Our big-brained pals say it probably means 2008-like mega money printing and bailouts … except even BIGGER.
So what does all this mean to Main Street real estate investors?
Keep in mind that some of the biggest pension problems are states and local municipalities.  California and Illinois come to mind.
Unlike private corporations, public pensions don't have a federal guarantee.
But even if they did, Uncle Sam's Pension Benefit Guaranty Corporation (PBGC) is in trouble too.
According to this government report, the PGBC will be broke in 2026 …
" … the risk of insolvency rises rapidly … over … 99 percent by 2026." – Page 268
Sure, the Fed can simply print all the money needed to save the PGBC … and Social Security … and more … but at the risk of ruining faith in the dollar.
As we detailed in the Future of Money and Wealth, China's been systematically moving into position to offer the world an alternative to the U.S. dollar.
Will they succeed?  No one knows, but it's yet another story we're paying close attention to.
Meanwhile, unlike Uncle Sam, states and municipalities can't just monetize their debts away with a little help from the Fed.
Of course, we'll bet if the stuff hits the fan, the Fed will "courageously" attempt to paper over it … just like they did with Fannie Mae and Freddie Mac in 2008.
But many observers contend the Fed's recent inability to "normalize" either rates or their balance sheet means they might not have the horsepower.
In other words, it may take MORE than just the full faith and credit of the United States to persuade the world the dollar is still king.
Oil and gold might be more convincing.  Perhaps this explains some of Uncle Sam's recent foreign policy moves?
Of course, that's conjecture FAR above our pay grade.
But until the pension problem becomes a full-blown crisis and federal policy makers attempt to ride in on their white horses …
… cash-strapped states and municipalities are on their own … and likely to do desperate things in their attempts to stay solvent.
Some will adopt policies designed to attract new business and tax revenue.
But we're guessing most will push the burden onto consumers, businesses, and property owners.  That seems to be the way politicians roll.
So when you're picking states and cities to make long-term investments in, pay attention to the fiscal health of the local governments.
And if your tenants are counting on private pension benefits, they may not be aware of 2014 legislation allowing a reduction of those "guaranteed" benefits.
If YOU have any direct interest in private pensions, you should read this page.
You'll discover that plan participants can vote against a reduction. But even if most who vote reject it … if not enough people vote, it can pass anyway.
For retired carpenters in Southwest Ohio, benefits drop on April 1, 2019 … along with their ability to pay you rent.
The bad news is the pension problem is a slow-motion train wreck.  It's rolling over small groups of people a little at a time … but it's building momentum.
The good news is it's slow-motion right now, so  there's time to watch, learn, and react.
But Kiyosaki says it's a big deal that's probably going to get a lot bigger. 
From a real estate investor's perspective, some markets will lose, and others will gain.
Choose carefully.
Until next time … good investing!
More From The Real Estate Guys™…
The Real Estate Guys™ radio show and podcast provides real estate investing news, education, training, and resources to help real estate investors succeed.
---
Love the show?  Tell the world!  When you promote the show, you help us attract more great guests for 

your

 listening pleasure!
We're back again to tackle the questions we missed in our last Ask The Guys episode. We love these episodes and the opportunity we get to talk through some of YOUR real-world investing opportunities and challenges.
We hear from listeners dealing with tenant damage and security deposits, 1031 tax-deferred exchanges, nontraditional lending ideas and TONS more.
First, the ground rules.
We talk about ideas and information. When you're dealing with real money in the real world, you want to consult a professional. We don't offer legal, investment, or tax advice.
In this episode of The Real Estate Guys™ show you'll hear from:
Your problem-solving host, 

Robert Helms

His trouble-making co-host, 

Russell Gray
---
Listen
---
Subscribe
Broadcasting since 1997 with over 300 episodes on iTunes!
---
Review
When you give us a positive review on iTunes you help us continue to bring you high caliber guests and attract new listeners. It's easy and takes just a minute! (Don't know how? Follow these instructions).
Thanks!
---
Question: How soon can I move in after a cash offer, and how low can I go under the asking price?
Joseph in Tacoma, Washington, asked this question. The important concept to understand here is price versus terms.
Whether or not you offer cash or take out a loan, the outcome is essentially the same for the seller. What cash offers is a quicker payout with certainty.
But, this isn't attractive to every seller. In some cases, a quick closing isn't what a buyer wants at all, so the promise of quick cash won't be an incentive.
When you're negotiating with cash, make sure what you're offering lines up with the seller's priorities. A cash offer doesn't automatically mean a 20 percent discount.
Question: I rehabbed a rental property in Detroit, and now I'm ready to sell. My tenant wants to purchase the property, but she has limited cash on hand. How can I find a lender to do the deal?
Wilbert in South Field, Michigan, brings us this question. He wants to sell the home for $38,000, but the appraisal came back at $20,000. That price gap, as well as the location has made it difficult to find a traditional lender.
The first problem is that many banks won't do a loan for less than $50,000. If the lender is going to go to all the trouble to do the paperwork for a percentage of the loan amount, then the loan amount needs to be enough to get their attention.
Here are a couple alternatives for Wilbert to consider:
Find a private lender.

This might mean a higher interest rate for the buyer. But, that higher interest rate will be more likely to attract a lender.

Be the private lender.

Rather than finding an outside investor, work a deal with the tenant to have them pay the loan to you instead. If they pay off the mortgage, you've still had that steady stream of income. If not, you'll get the property back to rent or sell to someone else.

Find a different buyer.

If finding a private lender isn't possible, consider finding a different buyer who is able to get financing or purchase the home for the price you want to sell.
Question: When a tenant in our out-of-state rental moved out, they caused a lot of damage. Why don't tenants take care of their rentals better, and why are they surprised when they don't get their deposit back?
Renters view their home differently than an owner. How else do you explain that it feels like no renter owns a vacuum cleaner?
Damage to property is part of doing business as a landlord. But, Lauren in Charleston, South Carolina, did a lot of things right. They documented all the damage with photos before the tenant moved out, had a third-party realtor do a final walkthrough with the tenant, and got estimates from contractors to repair the damage.
Here are a few other things you can do to deal with damage:
A picture is worth a thousand words.

Take photos of the property BEFORE the new tenant moves in and get their initials on the photos. Then, when they're ready to move out, you can use those photos to justify the cost of any damage.

Open up a pet policy.

Many landlords are hesitant to allow pets in a rental. But, with a hefty pet deposit and even a little higher rent, you can come out on top.

Get a read on your renters.

As you screen applicants, be perceptive. We've also known people who will meet with potential renters at their current residence to see how they treat their current space. This may not be possible for everyone, but get creative and thoughtful about how you screen new renters.
At the end of the day, renters are more likely to treat a rental home with less care than you do. Damage and repairs are a cost of doing business, so make sure you build that into your budget.
Question: I want to sell my rental home in California, and I'm interested in the 1031 tax-deferred exchange to buy a new property in Texas. I'm confused by the IRS form and want to know if this will eliminate my taxes in California?
Cindy in Fort Worth, Texas, is definitely an A student!
First of all, we want to be clear that with this kind of complicated tax question, you need expert opinion and advice. A 1031 tax exchange intermediary will be well worth the cost and can answer all your questions.
The intent of the 1031 tax-deferred exchange is that if you sell a property and then purchase another property, you can defer the tax. As you buy and sell properties, you can continue to defer the tax, but there isn't a way to eliminate the tax completely.
Finally, try not to let the tax tail wag the investment dog.
Real estate offers many great tax benefits, which is one of the reasons we love it! But, when you're dealing with real money and the IRS, you need a team of experts to guide you.
Life is short, and you don't want to spend your valuable time reading an IRS form.
Question: How can I learn more and get coaching on real estate syndication?
Addie in Seattle, Washington, brings us a question that is near and dear to our hearts!
We recommend our Secrets of Successful Syndication seminar as your first step. Whether you want to be a syndicator and learn how to leverage money with a group of investors or invest passively in real estate, this is an event you'll learn a lot from.
In this seminar, we're teaching the strategies that have been a part of our investments for years.
We do have a coaching program, but you can only learn about it at the seminar during an OPTIONAL session after the two days are done.
If you want to register for the event and see if syndication is right for you, we'd love to have you!
Question: My wife and I have a real estate investment company with 23 doors under rent. We've found traditional lenders to be slow and cumbersome and want to simplify our lending process. How can we do this?
John and Karen in Troy, Ohio, are having trouble scaling their business because of lenders. They write that they'd be willing to pay a higher interest rate to make the process easier and more streamlined.
For traditional banks, the process is often necessarily slow. They need to do due diligence to make sure the investment is a good one.
Private capital is easier and faster, but it comes at a higher price. This can be done through syndication or networking to find interested investors. Make sure you're well advised and working with big deals, and you're well on your way.
We'd also suggest that with the rollback of some of the Dodd-Frank provisions, some of the restrictions on community lending have eased. If you haven't checked in with your community lender recently, it's worth getting to know them. They'll get to know you and your entire portfolio of properties and could be a valuable resource.
Question: I wasn't able to attend your events for the Future of Money and Wealth in Florida. But I'd sure love to get access to that information. How do I do that?
A listener in Hawaii wants to learn from the incredibly faculty we brought in to talk about how to keep up with the changing times in the economy.
This was a one-off event, and it was an incredible gathering of some of the best minds in a variety of subjects all focused on how to protect your wealth.
We recorded the event with a professional video crew and now have 20 different panel discussions and presentations available to watch.
You can visit the Future of Money and Wealth website to learn more or send us an email to future [at] realestateguysradio [dot] com. We'll get you all the details on how to access these videos.
Question: My schedule seems to be always booked up by the time I hear about the Belize discover trips. Do you know the future trip dates for later in the year?
Tim in Silverton, Oregon, like many of us, has a busy schedule and needs to plan ahead!
To find out events as soon as possible and to get them on your calendar, get on our advanced notice list. Head to the events tab on our website. If you find an event there, and the date doesn't work out, get on the advanced notice list and you'll get an email letting you know about future dates.
Our next Belize discovery trip will be August 24-27, and registration is open now! We hope to see you there.
Question: What is the definition of a performing asset?
Matthew in Nacomin, Florida, asks us the shortest question in our inbox!
Simply put, a performing asset is something that puts money in your pocket. The more cash flow, the more equity. If you have something on your balance sheet that doesn't put money in your pocket, it's not a performing asset.
When you consider an asset you can go for a fat cow, a performing asset that will come at a premium but continue to deliver, or a skinny cow, a non-performing asset that needs some work to get it performing again.
---
More From The Real Estate Guys™…
The Real Estate Guys™ radio show and podcast provides real estate investing news, education, training and resources to help real estate investors succeed.
Something BIG is happening for real estate … and while it's not a surprise, it's a development every real estate investor should be aware of.
Here's some context …
First, remember real estate investing is essentially a business of managing debt, equity, and cashflow.  
That's YOUR job.  You can get your property managers and team to handle most everything else.
Equity (the difference between the value and the debt) comes from savings (down payment), the market (value increase), or amortization (pay down of loan).
Cashflow is a function of rental income, operating expenses, debt service, and taxes.
Debt is like the air in a jump house.  When it's flowing in, it props everything up.  When it stops, everything deflates pretty fast.
That's why real estate investors (should) pay close attention to debt markets.
The 2008 financial crisis devastated the supply chain of debt into real estate. Mortgage companies failed in droves. We know. We owned one.
Real estate went from too-easy-to-finance to nearly impossible.  Lack of lending crashed real estate prices and created a big mess.  The air came out.
It's why we became such outspoken advocates for syndication.  There was (and still is) a huge need and opportunity to aggregate capital for real estate.
Banks and Wall Street had been the primary channels for capital aggregation and distribution.  But they were broken.  Main Street needed to be empowered.
The government agreed.
So in 2012, the JOBS Act passed. And since September 2013, regulations are in place which make raising private capital MUCH easier.  We like it.
But while the JOBS Act helps investors raise EQUITY …
… earlier legislation (the Dodd-Frank Wall Street Reform and Consumer Protection Act) actually impedes lending … especially at the local level.
But now that's changing … and it's an EXCITING development!
You may have seen this headline …
Trump signs bipartisan bill rolling back some Dodd-Frank bank regulations – Los Angeles Times, 5/24/18
" … with the key support of some Senate Democrats, the legislation focuses relief on small and medium-sized banks …"
 "'This is a great day for Main Street in rural America, and a big testament to what's possible when members of Congress put partisanship aside and work together to help our communities grow and thrive,' [Sen. Heidi Heitkamp (D-N.D.)] said in a statement after the signing." 
"Community banks, which enjoy broad support among Republicans and Democrats, will be freed from Dodd-Frank's mortgage rules if they make fewer than 500 mortgages a year."
Even in today's highly charged political environment, this bipartisan effort shows Main Street real estate is very important to politicians.
The Dodd-Frank rollback aims to improve the flow of money into real estate, which is awesome for real estate investors.
Of course, just because politicians aim at something, doesn't mean they hit it.  Politicians are notoriously bad shots.
So what do LENDERS think of the Dodd-Frank rollback?
Local bankers say reforms to Dodd-Frank are welcome – Herald-Whig, 6/5/18
"Mark Field, president and chairman of Liberty Bank, said most of the benefits from the recent reforms … involve mortgages."
"… allows banks to give automatic qualified mortgage status to customers they know if the banks are using their own money for loans."
"'Character and knowing people counts for something again,' Field said."
This is GREAT news … and although time will tell (after all, this is very recent) … we think it will open up capital flows into real estate.
Of course, as we've said before, we think more money will be finding its way into real estate lending.  It's both inevitable and reassuring.
For individual investors and syndicators alike, this new playing field promises to open up new sources of lending … and terms.
Because even though lending has loosened since the depths of the recession …
… it's remained tight for borrowers and projects that didn't fit into the tightly-regulated box created by Dodd-Frank.
Not to get too far in the weeds, but the 2008 credit crisis had its roots in Wall Street's casino mentality.
In its zeal to create more poker chips, Wall Street cast aside sound lending practices because they could bury the risk in complex securities and sell them to unsuspecting investors.
Wall Street didn't really care if loans went bad … because they wouldn't be holding them when it happened.
So Dodd-Frank created strict rules attempting to prevent the bad behavior of Wall Street and big banks.  (Good luck with that.)
We could go on … but the point is that Dodd-Frank took professional judgment out of lending … from EVERYONE … including community banks, credit unions, and other portfolio lenders (those who hold loans instead of flip them).
Even though the financial crisis had its roots in Wall Street, not Main Street … Dodd-Frank took many Main Street lenders off-line.
The Dodd-Frank rollback intends to take the shackles off local lenders.
There's a HUGE difference dealing with a local lender on a PERSONAL basis … one who's going to hold the loan … and can consider the many factors which don't fit into some bureaucratic one-size-fits-all checklist.
And while we need to do more research, a side-benefit for syndicators may be that setting up lending funds might get easier too.
In any case, now that local lending laws are loosening, let's take a look at moves you can make to take advantage of the changes …
Build relationships with community bankers.  If you've only been investing since 2008, this is a funding source you've probably ignored.  It's time to fix that.
Open accounts with community banks in markets where you invest. Establish a personal relationship with the bankers.  It's a VERY different experience than doing business with a too-big-to-jail bank.  You'll like it.
Use professional selling skills to find out what the banker's goals and objectives are.  What makes the relationship a win for the banker?
Present yourself as the IDEAL client for the banker.  Do some deals … even if you don't really need the money.  SHOW the banker you're a person of character and capability.  Build TRUST.
It's even BETTER if you're a syndicator because you can bring bigger deposits, bigger loans, more transaction volume, and maybe even more referrals.
In fact, one of the secrets of successful syndication is having your individual investors make deposits in the community bank you're borrowing from.
Go with the flow …
When the rules change, so does the flow of money.  Sometimes it works against you.  Sometimes it works FOR you.
And while there are certainly some long term economic trends every investor … real estate or otherwise … should be concerned about …
… this is a development which should have real estate investors smiling.
We think these updates to Dodd-Frank will work FOR real estate investors … at least those careful to pay attention and take effective action.
Of course, you've read all the way to the bottom, so you're already ahead of the game.
Until next time … good investing!
---
More From The Real Estate Guys™…
The Real Estate Guys™ radio show and podcast provides real estate investing news, education, training, and resources to help real estate investors succeed.