On March 26th, the Chinese launch their yuan-denominated oil contracts.
Is that a big deal? 
Some people think so.  Some say it's just another incremental step towards a gradual shift in global economic power.  Some say it means nothing.
Most people have no idea it's happening … and even if they do, have no idea if it has any impact on them.
But think about this …
If you pay attention and nothing happens, you'll probably learn some things about the eco-system you invest in.  That's not a big win, but it's not a big lose.
But what if you don't pay attention and something big happens? 
That's what happened to all the people who downplayed sub-prime mortgage problems in 2007.  
So stick with us for a few minutes and we'll share our reasons for thinking this is development worth paying attention to … 
… even if you're a nose-to-the-grindstone real estate investor who doesn't care what happens in stocks, bonds, currencies, or commodities.
In this case, we're talking about oil … and in that regard, China's kind of a big deal.  After all, China has surpassed the U.S. as the world's largest importer of oil.  
That means China is the most important customer to countries who sell oil … including Russia, Saudi Arabia, Venezuela, Iraq, and Iran.  
Hmmm … Funny how the U.S. doesn't get along with most of those folks, but that's probably just a coincidence, so put your tinfoil hat away.
The point is … China has leverage with major oil producers to pressure them to do business in yuan … and not U.S. dollars.
THAT'S why some say this latest development is important.
It starts back in August 1971 when President Richard Nixon shocked the world by defaulting on the gold-backing of the U.S. dollar.
That's right.  Up until 1971, foreign holders of U.S. dollars could turn them into Uncle Sam and take home cold, hard gold.
The problem is the U.S. printed too many dollars and foreigners (being prodded by France) got worried … and started trading dollars in for gold.
And as demand for the dollar dropped, so did its value.
So then it took more dollars to buy the same things (inflation).  Gold went from $42 to $850, oil quadrupled, and consumer prices were rising double-digits.
It wasn't as bad Venezuela today, but bad enough that Nixon prohibited private businesses from increasing prices or giving pay raises. 
Yes, that really happened in the land of the free.  It's important to remember … governments do crazy things when they're desperate.
Here's where oil comes into the picture … 
To re-create global demand for dollars after they were no longer as good as gold, Uncle Sam made a deal with Saudi Arabia. 
At the time, the U.S. was the world's No. 1 producer of oil.  Saudi Arabia was No. 2 and the de facto leader of OPEC, the Middle Eastern oil cartel founded in 1960.
In exchange for military support from the U.S., Saudi Arabia agreed to sell oil in dollars.  The other OPEC members tagged along. 
So now, if Germany, for example, wanted to buy oil from Saudi Arabia, they had to buy dollars first.  Even though the U.S. had nothing to do with the deal.
This created immediate global demand for dollars and the "petro-dollar" system was born … replacing the Bretton Woods "gold–dollar" system that Nixon defaulted on.
Many financial historians believe this was the single most important move the U.S. made to save the dollar.
Of course, other tactics were used, including jacking up interest rates and opening trade relations with China. But the petro-dollar system was (and is) a big deal and the focus of today's discussion.
Oil's not well with the dollar … 
Since the mid-70s, the petro-dollar system has been central to creating global demand for the dollar.  And the U.S. has been pretty protective of it.
But China's been systematically cutting into that action. And the yuan-denominated oil contract is the latest, and perhaps most substantial step.
Of course, we're just a couple real estate radio talk show hosts, so don't take our word for it.  Here's just a few of the MANY news reports …
China has grand ambitions to dethrone the dollar – CNBC October 24, 2017
China's launch of 'petro-yuan' in two months sounds death knell for dollar's dominance – RT, October 25, 2017
China Will Launch Yuan-Based Oil Futures Contract, Set to Shake Up Global Market – Fox Business News, December 20, 2017
China Set To Launch Yuan-Prices Oil Futures Next Month – Oilprice.com, February 9, 2018
Yes, we know many pundits and officials contend it's no big deal.  But that doesn't mean they're right.
Funny today.  But not so funny if you were on the wrong end of the joke.
It's good to have a Plan B … 
The dollar's been falling for over 100 years, so it's not the downward trend that freaks people out.  You can get rich simply by leveraging real assets with long term debt as the dollar falls.  That's real estate investing economics 101.
The bigger concern is a sudden move, like when Nixon defaulted on the gold-backing.  Or when the subprime crisis suddenly seized up the entire financial system.
That's like having a fire at your home or business.  It's best to have a plan in place BEFORE the crisis … or you're likely to panic, run in circles, and end up hurt.
We've got Robert Kiyosaki, Peter Schiff, Doug Duncan (chief economist for Fannie Mae), Chris Martenson, Brien Lundin, G. Edward Griffin, and MANY others …
We're going to talk tax reform, the dollar, oil, gold, crypto, banking, and of course, real estate.   
And most importantly … what an investor can do to prepare to avoid losses and reap big profits … and how to know what moves to make as things unfold. 
The future of money and wealth is changing … whether you're paying attention or not.   But if you read this far, now you know.  
The big question is what to do next … 
There's still time to join us in Fort Lauderdale April 6-7.  They might just be two of most important days of your year.
---
More From The Real Estate Guys™…
The Real Estate Guys™ radio show and podcast provides real estate investing news, education, training, and resources to help real estate investors succeed.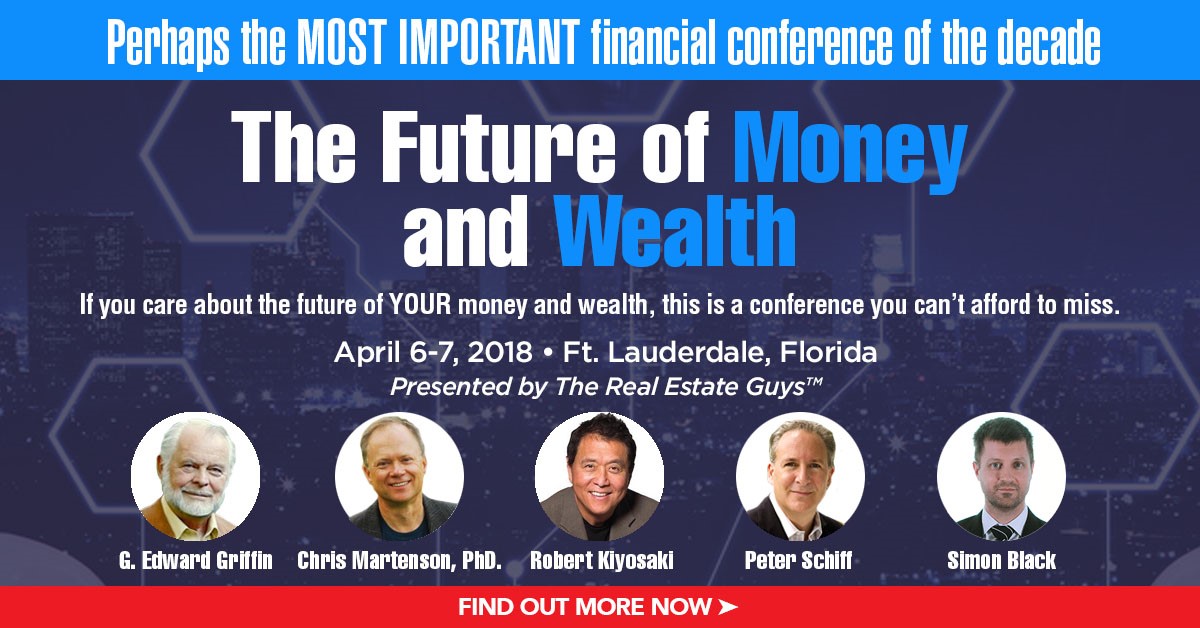 The world economic order is under-going massive change right now.  We're literally watching it unfold in the daily news.
Yet few investors really understand what's happening and why … or what they can do to both grow and protect wealth during these historic times.
"Those who can't remember the past are doomed to repeat it." – George Santanya
In two power-packed days our all-star line-up of notable experts will explain …
How the U.S. dollar is under attack and what it means to Main Street investors

What are the best and worst investments based on what's happening now … and where it's headed

How savvy investors are preparing to be on the right side of an historic wealth transfer most people don't see coming
Remember, the flip side of crisis is opportunity.  But pretending everything is fine … and not being prepared in case it's not … can be dangerous and expensive.
"Maintain unwavering faith you can and will prevail in the end, regardless of the difficulties, and at the same time, have the discipline to confront the most brutal facts of your current reality." – Jim Collins, Good to Great
What a wild ride 2017 has been … and 2018 is looking even MORE intriguing!
There've been SO many fascinating stories.  Trying to pick the MOST interesting is a real challenge …
… a historic and unorthodox Trump presidency
… the record-breaking ascent of the stock market
… the record-breaking U.S. and global debt
… the meteoric, hyperbolic rise of Bitcoin, and crypto-currency's move from libertarian fringe to mainstream …
And of course, there's the ongoing saga of China's drive to dethrone King Dollar; the drama in the House of Saud; and the (allegedly) strong U.S. jobs market.
All these things affect the financial eco-system our real estate investments live in … so we pay attention to them.
After all, we don't want our backs to the beach if a tsunami is coming.  We did that once and it was NOT fun.
So what's the biggest story as we end 2017 and press into the new year?
We think it could be oil.  But perhaps not for the most obvious reasons.  Here's why …
Currency is like the blood of an economy.  It circulates … transporting energy to individual cells … many of which are organized into vital functions.
We teach our syndication students the importance of designing an effective business model … a circulatory system … to be sure cash flows to all vital functions.
Failure to nourish all cells (individuals) and vital organs (critical activities conducted by groups of individuals) can result in sickness, permanent disability, or death.
This is true for individuals, for businesses, and for nations.
After World War II, the U.S. dollar was crowned the world's reserve currency.
Backed by gold, the dollar circulated the globe … transporting economic energy to individuals, businesses, and nations.
In 1971, the gold-backing was removed, and the dollar became severely ill … with a disease called "distrustitis" … commonly known as rejection.  Nations didn't want it.
So, they began aggressively trading in their dollars for gold …. bidding the price of gold up from $35 an ounce in late 1971 to nearly $700 in early 1980 …
Ironically, U.S. citizens were locked out of gold ownership until December 31, 1974 when President Gerald Ford revoked the ban imposed by President Franklin Roosevelt way back in 1933.So what does all this have to do with oil in 2017 … and why do we think it's important heading into 2018? And how does any of this tie into real estate investing?  We're getting there!
First, a little more history …
Uncle Sam discovered an un-backed dollar wasn't very popular.  And when nations dumped dollars, it created The Great Inflation of the 1970s.
Back then, the cure for the dollar's "distrustitis" was to force dollar demand through oil (the petro-dollar) and high interest rates (they reached 20% in 1980).
Cheap labor from China sucked up some inflation … while a recession slowed economic velocity to suck up even more.  But those are topics for another day.
The point is there's a long linkage between the dollar, gold, and oil … and all three have substantial influence on geo-politics … even today.
Of course, now there's a new kid in town … crypto (a.k.a. Bitcoin) … which started a ridiculous run in 2017 …
Hmmmm … that chart pattern for 2017 looks a lot like when gold took off the last two times there were outbreaks of dollar distrustitis …
Probably just a coincidence.
But it makes you wonder if crypto and oil might get together as a way for Uncle Sam's adversaries to escape the dollar … oh, wait …
Headline:  Russia may turn to cryptocurrencies in oil trade to challenge sanctions & the petrodollar
Headline:  Venezuela to Launch Oil-Backed Cryptocurrency
… which brings us to why we're closely watching oil going into 2018.
In many ways, oil is the asset of choice to back currency.  It's been the backbone of the dollar since the 1970s and the world knows it.
That's because the world runs on oil.
And unlike gold, every productive nation MUST have oil.  It isn't a philosophical commodity … it's pragmatic.
As Investor Summit at Sea™ faculty member Chris Martenson reminds us, EVERY economy needs energy to operate.
Because oil is the world's most in-demand commodity, whatever currency it trades in is sure to be in high demand.
China, the world's #1 buyer of oil, knows this.  And they're using their economic muscle to position their currency, the yuan, for a greater role in global trade …
Headline:  China will 'compel' Saudi Arabia to trade oil in yuan — and that's going to affect the US dollar
Of course, with $20 trillion in debt and a debt-to-GDP ratio over 100% … more than THREE times what it was when high interest rates were used to crush inflation …
… the U.S. economy probably couldn't handle 10% interest rates, much less 20%.
So if all the forces aligned against the petro-dollar succeed, might the U.S. experience some painful inflation?
Quite possibly.
Of course, when you own real assets … especially those which produce (like farmland or oil fields) … or channel productivity (like rental real estate) … you're hedged … you preserve wealth.
But the key to PROFITING from inflation is to short the dollar.  And that's done with debt.
When you can fix the debt and own the asset, as the asset's dollar price goes up against the fixed debt, the debt becomes smaller.
Of course, as we've discussed before, income-producing real estate is the safest way to play this game.
Now if we're Uncle Sam and worried oil might end up backing a rival currency, we need to prepare for role reversal.
When the world wants dollars, all Uncle Sam had to do is print and import.  The world gets dollars, and the U.S. gets stuff.  Nice.
But if something replaces the dollar, then Uncle Sam needs to export stuff the world wants, in exchange for whatever currency is now in demand.
Are we saying the world will stop taking U.S. dollars?  No.
But they might want a lot MORE dollars to buy the same stuff (inflation), which would weaken the U.S. economy.
Not surprisingly, the U.S. is taking steps to stimulate domestic oil production.
Headline: The GOP Tax Bill Is A Big Win For U.S. Oil And Gas
And agree with it or not, the Trump Administration is very friendly towards the oil industry.
Bringing this all back to Main Street and our daily real estate investing …
First, the relationship between oil and the U.S. dollar has the potential to impact the purchasing power of our dollars, interest rates on our mortgages, and the cost of living for our tenants.
We're very interested in ALL those things.
Next, if Uncle Sam stimulates domestic energy production with investment incentives and regulatory easing, it might lead to economic booms in energy-rich geographies.
Remember, energy was a top driver of job creation post-2008 … with Texas being the biggest winner.
That's what took us into Dallas after the recession … and keeps us interested today.
Oil, gold, the dollar, China, new faces on the Fed, tax reform, Bitcoin …
… are all converging in 2018 for potentially massive changes to the future of money and wealth.
And they'll all be very important topics of discussion on our 2018 Investor Summit at Sea™ … which just might be the MOST important Summit in our history.
Until next time … good investing!
---
More From The Real Estate Guys™…
The Real Estate Guys™ radio show and podcast provides real estate investing news, education, training, and resources to help real estate investors succeed.
While American media is focused on the chances of a Thanksgiving weekend terrorist attack (not to make light of those concerns)…a group of international bureaucrats will be meeting to decide if the world will take a step closer to a Chinese yuan reserve currency.
On Monday November 30th, the International Monetary Fund (IMF) votes on whether the yuan (the currency of China, also known as the renminbi) gets into the Special Drawing Rights (SDR) basket.
Who cares?
China does.  They care a LOT.  And YOU should probably care too…even if you don't know it yet.
What is an SDR?
Special Drawing Rights (SDR) are the currency of the International Monetary Fund.
The SDR "basket" is a collection of "premium" currencies whose values collectively determine the value of the SDR using a special formula.
Confused already?  That's okay.  Just don't give up….
Remember all those real estate investors in 2005 that didn't pay attention to Wall Street…thinking what do stocks, bonds and derivatives have to do with Main Street real estate investing?
In 2008 we all found out.  Oops.
So here's a quick primer on the situation (for a better understanding, read Jim Rickards' books Currency Wars and Death of Money)…
In the U.S., when an individual bank runs low on cash, they can borrow from the central bank (the Federal Reserve).  All major countries have a similar system.
But where do central banks go when they need to borrow?
So here's where it gets a little complicated. But stick with us because we plan to show how it matters to you and your Main Street investing.
A little history…
What is the IMF?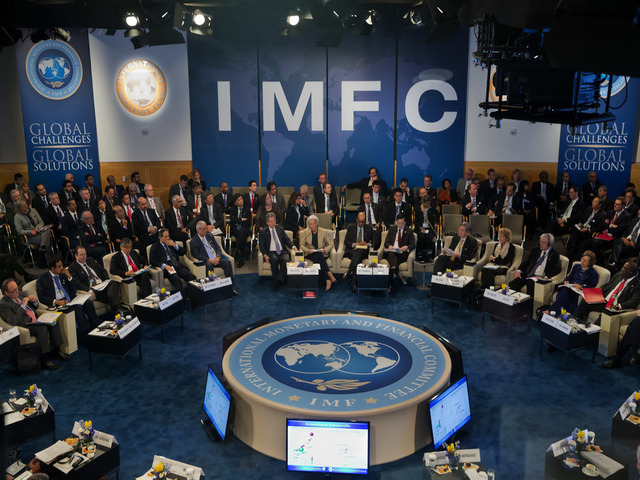 Prior to 1944, countries settled trade in gold.  So if you imported more than you exported, you owed someone a pile of shiny yellow metal.   Or at least a claim ticket for it.  Makes sense.
After two world wars, most of the world's gold and remaining production capacity was primarily in the United States.
After all, it's hard to export anything when all your production capacity and infrastructure was bombed to smithereens.  So almost by default (not that Americans weren't smart and didn't work hard) the U.S. had the world's dominant economy.
In 1944, at the Bretton Woods conference, a NEW financial order was set up…and the U.S. took over for Great Britain as the financial capital of the world.
Remember the golden rule?  "He who has the gold, makes the rules."
That's what happened in Bretton Woods.  The U.S. had the gold, so King Dollar was crowned.  For most folks reading this, it's the only system you've ever known.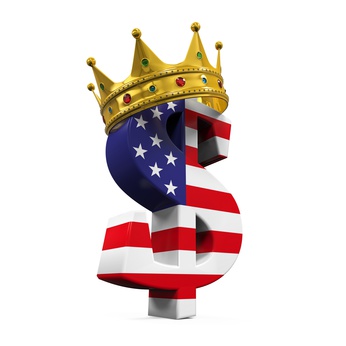 But that doesn't make it permanent.  In fact, history tells us that dominant economies, currencies, governments and systems eventually change.
Anyway, the idea of a central bank for the central banks also came out of Bretton Woods.  They called it the International Monetary Fund or IMF.
Five years later, it launched.  Keep in mind that these things take time.  It's easy to miss…or forget…that fundamental change is happening.
Basically, the IMF is the central bank to the central banks.
Twenty years later, in 1969, the idea of a special currency for the IMF came up.  They called it "Special Drawing Rights" or SDR.
Lame name, but lucky timing (probably just a coincidence…) because just two years later, in 1971, the U.S. defaulted on the Bretton Woods agreement with the "Nixon shock".
That's when President Richard Nixon shocked the world on national TV announcing he was closing the gold window "temporarily".  (Still closed today by the way…)
But don't take our word for it…watch Nixon make the announcement yourself:
The ORIGINAL Bretton Woods deal was that countries holding paper dollars could turn them into Uncle Sam and get real gold.  In essence, the dollar was as good as gold.
But when Nixon suddenly changed the deal (reminds us of the exchange between Darth Vader and Lando Calrissian in Star Wars – The Empire Strikes Back below), it meant all countries holding U.S. dollars formerly redeemable for U.S. gold now simply held green pieces of paper with pictures of dead U.S. leaders.
Now…to no surprise…no one wanted or trusted U.S. dollars.  So the dollar crashed.  Gold and inflation soared.  The U.S. economy and stock market tanked.  "Stagflation" became the term to describe a new strain of economic malaise.
Research it yourself.  There are many important lessons to be learned about how a major economic policy change ripples through economies.
And sometimes the UNTHINKABLE happens.
For example, in a vain attempt to contain the inflation unleashed by his default on the gold dollar, Nixon instituted a wage and price freeze: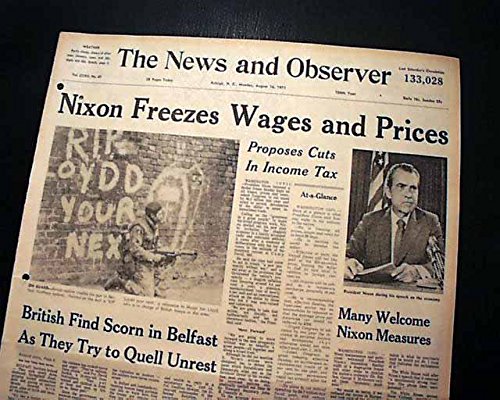 Who would think that in the Land of the Free, it would be a FEDERAL CRIME to give an employee a raise…or to raise the price of the merchandise in your OWN store?!?
But it happened.  In America.
The point is that defaulting on the Bretton Woods promise to redeem dollars for gold was a HUGE reset.
The gold dollar was dead.
BUT…the U.S. still had a strong balance sheet, a big army, huge manufacturing capacity…and a plan.
Shortly thereafter, the petro-dollar was born.
"Petro-dollar" just means that the U.S. dollar became the currency which worldwide oil transactions were settled in.  It created a huge and ever-present permanent new demand for U.S. dollars.
Now there's SO much more to say about that…but not today.
Again, we encourage you to study the history of the dollar, gold and oil.  Or come to a live event and buy us a beer or two or three…and we can talk about all this until the wee hours (that's what happens after a few beers…)
Back to our story…
So now we're in the petro-dollar era and the IMF is there with its SDRs and the SDR value is based on a "basket" of currencies it's indexed to.
The SDR basket is made up of all the "best" currencies…the U.S. dollar, the British pound, the Japanese yen, and the European Union's euro.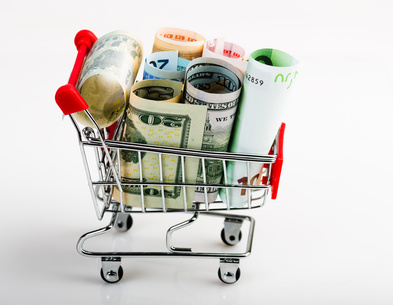 That's a pretty exclusive club considering there are 190+ countries out there.
But at the last vote in 2010 (these things only get looked at every 5 years), they got voted down.
Not dissuaded, China went to work.  We chronicle much of this in our special report on Real Asset Investing.
But this time, it seems China has a Plan B…in case the IMF slams the door again.
So while they're working to comply with IMF requirements, China's also taken steps to go independent if need be.
Does China want a yuan reserve currency?
We don't know.  If Beijing calls us with a heads up, we'll be sure to pass it along.
But how often can you trust anything ANY government says?  It's better to WATCH what they DO.
Right now, it seems to us that China looked at what the U.S. did to be top dog at Bretton Woods and are copying it as best they can.
It's a long list, but some notable items are:
Pay close attention to that last one.  We think this will be a BIG story in the not too distant future.
In 2015, China formed its own international bank (the AIIB – Asian Infrastructure Investment Bank) in spite of U.S. resistance…and wooed dozens of countries to join, including Uncle Sam's "pal", Great Britain.
It's kind of like, "If you can't join them, beat them."  Or at least show you're ready to beat them if necessary.
But no one wants to fight the U.S. toe to toe…including China.  Better to get voted in with a yuan reserve currency.
Of course, the U.S. has an effective veto with over 16% of the IMF voting rights (it takes 85% to pass).  So even if Uncle Sam's buddies don't back him again, he can still stop China from getting in the club.
But we think China's ready for that.  And we think Uncle Sam knows China's ready.  So we wouldn't be surprised if Uncle Sam cries…well, uncle.
But who knows?  We'll find out soon enough.
THEN…it will be interesting to see what happens next.
If China gets in, it's like adding a new stock to the S&P 500. It creates an immediate spike in demand for the new stock…and something gets dumped to make room.
Art Cashin, Director of Floor Operations at UBS and famed commenter on CNBC has been quoted saying…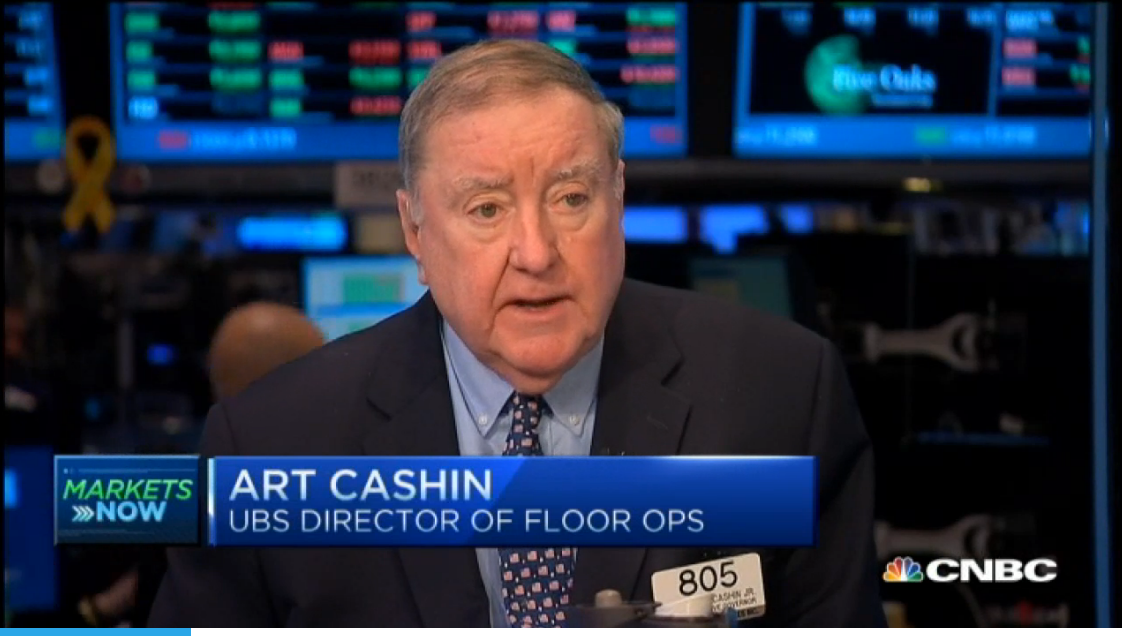 "If [SDR] approval were given, we could be looking at shifts in the trillions of dollars."
We're not that bright, but when a BIG shift happens we know to pay attention.
In that same article, Lombard Street Research's chief economist and head of research, Diana Choyleva was quoted…
"'If the yuan goes in the basket, then the likelihood is that the Chinese would prefer a gradual depreciation of their currency against the US dollar.'"
And if the yuan is NOT accepted?
Choyleva says…
"The Chinese leadership is not going to wait another five years…And they will not be so keen to be such a responsible global citizen….If the yuan is not accepted in the SDR, they will go for a one-off large devaluation and that would then be … a financial crisis, specifically, a real-economy crisis with the resulting impact on the …markets."
Another financial crisis doesn't sound like any fun.
It SEEMS like Uncle Sam and China are actually working closely together to gently ease a Chinese yuan reserve currency into the club.
But like raising kids, adolescents always think they're ready too soon…and parents always hold on too long.
China's clearly growing up.  And China's financial decisions affect Americans…even real estate investors on Main Street.
This headline is a case in point:
"…U.S. Steel blamed the temporary closure on tough market conditions 'including fluctuating oil prices, reduced rig counts and associated inventory overhang, depressed steel prices and unfairly traded imports.'"
"Earlier this year, U.S. Steel permanently shuttered a longtime plant outside of Birmingham, Alabama, laying off 1,100 workers. That closure came on the heels of a string of layoffs in Texas, Arkansas, and Indiana, among other states."
Those are all working class jobs in great rental property states.
Getting closer to home now?
The article continues…
"[China's] recent slowdown threatens to exacerbate problems for American steelmakers, as Chinese policymakers look to boost exports and more steel hits the global market."
The Chinese policies referred to include tweaking the relative strength of the yuan…because a cheaper yuan means cheaper goods into the U.S., which costs U.S. jobs.
And this is just ONE industry.  Think of ALL the other industries China is involved in…especially in any markets YOU are invested in.
So what's an investor to do if there is a Chinese yuan reserve currency?
Pay attention.
Watching two elephants dance isn't exciting.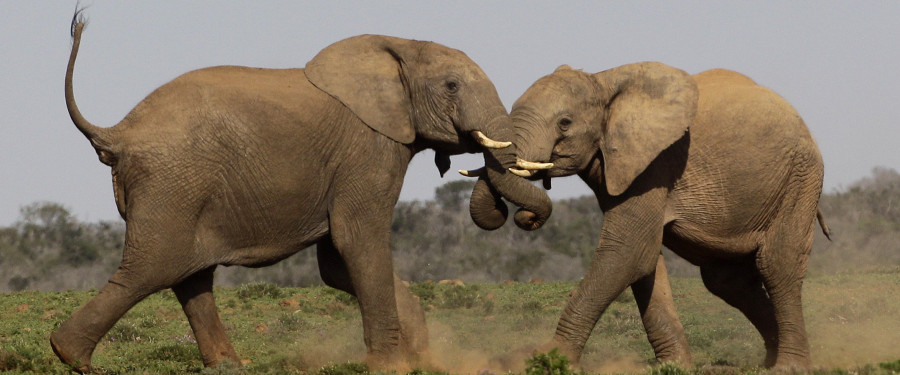 They aren't graceful and they move slowly.
But when you're locked in the same economy and those elephants can crush you, you're wise to stay alert.  And everyone knows we need more lerts. 😉
So REALLY get to know YOUR markets, demographics, ultimate income sources, and critical dependencies.
You want to see weakness or opportunity before others so you can move in or move out ahead of the crowd.
Remember, it takes time to tweak a real estate portfolio.  Of course, compared to the dancing elephants, you're a water bug.  But you still need to be looking and moving ahead
Focus on macro trends.
China's been working on getting into the SDR club more than a decade.  The dollar's recent strength is an aberration in a well-chronicled 100 year slide.
You'll lose sleep…and hair (we know)…trying to understand every tick in some chart.  Looking at the big picture smooths out a lot of  the noise.
Watch for game changers.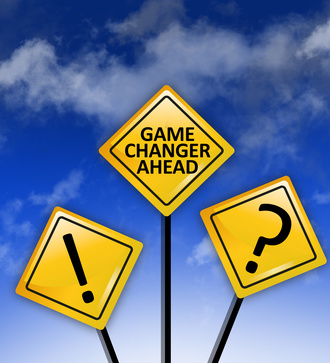 Bretton Woods in 1944 was a game changer.  A fundamental change to the global financial system.
The Nixon Shock in 1971 was a game changer. Another fundamental change to the global financial system.
China's ascension has been a slowly developing game changer.
It used to be Americans could just go about their business.  The rest of the world was too puny to really severely impact the mighty U.S. economy and dollar.
Now, when China gets a cold, so does Uncle Sam.  You can read it in the news everyday.
Is adding the Chinese yuan into the IMF SDR a game changer?
We don't know yet.  Could be.
Or maybe the Chinese will do a reverse Nixon shock. We're pretty sure THAT would be a game changer. (Think about it…)
Invest in things that are REAL and ESSENTIAL.
It's our recurring theme.  Housing, food, energy, commodities.  All have roots in real estate.  Sure, they can go boom and bust.  But they're ALWAYS needed.  Pets.com?  Not so much.
Use financial structures which can withstand economic pull backs.
The flirty girl at the frat party might get a lot of attention, but she's not the one you take home to Mama.
Bubbles and leverage create lots of sexy opportunities, but when the glitter rubs off, you want to be with markets, product types, demographics and teams which are in it for the long haul.
Credit lines, equity and buyers all can (and usually do) disappear when you need them the most.  They're fickle.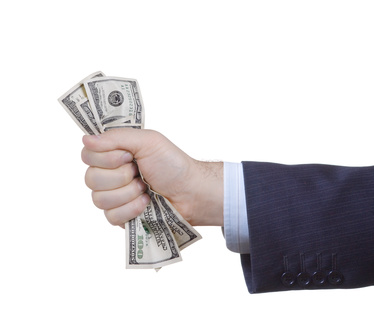 A little cash on hand can be your best friend in a downturn.  If you have your chips on the table and get a bad roll, you're out.  Donald Trump told us he learned it's ALWAYS good to have some cash available in the down times.
So don't envy the guy getting lucky with the hot deal when it's all sunshine.   Otherwise, you'll certainly be envying the guy with the stable portfolio when the clouds come.
Now if you've read this far, we're guessing you're SERIOUS about understanding these chaotic times.  We are too.
So if you REALLY want to jump start your learning…
We invite you to invest a week to sharpen your understanding of economics, investing and real asset portfolio strategies aboard our 14th annual Investor Summit at Sea.
One of our discussion topics will be The Future of Money and Banking…with Robert Kiyosaki, G. Edward Griffin and experts in economics, precious metals, crypto-currency and alternative banking.  Not to mention real estate, tax and estate planning, asset protection and more.  Your brain will hurt.  But you'll LOVE it.
>>> Click here now to learn more about the next Investor Summit at Sea.
Meanwhile, stand by….and we'll let you know whether there's a Chinese yuan reserve currency in your future.