With a catchy title like "Back the Future" you might expect a picture of a Doc Brown, Marty McFly or a flying DeLorean.  It's hard to believe that this now "classic" movie is over 25 years old!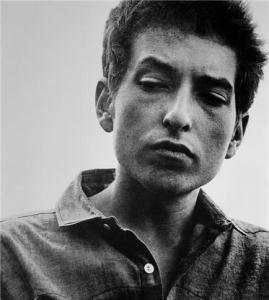 But who is THIS guy?  And what does any of this have to do with real estate?
Since our audience surveys tell us most of you are something younger than a baby boomer, we'll give you a hint:  this guy is a singer/songwriter and this picture was on his third album cover released in 1964.  It was an LP (which means Long Playing recording on a big vinyl disc that Disc Jockeys, aka DJ's, would "spin" on turntables at 33-1/3 revolutions per minute…wonder how all tha real estate near the LP factory is doing??? – just sayin').
Not sure who he is?  Hang in there.  We'll tell you later.  Meanwhile, back to our blog about his week's episode.
Back to our blogging…
Think about the world today.  Wouldn't you agree that the times they are a'changin'?  (Wait. Is that another hint?)  And the changing times affect where people, businesses, jobs and money move.  Therefore, it's only logical to expect that changing times affect real estate.
We know.  Sometimes it's hard to see the changes when you're living in them.  Other times, the changes are obvious, but we fail to connect the dots and anticipate the effects on our investments.  We call that being "blind-sided" and it's not a good thing.  It happened to us in 2008, so we pay extra careful attention today, which is point of this episode.
In the recording studio for another real estate radio jam session:
Your radio rock star host, Robert Helms
His radio roadie and co-host, Russell Gray
Your baritone boomer, the Godfather of Real Estate, Bob Helms
Now, when Bob Dylan's (yeah, that's him) album, The Times They Are A' Changin' came out in 1964, there was a lot of turmoil in the world. 
Before he was assassinated, President Kennedy had just confronted the Soviet Union over nuclear weapons in Cuba – right off the coast of the U.S!  The Civil Rights movement was in full swing, replete with protests, riots and all kinds of civil unrest.  Meanwhile, the U.S. government was busy switching out all the real silver coins for nickel plated tokens. 
The point is there was a lot going on and much of it wasn't pretty.  But let's stop right here.
If you could jump in a flying DeLorean and go back to 1964, knowing what you now know, would you be more or less inclined to buy real estate in 1964 – even though "the times, they are a' changin'"?
Now, back to the future, here on the threshold of 2012, assuming the Mayan thing doesn't happen, do you think real estate will still be here in 2040?  And will it still be a high priority for people and businesses to use real estate to live, work, farm and play?
Sure, we have the Iran nucelar weapon threat and the ongoing war on terrorism.  The Occupy something movement might be considered this generation's version of the civil rights movement.  Now, it's economic equality instead of race equality.  And the Fed is busily printing money like there's no tomorrow. 
We're not belittling any of these concerns.  They're very real.  But the point is that there are ALWAYS changes to fret about.  And of course, there are the changes which come from innovation and advancements of all kinds.  Just think about how medical advancements have affected the economy because of longer life spans.
The bottom line is that companies, industries and even governments come and go wiht lots of change in between.  But the real estate remains.  So in uncertain times, when stocks are up one day and down the next, and sovereign nations and municipalities are teetering on the edge of bankruptcy, and fiat currencies are being devalued all over the globe…(take a breath…), isn't real estate one of the most foundational investments you could make?
We know.  If you're a fan of the show, we're preaching to the choir.  But the lesson is not just about buying ANY real estate.  It's buying the right real estate, in the right markets, with the right financial structures, so you don't just survive the changing times, but prosper in them.
In this episode, we talk about some of the many changes which have happened and are happening, how they've affected real estate, and how to position your investing in the eye of the storm where it's safer.
So listen in to the conversation, then look at all the change all around you with excitement and anticipation.  In change, there is opportunity – and even more so, because casual observers are paralyzed into inaction, leaving lots of oportunity for the thoughtful and bold.
The biggest real estate investors we know have been and remain very active in this market. They see low interest rates, slow building rates (limiting supply), increasing population, rising rents and a widow of opportunity that won't stay open forever.
LISTEN:

The Real Estate Guys™ radio show and podcast provides real estate investing news, education, training and resources to help real estate investors succeed.
Experts predict prices will either rise or decline.
It's that time of year where we like to take a look at what all of the real estate pundits are predicting for the upcoming year.  Obviously, predicting the future is an inexact science….well, okay.  It's actually not science at all.  More like alchemy.
But it's always interesting to see what some of the more notable people think – and why.  It helps stimulate thought and holds the prognosticators accountable.  Then, this time next year, we can look back and see who got it right – and for the right reasons.
In the stainless steel radio DeLorean for a trip back to the future:
Your host, the Doc Brown of real estate, Robert Helms
Co-host, "Hello? McFly!", Russell Gray
Father time himself, the Godfather of Real Estate, Bob Helms
Listen now!
Don't miss a show – subscribe to the free podcast!
Want More?  Sign up for The Real Estate Guys™ free newsletter!
The Real Estate Guys™ Radio Show podcast provides education, information, training and resources to help investors make money with their real estate investments.
One of our favorite quotes comes from hockey legend Wayne Gretzky: "A good hockey player plays where the puck is. A great hockey player plays where the puck is going to be."
Of course, a statement like that carries even more weight because the person saying it is highly qualified to have an opinion worth listening to.
So when we think about wanting to be great real estate investors, we like to listen to people who are highly qualified to tell us where they think "the opportunity puck" is going to be.  We're very fortunate to have access to just such a person.
Do YOU want to hear what he has to say?  We thought so!
Skating across the icy landscape of a jobless economic recovery discussing where the opportunity puck is going to be:
The Center of Attention, Host Robert Helms
Your On the Right Wing Co-Host, Russell Gray
Special Guest, Robert Kiyosaki Rich Dad Real Estate Advisor, Ken McElroy,

In case you don't know, Ken is a self-made millionaire real estate entrepreneur.  He started out as a property manager, began investing, and then expanded by syndicating big deals.  While the rest of the world was crying about the how "bad" the real estate market was over the last two years, Ken was out acquiring over $300 million of properties – mostly apartment buildings.
In addition to being a successful businessman and prolific investor, Ken is the Real Estate Advisor to Robert Kiyosaki, the author of mega-best seller Rich Dad Poor Dad.  Ken is also a best selling author himself.  His latest book, The Sleeping Giant, was just recently released.
But what we've learned about Ken is that in addition to all of the above (and being a super nice guy!), he is a very strategic thinker.  As a big time apartment investor, he pays close attention to the jobs market.  He spends a lot of time thinking about where and why jobs are being created (or not) because the need and ability to pay for housing is directly tied to jobs.
So during a phone call to discuss our upcoming Summit at Sea™ (shameless plug) where Ken will us as special guest faculty, he said he thinks he knows where the jobs puck is going. Well, THAT certainly piqued our interest, so we invited him to share his ideas with our radio audience, which is the basis for this episode.
Then, the conversation transitioned into a discussion of what someone should be doing TODAY to be ready for what's coming tomorrow.  That led to a decision to do a special conference call with both Ken and Wayne, which we called our 2011 Conference Call to Action: Designing Your BEST YEAR EVER – Developing 20/20 Hindsight in 2011. We actually recorded and released the conference call first because we didn't want to wait for the next radio show broadcast to get the information out.
So rather than steal any of the thunder from what Ken says in this episode, just listen in and you can hear from Ken directly.
Enjoy!
Listen now!
Don't miss a show – subscribe to the free podcast!
Want More?  Sign up for The Real Estate Guys™ free newsletter!
The Real Estate Guys™ Radio Show podcast provides education, information, training and resources to help investors make money with their real estate investments.