With a catchy title like "Back the Future" you might expect a picture of a Doc Brown, Marty McFly or a flying DeLorean.  It's hard to believe that this now "classic" movie is over 25 years old!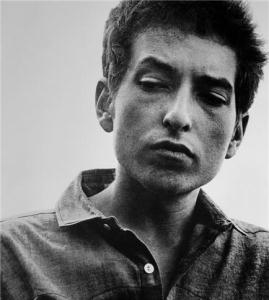 But who is THIS guy?  And what does any of this have to do with real estate?
Since our audience surveys tell us most of you are something younger than a baby boomer, we'll give you a hint:  this guy is a singer/songwriter and this picture was on his third album cover released in 1964.  It was an LP (which means Long Playing recording on a big vinyl disc that Disc Jockeys, aka DJ's, would "spin" on turntables at 33-1/3 revolutions per minute…wonder how all tha real estate near the LP factory is doing??? – just sayin').
Not sure who he is?  Hang in there.  We'll tell you later.  Meanwhile, back to our blog about his week's episode.
Back to our blogging…
Think about the world today.  Wouldn't you agree that the times they are a'changin'?  (Wait. Is that another hint?)  And the changing times affect where people, businesses, jobs and money move.  Therefore, it's only logical to expect that changing times affect real estate.
We know.  Sometimes it's hard to see the changes when you're living in them.  Other times, the changes are obvious, but we fail to connect the dots and anticipate the effects on our investments.  We call that being "blind-sided" and it's not a good thing.  It happened to us in 2008, so we pay extra careful attention today, which is point of this episode.
In the recording studio for another real estate radio jam session:
Your radio rock star host, Robert Helms
His radio roadie and co-host, Russell Gray
Your baritone boomer, the Godfather of Real Estate, Bob Helms
Now, when Bob Dylan's (yeah, that's him) album, The Times They Are A' Changin' came out in 1964, there was a lot of turmoil in the world.
Before he was assassinated, President Kennedy had just confronted the Soviet Union over nuclear weapons in Cuba – right off the coast of the U.S!  The Civil Rights movement was in full swing, replete with protests, riots and all kinds of civil unrest.  Meanwhile, the U.S. government was busy switching out all the real silver coins for nickel plated tokens.
The point is there was a lot going on and much of it wasn't pretty.  But let's stop right here.
If you could jump in a flying DeLorean and go back to 1964, knowing what you now know, would you be more or less inclined to buy real estate in 1964 – even though "the times, they are a' changin'"?
Now, back to the future, here on the threshold of 2012, assuming the Mayan thing doesn't happen, do you think real estate will still be here in 2040?  And will it still be a high priority for people and businesses to use real estate to live, work, farm and play?
Sure, we have the Iran nucelar weapon threat and the ongoing war on terrorism.  The Occupy something movement might be considered this generation's version of the civil rights movement.  Now, it's economic equality instead of race equality.  And the Fed is busily printing money like there's no tomorrow.
We're not belittling any of these concerns.  They're very real.  But the point is that there are ALWAYS changes to fret about.  And of course, there are the changes which come from innovation and advancements of all kinds.  Just think about how medical advancements have affected the economy because of longer life spans.
The bottom line is that companies, industries and even governments come and go wiht lots of change in between.  But the real estate remains.  So in uncertain times, when stocks are up one day and down the next, and sovereign nations and municipalities are teetering on the edge of bankruptcy, and fiat currencies are being devalued all over the globe…(take a breath…), isn't real estate one of the most foundational investments you could make?
We know.  If you're a fan of the show, we're preaching to the choir.  But the lesson is not just about buying ANY real estate.  It's buying the right real estate, in the right markets, with the right financial structures, so you don't just survive the changing times, but prosper in them.
In this episode, we talk about some of the many changes which have happened and are happening, how they've affected real estate, and how to position your investing in the eye of the storm where it's safer.
So listen in to the conversation, then look at all the change all around you with excitement and anticipation.  In change, there is opportunity – and even more so, because casual observers are paralyzed into inaction, leaving lots of oportunity for the thoughtful and bold.
The biggest real estate investors we know have been and remain very active in this market. They see low interest rates, slow building rates (limiting supply), increasing population, rising rents and a widow of opportunity that won't stay open forever.
LISTEN:

<
Don't miss a show!  Subscribe to the free podcast!
Stay connected with The Real Estate Guys™ on Facebook!
The Real Estate Guys™ radio show and podcast provides real estate investing news, education, training and resources to help real estate investors succeed.