RE/MAX 1st Choice Belize – David Kafka
Get a taste of paradise from a broker who knows Belize!

Belize is one of the world's hottest developing countries … but just like cowboys in the wild, wild west, investors don't want to ride out into the market alone.
That's why David Kafka is a go-to guy for EVERYTHING investors need to know about this Central American paradise.
In 2006, David arrived in Belize for vacation and to explore possible investment opportunities … He loved it so much that he permanently relocated there in 2009.
As a successful investor himself, David knows the unique challenges investors face … like financing and property management. He's solved these common problems for himself first and then for investors day-in and day-out.
Real estate everywhere is a LOCAL game … David's team is connected with many brokers in a variety of neighborhoods in Belize. Together, his network of brokers know the country like the back of their hand.
In a developing country, like Belize, investors are wise to be careful when engaging with unknown agents … things aren't as regulated as you may have come to depend on in the states. We appreciate the fact that David is a RE/MAX broker … investors can move forward with confidence doing business with a strong brand on the line.
As you explore Belize, David and his team are ready to answer your questions and point you in the right direction.
Simply fill out the form below and a representative from RE/MAX 1st Choice Belize will be in touch!
How to Buy Property and Use Leverage, In Belize!
You CAN use leverage to buy properties in beautiful Belize … you just have to think creatively!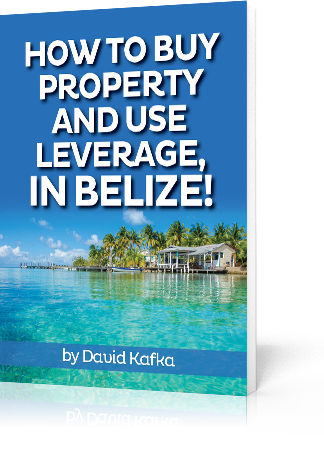 Buying property in Belize sounds like an investor's paradise … but many people struggle to pull the trigger.
Some don't have the cash. Some want to use other people's money. Others are simply afraid to invest in a land they don't understand.
This special report highlights insider tips from David Kafka … Belize investor and Re/Max broker.
Working with investors every day in Belize, David specializes in creative options for using leverage to buy property …
Discover:
✓ Options for buying in Belize when low-cost financing isn't always available
✓ Special considerations … like fees … for each financing route
✓ How to put yourself in position for massive equity growth
✓ And more!
Get creative, use leverage, and buy property in this piece of paradise!

Start by filling out the form below to access How to Buy Property and Use Leverage, In Belize!
Profitable opportunities and valuable lessons are all around us…sometimes in the most unlikely of places.
In our recent travels, we found ourselves in disparate places with distinctly different, yet highly notable and successful people.
The common denominator is that we find great lessons to be learned from both – and we want to share them with you.
Behind the microphones for this episode of The Real Estate Guys™ radio show:
Your always on host, Robert Helms
Your on and off co-host, Russell Gray
Special guest, the top real estate broker in Grand Cayman, James Bovell
Special guest, world renowned drummer and now budding artist, Carl Palmer
Now right out of the gate, you may be wondering how we always manage to get face to face with all of these amazing guests.
Here's a hint: they don't come to us.  We boldly go where most talk show hosts don't.  Sometimes a change of scenery can do you good!
We got to know James Bovell during our educational real estate shore excursion on our 2013 Investor Summit at Sea.
James runs the RE/MAX franchise on the Caribbean island known as Grand Cayman.  In fact, as we discovered on our trip, he's the dominant broker on the island.  It's always fun to get shown around by the top guy in a market.  It's why we hang out with John Turley in Belize.
And there's another lesson:  if you're going to form associations or build a team, always go for the best.  You might have to wait a little longer, work a little harder or pay a little more, but (as Brian Tracy would say), the pain of low quality always outlasts the pleasure of low price.  Who wants the discount brain surgeon?
As we toured Grand Cayman with James, we found it to be a fairly mature market.  That means it's already pretty built out. And because land is limited on the island and the demand is high, pricing is pretty high too.  The lesson here is that the best time to buy real estate was 20 years ago.  Of course, 20 years from now, it will be 20 years from now, which might make now a pretty good time to buy also!
Now James has been in Grand Cayman for quite some time.  So he could tell us what it was like many years ago.  If we were only looking at Grand Cayman, that might make us feel like we missed some opportunity.  But since we're also active in other markets, it helps us see their potential before it's been fully developed.
Of course, mature markets (like mature people) also have their advantages when compared to their less developed counterparts.  Mature markets have many more amenities, proven track records, less unknowns.  So what you see is what you get, as compared to a developing market where you need more vision and faith.
So there isn't a right or wrong.  It's purely a matter of personal preference and where you're at as an investor.  The people who attend our field trips to Belize find an emerging market with lots of potential.  It's more affordable, but far less developed. Most really like that.  Some want something more here and now.  For that, Grand Cayman is great.
Our next guest on this episode is Carl Palmer.  If you're a classic rock enthusiast, you probably know the band Emerson, Lake and Palmer.  This is the band Carl came to fame with.  Today, he performs with his new band, The Carl Palmer Band.  In addition, he and some partners have found a way to take Carl's drumming and create a highly unique and beautiful form of art.
But what does any of this have to do with real estate investing?
A lot more than you might think.  Remember, our thesis is that there are often great lessons to be learned in some of the most unlikely places or from the most unlikely people.
In the case of Carl Palmer, he found his initial success being part of a team of talented individuals.  He talks about the importance of aligning yourself with the best people you can find.  Obviously, this applies directly to real estate – or anything really.
But there's so much more!
Music has changed quite a bit in the 40+ years that Carl has been performing.  Many aging rock stars are making tons of money reprising their classics.  Nothing wrong with that.  In fact, we love to go to those concerts where we know every chord and lyric.
But to drum up new fans (ba dum chhhh…sorry, we couldn't help it), Carl know you need to keep things fresh.  And once you've made all the money you need, your work can become boring unless you find a way to keep yourself engaged at a high level.  Again, lots of parallels with real estate investing.  Managing your own seasons of life and career is an important part of successful investing.
Carl's art also has some interesting lessons.  The art is only available now because the technology which creates it wasn't available many years ago.  But instead of staying stuck in the past as many older guys do, Carl embraced the technology and the opportunity to express himself artistically in a completely new way.
Today, there are all kinds of technology tools available to real estate investors to enhance your research, due diligence, operations and organization.  Of course, Carl knows nothing about all that (that we know of), but the question is: are YOU embracing technology in your real estate investing?  As Carl explains, it's important to keep things fresh.
We could go on and on (can you tell?), but we'll let you listen for yourself.  This was a really fun episode to create.  We hope you enjoy it!
Listen Now:
Want more? Sign up for The Real Estate Guys™ free newsletter
Don't miss an episode of The Real Estate Guys™ radio show! Subscribe to the free podcast
 Stay connected with The Real Estate Guys™ on Facebook!
The Real Estate Guys™ radio show and podcast provides real estate investing news, education, training and resources that help real estate investors succeed. Visit our Feedback page and tell us what you think!
Do you know what makes good times so good?
Bad times.
There's a lot of truth to that old adage, "Whatever doesn't kill you makes you stronger."
We know.  Like us, you'd rather soar above the peaks and valleys and enjoy a smooth ride non-stop to the top.  But the more we hang around hyper-achievers, the more we find adversity is a common denominator.
Since we're always on the lookout for inspiring stories and powerful lessons, we couldn't resist the chance to sit down with a guy that has overcome tremendous adversity and achieved amazing success.  And while you may know his company, you may not know the man.  But we're about to change that.
On location in glamorous Las Vegas for this edition of The Real Estate Guys™ radio show:
Your go-with-the-flow good times host, Robert Helms
The push-the-rock-uphill co-host, Russell Gray
RE/MAX Co-Founder, Dave Liniger
Unless you've been living under a rock, you've undoubtedly heard of RE/MAX.
But let's stop right there and let that sink in.  RE/MAX is one of the biggest, best known brands in the world.  Not just in real estate.  In anything.  THAT's amazing all by itself.  How do you just start a little real estate brokerage and turn it into RE/MAX?
Okay, now turn it around.  Instead of wondering how a guy builds a brand as big as RE/MAX, think about how a brand as big as RE/MAX builds a guy.
Interesting concept, right?
Whenever we sit down with an amazing person, we never quite know what's going to come out of their mouth.  But most of the time, it's really good.  Sometimes, it's the stuff between the words that's the richest.
We've noticed that most people want to build a big company to become rich beyond their wildest dreams.  We've also noticed that most people with that motivation seldom succeed on a large scale.  And even if they make the money, they aren't necessarily happy or "successful".  We like money as much as anyone, but most people consider true success to include much more than money.
When you listen to the interview, try to put yourself in Dave's shoes.  And ask yourself what his focus is and why he didn't quit when he already had everything he wanted, nothing left to prove, and every reason to want to stop working. It will give you some insight into one of the common characteristics we've noticed in several of the most successful people we know.
So maybe it's true.  Maybe attitude really is everything.
Be forewarned.  This is a great interview, but if you've been feeling even a little sorry for yourself, you might be a little embarrassed as you listen to Dave's story.  We're guessing you'll be inspired to attack the challenges of your life with new hope and zeal.  And when you go, you'll not only enrich yourself, but the lives of many others along the way!
Listen Now:
 Want more? Sign up for The Real Estate Guys™ free newsletter
Don't miss an episode of The Real Estate Guys™ radio show! Subscribe to the free podcast
 Stay connected with The Real Estate Guys™ on Facebook!
The Real Estate Guys™ radio show and podcast provides real estate investing news, education, training and resources that help real estate investors succeed. Visit our Feedback page and tell us what you think!
Shift happens.  When it comes to demographics, sometimes those shifts affect supply and demand.
As an investor, if you get on the right side of supply and demand, you can make a lot of money.
Sitting in the musical chairs in The Real Estate Guys™ mobile studio:
Your host and radio show front man, Robert Helms
Your shifty-but-happy-to-have-a-chair co-host, Russell Gray
Returning special guest and top international broker, John Turley
When you make your living selling real estate on a tiny little island in the Caribbean, it's hard to climb into the upper echelon of worldwide top producers for one of the biggest real estate franchises in the world.
But John Turley has done it.  And in a big way!  In the huge worldwide RE/Max franchise, Big John is in the top 3 of all international brokers.  All from a tiny island in the Caribbean.
How?  And why should you care?
Whether you're an investor or a real estate broker, the message is that when people move it creates demand for real estate.  If you're there first, then you can profit when all that purchasing power shows up.  Hey, it's working for John and it can work for you, too.
What John Turley discovered is that the baby boomers (you know, that HUGE demographic of people who've powered wave after wave of business profit as they move through the stages of life) are facing an interesting dilemma as they approach their golden retirement years…
There aren't enough desirable retirement destinations to go around.
So if you're the purveyor of such things (as a landlord, developer, flipper or broker), you have an amazing opportunity to ride the wave.
Here's the good news:  Though the race is on, the boomers are only on the front end of their shift into retirement.  Most don't yet realize the shortage that's coming.  This means there's still plenty of time to get in on the action.
But don't wait too long.  Because when the music stops, there might not be enough chairs for everyone.  And those that are available will probably be expensive.  That means the earlier you get in, the better chance you have of singing a happy tune down the road.
So listen in and discover how demographic shifts affect your opportunities in real estate.
Listen Now:
Want more? Sign up for The Real Estate Guys™ free newsletter
Don't miss an episode of The Real Estate Guys™ radio show! Subscribe to the free podcast
 Stay connected with The Real Estate Guys™ on Facebook!
The Real Estate Guys™ radio show and podcast provides real estate investing news, education, training and resources that help real estate investors succeed. Visit our Feedback page and tell us what you think!
Money is flowing around the globe, seeking opportunity and avoiding risk.  But where is it going and why?
We're always fascinated by trying to figure out where the puck is going (a hockey quote by Wayne Gretsky) .  And (to horribly mix metaphors), sometimes you need to get a bird's eye view to see the whole field.  But (to worsen the metaphoric catastrophe), if you want to ride the wave of capital flowing around the globe, you have to take time to study the trends.
Does all that sound like hard work?  It is!  But we're here to help.
So for this episode of The Real Estate Guys™ radio show, host Robert Helms ditches co-host Russell Gray and flies solo to Orlando, Florida to attend the RE/MAX Encounter the Americas conference.  While there, he captures interesting interviews with three gentleman who are in great positions to offer valuable perspectives on the trends in global real estate.
Behind the microphones, but ahead of the puck, for this episode:
Your think globally, but drink locally (brewed beer, that is) host, Robert Helms
RE/MAX VP of International Business Development, Larry Oberly
RE/MAX VP of Latin America, Ricardo Cardenas
The RE/MAX Encounter the Americas conference brings together company leaders and agents from all over the world, with an emphasis on Latin America and the Caribbean.
And because RE/MAX is one of the biggest players in real estate brokerage, they have lots of data, both statistical and anecdotal.  So we're excited to bring you the Cliff's Notes from these high level execs.
Larry Oberly's job is to expand the RE/MAX network around the globe.  To decide where and how to get into various markets, he gathers data from professional associations, local agents and search patterns on RE/MAX websites.
Think about that.  Before people move or invest in a market, they start doing research.  And when they get serious, they start honing in on neighborhoods, properties and price points.  These days, almost all of that happens on the internet, providing valuable insight to a guy like Larry.
Now even though this conference is about the Americas, Larry has some very interesting comments about China.  It's no secret that China has tons of money.  And some of that money is making its way into real estate in the Western Hemisphere.  What's even more interesting is why.  But you'll have to listen to Larry to get the answer. 😉
Next up is Ricardo Cardenas.  This interview is worth listening to just because Ricardo has the coolest Latin accent.  But of course, the big bonus is the insights Ricardo has to share about what's happening in his part of the world.
Even though Brazil is part of the group of emerging growth economies known as the BRICs (Brazil, Russia, India, China), it isn't the only strong economy in the south of the Western Hemisphere.  And as these nations make more money, more real estate business is being transacted with both domestic and foreign buyers.  In other words, people want to buy property there.
Ricardo shares some of the work being done to improve business systems, professional cooperation and standards of real estate brokerage practice.  Just as standardized hardware and software protocols have made computers more friendly and accessible to more people, so will increasingly standardized real estate practices attract more buyers and their money to these markets.
It's all part of the critical infrastructure which facilitates the flow of capital to and from real estate markets along the international financial highway.  We watch it because it helps us anticipate where and how fast money will flow into a market.
Last, but certainly not least, Robert reconnects with John Turley, our good friend, 2013 Investor Summit at Sea™ faculty member, and top real estate broker in the country of Belize.  If you've been listening to the show for awhile, you know we've had John on before – and that The Real Estate Guys™ LOVE Belize.  In fact, John is a featured speaker on our Belize field trips.
Now John's perspective on international real estate is a little different than Larry's or Ricardo's because John is focused on Belize.  And rather than a top down view, John is in the streets every day talking with real life home buyers, investors and developers about where they come from and why they're interested in a place like Belize.  That's how we got to know him.
As an American ex-pat who brought his family to Belize and set up shop in 2005, John has his personal perspectives to share.  But what's really interesting is what he's observed about what's going on around him in his seven years and living working in Belize
For a market place that owes a big part of its revenue to tourism, you'd think the dour U.S. and European economies would have taken its toll on Belize real estate.  Not so.  We're pleasantly surprised to find that values in the Belize real estate market never really tanked like they did in so many over-leveraged and over-built markets.
And as for tourism in Belize, John tells us that 2011 was a record year and that 2012 is outpacing 2011 by double digits. More, tourism to Belize is above the peaks of 2005 before the recession ever hit.  Very impressive – and consistent with the feedback we got from the Shared Ownership Conference interviews previously broadcast (Look for Getting a Slice of the Pie on our Listen page)
So big lesson:  be careful not to look at the world only through the filters of your own perspectives and paradigms.  How it is for you and where you are may not be indicative of what's happening in other places.  That's why we make it our mission to get around to these other places and learn how other people are seeing things.
But we know it's hard for you to fly all over the place like we do, but no worries.  That's why you have us.  Enjoy!
Listen Now:
 Want more? Sign up for The Real Estate Guys™ free newsletter
Don't miss an episode of The Real Estate Guys™ radio show! Subscribe to the free podcast!
Stay connected with The Real Estate Guys™ on Facebook!
The Real Estate Guys™ radio show and podcast provides real estate investing news, education, training and resources that help real estate investors succeed. Visit our Feedback page and tell us what you think!
One of the secrets to making a lot of money is to catch a profitable wave.  Sounds interesting, but how does it work?
Well, a financial wave happens when a variety of forces converge to move people or their money in a particular direction. That movement can have a substantial impact on any given asset class or geographic region – and the effect can be much more pronounced when the asset class or region is very limited in size.   That's why we've been intrigued over the years by the tiny country of Belize.
In this episode of The Real Estate Guys™ radio show, we're on location at a beautiful beachfront resort in Ambergris Caye, Belize.  Yes, it's a rough life on the road as radio talk show hosts, but someone has to do it.
Sipping coconut juice behind the microphones while the tropical breezes blow:
Your light and breezy host, Robert Helms
Your coconut co-host, Russell Gray
Special guest, top producing international real estate broker, John Turley
As part of the preparation for our upcoming field trips to Belize, we headed to San Pedro Town in Ambergris Caye, Belize.  Yes, it's THAT San Pedro – the one Madonna sings about in La Isla Bonita.
When you're here, you understand why Madonna fell in love with San Pedro…and why we stopped here during our recent Summit at Sea™, then came back just a few weeks later for this trip, and are now going back for Memorial Day, again in June and staying into July.  Yeah, it's an addiction.
But for John Turley, formerly from the Rocky Mountain state of Colorado, his visit turned into a 7 year (and counting) transplantation.  And in those 7 years, big John has become the #1 real estate agent in the entire country of Belize and the #2 international property (non-US) agent in the RE/MAX system.  In case you didn't know it, RE/MAX is the #1 (as in top selling) real estate brokerage in the world.  So John Turley is not just #1 in his cubicle.  He's #1 for the #1 company in the world.  Hey, nothing but the best for our listeners.
So NOW you can see that we have a LOT to talk about.  Like, why did John decide to leave his life in the USA, uproot his family and start all over again in some dinky third world country? Hint: it's beautiful, peaceful, friendly and insanely profitable.  But listen in and let John tell you himself.
What's important to note is that John is just like MILLIONS of other people in the US, Canada and around the world who are looking for a change.  And as that wave of people continues to discover enchanting Belize, many are grabbing homes and filling hotels.  Hmmmm….does that sound like real estate investment opportunity?
John explains how tourism is UP over the several years.  What?!?  We thought there was a global recession and everyone was hunkered down waiting for the storm to clear.
Some are.  But it seems that others have decided that financial and political storms bring big waves, so it might be fun (and profitable) to go ride one (figuratively speaking, of course).
John reports that the interests of the people who come through his office have changed significantly in the last several years.  It used to be that people came to Belize because it's beautiful, quiet, affordable and friendly.  After all, Belize is the ONLY English speaking country in Latin America, and it's government and currency are stable.  Did we mention that it's breathtakingly beautiful?
But today, according to John, MANY people are coming into his office because they are concerned about the direction of the United States.  Now, you may or may not be concerned, but apparently lots of folks are.  So much so, they come to Belize not to vacation, but to establish a second home that could be easily converted into a primary residence.  Kind of a Plan B (like Belize).
There are lots of other interesting tidbits in this interview, and your job (should you choose to accept it) is to listen as Big John Turley shares his perspectives on what's driving this very popular real estate market – and how you can catch the wave of interest that is building about Belize.
Listen Now:
The Real Estate Guys™ radio show provides real estate investing news, education, training and resources to help real estate investors succeed.