We're still just a little more than a week removed from a mind-blowing 9-day mind-meld with brilliant thought leaders, niche experts, and seasoned investors and entrepreneurs …
… so we've been busy catching up on the news and looking at the world through our freshly expanded paradigms.
There are two things bouncing around our brains we think are important, but few real estate investors are paying attention to …
Gold and oil.
Sure, both these "commodities" fit well with real estate in a strategic real asset portfolio.  And if you're not sure how all that works, you can start with these past podcasts about gold and oil.
But bigger picture, both gold and oil probably drive more of geo-politics than most casual observers realize … and both are quasi-proxies for the dollar.
In other words, when you understand what's happening with gold and oil, you have insights into the future of the dollar … and some of the things governments are doing to either defend dollar dominance … or break free from it.
Of course, if you earn, invest, borrow, or denominate wealth in dollars, the future of the dollar should be of great interest to you … even if you think of the dollar as being as permanent and reliable as air (it's not).
As real estate investors, our primary interests (besides occupancy and cash flow) are demographics, migration trends, local economic strength, interest rates, taxes, and the supply and demand dynamics in our local market.
But all of that sits on the foundation of a functional financial system with two primary components … credit and currency.  Gold and oil provide insight into both.
Oil is important at both the macro and the micro level.
In the macro, it takes energy to drive economic activity.  When energy's expensive, it drives up the costs of everything and is a drag on economic activity.
At the micro level, high dollar-denominated oil prices drive up the cost of living for your dollar-denominated tenants.
But for metros where oil is big business, oil also means local jobs.  Remember, Texas and its robust energy sector were the primary driving force for U.S. job creation coming out of the 2008 recession.
Investors who realized this (like our pal Kenny McElroy) strategically invested in those markets while most people were hiding under the sheets.
So whether or not you're interested in oil as a direct investment, paying attention to the oil business can be a great way to pick markets likely to hold up well if oil prices rise.
Oil also has a potential impact on credit markets and interest rates.  Billions of dollars of debt has been created to fund shale oil production.
If oil prices drop, it both undermines the ability of regional oil economies to grow … but also for those employers to service their debt.
In the macro, if a big chunk of the debt goes rotten, credit markets could tighten.  Think about what happened in 2008 when sub-prime mortgage debt went bad.
So again, whether you're an oil investor or not, the oil industry has a direct impact on your real estate investing.
Watching oil helps you see what's coming sooner … so you have time to position yourself to capture opportunity and mitigate risk.
Of course, the good news and bad news about real estate is it moves slowly.
So while you have plenty of time to be proactive IF you're paying attention, it's really hard to act fast if you're not.  That's why we pay attention.
What about gold?
On the macro level, gold is a good gauge of how the world feels about U.S. Treasuries and the dollar.
When things get choppy in stocks, paper investors worldwide tend to flee into Treasuries for safety.  After all, Treasuries are backed up by the Fed's printing press.
Of course, what does the Fed print?  U.S. dollars.
But to quote Watto from Star Wars – The Phantom Menace … 
"Republic credits are no good here.  I need something more … real."
That is, when investors worldwide are looking for safety … and they don't trust the paper … they go into gold.
So what does that mean to real estate investors?
Remember, mortgage rates and availability derive from healthy bond markets … most notably, U.S. Treasuries.
The 2008 Great Financial Crisis had its genesis in a broken bond market … mortgage-backed-securities.  When those went bad, frightened investors worldwide piled into Treasuries … and rates fell.
But what happens if investors worldwide don't trust Treasuries?
You don't have to wonder.  China came out in 2009 and scolded Uncle Sam about the size of the deficit and all the dollar printing doing on.
Why did it bother them? Because they own TRILLIONS in U.S. bonds.  They don't want to get paid back in diluted dollars.
But Uncle Sam's debt, deficits, and printing have BALLOONED since then.
So it's no surprise that China … along with Russia and several other countries … have been diligently accumulating and repatriating gold.
They're getting out of dollars and Treasuries to do it.  And who can blame them?
Paper money has an atrocious long-term record as a store of wealth …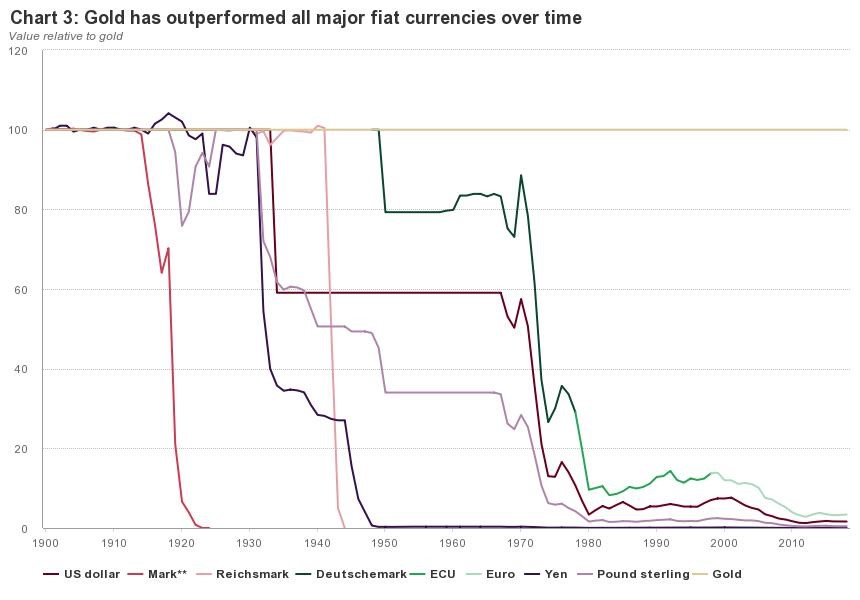 Source:  World Gold Council 
Consider this when you think about where you're storing YOUR long-term liquid wealth.
Meanwhile, there's just a little more to the developing story of gold … and the story behind the story.  It's a little complicated, but interesting and noteworthy.
After the 2008 crisis, the world's bankers got together in Basel, Switzerland to come up with voluntary rules to prevent another financial crisis.  The agreement is called the Basel Accord.
A provision in the agreement, known as Basel III (the agreement's rolled out in phases) allows financial institutions to consider gold "Tier 1" capital.  So adding gold is supposed to make banks more liquid and stable.
This is a bit of a promotion for gold.  Some observers think this means demand for gold will increase, but we're not smart enough to have an opinion on that.
But there are a couple of things we are thinking about …
Perhaps most obviously, international bankers apparently consider gold more valuable than simply a "barbarous relic" with no place in a modern monetary system.
Keep that in mind when you hear people criticize the placement of gold in a portfolio. If gold can make a bank more stable and liquid, can't it do the same for you?
To be clear, we're not fans of gold as an investment.  It's just an alternative to cash … a way to store long-term liquidity while hedging against a declining dollar and bank counter-party risk.
But the more interesting aspect of gold's now elevated role in bolstering the banking system is why it's necessary in the first place.
Is it because the banking system is still fragile and in need of support?  Is it because the world needs more leverage to expand … and so more collateral to lever?  Why not just use Treasuries?
We don't know yet.  But we'll be checking in with our big-brained gold experts to see what they think.
Meanwhile, we encourage you to think outside both the real estate and mainstream financial media boxes.  It seems like oil and gold might be trying to tell us something.
Are you listening?
Until next time … good investing!
More From The Real Estate Guys™…
The Real Estate Guys™ radio show and podcast provides real estate investing news, education, training, and resources to help real estate investors succeed.
---
Love the show?  Tell the world!  When you promote the show, you help us attract more great guests for 

your

 listening pleasure!
With less than 7 weeks remaining in 2018, we're taking a short break from our obsessive-compulsive perusal of the financial news.
Because with an exciting New Year about to begin … full of hope, challenges, and opportunities … it's a great time to focus on some important fundamentals.
Lesson# 1:  Invest in yourself first and frequently
Think of the amount of money you put into fixing up a property in the hopes of generating a few thousand dollars of profit or cash flow.
How much MORE important are YOUR education, skills, and network over the rest of your career?
For a fraction of what you'll spend sprucing up just a single property, you can increase your sales skills, gain more strategic clarity, expand your economic education, and grow your professional network.
Any ONE of those things can pay you back 10x or more in just a few years.  Plus, investing in your education and networks sets you up for …
Lesson #2:  Focus on relationships, not transactions
Sure, we understand you need to do deals … to produce profits … so you can pay the bills and keep investing.  But transactions are really just a by-product of great relationships.
When you put the transaction over the relationship, you risk killing the goose that lays the golden eggs.
And remember, every person you know knows MANY more people you don't.
So even if the person in front of you isn't ready to do a deal today, someone they know might be.
This is where YOUR education and network come into play …
When you know things other people don't, but need to … or when you know people other people don't, but need to …
… YOU have something of great value to enhance a relationship or work through one contact to reach another.
Most people won't give you a referral if they think you want to sell their referral something.
But they'll happily connect you if they think you will HELP their referral.  That's based on trust, which is based on the relationship.
It sounds so easy … and it is.  But for some reason, most people focus on the small value of the transaction and miss the HUGE value of the relationship.
Lesson #3:  Emphasize mission and values
The old adage says, "People don't care how much you know, until they know how much you care."
It's true.  But it goes further …
People do business with people and brands they trust.  And when you focus on mission and values, and filter all you say and do through them …
… over time, you'll create a trustworthy reputation.
Of course, a good, trustworthy reputation will attract more people into your life … and that means more relationships, and ultimately, more deals.
Lesson #4:  Build a business and portfolio that works for YOU … and not vice-versa
We're old enough to remember when Michael Gerber's now classic title, The E-Myth, was the hot new business book.
But the timeless lessons are as applicable today as ever.
Too many people … employees, entrepreneurs, and investors … do the "two-step."
They set out to do whatever they can find to make money based on the belief that if they can just make enough money, THEN they can go do what they REALLY want.
The problem is when you don't love what you do, either you let off the gas and never really succeed …
… or worse, you lose yourself in service to a business, portfolio and lifestyle you don't really enjoy.
And then you just hold your breath until the day you can sell it or retire on your investments.
Better to ask yourself EARLY what's really important to you … how you want to live … what you love to do … and then build a business and/or portfolio around THAT.
It's a harder problem to solve, but you'll LOVE the answer when you find it.
Lesson #5:  Develop and maintain a clear vision
We all run around with pictures in our mind. How we see the world … how we see ourselves … what we're working to accomplish.
The challenge for many is the picture is fuzzy.
It's like driving in the fog.  You have a sense of direction … but aren't exactly sure how to get there.
You're feeling your way … scared to go too fast and miss a turn or fall into a ditch.
Yet some people are taking bold action and moving aggressively through life.
What's the difference?
Clarity.
Bold action takers can "see" exactly where they're going, what they're building, and WHY … and that vision inspires and emboldens them to move towards the goals with enthusiasm and confidence.
We say, "When you have clarity of vision, strategy and tactics become evident."
So when you're not sure what to do, focus on your vision.  Just seeing the end from the beginning is often enough to tell you what to do next.
Lesson #6:  Always see the downside
Really?  Doesn't focusing on the negative create paralysis?
Only for amateurs.  Pros are more afraid of what they DON'T see than what they do … because you can't avoid or manage risks you aren't aware of.
Billionaire real estate investor Sam Zell says everyone sees the upside.  That's what they look for and what motivates them to go for it.
But Zell says his success comes from being able to see the DOWNSIDE too …  and then making plans to mitigate it … even if it means walking away.
Pessimists ONLY see the downside and can't act.  Optimists only see the upside and hope for the best.
We're pretty sure hope is not an investment strategy. Be a realist and get good at seeing and managing risk.
Lesson #7:  Always pay attention to cash and cash flow
Profit and net worth are important.   Cash and cash flow are essential.
A business mentor of ours once taught us that cash is like oxygen, while revenue is like water, and profit is like food.
You can survive for a long time without profit … if you have revenue and cash.
You can survive for a little while without revenue … if you have cash.
But run out of cash … and you'll be dead very soon.
Pre-politician Donald Trump once told us it's always good to have cash in the downtimes. We say, "Cash Flow controls and Cash Reserves preserve."
So have some liquidity at all times. Write off the lost opportunity cost on the cash as an insurance premium.
And do NOT count on credit for liquidity. We did that once … and it didn't end well.  Lenders tend to cut off credit when you need it the most.
Bonus Lesson:  Use firewalls to avoid portfolio contagion
Let's face it.  Some investments are more risky than others.
But if you don't have firewalls, then just ONE risky investment can implode your entire portfolio.
You might have a solidly built, cash-flowing portfolio of properties, and a high net worth with good liquidity, and hedges against inflation and deflation.
But just ONE lawsuit, or personal loan guarantee on just ONE risky deal, or pulling money out of performing property or business to feed a loser …
… and EVERYTHING goes … UNLESS you use legal structures, mental discipline, and emotional control to isolate risk.
It's a bigger topic than we have time for here, but we address it in ourIntroduction to Strategic Real Asset Investing webinar.
You can get the webinar as a free bonus when you order the Future of Money and Wealth video series … which is a great primer on several risks ALL investors should be paying attention to right now.
Until next time … good investing!
More From The Real Estate Guys™…
The Real Estate Guys™ radio show and podcast provides real estate investing news, education, training, and resources to help real estate investors succeed.
---
Love the show?  Tell the world!  When you promote the show, you help us attract more great guests for 

your

 listening pleasure!
If you're an American, unless you've been in a coma or living under a rock, you know the United States just had one of the most energetic mid-term elections in quite some time.
The day after, both sides are disappointed … and both sides are claiming victory.
One of the advantages of being older is we've seen this movie before.
In our younger days, when elections didn't go our way, we thought it was the end of the world.  Today, not so much.
It doesn't mean we don't care.  We do.  And certainly, politicians and their policies have a direct impact on our Main Street investing.
But it's in times like these we're reminded of the beautiful, boring stability of real estate.
Because while all the post-election drama and speculation plays out, people still get up and go to work and pay their rent.
And though the Trump-train just got slowed … like Barack Obama before him, big chunks of his agenda got pushed through early … and are likely here to stay for a while.
In other words, it doesn't look like Obamacare or the Trump tax reform will be repealed any time soon.
More importantly, investors of all stripes … paper and real … now know what the lay of the land is for the next two years.
Early indications (based on the all-green dashboard of Wall Street) reveal there's cash on the sidelines waiting to see what happened … and now that gridlock is the answer… money is pouring into everything.
We know that sounds counter-intuitive.  But while political activists push change … too much change too fast makes money nervous.
Investors and entrepreneurs need to make decisions about long-term risk and reward.  And when the world is changing too fast, those decisions are harder to make.
Way back in the lead-up to the 2010 mid-terms, we penned this piece about a concept we call "healthy tension."  Just change the team colors and it's just as applicable today as it was back then.
The point is that money and markets like gridlock.
At this point, from an investing perspective, it doesn't really matter if any of us like or dislike what happened … politically.  It's done.
Now we all just need to decide what it means to us and how to move forward … because life goes on.
So bringing it all back to Main Street …
We're guessing all the great Trump-tax reform benefits for real estate investors… from bonus depreciation to Opportunity Zones … are here to stay.
And as we said just a week ago …  there's probably a lot more money headed into real estate.  Nothing about this election appears to change that.
So gridlock inside the beltway means stability on Main Street.
Sure, it might be a little boring.  But real estate investors are used to boring.  And when it comes to long-term wealth building … boring is good.
Until next time … good investing!
More From The Real Estate Guys™…
The Real Estate Guys™ radio show and podcast provides real estate investing news, education, training, and resources to help real estate investors succeed.
---
Love the show?  Tell the world!  When you promote the show, you help us attract more great guests for 

your

 listening pleasure!
Sometimes when the world seems to be spinning out of control and not much makes sense, it's helpful … even necessary … to cling to something stable.
Headlines are filled with wars, rumors of wars, natural disasters, senseless murders, endless divisive vitriolic political rhetoric, greed, corruption, hypocrisy …
And that was just last week.
No wonder so many Americans love to just veg out and get away from it all by watching some football … oh wait.
When it comes to investing, it's easy to go "full turtle" … retreating into our shells, hunkering down until the storm passes.
History says that's not a winning strategy.
After all, there have ALWAYS been wars, disasters, corruption, and a zillion reasons to pull the covers over our heads and wait for morning.
But is there ever a time when looking back 20 years, you wish you would NOT have bought more real estate?
We're guessing folks in 2015 wish they bought more in 1995.  And those in 1995 probably wish they bought more in 1975 … and those in 1975 wish they bought more in 1955 …
You get the idea.  And if you know history, there was a LOT of crazy stuff that happened in the world during each of those 20-year periods.
But one thing's been SURE … real estate's been among the safest places to build and protect wealth from the storms.
Yes, the cynics out there can point to individual cases where a real estate investor took some lumps in a downturn.  We're on that list for 2008.
But it wasn't real estate's fault … it was how the portfolio was structured.
Otherwise, how do you explain people like Ken McElroy and many others who THRIVED with real estate investing during the same period?
It's easy to ride an upside wave on a sunny day when a rising tide is lifting all boats.  Everyone's an expert sailor in good weather.
But when the storm comes, you find out who really knows how to sail and has prepped their ship for the INEVITABLE tough times.
However, there's a BIG difference between being in just a rowboat versus a truly seaworthy vessel.  The rowboat is much more easily tossed about in rough water.
So with everything going on in the world … and real estate getting tossed into the conversation of bubbles about to burst in all "asset classes" … we thought it's a good time for …
Making the Case for Real Estate
This could be a book, so we won't expound each point.
We'll leave it to you to think, research, debate, and discuss these items with your friends … even and especially those who are prone to disagree.
Real estate is eternal, essential, and easy to understand. 
It's been around forever and will continue to be necessary to support human existence.
The business model is simple … people or businesses use your property and pay you rent.  No Ph.D. needed.
Real estate markets are inherently inefficient.
That might sound bad, but it's good.  The less of a commodity something is, the easier it is for pricing to be more subjective than objective.
Real estate markets are really hard to manipulate.
Many paper asset markets are "influenced" by power players to create spreads through profitability.
Because traders can't deal in large blocks of properties to push prices around … they don't.
Real estate is supported by the power players.
To the extent real estate can be manipulated, all the incentive for anyone big enough to do it … government, central banks, industry … is to support it.
No one attacks real estate to drive it down.
Real estate is financeable with cheap long-term debt.
Even 20% down with an 80% loan, producing 5 to 1 leverage, is considered "conservative" … and qualifies for some of the cheapest long-term money in the market.
There's no margin call if a property's value drops.  As long as you keep making those payments … using the tenant's money … you're okay.
Real estate mitigates counter-party risk.
This is a REALLY important point because we're guessing the VAST majority of paper asset investors are quite unaware of the counter-party risk pervading their portfolios.
Bank accounts, brokerage accounts, insurance contracts, bonds (and any mutual fund or investment containing bonds) are FULL of counter-party risk.
When you own real estate, you own it.  It's a real asset, not a promise.  It's not someone else's liability, where if they default you have nothing but an IOU.
Real estate allows you to switch out debtors.
Some might argue if a tenant defaults on their lease, it's the same as if a bond issuer defaults on their payments.
No.  Real estate is VERY different.
To our previous point, if a bond issuer defaults, your bond is worthless.  It's only a promise whose value is dependent on the counter-party (the bond issuer).
When a real estate tenant stops paying, you still have the property.  You can evict the tenant and replace them with someone who will pay.
Good luck doing that with a bond.
Real estate provides a hedge against both inflation and deflation.
You might have to put your thinking cap on for this one.
Obviously, with inflation, real assets go up in dollar value.  Inflation is why a 3-bedroom home purchased in 1960 for $10,000 is worth $200,000 today.  The dollar got weaker.
Deflation is the opposite.  The dollar gets stronger (try not to laugh) and it takes LESS dollars to buy the same real asset.
So now, a $200,000 property might fall to $100,000 or less.
But if you only put 20% down … or $40,000 … and the tenants (whose paychecks goes farther as prices are falling) pay off your property …
… at some point, you have a property that's paid for.  So you're in for $40,000 and the property is "only" worth half what you paid for it, or $100,000.
Did you lose?
Real estate provides certainty in an uncertain world.
We could go on and on, but there's the point …
There's no guarantee with investing.  It's about taking thoughtful, mitigated risks for an attractive risk-adjusted return.
And while you can't just throw a dart at a map, pick any property and haphazardly structure the deal, financing, and management …
… history says properly structured properties in solid markets are proven long-term winners no matter what's going on in the world.
Your mission, should you choose to accept it, is to …
… focus your education and networking on finding markets, teams, and properties which provide a high level of certainty in uncertain times.
Until next time … good investing!
---
 More From The Real Estate Guys™…
The Real Estate Guys™ radio show and podcast provides real estate investing news, education, training, and resources to help real estate investors succeed.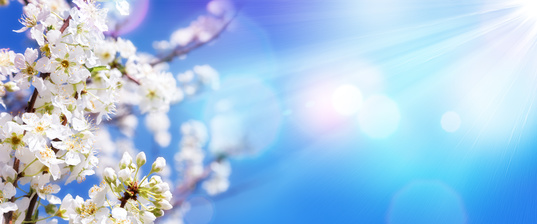 Just six weeks into 2017 and it seems there's sunshine everywhere.
In fact, according to a recent article, Fannie Mae's chief economist Doug Duncan told a group of financial professionals he sees no recession in sight.
The Naples Daily Times reports Duncan's team "forecasts economic activity in the U.S. will grow by a conservative 2 percent this year."
Duncan is quoted as saying, "From a housing perspective, I think there will be strong growth."
Nice.
We can't wait to chit chat about this with Doug during our upcoming Investor Summit at Sea™.
And we REALLY can't wait to hear the conversation between Doug Duncan, Peter Schiff and Robert Kiyosaki… since ALL THREE will be together with us on the Summit.
After all, both Peter Schiff and Robert Kiyosaki are notorious for their warnings about the 2008 financial crisis.  You can watch the skeptical reporters talking with Peter here and Robert here.
Of course, time proved Peter Schiff and Robert Kiyosaki to be right.
Today, both Schiff and Kiyosaki, along with new Summit faculty member Chris Martenson (The Crash Course and Peak Prosperity), think a BIGGER crash is coming soon to an economy near you.
We don't know who's right.  But by the end of the Summit, we'll have a MUCH better idea about what each believes and why.   So stand by… or join us and hear it first-hand.
Meanwhile, it seems the stock market sees lots of sunshine in the future … and maybe even a unicorn or two.
You may have seen these recent Reuters headlines:
World stocks head towards record high
So even if you're a die-hard real estate investor, it's tempting to peek over the fence and flirt with the idea of stashing some cash in stocks.
In fact, we received an email from a listener recently… which we'll probably take up on a future edition of Ask The Guys.
The listener is being pressured… er… encouraged by their stock broker to "rebalance" some real estate equity into stocks.
Good idea?
Maybe.  But we're guessing most individual investors are naïve to some of the smoke and mirrors surrounding stock prices.
That's risky.  Because when you're in a game with highly skilled players but have little understanding of the rules, the chances of you coming out on the losing end are higher.
So whether you're in stocks or thinking about it…. or are a committed real estate investor trying to help giddy stock investors move some of their paper profits into real estate…
We came across a useful piece that helps illustrates a hidden danger in stock investing.
As you read the below excerpt from this blog post by Dave Kranzler at Investment Research Dynamics, ask yourself if it's likely… or even possible… for a similar problem to exist in real estate…
"Panera Bread stock is a text-book example of the insanity in the stock market right now. PNRA announced earnings yesterday and 'beat' the Street.  But here's a synopsis of its numbers:
System-wide same store sales [SSS] increased just .7%
Franchise SSS dropped 1.4% (franchised stores are 55% of the store base)
Operating margin dropped 40 basis points
Net income in Q4 dropped $22.8 million from $24.7 million in 2015
Company bought back nearly $400 million in stock during 2016
It just issued another $200 million in debt
If it wasn't buying back shares, it would not have needed to issue that debt. 
The share buybacks make the EPS [earnings per share] look better but the net income of operations fell quarter over quarter and year over year.  
That's how PNRA 'beat':  financial engineering because its net income declined quarter over quarter (2016 vs. 2015) and year over year.
For that, PNRA stock is UP 8.4% today.  
A $4 million year over year drop in net income has generated a $400 million one-day jump in PNRA's market cap."
Did you follow all that?  If so, good job!
If not, then does it make you feel just the slightest bit out-gunned when stepping into the Wall Street casinos?
Take a breath…
Now what about real estate?
Is it possible for a property with declining income to go UP in price?
Yes.  Never underestimate the bubble forming power of dumb money.  But it's a LOT harder for self-serving actors to game real estate.
That's because real estate is MUCH more transparent to a buyer than stocks.
There's simply fewer, if any, places for sophisticated "financial engineering."
Think about it.
The value of a property isn't manipulated through the issuance or buyback of shares.  The price is the price.  You can see it.
The property's income is based on gross rents, which are EASILY benchmarked against similar properties.  Ditto for expenses.
So NOI (Net Operating Income) is fairly easy to accurately estimate… and REALLY hard to effectively manipulate and obfuscate.
There's a lot more to say about why real estate is arguably safer and more suitable than stocks for real wealth building for the average person.  But we'll save those thoughts for a future episode of the radio show.
For now, here's the bottom line …
Even smart people look at the same circumstances through different lenses … so they draw different conclusions.  Time will tell who's right or wrong.
You can learn a lot when you listen to smart people discuss and debate their positions.  And you should.
High stock prices aren't the litmus test for a strong economy … or even the success of an individual company.  Stock prices can be, and often are, manipulated.
Real estate is arguably a safer, more understandable, and more suitable for long term wealth building vehicle for average people… even if they don't know it yet.
The BEST news is that real estate moves slowly, so there's usually plenty of time to respond to changing circumstances… IF you're paying attention.
That's why we seek out smart people like Doug Duncan, Chris Martenson, Peter Schiff and Robert Kiyosaki….and why we share them with you.
Until next time… good investing!
More From The Real Estate Guys™…
The Real Estate Guys™ radio show and podcast provides real estate investing news, education, training and resources to help real estate investors succeed.