The beginning of the year is the perfect moment to think about your tax strategy.
It's the time to take all of the lessons you learned last year and put them to work for you.
We're not tax experts … but we know someone who is. CPA Tom Wheelwright brings his knowledge and enthusiasm to our tax discussion.
Don't be scared of your taxes. Use them to save you a TON of cash.
A disclaimer: on this show, we do not offer tax or legal advice. See your personal tax pro for that. We do, however, offer plenty of ideas and information, which you can ponder as you please!
In this episode of The Real Estate Guys™ show you'll hear from:
Your tax-free host, 

Robert Helms

His taxing co-host, 

Russell Gray

CPA

Tom Wheelwright
---
Listen
---
Subscribe
Broadcasting since 1997 with over 300 episodes on iTunes!
---
Review
When you give us a positive review on iTunes you help us continue to bring you high caliber guests and attract new listeners. It's easy and takes just a minute! (Don't know how? Follow these instructions).
Thanks!
---
Time to talk taxes
The beginning of a new year is a great time to think about your real estate strategy … but there's something else to keep in mind. Taxes!
Most people don't proactively think about managing their taxes. Throughout the year they live their lives, throw their receipts in a box, and eventually give that box to their tax preparer.
But there are things you can do and SHOULD do on your tax form that will make a big difference for your finances going forward.
It starts with figuring out what happened to you tax-wise last year and using those lessons learned to change behavior this year.
If you can change your tax mentality early in the year, you can maximize your financial behavior to get the most out of your taxes all year long.
Cracking the tax code
If you want great answers, you've got to ask great questions.
It's only been a year since the implementation of the new tax code … so we have plenty of questions!
We've brought in an expert to help us figure everything out. CPA Tom Wheelwright LOVES taxes … seriously. He really does.
Most people can't believe how excited Tom is about tax law. But once they have spent time with him and read his book, Tax Free Wealth, they're thrilled with the amount of money they have saved.
The first thing Tom will tell you is that taxes aren't something to be scared of. Taxes are a way to save you money!
Our friend Robert Kiyasoki says that if you look at the nation's tax code, you can tell exactly what they want tax payers to do.
The good news is that real estate is one of the world's favorite assets. No matter where you are located, there is a very good chance your government has set apart incentives for you as a real estate investor.
Your job is to figure out what those incentives are … and use them to your advantage.
Luckily for us, Tom is here to help get you started.
Last year is not over
Tom says the first thing you need realize is that last year isn't over. Until you file your tax return, there are still many benefits you can take advantage of.
As you sit with your tax advisor to do your taxes for 2018, there are things you can do under the new tax law that could be the difference between a tax bill and a tax refund.
The big one is bonus depreciation. For the first time ever, investing in real estate can potentially give you a bigger write-off than investing in oil and gas.
We've never had bonus depreciation on used property before, and it has never really applied to real estate in general.
The key is cost segregation … the idea that you can treat different components of your property differently from a tax perspective.
When you buy a piece of property, you buy the land, the building, the landscaping, the parking structure, the outdoor lighting, the fencing … and all of those things are treated differently for tax purposes.
Even inside the building, you are buying everything from cabinetry to ceiling fans.  
To cost segregate for bonus depreciation, your CPA and an engineer work together to break down all the components of your purchase.
You'll find that between 20-30 percent of the cost of the property is eligible for bonus depreciation.
If you bought a property in 2018 and haven't done a cost segregation … it's not too late!
Tom recommends extending your tax filing deadline so you have until the fall to complete a thorough cost segregation. There is a cost involved … but the potential savings are enormous.
The good news doesn't stop there.
Even though bonus depreciation only applies to property purchased in 2018, you can catch up on depreciation you should have taken on properties purchased several years ago.
You MUST do the cost segregation BEFORE you file your tax return … but you can take all of that missed depreciation on your 2018 taxes.
Plan for your 2019 taxes … now
It's never too early to start planning for next year's taxes. Every day you have an opportunity to raise or lower your tax rate.
As you sit with your tax advisor, talk about your plans for the year. Project what your taxes will look like in 2019 NOW … so you have the majority of the year to work toward smart tax benefits.
The de minimus rule for purchases is the perfect example.
This rule says that any line item you buy under $2,500 can be deducted. Think about what that means for real estate investors.
Anytime you buy water heaters for apartment units or window coverings or even carpet … all of these things are frequently under the deduction limit.
If you plan to take advantage of this benefit at the BEGINNING of 2019, you can track these purchases … and save the receipts … throughout the year, so you have everything you need when it's time to file.
Your tax preparer is key to your success
If you're going to be in the real estate business, it is best to find an accountant that truly understands real estate.
Tom is the first to say that even though he has always been a real estate tax professional … he understands his work so much better as an investor himself.
A tax advisor that can combine real estate book learning AND street learning will lead you to tax nirvana.
Your tax advisor has the biggest impact on your bottom line over anyone besides your spouse and your business partner.
If you follow the tax law, you will always make more money.
So, how do you find a great tax professional?
Find a tax advisor who works WITH the tax law, not against it.
Tom says to look for someone who knows tax law so well that they are never going to be concerned about an IRS audit. At the end of the day, it's all a matter of understanding.
Taxes are not the enemy. Taxes can save you a ton of money.
---
More From The Real Estate Guys™…
The Real Estate Guys™ radio show and podcast provides real estate investing news, education, training, and resources to help real estate investors succeed.
---
Love the show?  Tell the world!  When you promote the show, you help us attract more great guests for 

your

 listening pleasure!
President Trump has put his tax plan on the table for the world to see.  The big question is … what does it REALLY mean?
But rather than speculate on the future possibilities, let's take a look at the last time big-time tax reform went from rhetoric to reality.
Way back in 1986, then-President Ronald Reagan signed a tax reform act that was hailed as one of the most significant pieces of legislation ever passed … and cleverly titled … The Tax Reform Act of 1986. 
Now we're not saying Trump's tax plan is anything like Reagan's.  And who knows if Trump's plan will pass, or what it will look like in its final form.
But they're both considered "sweeping" in terms of radically changing the tax system.  
And when you consider how much time and effort businesses and investors put into navigating the incredibly confusing and cryptic U.S. tax code, it's a safe bet ANY substantial changes will result in equally substantial changes in the strategy and behavior of market participants. 
Does that sound boring and wonky?
It is.  BUT … it's probably worth the effort because of something called the Law of Unintended Consequences.
In this example, prior to 1986, lots of high income earners were buying up real estate for the LOSSES.
Seems weird.  But as Robert Kiyosaki pounded into our heads on the Summit at Sea™, wealthy people have different problems than those still working to become wealthy.
Wealthy people have TAX problems.  And prior to 1986, real estate offered an attractive tax shelter which many high earners invested in.
But The Tax Reform Act of 1986 removed this valuable benefit, and in perhaps what should have been obvious fashion, those wealthy investors started to DUMP those no longer useful investments.
Of course, when you have a glut of sellers, the result is falling prices. 
Those who were proactive and got out EARLY fared far better than those who waited.  As we like to say, "Plan and Do is better than Wait and See."
But there's more to the story …
Because real estate is such a GREAT asset, lenders LOVE to loan against it.  It's true today, and it was true back then.
Now even if you're younger, you know what a bank and a credit union are.  But you may never have heard of a Savings and Loan.
An S&L felt just like a bank. 
You could use S&Ls to hold deposits, get loans, and they were backed up by the Federal Savings and Loan Insurance Corporation (FSLIC).  The FSLIC was to S&Ls what the FDIC is to banks today.
Prior to 1990, S&Ls were among the most popular places to get loans for real estate. 
But something happened which drove the FSLIC into insolvency (yes, that can happen) and sent S&Ls the way of the dodo bird.  Extinct. 
It was The Tax Reform Act of 1986.  And we're pretty sure that's NOT what Ronald Reagan had in mind when he signed it.
That's the way unintended consequences work.
We won't bore you with all the details because that's not the point of our comments.
The short of it is the S&Ls borrowed short to lend long against assets they thought had good price stability and liquidity. 
But the demand was largely driven by tax benefits and not by true underlying value. 
And when the tax code changed radically, so did the value-supporting demand of wealthy people seeking tax shelters.  No tax shelter, no demand.
In other words, the investments didn't make sense without the tax benefits.
So with a new tax plan on the table, it might be a really good time to take a deeper look at your portfolio. 
How dependent are you on the current tax benefits to make the investment make sense?
If the tax benefit goes away, could you (and would you want to) stay in the deal?  If not, is there a way to restructure it so you could?
How vulnerable are you to interest rate changes?  Right now, stable financing structures might make better sense because of an unstable economic climate.
We're not saying Trump's tax plan is good or bad.  We're not that smart. 
We only know it's radical.  And the last time radical tax reform actually happened, it had unintended consequences … which created both problems and opportunities, depending on how one was positioned and paying attention as events unfolded.
Personally, we think it's exciting.  Lots of change.  Lots of uncertainty.  Lots of opportunity to move boldly while others are hesitating.
It's why we study, why we network with smart people, why we watch the macro and micro events so carefully.
There's ALWAYS opportunity because there's always danger.  They go together … and it's your skill in navigating the changes that dictates which side YOU end up on.
Until next time … good investing!
---
More From The Real Estate Guys™…
The Real Estate Guys™ radio show and podcast provides real estate investing news, education, training and resources to help real estate investors succeed.
Protecting your money in today's highly uncertain economy is surely very challenging. Remember when real estate equity and bank accounts were considered among the SAFEST places to keep your savings?  Today, real estate equity has disappeared – and for many people even getting access to whatever equity they still have is next to impossible.  Boy, do we miss those equity lines of credit with their checkbooks and debit cards!
And even though you can still write checks on your cash deposits at a bank, with record bank failures even that old saying "sure as money in the bank" seems a little outdated.  Add horribly low interest rates and, to compound the injury, taxes on your meager interest earnings, it's enough to make you wonder what this financial world is coming to.
Well, we have good news. There's a new way to look at an old product – one that is time tested and has survived its fair share of economic turmoil.  And we got such a positive response to our first foray into this topic, we decided to re-visit it with a new guest.
In the radio lifeboat for another voyage into broadcasting brilliance:
Host and head lifeguard, Robert Helms
Co-host and lifeboat inflater, Russell Gray
Seasoned sailer of stormy economic seas, the Godfather of Real Estate, Bob Helms
Special guest, "infinite banking" expert, Patrick Donohoe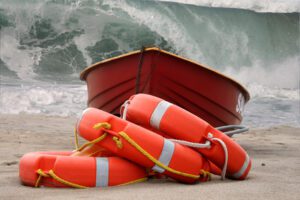 Right out of the gate we need to set the table, which is no small task with the lifeboat bobbing on the waves:  what does life insurance have to do with real estate investing?
Think about what a bank account has to do with real estate investing and you're on the right track.  But unlike a bank account, our guest explains that certain types of life insurance – thought greatly misunderstood – offer far greater flexibility than bank accounts.  And though they aren't FDIC insured, insurance companies are arguably more stable and conservatively run.  Unlike banks right now, you don't hear a lot about record number of life insurance companies failing.
We also address why so many CONSUMER financial gurus are down on cash value life insurance, yet corporations like Wells Fargo and Wal-Mart buy tons of it.  Could it be there are BUSINESS purposes that make it very useful for BUSINESS people?  We say all the time that real estate investing is a business, so it makes good sense to see how businesses are using this financial tool.
For example, how'd you like you to take a tax deduction for making a deposit in your bank account?  Hmmm….that's an interesting concept!  What about getting a loan against your equity without having to qualify?  Try doing that with a property!  And unlike property, the value isn't determined by market forces, so your equity doesn't disappear in a market downturn.
The point of this episode is that insurance can do a lot more than manage risk and pay a benefit. Our job is to expose you to some of the possibilities.  Your mission, should you choose to accept it, is to explore those possibilities, learn how to use this powerful tool, and decide when and where to use it to advance your real estate investing program.  It seems the economic storm isn't over yet, so it might be a good idea to know how to operate the lifeboat.  It's a matter of life and debt.
Listen Now: 
The Real Estate Guys™ radio show and podcast provides real estate investing news, education, training and resources that help real estate investors succeed.