5 Things Every Syndicator Must Know To Stay Out of Jail 
The violation of securities laws is a serious matter, and carries with it significant consequences.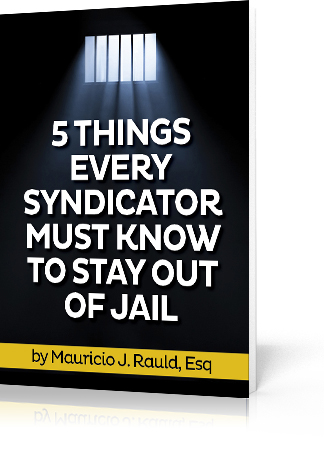 This report outlines possible gray areas and how you can navigate challenges to ensure that you are on the right side of the law. 
The information provided here will allow every syndicator, from beginner to seasoned, to know exactly what the most common issues are, from an SEC and also State regulatory compliance perspective.
This Special Report covers:
✓ Why Creatively Structuring Your Real Estate Syndication To Avoid Securities Laws Won't Work
✓ A Zero Tolerance Policy the SEC has Towards Advertising Your Syndication When Prohibited (yes, this includes Social Media)
✓ Why You Cannot Pay Unlicensed People to Raise Money For You
✓ What Constitutes a "Pre-Existing Substantive Relationship" 
✓ And more!
Discover 5 Things for staying on the right side of the law!
Simply fill out the form below to access

5 Things Every Syndicator Must Know To Stay Out of Jail …
The Secret to Raising Money To Buy Your First Apartment Building
Don't wait until you have tons of money to start investing in apartment buildings!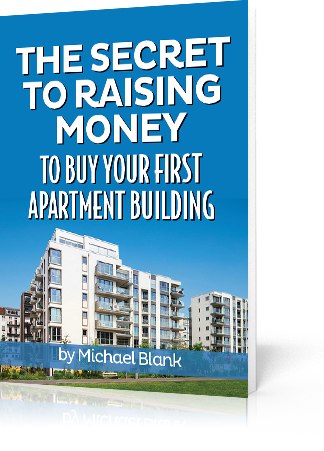 If you think you need to wait to have large chunks of cash in the bank or great credit to start investing in real estate … think again!
You can get started in apartment building investing today … and use other people's money. 
Investor and entrepreneur Michael Blank is ready to share his hard-earned experience in this real estate niche with investors like YOU. 
In this special report, discover:
✓ How to find your investors and what to say
✓ How to gain instant credibility even if you have no prior experience
✓ How to structure the investment and securities law considerations
✓ How to overcome the biggest obstacle: Yourself
✓ And more!
Visualize yourself raising all the money you need for your first apartment deal … and get started investing in apartment buildings!
Simply fill out the form below to access the "The Secret to Raising Money To Buy Your First Apartment Building" …
The AntiLawyer's Guide to Opportunity Zones: The Good, The Bad, The Ugly
Opportunity Zones are hot, hot, hot! Learn the pros, the cons, and the need to knows.
If you've had your real estate ear to the ground lately, you've heard the buzz about Opportunity Zones.
Opportunity Zones are designated geographical areas that provide tax benefits if certain property investments are made in the zones that encourage long-term investments in low-income urban and rural communities across the United States.
But why should you take the leap into these particular opportunity zone funds?
Like any investment, Opportunity Zones can make a lot of good sense … but they also can have a few bad outcomes … and could create ugly results when handled incorrectly.
Learn the ins and outs of investing in Opportunity Zones. Check out this special report to explore:
✓ The tax benefits of Opportunity Zone investments
✓ The major drawback for most real estate investors
✓ How the government is involved in Opportunity Zone operation
✓ Why Opportunity Zones can be better than a 1031 Exchange
✓ How to spot artificial demand
✓ And more!
Discover the good, the bad, and the ugly of Opportunity Zones!



Get started by filling out the form below to access The AntiLawyer's Guide to Opportunity Zones: The Good, The Bad, The Ugly …!
8 Critical Steps to Practicing Safe Syndication
You want to get into syndication … but you know securities law can be tricky. You want to get everything right, down to the details. Good news … you're already on the right path!
Safe syndication starts with careful research and a series of specific steps that will help YOU safeguard your assets and your investors' money.
In this detailed guide, Mauricio Rauld offers a set of eight important steps investors need to take to protect their investment.
Wondering where to start? Mauricio clearly lays out important legal steps like setting up your business, meeting with your advisor, and figuring out tricky securities exemptions. Dig into essential questions you need to ask to draft a complete business plan, and become acquainted with important legal requirements.
Plus, dive into special bonus information that covers how you can stay compliant in the digital world!
Serious about syndication? Then get serious about covering your legal bases.
Before you set up an appointment with a legal advisor, check out this helpful guide to the most common legal requirements in the world of syndicating and securities.
Simply fill out the form below to receive your complimentary copy of 8 Critical Steps to Practicing Safe Syndication! We wish you happy … and safe … syndicating!
2020 Apartment Market Forecast
Predict what U.S. Apartment Markets will look like in 2020 … Then position yourself for success!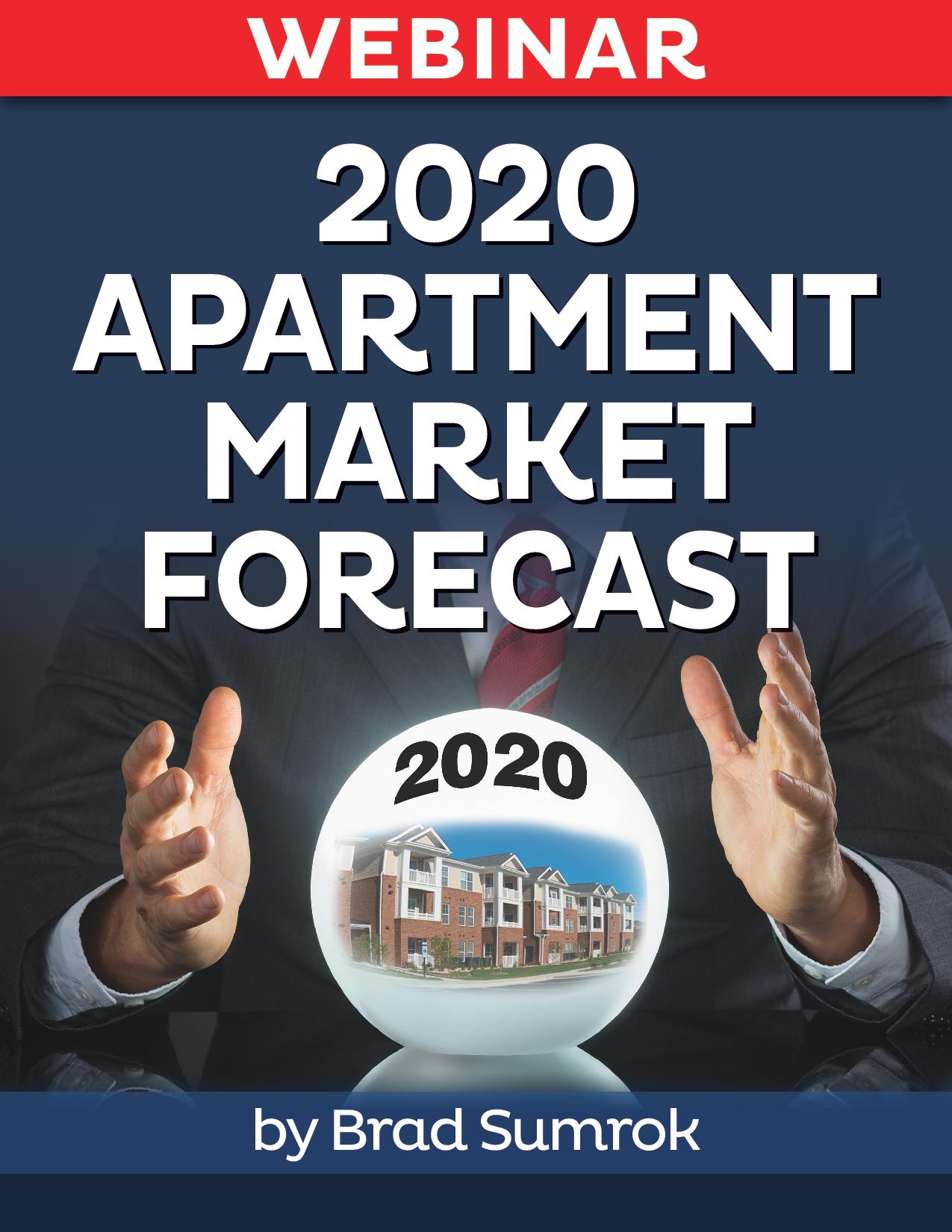 Brad is a successful investor in his own right and the teacher of the popular Rat Race 2 Retirement program, a course that helps investors build wealth through apartment investing.  
In this webinar, Brad brings his characteristic optimism and extensive experience and knowledge to the topic of apartment investing.  His webinar shares:  
How you can leverage others' time, money, and experience to create wealth

 

Program results for Sumrok students in 2019 (they're impressive)

 

A recipe for double-digit returns … consistently for 16 years
Brad's formula for what makes a good market

 

And, the piece de resistance … Brad's 2020 Apartment Market Forecast 

 
Interested in what 2020 holds?  Simply fill out the form below to listen in for how the state of the U.S. economy will influence apartment markets in 2020 … and which markets are best for investors …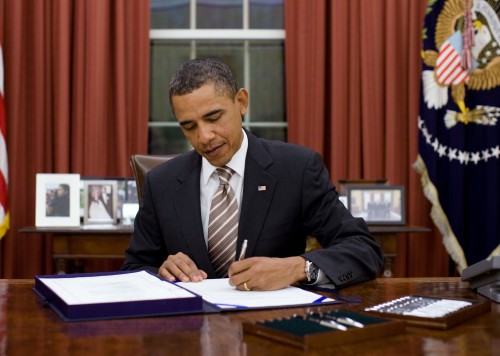 Speaking at Julius Caesar's funeral, Shakespeare's Marc Antony gave one of the most iconic eulogies in literary history …
"Friends, Romans, countrymen, lend me your ears; 
I come to bury Caesar, not to praise him. 
The evil that men do lives after them; 
The good is oft interred with their bones …"
Now here we are … at the end of the Obama years … and time will tell how history will remember the 44th President of the United States.
From what we've seen, it seems that President Obama's "signature" achievement, Obamacare, could likely end up undergoing a major overhaul in 2017 … maybe even a complete repealment and replacement … at least if one is to believe all of the campaign rhetoric of soon-to-be President Trump.
Frankly, we're HAPPY all the attention is on Obamacare. Hopefully, it means no one will mess with what we think will go down as President Obama's REAL signature achievement …
The JOBS Act.
More specifically, the provision of the JOBS Act which lifted the restrictions on soliciting investors into private placements.
When it passed in 2012, we said it would be huge.
When the first set of regulations was released at the end of 2013, we spoke on this topic at the New Orleans Investment Conference.
Shortly thereafter, we published a special report, New Law Breaks Wall Street's Monopoly.
We're doing our best to get the word out so ambitious real estate entrepreneurs can get in on the action.  But of course, these things move at their own speed.
For some, it's forgetfully slow.  For others, it's frighteningly fast.  It just depends on how you respond to opportunity.
If you take a "wait and see" approach, you're bored waiting for the action to start.
But if you have a "plan and do" personality, you've been madly paddling into position so you can ride the wave as it breaks.
Personally, we think "Plan and Do" is better than "Wait and See."
You can read the report for a better understanding of why the JOBS Act is so huge for real estate investors … and ultimately for all kinds of investors.
The short of it is that U.S. securities laws have largely served to protect the market-making monopoly of Wall Street … and herd Main Street investors into the paper-asset casinos.
Read that again and let it soak in.
By making it very dangerous and expensive for purveyors of private investment opportunities … like folks putting a group together to buy an apartment building or hotel … the old law discouraged real estate entrepreneurs from offering those deals to Main Street investors.  Those deals went to Wall Street banks or a select few insiders.
So as a Main Street investor, if you wanted to get in on real estate, you either had to figure out how to do it yourself, or have an inside relationship with someone who had deals … or do a Wall Street version of real estate like REITs or mortgage-backed securities.
But now, purveyors of private placements can advertise their deals directly to Main Street investors … completely bypassing Wall Street. We like it.
Some entrepreneurs are investing a lot of time and money into building special market-making software called crowdfunding platforms.
Those take a lot of money to build … and there's a fair amount of regulations you need to contend with.  Being a crowdfunding entrepreneur is not for the light of wallet or faint of heart.
And at the end of the day, to make crowdfunding work, you still need deal flow and a crowd.  Those cost money to build, too.
Somebody will probably figure how to become the Amazon.com of real estate crowdfunding.  But remember how much time and money Amazon spent to get there?  Yikes.
For street rats like us, we think there's still tons of money to be made leveraging the new law into taking good old-fashioned syndication to the next level.
In fact, we'd prefer it that way.  Think of all the problems created by too much concentration of power in corporations and governments.
Sure, we understand the benefits of economies of scale.  But when things get big, accountants and politicians move in and manage for numbers … forgetting the human element.
Call us old school (we've been called worse) … but we much prefer Main Street investors doing business with Main Street entrepreneurs and doing Main Street deals.  Small.  Local.  Personal.
And if we're all doing enough Main Street business well, it slows down how fast someone can build a new monopoly that forgets the people.
When corporations get big, they lobby for laws which are used to protect their monopolies and crush competition.  That's bad.
So when we look back on the Obama years, we're happy for the JOBS Act … and the freedom to do business Main Street to Main Street … completely circumventing Wall Street.
Of course, not using a freedom is almost like not having it at all.  So we hope LOTS of people will get on board and keep driving the Main Street to Main Street revolution.
If YOU want to get in on the action, come learn the Secrets of Successful Syndication on March 3-4 in Dallas, Texas.  Not only will you learn, but you'll meet lots of people who are out there doing it successfully already. Why not join them?
Remember, Plan and Do is better than Wait and See.
Until next time … good investing!
More From The Real Estate Guys™…
The Real Estate Guys™ radio show and podcast provides real estate investing news, education, training and resources to help real estate investors succeed.