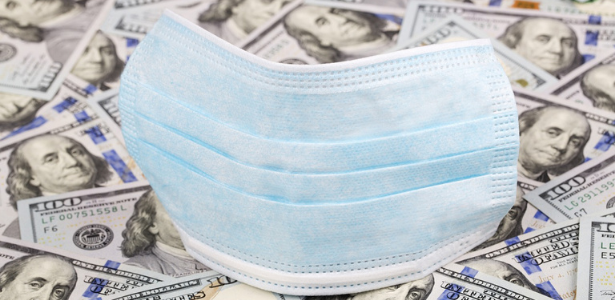 As political pundits debate debating, financial pundits are watching the 3D tennis match between President Trump, Speaker Pelosi and Chairman Powell.
As discussed last time, this trio has been volleying stimulus demands back and forth for quite a while … even though the last round of stimulus ran out.
Despite all this political pandemic pandering … so far, it's not been very stimulating, except for perhaps Wall Street.
Meanwhile, Main Street is lying facedown with a lockdown knee on its neck pleading, "I can't breathe."
Without relief of some kind … either the freedom to go back to work at full speed or another dose of emergency funding … eventually, the damage could become permanent to the extent it's not already.
After all, cash is like financial oxygen.
When you're prevented from operating your business, you can't take a breath of fresh cash. Wait too long, and it's game over. Many are already there.
You may or may not think the lockdowns are legal, warranted, or effective. Ditto for stimulus. But as we always say, it doesn't matter what we think.
What matters is what happens.
And because we can't control what happens, we watch and plan carefully for possibilities and probabilities.
As the picture gets clearer, we're prepared to promptly pivot properly. Peter Pepper would be proud.
It seems to us the most likely scenario is a tsunami of stimulus.
And mostly likely, fiscal stimulus (government spending) versus monetary stimulus (lending stimulation from the Fed).
After all, what can the Fed do? Lower rates? They're already at zero. So it's no surprise Powell is calling for more government spending.
Presumably, Powell's proposing to print dollars to loan to Uncle Sam … by purchasing Treasuries to provide for the spending. (Sorry, we had to P again)
(Yes, it's a nifty racket the Fed has. They print dollars out of thin air to buy IOUs from Uncle Sam which are repaid by taxing Main Street workers … but that's a creature to dissect on another day)
Which brings us to the primary point of today's pontification … the potential impact of Powell printing trillions of dollars. (Okay, we're done P'ing now)
Peter Schiff says printing more dollars is in and of itself inflationary.
Meanwhile, Jim Rickards says the Fed doesn't count printing dollars as inflation until it shows up in the official Consumer Price Index (CPI).
They don't disagree. At least Rickards doesn't think so. He's just saying the Fed is myopically focused on moving this one metric … CPI.
The challenge is that prices are derived from MANY components of cost … including materials, energy, interest, taxes, regulations, and the biggie … labor.
And as many of those other costs went up, it's no secret corporations invested a lot of time and money moving jobs offshore to reduce labor costs.
Like real estate investors, business people are constantly looking for ways to structure their activities to increase revenue and decrease expenses.
Sadly, labor is often the target.
Policymakers would be wise to focus on creating environments attractive to job creators. It's one of the things we look for when choosing markets to invest in.
And in case you're not already keenly aware, it takes a healthy labor market to create a great real estate investing market.
So while the Fed wants to push consumer price inflation because it's a metric of strong employment and wages … it's a result, not a cause.
Giving people money to spend to force prices up doesn't create jobs any more than heating a dead body up to 98.6 degrees Fahrenheit creates life.
It's not the metric that matters. It's HOW you get it.
As we've noted before, it seems to us President Trump's policies attempt to create an environment welcoming of jobs and capable of higher wages.
Unsurprisingly, he approaches the challenge the way a real estate developer would … by cutting other components of cost to make room for higher wages.
It's a tall order and comes at a price American voters may or may not be willing to pay. But after 3-1/2 years of watching, it seems like that's the plan.
We'll leave it up to the voters to decide if they think it's the right plan or not. We're just commenting on what we see.
Meanwhile, for the Fed to get the CPI to move up, consumers need both jobs and purchasing power.
Sure, the Fed can print dollars so Uncle Sam can pass out "free" money … and like a sugar-high, provide a temporary burst of consumer purchasing power.
But each time the Fed injects new money into circulation … directly or indirectly … it dilutes the dollar. 

The danger is the Fed succeeds in raising prices, but not wages.
The first American Revolution was based on the complaint taxation without representation is tyranny.
If policymakers aren't careful, a new battle cry may emerge … inflation without wage growth is poverty. It certainly will be hard on tenants.
But as long as it's easier and profitable to move jobs offshore or automate them away, it's hard to get wages to rise.
We don't envy the folks trying to solve this problem. But we do need to think through what they're doing and how it rolls downhill onto our investing.
The short of it is we think a diluted dollar is coming to a financial statement near you. The question is …
How does a diluting dollar affect your real estate … and how do you position your portfolio to prosper in spite of it?
Of course, that's a giant question … and you'd need a lot of smart people and a lot of time to talk it all out. But it sounds fun. (It is.)
For now, let's just pose some pertinent points to ponder … (oops, we leaked)
In the past, real estate has been an effective way to hedge inflation.
And with mortgage debt as an accelerator, real estate is arguably still the BEST inflation hedge available to Main Street investors.
BUT … real estate is influenced by incomes, lending, and mortgage rates. And it doesn't move fast.
A super bullish scenario (in a market with the right supply and demand dynamics) would be rising incomes, looser lending, and falling interest rates.
Let's check it out …
Mortgage interest rates are probably already about as low as they're going to get.
While we think it's good to get all the cheap mortgages you can, we wouldn't borrow to buy hoping lower rates in the future will increase cash flow or equity.
These might be the lowest rates you'll ever see.
So best to focus on markets, niches and price points where you think rents have a reasonable chance to rise … based on things YOU can control.
Meanwhile, it appears lending standards are tightening.
This is a clue that lenders are nervous about the economy (jobs) and values (collateral). They care about getting payments … and what they get if they don't.
When it comes to payments, lenders know it's either going to be from stimulus or jobs. If you're a lender, which would you prefer?
Stimulus isn't a long-term solution. In fact, with all the partisan bickering, it's not even turning out to be a short-term solution.
To no surprise, lenders are proceeding cautiously.
This is probably why the Fed is asking the government to spend freshly printed money into circulation. Lenders are skittish about loaning it into circulation.
Of course, if you've got good credit, documentable income, and equity, you're sitting in a GREAT position … if you move quickly.
After all, the looming economic crisis might take your equity anyway. You might as well get it while it's there and the loans are cheap.
Remember, CASH is king in a crisis. Equity is only there and useful in boom times. It hides when the going gets tough.
Hedging a Diluting Dollar
But as much as we love real estate, we know it's not a one-size-fits-all cure-all for every economic pandemic that comes down the pike.
That's why we like to see precious metals, energy, and agriculture in portfolios.
Although each moves (in dollar terms) independently from each other and from real estate … they also have some important things in common.
First and foremost, they're all real and essential.
You probably already understand energy is essential. Anyone who's run out of gas or lost power at home or work knows how essential energy is to daily life.
Ditto for food.
As for gold … up until 1971, for nearly all of civilized history, gold was money.
Sure, people like gold for jewelry and it's useful in electronics, but gold is primarily a monetary metal.
That's why central banks own gold and protect it with armies. Maybe they know something you should know. Got gold?
After all, if the Fed is going to print trillions of new dollars to feed Uncle Sam stimulus cash, it dilutes all the dollars already out there.
This dilution will show up in different places, but takes time to trickle into jobs, wages and real estate.
Does that mean you should sit out real estate and wait for the big crash?
That's too absolute for our tastes.
Some markets are already crashing, and others are booming. So it's smart to always be looking for deals … and then acting when it makes sense.
Another major thing to watch for is if and how fast the lockdowns end, and if the world is able to get back to work at full speed.
It's notable the World Health Organization (WHO) just flip-flopped … telling world leaders NOT to use lockdowns as their primary weapon against the virus.
However, there's already been a lot of lockdown damage done. And who knows if WHO knows what WHO will do next? 😉
And even IF everything opened up tomorrow …
… it's going to take a lot of money from savings, investment, tax cuts, lending or stimulus to jump-start this stalled economy.
If we had to bet on which funding source will be the lead horse, we think there's a lot more stimulus and dollar dilution coming … in spite of all the bickering.
That's because stimulus is the fastest and most politically expedient. We're not saying it's best … or even a good idea. We just think it's likely.
So while you're rearranging your balance sheet to hedge dollar dilution …
… stay engaged with how well policymakers use the tax code, regulations, trade policy and other tools to direct the flow of funds into actual job creation and real wage growth.
If they get it right, it could be a big boon for real estate … potentially resurrecting some sleepy markets. The bad news is it will take time … and that's good.
After all, we all need time to get in position. Hopefully, you're already making your moves.
Meanwhile, we'll keep watching, talking to smart people, and thinking about how to take effective action.
We encourage you to do the same.
Until next time … good investing!
There's lots of news affecting real estate investors…and most of it doesn't have anything to do with real estate.
In this episode, we read between the headlines to what's in the news that real estate investors should be paying attention to.
In the broadcast newsbooth for this informative edition of Clues in the News:
Your anchor and host, Robert Helms
His dead-weight co-host, Russell Gray
In case you were in a coma the first week in November, the Republicans took over the U.S. Congress by winning a majority in the Senate and strengthening their hold on the House of Representatives.
Maybe that makes you happy.  Maybe it doesn't.  But it doesn't really matter how you, or we, feel about the results.  It happened.
So the next questions are…what does it mean, what happens next, and how is it likely to affect real estate investors?
The Election Results are a Barometer of the Mood of the Market
We think it's pretty obvious the electorate isn't happy with the state of the Union.  After all, happy prosperous people don't vote to rock the boat if everything is smooth sailing.
So all's not well on Main Street in spite of a booming stock market, allegedly low unemployment and continued low interest rates.
Since your tenants are part of the electorate, we're guessing their pocket books aren't overflowing with joy…or money…right now.  So we continue to favor affordable markets and product types, and nothing in the election or other news changes our mind.
The Maestro Sings a New Song
As we discussed in a recent blogpost on Alan Greenspan's Shocking Confession, Alan Greenspan seems to agree that Fed policy hasn't done much to help the real economy.  No wonder the voters threw a fit.
Also, Greenspan said that the timing of rising interest rates might be outside the Fed's control.  If so, this affirms that it's a good idea to grab as much cheap money as you can reasonably control with conservative cash flows and lock in fixed rates for the long term.
Last, but FAR from least, according to the Wall Street Journal, Greenspan said, "gold is a good place to put money these days given its value as a currency outside of the policies conducted by governments."
Considering gold was tanking as he was talking, it seems like Alan Greenspan is concerned about "the policies conducted by governments".
So in spite of the dollar's recent surge and gold's recent decline, for long term investors, it seems that even Alan Greenspan is a fan of real asset investing.
Maybe one of the governments he was talking about is Japan…
Bank of Japan Stuns Financial Markets with Massive Stimulus
So the whole world watches the Fed announce tapering and then, to many pundits' surprise, actually do it…all the while touting the "robust" U.S. economy (funny…seems no one told the voters, who apparently missed the memo).
Then, as soon as the Fed's expected tapering is done, the Wall Street Journal reports Japan's "stunning" announcement of a MASSIVE stimulus package.
According to the Wall Street Journal article, "Japanese policy makers jolted global markets" by taking "Japanese economic policy into the uncharted territory of extreme stimulus".
How extreme?
Well, according to Bloomberg, who also published an article on the move, the Bank of Japan "plans to buy 8 trillion to 12 trillion yen ($108 billion) of Japanese government bonds per month."
For perspective, the QE that the Fed just finished started at $85 billion per month and tapered down.  That means the Japanese QE is 27% bigger than the U.S. program at it's PEAK.  That's massive, especially considering that the Japanese economy is only 1/3 the size of the U.S.
The Bloomberg article quoted the chief economist at Japan Macro Advisors as saying, "The BOJ is basically declaring that Japan will need to fix its long-term problems by 2018 or risk becoming a failed nation."
So we have a few observations…especially if you're sitting there thinking, "What the heck does Japan have to do with my rental house on Main Street, USA?"
First, we're in a GLOBAL economy.  Just think about how much foreign money is buying U.S. stocks, real estate and bonds.  Not to mention, how many Japanese companies employ U.S. workers?  And how many U.S. companies earn profits selling to Japanese businesses and consumers?
In a global economy, when a major component (Japan is #3 behind the U.S. and China) fails, EVERYONE is affected.
Right now, no one is saying Japan will fail.  And if it did, no one knows for sure what that looks like for everyone else.  But it bears watching, which is why we are.
Also, Japan has been a major purchaser of U.S. Treasuries.  In fact, according to the Unites States Treasury website, Japan is the second largest owner of U.S. debt behind China.  If we had to guess, we wouldn't be surprised to see some of all that stimulus end up in U.S. Treasuries.  After all, if the Fed and China are curtailing purchases, either bond prices will drop (interest rates will rise)…or someone (Japan?) will need to fill the void.
The point is that when ANY central bank prints gobs of money and buys bonds, it affects interest rates for everyone…including Main Street real estate investors.
But it isn't just bond prices and interest rates which are affected…
Back to the Wall Street Journal article, which says that the Bank of Japan will expand its asset buying program to include "not just more government bonds, but also stocks and real-estate funds."
In our travels, we talk to lots of Main Street real estate investors and agents.  We hear reports all the time that foreign buyers concerned about the safety of their money are parking it in U.S. real estate.
Obviously, when any central bank is printing money like crazy, smart investors in ANY nation move quickly to get into real assets. But here's where it gets a little complicated.
Right now, the dollar is "strong" because major currencies like the Yen and the Euro are being destroyed faster than the dollar.  So any commodity denominated in dollars gets cheaper (gold, silver, oil, etc).
Worse, there's strong sentiment, if not substantial proof, that nearly every asset market is largely manipulated by central banks, which makes investing in many asset classes a risky business.
So, in addition to the cultural appeal of real estate for Asian investors, even die-hard paper asset investors are looking at real estate as a solid place to store and build wealth.
In addition to foreign capital moving into U.S. real estate, lending is starting to loosen up both in government and private loan programs.  This means more purchasing power moving into real estate.
We think this is bullish for real estate prices in the near term, though it will be mitigated by the weakness of U.S. home buyers.
But before you get too excited about all the equity happening to you, remember to pay attention to rents.  Because right now, asset values are growing faster than incomes.  This means housing is becoming less affordable for both renters and home buyers.
The last time this happened, lots of us made tons of money on appreciation (get ready, because equity is happening again), but real estate quickly went from being a sound investment to simply being another hot money wave to ride.
We're not saying don't ride it.  Quite the contrary.
Just remember to structure your deals so that when the wave goes out again (and it will)…that you can hold on for the long term.  When the tide goes out, everyone can see who's been swimming naked.
Meanwhile, we'll be here watching the headlines for Clues in the News.
Listen Now:
The Real Estate Guys™ radio show and podcast provides real estate investing news, education, training and resources that help real estate investors succeed.
This is part 3 of a multi-part series on the "great debt ceiling debate" written as an accompaniment to our radio show broadcast and podcast, "Raising the Roof – How the Great Debt Ceiling Debate Impacts You".  You can download the episode on iTunes or find it on our Listen page.
In our last installment, we explored the bond market and how interest rates are established in the open market.  Bonds are debts and the interest rates are set by risk, reward, supply and demand.  Now we will explore how the Federal Reserve Bank affects interest rates.  You should already know how interest rates affect you. 😉
How the Fed Influences Interest Rates
The Federal Reserve
The Federal Reserve Bank (the Fed) is the bank of the Treasury.  The Treasury is the government.  The Federal Reserve is NOT the government.  If you want to learn more about the Fed, we highly recommend reading The Creature from Jekyll Island, which is conveniently located in The Real Estate Guys™ Recommended Reading area.
The Magic Checkbook
For now, you only need to know that the Fed can write checks on itself that will not bounce.  In other words, it doesn't need money.  It creates money simply by writing a check.  That may sound unbelievable, but for now, just take our word for it.  This isn't an expose on the Fed, so you can look it up in your spare time.
Now that we know how the Fed's magic checkbook works, let's imagine that Uncle Sam shows up to hold a Treasury bond auction.  But there isn't enough demand, so interest rates start to go up.  In prior installments, we discussed what happens to the value of all the existing debt out there when interest rates go up (it goes down), but to toss in some extra motivation for the Fed, the current Fed leadership believes that low interest rates stimulates borrowing, which stimulates spending, which stimulates production, which stimulates hiring.  This is a "Keynesian" view of economics.  That is, that borrowing and spending is the key to growth and job creation (how's that working out so far?).
Side note: For an opposing viewpoint, may we recommend you look into "Austrian" economic theory, which puts forth the idea that one must actually produce before one can consume or borrow, and that production and savings are the keys to economic growth.  In other words, in its most rudimentary terms, before you can eat, you need to grow or hunt food.  And if you have more food than you need, then you have something of value to trade with.  If you don't have anything to eat and nothing of value to trade with, you need to either beg, borrow or steal from someone who actually does produce.  And the only way to have trading partners is if they produce more than they consume, so there's something extra for you to trade for.  The bottom line is that production, not spending, is the key to prosperity. That's why printing money or stimulating consumption doesn't create jobs.  And as real estate investors, we want to invest where jobs are being created.  Because unless you're renting to people subsidized by the government, your best tenants will need jobs to pay you rent. Now, back to our main feature….

Now if you, like Big Ben Bernanke, believe that borrowing is the key to prosperity, where do you think interest rates need to be?  Hint: LOW interest rates attract borrowers.  Sorry, was that hint TOO obvious?
Let's get back to our Treasury auction.  Uncle Sam is there holding his bonds out for sale, but not enough buyers show up. So Uncle Sam has to start lowering his price (increasing the yield) and interest rates start going up.  Big Ben thinks this is bad.  So he gets out his Magic Checkbook and buys, say $600 billion of Uncle Sam's bonds (does the term QE2 some to mind?), to help create some extra demand.  Shazam! Interest rates stay low.
Well, if you're a government addicted to debt, deficits and spending, this makes you very happy.  Just like when the interest rate on your growing credit card balance stays low.  With low interest rates, you can borrow more for the same payments.  No need to cut spending. Let the good times roll!  The only thing better than low interest rates is an increase in your credit line (isn't there some discussion about that?)
To summarize, when the Fed buys Uncle Sam's Treasury bonds in the open market, the extra demand drives the bond prices up and their yields (interest rates) down.  Then, the ripple effect of interest rate pricing kicks in, as all riskier debt pivots off the interest rate of Uncle Sam's "safest debt in the world".  That is, if Treasuries pay x, then a riskier debt pays x plus a little bit more (usually denominated in "basis points", which are 1/100 of a percentage. So 25 basis points is 1/4 of 1% or .25).  The farther away you move up the risk scale, the more expensive the debt is for the borrower.  This is why everyone has their undies in a bunch over Uncle Sam's credit rating.  It he loses his coveted super-duper AAA rating, then interest rates go up….and Big Ben may need to step in with his Magic Checkbook.
But what happens when Big Ben uses his Magic Checkbook?  Are there any side effects we should be considering?  Hmmm….?  Inquiring minds want to know!
So join us next time, as we delve into How the Fed's Purchase of Treasuries Affects the Money Supply.  Hint: "Trickle Down" isn't just for supply-siders any more.

As we're guiding our real estate sailing ship through the choppy economic seas of the past few years, we've learned the wisdom of having a lookout watching the horizon for threats and opportunities.
We also like to compare notes with other sailors – especially those whose lookout platforms are higher up than ours.  They can see more and farther than we can.  That's very helpful when trying to catch a wave or avoid a storm.
So we dove at the chance to interview some high profile people – to find out what they can sea, sea, sea from their higher vantage point.
In beautiful Miami, sitting on the dock of our radio bay, watching the tide roll away:
Show host and captain of the good ship Equity, Robert Helms
The cut rate first mate, co-host Russell Gray
Chief Economist of the National Association of Realtors®, Dr. Lawrence Yun
Vice President and Associate Director of Research for the Federal Reserve Bank of Atlanta, Thomas Cunningham, Ph.D
President Elect of the National Association of Realtors®, Moe Veissi
Wow!  What an all star line-up!  After watching each of their presentations to the Congress, we decided to chase them down for a quick conversation that we could share with our listeners.  Though they're all busy men, each was gracious enough to sit down for some one on one with Robert.
Dr. Yun kicks off the show with some comments on the US housing market.  He's the first economist on earth to see and analyze the housing data gathered by the National Association of Realtors®.  He's also able to combine the statistical data with lots of relevant anecdotal data – since he interacts regularly Realtors® around the country.  He points out some of the reasons he believes the worst of the storm is past.
Next, we talk to Thomas Cunningham of the Federal Reserve Bank of Atlanta.  Unless you've been in a coma the last two years, you know that the Fed has been very active in trying to stimulate the economy with lower interest rates, expanded credit facilities to banks and that mysterious "quantitative easing".  What does it all mean?  Our mission is to find out!
While economics and monetary policy is interesting, it's pretty high in the clouds.  So we wrap the show up with a lively conversation with the energetic President-elect of the National Association of Realtors®, Moe Veissi.  Moe shares his thoughts as he transitions from local real estate practitioner to the helm of the world's largest trade association.
It's all good stuff, so listen in – and be sure to tell a friend!
The Real Estate Guys™ Radio Show podcast provides education, information and training to help investors make money with their real estate investments.
Listen Now: