Feeling undersized when going up against your lender in a loan mod negotiation? It's a big problem to wrestle with, but you're not alone!  Recent developments are tipping the scales back toward the borrower – and none to soon!  To get up to speed on the latest and greatest, we invited back to the show one of the most prolific commentators on the topic.
In the Sumo sand pit for this episode: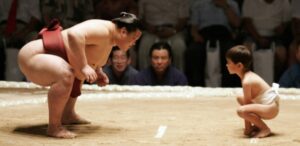 Your larger than life host, Robert Helms
Co-host and sand pit groomer, Russell Gray
The Godfather of Real Estate, Bob Helms
Special Guest, Mortgage Industry Pundit, Martin Andelman
Even though we see lots of opportunities in all the crushing problems facing today's real estate market, that isn't much consolation to people still grappling with mortgages that don't make sense.  No wonder our special report, What You MUST Know Before Attempting a Loan Workout (available in our Resource Center) has been our most requested publication for the last 18 months.  And when you consider that the number of modifications actually getting done are dwarfed by the huge number of mortgages currently in default, there's no way to take this problem lightly.  When it all shakes out, we know there's still a LOT of work to do before the balance sheets of banks and borrowers are stabilized.  It's a sizable task.
Enter Martin Andelman. Martin reminds us of Don Quixote from Man of La Mancha.  We almost went there with this blog, but the Sumo thing was way too much fun.  Still, Don Quixote was a crusader pursuing an impossible dream (the theme song from the movie), so it seemed to match.  It was hard to combine "impossible dream" with Sumo, unless there was a Speedo involved, and we didn't think that was a good fit, if you know what we mean.
Anyway, Martin's been an observer, commentator and outspoken critic of the banks and lenders who claim to care about the borrowers, but can't seem to do anything substantial to help.  Do you remember the Bible verse in James, where it basically says "talk is cheap" (our paraphrase)?   That is, what good does it do to say you care, if you don't really do anything real to help?
Please don't misunderstand.  We're not advocates for, or supporters of, bailouts for borrowers or for banks.  Philosophically, we think things would get better a whole lot faster if the government would get out of the way and let the banks and borrowers negotiate.  After all, these are contracts between private parties.  But the government has had its nose in the mortgage business for decades, so it's a threesome, like it or not.  (We're sorry.  Is our opinion showing?  We'll tuck it away.)
So we start this show with an update from Martin on the state of the government's HAMP program.  Can you feel it yet?  Is it working?  Is it getting better?  Martin gives us the scoop.  His answer surprised us.
And while the Executive Branch is trying get its HAMP fired up, what about the Legislature and the Judiciary?  Martin briefs us on a couple of interesting court cases which affect loan modifications.  Of course, we can't help but talk about California's SB94, which now "protects" consumers from all the "greedy" loan mod attorneys who selfishly want to be paid for the work they do.   Why wouldn't the attorney just do the work first and then send a bill?  It's so unreasonable to think that a client who isn't making their mortgage payment would be a bad credit risk.  We're sure all the underwater borrowers are sleeping much better now that now that most of the loan mod companies have shut their doors.  Yeah, that helped.  Unless….do you think maybe it wasn't the borrower the law was intended to help?  Hmmmm….?  Sorry.  That pesky opinion keeps popping out.   These Sumo shorts don't give you much room to hide.
But lest you think this episode is just a rant about what isn't working, the real highlight of the show comes when Martin tells us about a new "secret weapon" that's now available to borrowers.  And he says it IS working!  He says borrowers armed with this powerful new tool find themselves no longer getting squashed in their negotiations with the lender.  That's right!  The little guy is starting to win.  We like it.
Off mic, we impose upon Martin to write a special report on this topic, which he generously commits to do.  He calls it The Underwater Borrower's Secret Weapon: How to Make Modifying Your Loan Your Lender's Idea. Wow.  That's a mouthful.  But if you know Martin, it's not surprising.  You can bet he'll have a lot to say – and it will be fun to read!
The bottom line (that's a Sumo pun in case you missed it) is we got so jazzed about the whole thing, we're working on adding the company which supplies this "secret weapon" to our resource network.  Meanwhile, if you or someone you know has been wrestling with a lender that seems immovable, be sure to request Martin's report.  Maybe his secret weapon will work for you and your friends.  We want to help get the secret out, so everyone has access.  Not just because we like to root for the underdog. But because the sooner all these bad loans get re-done, the faster the world can get back to focusing on more productive things.  And that's good for everyone.
Listen Now:
The Real Estate Guys™ radio show and podcast provides real estate investing news, education, training and resources that help real estate investors succeed.
With so many properties with mortgages that exceed the current value, many owners are feeling trapped.  When loan modification fails and you can't afford to pay the mortgage, before you toss in the towel and allow the lender to foreclose, consider a short sale.  No, this isn't a garage sale of your used underwear to raise money for the mortgage.  It's the process of working with the lender to get them to release you from the loan when you bring in a new buyer who pays less than you owe.
In studio to brief you on short selling:
Your host, Robert Helms
Co-Host and Financial Strategist, Russell Gray
The "Godfather of Real Estate", Bob Helms
The Guys kick off the show with a discussion of what a short sale is and why a property owner would bother.  Why not just throw the keys at the lender and walk?  And what about the lender?  Why would the lender accept a loan payoff for less than the full amount due?  This show builds upon a March 22, 2009 show (available to Backstage Pass Members in the Archives) which covered the opportunities for investors in buying short sales.
Moving on from the motivations of the various parties, the Guys delve into the actual process of a short sale.  Is this something you can or should do yourself, or does it make sense to get professionals involved?  If so, which professionals are needed and what questions should you be asking?  While short sales are nothing new, Bob pointed out that it's been decades since they were a significant portion of the market.  Who do you need on your team and how important is experience when seeking professional help?
The Guys also touched on the concept of "deficiency" and the possible tax consequences of a short sale for both homeowners and investors.  The show concluded with a discussion of what to watch out for in today's economic climate.  Whether you are someone in need of getting out of a property that's underwater, or if you're an investor looking to pick up a bargain by providing a borrower and his lender an alternative to foreclosure, this show will give you some food for thought!
Listen to this Broadcast Now
Want More?  Sign Up for The Real Estate Guys Free Newsletter!
If you're left brained (logical), we probably already lost you at the headline.  But this isn't a blog on positive thinking (not that we have anything against that).  We're talking about negative equity and how it gets measured.  More importantly, where are the opportunities?
Just before Thanksgiving, the Wall Street Journal ran a headline that "One in Four Homeowners are Underwater."  This isn't because California slid into the ocean, but is one of the lingering effects of the mortgage meltdown that began over three years ago.
The article says that 10.7 million households had negative equity (about 23% of all households) according to research firm First American Core Logic.  Nearly half of those, or 5.3 million households, owe at least 20% more than the current value.  And nearly 10% of those (520,000) had already received Notices of Default.  An even more telling statistic came up later in the article, when the Mortgage Bankers Association was cited as stating that 7.5 million households are 30 days or more late on their mortgage payments.
What we think is interesting is that 24 million households, which would be about 50% of all households, have NO mortgage.  Therefore, they have equity!  But just because they aren't in imminent danger of losing their property doesn't mean they didn't suffer loss.  If your property went from a fair market value of $500,000 down to $250,000, then you lost $250,000 of net worth.   Last time we looked, that's bad.  Especially if you were counting on using that equity, through a reverse mortgage or moving to a less expensive area, to help fund a chunk of your retirement.
Of greater interest is one line buried in the middle of the article which said that First American Core Logic had changed its methodology for calculating these numbers and "using the old methodology, the portion of underwater borrowers would have increased to 33.8%".  Wow!  That's 1 in 3.   Think about that.  Go outside and look up and down your street and count every third house.  Underwater!
Of course, it doesn't really work that way.  There are certain areas that are more underwater than others.  We've been talking a lot about Dallas lately.  This is a market that didn't lose value anywhere near as much as say, Phoenix or Las Vegas.  In fact, according to the Wall Street Journal, citing First American, homeowners in Nevada, Arizona, Florida and California are more likely to be underwater.  Funny, but weren't those once the hottest appreciating markets?
So what does all this mean?
Well, our headline had double meaning.  Obviously, changing the methodology for generating the statistics resulted in a report of 23% of households underwater, instead of the nearly 34% under the old methodology.  If you're watching trends, this might mislead you.   Lesson: Always be sure to dig a little deeper when relying upon statistics.
The bigger lesson is that one person's problem is another person's opportunity – and not necessarily in an opportunistic way.   In other words, someone doesn't have to lose (worse than they would anyway) for you to win.
If you're a regular listener of the show, maybe you're already picking up on where this is going.  Obviously, we see a lot of opportunity in a landscape covered with problems.  Problems are every entrepreneurs dream!
With 7.5 million people behind on their mortgages and millions of those with negative equity, they can't refinance or execute a traditional sale to get relief.   Millions have negative equity of over 20%, so they don't qualify for the government sponsored loan modifications.  And according to this same Wall Street Journal article we've been discussing, Sanjiv Das, head of TARP recipient Citigroup's mortgage unit, mortgage companies are reluctant to reduce mortgage principal over worries about "moral contagion, with people not paying their mortgage or re-defaulting because they believe the bank would reduce their principal."
So banks won't modify.   Homeowners can't refinance or sell for enough to pay off the loan.  Problem, problem, problem!
But what would it look like if an astute investor were able to buy the home on a short sale, taking advantage of today's fabulously low interest rates, and then rented the house to the former homeowner for a payment that the now tenant could afford?
You could even go one step further and provide a lease option to the former homeowner, with a price point designed to make you (the investor) a nice profit, even through the re-purchase price would look like a bargain to the former homeowner.  It's still less than their original mortgage (which was paid short when you bought the property).  Do you think the former homeowner turned tenant would be willing to pay a little bit more than market rent to stay in their home knowing they have an option to get it back?  Do you think they would take better care of the property than the average tenant?  Do you think they are more likely to stay long term, thus reducing your exposure to vacancy and turnover expense?
Put yourself in the position of every party in such a transaction.  Are there positives for everyone?  Eveyone's situation is improved.  Win-win-win.  We  like it!
This blog is already too long, so we'll leave you a homework assignment.  Especially, it you're sitting there thinking to yourself, "Great, but I can't afford to do anything."  Go listen to our show on reverse mortgages.  Then look for the stats in this blog.  Then go outside and count the houses.  Do the math.
We get giddy when we think of all the opportunity in today's market.  But of course, it's all a matter of perspective.
Want More?  Sign Up for The Real Estate Guys Free Newsletter!
Did you know that Backstage Pass Members get audio blogs? Save your tired eyes and make your ears do the work!  Become a Backstage Pass Member today!