It's easy to figure out where tax incentives lie in wait. Just study the tax code.
The latest version of the tax code introduces a new tax shelter … opportunity zones. But … what are opportunity zones?
In this episode of The Real Estate Guys™ show, we dive into what we know about opportunity zones … including three MAJOR benefits.
You'll hear from:
Your opportunistic host, 

Robert Helms

His inopportune co-host, 

Russell Gray
---
Listen
---
Subscribe
Broadcasting since 1997 with over 300 episodes on iTunes!
---
Review
When you give us a positive review on iTunes you help us continue to bring you high caliber guests and attract new listeners. It's easy and takes just a minute! (Don't know how? Follow these instructions).
Thanks!
---
Opportunity zones: The basics
There's a way to pay no tax on certain investments AND heal struggling communities. We're talking about opportunity zones.
These new geographic tax shelters are encoded in the version of the tax code passed in 2017 … but they're not totally finalized yet.
That doesn't mean they're not important … savvy investors will be absorbing all the info they can BEFORE opportunity zones go into action.
The idea of opportunity zones is to offer a tax-favored investment vehicle for people who already have capital gains in other investments.
Opportunity zones will be located in low-income communities ripe for revitalization … and will be located in every state in the U.S.
The fundamental purpose of opportunity zones is to encourage long-term investments in struggling communities.
Congress has established an incentive framework that is flexible and unique. This is essentially a new class of investment.
These opportunity zones complement existing community development plans. In essence, the project is treating the U.S. like a giant rehab project.
You'll basically be moving yourself into a pre-identified path of progress. There hasn't been a ton of incentive for investors to come into these run-down, lower income areas. But NOW there is.
The benefits of opportunity zones
Like we said earlier, the idea of opportunity zones is set, but the legislation is not in action yet. The appropriate documentation and legislation will be in place by the end of 2018.
So NOW is your time to prepare for the future.
There are definite differences between this opportunity and other investments. Generally, you're required to pay tax when you liquidate capital gains.
But investing in opportunity zones provides three unique tax benefits. Before we get into those, we do want to clarify … this investment is only available for investors who already have capital gains from previous investors.
But not to worry … if you're a newer investor who doesn't have any capital gains yet, there are ways to get in on the action. We'll get into those in the next section.
Now, the three tax benefits …
You can

defer your original capital gains tax

for up to 10 years. As you probably know, it's always better to defer taxes than to pay now.

You also get a

10 to 15 percent discount

on your original capital gains tax.

AND …when appreciated capital gains are put into an opportunity zone investment, the gains you make from

that

investment are

completely tax free.
There is a timeline. You have to sell the appreciated assets and invest the capital gains into one or more opportunity zone investments within 180 days.
But we want to emphasize … your capital gains from properties in opportunity zone areas will be completely TAX FREE.
No capital gains? How to invest in opportunity zones
The government has a goal here … they want to bring a ton of investment capital to certain areas and swing them around.
In that vein, there is a certain requirement you have to follow to invest in opportunity zones … there is NO tax incentive if you own property in an opportunity zone under your own name.
You have to invest in opportunity zones through opportunity funds.
If you don't have appreciated assets, you may be wondering how you can start an opportunity fund and get in on this great opportunity.
There are a few options …
Invest in an area near an opportunity zone. You'll be boosted up by the wave of capital increasing asset values all around you.

Invest as a syndicator. Set up an opportunity fund … and get other investors to contribute their capital gains.
This last point is something to seriously consider … especially when you start thinking about the stock market.
The stock market is hot, but it's showing signs of faltering. People want to take their capital gains out … but they don't want to pay taxes.
A fantastic solution? Opportunity funds.
All about opportunity funds
What does it take to put together an opportunity fund?
Opportunity funds do not have investment limitations.
They must be organized as a corporation or a partnership.
They do not require official IRS approval … the fund manager can self-certify the fund simply by submitting a form to the IRS.
The process is designed for speed. It cuts out bureaucracy … and brings locally driven change to areas that need it.
But it also requires investors to make REAL change … for example, one requirement we expect to see is that investors put as much into rehab and construction as they spent to acquire the property.
Opportunity zones mean sending money to the bottom of the market … and making the subsequent changes LAST for the long term.
For a map of tagged and categorized opportunity zones, plus more information, simply send us an email at opportunityzones [at] realestateguysradio [dot] com.
And don't think this is the last you'll hear about opportunity zones … we expect this to be a BIG wave in the real estate investing sea, and we'll be providing more information to our listeners as this new opportunity develops.
---
More From The Real Estate Guys™…
The Real Estate Guys™ radio show and podcast provides real estate investing news, education, training, and resources to help real estate investors succeed.
---
Love the show?  Tell the world!  When you promote the show, you help us attract more great guests for 

your

 listening pleasure!
We love talking about real estate. But, real estate is only a part of the sea of our economic landscape. Rising interest rates have a HUGE impact on real estate and the economy in general.
That's why we are talking to one of our favorite former Wall Street and Washington insiders.
He tells us his take on the future of interest rates and the economy … and shares how YOU can capitalize on changing interest rates to make smart real estate decisions.
In this episode of The Real Estate Guys™ show you'll hear from:
Your swimming host, 

Robert Helms

His sinking co-host, 

Russell Gray
David Stockman

, former U.S. Congressman and best-selling author
---
Listen
---
Subscribe
Broadcasting since 1997 with over 300 episodes on iTunes!
---
Review
When you give us a positive review on iTunes you help us continue to bring you high caliber guests and attract new listeners. It's easy and takes just a minute! (Don't know how? Follow these instructions).
Thanks!
---
The U.S. economy is a fantasyland
David Stockman is an expert not only in economic policy, but also in articulating and explaining complex topics in a way anyone can understand.
David's political path began in college when he worked for a congressman and learned what it took to be a policymaker. He won an election to congress after the incumbent in his district retired.
Later, he was drafted to be a part of Ronald Reagan's economic team. President Reagan appointed David as budget director, where he helped launch economic policies.
When it comes to economic policy, there are generally two schools of thought … Keynesian and Austrian.
"Keynesianism says basically that you can't rely on capitalism to grow; you need the helping hand of the government," David says. "We say get out of the way! The less government the better."
And of course, limit borrowing and spending.
The other major factor in economics is interest rates … which directly affect home buyers and investors.
"Rising interest rates have historically told Congress to get its fiscal house in order," David says. "It elicits a reaction in the country that says, 'You're crowding out investment that we need in the private sector.'"
But money printing and distortion of the capital market can cause major crashes like the one we endured in 2008. The subprime disaster SHOULD have been a wake-up call to the country.
In the 94 days after the crash, the Fed increased the balance sheet by 150 percent more than in the previous 94 years.
David says that put us on the path of crazy money printing and low interest rates … and has fueled more speculation.
Now, the Fed is trying to stabilize interest rates and has put the economy in a precarious position.
And there's an important concept for today's investors to keep in mind as they evaluate the economy … the recency bias.
"If you're looking just at what happened yesterday or last year, you might lose track of the fact that we're in fantasyland, and fantasyland is a dangerous place to be," David says.
Essentially, the Fed realizes that they went way too far for way too long, and that they won't be ready for the next big crisis. And the deficit continues to grow out of control.
Which means the next crash could be even bigger.
David says that for investors who are borrowing large sums of money to finance their investments, there's no more dangerous time than right now.
He calls for prudent underwriting today, and keeping an eye toward the future.
Higher interest rates and lower property values are the types of problems that can erase yields.
"Debt can produce wonderful returns," David says. "But, if you get caught blindsided, it can be a very dangerous thing to wrestle with."
Shore up investments before the crash
While many pundits are talking about how robust the economy is, it's important to listen to the people who are sounding the alarm. So, what can happen?
"If we have another crisis, innocent people will be hurt," David says. People who lost in the dotcom bust and the housing crisis will have similar and possibly even bigger losses.
This time, the fed will not be in the position to bail out the system. And David says that perhaps in the next crash, the Federal Reserve will emerge as the real culprits of economic instability.
One of the big lessons is to stay educated and understand the fundamentals. You can turn a crisis into an opportunity.
What should a prudent investor be doing now to prepare for the next downturn?
"I think that the idea of cash-flow oriented investment is a sound one," David says, "but the underwriting going forward will have to be more discriminating and careful than ever before."
This is especially true for commercial investing. It's important to ensure that tenants can continue to pay their leases.
Above all, David says that being a careful and prudent investor is a more secure place to be.
For investors who didn't live through 2008 … or even if you did … you can learn from David's expertise.
Want to learn more from David and keep up with his advice and takes on the economy? Send an email to Stockman [at] realestateguysradio [dot] com.
---
More From The Real Estate Guys™…
The Real Estate Guys™ radio show and podcast provides real estate investing news, education, training, and resources to help real estate investors succeed.
---
Love the show?  Tell the world!  When you promote the show, you help us attract more great guests for 

your

 listening pleasure!
It's one of our favorite segments … answering YOUR real-world questions about real estate investing.
In this batch of mail, we run through where to start with syndication and investing to how to think about self-directed retirement funds and everything in between.
As a reminder, our show is about offering ideas and information, but we are not legal or tax professionals and do not give advice. Always see a pro for advice on your specific situation.
In this episode of The Real Estate Guys™ show you'll hear from:
Your problem-solving host, 

Robert Helms

His unraveling co-host, 

Russell Gray
---
Listen
---
Subscribe
Broadcasting since 1997 with over 300 episodes on iTunes!
---
Review
When you give us a positive review on iTunes you help us continue to bring you high caliber guests and attract new listeners. It's easy and takes just a minute! (Don't know how? Follow these instructions).
Thanks!
---
Question: I'm a real estate agent and would like to start investing for myself. How do I get started?
Kristen in Seattle, Washington, brought us this wonderful question. First of all, hats off to you for wanting to be your own best client!
Starting with the right education is so important and so is developing your network. You might consider joining an investment club, but you could also think even bigger and start your own!
Starting a syndication or investment club can be very successful if you surround yourself with the right people and experts. Here's a few people you'll probably want to include:
✓  A CPA to help with understanding tax benefits
✓  A mortgage broker to extract excess equity
✓  Other real estate agents … especially those with investment knowledge
You can convert your pursuit of education into a profitable business. Start by going to events with meetups and investment clubs. Remember, it's not just the presenters who have a great story. It's also the people in the seats. Make lasting connections with other attendees, and bring them into your network.
Question: Which materials … books and blogs should I read for getting educated in investing?
Our best advice to Luca in Croatia, who submitted this question, is to not just read a book … STUDY a book. Prepare your mindset to start thinking like an entrepreneur.
What does this mean? Find a group of people who are interested in investing, and get together and discuss a book.
You'll learn by listening to what others have to say AND teaching different concepts. Repeat the process of learn, study, teach, and use these discussion groups to build your network.
Recruit people who are further along in the investment process than you to learn from them. You want to discover not only the technical aspects of what they do, but also how they think. Explore their mindset and examine how it makes them successful.
Question: I want to self-direct my retirement funds after I leave my job. How can I use this money to invest in real estate?
This question comes from Jason in Stokesdale, North Carolina. Some aspects of this type of investing can get a little tricky, so remember to always seek advice from a tax and legal professional.
For money that's in a 401k from an employer, you might have access to what's called an in-service withdrawal. You might also consider taking out a loan on your 401k.
As with any investment, make sure that the numbers add up, especially since there are important tax considerations to make when you're investing borrowed money. This is also where a CPA will come in handy.
The vast majority of custodians do not allow for traditional investing and don't charge a lot in fees and maintenance charges because they make a piece of what you're investing in. Non-traditional custodians may charge more fees upfront because they do not make a piece of anything you invest in, but they can offer more flexibility in what you invest in.
If you want to know more on this topic, we have a couple reports that might be helpful on Qualified Retirement Plans (QRP) and Individual Retirement Accounts (IRA). You can get both of those by emailing QRP (at) realestateguysradio (dot) com AND IRA (at) realestateguysradio (dot) com.
Question: For those who don't like all the work of real estate investing, how do you find a trusted syndicator?
Roy in Bridgewater, New Jersey, and Patrick in San Diego, California had similar questions about passive investing through a syndicator. They both want to break into the bigger real estate deals, but are worried about putting their money into the wrong hands. Syndication is a powerful tool that we're big fans of here on the podcast, but vetting your syndicator is key!
First, look up all the info you can on your sponsor and know who you're dealing with. Ask them upfront if there's anything important you should know about them or their business, and then, go searching.
Referrals are a good way to get to know your sponsor. Careful Google searching (watch out for false information on the internet!) and looking up professional licenses and potential trouble with regulators are also essential before doing a deal.
Also, make sure their attorneys and legal documentation all checks out.
As we've said many times before … develop a relationship with the sponsor. Take the time to get to know them and the types of deals they do to make sure it's a good match.
We'd love to talk to you more about syndication at our Secrets of Successful Syndication event on September 13-14. Register now!
Question: I have a commercial property near the end of its lease. Should I sell it or keep the passive income?
Colleen in Savannah, Georgia, has had a triple-net (commercial) property for 13 years, but the lease will be up in 4 years. She enjoys the passive income from the property, but wants to know if it might be time to let it go.
We discussed the advantages of commercial property in detail with Tom Wilson in our Profitable Niches series, and the longer leases and steady income are definitely big pluses!
Lease negotiation can happen before a lease is up, so that's an option to make the deal sweeter for a potential buyer. But, here are a couple questions we would ask to determine if selling is the right choice:
✓  Knowing what you know now, would you buy it?
✓  If you did sell it, what would you do with the money?
Ultimately, the decision to sell or keep the property is up to you, but evaluating the lease with fresh eyes is a good way to keep your investments in line with your goals!
Question: How can I make some of my assets more liquid to prepare for an economic downturn?
Marty in Richmond, Virginia, has some real estate investment experience, but he's concerned about a possible negative turn in the economy and how to protect some of his assets he's received after selling a property.
We discussed the state of the economy and how to protect and grow wealth at great length in our video series: The Future of Money & Wealth. Take a look at that seminar for valuable insights from incredible experts.
To answer the question, if you think the market is going to downturn, you'll want to play your investments differently. There are pros and cons for stock market investment and even bank investment, and they all carry different risks.
If you want something that is liquid and fairly stable in relation to the dollar, you could consider a couple options like currencies, precious metals like gold, or putting your money in the bank or a safe.
Some other creative strategies are looking into a private mortgage or note or even paying cash outright for a property. As long as you're able to cover property taxes, having a property in a stable market is a good way to keep cash flowing in a down market. Even in a poor economy, people need a place to live.
Question: How many times a year is your syndication class given?
This was an easy one from Floyd in Las Vegas, Nevada. We do our Secrets of Successful Syndication podcast twice a year. The next one is coming up in September, and we'd love to see you there!
---
More From The Real Estate Guys™…
The Real Estate Guys™ radio show and podcast provides real estate investing news, education, training and resources to help real estate investors succeed.
We're taking a break from our relentless preparation for the upcoming Future of Money and Wealth conference to focus on one our favorite subjects …
Equity.
According to a recent report by CoreLogic, last year's increase in America's home equity wealth was the largest in four years.
In 2017, the national CoreLogic Home Price Index rose by more than six percent, the largest annual increase since 2013.
We call this "passive equity" because the market just handed it to homeowners simply for buying and holding their property over that time.
Good job.
Of course, national averages are interesting, but not useful for practical investing.  Real estate is local right down to the neighborhood and property … and no two are exactly the same.
Think of it this way …
If you have one foot in a bucket of snow at 20 degrees and another in a bucket of 170 degree steaming hot water, on average you're enjoying a nice soak in a warm bath …
… but in the real world, you're scalding one foot while you get frostbite on the other.  National averages have limited utility.
Fortunately, CoreLogic provides a nifty color-coded map which compares equity growth at the state level: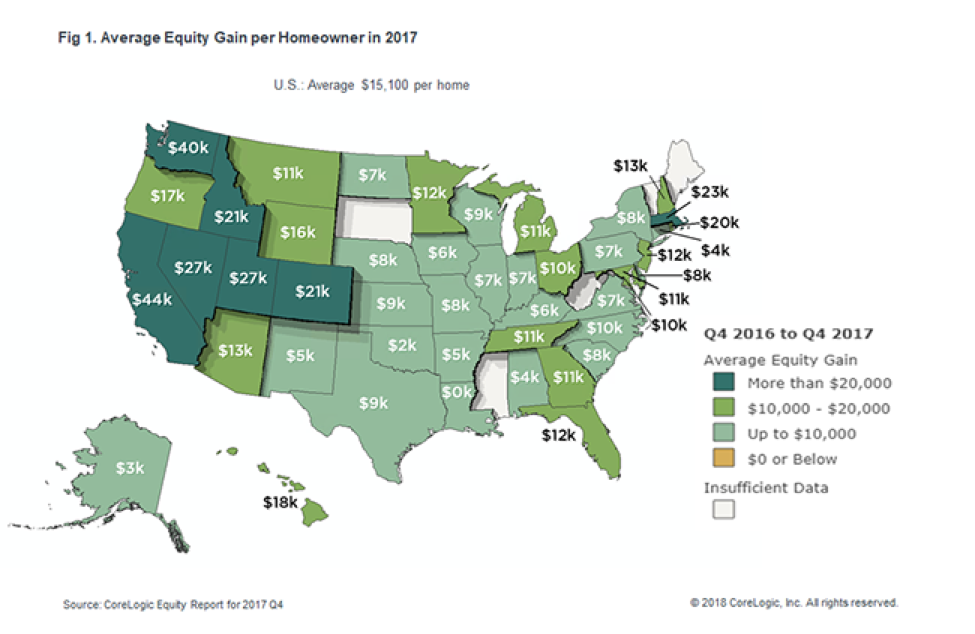 Unsurprisingly, coastal states with strong technology business … California and Washington … lead the pack for equity growth.
But we're guessing closer analysis would show equity rich markets are expensive relative to rents, so income investors can't just go to dark green and buy.
So how's an investor to use this kind of data?
Here are some ideas for your consideration …
First, you can do a deeper dive into the states with strong equity growth, and look for common factors.  Right away, we saw coastal and tech.
But that's just a start.
Look at supply and demand, nominal and real incomes, job growth, population growth, and migration patterns.
Then talk to street level people who live and work in those markets.  Find out what they're seeing right now.
Once you have your mind around what makes equity happen in one market, you can look for similar conditions in other "emerging" markets.
Then (hopefully) you can make your move and get in early … while the rent ratios still make sense … and ride a wave up.
Of course, if you're a typical busy person with a small portfolio, that's a lot of work relative to the size of the investment … especially if you plan to travel to check out markets, build teams, and inspect properties.
Plus, you might not even like doing all that, even if you had the time and a big enough portfolio to justify it.
That's why we're HUGE fans of syndication.
Syndication is where a syndicator aggregates funds from a group of investors through a private placement, and then does all the busy work of running the deal … for a fee and a piece of the action.
As long as there's enough profit in the deals to split equitably, it's a win-win.
The "passive" investors win because they gain access to opportunities they wouldn't otherwise have.  They effectively leverage the effort, expertise, and relationships of the syndicator.
The syndicator wins because the passive investors' capital facilitates economies of scale and access to bigger deals the syndicator might not have on his own.
And for both parties, two major sources of investable capital are paper assets in brokerage and retirement accounts, and equity in existing properties that can be re-positioned.
For example, real estate equity in an "appreciated" state might be accessed through a cash-out mortgage for about 5 percent interest at today's rates.
The loan proceeds can be used to acquire property in an "emerging growth" state that cash-flows at maybe 10 percent cash-on-cash.
The property-owner gets a positive spread on the equity, picks up some valuable tax-breaks, and has additional "top-line" real estate income streams which can grow over time.  Same equity, but more future opportunity.
As for stock market equity …
If history is any indicator, the recent turmoil in the paper asset markets is likely to create even more interest in real estate.
That's because speculating on asset prices, whether it's stocks or crypto-currencies, is a lot of fun when they're spiking.
But when the tide turns on speculation … and it always does … real estate's reputation as a reliable wealth builder is once again revealed and appreciated.
In fact, the CoreLogic article affirms the stability of real estate:
"… since 1970 home-equity wealth has been one-third less variable than corporate equity values …" 
And another recently released report from The National Bureau of Economic Research, The Rate of Return of Everything, 1870-2015, says …
"… returns in housing markets tend to be smoother than those in stock markets …"
"… housing has been as a good a long-run investment as equities, and possibly better."
"… equities do not outperform housing in simple risk-adjusted terms."
 "Housing provides a higher return per unit of risk …" 
"… housing returns … are more stable … housing portfolios have had comparable real returns to … equity portfolios, but with only half the volatility."
The report concludes (remember, to them, "equity" means stocks) …
"… the most surprising result of our study is that long term returns on housing and equity look remarkably similar.  Yet while returns are comparable, residential real estate is less volatile …" 
"Returns are comparable", BUT… they didn't include leverage …
"… the estimates … constitute only un-levered housing returns …"
When you add in 4:1 leverage (25 percent down), you take a 6 percent real estate equity growth rate to 24 percent!
Of course, we're probably preaching to the choir.  But think about this …
Maybe YOU already know real estate is a powerful, predictable, and demonstrably more stable wealth-building vehicle than stocks over the long haul.
But paper asset investors have been riding an easy money wave up to record-levels … and now stock markets are starting to get REALLY jittery.
What once was a fun ride is now becoming scary.  And  if you're a syndicator, this is MUSIC to your ears.
That's because paper asset investors are probably looking at their brokerage accounts and retirement plans, and are growing much more open to getting involved in real estate when it's presented properly.
And if you're a Main Street real estate investor limited by only your own funds, maybe it's time to consider leveraging your skills to get in on the syndication action.
We think syndication is arguably the best opportunity in real estate today.
We realize there are some people who think real estate might slow down because of rising interest rates. But history disagrees.
Rising rates just makes it hard for home buyers.  And when it's harder to buy, more people rent for longer, which is good for landlords.
Look what happened when the mortgage markets imploded in 2008 …
… no one could get a mortgage, millions had to rent, and even though there was a financial crisis … rents went up and up and up.
So all this stock market volatility is actually a gift to real estate investors.
Until next time … good investing!
---
More From The Real Estate Guys™…
The Real Estate Guys™ radio show and podcast provides real estate investing news, education, training, and resources to help real estate investors succeed.