Old dudes like us have fond memories of beer-belly laughing out loud at the hysterical antics of Peter Sellers' Inspector Clouseau in the original Pink Panther movies.
If you've never seen them, check them out.  Two of the best are Return of the Pink Panther (1975) and Revenge of the Pink Panther (1978).
Clouseau is a bumbling idiot.  But through sheer dumb luck he always ends up succeeding … in unexpected ways as a result of unintended consequences.
The Senate's recent hearings on housing reform remind us of Clouseau.
The purported goal of the Senate shindig is to gather a group of big-brained housing industry leaders and experts to find a solution to the affordable housing "crisis". 
But … as this Forbes article opines, some perspectives aren't part of the conversation … perhaps for a reason.
Of course, you may have a differing opinion and that's fine.  We have our own opinion too.  But that's not the purpose of today's muse.
We simply watch what's happening today and consider how best to capture opportunity or avoid loss based on where things are likely headed tomorrow.
In this case, it seems Uncle Sam is looking for ways to make housing affordable.  That's a noble objective.  Go team.
There are really just three basic approaches.
One is to increase supply relative to demand.  When supply exceeds demand, prices to drop.  That's how abundance and productivity create prosperity.  
After all, lower prices make things more affordable to more people, right?
That sounds reasonable.  But it also sounds a lot like deflation.
And when bankers are in the room … the kind who make home loans secured by the dollar value of the property … they FREAK at the idea of falling prices.
So you're probably not getting sincere ideas from bankers about how to lower prices.
Then there are the builders … 
While builders LOVE the idea of building more houses, they also want to earn a profit.   Profitable building is easier when prices are higher, NOT lower.  So you can guess which direction the builders are leaning.
What about the wizards of Wall Street? 
These guys make money shuffling paper.   So they just want LOTS of paper (i.e., mortgage-backed securities) created, so they have more chips to play with in their casinos. 
And Wall Street knows falling prices frighten the lenders who make the paper possible.  So it's a safe bet Wall Street votes with the bankers for higher prices.   
Even at the Main Street level, there's not much motivation to push prices down in pursuit of truly affordable housing. 
Real estate agents (the largest trade association in North America) aren't raving fans of low prices as the preferred path to affordability … despite their rhetoric.
After all, real estate agents promote buying a home as a great "investment".  No one wants to make an "investment" that goes down.  So higher is better.
Last but not least, there's Dick and Jane Homeowner (often registered voters) … whom are keenly aware of their castle's current market value, even though they have no intent on selling.
Of course, it's fine for the prices of cell phones and big screen TVs to fall, but not home sweet home.  God forbid.
Plus, its fun for Dick and Jane to use their home equity to reset credit lines with debt consolidation loans, or to augment the falling purchasing power of their incomes.
And everyone knows home equity ATMs only work when housing prices steadily RISE. 
So yes, home BUYERS want the house affordable when THEY buy it. But after that … home OWNERS want up, up, up.  Sorry, next generation.  Figure it out.
When we asked then-candidate Donald Trump for his plan for housing , he simply said … "Jobs".  Presumably, good jobs with higher pay. 
Higher pay leads to the ability to make higher payments which leads to bigger mortgages (happy bankers, happy Wall Street) which leads to HIGHER prices.
So it's just a wild guess … but we don't think there's a chance in a very hot place that there's any serious motivation to make housing affordable.
Not if "affordable" means "less expensive".
ALL the incentives are to make housing MORE EXPENSIVE … but ACCESSIBLE.  That means more, cheaper, and easier FINANCING. 
So even IF the PTB (Powers That Be … it only sounds like Politboro) sincerely believe more and cheaper financing makes things more "affordable" …
(Hey, it worked for college tuition … oh, wait …)
… like Inspector Clouseau, they'll end up pushing housing prices up by "accident".   
That's what happens when you use debt to pull purchasing power from the future into the present.
But whatever the motives, they certainly have the tools to make it happen … 
… lower interest rates, easier lending guidelines, government (taxpayer) guarantees, tax breaks … and the Fed's all-powerful printing press.
Yes, we know all that is what first inflated and then deflated the housing bubble last time.
But smart, disciplined investors made not only survived the implosion … they made millions from the re-inflation.
So while this may not be the time to speculate on a housing price boom in the short term …
… it's arguably a great time to liquidate equity, streamline expenses, solidify leases, and prepare for the long game.
Because when Uncle Sam is working on making something "affordable", it usually means that something is showing serious signs of slowing and needs a boost. 
Of course, when you find reasonable deals in relatively affordable markets and you have a GREAT boots-on-the-ground team, it's also a great time to use cash flow real estate to stock up on cheap long-term debt.
Remember, real estate … even housing … isn't an asset class. 
Every individual neighborhood and property is unique.  So while deals might be harder to find, they're still out there.
And if the cash flow makes sense, you'll weather the storm … warmed by the notion that everyone with power to influence policy will be voting for HIGHER prices year in and year out … forever. 
Of course, they might break the financial system or crash the dollar trying to do it … so it's smart to be prepared for that too.
That's why we like gold, oil, agriculture, and paid for properties in non-leveraged markets … including, and perhaps especially, in non-domestic markets.
Real assets like food, commodities and land tend to hold relative value when currencies struggle.
Gold and silver can almost always be easily converted into any currency … and are a useful way to store liquefied equity privately outside a fragile financial system or hostile jurisdiction.
And if the dollar continues its long-term slide relative to gold, a little gold might go a long way toward retiring dollar denominated debt (like a mortgage).
That's where we think gold bugs and real estate bugs don't understand each other.  We know.  We spend a lot of time with both.
Gold is great for reducing counter-party risk and hedging against a falling currency.  But gold doesn't cash flow.
Real estate is great for using cheap long-term debt to create tax-free cash flow and long-term equity growth. But it isn't liquid and it takes a long time to retire the debt.
But putting gold and leverage cash-flowing real estate in a falling currency environment together makes each much more powerful.
It takes time to get your mind around it … but we encourage you to dedicate a little of your financial education time and budget to learning more. 
Because once you understand how gold and real estate make each other better, you'll probably be more excited about both.  We are. 
Until next time … good investing!
More From The Real Estate Guys™…
The Real Estate Guys™ radio show and podcast provides real estate investing news, education, training, and resources to help real estate investors succeed.
---
Love the show?  Tell the world!  When you promote the show, you help us attract more great guests for 

your

 listening pleasure!
We're still just a little more than a week removed from a mind-blowing 9-day mind-meld with brilliant thought leaders, niche experts, and seasoned investors and entrepreneurs …
… so we've been busy catching up on the news and looking at the world through our freshly expanded paradigms.
There are two things bouncing around our brains we think are important, but few real estate investors are paying attention to …
Gold and oil.
Sure, both these "commodities" fit well with real estate in a strategic real asset portfolio.  And if you're not sure how all that works, you can start with these past podcasts about gold and oil.
But bigger picture, both gold and oil probably drive more of geo-politics than most casual observers realize … and both are quasi-proxies for the dollar.
In other words, when you understand what's happening with gold and oil, you have insights into the future of the dollar … and some of the things governments are doing to either defend dollar dominance … or break free from it.
Of course, if you earn, invest, borrow, or denominate wealth in dollars, the future of the dollar should be of great interest to you … even if you think of the dollar as being as permanent and reliable as air (it's not).
As real estate investors, our primary interests (besides occupancy and cash flow) are demographics, migration trends, local economic strength, interest rates, taxes, and the supply and demand dynamics in our local market.
But all of that sits on the foundation of a functional financial system with two primary components … credit and currency.  Gold and oil provide insight into both.
Oil is important at both the macro and the micro level.
In the macro, it takes energy to drive economic activity.  When energy's expensive, it drives up the costs of everything and is a drag on economic activity.
At the micro level, high dollar-denominated oil prices drive up the cost of living for your dollar-denominated tenants.
But for metros where oil is big business, oil also means local jobs.  Remember, Texas and its robust energy sector were the primary driving force for U.S. job creation coming out of the 2008 recession.
Investors who realized this (like our pal Kenny McElroy) strategically invested in those markets while most people were hiding under the sheets.
So whether or not you're interested in oil as a direct investment, paying attention to the oil business can be a great way to pick markets likely to hold up well if oil prices rise.
Oil also has a potential impact on credit markets and interest rates.  Billions of dollars of debt has been created to fund shale oil production.
If oil prices drop, it both undermines the ability of regional oil economies to grow … but also for those employers to service their debt.
In the macro, if a big chunk of the debt goes rotten, credit markets could tighten.  Think about what happened in 2008 when sub-prime mortgage debt went bad.
So again, whether you're an oil investor or not, the oil industry has a direct impact on your real estate investing.
Watching oil helps you see what's coming sooner … so you have time to position yourself to capture opportunity and mitigate risk.
Of course, the good news and bad news about real estate is it moves slowly.
So while you have plenty of time to be proactive IF you're paying attention, it's really hard to act fast if you're not.  That's why we pay attention.
What about gold?
On the macro level, gold is a good gauge of how the world feels about U.S. Treasuries and the dollar.
When things get choppy in stocks, paper investors worldwide tend to flee into Treasuries for safety.  After all, Treasuries are backed up by the Fed's printing press.
Of course, what does the Fed print?  U.S. dollars.
But to quote Watto from Star Wars – The Phantom Menace … 
"Republic credits are no good here.  I need something more … real."
That is, when investors worldwide are looking for safety … and they don't trust the paper … they go into gold.
So what does that mean to real estate investors?
Remember, mortgage rates and availability derive from healthy bond markets … most notably, U.S. Treasuries.
The 2008 Great Financial Crisis had its genesis in a broken bond market … mortgage-backed-securities.  When those went bad, frightened investors worldwide piled into Treasuries … and rates fell.
But what happens if investors worldwide don't trust Treasuries?
You don't have to wonder.  China came out in 2009 and scolded Uncle Sam about the size of the deficit and all the dollar printing doing on.
Why did it bother them? Because they own TRILLIONS in U.S. bonds.  They don't want to get paid back in diluted dollars.
But Uncle Sam's debt, deficits, and printing have BALLOONED since then.
So it's no surprise that China … along with Russia and several other countries … have been diligently accumulating and repatriating gold.
They're getting out of dollars and Treasuries to do it.  And who can blame them?
Paper money has an atrocious long-term record as a store of wealth …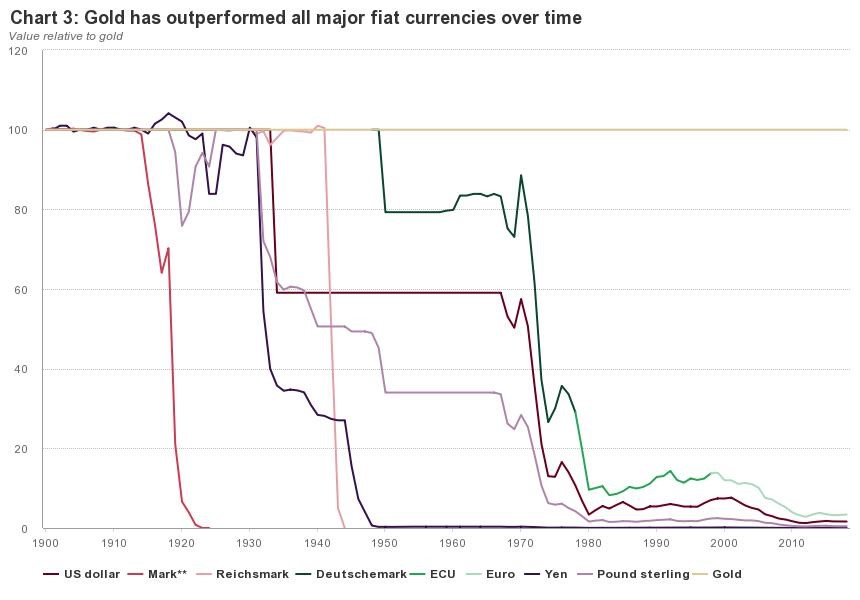 Source:  World Gold Council 
Consider this when you think about where you're storing YOUR long-term liquid wealth.
Meanwhile, there's just a little more to the developing story of gold … and the story behind the story.  It's a little complicated, but interesting and noteworthy.
After the 2008 crisis, the world's bankers got together in Basel, Switzerland to come up with voluntary rules to prevent another financial crisis.  The agreement is called the Basel Accord.
A provision in the agreement, known as Basel III (the agreement's rolled out in phases) allows financial institutions to consider gold "Tier 1" capital.  So adding gold is supposed to make banks more liquid and stable.
This is a bit of a promotion for gold.  Some observers think this means demand for gold will increase, but we're not smart enough to have an opinion on that.
But there are a couple of things we are thinking about …
Perhaps most obviously, international bankers apparently consider gold more valuable than simply a "barbarous relic" with no place in a modern monetary system.
Keep that in mind when you hear people criticize the placement of gold in a portfolio. If gold can make a bank more stable and liquid, can't it do the same for you?
To be clear, we're not fans of gold as an investment.  It's just an alternative to cash … a way to store long-term liquidity while hedging against a declining dollar and bank counter-party risk.
But the more interesting aspect of gold's now elevated role in bolstering the banking system is why it's necessary in the first place.
Is it because the banking system is still fragile and in need of support?  Is it because the world needs more leverage to expand … and so more collateral to lever?  Why not just use Treasuries?
We don't know yet.  But we'll be checking in with our big-brained gold experts to see what they think.
Meanwhile, we encourage you to think outside both the real estate and mainstream financial media boxes.  It seems like oil and gold might be trying to tell us something.
Are you listening?
Until next time … good investing!
More From The Real Estate Guys™…
The Real Estate Guys™ radio show and podcast provides real estate investing news, education, training, and resources to help real estate investors succeed.
---
Love the show?  Tell the world!  When you promote the show, you help us attract more great guests for 

your

 listening pleasure!
The winds of change are swirling like a tornado … even if they're outside your personal horizon at the moment.
That's why we stay up on the lookout perch … watching for clues in the news and shouting out what we see … so you have time to make smart moves.
A couple of things popped up that we think are noteworthy for real estate investors …
Private Equity is Moving in on Single-Family Rentals – NREI Online 2/4/19
"In the past, individual investors owned more than 80 percent of single-family rentals. Since then, the number has fallen significantly."
"…individual landlords have been increasingly marginalized by big institutional investors."
"When banks started to foreclose on mortgages, institutional investors swooped in, leaving individual landlords with new, outsized competition."
If you're an active Main Street individual investor, you know inventory is hard to find in major markets … and it's even harder to make the numbers work.
Of course, the article's author runs a crowdfunding platform, so his implied solution is to join the crowd and invest in a bigger deal.
While we agree with the premise of going bigger, crowdfunding is only a solution for small-time passive investors because of government imposed limits.
So if you're passive and want to go bigger, you need a better answer.  More on that in a moment.
But if you're an active investor, then what?
Starting your own crowdfunding platform is a heavy lift.  You need tech, special licensing, and a crowd.  None are cheap or easy.
So how can an active Main Street investor compete, when the big boys are marginalizing the little guy?
You'll need to find a way to go big and invest outside the box.
For us, that comes in two forms …
First, perhaps the best way for an active Main Street real estate investor to go big is to syndicate private capital.
It's like crowdfunding … without the crowd or tech.  It's still work, but doable for a Main Street individual.  In fact, we know MANY are doing it.
And for passive investors who need in on bigger deals without arbitrary limits, and want to be more than just a face in a crowd or number on a spreadsheet …
…. investing in syndicated private placements opens a world of opportunity.
So the synergy between active and passive Main Street investors should be obvious.  That's why it works.
When it comes to investing outside the box …
… it's REALLY important to pay attention to developing trends … and then paddle quickly and get in position to catch a wave.
For example, there's a huge demographic wave known as the baby boomers.
You've probably heard of it. 😉
Boomers are getting old.  So real estate niches that cater to seniors is a hot sector … in both residential and commercial.
If you're a passive investor, you can invest in a senior housing REIT, a crowdfunded big box project, or a privately syndicated residential facility.
They each have pros and cons.
But right now, margins on residential facilities are pretty fat.  That's because the big boys are playing at the big box level … for now.
When we speak at Gene Guarino's Residential Assisted Living Academy training, we point out … big money won't ignore fat profits forever.
Big money's already moving aggressively into single-family homes … bidding prices up and squeezing out late-to-the party individual investors.
Those who saw the big boys coming and paddled into place early are riding a nice equity wave.
This could easily happen with residential assisted living.  So it's a bit of a land grab right now.  The good news is there's .
That's just one way to invest outside the box.
Another is to pay attention to economic trends and migration patterns.
Think about it …
As big players gobble up inventory in major markets, smaller investors … and eventually big money … will migrate outside the box into secondary markets.
For example, though Dallas is still a solid single-family market … deals are few and far between.
It wasn't always that way.  When we started going to Dallas 10 years ago, it was the front end of a real estate boom that's been GREAT for early adopters.
Today, markets like Kansas City, Salt Lake City and Cleveland are on our radar … each for a different reason, but they're variations on a theme.
These markets have affordable price points with strong cash flows for investors.
They're also attractive to Millennials (another important demographic to watch) who've been priced out of primary markets.
But it's not just the young and cash-strapped who move for financial reasons.
There's another important economic trend we're watching closely, and it's alluded to in this Washington Examiner article …
Cuomo's woe: More taxation means more out-migration
Caution:  This is an opinion piece and you may not agree.
But the point is high-earners are leaving New York to escape high taxes they can no longer deduct from their federal tax bill.
This Bloomberg article elaborates …
Cuomo Blames Trump Tax Plan for Reduced New York Tax Collections
"Governor says wealthy New Yorkers are giving up residences …"
"…leaving for second homes in Florida and other states …" 
Once again, these trends are easy to see coming, watch develop, and then act on … BEFORE they pick up a lot of steam.
We've been excited about Florida for some time … and this whole tax thing just makes it better … especially for nicer properties.
So here's the point …
We got a HUGE wake-up call in 2008 … and it wasn't any fun.  But those lessons help us see trends and opportunities early instead of late.
The key is to pay close attention to clues in the news …
 … then get around REALLY smart people who can help you understand what you're seeing … so you can act decisively.
Because if all you are is aware, but you don't act … you might as well watch game shows.
But when you see a trend and have the right relationships, you can identity opportunities and take effective action quickly.
Everyone's smart in hindsight.  But can you see the future?
Until next time … good investing!
More From The Real Estate Guys™…
The Real Estate Guys™ radio show and podcast provides real estate investing news, education, training, and resources to help real estate investors succeed.
---
Love the show?  Tell the world!  When you promote the show, you help us attract more great guests for 

your

 listening pleasure!
Debt is a lot like religion and politics.  People have strong opinions … so it's risky to talk about it in a group setting.
But we're going to do it anyway … because there's more debt in the world than ever before.  And it has big potential ramifications for real estate investors.
Most real estate investors use debt.  Some because they need to … others because they want to.
Consumer finance gurus hate debt.  They say cut up your credit cards, pay down your mortgage, drive an old car, and brown bag your lunch.
On the other hand, Robert Kiyosaki (the greatest-selling personal finance author in history) LOVES debt …
… but he makes an important distinction between "good" debt and "bad" debt.
"Bad" debt is used for non-productive purposes, and payments come from the earnings of the borrower. 
When you borrow more than you can service and eventually pay off, the debt first enslaves you … then bankrupts you.
That's bad.  And it can happen to people, businesses, and countries.
"Good" debt is invested for productive purposes … creating income and capital gains exceeding the interest expense.  Good debt is profitable.
And when the payments come from the investment itself … the loan is essentially free, the return is infinite, and the debt goes from good to GREAT!
The topic of debt popped up when ex-Starbucks CEO Howard Schultz announced he may run for President.
His pet worry?   According to this Time.com article …
''… the fact that the United States is $20 trillion in debt…" 
Actually, it's closer to $22 trillion.  But who's counting? 
It seems Schultz thinks the MAIN problem is Uncle Sam's debt … and presumably he can fix it.
Maybe.  But we've seen dozens of politicians over the decades … both winners and losers … all warn about the national debt.
But no matter what combination of colors end up in control … one thing is SURE.  The debt grows … and grows … and GROWS.
So even if Schultz runs and wins, he'll probably be the same as Donald Trump, who's no different than Barack Obama, who was no different than Ronald Reagan.
There.  That should have offended pretty much everyone … so now we're all on a level playing field.
But this isn't about politics or personal preferences. 
The whole point is to cut through the noise and look at the structural realities … so we can make better investing decisions.
Here's the dirty little secret … the entire system is debt. 
When currency is borrowed into existence (which is how it works), then it can't be paid back WITH interest … unless you borrow even MORE currency into existence to pay the interest too.
It's an infinite loop of ever-expanding debt.  It's not political.  It's STRUCTURAL.
Like water in an aquarium, you can swim from one end to the other, hide under a rock or behind a plant, lurk in the depths, or float at the top. 
But no matter where you go or how you're positioned, you're ALWAYS in the water.  If you jump out, you suffocate.
Even if you personally manage to become "debt free" … your government goes into debt for you … then uses taxes and inflation to force you to debt service.
Depressed?  Don't be. 
But that red pill reality check is the first step towards "confronting the brutal facts" … a pre-requisite to making better, more pragmatic decisions. 
Robert Kiysosaki understands the financial system is based on perpetual, growing debt.  You can't effectively escape it.
In fact, on our 2012 Investor Summit at Sea™ …  after G. Edward Griffin (The Creature from Jekyll Island)  explained the debt-driven nature of the Federal Reserve system …
… Kiyosaki said, "Don't fight the Fed.  BE the Fed."
That's a LOT of paradigm shattering brilliance all distilled into two short sentences.
But it begs the question … HOW?
Debt. 
The Fed uses debt to create currency and so can you.  The key is to use GOOD debt … and stay keenly aware of where you are in the "cycle."
Consider this truism …
"If something cannot go on forever, it will stop." 
 – Herbert Stein 
Debt can only grow safely if it can be serviced.  When payments are missed, then debts default, credit market seize, and asset prices plunge.
That's what happened in 2008.  And it was GOOD … at least for those who saw it coming (or listened to them) and were properly positioned.
For investors, crashes are like sales.  You can stock up on quality assets … IF you're emotionally, intellectually, and financially prepared to act quickly.
Good debt is the tool of choice for extracting equity while it's available … and having it liquid for the next inevitable shopping spree.
And real estate is the collateral of choice …
… because the cash flows, large loan limits, tax breaks, favorable interest rates and amortization schedules make real estate debt the best good debt available.
Plus, you're double-hedged against inflation because you have both a real asset AND long-term debt.
That's important because …
Out-of-control debt virtually assures currency debasement.
That's wonky talk for inflation. It takes more paper money to buy the same real things.
The sooner you "get real" with real estate, commodities, energy … the better you avoid the inflation tax.  Of course, real estate and oil also help avoid income tax too!
And one last thing …
(thanks to our Peak Prosperity pals Chris Martenson and Adam Taggart for enlightening us)
Economic activity requires resources.  Try making a product without raw materials or energy.  It ranges from not easy to impossible.
Debt requires payments … which come from profits … which come from productivity … which requires resources.
Growing debt requires growing supplies of resources.
But if supplies are limited, then growing demand will inevitably bid UP the prices of those resources.
And those who own, produce, process, and distribute those resources … and along with those who invest in the communities those folks live in … will be enriched.
There's a reason we pay attention to precious metals, energy, farmland … in addition to our fascination with everyday real estate.
Real assets help build a resilient portfolio … even in the midst of a debt-fueled slow-motion train wreck. 
So go ahead and cheer your for your favorite politician.  Watch the Super Bowl, too.  They're both cheap entertainment.
But remember to confront the brutal flaws of a debt-based system and then structure yourself accordingly.
Until next time … good investing!
---
More From The Real Estate Guys™…
The Real Estate Guys™ radio show and podcast provides real estate investing news, education, training, and resources to help real estate investors succeed.
---
Love the show?  Tell the world!  When you promote the show, you help us attract more great guests for 

your

 listening pleasure!
We're concerned about interest rates … and you should be too.
Consistently rising interest rates affect your ability to borrow money for investments.
In this episode of The Real Estate Guys™ show, we dig into how the Federal Reserve and central banks affect interest rates. We talk about the future of the dollar. And we discuss how rising interest rates affect YOU.
We met with two knowledgeable experts in the economics field. You'll hear from:
Your interested host, 

Robert Helms

His uninteresting co-host, 

Russell Gray
James Grant

, economic expert and author of eight books on the U.S. financial system

Nomi Prins

, former Wall Street analyst, journalist, and six-time author
---
Listen
---
Subscribe
Broadcasting since 1997 with over 300 episodes on iTunes!
---
Review
When you give us a positive review on iTunes you help us continue to bring you high caliber guests and attract new listeners. It's easy and takes just a minute! (Don't know how? Follow these instructions).
Thanks!
---
James Grant on interest rates and securities
James Grant was named by Ron Paul as his likely candidate for Chairman of the Federal Reserve. Over the years, he has been a voice of reason … he calls himself "a 'yes, but' guy in a 'gee whiz' world."
We got right into the subject of interest … interest rates.
Are rates going up? "Rates tend to trend over the long term," James says.
They've been on the down-swing since the 1980s, but they may be on the up-swing again … and although rates are currently rising, James emphasizes we'll have to wait and see whether the trend continues.
James says investors should look to the bond market for clues.
A 10-year treasury bond delivered a yield of 1.37 percent in 2016 … the lowest yield since the year 1311, according to a study by the Bank of England.
In the early 80s, a 30-year security would've netted you a 14 percent yield. That's a big difference.
Today, almost every security is priced next to nothing when investors account for taxes and inflation, James says.
Who manipulates interest rates? The Federal Reserve.
"It's an act of malpractice that the Fed and central banks worldwide are manipulating these rates," he says.
And real estate cap rates are driven by interest rates.
To James, this means we now live in a world of great danger. "We live in a kind of hall of mirrors," he says.
On forecasting the future and investing in gold
James notes forecasts are for people who think they know what's going to happen … when the reality is, no one actually knows.
"We can't know the future, but we can know how it's being handicapped in the present," James says.
He finds it helpful to remind himself of how our descendants will think of us.
And he says, "Successful investing is about having everyone agree with you … later." Investors must imagine plausible outcomes before the market catches up.
We asked him his thoughts on gold investing. "Gold is interesting because it's where people flee," James says. "But it's really an investment, not a flight asset."
Gold is a way to step outside of orthodox institution investments. "Gold is simply money to me. It's a cash balance. It's something the central bankers can't debase."
To hear more from James Grant … and keep your eye on interest rates … check out Grant's Interest Rate Observer, an independent journal covering financial markets.
Nomi Prins on the Federal Reserve and the world market
Journalist Nomi Prins was a member of Senator Bernie Sanders' panel of advisors on Federal Reserve reform. She's coming at this from a different angle than James Grant … but both guests are incredibly informed, with lots of great things to say.
In 2007, Nomi wrote that there could be a problem if financial institutions and the government continued the credit derivative system and high leverage.
No one wanted to hear it. But then '08 happened.
Nomi says that over the last 10 years, "The Fed has subsidized a lot of credit problems that existed before the '08 crisis by creating electronic money."
That has raised the level of artificial leverage.
And THAT means the next market collapse will come from an even higher height than in '08, she says.
Even worse, many central banks around the world created electric money and dropped rates when the Fed did. Nomi examined this situation in her book Collusion.
"We're in a very precarious situation going forward," she says.
Quantitative easing … the introduction of new money onto the market … causes inflation and collapses markets, starting with emerging markets.
In order to retain capital, central banks in these countries have to raise rates and increase the value of their currency. That's what's happening now.
This, in turn, lowers the value of foreign currencies relative to the value of the dollar. So, any debt these countries have has to be paid back or renewed at a higher rate.
Apparently, however, the U.S. is back to quantitative tightening now, says Nomi.
The Fed's statements and its actions and reports tell different stories.
Fed Chair Jerome Powell SAYS current quantitative tightening is official. That means the government will continue to sell … but not re-invest … assets.
But in reality, the Fed is selling much more slowly than they've said they will.
The reason? "They know that if they sell too much too fast, rates will increase too fast, and the value of assets will go down too fast," Nomi says. "They want to be in a holding pattern."
More on quantitative easing, coming crisis
Nomi wants people to know there is NO correlation between GDP growth and quantitative easing. However, there is a very high correlation between quantitative easing and the stock market.
She thinks the next financial crisis will look like a bunch of smaller crises that add up to big gaps in liquidity and credit availability.
Nomi says she sees a few things happening around the world … bond defaults are creeping up in emerging markets, and certain countries are starting to have major credit problems.
"I think all of that will come to bear on the Fed." And because of that, Nomi says, "I think their language will start to move toward growth slowing."
Think two rate raises over the next year, instead of the forecasted four.
She predicts extreme appreciation is not going to happen. Rates will stay low, although they might continue to rise a bit relative to the Fed.
What about real estate? "Commercial real estate may have more leverage, so rate hikes will have more impact."
Instead, Nomi recommends "any area where rent can overcompensate for an increase in cost."
She says there are currently opportunities in emerging markets where there's still room for upward growth in prices.
Mexico City, for example, is a place where prices are low, the government has a strong growth strategy, and there is opportunity in the near team.
Lessons learned
Debt doesn't operate in a vacuum. Interest rates have a HUGE impact on whether your investments will be successful.
You don't need to understand ALL the mechanics … but you should have a basic understanding of WHAT will affect interest rates and WHERE they're headed.
---
More From The Real Estate Guys™…
The Real Estate Guys™ radio show and podcast provides real estate investing news, education, training, and resources to help real estate investors succeed.
---
Love the show?  Tell the world!  When you promote the show, you help us attract more great guests for 

your

 listening pleasure!
"You can't handle the truth!" 
 – Jack Nicholson in A Few Good Men
Neither optimists or pessimists can handle the truth.Optimists refuse to acknowledge the part of reality that's negative …
… while pessimists can't see the ever-present opportunities hidden behind the problems.
While we'd rather be optimistic than pessimistic, maybe it's better to be BOTH."The test of a first-rate intelligence is the ability to hold two opposed ideas in mind at the same time and still retain the ability to function." 
 – F. Scott Fitzgerald 
Here are some thoughts about risk and opportunity from legendary real estate investor Sam Zell …
"People love focusing on the upside.  That's where the fun is.  What amazes me is how superficially they consider the downside."  
"For me, the calculation in making a deal starts with the downside.  If I can identify that, then I understand the risk I'm taking.   Can I bear the cost?  Can I survive it?" 
You can only take calculated risks if you look carefully at both the upside AND the downside.
Today, the entire global financial system is largely based on "full faith and credit" … primarily in the United States dollar.
And there's a gigantic investment industry that's built on perpetual optimism …and a belief non-stop debt-fueled growth FOREVER is actually possible.
Even worse, the entire financial system's fundamental structure literally REQUIRES perpetual growth to avoid implosion.
That's why central banks and governments are COMMITTED to debt and inflation … at almost ANY cost.
But as Simon Black points out in Future of Money and Wealth …
History is CLEAR.  Empires and world reserve currencies don't last forever.
And irredeemable paper currencies and out-of-control debt ALWAYS end badly … at least for the unaware and unprepared.
Optimists can't see this.  So they take HUGE risks they don't even know exist.
Pessimists can't act.  So they miss out on the HUGE opportunities that are the flip-side of the very problems they obsess over.
Robert Kiyosaki stresses the importance of being REALISTS …
… standing on the edge of the coin, seeing BOTH sides … and then being decisive and confident to ACT in pursuit of opportunities while being keenly aware of the risks. 
We created the Future of Money and Wealth to gather a diverse collection of speakers and panelists together … to examine the good, the bad, and the ugly …
… so YOU can have more context and information to make better investing decisions. 
Chris Martenson opens our eyes to the physical limitations of long-term perpetual exponential growth which depends on unlimited supplies of clearly LIMITED resources.
Of course, as these critical resources dwindle, they'll become very expensive as too much demand competes for too little supply.
When you see nation's fighting over scarce resources, it's a sign of the times.
But of course, there's OPPORTUNITY hidden inside of crisis.
And to seize the opportunity, you must understand it … or it just sits there like a hidden treasure under your feet.
But it's not just recognizing trends.  It's also TIMING.  And being a lot early is much better than being even just a little late.
To beat the crowd, you can't wait for the crowd to affirm you. 
To get timing right, it's important YOU know what the signs are.
What does it mean when Russia dumps Treasuries and buys gold?  What caused Bitcoin to sky-rocket in 2017?  Why are there bail-in provisions in U.S. banking laws?
Peter Schiff saw fundamental problems in the financial system back in 2006 … and screamed from the rooftops that the financial system couldn't support the then red-hot economy.
Few listened … then WHAM!  In 2008, the weakness of the financial SYSTEM was exposed … and MANY people were CRUSHED.
Peter insists the REAL crash is still yet to occur … and everything that made the financial SYSTEM weak in 2006 is MUCH WORSE today.
Yet small business and consumer OPTIMISM is at all-time highs.  The ECONOMY appears to be BOOMING … again.  And Peter's still screaming out his warnings.
The Fed is RAISING interest rates to cool things down.  But history says EVERY SINGLE TIME the Fed embarks on a rate raising campaign it ends in RECESSION.
In Future of Money and Wealth, Fannie Mae chief economist Doug Duncan reveals when he thinks the next recession is coming … and WHY.  We listen to Doug because he's got a really good track record.
The 2008 crisis exposed real estate investors to the REALITY that what happens on Wall Street, at the Fed, and in the global economy … can all rain down HARD on Main Street. 
Ignoring it doesn't make it go away.  And you'll die of old age waiting for the storm clouds to blow away.
There will ALWAYS be risk.  There will always be OPPORTUNITY. 
It's not the external circumstances which dictate what YOU get.
It's really up to YOU … and your ability, like Sam Zell, to see both opportunity and risk, so you can aggressively reach for opportunity while carefully navigating risks.
Education, perspective, information, and thoughtful consideration are all part of the formula.
That's why we created the Future of Money and Wealth video series.
Future of Money and Wealth features TWENTY videos … over fourteen hours of expert presentations and panels …
… covering the dollar, oil, gold, real estate, crypto-currencies, economics, geo-politics, the new tax law …
… PLUS specific strategies to protect and GROW wealth in the face of potentially foundation-shaking changes to the financial system.
Just ONE great idea can make or save you a fortune. 
Future of Money and Wealth might just be one of the best investments you'll ever make.
To order immediate access to Future of Money and Wealth … 
More From The Real Estate Guys™…
The Real Estate Guys™ radio show and podcast provides real estate investing news, education, training, and resources to help real estate investors succeed.
Beauty is in the eye of the beholder … and in real estate, an appraisal is what gives you the unbiased, third party opinion on a property.
Appraisals happen whenever a lender is involved in a transaction, but that's not the only time you'll need or want an appraisal.
We'll examine the three ways appraisers can evaluate a property, why you shouldn't accept an appraisal as gospel truth, and how you can use an appraisal to SAVE money on your next deal
In this episode of The Real Estate Guys™ show you'll hear from:
Your valuable host, 

Robert Helms

His admiring co-host, 

Russell Gray
---
Listen
---
Subscribe
Broadcasting since 1997 with over 300 episodes on iTunes!
---
Review
When you give us a positive review on iTunes you help us continue to bring you high caliber guests and attract new listeners. It's easy and takes just a minute! (Don't know how? Follow these instructions).
Thanks!
---
Understand what an appraisal is
Nearly everyone who has purchased a property has dealt with an appraiser. In most all cases involving a lender, an appraiser is involved.
A lender is one of several parties interested in the value of a property. The seller, buyer, and lender all have an interest in knowing about value for different reasons.
But, an appraiser has no vested interest in a property's value, making them the neutral third party. However, even though they are neutral, it's good to keep in mind that their appraisal is an opinion of value.
While lenders are often interested in an appraisal to check out the value of the home versus the loan, it's a FANTASTIC tool for investors, too.
Appraisers can determine the value of a property based on future use. Depending on what improvements or changes an investor plans to make, the value of a property changes.
So, why would you need to understand valuation?
To secure a loan
To evaluate a deal
To understand your portfolio's value
An appraisal doesn't only happen when evaluating or completing a real estate deal. It's a way to understand your portfolio and properties at any point along the way.
Decode the jargon
An appraisal has a very specific purpose. Its job is to solve a problem: what is the highest and best use for this? That's the challenge.
Appraisers in many countries use the same methods and standards to solve this problem. The Appraisal Standards Board (ASB) develops, interprets, and amends the Uniform Standards of Professional Appraisal Practice (USPAP).
The appraisal report is created using a combination of three methods:
Sales comparison method.

Look at similar properties and what they've sold for recently.

Capitalization approach (income approach).

This is the value the property based on the income it generates. What are people renting for right now? Where else could they go locally? In some cases, there aren't many comps to look at, so the income a property is currently generating might be more appropriate.

Summation approach (Cost segregation approach)

. Look at the income from the property and ask: What would it cost today for the land, construction, and development? This is a way to appraise a large, one-off or unique building.
The appraisers job is to look at the value based on these approaches and to weigh them properly.
How to use an appraisal report
Since appraisal reports are a third-party opinion of value, they aren't set in stone, and shouldn't be taken as the gospel truth.
Once you know what goes into an appraisal report, you can think critically about them and extract the parts that are useful.
And, it can be a valuable tool for negotiation.
In some cases, if an appraisal comes back LOWER than the offered price, it's appropriate to go to the seller and start with that valuation in the negotiations.
Or, if you're planning to go in on a deal with someone else and need to split the property value later, an appraisal is that neutral party that provides the numbers.
As with any expert, appraisers have a WEALTH of knowledge, and it's worth learning a little about their craft. Some appraisers have some impressive niches, including airports, commercial buildings, and even haunted properties!
If possible, try to be on-site for an appraisal and learn what the appraiser is looking for. All of this information feeds into your education and foundation on how to improve properties to get the best bang for your buck … especially in a refinance or a sale.
Appraisals are a valuable tool for an investor. Whenever possible, be sure to spend the money on an experienced, well-respected appraiser. Then, when you get your report, understand the value AND the limitations of a report as you make your important investment decisions!
---
More From The Real Estate Guys™…
The Real Estate Guys™ radio show and podcast provides real estate investing news, education, training and resources to help real estate investors succeed.
Regular followers know we're news hawks.  We scour the headlines for clues about opportunities and threats facing real estate investors.
We look at the good, the bad, the ugly … and consider things at the micro, macro, geo-political, and systemic level.
Even though we watch a broad range of real estate niches … we tend to look at the world through the eyes of a syndicator.
We think raising private capital to invest in real estate is the single BEST opportunity for real estate investors … and one of the best business opportunities in ANY industry.
So it didn't surprise us when the following headline popped up on page one ofYahoo Finance, the most visited financial website on the internet …
Closed-End Real Estate Funds Are Performing Well
"The real estate market is booming … Not surprisingly … funds that focus on real estate have been posting good numbers …"
A "closed-end fund" just means a fund which raises a specified amount of money, then closes to new investors.
This is different than a typical "open-end fund" like a mutual fund which continually accepts new investors.
Our point today is … 
Mainstream headlines are informing the market real estate is a winner …
…and that individual investors can access real estate through funds … versus taking on the personal hassles of tenants, toilets, and termites.
Of course, the aforementioned article is talking about publicly traded funds, which come with a host of risks most Main Street investors are unaware of.
But if YOU are thinking of investing in real estate through a publicly traded fund, OR …
… if you're talking to Main Street investors about investing in YOUR real estateprivate placement (syndication) …
… then you'll find it VERY helpful to understand the risks in public funds.
Publicly-traded real estate funds can be used as gambling chips in Wall Street casinos … just like any publicly traded stock.
This means speculators (gamblers) can short-sell, trade on margin, and use options … all of which add volatility to the share price.
So even if the underlying asset is as stable as the rock of Gibraltar … the share price can bounce all over the place as it's traded in the casinos.
Of course, if you're a long-term buy-and-hold paper-asset investor, maybe that doesn't matter to you … just don't watch the share prices or you might get nauseous.
But MUCH less understood is the counter-party risk every paper-asset investor faces because of the way paper-asset trading is facilitated.
In short, counter-party risk is the exposure you have when an asset on your balance sheet (a stock, bank account, a bond) which is simultaneously someone else's liability.
In other words, they own the the asset and OWE it to you.  YOU own an IOU.
If the counter-party fails to perform or deliver … you LOSE.
Most people understand the concept of counter-party risk … but many don't understand all the places they're actually exposed to it.
And it's a LOT more than you might think.
In the case of publicly-traded securities, like closed-end real estate funds, you're NOT the registered owner … your broker is.
You get "beneficial ownership" through what is effectively an IOU from your broker to you.  The fund doesn't even know you exist.
Of course, this is all fine as long as the financial system supporting all this is sound.  But in a crisis, if the broker fails, you might end up a loser.
It's not unlike what happened in the 2008 financial crisis …
In short, individual mortgages … which are great assets to own … were pooled into securities and made into gambling chips in the Wall Street casinos.
Because the "beneficial ownership" of the mortgages changed hands so quickly, it was all facilitated through a system called Mortgage Electronic Registration Systems (MERS).
When the financial system nearly collapsed in 2008, the flaws of MERS were exposed … as the legal documentation required to affirm clean title to the asset wasn't properly maintained.
Some of the beneficial owners of the mortgages couldn't prove legal ownership and lost when property owners challenged foreclosure in courts. Huge mess.
So there's a BIG difference between "beneficial ownership" and actual ownership.  And the difference isn't exposed until it matters.
Sometimes that's ugly for investors.
The GREAT news for you and your investors is … it's NOT necessary to play in the Wall Street casinos to get into a real estate fund.
In fact, we'd argue it's better if you don't.
If you're following The Real Estate Guys™, you're probably already a fan of real estate and may already be a successful individual property investor.
Maybe you're considering, or have already started, putting together groups of investors to syndicate bigger deals.
Or maybe you're tired of being an active investor … and now you're looking to stay in real estate, but as a passive investor in another investor's deal.
In any case, it's important to understand the BIG differences between public and private real estate fund investing.
As an investor in a private offering, you directly own the entity which directly owns the asset.  There's no counter-party who owes you the shares. YOU own them.
We think when you delve into the differences, you'll agree private offerings are arguably a MUCH better way to go.
Of course, if you're interested in starting your OWN real estate investment fund, the timing couldn't be much better.
Headlines are telling the marketplace real estate funds are performing well.
And when you explain the important differences between public and private funds, we're guessing you'll get more than your fair share of investors interested in investing with YOU.
Main Street investing in Main Street … outside of the Wall Street casinos.  We like it.
Until next time … good investing!
---
More From The Real Estate Guys™…
The Real Estate Guys™ radio show and podcast provides real estate investing news, education, training, and resources to help real estate investors succeed.
A common adage is "treat your investing as a business".  
Good advice!  And at first blush, you might think it means …
Figuring out your mission, vision, values …
Establishing clearly defined goals and objectives …
Developing strategies, tactics, processes, policies and procedures …
Recruiting, training, and leading a team …
Setting up communication and accountability rhythms, and processes for evaluating progress and making adjustments
All true.  But it's also very important to pay attention to the economic environment you're operating in.
A popular business planning tool is SWOT analysis … which stands for Strengths, Weaknesses, Opportunities, Threats.
SWOT helps you make better decisions about where to focus time, attention, and resources.
Most amateur investors focus only on opportunity.  They look for it.  They chase it.  They stretch their limits reaching for it.
And sometimes they end up in dangerous deals by not leveraging their strengths, acknowledging their weaknesses, or recognizing external threats.
In Am I Being Too Subtle?, multi-billionaire real estate investor Sam Zell says a big part of his success is the ability to understand the DOWNSIDE … and still proceed.
Most people ignore threats because they're a downer.  It FEELS better to focus on sunshine.  It's just not smart.
Risk is gloomy.  It doesn't sell seminars, books, or video-courses.  And it can chase away an audience.
So investors are under-served by most gurus, media, and pundits because few talk candidly about threats.
Yet it can SAVE YOUR FINANCIAL LIFE.  So we do it anyway.
Besides, the flip-side of most risk is opportunity.  So when you frame looking at threats as searching for opportunities, it's not so bad.
Part of SWOT is about assessing the environment you're operating in.
We divide investing environments into four categories … Micro, Macro, Geo-Political, and Systemic.
Micro factors include …
The property, parties to the transaction; financing, etc.
The neighborhood, local economy; local laws, taxes, customs, etc.
The local team … property manager, on-site staff, etc.
Micro factors are where most investors start and finish … because micro factors are easiest to see and handle along the shortest path to getting the deal done.
Macro factors include …
Interest rates and factors which drive them
Policies affecting job creation, living costs, real wages, consumer and business confidence
Economic factors affecting energy, materials and commodities costs, currency strength, etc.
Sure … this is some heady stuff …
And if you're only going to play small and VERY conservatively, maybe not worth all the effort to watch and interpret macro factors.
Then again … many small investors got killed when the Tax Reform Act of 1987 changed the tax treatment of rental properties.
They probably wish they'd been more aware and prepared.  When things are changing, a "wait and see" approach can be painful.
But if you plan to play big … and especially if you're going to raise money from private investors … you'll definitely want to invest in your macro education.
Remember … the 2008 crisis which crushed many unprepared investors started at the macro level … before crashing down on the micro level.
Most micro-players (including us), didn't see the storm forming at the macro level until the monsoon hit.  Bad scene.
So … how much advance notice do YOU want when something major is lurking on the horizon?  More is probably better.
Geo-Political factors include …
International treaties (trade, land-use, etc.)
Most people hear about geo-political factors in the news all the time … but don't consider or understand their impact on Main Street micro-investing.
Systemic factors include …
The financial system … currency, banking, bond market, etc.
The environment … energy, climate, water, etc.
We think systemic factors just might be the BIGGEST threat most investors aren't paying any attention to.
Yes, it's a lot to consider.  And maybe you doubt it really matters to your daily real estate investing.
That's what we thought … before 2008.
Then we found out the VERY hard way these things DO affect Main Street investing … so thinking about them isn't just for wonky paper asset pundits.
Let's look at some recent headlines … how they might affect our Main Street investing … and let's just focus on oil …
Is The Oil Industry Repeating A Critical Error – Oilprice.com 7/14/18
 " … Wall Street has been subsidizing the consumption of oil on Main Street."
"… the punishing price decline in oil from 2014 to 2016 … resulted in deep cuts in exploration and development throughout the industry …"
"… there isn't an oil price … both low enough to avoid economic stagnation …  yet high enough … to prevent a decline in the overall rate of production worldwide."
Let's break it down …
Energy is essential to economic activity.  No energy, no growth. Restricted energy, restricted growth.  Expensive energy, expensive growth.  You get the idea.
Energy is a key input into the cost of EVERYTHING.  When subsidies mask rising costs, economic numbers look better than they really are.
Remember …  a strong economy is NOT the same thing as a strong financial system.
Investors make mistakes when they deploy capital based on false readings or temporary circumstances.
Remember what happened to real estate investors who flocked to North Dakota because of the oil boom … a boom only possible because of high oil prices.
When oil prices crashed, so did the North Dakota real estate boom.  Investors only watching micro-factors … and even macro-factors … didn't see it coming.
Whether it was Saudi Arabia attacking U.S. frackers … or the U.S. directing an economic assault on Russia's oil revenue … oil prices fell because of what was happening at the geo-political level.
So today, knowing oil prices affect economic growth, consider these recent headlines …
It takes cheap energy to grow an economy fast.  And with the Fed raising interest rates, Trump's using tax cuts and cheap energy to goose the economy.
He's got to out-run ballooning deficits and rising interest costs.  Cheap energy … even if only temporary … buys some time.
But cheap energy doesn't fund the exploration necessary to replace oil being consumed.  Very few people on financial TV talk about this.
That's why we hang out with brainiac Chris Martenson.  He's a fun guy … a positive guy … but he's a realist.  It's sobering.  Brutal facts can be that way.
At some point, supply and demand take over and prices rise … slowing or reversing economic growth, driving up costs, and probably bankrupting marginal businesses.
Many billions in oil industry debt could go bad.  Remember when sub-prime mortgage debt went bad?
The financial system today is rife with counter-party risk, so bad debt can spread like wildfire through credit markets.
We're not saying it's going to happen, but we're watching.  If something starts to break, we want to see it sooner rather than later.
Of course, we're also watching oil, like gold, for its role in currency wars.  We remain convinced the dollar will be a major story in the next ten years… or less.
A little spooky.  But pulling the sheets over our heads doesn't make it go away.
The good news is there are smart people watching all this … and thinking deeply about what it all means.
That's why we get together with them regularly on our Investor Summit at Sea and the New Orleans Investment Conference.
These are voices mainstream sunshine-sellers don't promote.  It's bad for ratings.
But we put together nearly 14 hours of presentations and panels with all the big brains from our Future of Money and Wealth conference …
So if you missed the live event, you can still see and hear what everyone has to say. Click here to learn more.
Smart business people and investors practice SWOT… and invest in growing their education and network … so they can make better, faster investing decisions … in ANY economic environment.
Until next time … good investing!
---
More From The Real Estate Guys™…
The Real Estate Guys™ radio show and podcast provides real estate investing news, education, training, and resources to help real estate investors succeed.
As real estate investors, we're always looking toward tomorrow. We've had a long, sustained recovery since the market crash in 2008. Many indicators show the economy is on the right track … the stock market is up, unemployment is down, and the dollar is strong.
So, what could be the problem?
We'll talk about what we've learned since 2008 and how we've changed the way we look at the economy AND the financial system.
Learn how you can repair your financial roof now while the sun is still shining so when the next downturn comes, you'll be in better shape to protect and grow your wealth.
In this episode of The Real Estate Guys™ show you'll hear from:
Your weather-any-storm host,

Robert Helms

His fair-weather co-host,

Russell Gray
---
Listen
---
Subscribe
Broadcasting since 1997 with over 300 episodes on iTunes!
---
Review
When you give us a positive review on iTunes you help us continue to bring you high caliber guests and attract new listeners. It's easy and takes just a minute! (Don't know how? Follow these instructions).
Thanks!
---
Inspecting the financial foundations
From the outside, the economy looks like it's in good shape. But, just like when you're evaluating a house, it takes an expert to understand what shape the foundation is in.
While it's easy to look at the structure and assume everything is going well, a failure to inspect the foundation could cost you dearly.
One of the most important things we learned from the 2008 market crash is the difference between the economy and the financial systems it's built on.
In order to do that, we knew we needed top-notch inspectors. We changed who we hung out with and started to learn from economic experts outside of real estate.
They taught us about the cracks in the foundation and how we could better prepare for economic downturns. Because while we didn't see the scope of the crash, there were experts who did!
Through serious study, we've learned that this is something that anyone can learn.
So, how did the investors who weathered the storm in 2008 do it? And how can we all be better prepared for next time?
Digging into debt
Our financial system is built on debt. The amount of debt on corporate and government balance sheets is staggering.
When consumer and business confidence is high, everyone borrows to consume more. Eventually, this leads to too much leveraging and over-allocated capital. And the higher the boom, the bigger the bust.
The Federal Reserve has tools in place to help smooth some of the dramatic rises and falls. When the economy slows, they lower interest rates to free up lending. As recovery builds, they raise rates to tighten and restrict lending.
For individual investors, one of the biggest problems was that our portfolios were built for perpetual sunshine. And while the next crash won't necessarily look the same, there are plenty of similarities.
Shoring up your investments
Learning from the past means you'll be in a better position to profit from the next downturn. Don't let the good economic numbers lull you into doing nothing. Use the good times as a wake-up call!
Don't spread your equity too thin.

Make sure your deals make sense on paper and that you aren't lowering your standards. The bigger your portfolio, the more careful you need to be and the fewer mistakes you can make before a market downturn tumbles all your holdings.

Keep cash on hand.

Don't over-rely on your credit lines for liquidity.

Have your foot near the brake.

Keep an eye on your assets, credit, and future deals. There's no need to panic, but be cautious and thorough.

Consider having some properties paid for in cash.

If you have a property without a loan, it won't be a target of or subject to the swings of the market.

Acquire recession-resistant real estate.

Look for properties in the middle of the market where there's nearly always demand. Also consider niche investments like long-term storage, luxury properties, or assisted living opportunities.
If you're looking for a fantastic primer on the financial system, how it is the foundation for the economy, how to recognize the warning signs of a downturn and how prepare for it, check out our video series The Future of Money and Wealth.
We captured some of the best and most relevant information from expert financial minds in 20 sessions you won't want to miss. The information in this series is a head start into understanding the underpinnings of the system and how to build and protect your wealth in a changing economy.
To learn more, send an email to future [at] realestateguysradio [dot] com.
---
More From The Real Estate Guys™…
The Real Estate Guys™ radio show and podcast provides real estate investing news, education, training and resources to help real estate investors succeed.